Bald heads might be in Vogue, but as long as there are people with a luscious volume of hair length, people without it will frown! And if there needed to be more talk about hair problems already, this would add to the list! And we aren't kidding! Out of all air problems, the most common of them being hair loss, they seem to become ordinary every day until everyone around us turns bald! But till then, let us face the reality that this nightmare is happening now, and it's happening fast.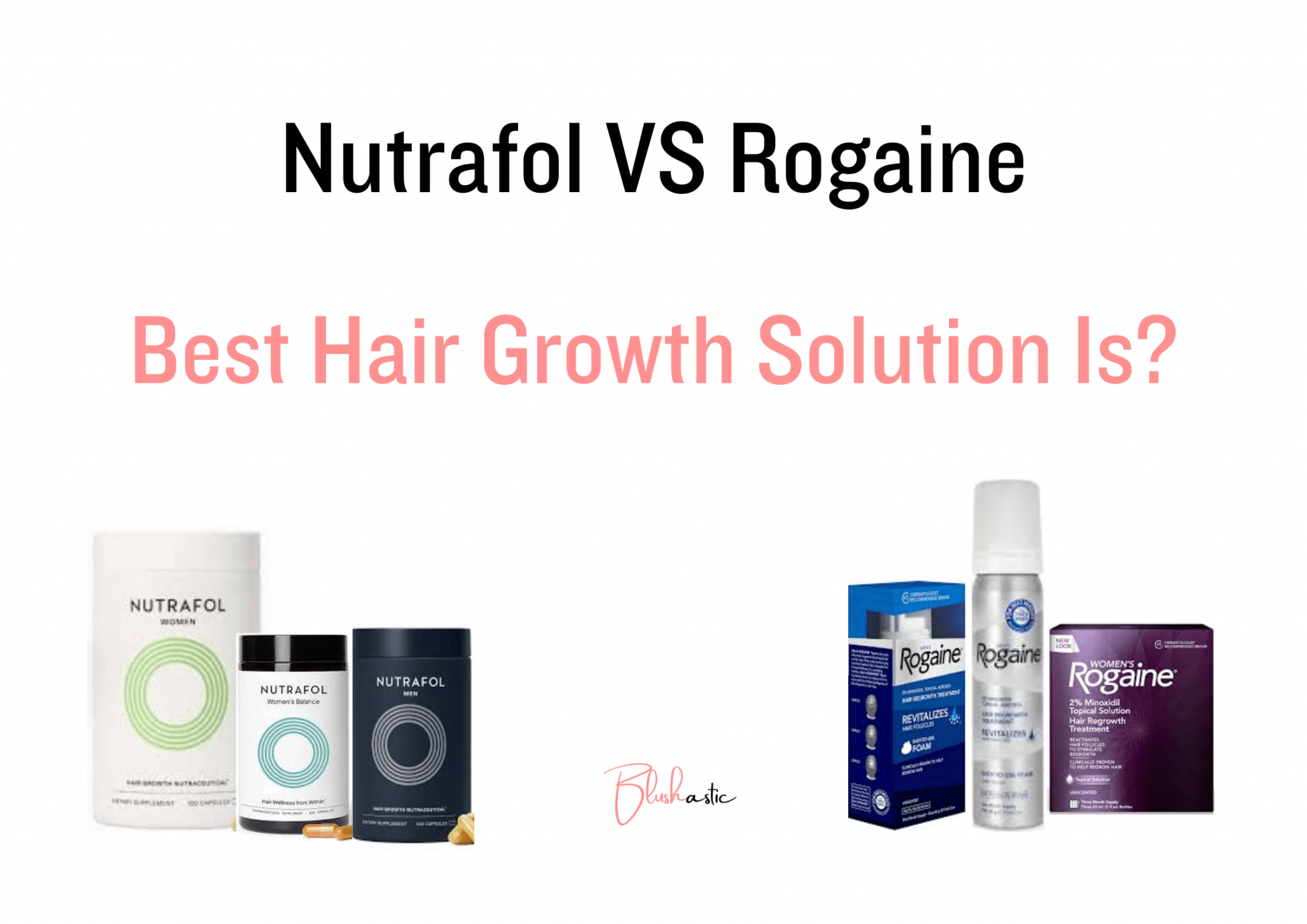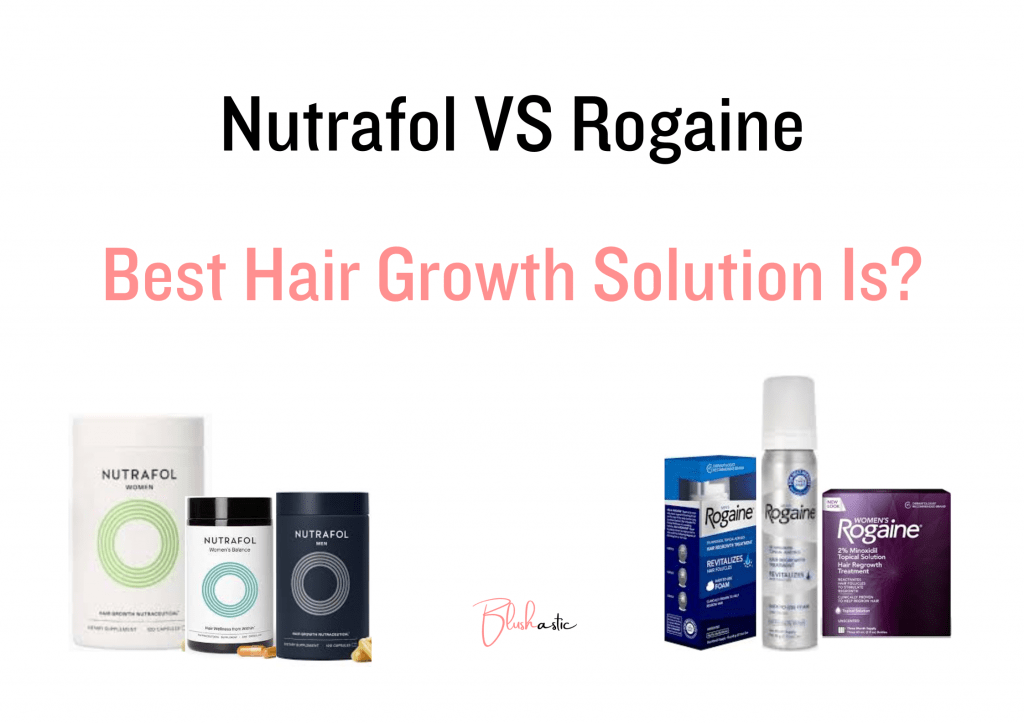 The reasons for hair loss can be countless today and must be identified when there's still time. Even if you haven't figured it out and wish to do something to breathe back life into your drought of emptiness above, there is still hope. These two brands have been marking their presence in the haircare business for quite some time. The comparison between Nutrafol VS Rogaine is getting so noisy that beauty enthusiasts can't stop mentioning their names.
These hair regrowth options have a formula designed to tackle hair loss of different kinds. Do you think which one your head needs? Which one will give you better results? Before you drown in this sea of sorrow, let us dive deep and unveil all of it.
Nutrafol VS Rogaine | The Real Hair Growth Formula is?
Product Range
You get a lot of varieties and options to choose from. The range of Nutrafol is very diverse, and they cater to many different age groups and hair loss problems we face in various stages of life. You will get access to products for women who are in the 18-44 age group and experience hair thinning, women of 45+ age, women who are experiencing hair loss after giving birth, and a lot of physician-formulated haircare and boosters.
There is a Proactive thinning formula for men showing early signs of hair thinning, a Hairline Defender to improve scalp coverage, and a Full Support formula to deal with overall hair problems.
At Rogaine, you will find minimal ranges. For example, for men, it offers a Men's Rogaine 5% Minoxidil Unscented Foam and Men's Rogaine 5% Minoxidil Solution. For women, it provides Women's Rogaine 5% Minoxidil Unscented Foam and Women's Rogaine 2% Minoxidil Solution. The products are minimal compared to what Nutrafol offers because Rogaine treats a specific kind of hair loss, which is hereditary.
Ingredients
You can sigh of relief because Nutrafol features 21 medical-grade, natural ingredients that physicians specially formulate and aid in your hair growth journey. These hair supplements or pills are infused with potent vitamins like vitamins A, C, D and folic acid, which help improve your hair, nails, and skin health. Nutrafol also contains vital ingredients: Biotin, niacinamide, zinc, copper, and pantothenic acid. They enhance the quality of your hair, improve hydration, and serve other benefits. The brand does not entertain gluten and GMO products for safety measures.
For example, the Rogaine 5% Minoxidil Unscented Foam is one of men's most sought-after hair growth products. It comprises a decadent splurge of ingredients like lactic acid, botanical extracts, and alpha-hydroxy acid (AHA). It uses AHA to cleanse away impurities gently. Some emollients are also present to soften your hair. Apart from all this, the hero ingredient of this formula is Minoxidil. It plays a significant role in penetrating deep into your dermal layers and increasing the hair follicle size to allow hair to grow more. Lactic acid also helps remove dehydrated, brittle hair and scruffs away dandruff.
Application/Convenience
When it comes to Nutrafol, you must be ready to have a lot of space in your stomach because you are gulping down 4 tablets each day with a lot of water. There is no such fuss in ROgaine. You only have to make sure you use it twice daily. Rogaine is more convenient for you. That is because ROgaien solution consists of propylene glycol, which might affect your hair follicles and give you allergies. So you can only switch to its foam formula if you are okay with the liquid format.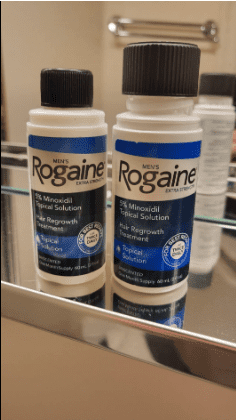 Effectiveness & Results
Users reported that they got noticeable results in just 3 to 6 months after incorporating Nutrafol into their life. However, this might vary a bit for everyone. This is because everyone's body is different, and each product might react differently to it. The brand also conducted many successful clinical trials, which analyzed the efficacy of the products.
A 6-month study was done with women, revealing that the count of baby hairs was very high at the end of this period when they were using Nutrafol. Out of the total participants, 80% of women were pleased with the fact that they saw a very prominent hair growth, 80% were satisfied that individual hair strands became thicker, and 73% saw a rise in growth rate than earlier.
The benefits of Rogaine are genuine but very subjective. For example, they only work for a specific type of baldness in people, and only if you go through with it. Rogaine usually takes about 4 months to show good changes, where you must use it indefinitely. You might not be able to retrieve all the hair you have lost, but at the same time, it is possible to get notable improvements after several months of hair decline.
Safety & Side Effects
The brand avoids gluten, artificial additives, dairy, shellfish, and binders that may irritate your skin. However, with the good comes the bad. And Nutrafol is not an exception in this case. It does many positive things to your skin, but it can also be your cause of worry as it can lead to many potential side effects. These may be in the form of nausea, cramps, and diarrhea, which are caused due to Biotin despite the ingredients being natural. If you take more than necessary, overdosing might lead to higher blood sugar levels and rashes.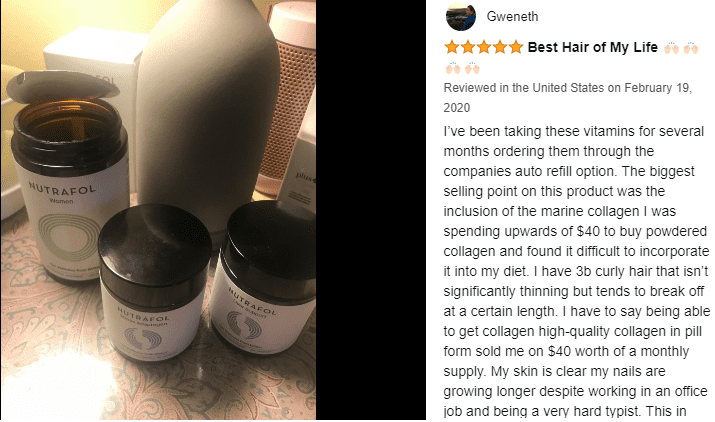 Adding Rogaine to your routine can feel like things are going haywire because it accelerates hair loss more in the initial period of taking it. However, it just means the product is working, and things will worsen before they improve.
Other side effects that people might encounter are health issues like chest pain, exhaustion or fatigue, burning of the scalp, acne on the place of application, unwanted and overdrive of facial hair growth, the feeling of nausea, swelling of the face, hands, or feet, irregular breathing, vomiting, soreness of hair roots, redness of the skin, etc.
Price Structure
The Men's ROGAINE® 5% Minoxidil Unscented Foam has been advised to begin with a 3-month supply to see visible results. This constitutes three bottles of one-month supply, comprising 180 gms in total, and costs approximately ** dollars. On the other hand, the Proactive Thinning formula of Nutrafol also has a 3-month supply, where each bottle comes with 120 capsules.
There are three bottles in total, and they cost about **dollars, 5 times the price of Rogaine. So, if you are not ready to shell out your precious cash, then Rogaine is the right option.
Evaluation Of Pros and Cons | Nutrafol VS Rogaine
Nutrafol Pros
Designed with 100% natural ingredients
80% of patients saw improved hair growth
The formula does not have any hormones or drugs
It can be used by both men and women
Targets hair thinning and treats it with the DHT hormone
Composition helps in strengthening metabolism and the immune system
Products have undergone many successful clinical trials
Repairs and revives hair in just three to six months
Improves the condition of lash follicles
Induces better quality sleep in individuals
Reduces brittleness of hair
Maximizes hydration content and improves keratin
It brings down both mental and physical stress
Encourages health of scalp and hair roots
Results in better skin and nails
Results can be seen in 3 to 6 months itself
Protects against environmental aggressors
Cons
This can lead to possible side effects
The formula is not vegan
It is on the expensive side
People have to intake four capsules daily, which might get bothersome
Rich amounts of vitamins and minerals, which may be harmful to health in some cases
Rogaine Pros
Has a massive popularity among haircare enthusiasts
It uses alpha-hydroxy acid (AHA) to exfoliate skin naturally
Possesses a unique Tricho-Prime Technology that aids in creating an apt environment for hair growth
Shows positive results in just 3 months
It uses 5% minoxidil to accelerate hair growth
Free from unwanted fragrance or silicone, which may deteriorate hair
Improves the condition of hair follicles
The formula can be used on color-treated hair as well
Enhances conditioning of scalp with skin-loving ingredients
Targets-specific issues like hair thinning
Boosts current density of hair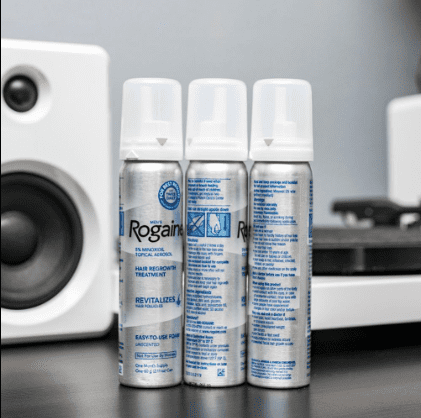 Cons
This might result in unwanted hair growth
Works for people who are suffering from hair loss due to hereditary reasons
This may lead to many side effects in an individual
Customer Feedback | Nutrafol VS Rogaine
When it comes to hair care, people often show only the good things online and sugarcoat all flaws. It is very easy to be misguided about a brand or product everyone has been discussing. And when we fall into these traps, we lose our money and time, which we could have invested in better things. Not to mention how unhappy we make our hair with it. Backing up theories is a must, so we talked to users who were just like you once upon a time. What trusted sources say about these products and how they impacted their haircare journey?
Hazel E. commented on Nutrafol, "I never believed in these hair supplements until my mother-in-law got me these personally after seeing the poor plight of my hair. My hair used to be very healthy once upon a time, but it's been too long since I have seen myself like that. I have been using this for 5 months and am quite satisfied.
I started noticing improvements at the end of 4 months. My scalp feels very healthy and nourished now. I can see a massive difference in my hair now because they are no more rough and brittle than they used to be. The hair growth is not as significant as I wanted, but it is slowly happening. So I guess I'll just have to be patient."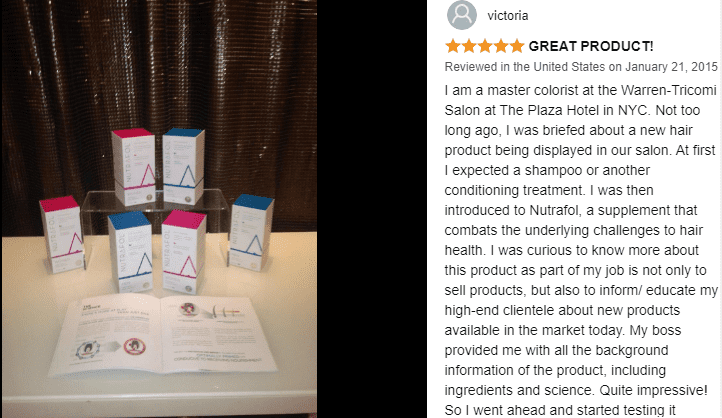 Nicky pinned on Rogaine, "This was a complete waste of my money, and I don't understand how so many people like it. I don't know why but after introducing it to my routine, I started gaining weight, and now I even get terrible headaches. I wish I had done a bit more research."
Abigail said about Nutrafol, "After using many hair treatments in the past, I switched to this thinking this would help improve my hair condition, but the opposite happened. I am getting bad rashes, which I think is because I have very sensitive skin. It is so irritating that I have to take 4 tablets every day. Not happy with this at all. I want my money back."
Lauren mentioned on Rogaine, "My locks have never felt so better. My scalp is thoroughly conditioned with these botanicals and emollients present in the formula. I think things are finally changing for the better."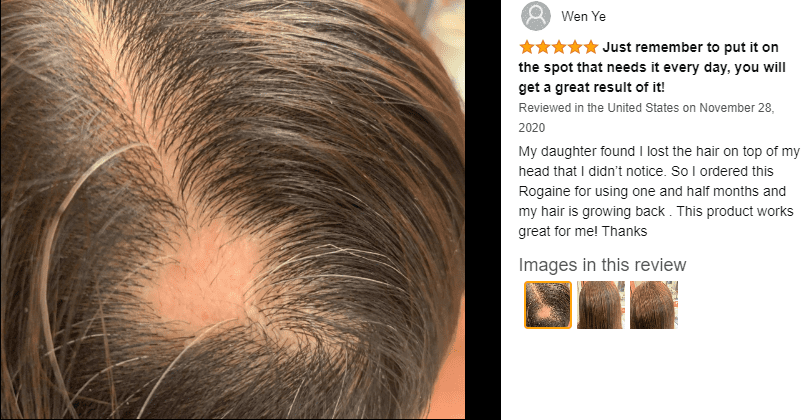 FAQs | Nutrafol VS Rogaine
Why is Nutrafol not approved by the FDA?
The FDA over monitors and regulates prescription and over-the-counter drugs. None of the ingredients coming under Nutrafol are restricted by it. This is because all elements in the formulations are free of any kind of drug or hormones and have been designed in an FDA-certified facility that adheres to the United States Food and Drug Administration (FDA) requirements. That is why Nutrafol does not need FDA approval.
Can Rogaine cause hair loss?
Yes, Rogaine can cause hair loss, but it will only be temporary. When you start using this daily on your hair, you might expect a terrible phase of hair loss that wasn't there earlier. It may feel like the formula is worsening your condition, but it is anticipated that it might continue for about two weeks or more. However, you must continue using it, or it will all be for nothing. Things might get terrible before they improve, as in this phase, your hair enters the anagen phase prematurely because of minoxidil. This makes your hair look bad in the initial days.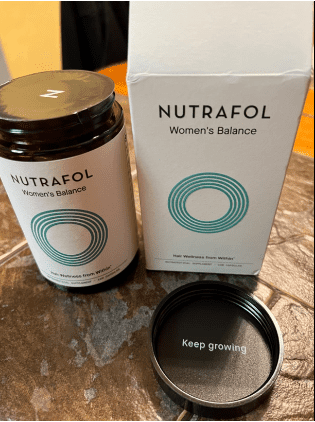 Can I use Nutrafol with Rogaine?
According to experts, you can combine Rogaine with Nutrafol and other hair growth products. However, make sure that you seek a healthcare professional's advice before taking medication or pills of Nutrafol supplements. This will help you avoid any unwanted danger because you will know who can use it and who cannot.
Can Nutrafol regrow lost hair?
According to results shared by the brand, it claims that clinical evaluations of Nutrafol supplements are the fastest-growing supplement for healthy hair and hair growth. They regrow hair and support it in 80% of people.
Why should you not use Rogaine?
You must follow many dos and don'ts that you must follow before adding Rogaine to your everyday life. For example, pregnant or breastfeeding women are strongly advised not to use this in any way. Users may experience side effects like sudden facial or body hair growth, dizziness, and irregular heartbeat. If you also notice swelling of your hands, gain in weight, fatigue, problems breathing correctly, or chest pain, stop this treatment immediately, and seek medical consultation with your doctor.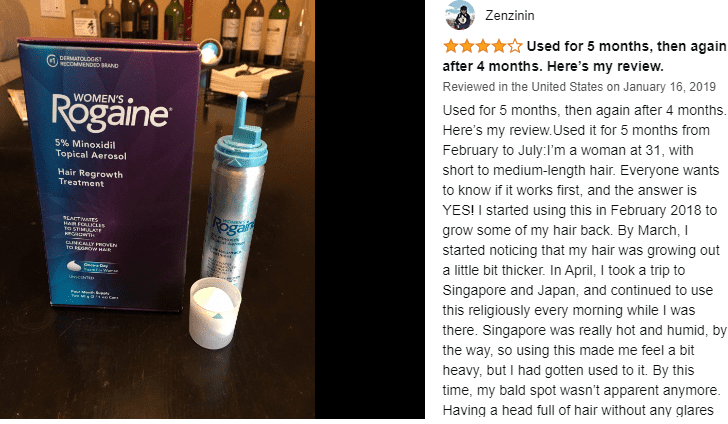 Do you take all 4 Nutrafol pills at once?
It is your personal choice. Users can take all four pills at once. But as this might be uncomfortable for most people, you can take them one after another. We are used to leaving breaks between each pill, so doing this will help. According to Nutrafol, you can take all your tablets in the morning.
Closure
When you are super hungry and want to splurge over a plate of noodles, that time, even if someone cooks you the best dish in the world, you won't quench your hunger. That is because our body was craving something else. Similarly, your hair has such episodes too, and you must get familiar with it. When our hair does not get enough nutrients, it starts acting out.
This may be in the form of hair fall suddenly, unhealthy scalp, irritation, or splitting of hair strands. On top of that, it will be a sorry state of affairs for your tresses if you give them the wrong food at that time. So if you want to avoid aggravating your problems unknowingly, you should know what those products do to the hair you are buying and what your concern is.
While this faceoff of Nutrafol VS Rogaine shows that both brands have come across as good for your hair, it all comes down to your hair condition and what you can give it to improve. Rogaine is very constricted in this case because it will only heal your hair problem to a certain extent if you have some baldness. However, it will be very budget-friendly, as Nutrafol charges much from your bank account. Make sure you decide wisely because everyone's hair is worth saving!
Rebecca is a skilled writer with a passion for makeup and skincare. With years of experience in the beauty industry, she has a deep understanding of the latest trends and products and a talent for creating engaging content that resonates with her readers. Whether she's writing about the latest skincare products or sharing her favorite makeup tips, Rebecca's writing is always informative, entertaining, and inspiring.