Who doesn't want their skin to stay young forever? While having youthful skin at one age is impractical, you can still allow it to remain at its best by consuming proper supplements. Collagen supplement drinks are a boon for your skin and body, but the only issue remains trusting the right product with your skin.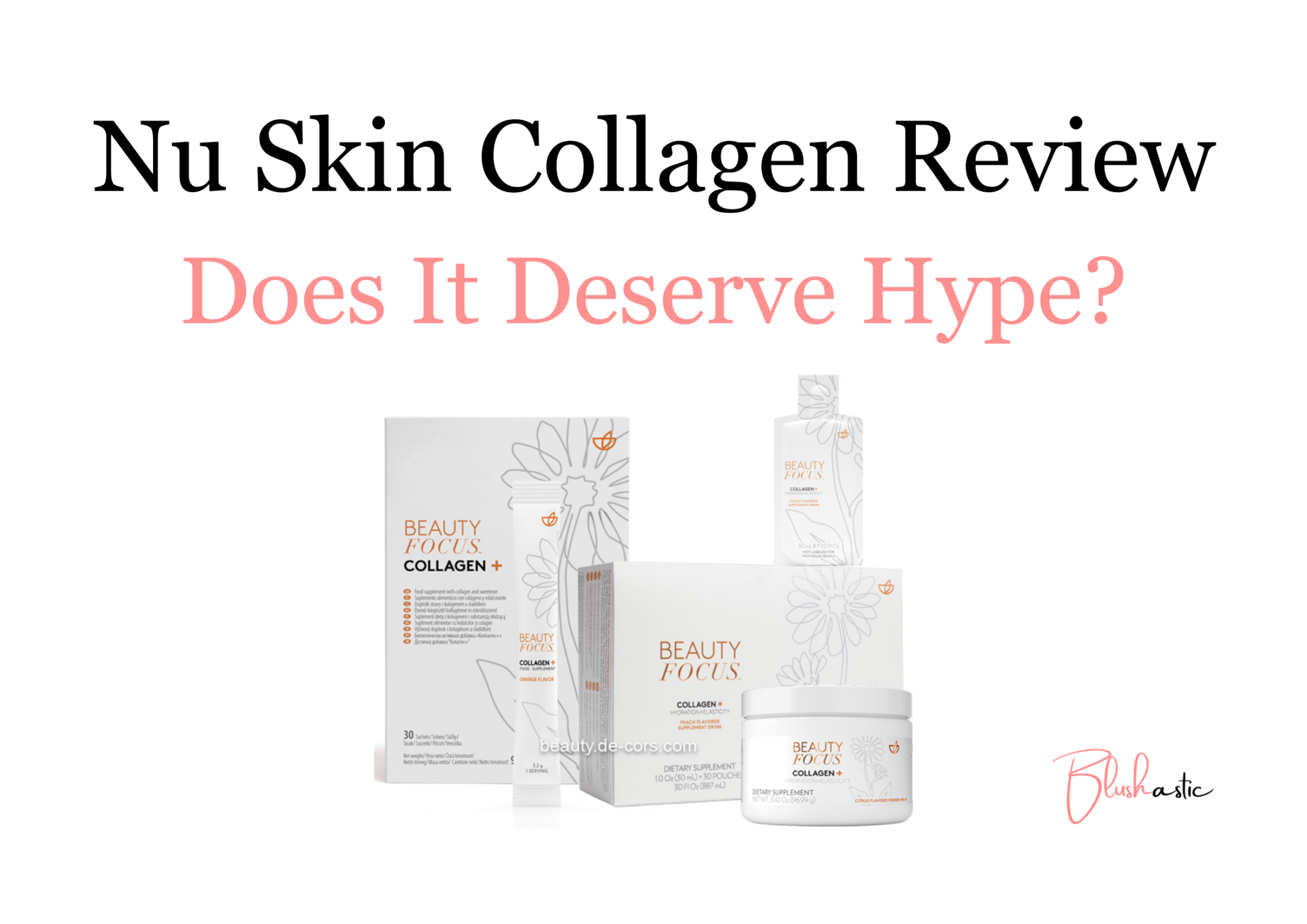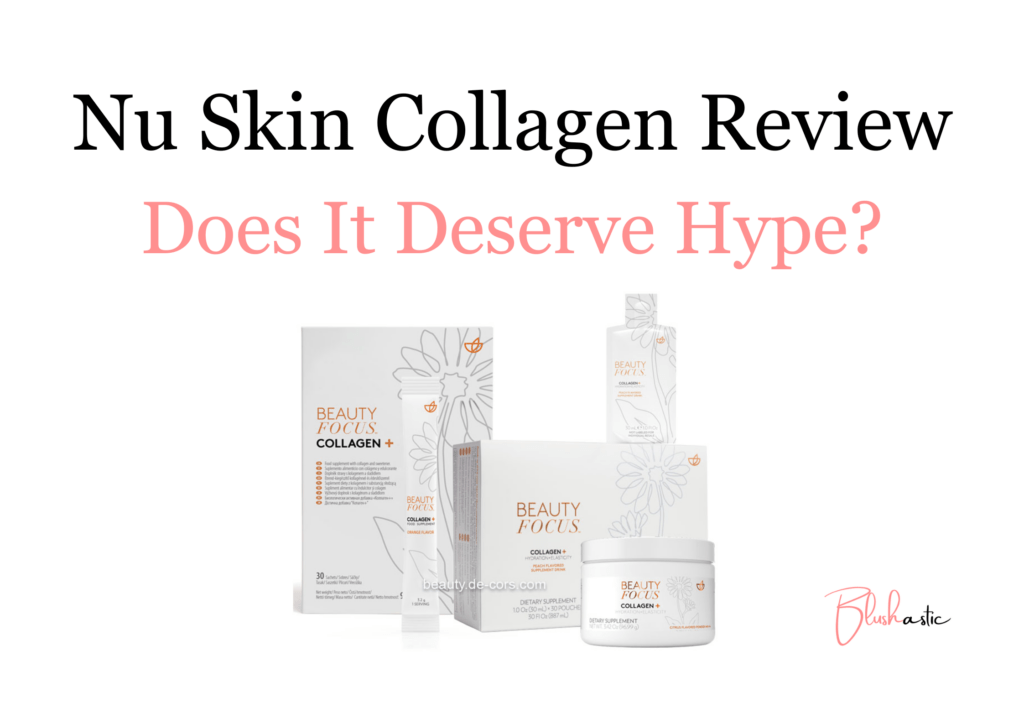 One such product that created quite a buzz is Nu Skin Beauty Focus Collagen+, which claims to keep your skin young. But again, can you trust it? Let us uncover the truth in our Nu Skin Collagen Reviews, where we will glance at its details, benefits, usage, ingredients, side effects, reviews, and more.
Nu Skin Collagen Reviews | Is It Truly Beneficial?
The brand owns skincare products, beauty devices, and nutritional supplements. The Nu Skin collagen drink comes in a peach and a strawberry flavor. This product contains Type 1 Bovine Collagen among the different types of collagen—this type of collagen aids in developing your skin, nails, bones, and other body parts.
Bovine is made from the farm-raised cows' bone, cartilage, and hide. The collagen peptides are the more straightforward, broken forms of collagen that are easily digestible and absorbable by our body. This skin collagen review will open your eyes to the reality of this product. Before we dig deeper, see what the brand claims to be the benefits of having this drink.
Nu Skin Collagen Benefits
The Nu Skin collagen peptides stimulate collagen and elastin production, the two protein fibers providing structure, strength, and stretch in your body. It has the backing of clinical trials to prove its claims. The brand even nudges you to take other Nu Skin topical skin care products to increase perks. However, this product primarily focuses on skin health.
Suppose you consume the Nu Skin collagen powder daily. In that case, you will notice that your skin's radiance revs up, and your wrinkles or fine lines lessen visibly. The general hydration levels of your skin rise. As a result, the skin feels well-moisturized and supple. Similarly, it shields your skin from oxidative stressors like blue light.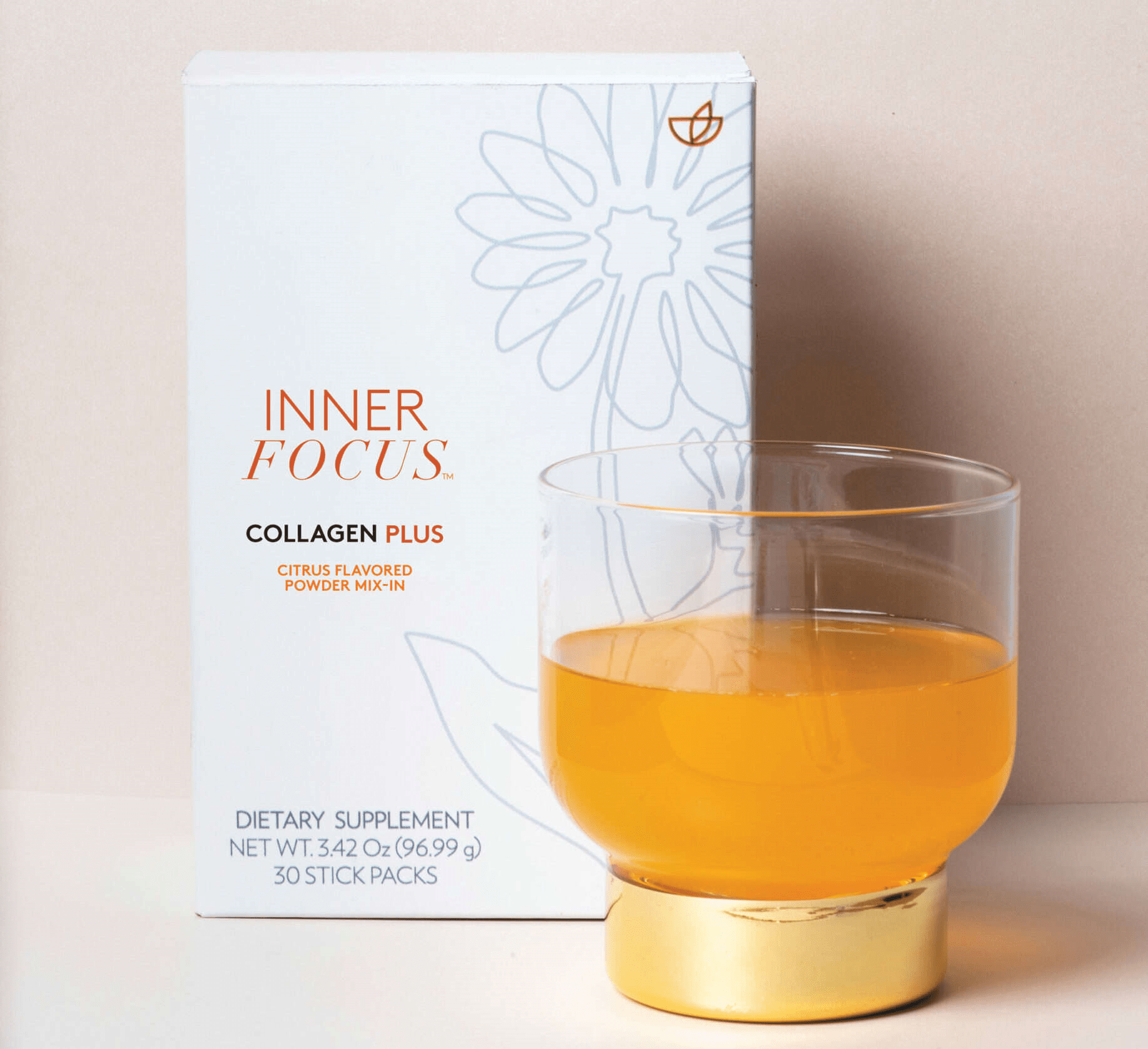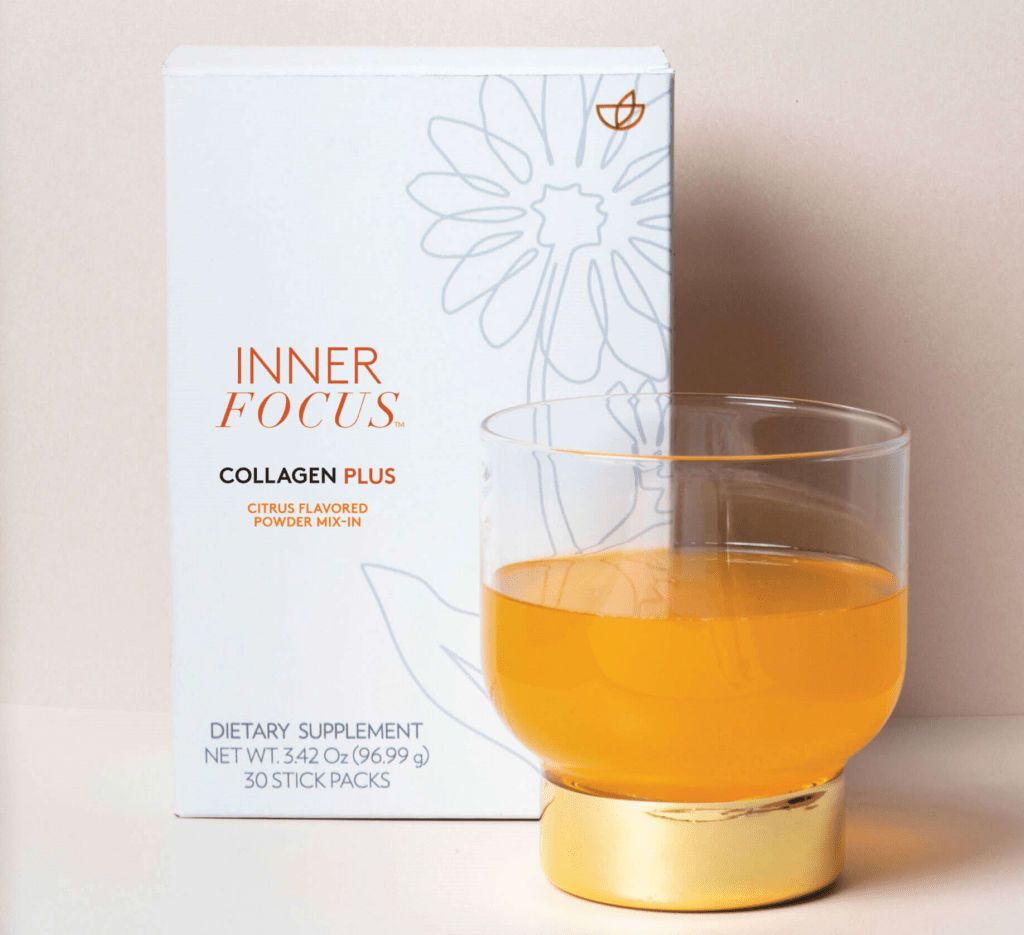 It contains minimal but potent ingredients. The extra "+" sign on its name assures its proprietary blend of ingredients (more details coming). Collagen peptides stimulate your skin to make more collagen, which provides the building blocks for your skin. Did you know that oxidative stressors (like sunlight) inhibit our normal collagen-making function?
Plus, our body produces 1% less collagen every year, which hampers the overall development of our skin and body health. These are a few reasons to consider a collagen supplement, especially as you age. Nu Skin Collagen+ contains bioactive collagen peptides having a unique peptide "fingerprint," enabling them to tie to the collagen receptors effectively.
How To Use?
Your Beauty Focus Collagen+ powder may come in a jar, juice, or stick pouches. To use it is pretty simple, and you must always look at the back of the product to know how to use your supplement correctly. The jar (97 g) comes with a scoop; you can follow these steps.
Take a scoop or two of the powder.
Mix it in hot or cold water (100 ml). You can use it in smoothies, juice, coffee, or tea instead of plain water.
Mix the powder well till you see no lumps floating.
The process is different if you use the product in pouch format (30 pieces of 30 ml each in each set).
Empty a whole pouch of this product into your water or other liquid, and drink it within the first few minutes of mixing it.
You can have it with or without food and at any time of the day. Please continue to have it at the same time of the day daily.
For best results, consume it regularly.
Children under 18 years of age must avoid it. Remember to always store the product in a cool, dry place. If you notice any discomfort after having it, cease drinking it and consult your doctor immediately. Also, ask them whether you can have it during pregnancy or breastfeeding.
Let us see if the ingredients in this product can trigger a reaction in you.
Nu Skin Collagen Ingredients
Know that with every pouch of serving size, you get 2 g of protein, 5 mg of sodium, 2 g of carbohydrates, and 2 g of sugars. You also get a portion of the prime ingredients of the Beauty Focus Strawberry Collagen+. They are Bioactive Collagen Peptides (2500 mg), Lutein (5 mg), and Phytoceramides (70 mg). Let us look into each one of them.
Bioactive Collagen Peptides are the collagen peptides (or the animal-based collagen in its broken form) that have a distinct peptide "fingerprint." It boosts the building of collagen and elastin in our body. You can source these collagen peptides from the Type-1 bovine collagen that the brand obtains from pasture-raised cows that only eat grass and mixed vegetable diet.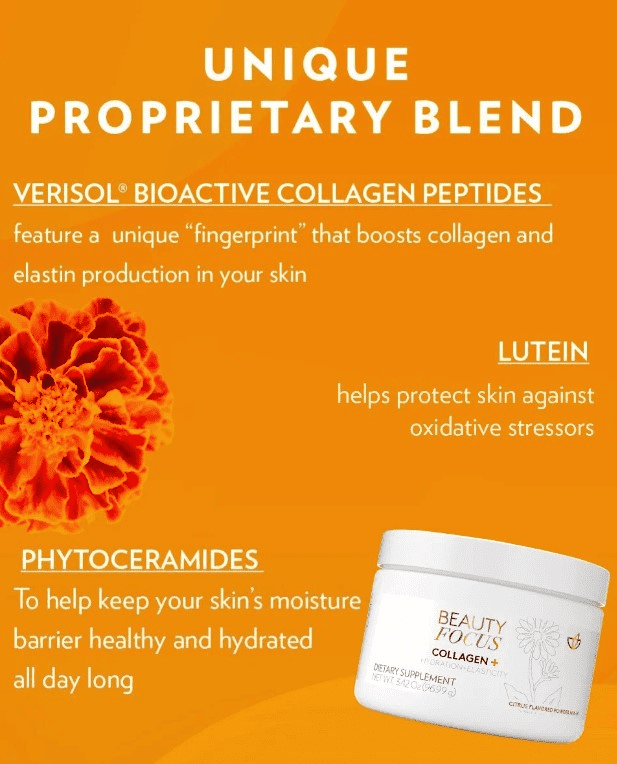 Lutein from Marigold Flower extract has anti-inflammatory qualities. It is even famous for its ability to prevent eye diseases like blindness. It is a carotenoid (a fat-soluble coloring pigment that gives color to plants). It shields your skin from oxidative stressors and promotes radiance in it.
Phytoceramides help relieve the dryness that causes skin irritation. It also aids in diminishing your fine lines and increases your skin's hydration levels. Plus, it facilitates the skin barrier function easily.
Check the complete list of ingredients after scrolling down here to see whether you have an allergic history with any of them.
Nu Skin Collagen Side Effects
The product contains natural flavors of peaches and vanilla that may trigger an allergy in some of you. It may range from mild symptoms of itching and hives to severe medical conditions like anaphylaxis (a lethal allergic reaction).
The Guar Gum in this product as a thickener and stabilizer may inflict signs of diarrhea, bloating, or gas. Hence, it would be best to consume it only after you notice no such uneasiness after your first consumption. The brand specifies to consult your doctor about the correct dosage to intake if you have a prior medical condition.
Pros
It is travel-friendly and simple to use. It tastes excellent due to the added flavors.
The Nu Skin collagen drink is free of artificial colors or sweeteners.
The collagen peptides will help moisturize your skin, improve its elasticity, and increase hydration levels.
An effective dose of collagen peptides develops our body and skin, helping to maintain their integrity and structure.
Collagen peptides digest quickly, absorb better, and are well-dispersed throughout the body.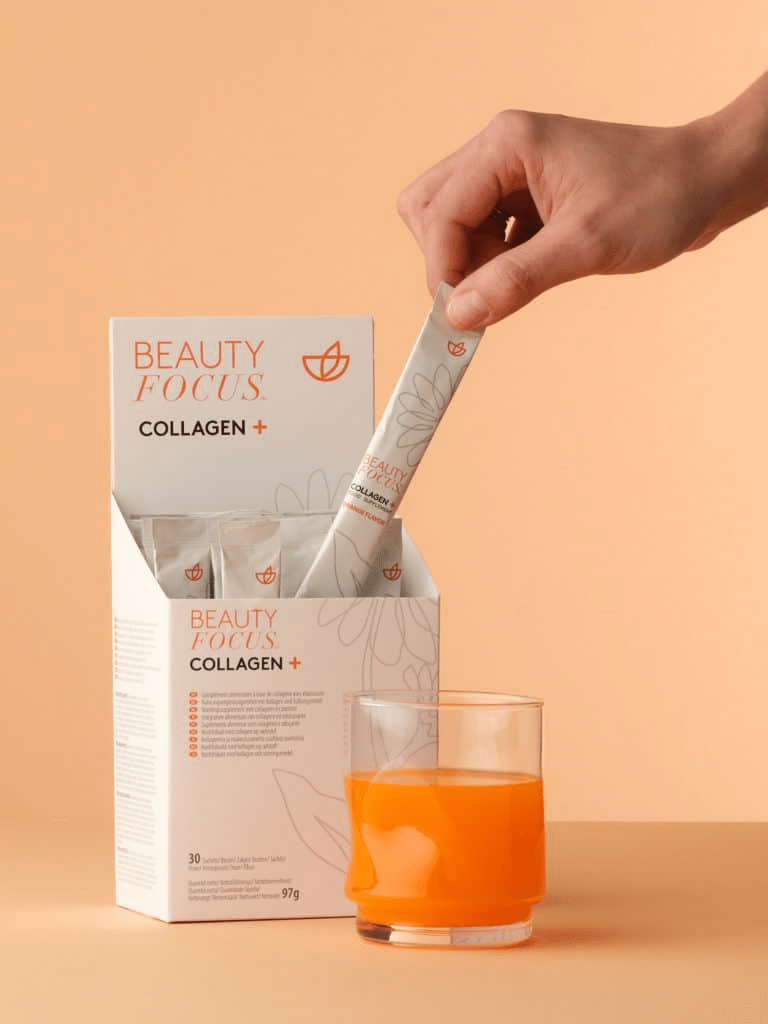 Cons
It feels overpriced to many users.
A few of its ingredients may be harmful to you.
It isn't fit for vegans and vegetarians and contains flavors that may harm your health.
The FDA doesn't back up any claims of potency or credibility of ingredients.
The results of the on-display clinical trials of this product appear questionable, given that no legitimate sources back it.
Customer's Feedback | Nu Skin Collagen Reviews
Nu Skin collagen reviews before and after its use are a real eye-opener! Before we listen to what others say, I want to share my experience with this product. So I got this product two months ago upon my friend's recommendation. My pain areas are wrinkles, thin hair, and fragile nails. I received two boxes of my strawberry-flavored supplement containing 30 sachets. Preferably, I used to mix a sachet with my morning smoothie daily.
It may be surprising, but I didn't face any side effects, though my doctor told me I might. Anyways! I saw a glow in my skin's radiance during my 4th week. While my fine lines and hair remained the same, the nails were better. Overall, the results were satisfactory, but I won't be buying again since the Nu Skin collagen price range does not fit my budget. Now, let's move ahead to see what others feel about this product.
Adrielle shares, "The Nu Skin collagen drink does all the wonders! I'm shocked that my skin looks quite younger than before. My wrinkles are less visible now, and my hair is denser than a month ago."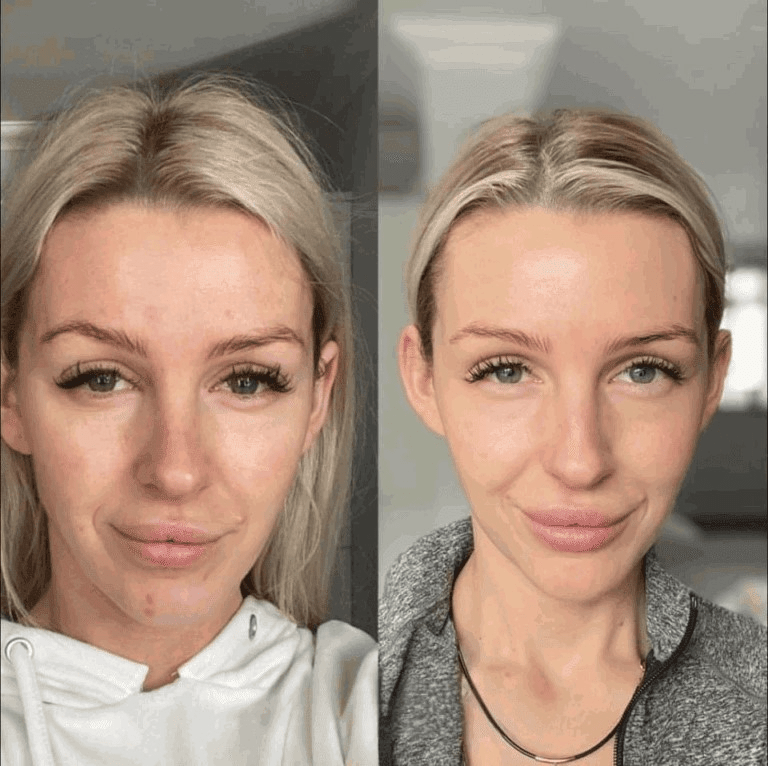 Misty comments, "It is always a treat to have this powder daily in my juice. It gives off a strawberry flavor that I enjoy. I noticed the texture of my nails and skin improved within just the 3rd week. But I also worked out daily and maintained a clean diet that I never did before. So I can't say whom to give credit to. I'll give it to both of them."
Cora refutes, "I did not see any results whatsoever. The Nu Skin products are both overpriced and do not always deliver. In my first drink, I felt nauseous and bloated. My sister also used it without noting any side effects, but she did see any results. I won't recommend it to anyone!"
As you can see, The Nu Skin collagen drink reviews received positive and negative feedback from its users. So, the efficacy level varies from person to person, and you can test yours too.
FAQs | Nu Skin Collagen Reviews
What does Nu Skin collagen do?
The Nu Skin collagen is a nutritional supplement that helps to infuse collagen into your body to enable it to perform some functions. Let's speak about the main benefits of your skin. Collagen is critical to keep it youthful and free of wrinkles, fine lines, and dull complexion. It replaces your dead skin cells, gives your skin its elasticity structure, and helps your skin layer to generate new cells.
What does Nu Skin Collagen before and after results say?
If we look at the Nu Skin real reviews, they are all thumbs up for the product, but there are a few thumbs down, too. The primary concerns of the users are its pricey nature, a few harmful ingredients, occurrences of digestive issues post-consumption, and no results even after taking it for a prolonged period.
What kind of collagen is in Nu Skin?
The Nu Skin Beauty Focus Collagen+ contains Type 1 Bovine collagen from grass-fed cows' body parts (bones, hides, tendons, and others). The Nu Skin has collagen peptides, the broken forms of normal collagen that are easily digested and absorbed by the body.
Is collagen really worth the hype?
Yes, collagen is worth all the hype around it. Its 28 different types help develop your bones, skin, joints, hair, nails, and other body parts. Many health experts vouch for using collagen supplements as our body produces 1% less collagen every year after age 20.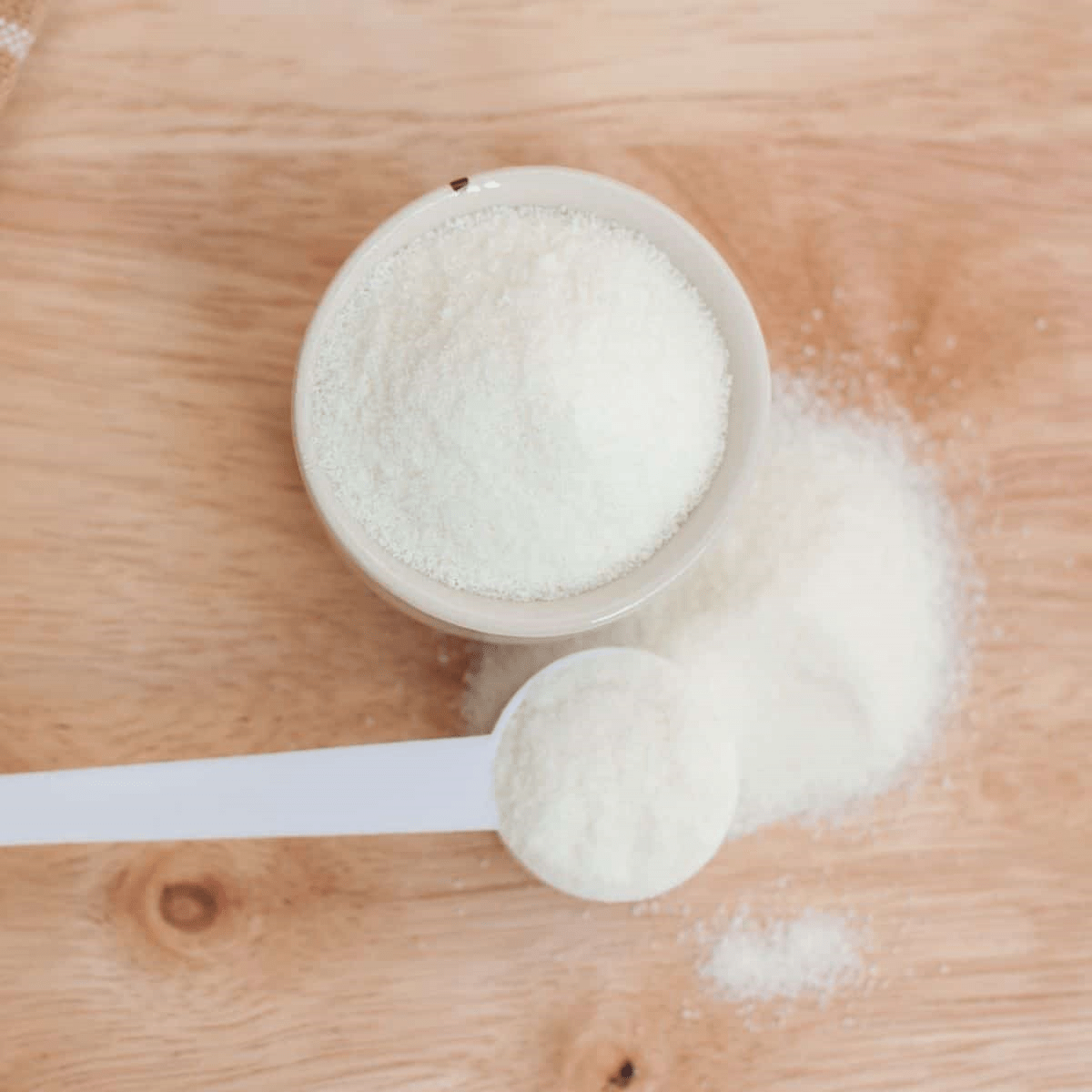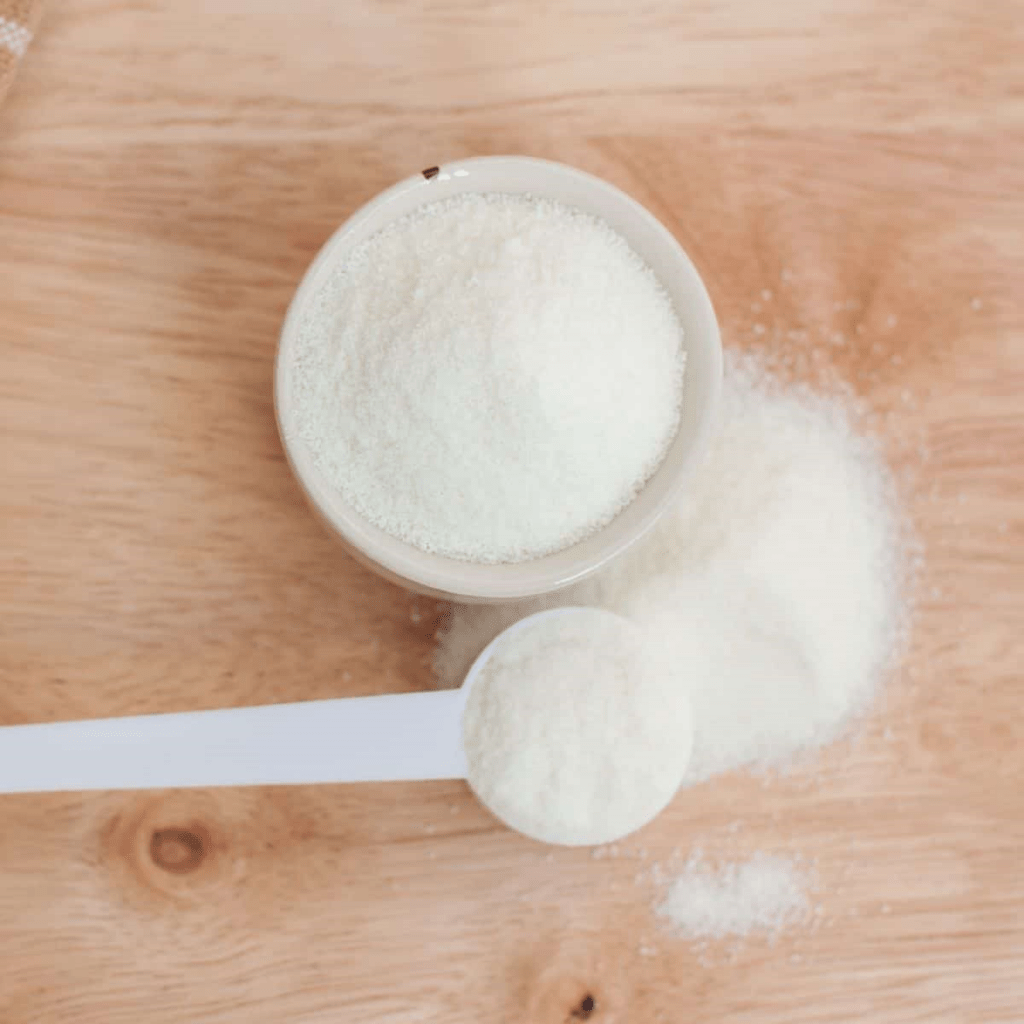 Is beauty focus collagen good for you?
Yes, the Beauty Focus Collagen+ Plus is good for you if you want your skin to show a healthy radiant and signs of youthful skin. While it is true that it helped many customers in achieving their "skin goals," you may want to be more careful when planning to try it. Skim the ingredients, exceptions to use (underage, pregnancy, lactating, allergy, etc.), and reviews before purchasing.
Closure | Nu Skin Collagen Reviews
As we are nearing the end of this product's review, I hope you are now clear on its perks, composition, potential side effects, and reviews. This product is truly effective and does display the benefits in reality, too. Plus, each product serving contains 2.5 g of collagen peptides, a safely effective dosage for even beginners to have guilt-free. But we cannot wholly stave off possible concerns over the product.
Doing your part by scanning its details here and consulting a medical professional before use would be the best option. Before we stop here, let me ask you one question. Are you taking care of your clean diet and an active lifestyle? If yes, you have already embarked on your age-reversing journey. But if your answer is no, you should start it immediately.
Drop down your queries below, and we will reply soon.
Marilyn's deep interest in fashion, beauty, and lifestyle has led her to pursue a fulfilling career as a freelance writer and blogger. With her bachelor's degree in fashion design from the Fashion Institute of Technology, she has developed a keen eye for style and trends, making her well-equipped to offer valuable insights into the latest fashion and beauty trends.