Do you also plan to own a skin massage device? I would definitely vouch for you to have one. We need massagers that rejuvenate our skin instantly and give us a relaxing massage session. The two popular facial devices, TheraFace Pro and NuFace, are top-notch tools in this field. But which one is the better device?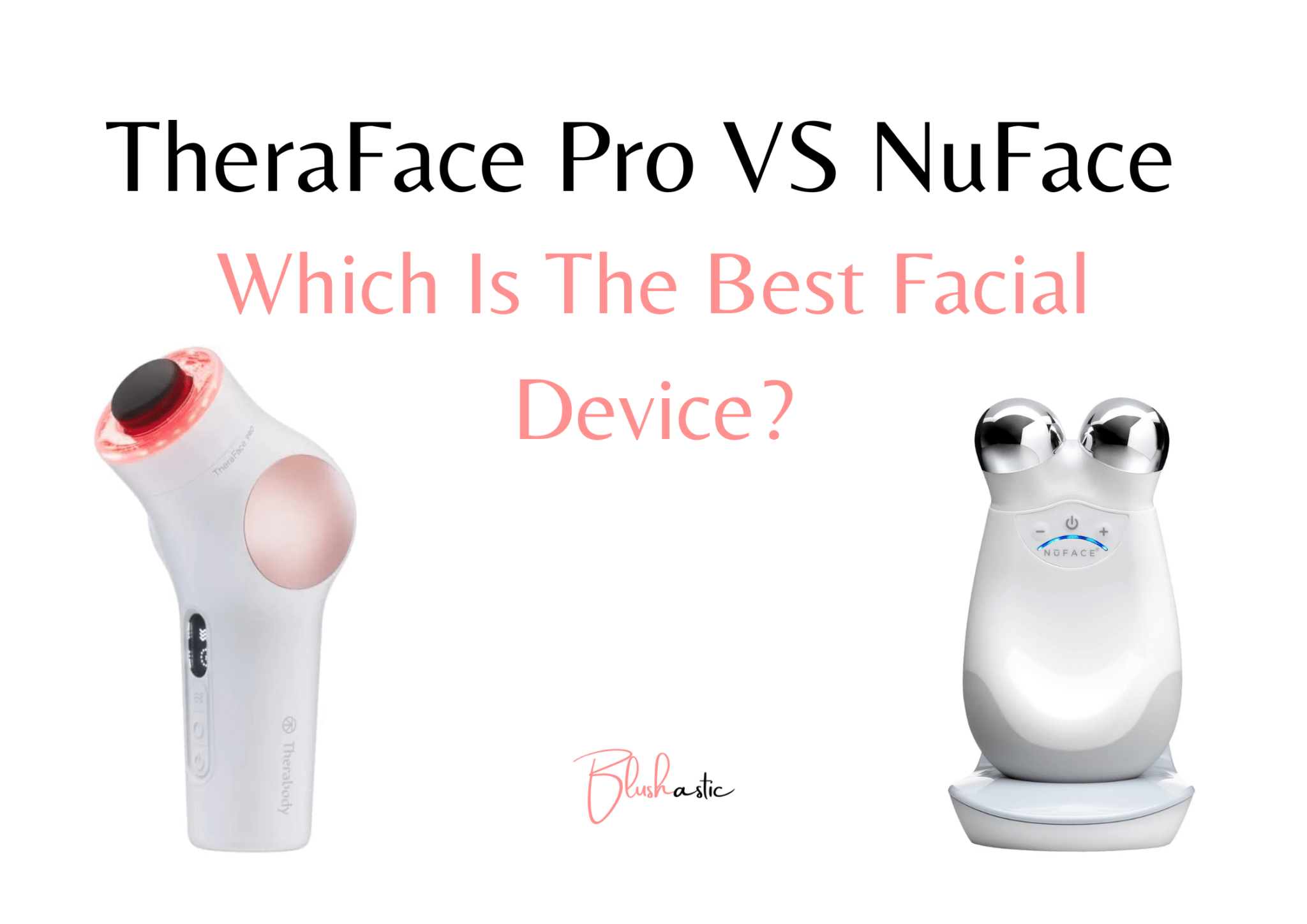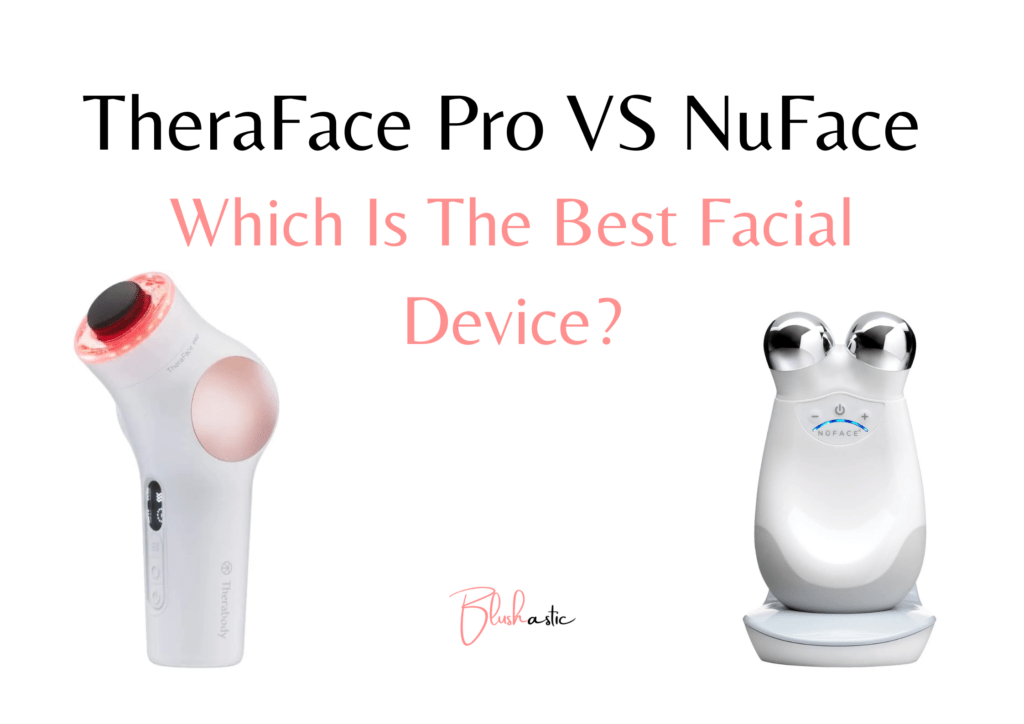 Let us know about it in our TheraFace Pro VS NuFace review that compares their brands, technologies, attachments, usages, pros, cons, prices, customer support, reviews, and more to determine the winner.
TheraFace Pro VS NuFace | The Better Facial Device?
Both devices have a significant following and are famous beyond their limits. While TheraFace Pro has wooed users with its potency, NuFace has been stealing the spotlight lately. Which of the two works the best? Is NuFace a great TheraFace Pro alternative? We will know by the end of this article. So keep on reading!
Brand and Body
TheraFace Pro
The brand Therabody is behind TheraFace, which has its manufacturing base in Los Angeles, CA, USA. The brand's prime focus is wellness solutions through cutting-edge therapies that lower stress and recharge your mind.
Talking about the TheraFace Pro, you can avail of the product in black and white. Its elongated gun-like body has a magnetic face where you can attach the tools.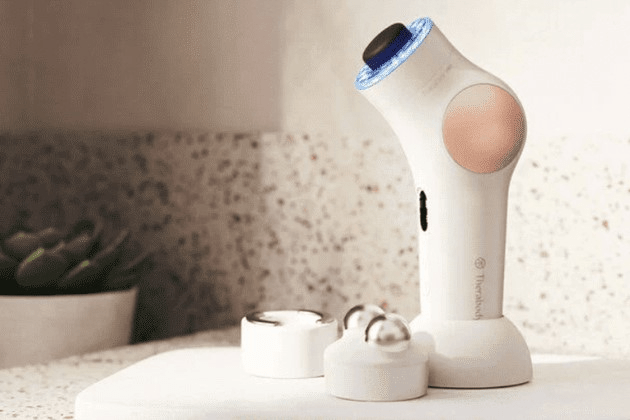 TheraFace Pro VS TheraFace LED
The critical difference between these sets is the number of attachments alongside the TheraFace device, Soft Carrying Bag, Stand, and USB-A to USB-C charging cable. The TheraFace Pro consists of 6 facial treatments compared to 4 in the LED.
NuFace
NuFace owns various devices, accessories, and skincare products in Vista, CA, USA. Their new devices — Mini+ and Trinity+, are an upgrade to the classic Mini and Trinity devices. The body of NuFace devices has a bulge, unlike the elongated handle of TheraFace Pro.
Both the Mini and Trinity devices offer Microcurrent Technology. The Trinity devices can attach Wrinkle Reducer and ELE (Eye Lip & Eye). But the petite facial toning device of Mini cannot have attachments like the Trinity.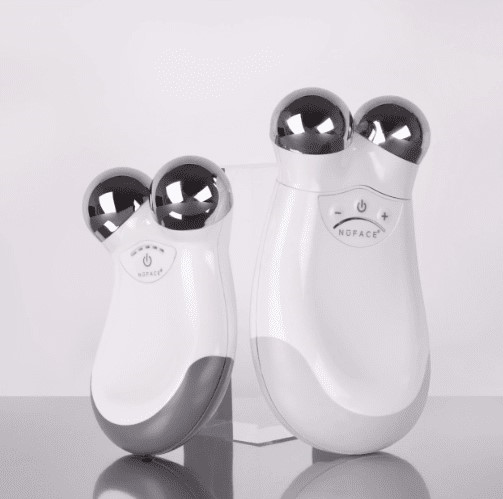 NuFace Trinity VS Trinity +
The NuFace Trinity+ includes everything in the Trinity Classic Starter Kit, plus a Sweep Applicator Brush, and a Silk Creme Activator. But the prime upgrade of Trinity+ is the 3-Depth Technology that the original Trinity misses.
NuFace Mini VS Mini+
NuFace Mini consists of NuFace Mini Device, Aqua Gel Activator, Power Adapter, and User Manual + Quick Start Guide. The Mini + includes the Applicator Brush and the Silk Creme Activator, like Trinity+. It gives you only NuFace app-exclusive 3-Depth Technology for better microcurrent penetration.
Technology
TheraFace Pro
Percussive Therapy of the TheraFace massage gun (body) involves instant and repeated vibrational pressure that moves rapidly and forcefully, pressurizing the soft tissue. It enhances mobility and decreases muscle soreness.
Light Therapy from the three LED add-ons reduces wrinkles around the eyes, fights mild to moderate acne, and stimulates collagen production.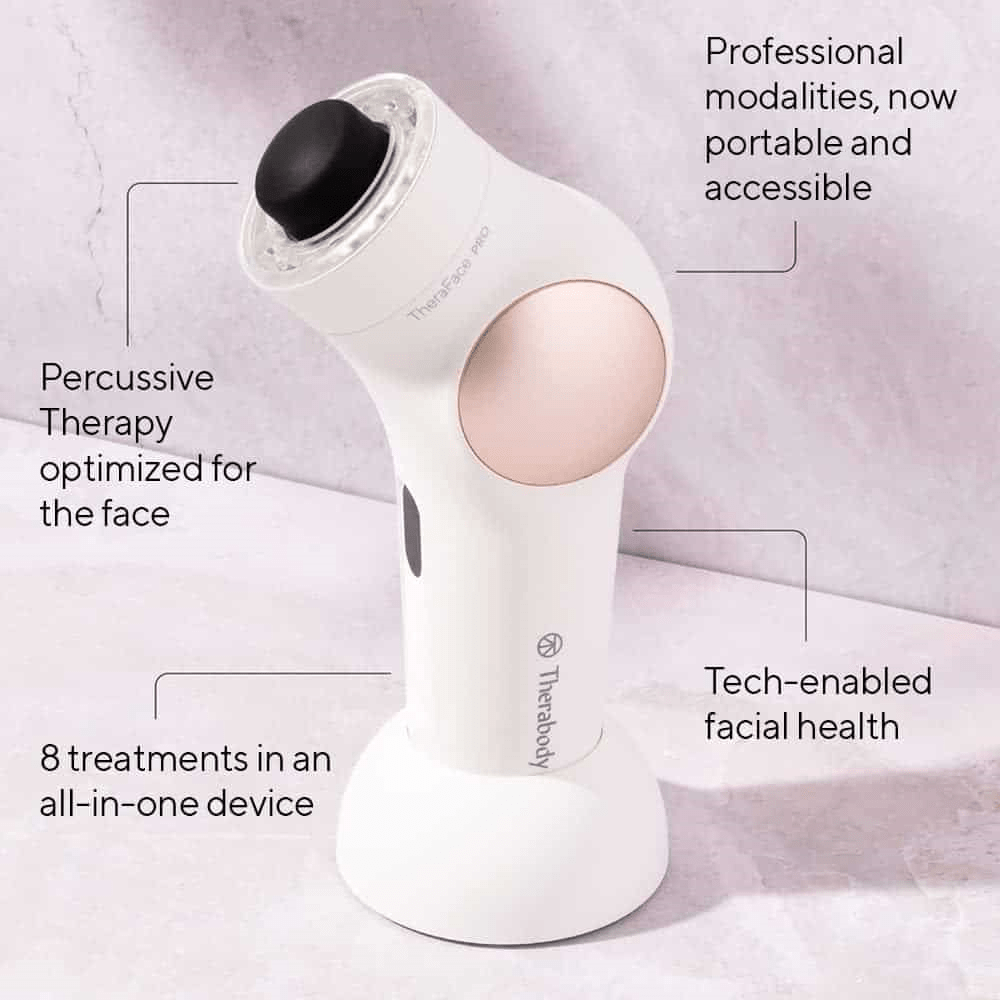 Microcurrent Therapy of the Microcurrent Ring employs a low-level electrical current that boosts collagen and elastin production in the skin, firming your muscles.
Heat Therapy of the Hot Ring induces your natural radiance, reduces facial tension, and increases blood flow in your skin, which has many benefits.
Cold Therapy of the Cold Rings de-puffs the skin and helps to reduce inflammation in it, too. It employs Cryothermal Technology to lessen the pain, swelling, and mild muscle spasms on your skin.
NuFace
Microcurrent Therapy
Like TheraFace, it tones, lifts, and contours the face muscles and skin. Mini and Trinity have similar strength of microcurrent, i.e., 0-335 (at three levels) microamperes. However, the Trinity Pro can deliver up to 0-400 microamperes.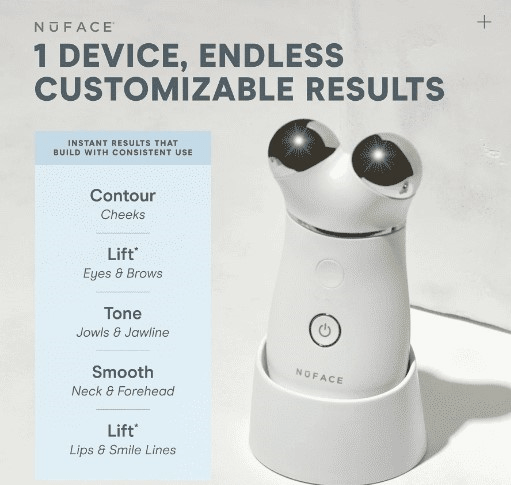 LED Red Light Therapy
You can find this Therapy in the Wrinkle Reducer attachment. The RLT penetrates deeper into your skin and treats redness, wrinkles, acne, scars, etc.
3-Depth Technology
Trinity+ device offers this Technology that penetrates separate dermal (skin) layers from the skin's surface down to the muscle to conceal fine lines, lessen wrinkles, and make an instant, visible lift.
Attachments
TheraFace Pro
TheraFace also shares a comprehensive user guideline to help you understand better the different uses of its attachments.
Percussive Attachments
The three percussive attachments. The Cone gives an extra precise treatment to target narrow areas around the eyes, nasolabial lines, and pressure points. The Micro-Point increases circulation on larger areas like cheeks, chest, and forehead. The Flat attachment can relieve face, chest, and neck tension.
Cleansing Ring
It removes the dirt, debris, and excess oil from your skin. Get rid of the large pores that block debris and dead skin cells triggering acne.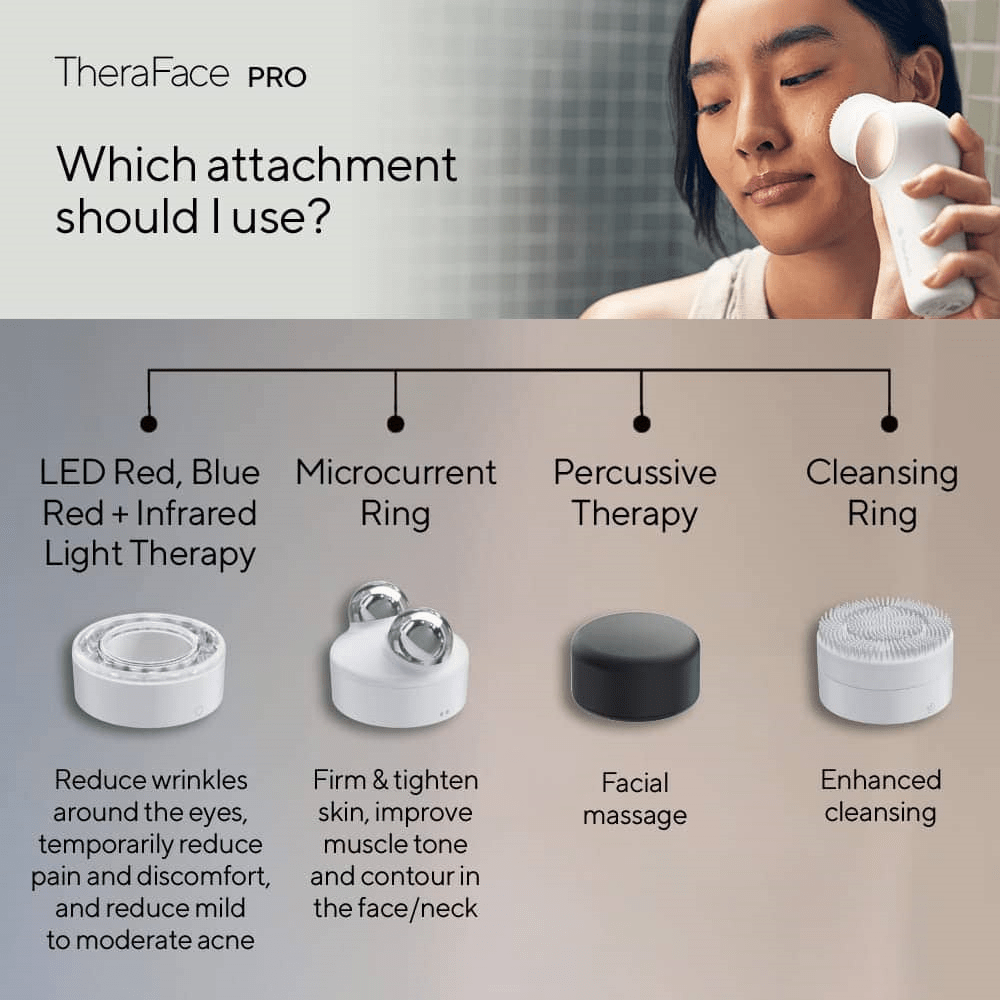 Microcurrent Ring
You can use it to firm and tighten your skin and get a great facial massage. It aids in hardening and plumping your skin, making it look less saggy. Revive your youthful glow after using it.
LED Attachments
There are three magnetized LED attachments. The Red Light can pair up with the percussive attachments and minimize the visibility of wrinkles around the eyes, besides boosting collagen production.
In contrast, you must not use the Blue Light that lessens mild to moderate levels of acne with percussive attachments. Like the Red Light, the Red + Infrared can pair up with percussive attachments and help fade the wrinkle lines, besides temporarily soothing the pain.
Hot and Cold Rings
The Hot Ring shapes your facial structure, reduces tension and pain, and stimulates circulation. Avoid using it if you have melasma or hyperpigmentation. The Cold Ring deals with soothing inflammation and eliminating puffiness. But you have to spend extra to get the hot and cold attachments separately.
NuFace
Facial Trainer
It is the microcurrent attachment that you can get for the Trinity device. It re-energizes the body's natural current and boosts larger facial areas with microcurrent to enhance your facial contour tone and smoothen the fine lines.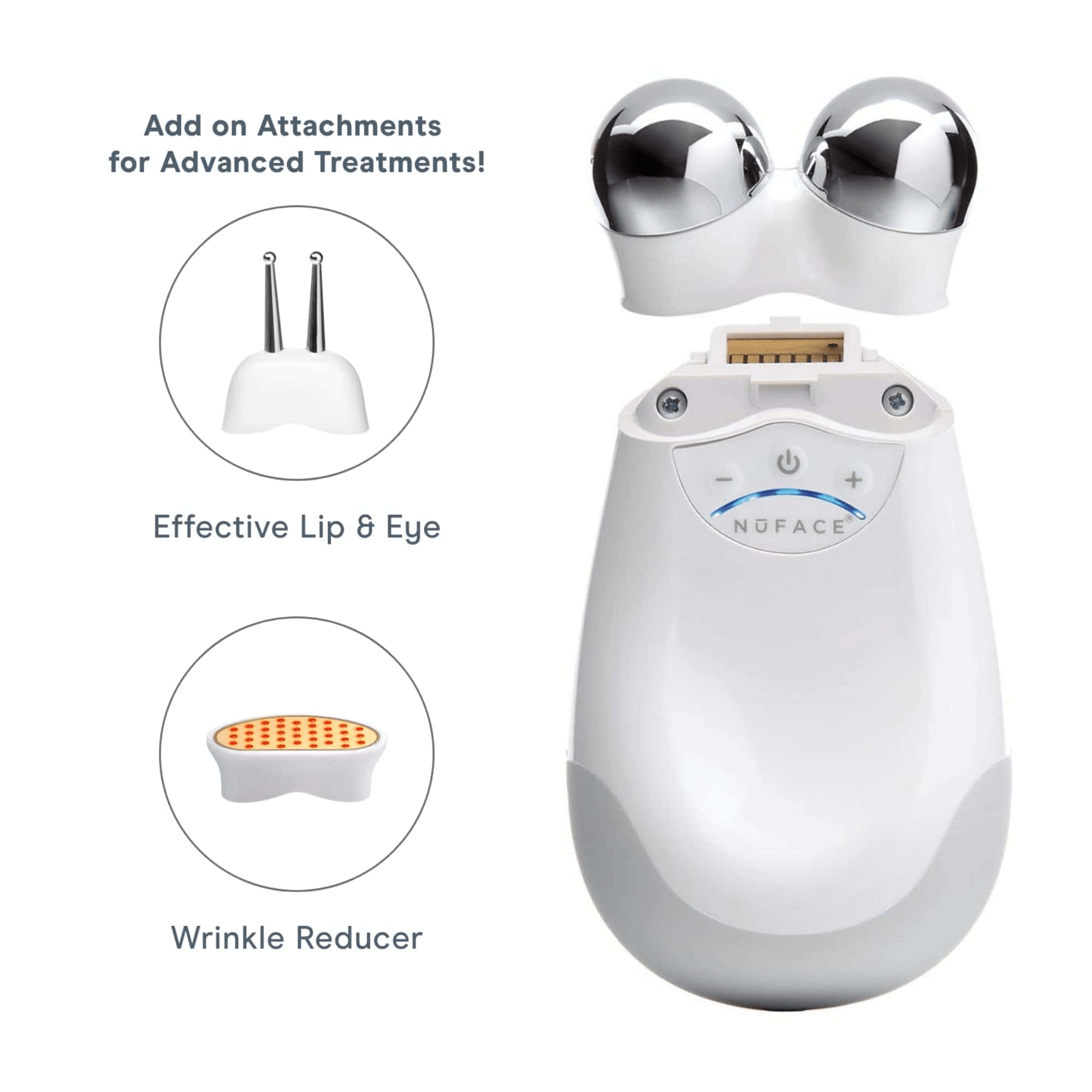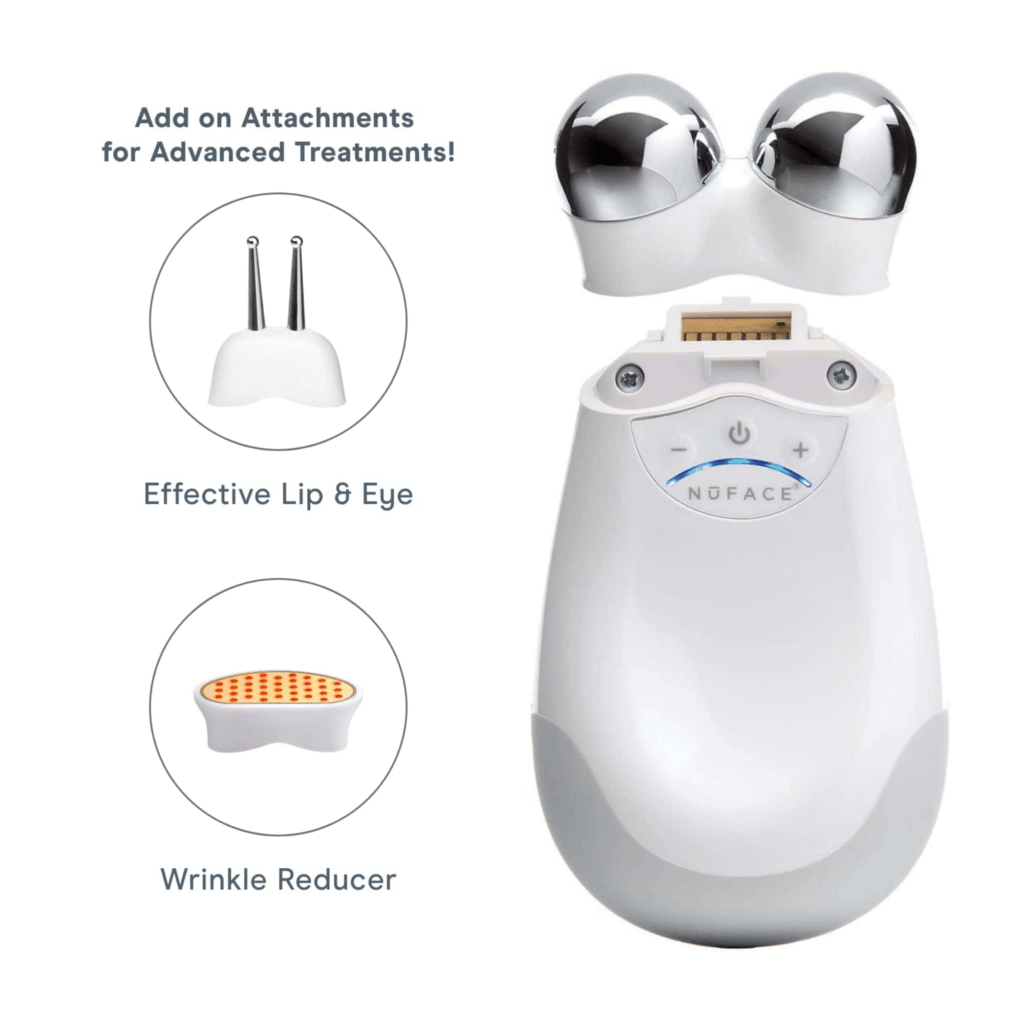 Wrinkle Reducer
This attachment employs LED Red Light Therapy (RLT) to treat wrinkles and fine lines. Note that Trinity and Trinity + have different Wrinkle Reducer attachments.
Effective Lip & Eye
This dual-wanded attachment is deliberately elongated in shape to reach the narrow areas of your eyes and lips. It employs microcurrent to boost your natural appearance of fine lines and wrinkles.
Usage
TheraFace Pro
Due to different attachments, you can combine and customize them to create a new routine on your face, neck, and upper chest areas. Watch this video to follow the "Lift and Firm Routine" accurately. This routine would firm and contour your skin, improve its radiance, and boost circulation.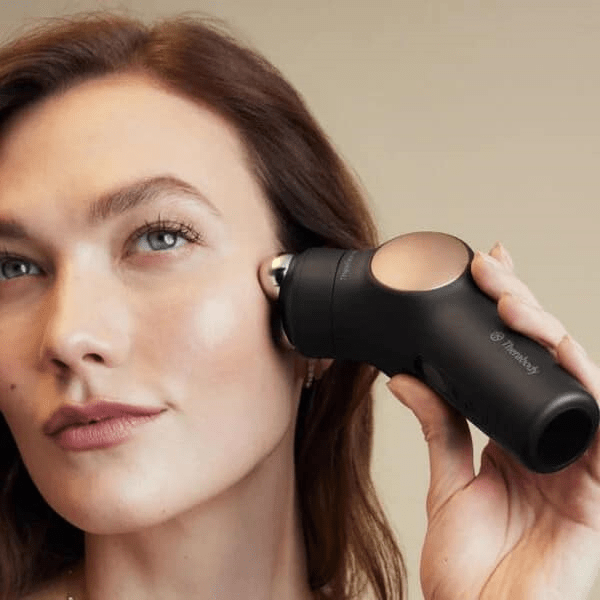 Similarly, you can follow the "Clear and Contour Routine" for an enhanced cleanse, tone, and contour session that combats oily/combination skin. But if you seek to follow their "Tension Relief Routine," scroll down here till you see three video tutorials displaying the routine.
NuFace
You can use the device once daily, five days a week, for at least two months to show any changes. Henceforth, you may use it twice or thrice weekly to maintain the results. Glance at this video to see how NuFace devices work.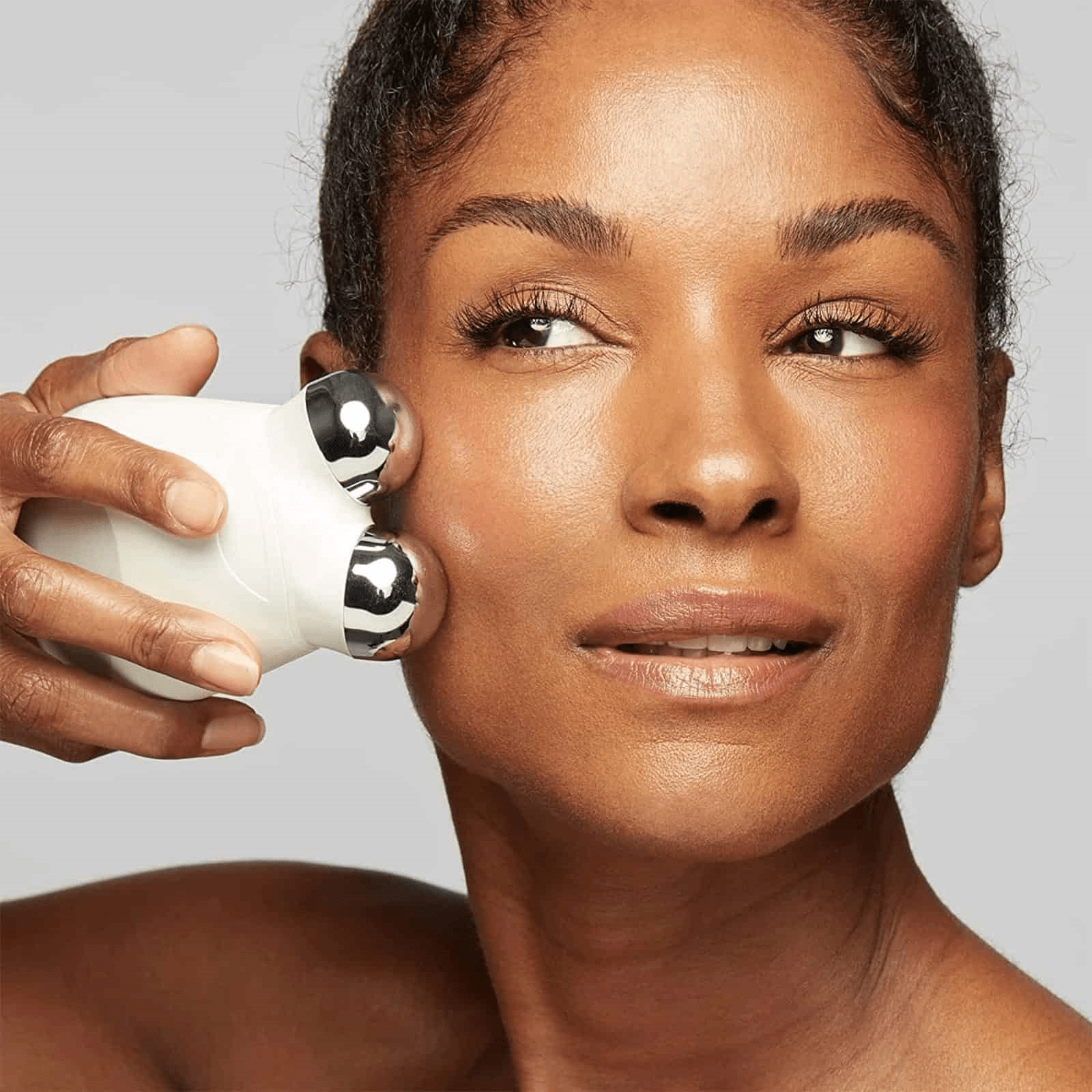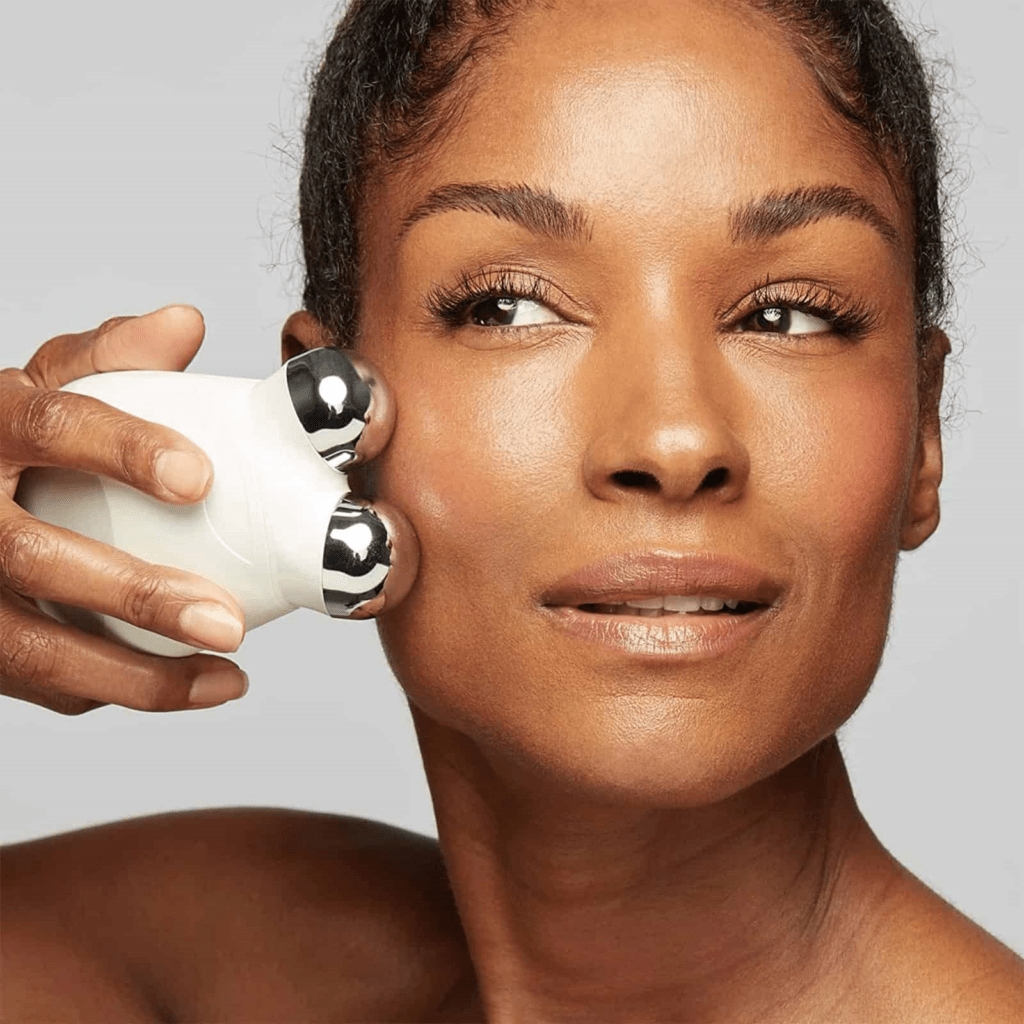 You can view a visual tutorial here for using the Trinity device and have a hassle-free massage routine. Similar to TheraFace customized tutorials, you can have a "Trinity Wrinkle Reducer Treatment," "5-Minute Facial-Lift ", "Advanced 15-Minute Facial-Lift ", and "Targeted Eye & Lip Treatment." Look at their respective detailed guided videos on this page.
Perks
TheraFace Pro
It is an FDA-cleared Type II medical device.
It helps to relieve you from TMJ, jaw clenching, and jaw pain.
The magnetized LED attachments quickly join the body of the product.
The hot attachment minimizes the pain after a few minutes of its use.
NuFace
It is FDA-cleared, clinically proven, and aesthetically created.
Like the TheraFace Pro, you get instant results with NuFace too.
It reduces your morning puffiness and improves the facial contour.
The NuFace Trinity may be safe for people with melasma or hyperpigmentation.
Drawbacks
TheraFace Pro
The results are temporary.
The flash from the LED lights may make your eyes feel uncomfortable.
Avoid using it if you are under 18 or have extremely sensitive skin, eczema, psoriasis, rosacea, melasma, etc.
NuFace
The results are subtle and not drastic.
The RLT needs more evidence to prove its effectiveness.
Your NuFace Trinity device may feel like stringing around your forehead or scalp area.
Price and Customer Support
If we think of TheraFace Pro vs. NuFace Trinity in terms of their price ranges, they lie on the same plane. Both devices are expensive but have solid customer support. You can contact the NuFace customer service department at 1-888-360-9171 here. Similarly, contact TheraFace Pro's customer support here.
Reviews
TheraFace Pro
Let me share my experience with this device first. After viewing the TheraFace Pro reviews, I bought the machine with the Hot and Cold Rings. I followed their Lift & Firm Routine daily and used the device once daily, four times weekly. My jaw pain reduced, but my TheraFace Pro before and after results won't shock you as they are similar, and my face looks the same. Anyway, hear what others have to say!
Belly shares, "I really liked the product after using it for three months. I saw a minor reduction in my acne, but the Blue light did not treat my severe acne. I liked the instant results of an even-toned, contoured face."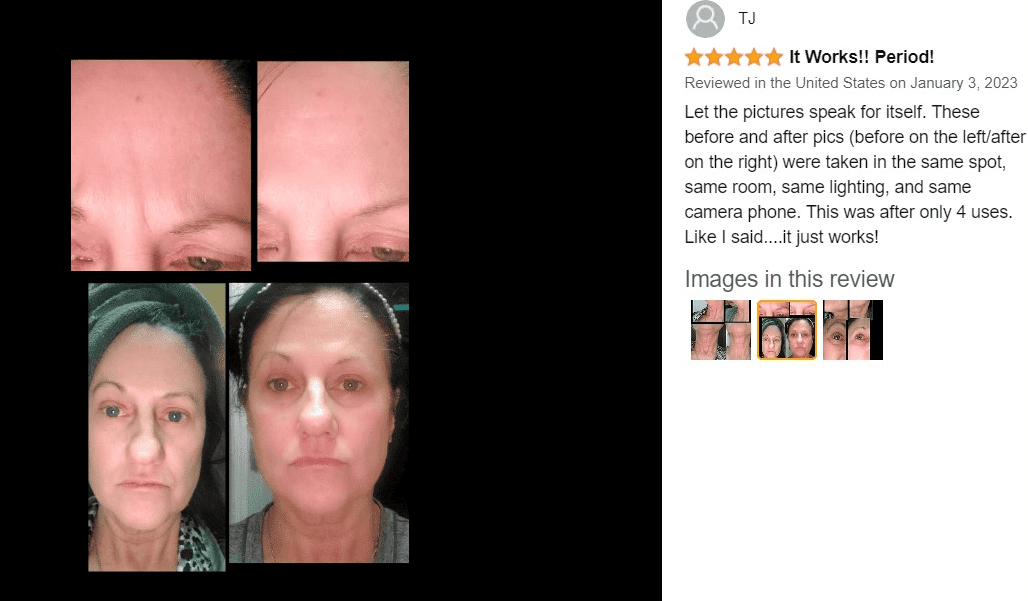 Dray refutes, "I do not see any effects on my skin even after repeated use. The results are pretty temporary, and the device does not improve my facial structure."
NuFace
Honestly, I had expectations with the NuFace Trinity+, which stood on a few of them. It instantly sharpened my jawline and lifted and toned my sagginess. I used it for two months as directed, but the permanent results still need to be seen. I cannot notice a slight change on my face, so it's hard to rethink purchasing it. But other users disagree with me.
Ana asserts, "The microcurrent technology is a miracle! I can see my fine lines reducing. My face has lifted a bit, and I can't wait to see what will happen next!"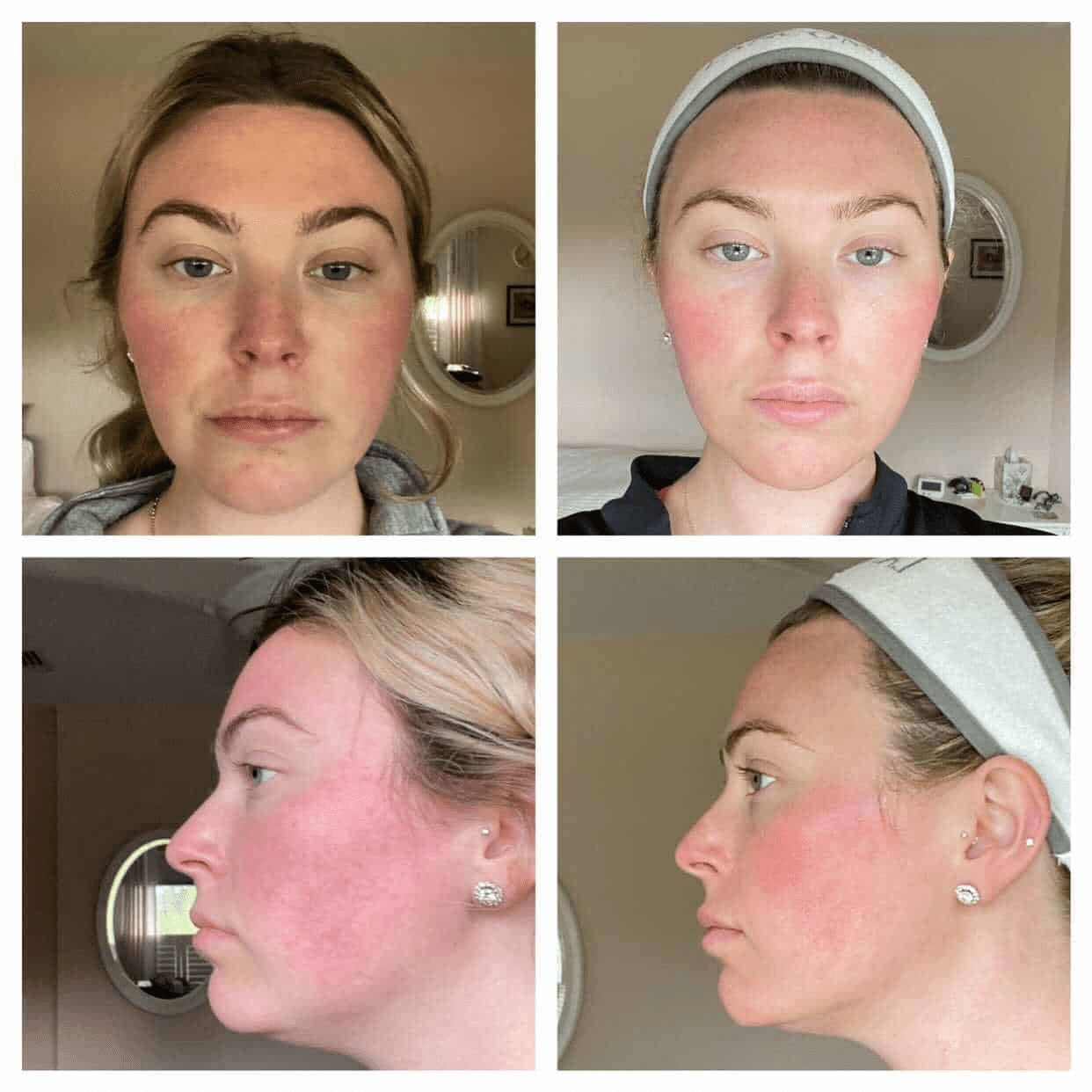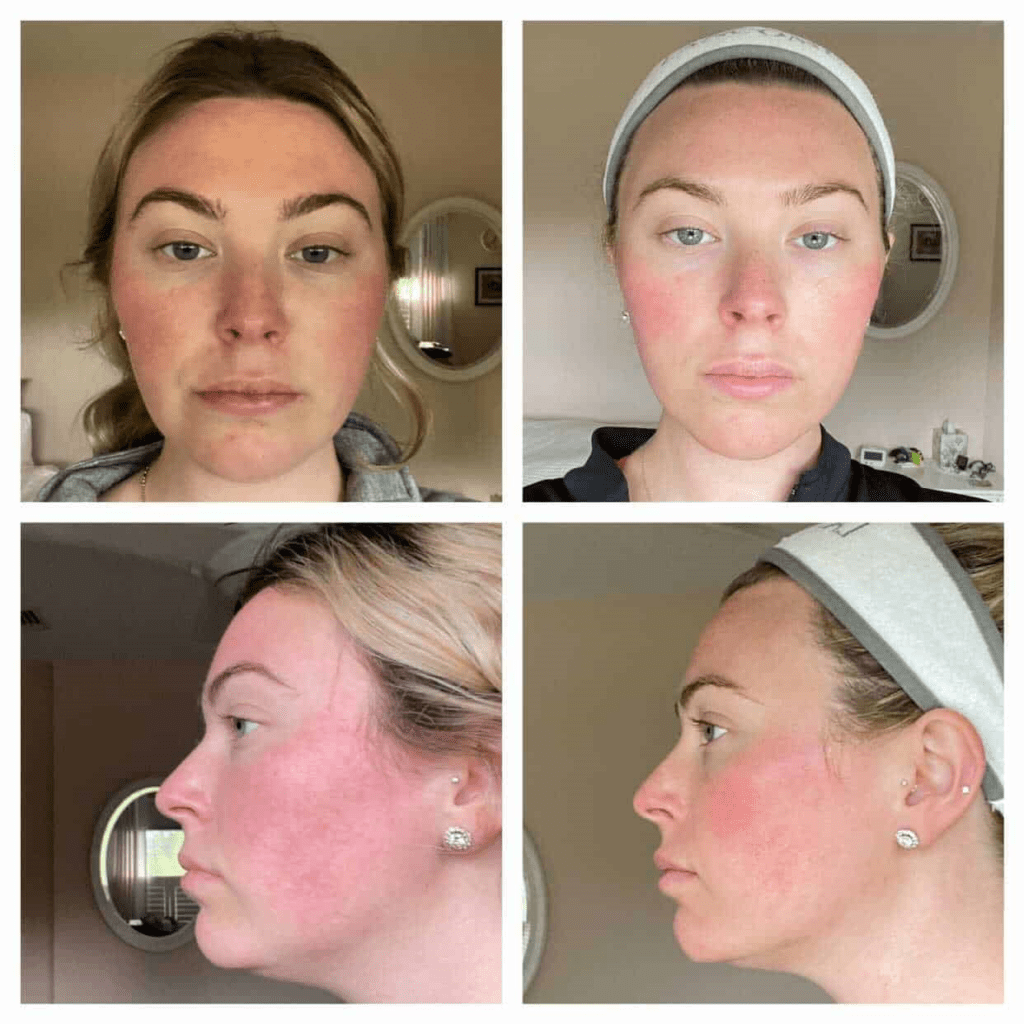 Marco claims, "It works out the facial muscles and gives me a great massage. But beyond it, I see no changes on my skin and face."
Even TheraFace Pro VS NuFace Reddit have mixed opinions about both the products, so an individual's results may vary.
FAQs| TheraFace Pro VS NuFace
What is better than NuFace?
The pros and cons of NuFace shed light upon its advantages and limitations. The technologies and attachments of the TheraFace Pro outweigh the NuFace. If the price isn't an issue, you should choose the TheraFace Pro as a better alternative to the NuFace device.
Who should not use NuFace?
If you are going through epilepsy, seizures, electronic implanted devices, cancer, or are pregnant or under 18 years old. Avoid using it if you have a pacemaker, or consult your doctor if you have body-worn medical devices.
Which NuFace is the best?
Both the Trinity and Mini devices are great options. You may want to go for the Trinity devices since they come with two attachments that can benefit you. Still, the Trinity+ supersedes the Classic Trinity due to its upgraded features that you saw earlier.
Do dermatologists recommend NuFace?
Many aestheticians and dermatologists recommend the NuFace devices. It is FDA-cleared and clinically proven to be effective. However, a few dermatologists point out the temporary effects of the NuFace. They are not such big fans of it.
Closure | TheraFace Pro VS NuFace
You can see that the US-manufactured devices are similar in the list of some contraindications, three intensity levels, avoidance of oil-based cleansers, and microcurrent technology. They are also aesthetically approved, have successful clinical trials, and have separate apps to connect with your respective devices.
Both the devices rank relatively equal in ease of use, reviews, pros, and cons. But TheraFace Pro offers more attachments and therapies than the NuFace. So, for a great deal of money, TheraFace Pro is better than NuFace. Dermatologists think that the microcurrent in age-related facial change doesn't reduce muscle apathy but gives instant results. So, do not only depend on it; always consult your doctor before using these devices.
Drop your queries below, and we will respond quickly.
I'm Sarah Abraham, the founder and co-author of Blushastic.com and a professional makeup artist. Beauty is more than just skin deep, and that's why I'm passionate about sharing my knowledge and experience to help people feel confident and beautiful on the inside and out.
Whether it's skincare, haircare, or fashion, my goal is to empower women to feel their best. With my expertise in the beauty industry, I strive to provide practical advice and tips that are accessible to everyone, regardless of their skill level or budget.