We usually believe in creams, ointments, serums, and other makeup and skincare products from specific brands. We don't usually trust drugstores or cheaper products with a not-that-high price range or celebrity promotions easily. The reason for this is pretty simple. We don't want our skin in contact with products that seem even slightly dicey in terms of quality. Drugstore brands have a reputation for selling products that may have some sort of side effects, cheaper yet harmful ingredient alternatives, or aren't simply compelling enough.
And even if cheap, you expect some positive effects from your creams because you've invested those bucks. Let's solve this problem and present you with the best drugstore BB cream for oily skin available.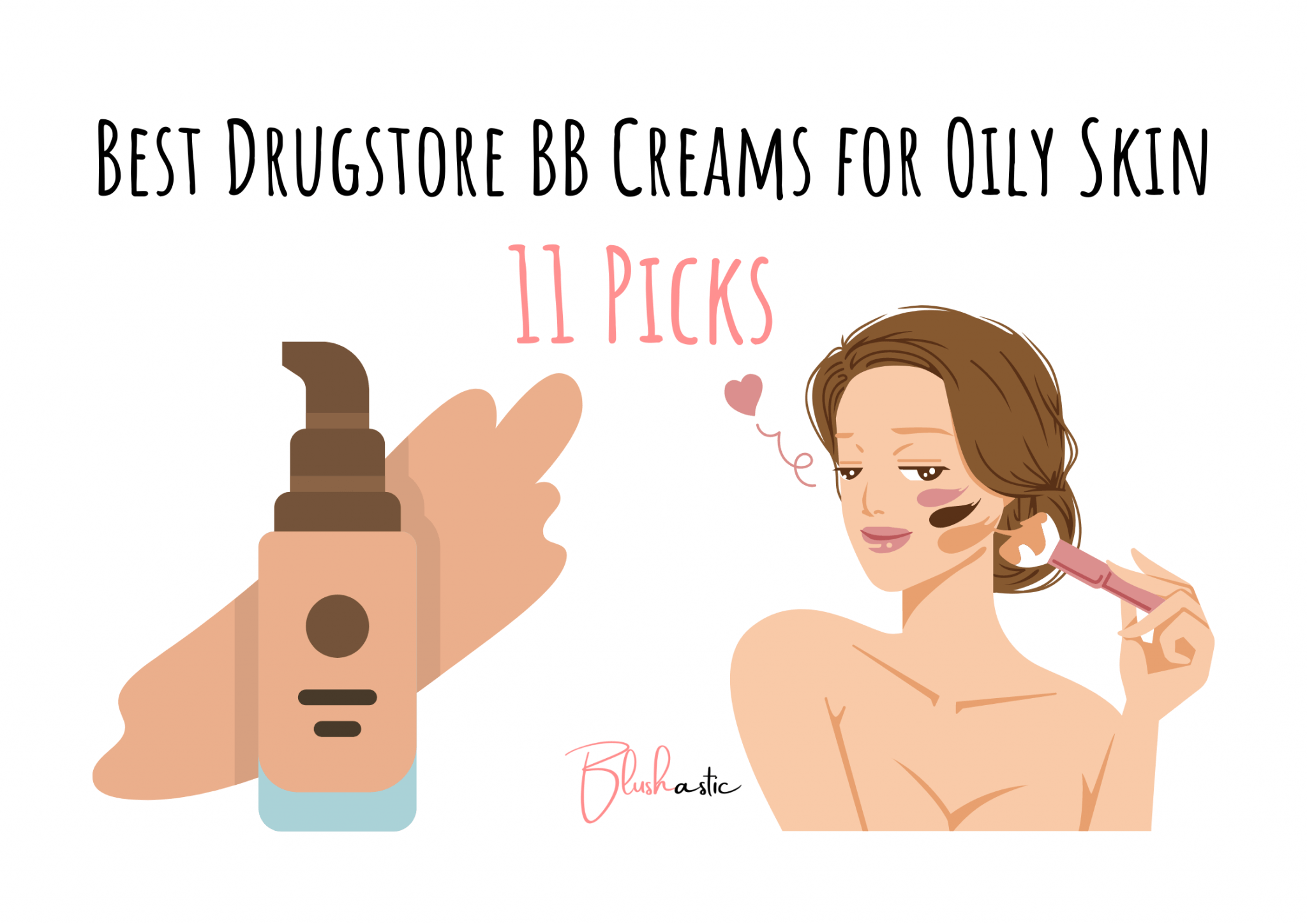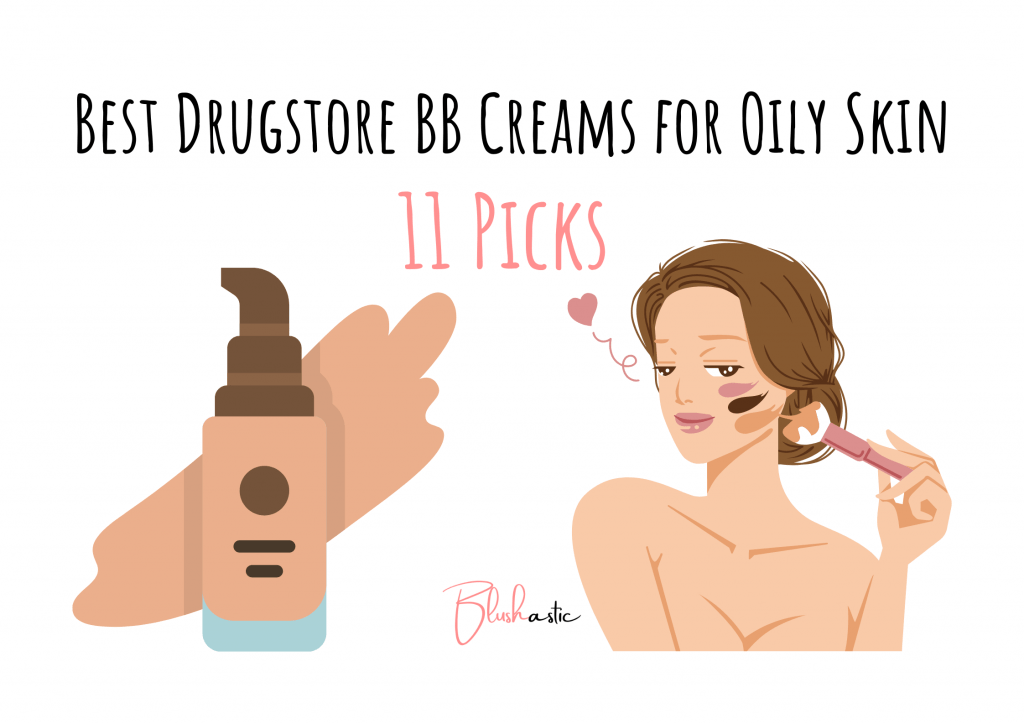 Well, not all creams have similar effects. Some drugstore products are not only cheap but also effective when it comes to quality and are incredibly gentle on the skin. But the most challenging part when choosing the perfect product is going through trial and error with your choice of products. And even with that, you realize you can't afford any side effects. To protect your skin and help you choose the best BB creams without trial and error, here are our top choices of the best drugstore BB creams for Oily Skin with all the details you'll need.
Best Drugstore BB Cream for Oily Skin | Affordable Yet Amazing
BB and CC creams are a great way to get a flawless complexion in one step. BB creams provide your skin with all that it demands, from a good amount of pigment to all the skincare to nourish the skin you cherish. You can choose creams infused with moisturizer or sunscreen based on your choice and requirements. Let's be fair. We all need the best of both worlds, good skincare, and perfect makeup.
But laziness takes time; sometimes, it just looks for convenience over anything. For times like these, BB creams offer a combination of skin benefits such as hydration, SPF protection, and coverage. Here are our top 11 best drugstore BB creams on websites and drugstores.
Maybelline Dream Fresh BB Cream
This is one of the best drugstore BB cream for oily skin that provides a natural, lightweight coverage while hydrating the skin. It also has SPF 30 for added sun protection. The cream is specifically formulated to be non-greasy and oil-free. Usually, with SPF-infused creams, there is always a possibility of the cream being slightly greasy.
Sale
Maybelline New York Dream Fresh Skin Hydrating BB cream, 8-in-1 Skin Perfecting Beauty Balm with Broad Spectrum SPF 30, Sheer Tint Coverage, Oil-Free, Light/Medium, 1 Fl Oz
Dream BB fresh 8-in-1 skin perfecting beauty Balm hydrates, protects with SPF 30, brightens, blurs imperfections, smoothens, enhances, is oil-free and available in 5 skin-tone perfecting shades
Light Coverage Foundation + Skincare Benefits = Bb Cream: BB Cream adjusts to skin tone, minimizes and blurs the look of pores, and reduces the appearance of redness; Oil-free
Best Face Forward: Maybelline has sheer, medium, and full coverage foundation in liquid and powder foundation formulas, and a range of concealers, face primers, contour, highlighter, and pressed and setting powder to help you create a perfect canvas
Create any look with Maybelline; foundation, BB creams, concealers, and setting powders for the perfect canvas, eye shadows, mascara, brow pencils, and eyeliners for any eye look and lip products, from showstopping lipstick to plumping lip gloss
This formula not only provides a matte finish but also blurs out any blemishes that disrupt the even glow of your skin. The cream, as Maybelline says, helps ensure that the shade range is limited because it adapts to the skin tone. However, with the range of shades available being mostly adaptable to fair and wheatish skin tones, it may work less effectively for dark skin tones leaving it with a pale finish.
Pros
Hydrating

Lightweight

Has SPF protection.
Cons
L'Oreal Paris Magic Skin Beautifier BB Cream
This L'oreal collection is to help you achieve that even texture and that natural glow while ensuring your skin is provided with all the nutrients it wants. However, the cream claims not to offer complete coverage. It provides you with medium coverage and a slight tint. This formula is infused chiefly with anti-inflammatory properties to ensure no skin damage or breakouts.
Sale
L'Oréal Paris Makeup Magic Skin Beautifier BB Cream Tinted Moisturizer Face Makeup, Medium, 1 fl. oz.
Tinted BB Cream: This multi-tasking bb cream primes to smooth skin's texture and corrects skin for a healthy-looking even complexion while hydrating for all-day moisture and hiding imperfections
With Color Transforming Pigments: Formulated with Beautifying Beads, encapsulated, color-transforming pigments infused with antioxidants Vitamins C and E to instantly transforms into your perfect shade for a flawless, bare skin finish
Universal Formula for All Skin Tones: This skin beautifier instantly matches your skin and transforms to your perfect shade for a flawless, bare skin finish, making it perfect for all skin tones
Because You're Worth It: Create the look you want with our full line of makeup including foundations, concealers, highlighter makeup, brow pencils, eyeshadow palettes, lipsticks and much more
L'Oreal Paris Beauty: A leading total beauty care company based in Paris, we offer innovative products and unique expertise from beauty experts in makeup, skin care, hair care, styling and hair color
It also claims to even out any redness on the skin, providing it with a more finished look. Just take a pea-sized amount, rub it on your palm, and apply it evenly across your skin. BB cream offers a natural and radiant look with vitamins and antioxidants. It also has SPF 20 for sun protection. If those are your needs, scroll across our list and pick your favorite drugstore BB cream suitable for your skin.
Pros:
Hydrating

Radiant

Added SPF protection.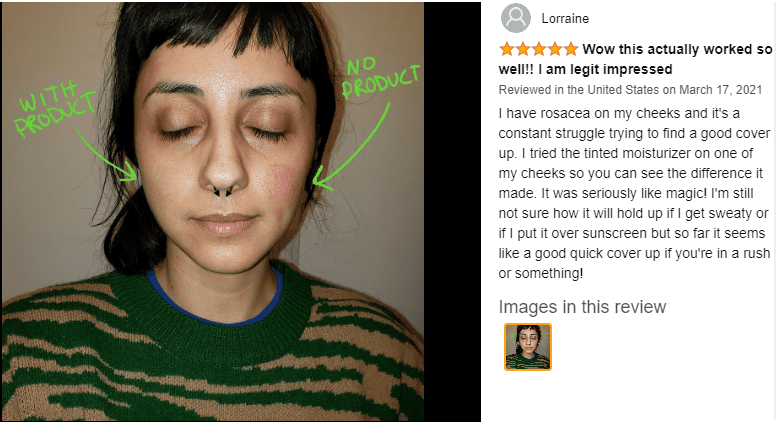 Cons
Limited shade range.

Slightly expensive
Covergirl Clean Matte BB Cream
The main idea of this BB cream was waving adieu to the greasy, tacky, overdone, and cakey makeup that sits on top of your skin, forming a thick layer. This is decent for occasional use, but constant useful-coverage makeup may lead to blocked pores, increasing oil gland secretion, dehydrating the skin, leading to breakouts.
Sale
However, the Covergirl BB cream isn't the same. It finishes matte, is lightweight, and adds a sheer tint to your skin, blending into its natural shade. BB cream is ideal for oily skin, providing a matte finish with light coverage. It also has SPF 15 for sun protection and moisturizing agents for adequate hydration.
Pros
Matte finish

Ideal for oily skin

Infused moisturizer and SPF protection.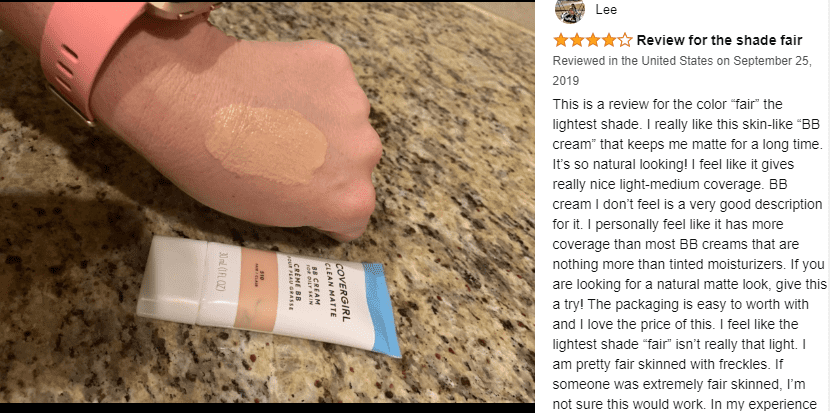 Cons
Isn't full coverage

Not the best suited for dark skin
Revlon PhotoReady BB Cream
Revlon BB cream provides a flawless complexion with smooth, lightweight coverage. It also has SPF 30 for sun protection. The coverage, just like its texture, is pretty light. It doesn't do much for fine lines, acne, scars, and other blemishes. However, it does add some tint to your skin. Being infused with Shea butter, you know the shea butter properties act as a barrier between the skin and the sunlight.
Sale
This shields you against the harmful UV rays and other pigmentation-related damage your skin may incur. As the name suggests, the photo-ready cream adds a great glow to your skin while providing deep-rooted nourishment and hydration. This is our top choice for a perfect drugstore BB cream to facilitate flawless skin in all your photos. Thus, you may call it the best drugstore BB cream for oily skin.
Pros
Flawless complexion

Lightweight

Added SPF protection and Shea Butter hydration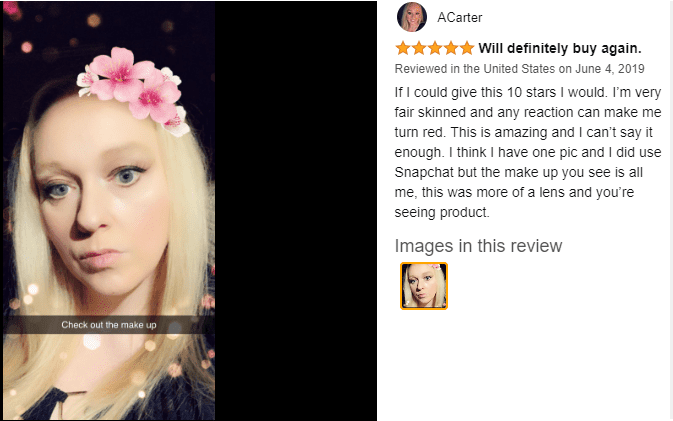 Cons
May cause breakouts

Slightly expensive
Neutrogena Clear Skin BB Cream
Neutrogena specially formulated this cream keeping in mind the skin prone to breakouts and other skin-related sensitivity. It is thoroughly infused with the Ninamineacid that ensures your skin doesn't suffer any breakout related to oil or clogged pores.
Sale
NEUTROGENA Clear Coverage Color Correcting Cream 1.0 oz. 3.0 / Vanilla
1-ounce tube of Neutrogena Clear Coverage Flawless Matte CC Cream in Vanilla 3.0 tone for full-coverage and a flawless-looking complexion
Developed with dermatologists, this oil-free mattifying CC cream is specially designed to help mask skin imperfections and even skin tone
Formulated with niacinamide (b3), this color correcting facial makeup comes in shade Vanilla 3.0 and offers full, matte coverage on skin
The perfect addition to your daily beauty routine, the color correcting cream makeup is hypoallergenic and free from oil, fragrance, parabens, and phthalates
The Neutrogena line of Clear Coverage CC Cream offers flawless, matte coverage and comes in a variety of shades
However, keeping that concern in mind, the cream also lacks a specific hydration property which may dry out the skin. This works for the short-term goal of not letting the skin have oil-related breakouts. But dehydrated skin is the most prone to breakouts in the long run. This BB cream helps to clear acne-prone skin with salicylic acid while providing sheer coverage. It also has SPF 30 for sun protection.
Pros
Clears acne-prone skin

Sheer coverage

Has infused SPF protection.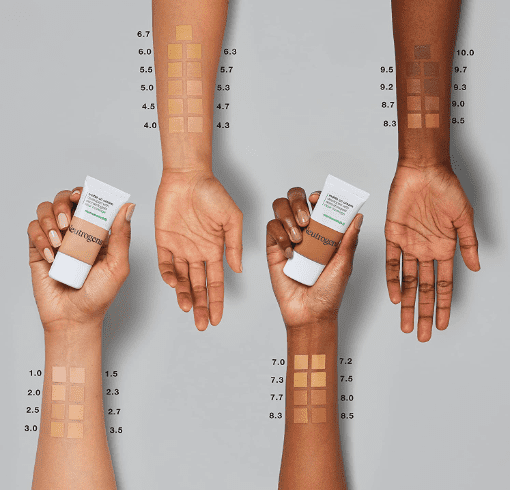 Cons
Physicians Formula Super BB All-in-1 Cream
This BB cream provides a natural coverage with a blend of vitamins and antioxidants for healthy skin. It also has SPF 30 for sun protection. The formula is such that it adds a creamy, glossy, and soft finish to your skin. The cream has infused properties that help in anti-aging effects; it cuts and fades out fine lines and wrinkles and does a fantastic job covering up blemishes.
Sale
Physicians Formula Super BB All-in-1 Beauty Balm Cream Light/Medium | Dermatologist Tested, Clinicially Tested
BB CREAM BASE: All the hydrating and imperfection blurring benefits of a primer or tinted moisturizer, but with greater color correction--Super BB Cream delivers sheer coverage for a soft, glowing, natural look and lasting skin benefits.
TINTED MOISTURIZER WITH SPF, but with increased skin balancing sheer coverage, plus priming, concealing, and brightening. Evens skin tone, while blurring imperfections and enhancing the natural appearance of skin for a flawless, woke up like this look.
PUT YOUR BEST FACE FORWARD: From primers to highlighters, we offer a full face of makeup to help you build a foundation for any look, and all without irritating ingredients or harsh additives. Just long-wearing, lushly pigmented, quality cosmetics.
Physician's Formula offers a full line of skin care and makeup for sensitive skin, including mascaras, lipsticks, concealers, eyeliners, eyeshadow palettes, bb creams, bronzers & primers. Our products are hypoallergenic & safe for sensitive skin and eyes.
HEALTHY BEAUTY PRODUCTS: Every one of our products is hypoallergenic, safe for sensitive skin & eyes, & created without any of the 150 plus known harsh ingredients found in other personal care items.
It is non-comedogenic and has good anti-inflammatory properties, making it perfectly suitable for sensitive skin. Not only does it have SPF, but it also has a good amount of ingredients that contribute to the moisturizing properties of the skin. If it's the physicians' formula, it fits perfectly in our best choice for the fantastic drugstore store BB cream.
Pros
Natural coverage

Blend of vitamins and antioxidants

Good SPF protection.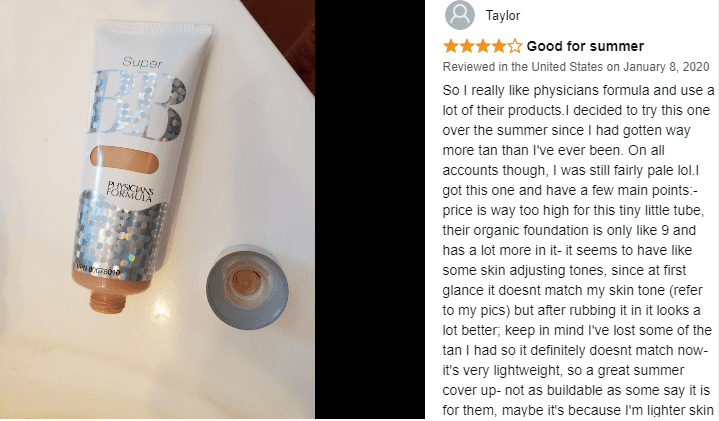 Cons
Milani BB Cream
Milani cosmetics has a fantastic range of colors for BB creams ranging from pale white skin with pink undertones to warmer shades and finishing up with an excellent brown shade. It has infused coconut water added to the blend, which helps lock the moisture that your skin needs while adding that slight shade of skin to your face.
Sale
Milani Glow Hydrating Skin Tint
GET UP AND GLOW! Glow Hydrating Skin Tint delivers next-level glowing skin with sheer-to-light coverage and an ultra-dewy finish. Loaded with moisture queen Squalane at a 29% level, plus a skin quenching electrolyte + coconut water blend, to help prevent hydration loss and lock in moisture.
EFFORTLESS BLEND: This tint blends seamlessly, blurs imperfections and melts into skin for a naturally dewy glow. This light coverage blurs imperfections and is lightly coconut scented for a fresh feel.
CRUELTY-FREE BEAUTY: This makeup product – and every other Milani product – is never tested on animals. We don't allow others to test on our behalf, either. Our products are 100% cruelty free. This eyeshadow palette will become your oil-free obsession – it's formulated without any oils to help keep breakouts at bay.
WE ARE MILANI: Born in East LA, we've always been connected to the rich diversity of our neighborhood, because it's a place that truly embodies the melting pot of Los Angeles. We're not inspired by couture and top models. Our passion is real people, living real lives. Beauty is for everyone. No matter who you are or where you come from, we're here to fuel your self-expression with makeup for every shade, attitude, and ethnicity. No judgment. No exceptions.
Mainly focused on evening out bumps and blemishes, this BB cream provides natural coverage while hydrating the skin. It also has SPF 15 for sun protection. Milani is recommended if you're looking for a natural ingredients-infused product in our list of best drugstore BB creams.
Pros
Hydrating

Natural coverage

Has SPF protection.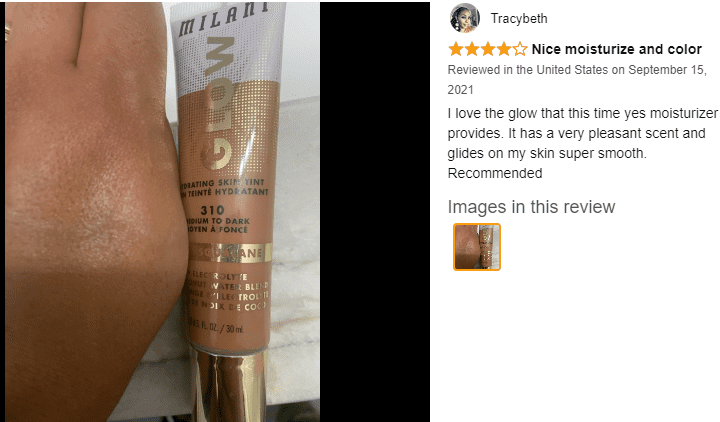 Cons
May cause breakouts

It isn't suitable for all skin types.
NYX BB Cream
NYX took the 'no-makeup' makeup seriously when they came up with this formula. They knew BB creams were the way to go because users aren't looking for any cakey patch of artificial shade on their skin. Users prefer a cream that sits perfectly with their existing shade and enhances their skin. This includes evening-out skin textures and providing enough coverage.
NYX PROFESSIONAL MAKEUP BB Cream - Nude
BB Cream Beauty Balm: Perfect the "no makeup" look with NYX Professional Makeup BB Cream Beauty Balm; Oil free and lightweight, this luxurious mineral infused BB Cream formula hydrates skin and helps the complexion appear smoother and more even toned
Lightweight Color: Our BB Cream Beauty Balm was developed as an all in one cream to hydrate, prime, and perfect your skin; Wear our BB Cream as a primer under your foundation, or alone for a touch of lightweight color
Face From Foundation To Finish: Complete your makeup look with our full line of NYX Professional Makeup face products to aid in color correction and coverage from blush, bronzer, foundations and contouring concealer to palettes and powders
Cruelty Free Cosmetics: We believe animals belong in our arms, not in a lab; All of our makeup is certified and acknowledged by PETA as a cruelty free brand; We don't test any of our products on animals
Discover NYX Professional Makeup: Try all of our professional makeup and beauty products today, from eyeshadow, eyeliner, mascara and false lashes to lipstick, foundation, primer, blush, bronzer, brushes and more
So this BB cream offers a smooth and flawless complexion with natural coverage. It also has SPF 25 for sun protection. It's a go-to for many girls because of the oil-free formula as well as because it has a dewy finish with no addition of grease on top.
Pros
Flawless complexion

Natural coverage

The obvious SPF protection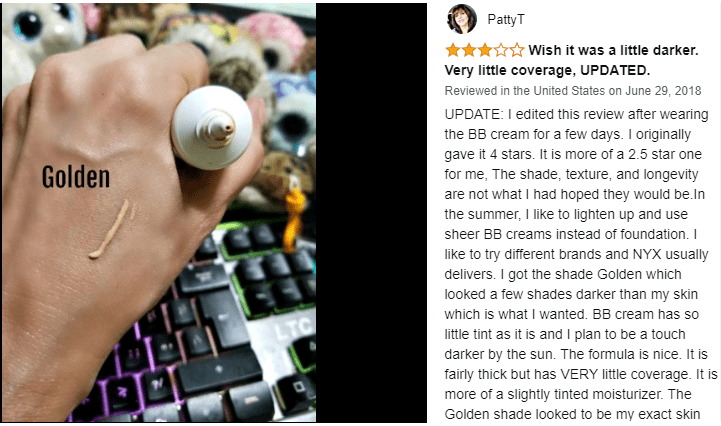 Cons
Not enough shades to fit all skin tones

All mineral-based makeup isn't safe
e.l.f. BB Cream
This BB cream provides a lightweight coverage while nourishing the skin with vitamins and antioxidants. It also has SPF 20 for sun protection. Most e.l.f cosmetics are well known for their decently priced products which are incredibly impactful. Not only that, their products don't contain any paraben and are cruelty-free and vegan.
e.l.f. BB Cream SPF 20, Color Correcting & Medium Coverage, Hydrating Formula, Dark, 0.96 Fl Oz (28mL)
SPF 20 PROTECTION: Our BB Cream foundation blends super easily, giving you a clean complexion with UVA/UVB SPF 20 protection.
ALL DAY HYDRATION: Our cream is formulated with skin-loving ingredients so your skin stays healthy and hydrated all day long.
NOURISHING AGENTS: The BB Cream with SPF 20 is infused with skin-loving ingredients such as Cucumber, Aloe, Jojoba and Vitamin E.
SKIN-LOVING INGREDIENTS: All e.l.f. products are made from skin-loving ingredients you want, minus the toxins you don't—all at good-for-you prices. All e.l.f. products are 100% cruelty-free and Vegan.
This is your deal if you're looking for a good deal with great hydration, lightweight texture, enough SPF, and a good formula. They have priced it at almost 20% lower than most BB creams and guarantee a silky smooth finish with a good amount of tint to the skin. The infusion of jojoba oils, cucumber, and aloe vera ensures that your skin is not ripped off any nutrients.
Pros
Lightweight

Nourishing

Provides SPF protection.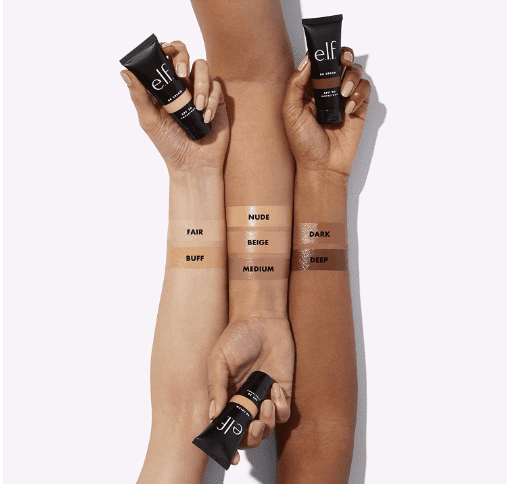 Cons
Limited shade range

It may cause irritation and slight discomfort
Almay Smart Shade BB Cream
Almay worked on their foundation range and found it one of their favorite products among the users. But foundations and other heavy-base products are preferred for daily wear. So they infused hydration, moisturizing, and sunblock in their formulas.
Almay Smart Shade CC Cream, Light
#100 Light
Diminishes the appearance of imperfections, dull skin tone and discolorations
Lightweight
Broad spectrum SPF 35
Available in 3 skin tone adjusting, versatile shades
They needed their target users to get exactly what they wanted without damaging their skin in the long run. This formula sits as a matte finish atop your skin, adds that tint, and evens out any blemishes that act as an uneven texture. Not only that, but this specific BB cream adapts to your skin tone for natural coverage. It also has SPF 15 for sun protection.
Pros
Adapts to skin tone

Natural coverage

Perfect SPF protection and hydration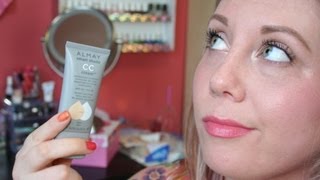 Cons
Limited shades.

May clog pores
Rimmel London BB Cream
The Rimmel London BB Cream claims to have found a breakthrough and developed a skin-perfecting formula. This BB cream is known to even out any bumps, open pores, blemishes, or any other probability that may hinder the even touch to your skin.
Sale
Rimmel London BB Cream with Brightening Effect, Light, 30ml
Moisturising properties for brightening effect
9-in-1 skin perfecting formula to provide super makeup with flawless finish
Lightweight and ultra-comfortable formula for everyday wear
Ideal match for light skin tones
Sun protection formula with
It also adds SPF protection and hydration to the skin for 24 hours. It claims to swear and water-resistant while it provides natural coverage with a blend of vitamins and antioxidants for healthy skin. It also has SPF 25 for sun protection. This formula, however, is perfect for dry skin. The hydration and nourishments help accomplish your long-term skin goals making it the best drugstore BB cream for oily skin.
Pros
Natural coverage

Blend of vitamins and antioxidants

And, of course, it has SPF protection.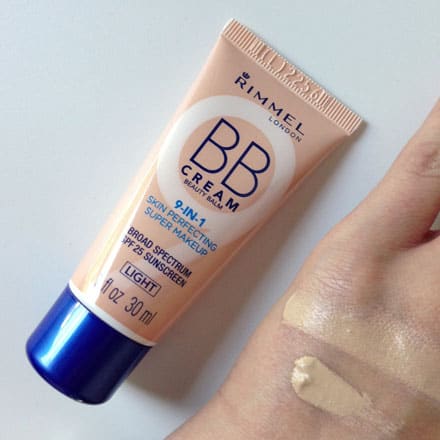 Cons
Limited shade range

Slightly expensive
Directions for Using BB Cream The Right Way
Cleanse your skin
Start by cleansing your skin to remove dirt, oil, or makeup. This will help the BB cream to adhere better to your skin.
Apply moisturizer
If needed, apply a light moisturizer to hydrate your skin. This is especially important if you have dry skin.
Dispense and Blend
Squeeze a small amount of BB cream onto your fingers, a brush, or a sponge. Start by applying the BB cream to the center of your face and blend it outwards, covering your forehead, cheeks, nose, and chin. Make sure to blend it well into your skin to avoid any streaks or lines.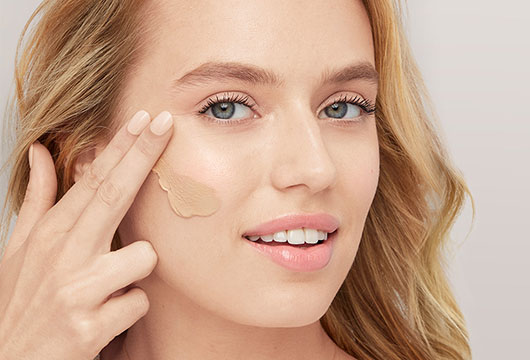 Build coverage
If you need more coverage, add another layer of BB cream. You can also layer on concealer for spot coverage as needed.
Set and finish
If you have oily skin, you can set the BB cream with a light layer of powder to help control shine. If your BB cream does not have a high SPF, apply a separate sunscreen to protect your skin from sun damage.
Caution: The amount of BB cream needed and the frequency of application may vary depending on your skin type and the specific product being used. It is essential to read the product label and follow the manufacturer's instructions for the best results.
FAQs | Drugstore BB Cream For Oily Skin
What is BB cream?
A BB cream is a beauty balm that combines skin benefits such as hydration, sun protection, and coverage. It is a multi-tasking product that can replace several other products in your daily skincare routine.
What is the difference between a BB cream and a foundation?
A BB cream typically offers a lighter coverage than a foundation while providing additional skin benefits such as hydration and sun protection. Foundations generally are heavier in consistency and offer more coverage but may not provide the same skin benefits.
How do I choose the right shade of BB cream?
When choosing a shade of BB cream, it is essential to match it to your skin tone. You can test the shade on your jawline or neck to ensure the best match.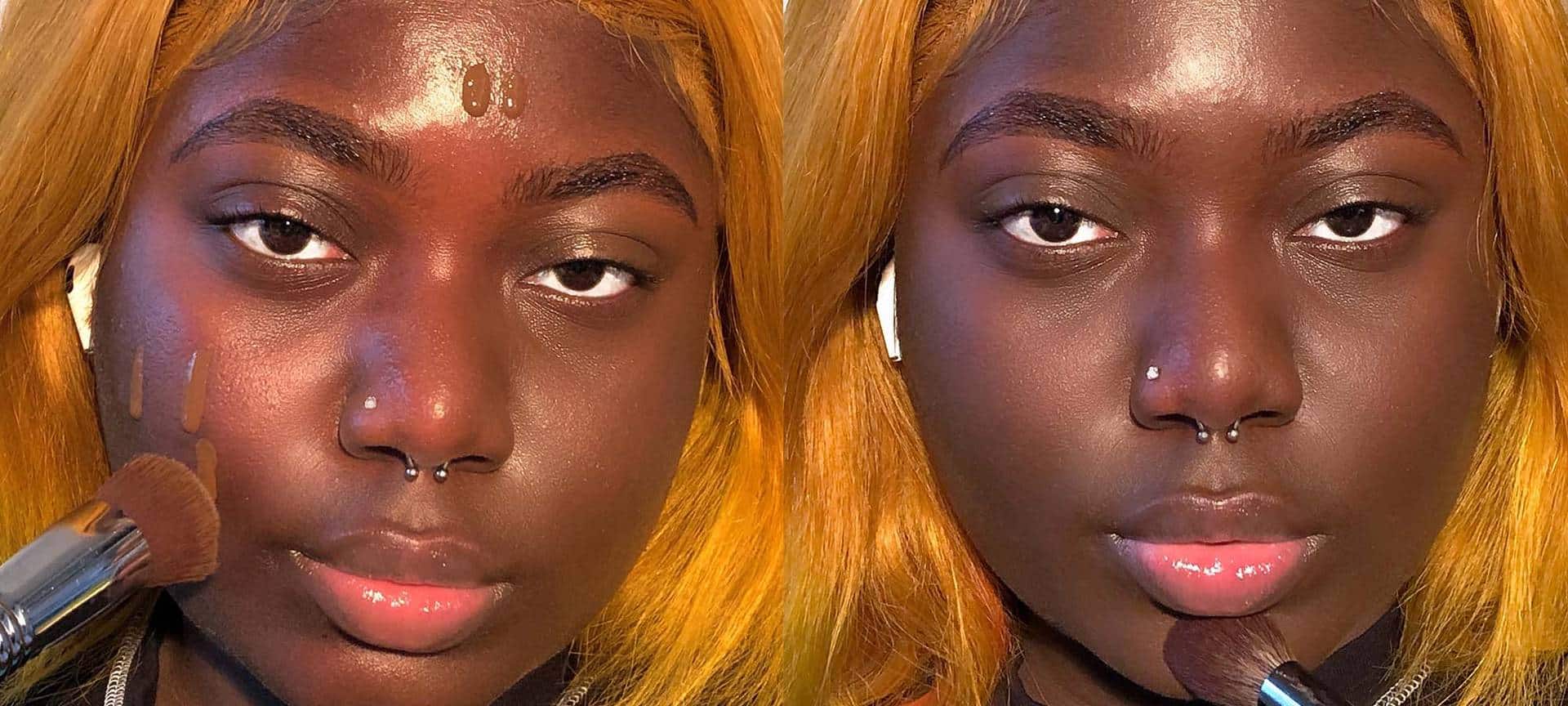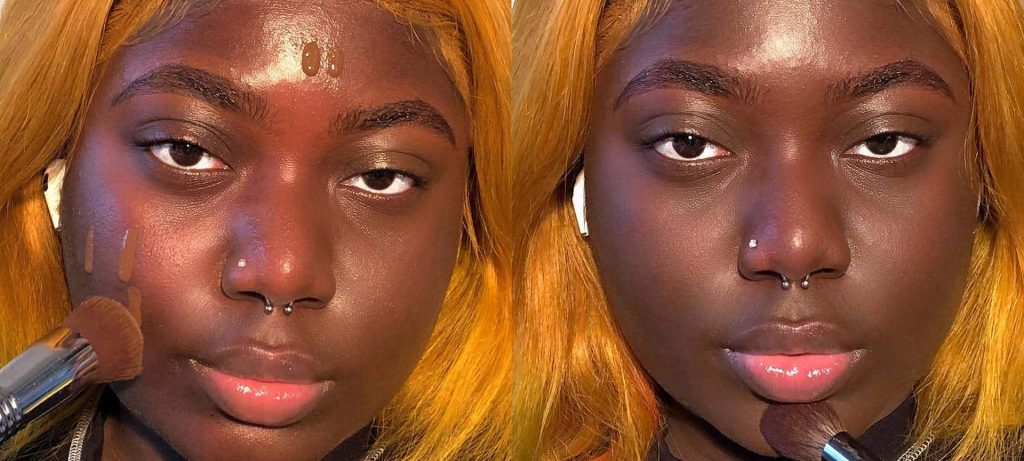 Can BB cream replace my moisturizer and sunblock?
BB cream can replace your moisturizer and sunblock, but choosing a high SPF is essential for adequate sun protection. If you have specific skin concerns such as dryness or oiliness, you may still need to use a separate moisturizer or oil-control product.
Is BB cream suitable for all skin types?
BB creams can be suitable for all skin types, but choosing a formula ideal for specific skin concerns such as oiliness or dryness is essential.
Final Thoughts
In conclusion, BB creams are a versatile and convenient product that can simplify your daily skincare routine. With their combination of skin benefits such as hydration, sun protection, and coverage, they can replace several other products and leave your skin looking refreshed and even-toned.
With the variety of formulas available, there is a BB cream for every skin type and concern. When used correctly, BB cream can help you achieve a flawless and radiant complexion in just a few simple steps. So sit back, relax, and take your BB cream to nourish your skin and perfect its tone.
I'm Sarah Abraham, the founder and co-author of Blushastic.com and a professional makeup artist. Beauty is more than just skin deep, and that's why I'm passionate about sharing my knowledge and experience to help people feel confident and beautiful on the inside and out.
Whether it's skincare, haircare, or fashion, my goal is to empower women to feel their best. With my expertise in the beauty industry, I strive to provide practical advice and tips that are accessible to everyone, regardless of their skill level or budget.