It's never too late to start taking your skin seriously because an effective routine will help you in the long term and make your appearance stand out. We understand you might be tired from visiting your dermatologist, but you need something else. It's time to switch up the old rules and do independent research. All your celeb Instagrams look so breathtakingly good because they dont fall into the thirst traps of expensive brands; instead, go for products that have been tailored to the needs of their skin.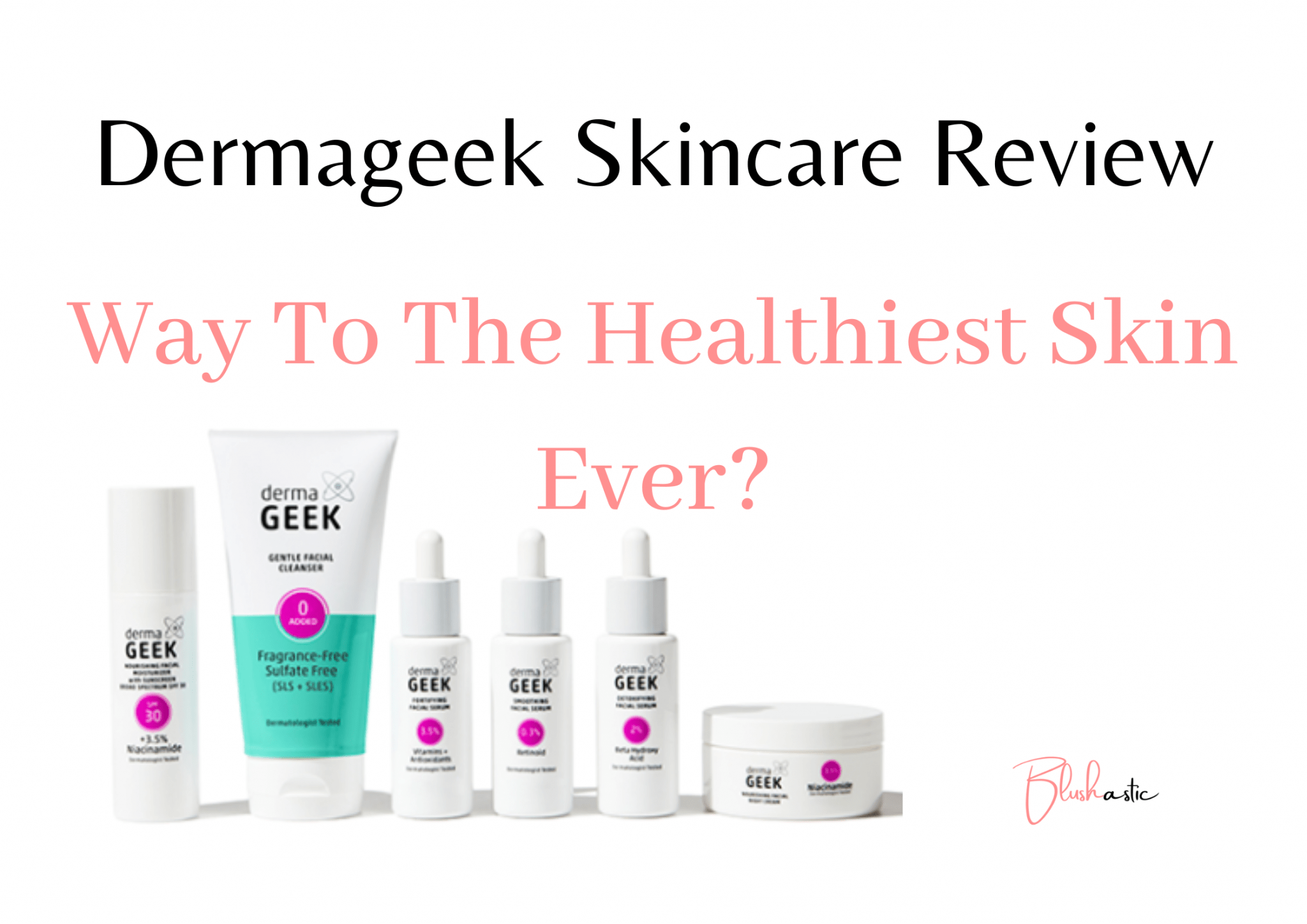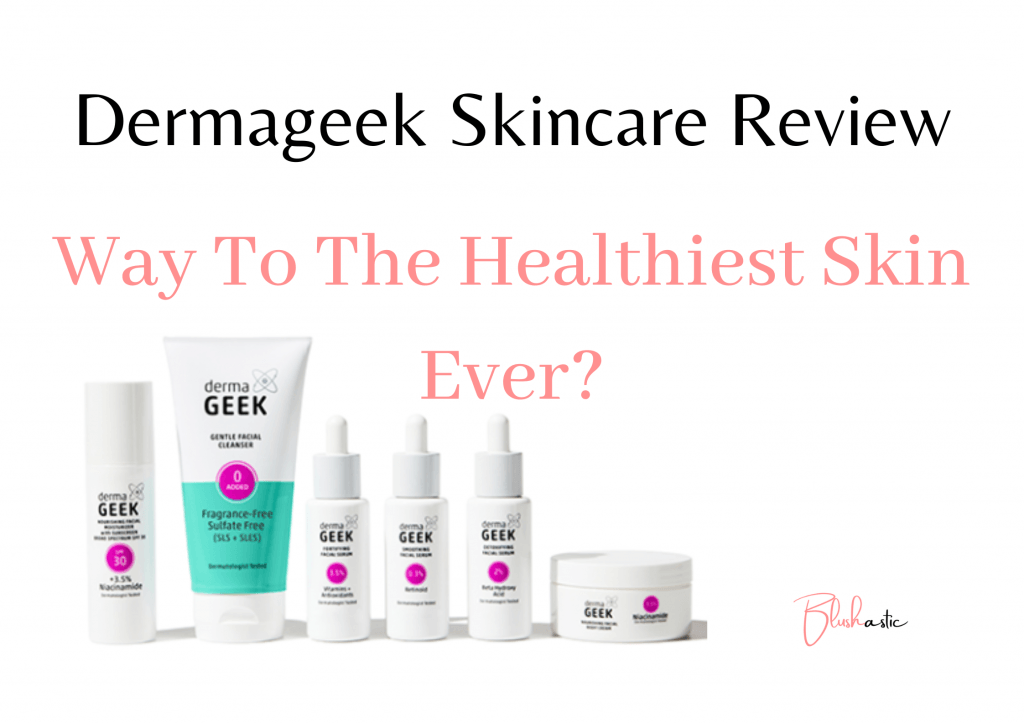 This report based on genuine Dermageek Skincare reviews will help you understand the product in a better way. As this brand offers one fine compilation of products, you will want to inculcate it into your daily routine, for it aims to aid in getting a healthier complexion. But to what extent does this promise hold? Can you trust it? Should you put your money into it? Let us help you unveil all the truth about this leading beauty brand.
Dermageek Skincare Reviews | Trustworthy?
When a skincare brand is as famous as its transparent with its services, you know you can trust it! Luckily, we found ourselves hooked on DermaGeek after reading many good words from users about it online. But how much of it is true? And what makes this brand to be in highlight?
The brand claims dermatologists have carefully designed and approved its put-together skin-care collection. It includes potent ingredients that give you access to solving all your skin issues, so if you are entering the world of beauty with no prior knowledge of the dos and donts, this brand will give you a headstart on all things skincare!
Put your best face forward with these formulations as they help your skin get that much-needed exfoliation, a satisfying dose of hydration, fight free radicals with antioxidants, repair damaged skin cells, minimize signs of premature aging, smooth fine lines, and all of this goodness by excluding your most common fear – dryness, sensitivity, enlarged pores, or irritation.
Thats right. The brand believes in giving you a more significant edge on skincare, so it eliminates the usage of parabens, fragrances, phthalates, and synthetic dyes. All formulas are mild, have a soft consistency, and have been built upon some of the sought-after ingredients.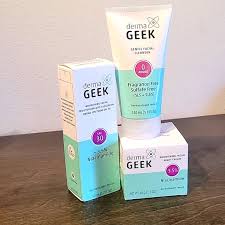 If you have an agitated skin type, be it sensitive or acne-pone, you can still welcome this brand with open arms as it claims to be absent of any skin-compromising element. All formulations are vegan and have not been tested on animals.
Perks
Weightless and feels gentle on the skin
All formulas possess a smooth consistency
Gently cleanses impurities without any harshness.
Protects skin against free radical damage
Helps in repairing and strengthening the skin barrier
Contains skin-loving ingredients like retinoids, niacinamide, and hyaluronic acid
Suitable for all skin types
Free from harmful parabens and fragrance
Reduces signs of inflammation, hyperpigmentation, and acne
Prevents premature aging signs like wrinkles, crows feet, etc
Improves skin's moisture retention capacity
Controls excess oil secretion
Deflects toxic UV rays with SPF 30-spectrum
Drawbacks
Occasionally, it might cause skin dryness, peeling, and irritation from your skin's reaction to retinoids.
Results might take some time to appear.
Best of Dermageek Skincare
Rain or shine skin care needs to be your forever goal, and this brand understands the concept to the core. Your skin is something that remains exposed throughout the day to several harmful factors present in the environment. Dermageek has laid down all its best compilations for you in one basket so that the best skincare regime is always within reach! Let us take a good look!
dermaGEEK Gentle Facial Cleanser
The dermaGEEK Gentle Facial Cleanser with 0% Fillers has toppled off beauty timelines, as skincare lovers can't stop swooning enough over this pH–balanced basic cleanser. What sets it apart from the rest is the key ingredients in this formula are surfactants, such as cocamidopropyl betaine, H2O, and sodium lauroyl sarcosinate. This combination sucks away the stuck impurities on your skin, inside your pores, and gives them a fresh start. The formula is gentle and forgiving and does not harm the outer protective barrier of your skin in any way.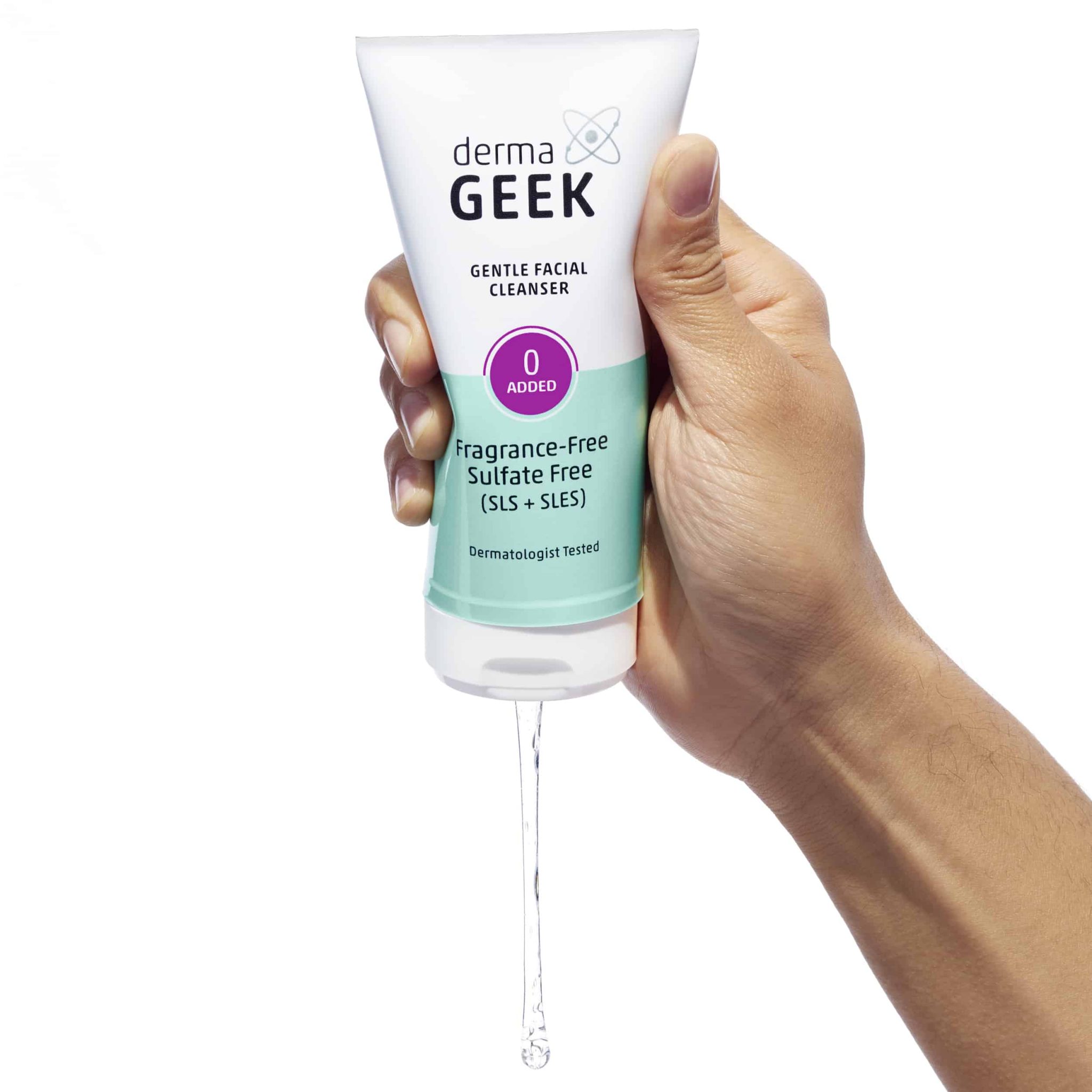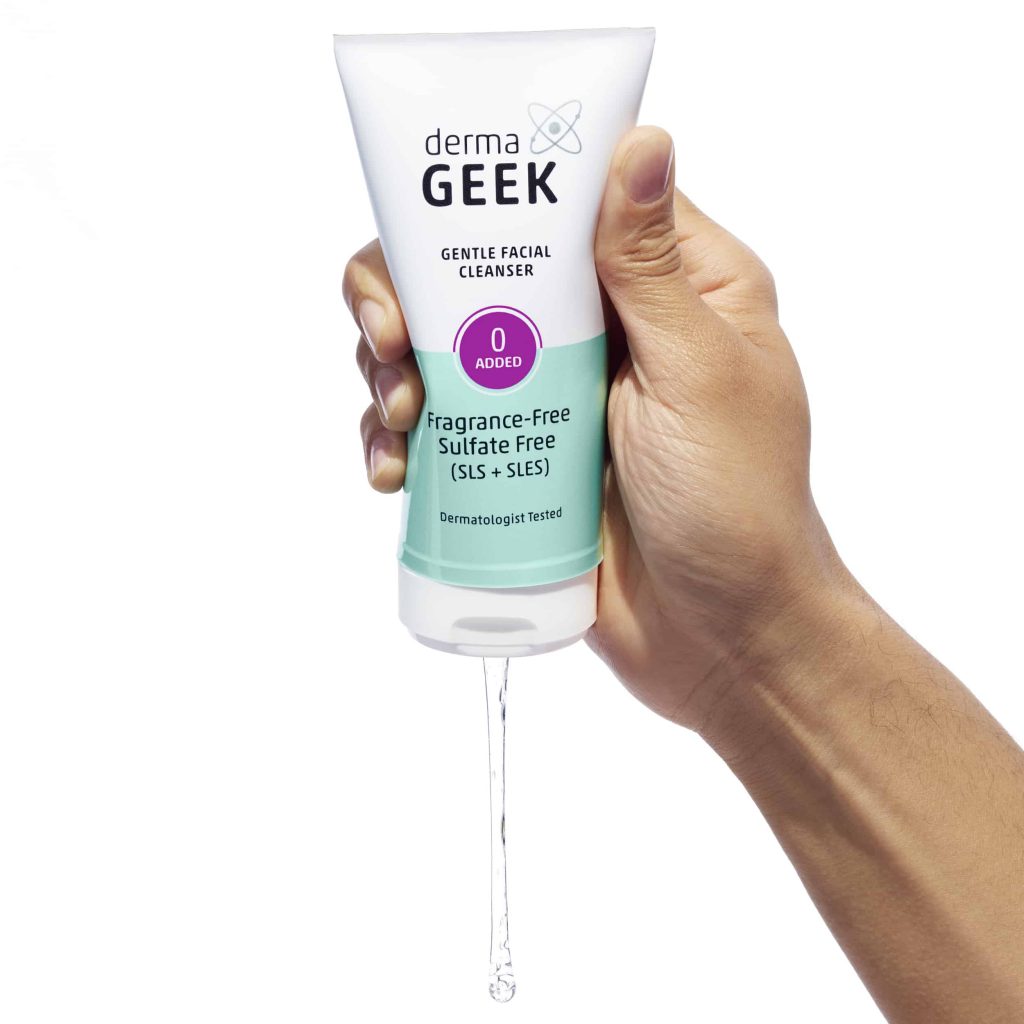 As the name suggests, this cleanser cleanses away dust and grime without leaving behind any residue, thus making your skin touchably soft. The brand is strict about your skin's delicateness, excluding fragrances, parabens, sulfates, or synthetic dyes. While the formula has science-backed ingredients and goes easy on your skin, this product might be less attractive if you like fruity or scented products. The good news is the Face Wash by CETAPHIL can be your everyday basic cleanser and suits most skin types.
dermaGEEK Detoxifying Facial Serum
You might do everything for your skin, but a good facial serum will do that 10 times and more! The brand takes pride in its dermaGEEK Detoxifying Facial Serum, enriched with 2% BHA. The 2% Beta hydroxy acid component plays a primary role as it offers a seamless exfoliation method without compromising your skin barrier. So you can rest with all that scrubbing and peeling you have going on! The benefits of salicylic acid are unquestionable, as it sloughs off dead skin cells and reveals a fresh-looking skin tone.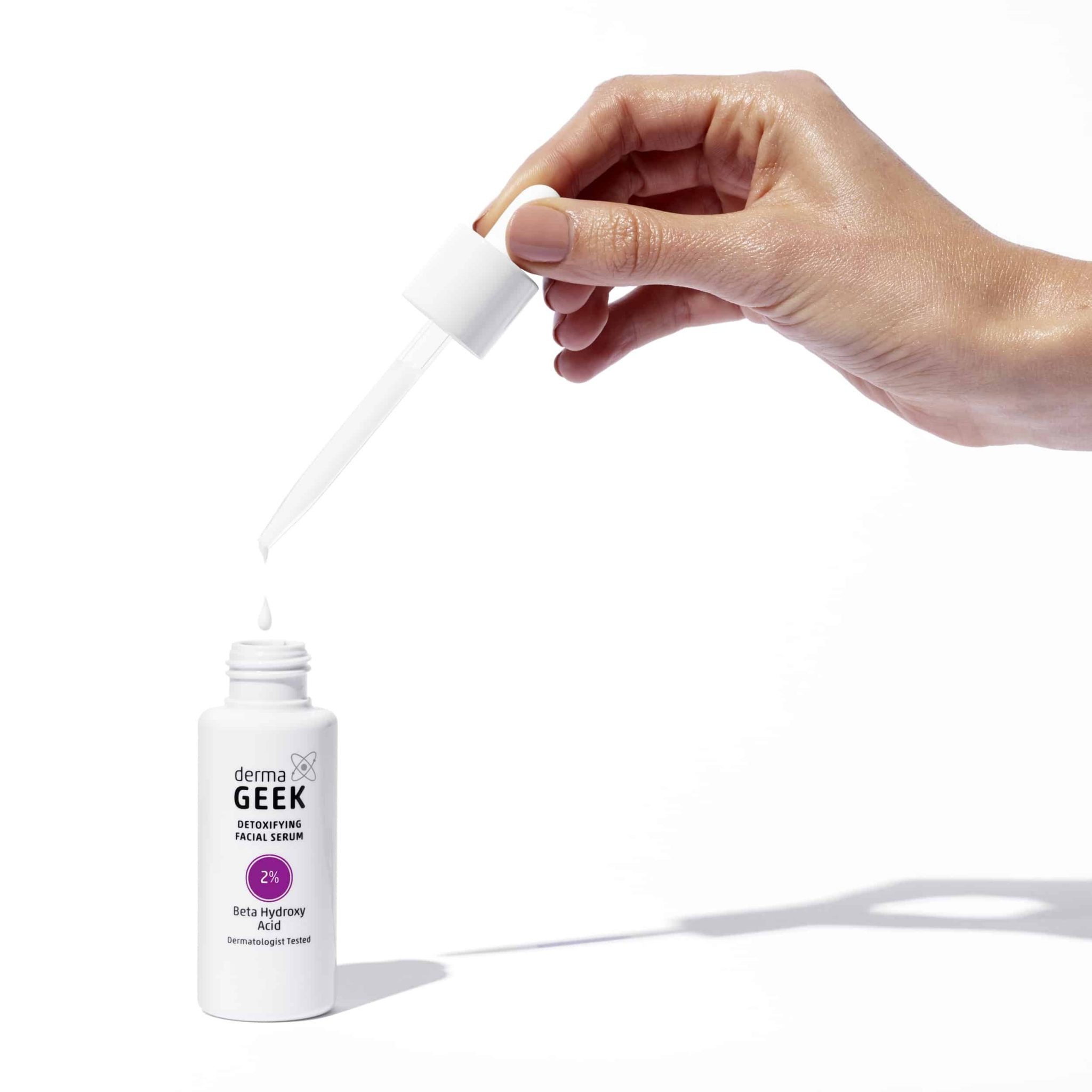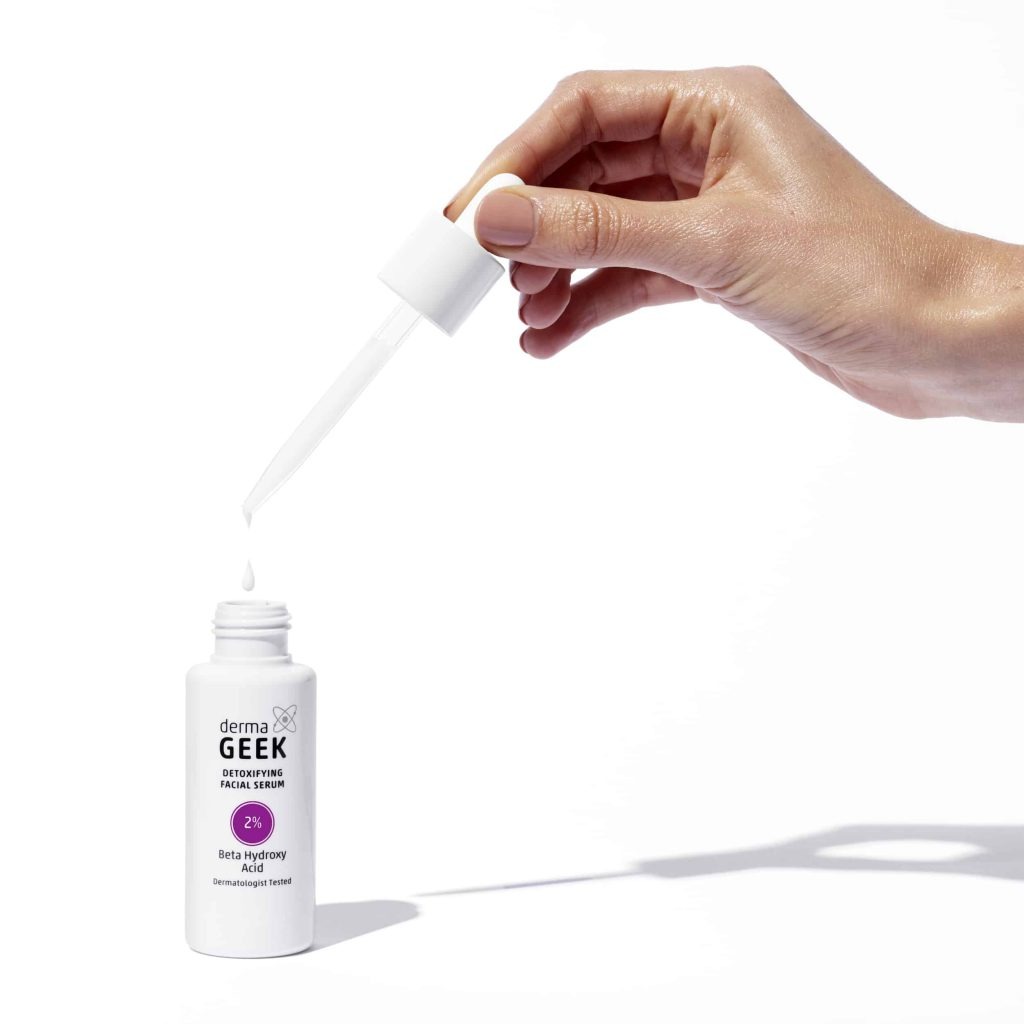 This serum is even better because it reduces excess oil secretion, reduces wrinkles, evens texture, and minimizes white and blackheads. What we love about this serum is this skin refresher increases the moisture content, suspends the dirt, and leaves a clean and clear canvas. However, the formula is highly reactive to UV rays. So make sure to slather on sunscreen before you go out with your sensitive skin girl problems!
dermaGEEK Smoothing Facial Serum
Many positively overwhelming reviews are floating around the dermaGEEK Smoothing Facial Serum, which comes with a 0.3% retinoid concentration. Retinoids pamper your skin in many ways, from warding off aging signs elevating collagen, reducing inflammation, and improving elasticity and cell turnover. So, if your skincare regimen just had it now, you must make things right! This serum is a bonus to users who wish to add more suppleness and softness to their skin tone. It helps repair broken connective tissues and flushes out toxins from clogged pores.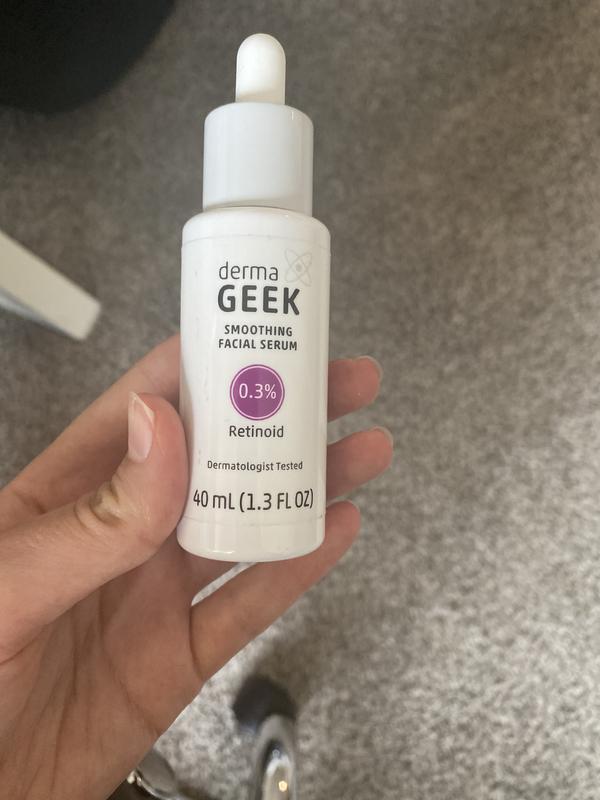 This is an essential process for your skincare journey as you keep dumping different formulas without cleaning them out properly. This leads to buildup and causes trouble like texture, pigmentation, breakouts, and dullness. So, if you want to restore your beauty to its gorgeous self, this will be a good addition! However, it might only suit some, so keep your options open. Alternatively, the Tree of Life Vitamin C Serum, Retinol Serum, and Hyaluronic Acid Serum, and Truskin serum are the ultimate trio blend of anti-aging properties. They are made for all skin types and tones.
dermaGEEK Nourishing Facial Night Cream
Calmer and brighter skin is possible only when you have the right ingredients for brewing your beauty. Lucky for you, we have something in mind that is just what you need. The dermaGEEK Nourishing Facial Night Cream is loaded with 3.5% niacinamide and claims to help with most of your complexion concerns. Niacinamide is a form of vitamin B3 that healthifies your base with a splurge of antioxidant benefits. The formula is sheer and strives to offer multifold benefits like an energy boost, improving cellular metabolism, repairing the skin barrier, improving moisture, excluding acne, and potential smoothening.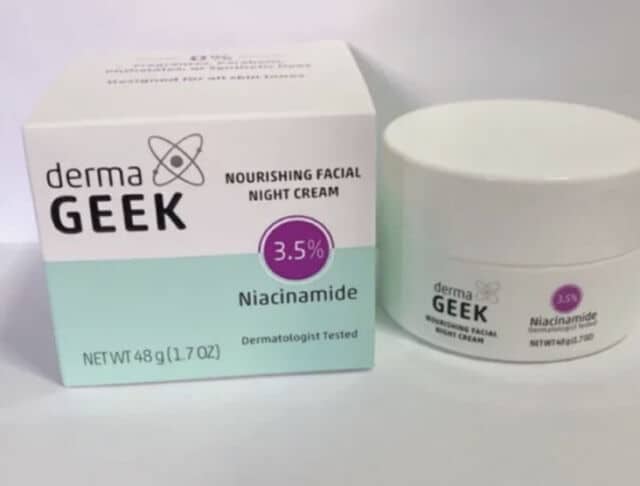 The formula also possesses specific anti-microbial properties that keep your skin detoxified and help in ultimately adding a radiant glow to your complexion. However, it might take some time for your skin to get used to niacinamide, leading to skin redness or itching. If you have sensitive skin, doing a patch test beforehand is better! On the other hand, the CeraVe Skin Renewing Night Cream proudly features peptide complex, hyaluronic, and niacinamide like Dermageek and claims to protect your skin barrier with its non-irritating and non–comedogenic formula.
dermaGEEK Nourishing Facial Moisturizer With Sunscreen
Moisturizers with SPF have been stealing all the glam for quite some time now, and with good reason. Think how lazy you get when it comes to skincare, and what a fantastic thing it would be if you had to skip another tube or bottle. The dermaGEEK Nourishing Facial Moisturizer With Sunscreen seeks a broad spectrum SPF 30 protection. The formula boasts key ingredients like avobenzone, homosalate, octisalate, and octocrylene, which claim to shield your skin against the deeper layers of the sun and promote youthfulness.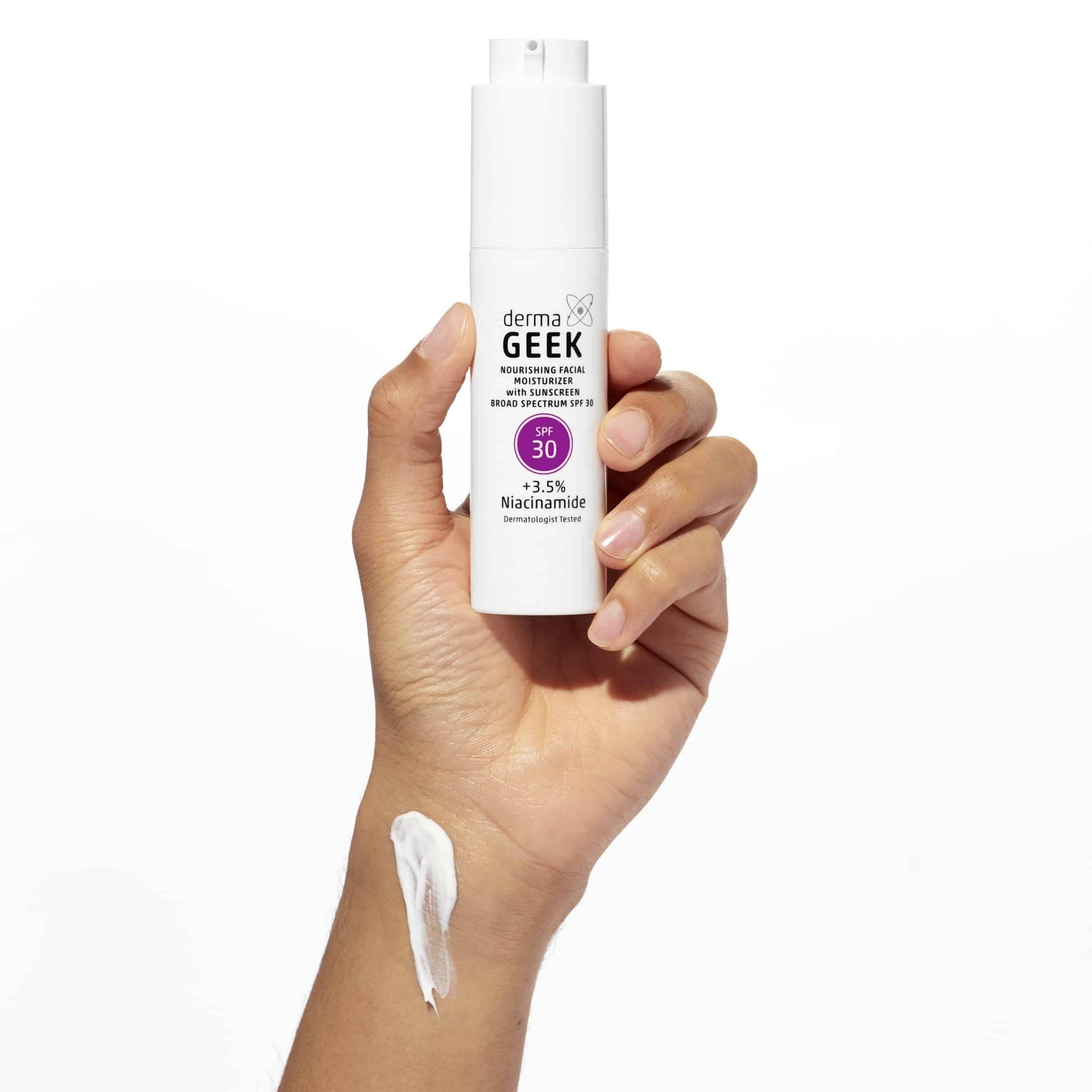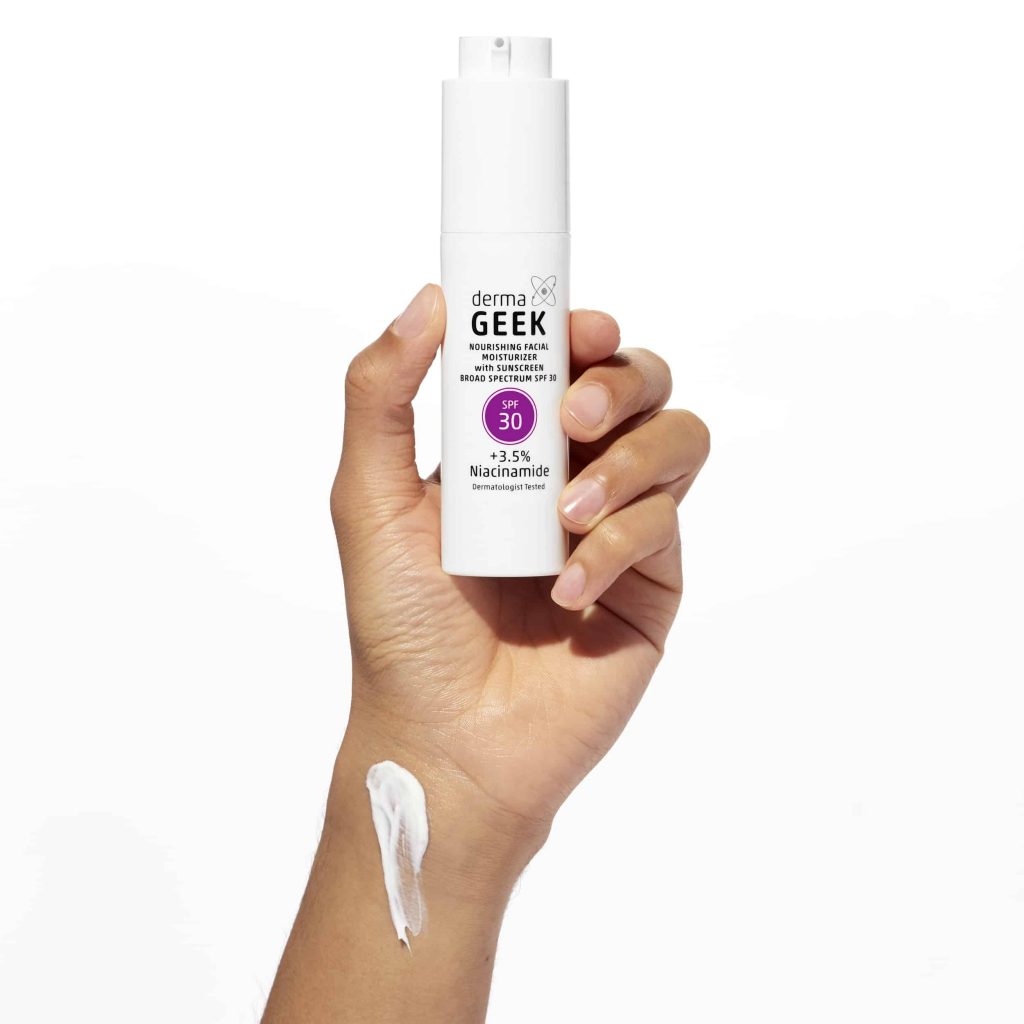 The penetration of UVA and UVB rays enhances the aging process, hence its signs like more wrinkles, fine lines, collagen breakdown, and taking away your skin's firmness. This formula claims to replenish your skin's needs and keep it happy during the bright hours. However, one drawback that has caught users' eyes is that the formula of chemical sunscreens might absorb through your skin and enter your bloodstream. So make sure you have first-hand knowledge before you go all in.
dermaGEEK Fortifying Facial Serum
People are obsessed with the dermaGEEK Fortifying Facial Serum as it features a duo of 3.5% vitamins + antioxidants that are a daily dose of nourishment for all skin types. The formula is lightweight and fast-absorbing on the skin, so you won't have difficulty blending it. It acts as a powerhouse of handpicked ingredients like niacinamide, vitamin E, green tea leaf extract, and grape seed extract, vital to ensuring happy and hydrated skin.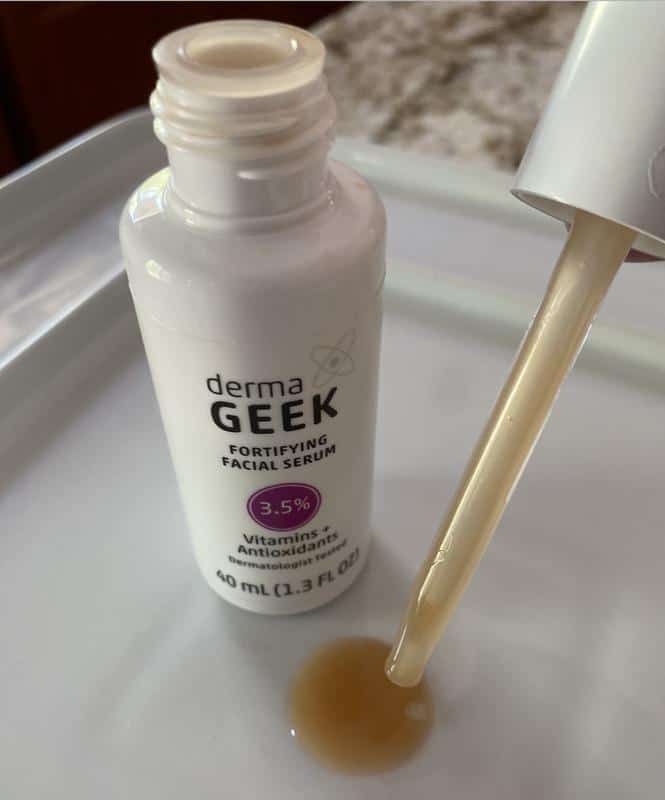 Green tea leaf extract helps in fighting against free radical damage that might potentially harm your skin due to UV-induced oxidative damage. The wholesome formula assures that it is everything your skin needs and also combats premature signs of aging like wrinkles, fine lines, and dark spots, which often dull our appearance. However, not everyone's skin is the same, so you might see the results sooner or faster than anybody else. Also, the effects of the improvements might vary, so ensure consistency in your usage to derive maximum results. Thus, you can try the DS Lab's Antioxidant anti-aging serum.
Customer Feedback | Dermageek Skincare Reviews
There are several reasons why you need skincare, both indoors and outdoors. Leave out the scary environmental aggressors; a lousy skincare phase can easily affect a person's mental health. So it would be best to choose something that works for you and your skin alone. Fishing around the internet today for good products can be bewildering, as everyone offers something that seems to be sticking up to the wishlists of the masses.
So, we took the time to investigate for you about Dermageek. Let us decode the truth about how strong the efficacy game is of this brand. Here are some statements from reliable sources when they were asked about their thoughts and experiences on DermaGeek.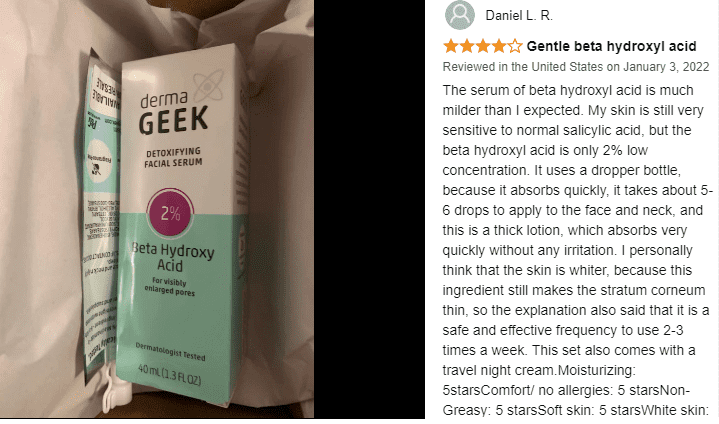 Nelly mentioned, "I remember a few years back, I had a lot of texture on my skin, and my face looked dull in all pictures. Unfortunately, I had already tried many different products, and nothing seemed to work. Then I came across a friend who suggested I use this for a change, and I am so happy I listened to her! Now my skin looks nothing as it did before. My wrinkles have almost faded, and I feel very confident from within."
Sophia pinned, "Not the best skincare I have ever used, but it was okay according to the price. I thought the results were significantly less substantial. I prefer going for alternatives that offer noticeable improvements."
Amanda expressed, "Believe it or not, this moisturizer is the best I could ever ask for. It has a fine consistency and blends on your skin very smoothly."
Vivian commented, "I was pretty taken aback when I read so many positive reviews about it online. So I bought it for myself, but on the first application, I experienced some irritation. I guess it's not for everyone after all."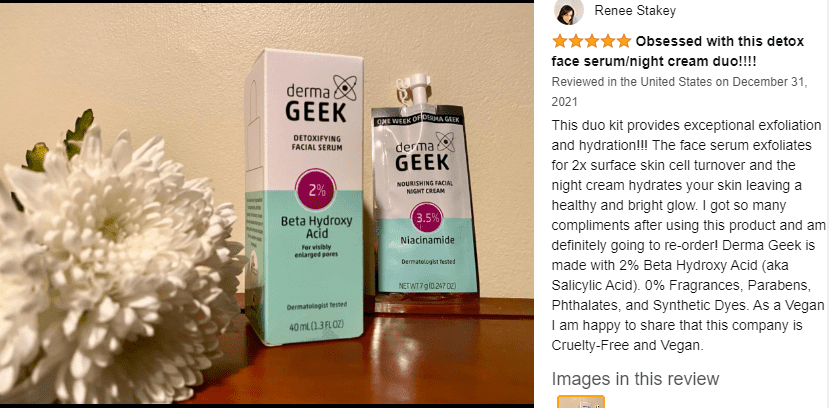 Georgia said, "This works well on my skin. I can't believe I have already finished up two tubes of these. When my mom saw the results on my skin, she wanted to have one for herself too! Can't wait to purchase it again!"
FAQs | Dermageek Skincare Reviews
Is Dermageek good for sensitive skin?
Yes, Dermageek products are carefully designed to suit all skin types, including sensitive and acne-prone skin types. The formulas steer clear of fragrance, sulfates, and fillers, eliminating the chances of you getting an allergic reaction and compromising your skin barrier. Also, the brand has ensured that the products possess a gentle nature so that it does not strip off the natural moisture from your skin.
Is Derma Geek non-comedogenic?
Yes, all formulations designed under the brand have a non-comedogenic formula. This means they won't cause clog your pores. Instead, they purify and detoxify your skin and help remove build-up inside your pores. Thus, no preservatives or harsh ingredients prevent more breakouts or acne and keep your skin refreshed and clean.
Are DERMAGeek products safe?
Yes, all Dermageek products are safe to apply on your skin, as they do not contain any irritants or elements that will disrupt your skin's protective cover. All products are designed mindfully with the most nourished ingredients that keep all irritation at bay.
What is Derma Geek used for?
Dermageek products offer you a compilation of the most extensive skincare your skin requires daily. They offer everything from cleaning, serums, moisturizers, exfoliants, and SPF protection. They help rebuild your skin and fortify its barrier, improve cell turnover, enhance collagen synthesis, eliminate dirt, add hydration, and encourage overall health to look youthful. All products are power-packed with good ingredients and contain 0 percent of Fragrances, Parabens, Phthalates, and Synthetic Dyes.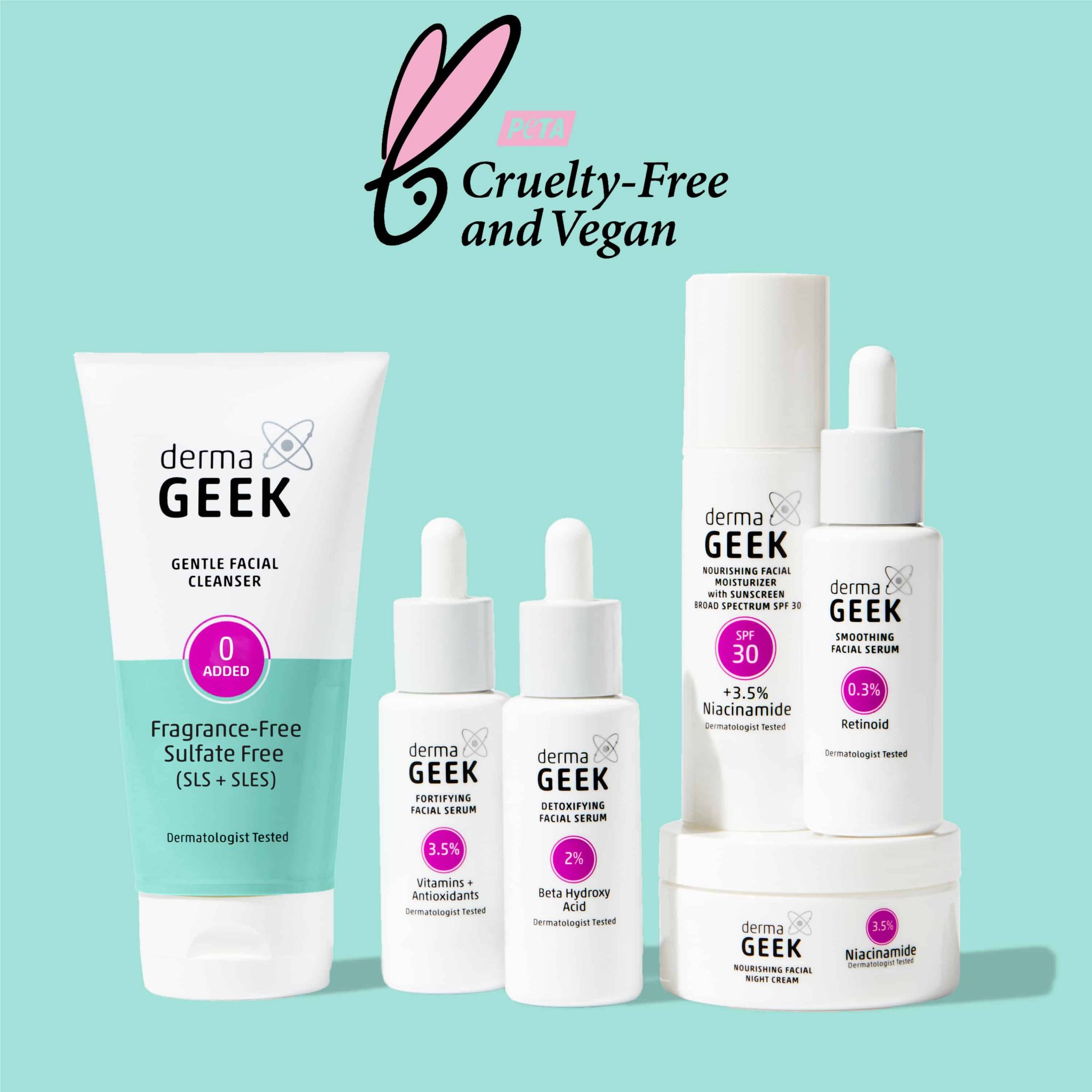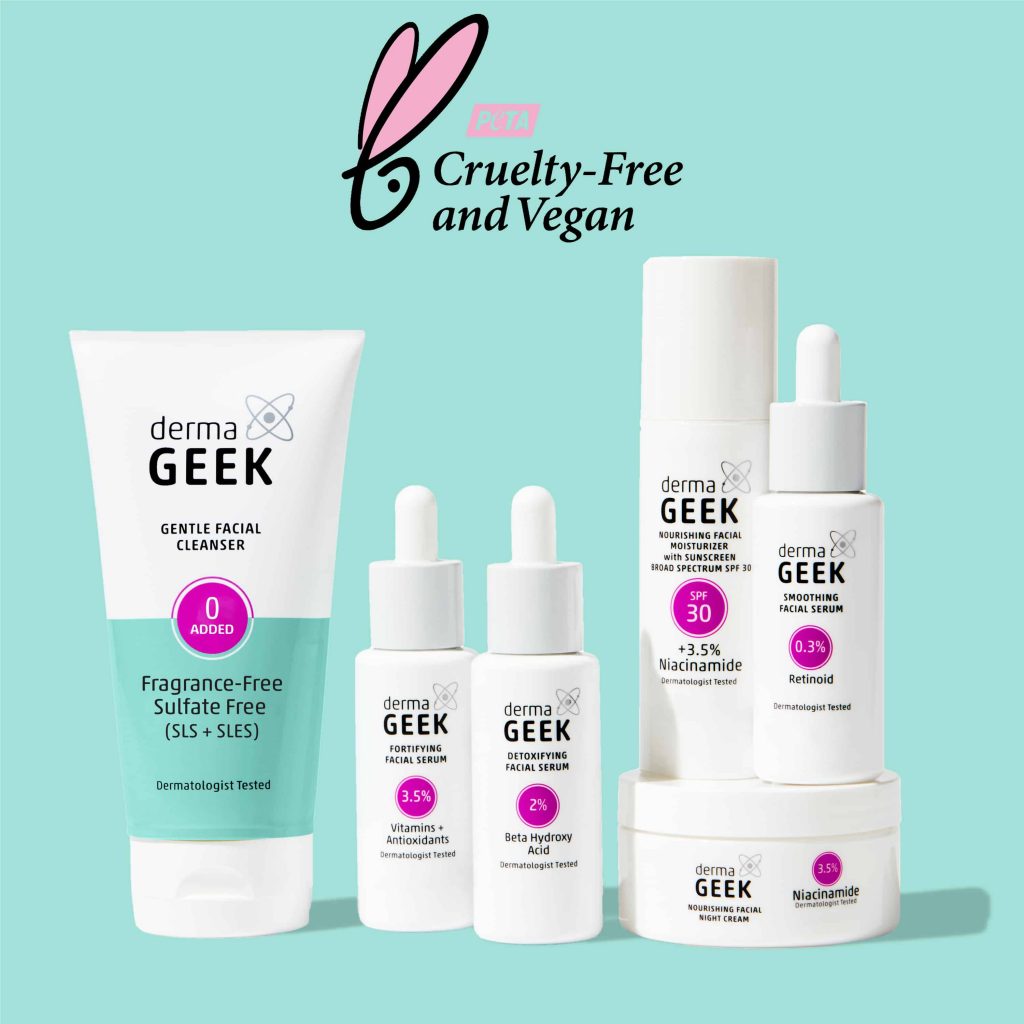 Is Derma good for acne-prone skin?
Yes, the exfoliant of the brand possesses 2% Beta hydroxy acid, which helps get rid of excess oil secretion of the skin, which accumulates and buries dust within our pores. This formula prevents inflammation, rashes, and redness, which keeps your canvas clean and prevents more buildup that leads to acne. You can consider it any of the best exfoliators available.
Does Derma Geek test on animals?
No, the brand strictly follows a policy of not testing any of its products on animals. Also, all products possess a vegan consumption and have been created keeping in mind all safety measures.
Closure
People will come and go, but skincare is for life! And we cannot stress enough its importance. Your happy pictures are a tell-tale sign of something good present in your makeup vanity. However, there will always be different kinds of people when testing how good a product is. According to Dermageek Skincare reviews, most sources had good things to say about the brand and how it positively changed their skin after ages. Others revealed they liked the effects they received. However, those were short-lasting.
On the other hand, some wanted more from how quickly the quantity got over. Above all, the brand has garnered an overwhelmingly positive response from skincare overs. What people loved the most bout the products was their weightlessness, bendability, and ability to avoid harmful ingredients. After all, no one wants to spend money on beauty products and see an uglier version of themselves!
Rebecca is a skilled writer with a passion for makeup and skincare. With years of experience in the beauty industry, she has a deep understanding of the latest trends and products and a talent for creating engaging content that resonates with her readers. Whether she's writing about the latest skincare products or sharing her favorite makeup tips, Rebecca's writing is always informative, entertaining, and inspiring.