It is not your fault that you were born with short and thin lashes. But it will be a damned thing if you do nothing to regain the beauty that is rightfully yours. A good mascara helps uncover the deep and irresistible depth of your eyes and adds charm to the other parts of your face. But none of the mascaras in your makeup tub have proved their longevity or come through their claims.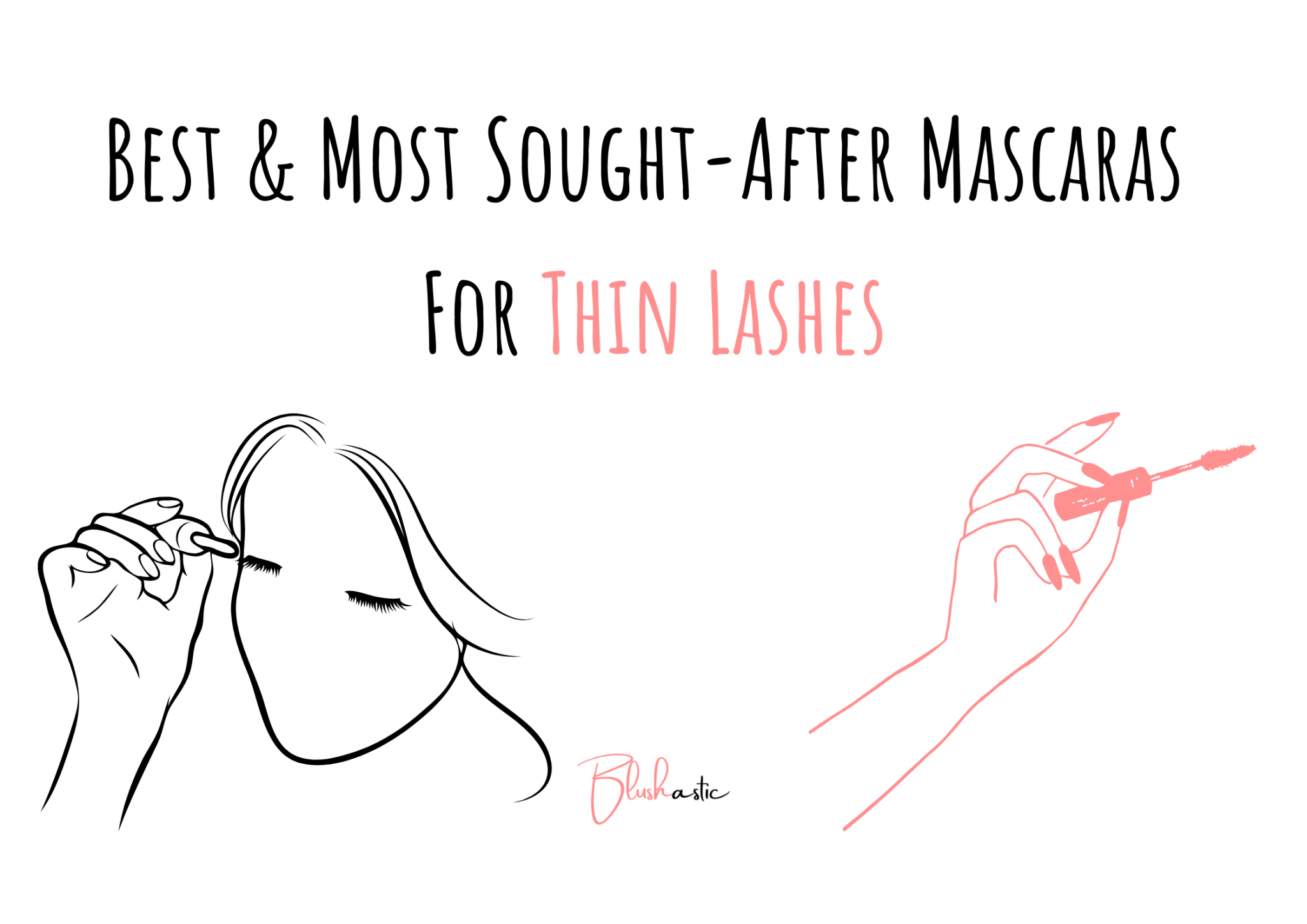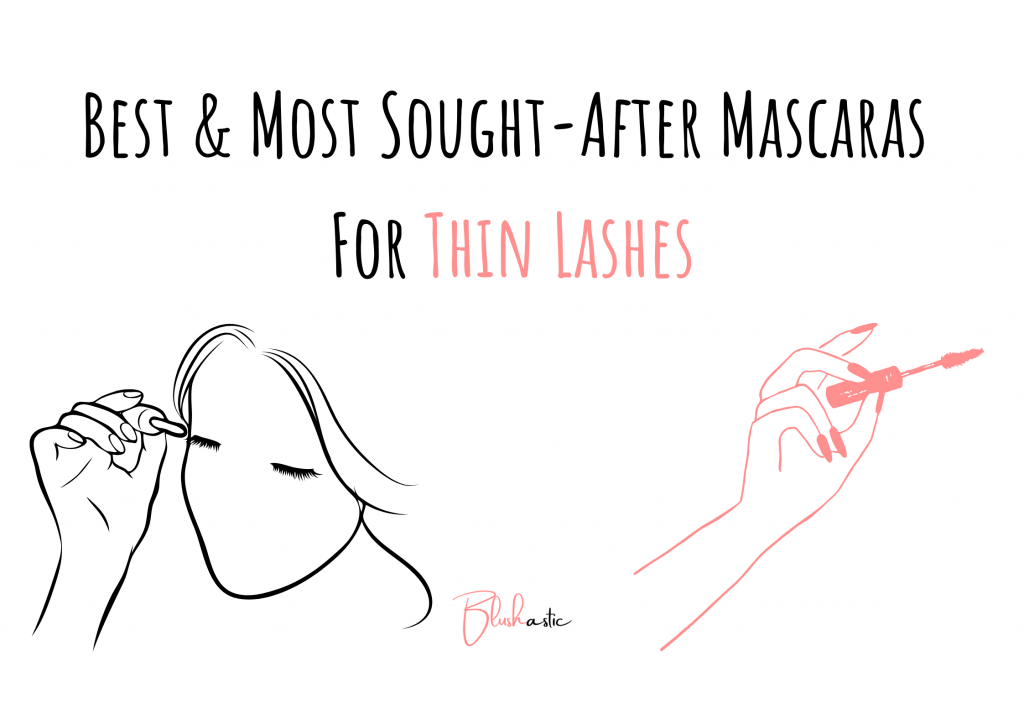 So how do you know something will work for your thin lashes without spending your sweet money only to regret it? It is good that we are friends because we have listed the definitive guide of the Best Mascara For Thin Lashes, which talks about all the dos and donts you need to adhere to.
Below are the 11 most sought-after mascara options to help you get closer to that clean girl look you want to slay! Stay tuned because it is going to be the smoothest ride!
Best Mascara For Thin Lashes
Maybelline New York's Full 'N Soft Waterproof Volumizing Mascara
Be it whatever in makeup, Maybelline won't ever fail to surprise you. Even if you are not blessed with fluffy lashes at birth, this brand's volumizing mascara proves you can still craft that dramatic eye effect. The Maybelline New York's Full 'N Soft Waterproof Volumizing Mascara claims to be your thin lash's only baby, for it is infused with the goodness of vitamin E, which keeps away any oxidative damage and strengthens your eyelashes from within.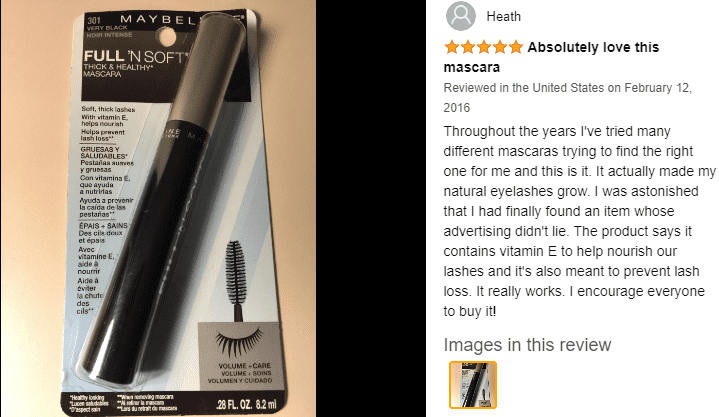 This protects your lashes from falling apart and gives them a softer and fuller appearance to define your eyes. We all know how difficult it is to get that mascara off while you are done with it, so this formula has been loaded with a special Quick Dissolve System. This technique lets the formula come off quickly and without fuss, leaving you with velvety silk lashes.
Pros
Offers you two choices of waterproof and washable
Enriched with vitamin E
It has a hypoallergenic formula
It gives long-lasting benefits that stay all day long
Delivers a super pigmented shade of black to enhance definition
It helps in making your eyes look fuller and more voluminous
It is safe for contact lenses wearers too
Features a unique Quick Dissolve System
Prevents lashes from breaking
Leaves lashes silky-soft without any brittleness
Sale
Maybelline Full 'N Soft Waterproof Mascara, Very Black, 1 Count
Full 'N Soft Waterproof Mascara has advanced thickening formula which nourishes with Vitamin E to create softer and fuller looking lashes; Removes easily to help prevent lash loss; Suitable for contact lens wearers
Define Your Eye: No eye makeup look is complete without Maybelline Mascara; Amp up the drama with The Falsies Mascara, keep it classic with the iconic Great Lash, or go for a smooth, clump-free natural-but-better look Colossal or Lash Sensational Mascara
Maybelline Is The Eye Expert: Whatever your signature eye look, natural or dramatic, Maybelline helps create looks that draw eyes with a broad selection of pencil and liquid eyeliners, highly pigmented eyeshadows, iconic mascara, and eyebrow makeup
Create any look with Maybelline: foundation, BB creams, concealers, and setting powders for the perfect canvas, eye shadows, mascara, brow pencils, and eyeliners for any eye look and lip products, from showstopping matte lipstick to a plumping lip gloss
Remove Maybelline Makeup With Micellar Water: Use Garnier Micellar Water as a gentle makeup remover at night, and as a facial cleanser in the morning to prep skin for Maybelline makeup
Cons
The effects may only stay some day.
COVERGIRL Lash Blast Volume Mascara
Who said girls with thin lashes could not look more beautiful than those who do? You just need to find the right tools and are set! We have found that the Lash Blast Volume Mascara from Covergirl creates a blast of volume, as its name suggests. The most exciting thing about this mascara that attracts users is what's inside it. These include a potent hyaluronic complex, bamboo serum, and primer, making it a 3-in-1 beauty arsenal for your makeup vanity!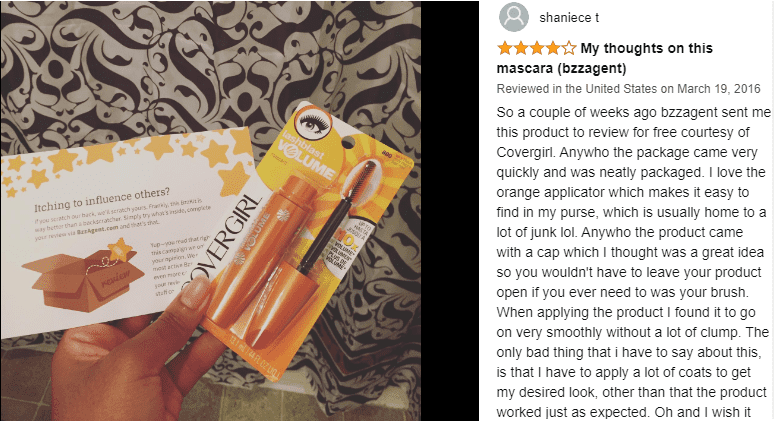 Thanks to the soft wavy bristles in the curved brush, that does not leave behind a single lash and coats them all in a healthy layer of the lash-intensifying formula. Thanks to the hyaluronic complex present in this, the mascara works hard to give you a youthful appearance. It claims to provide strengthened, elongated, and thicker lashes in just 4 weeks. So if you have such goals, you can dig this out for yourself!
Pros
Adds instant plumping effect
Infused with Hyaluronic Complex and Bamboo Serum
It has the properties of a lash primer
It comes with a soft and curved brush that separates lashes individually
It does not add extra weight to your eyes
Delivers thicker, more robust, and longer-looking lashes in 4 weeks
Adds high definition to your eyes
Suitable for multiple occasions
It does not clump up
It can be easily removed without eyelash fallout
Goves a youthful-finish
Coats every single lash strand
Sale
Covergirl Lash Blast Volume Mascara, Very Black
MAX OUT THOSE LASHES: Designed to max out every lash, Lash Blast Volume Mascara creates 10 times more volume instantly
MEGA VOLUME IN AN INSTANT: Instant blast of fullness and length
PICK YOUR SHADE: Available in 4 different colors, so you can choose how bold you want to go
ZERO CLUMPS: This volumizing mascara evenly coats each lash with no clumping or flaking
CRUELTY-FREE: Covergirl products are Leaping Bunny Certified by Cruelty-Free International, meaning they are never tested on animals
Cons
It causes a lot of flaking and makes a mess.
Chanel Waterproof Mascara
If more drama is your thing, the Le Volume de Chanel will have your back on this journey! The mascara has an exclusive 'Snowflakes' brush known for combining long and short bristles into itself for an extreme, eye-opening effect. That is not even the best bit yet. Users who have taken this edit can't stop praising its power-packed formula that has complied with pro-vitamin B5 that strengthens your lashes and vitamin E, which shields your eyelash strands against oxidative stress and pampers them with anti-oxidant properties.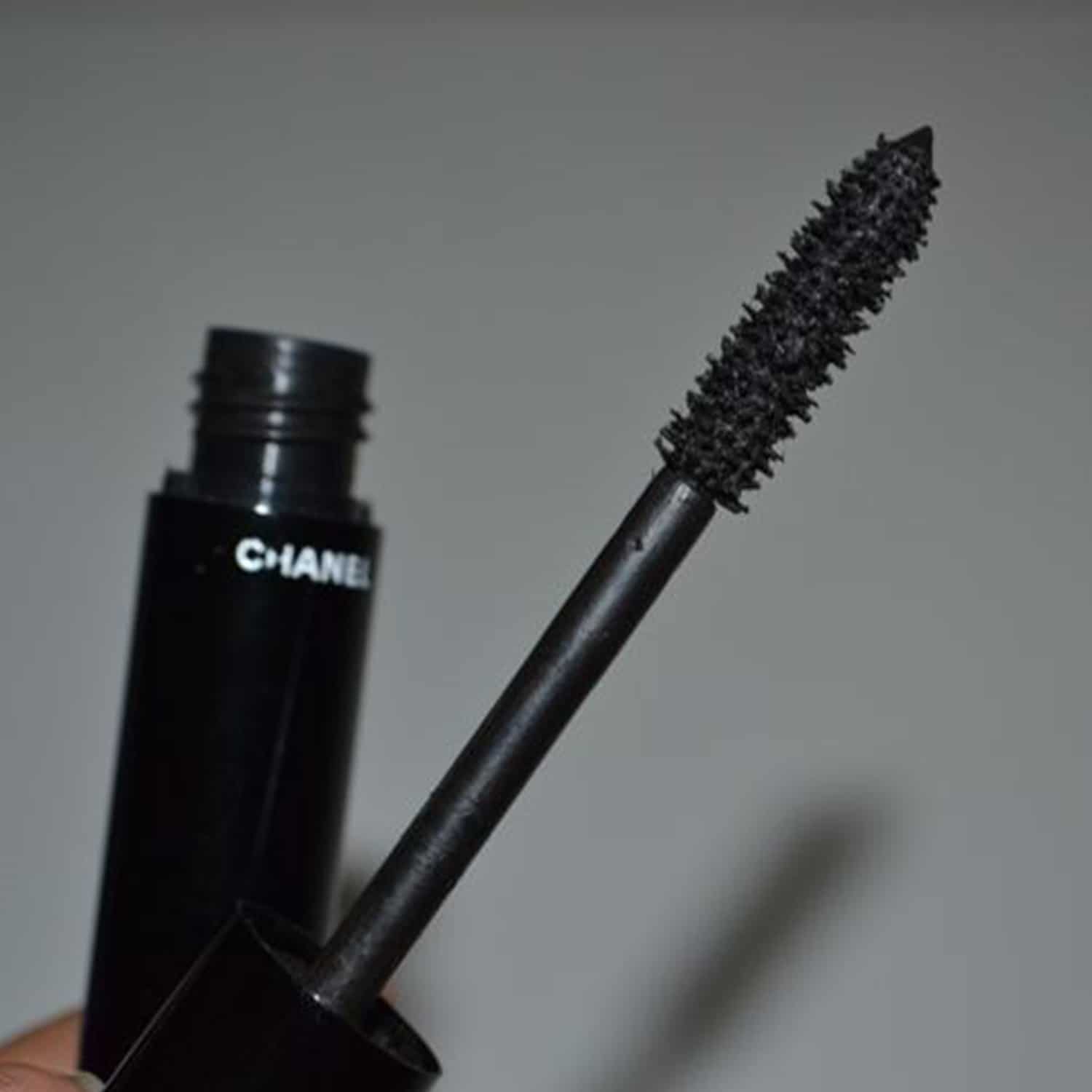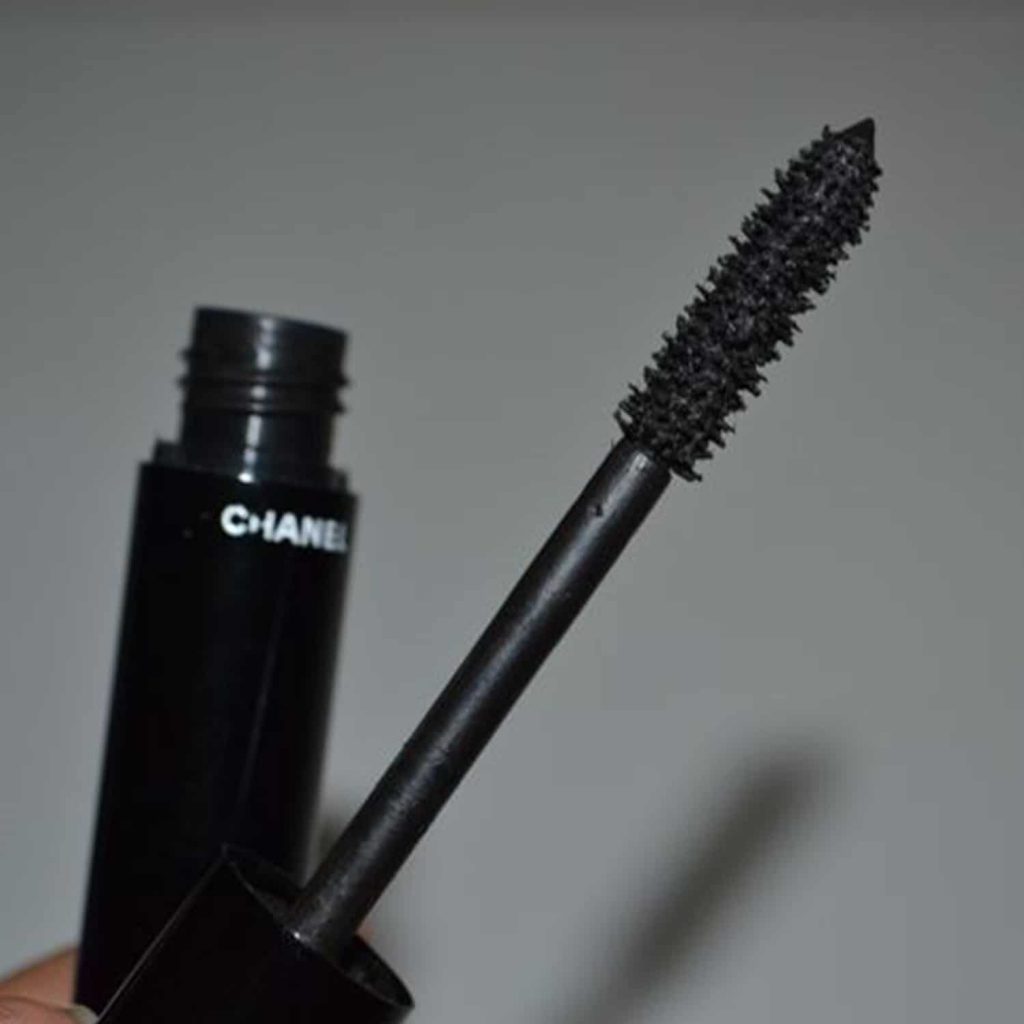 No more applying repeated layers because this mascara gives you super pigmentation in a single stroke, which plumps up your lash volume. Natural waxes are present here, which deliver volume and contain acacia gum that allows fast-drying setting action. We don't know about you, but this talk makes our eyes feel much more excited!
Pros
Possesses super-saturated color
It comes with a high-precision brush that makes application easier
The formula is resistant to water
It does not smudge at all
Expands every single lash to make them visible
Rich in the supply of antioxidants
Locked with pro-Vitamin B5 and Vitamin E
Strengthens lashes from within
Creates an eye-opening effect
Enhances the curl of your lashes
Features film-forming agents that ensure uniform application
CHANEL LE Volume DE Waterproof# 10 Noir New in Box
A high-precision waterproof mascara that achieves instant volume and intense colour in a single stroke.
The smudge-proof, innovative formula of LE VOLUME DE CHANEL WATERPROOF expands lashes to their fullest. Pro-Vitamin B5 strengthens and Vitamin E offers anti-oxidant properties. A Chanel-exclusive 'Snowflakes' brush combines long and short bristles for an extreme, eye-opening effect.
Coat lashes from roots to tips. Prep with LA BASE MASCARA Nourishing Mascara Base for best results.
Notes : In terms of item color, it may be slightly different from each monitor display and specification.
Cons
The formula can flake a little bit.
The brush might need to be more bulky to be used for the lower lashes.
Estee Lauder Sumptuous Bold Volume Lifting Mascara
The best thing you can do for your lashes is not to dump some heavy mascara cream on them; that makes them droop down without giving your eyes that natural lift. So, what is the right thing to do here? But what other option are you left with to get that volume? News has it that the Estee Lauder Sumptuous Bold Volume Lifting Mascara can improve your situation with its lightweight formula, which does not bring any heaviness. The hero aspect of owning this mascara is its wand, which is so much fuller that it covers the length of all your lashes.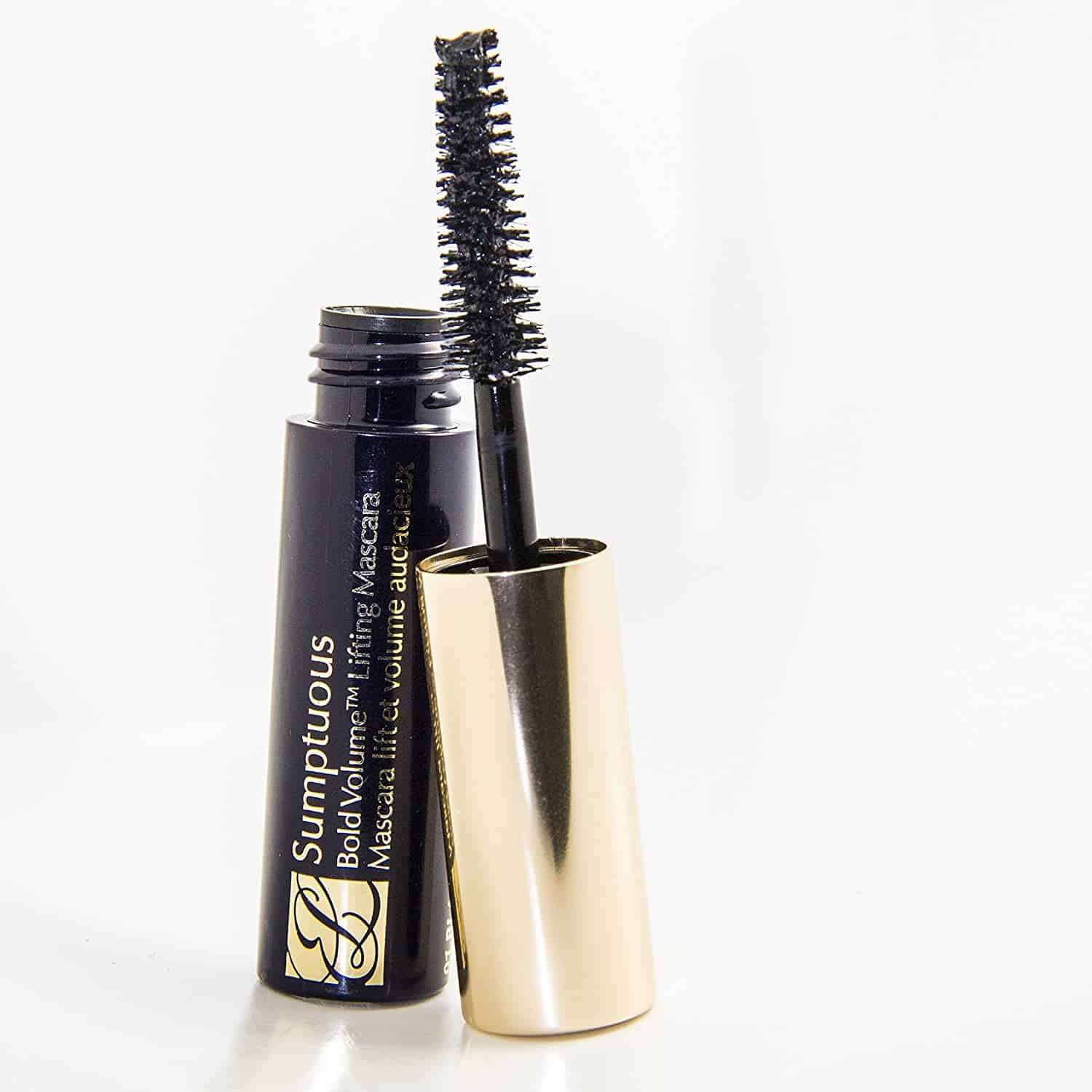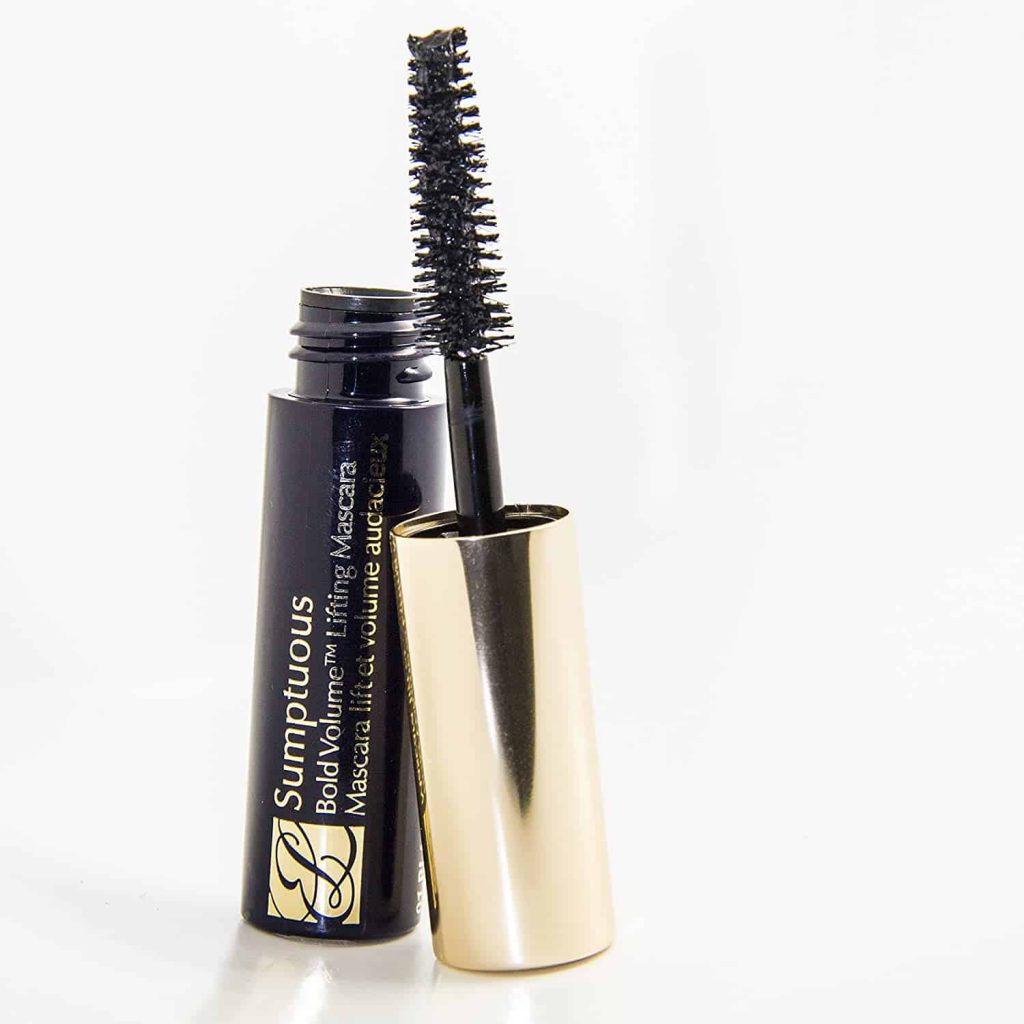 Just one humble coat and you will be thanking it later! The wand starts from your roots and ends up at the ends to create a lifting effect which is the best way to make your thin lashes seen. This inevitably introduces a thicker, voluptuous look, making your eyes more defined and the center of everyone's attention!
Pros
Does not weigh down your lashes
The fuller wand grabs all your lashes
Creates a lifting effect from the roots
Curls your thin lashes naturally, so you dont need a lash curler
The formula is embedded with lash-thickening fibers.
It makes a bold look to remember
Cons
No variety in shades
The procedure is not cruelty-free
The mascara does not give a waterproof finish
It may not be suitable for people who wear contact lenses
MAC MacStack Mascara
We all love long lashes that taper towards the end and give a butterfly-like curling effect. It not only creates a flirtatious look but also makes your facial features sharper than before. But what do you do when you do not have long lashes? Do you have to invest much of your precious time and money? Absolutely not! The M·A·CSTACK MASCARA is an iconic formula that claims to form infinite layers of volume and length so that you never have to deal with expensive appointments to the salon.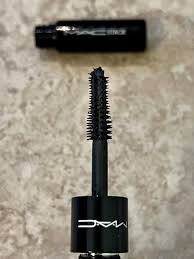 The clump-resistant mascara does not form flakes and separates every lash strand to ace that natural-to-bold voluminous look. It lasts for 24 hours, which means you get a whole day to flaunt your eyes! After applying this product for one week, consumer testing evaluation on 111 women revealed that 95% saw endlessly buildable volume, and 95% saw a fuller-looking lash line.
Pros
Does not form clumps
Longlasting effects that stay on for 24 hours
Features a buildable formula
It comes in two options, where one is for shorter lashes, and the other one is for longer lashes.
Enhances volume by adding thickness to each strand
It adds length and makes your lashes appear longer
M.A.C. Stack Mascara Duo - Superstack Mega Brush and Superstack Micro Brush, 0.41 Fl Oz (Pack of 2)
MAC Stack Mascara Duo - Superstack Mega Brush and Superstack Micro Brush
Superstack Mega Brush - MAC Stack Mascara features the Superstack Mega Brush that's ideal for longer or upper lashes
Superstack Micro Brush - MAC Stack Micro Mascara features the Superstack Micro Brush that's ideal for shorter or lower lashes.
An endlessly buildable, clump-resistant mascara that stacks on infinite layers of volume and length.
Size: 2 x 0.41 fl oz / 12 ml
Cons
The formula needs to be waterproof, so it might create a mess if you are swimming or sweating.
It was pricey.
The product does not have a cruelty-free composition.
Milk Makeup High Volume Mascara
The Milk Makeup High Volume Mascara will be an award-winning pick to your Best Mascara For Thin Lashes list, for it has been richly designed in a fusion with hemp-derived cannabis seed oil. This is a natural conditioner for your lash hairs, keeping them soft and healthy.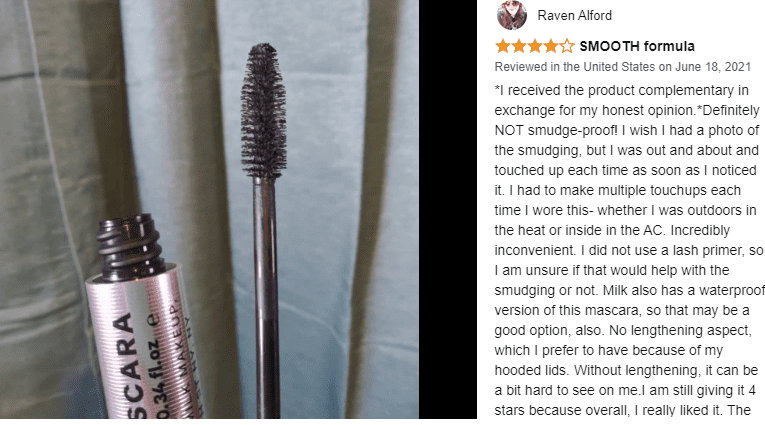 This ensures to cover your lash strands with high volume from roots to tips. The brand believes in client safety, so there are no nasties like parabens, silicones, alcohol, fragrance, gluten, or coal tar involved in the composition. It's time to light up your worries into thin air because the KUSH Mascara passed many tests, which revealed the consumer perception study of 21 people. Many users saw noticeable improvements in their lash appearance immediately. 95% saw amplified volume, 95% saw longer-looking lashes, 90% saw thickness in their lash strands, and 890% saw a lift in their lashes.
Pros
It has a very creamy texture
It comes with unique criss-cross bristles.
Coats lashes from roots to tips
Free of nasties liek alcohol, gluten, parabens, and fragrance
Vegan formula, cruelty-free
Does not dry or stiffen up your lashes to prevent brittleness
The black pigmentation is rich and gives intense coverage
Less risk of eye irritation
95% of users saw stronger lashes immediately after application
Promotes more robust and healthier lashes
Creates a soft-focus look for all day and night
Sale
MILK Makeup KUSH Volumizing Mascara - Vegan, Clean, Cruelty-free - Fuller, Healthier Lashes - 0.34 Fl Oz
Black pigmented mascara that gives you high volume, lifted lashes without drying or stiffening so that lashes look soft all day and night
Unique criss crossing bristles catch and coat every lash from root to tip for full, intense coverage
Formulated to keep lashes soft while promoting stronger, healthier lashes
This product is vegan, clean, cruelty-free, paraben-free, silicone-free, alcohol-free, fragrance-free, gluten-free, and coal tar-free - minimizing risk of eye irritation
Milk Makeup has one simple product philosophy - Use good, effective ingredients. Products are made to be easy-to-use and 100% vegan, cruelty-free, and paraben-free always.
Cons
L'Oreal Paris Volumizing and Lengthening Mascara
Not just hair, this brand is topping the lists when it comes to your lashes too! Girls with thin lashes often find it difficult to use products because nothing marks their eyes defined or seen. Here's where the L'Oreal Paris Volumizing and Lengthening Mascara enters the picture! What makes it worth buying is it delivers you 20x more volume than you have always dreamt of, and it also adds a 2x lengthening effect as a bonus! It does not smudge, it does not clump, and it does not flake!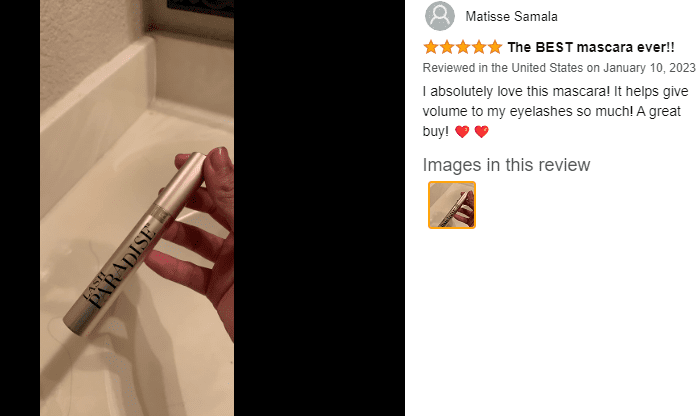 You might be worried that with all that heavy volume, your lashes might feel brittle and fallout, but no. the mascara formula softens your look for 16 hours without compromising your lash health. Surprisingly, the applicator brush consists of more than 200 small bristles, making the application super professional by ensuring every part of your lash gets the formula!
Pros
It has over 78k reviews on Amazon
It comes in different types
Does not flake, clump, or even smudge
Delivers 20x more volume and up to 2x more length
Locks your look in place for 16 hours
It feels feather-like and soft on the eyes
It can be removed easily
Sale
L'Oréal Paris Voluminous Makeup Lash Paradise Mascara, Voluptuous Volume, Intense Length, Feathery Soft Full Lashes, No Flaking, No Smudging, No Clumping, Blackest Black, 1 Count, Packaging May Vary
Volumizing And Lengthening Mascara: Full lash fringe that's feathery soft, with no flaking, no smudging, and no clumping; Just voluptuous volume and intense length. 20x more volume and up to 2x more length. Based on a consumer claims study, November 2020
L'Oreal Paris Mascara: Get the long, full eyelashes you love with our best mascaras and primers; Choose from our innovative volumizing formulas and variety of brushes
Create you perfect eye makeup look with our collection of Voluminous mascaras, achieve sleek lines with smudge proof eyeliner, define your brows and discover eye shadow palettes with shades made for every eye color
Because You're Worth It: L'Oreal Paris Makeup helps you create the look you want with our full line of makeup including foundations, concealers, highlighter makeup, brow pencils, eyeshadow palettes, lipsticks and much more
Perfect To Pair With: L'Oreal Paris Infallible Never Fail Mechanical Pencil Eyeliner; With long-lasting, fade-proof color, Infallible Never Fail Eyeliner ensures your look stays put for up to 16 hours
Cons
After a few weeks of use, the formula might get clumpy.
Bestidy 4D Silk Fiber Mascara
We get the trauma of your lashes feeling all heavy, dry, and dehydrated after a whole day of being out. And the laziness that comes after that to wipe your face clean feels like an arduous task. And while you're removing, the friction is so tight you accidentally pull out a lash or two. So, how do you get out of this situation without losing your mind?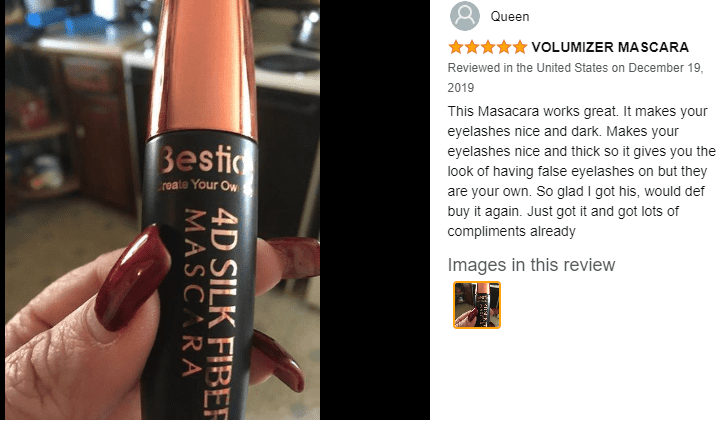 We have an answer for you, and it involves using the Bestidy 4D Silk Fiber Mascara to bring back your thin lashes into their state of gorgeousness, but with a twist! As the name reads, this 4D silk fiber lash mascara effortlessly glides on your lashes, making them soft and smooth upon touch. Also, the advanced lash-thickening formula has a natural and non-toxic base to avoid unwanted situations like irritation, itchiness, or redness in your eye.
Pros
It can be removed with ease, unlike other formulas
It has a waterproof finish
Promises not to smudge your makeup
Gives lash-lengthening benefits
Curls up your lashes naturally without a curler
Features a hypoallergenic formula
Fans out your lashes to amplify fluffiness
It can withstand rain, tears, and sweat.
Gives long-lasting effects
It can be applied to all occasions
Easy to use and feels gentle
It gives your eyes a natural look
4D Silk Fiber Lash Mascara, Fiber Mascara, 4D Silk Fiber Eyelash Mascara, Best for Thickening & Lengthening, Waterproof, Long-Lasting, Lasting All Day, Waterproof, Smudge Proof Eyelashes
INSTANT VOLUME & LENGTH - Bestidy 4D silk fiber lash mascara gives your eyelashes a boost of volume and length instantly. Now you can effortlessly achieve your desired look!
STAY IN PLACE ALL DAY WEAR - This waterproof and long-lasting Mascara formula ensures that your eyelashes stay gorgeously long, thick and voluminous all day through rain, tears, and sweat.
HYPOALLERGIC & GENTLE - Advanced thickening formula creates softer and fuller-looking lashes. Sensitive skin? Contact lenses? No problem. Your eyes will be protected by a natural and non-toxic formula.
PORTABLE & EASY TO USE - Your morning routine will be a breeze. It is good for party or other situations, small round bottle for easy carrying, necessary goods for women makeup. You can quickly make up your eyebrows at any break.
SILKY SMOOTH - If you're tired of your mascara flaking, smudging, and clumping, this one is a game changer. Try our silky, feathery smooth formula that gives you a natural look.
Cons
The volume is not that great
The formula is too sticky and takes time to dry.
Lancôme's Glossy Black Mascara
When it comes to our eyes, most of us will not leave a single expense spared, which is understandable. But are our lashes getting the most out of it? If not, then the Glossy Black mascara from the brand Lancome will give you a new perspective to think from. The most striking feature of this formula is that it is carefully crafted with white tea extract, which acts as a humectant and improves hair health by filling moisture deficiencies.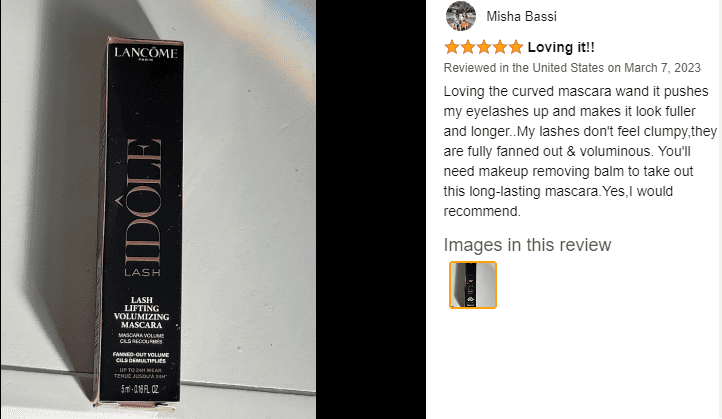 It is essential to be aware that you dont put anything wrong on your lashes that may degrade their appearance or health, so the brand makes it mandatory not to include any sulfates. As it comes in a gel format, it is super weightless and absorbs quickly, so you dont have to wait. So go on, and give your short and thin lashes the ultimate satisfaction of looking longer, thicker, and denser!
Pros
Features a lightweight gel formula
It gives a smudge-proof finish to your lashes
Loaded with white tea extract
Adds undeniable volume upto 24 hours
Supplies antioxidant benefits
Conditions your lashes from roots to tips
It can be worn by all lash types and even contact lens wearers
It does not clump up
The curved wand has impressive 360 micro-bristles in 250 sizes to grab every lash.
Creates instant lift and length
Encourages a fanned-out volume
Sale
Lancôme Lash Idôle Lash-Lifting & Volumizing Mascara - Black Mascara for Instant Volume, Length & Lift - Smudge Proof & Up To 24H Wear - Black
LIFTING & VOLUMIZING MASCARA - A lifting & volumizing mascara that targets and volumizes every single lash for instant lash lift, length, and fully fanned out volume. The curved mascara wand instantly lifts & fans out lashes for an open eye long-lasting effect lasting up to 24H, while the 360 micro-bristles grab every lash from root to tip (no matter the length) for longer eyelashes, without the clumps.
DUAL SIDED & CURVED WAND - The dual sided elastomer wand is uniquely designed to volumize, lift & lengthen lashes.The inside curve of wand builds volume while the outside curve instantly lifts and lengthens lashes.
NO FLAKING OR SMUDGING - The lightweight gel formula won't weigh on lashes, leaving them feathery soft with no flaking or smudging all day.
REAL RESULTS - In a consumer test realized on a panel of 103 women, 95% saw instant lash lift, 94% saw instant volume, 90% saw clump-free lashes and 99% say product is lightweight.
HOW TO APPLY - For amplified lash results, prep with Cils Booster XL Eyelash Primer. Use the inside curve side of the eyelash wand to build volume & outside curve to lengthen, separate & fan out lashes. Layer as desired to achieve your desired long-lasting lash look. Easily remove with Bi-Facil Double Action Eye Makeup Remover.
Cons
The mascara is on the expensive side.
Benefit They're Real Mascara
This Lengthening Mascara from Benefit is the real deal to enhance the length of your thin lashes. The results are proof that your lashes are in good hands because the clinical studies done with the mascara revealed that 94% of users saw a considerable increase in their lash length and volume, 94% were pleased to get a visible lift, and 100% of users felt satisfied because their results lasted long. The mascara world sees many new launches every day, but only a few can quench the thirst of your thin lashes.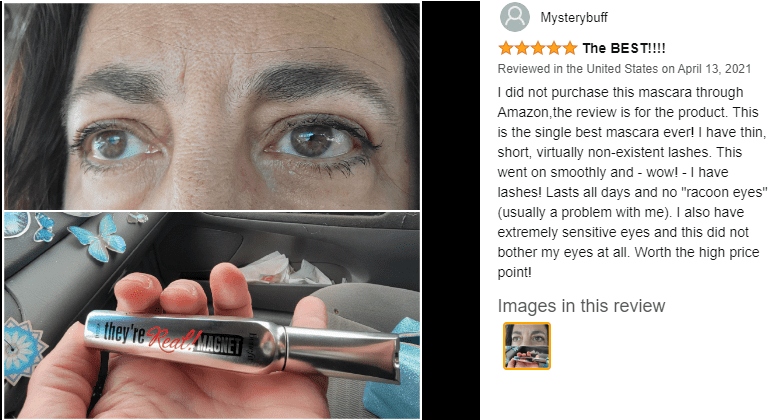 The custom domed-tip brush steals the product's highlight by carefully separating every little lash to make them thicker and fuller. Users were happy that this mascara option checked most of their boxes and made it to their beauty cabinets. So, if "separation and length" are your goal this season, and your eyes cannot handle any more smudging, we have to say that your thin lashes deserve to be spoiled by this edit!
Pros
It comes with a custom domed-tip brush
Features a long-wearing formula for thin lashes
It offers a lifting action too
Delivers intensified volume and curling
Adds length to your lash strands
It does not dry out your lashes or cause them to break
No smudging is involved
Resistant to water
It gives a jet black super, pigmented shade
Promising results observed by the consumer panel survey
Benefit Cosmetics They'Re Real! Mascara
Benefit Cosmetics They're Real! Mascara "black"
Jet-black mascara that lengthens, curls, volumizes, lifts, and separates lashes without smudging, clumping, or drying out
Specially designed brush features staggered bristles that grab close to the root, boosting length and volume beyond belief
Custom-domed tip uses precision bristles to lift, define, and curl even your tiniest lashes
FULL SIZE: 8.5g/.30oz -new in retail box- *Authentic*
Cons
The formula might smear in an environment of humidity or excessive sweating.
Rimmel Scandaleyes Mascara
Everyone loves a good old scandal. But what if you could invite some of this spiciness to your eyes without damaging them? According to beauty scoop, the Rimmel Scandaleyes Mascara has done it so that your thin lashes never have to hide under goops of eyeliner again. What is unique about this mascara is it has a mixture made with unique 3x collagen + 3x keratin, which works solely to revive your dry lashes from their lackluster.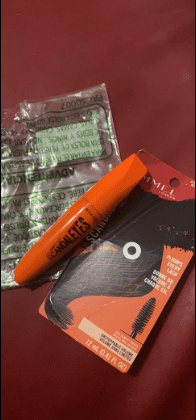 This complex infuses your lash hair with moisture, strength, and a growth boost. The applicator brush captures every strand by going over and under your lashes as it glides in its silky formula and plumps up your eyes. So, if you have been crying about having thin lashes for a long, this is your golden chance to elevate your look at a cost-effective price.
Pros
Feels gentle and lightweight
Infused with a special 3x collagen + 3x keratin
Promotes lash health from within
Adds a plumping effect to your lashline
It gives instant volume and zero clumps
Features a long-lasting formula that stars upto 24 hours format
Has the ability to withstand extreme conditions
It comes with an innovative brush that covers even the tiniest lashes.
No need for multiple coatings
Sale
Cons
The wand is giant and does not give seamless precision.
FAQs | Best Mascara For Thin Lashes
Is lengthening or volumizing mascara better?
It depends on your personal choice and what type of look you are trying to create. You should choose a volumizing mascara if you want fuller-looking eyes that scream volume from all angles. They will make your eyes look more dramatic by thickening every lash strand. On the other hand, if you want your lashes to be curled so much that they touch your upper lid, you can go for lengthening options.
What type of mascara makes your eyelashes look longer?
Choose a mascara with a wan that comes with many bristles. Ensure these rubberized bristles are of different sizes, as they will help grab all your lashes. And give your eyes a lengthening effect without smearing.
How do I choose a mascara color?
The most important tip to remember is to pair the color of your mascara with the color of your eyes. The same goes for your eyeliner and eyeshadow, as it will bring together a final look, elevating and taking your eye makeup game to another level.
Closure
Today, even the shortest lashes can look sensational if you pair them with all the right ingredients. And the right kind of mascara can impact your look very much. Luckily, we have some expertise in this area, so we gathered a good variety for you to pick out from. Make no haste because lash health should be your ultimate priority. We all want that thicker, longer, denser, and fuller look while we stack on our mascara, and now you have from 0 to 11 exotic options to revamp the beauty of your thin lashes, rain or shine.
These options have ticked the boxes of everything users look for while looking for the Best Mascara For Thin Lashes. These products have undergone many successful clinical studies on real-time users who now can't keep their hands off these mascara edits. We are confident you will find the picture-perfect option for your eyes so that all your pictures are perfect!
Marilyn's deep interest in fashion, beauty, and lifestyle has led her to pursue a fulfilling career as a freelance writer and blogger. With her bachelor's degree in fashion design from the Fashion Institute of Technology, she has developed a keen eye for style and trends, making her well-equipped to offer valuable insights into the latest fashion and beauty trends.