Imagine speaking to someone while your lipstick gets dilated. Anyone would overlook the conversation to point out your odd-looking lips. This point is one hundred reasons we adore finely-rimmed lips gifted by lip liners. It accentuates our facial features and gives us a real revamped look. Plenty of lip liners are flooding the beauty market, but not all are made for us. If you are seeking good quality lip liners that also are budget-friendly, here is the list of the best lip liner to prevent feathering.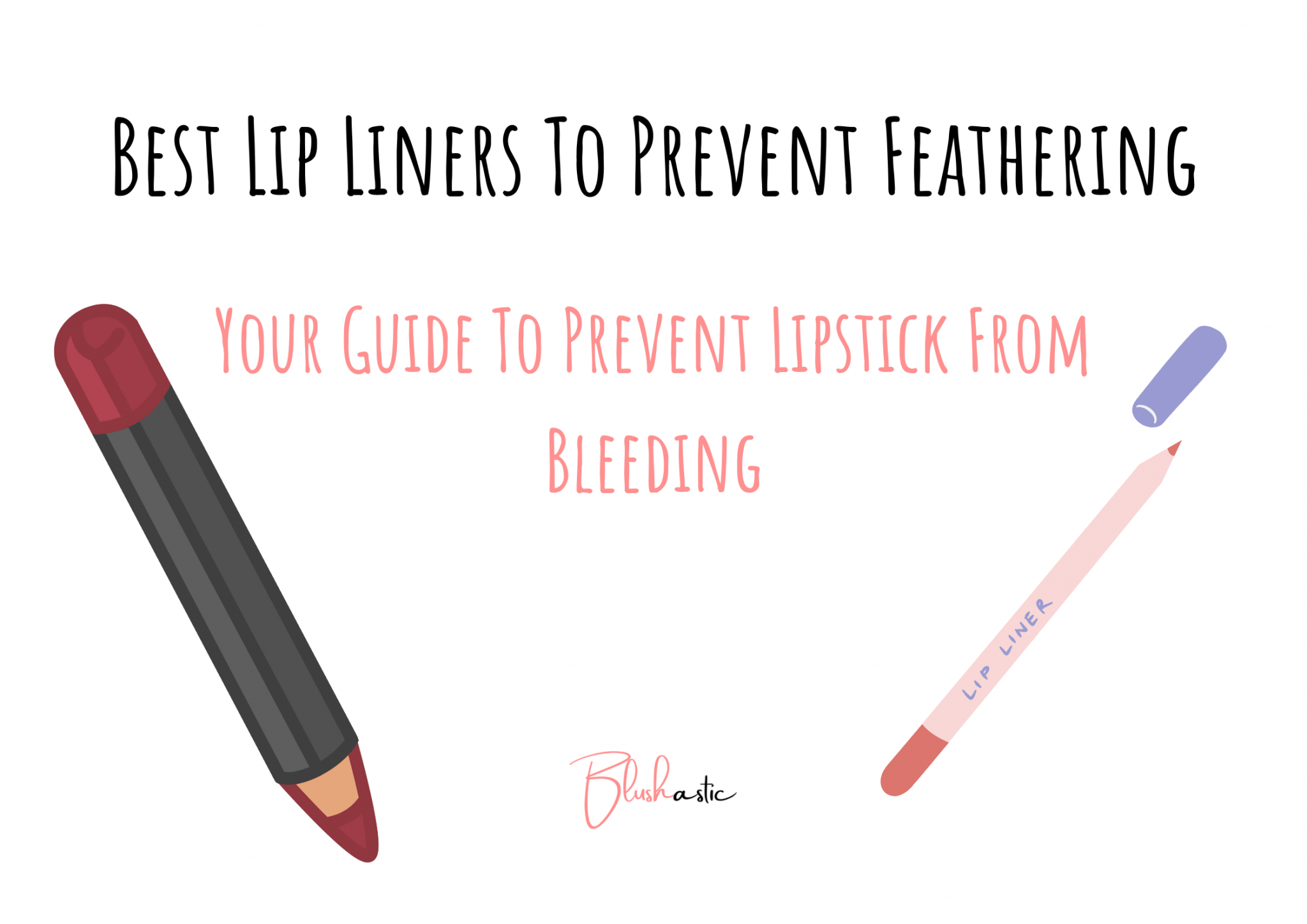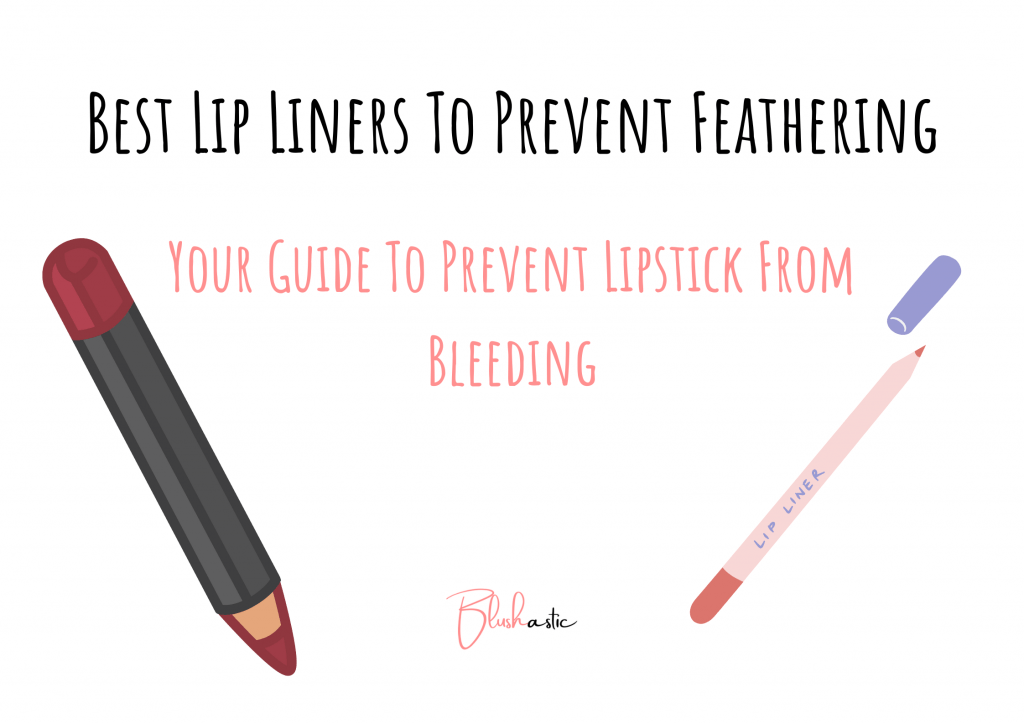 Many brands seeking your approval must be more honest about their products. With fake advertisements solidifying their lies, our only choice is to rely upon an authentic source. So, let us see what's in store for you here.
Best Lip Liner To Prevent Feathering | Guide 2023
The right lip liner for you is the one that matches your lipstick. Whatever lipstick shade you go for, remember that the lip liner should not be relatively darker than the lipstick, as it looks harsh and extra. Lip liners going neutral with natural lip color are a good choice for nude shades. Clear lip liners have an excellent reputation for preventing lipstick from bleeding into fine lines. They can pair well with any lip shade. I discuss 11 lip liners that can be your go-to liner partner on any occasion.
Before you lock your eyes on the first lip liner, understand the factors to consider when buying one.
What Elements To Look For When Buying A Lip Liner?
One may look for a few things when buying an all-new lip-liner. Watch out for these factors besides reputable brands and verified clean ingredients.
Shade and Undertone: The primary tick that your lip liner should make is on this box. The color of your lip liner should be no different than lipstick. Skin tone, too, plays a vital role in selecting the correct liner. Blue or purple undertone liners go well with cool skin tones. The warmer shades of peach or orange are okay for warm skin tones. Luckily, neutral skin tones can accommodate a variety of hues to match them.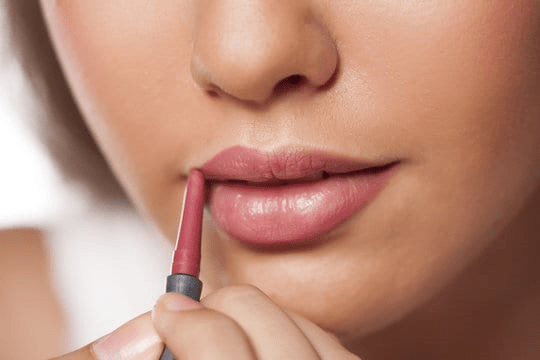 Texture and Longevity: Smooth lip liners with creamy textures glide on effortlessly without tugging or pulling the lips. A highly pigmented formulation yields a satisfying color payoff. Choosing a lip liner that is waterproof and smudge-proof helps it to stay put for longer durations. All these in a lip liner are a plus point when you look for a suitable option to buy.
Price and Packaging: An exorbitant lip liner won't take place for your other beauty products to fit in the budget. Choose a product that provides excellent value for money. And make sure that your lip liner comes in user-friendly packaging, as one can see in a retractable or a sharpenable pencil. It always makes a convenient option to buy.
NYX Professional Makeup Lip Liner
NYX Lip Liner tops the chart as usual. This lip liner brand is a personal favorite to many, including me. I have a bunch of lip-liners, but this holds a special place in my makeup box. It is Vegan, so I use it guilt-free. I like how it's a well-pigmented creamy texture that smoothly glides on my lips. It is not sturdy like other lip liners, so do not worry about it tugging your lips.
I use the "Total Baller" shade, which pairs well with brown lipstick. But there are nude shades like "Fierce Flirt" and "Goal Crusher" that may be your pick. After all, there are 18 different shades available. Choose anyone and show your lips some real love.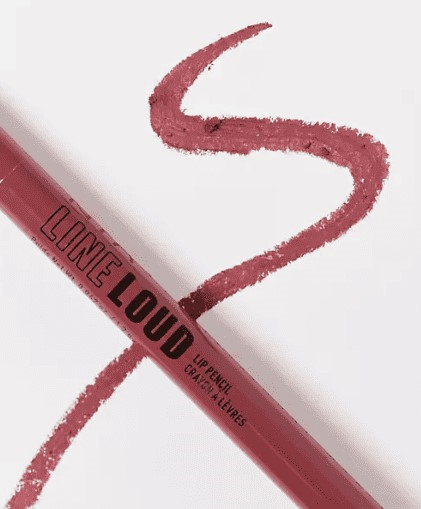 Pros
It is long-lasting.
It locks the lipstick in place.
It is affordable and travel-friendly.
Plenty of shade options are available.
NYX is a PETA-certified, cruelty-free brand.
Sale
NYX PROFESSIONAL MAKEUP Line Loud Lip Liner, Longwear and Pigmented Lip Pencil with Jojoba Oil & Vitamin E - Ambition Statement (Warm Peach Brown)
Long Lasting Lip Liner: Get loud and get in line. These lip liners bring loud to any lip make up look with a smooth, soft finish in vibrating loud lip color shades. This matte lip liner's creamy formula shapes lips, blends easily for no bleed color
Never Drying, Always Comfortable: Soft matte lip pencil infused with Jojoba Oil and Vitamin E makes lips look smooth & soft. Lip liner pencil glides onto lips with precise no tug application. Waterproof lip liner is transfer, fade & smudge resistant
Lip Products for the Perfect Pout: Doll your lips in creamy, long lasting perfection; Try our complete line of lip makeup including liquid lipstick, lip gloss, lip cream, lip liner and butter gloss
Cruelty Free Cosmetics: We believe animals belong in our arms, not in a lab; All of our makeup is certified and acknowledged by PETA as a cruelty free brand; We don't test any of our products on animals
Discover NYX Professional Makeup: Try all of our professional makeup products today from eyeshadow, eyeliner, and false lashes to liquid lipstick, lip gloss, primer, concealer, setting sprays and eyebrow makeup
Cons
The shelf life of this product is less.
The material could be more explicit, and it could break easily.
The color of the shade is lighter than the one they showcase.
NYX Professional Makeup Slim Lip Pencil
As the name displays, this lip liner resembles a pencil, except you draw lines on the upper and lower lips, not white sheets. But trust me! The color payoff is not as dead as my joke. The second lip liner by NYX makes a place in this list. Similar to the previous one, this lip pencil is Vegan, too, giving a smooth glide upon application.
The shade "Mahogany" is the one I use, but I urge you to look at 11 other shades as well. It is only a win-win situation where you get a high-quality lip liner at a low price. Buy it in a set of three or go for single pieces, whatever you wish, because it keeps the lipstick from bleeding well.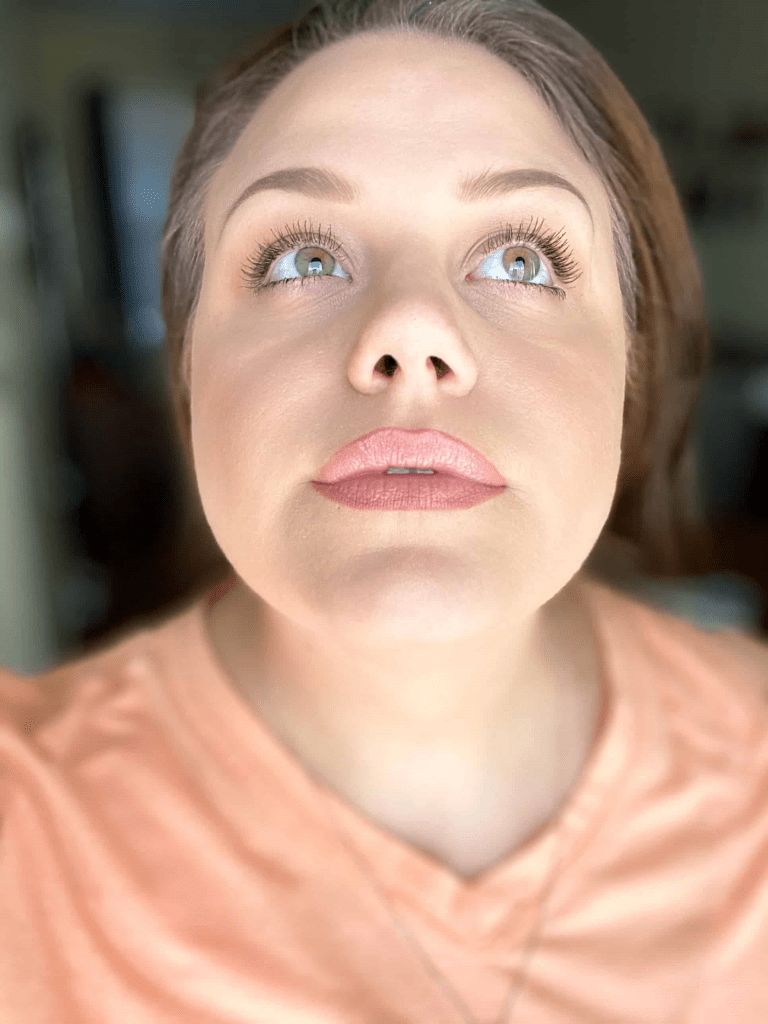 Pros
The tip is sharpenable.
This lip liner is highly affordable
It's easy to apply and waterproof.
It is a PETA-certified, cruelty-free brand.
It lasts long all day if you refrain from smudging it deliberately.
NYX PROFESSIONAL MAKEUP Slim Lip Pencil, Long-Lasting Creamy Lip Liner - Peakaboo Neutral
Lip Liner In All Shades: NYX Professional Makeup Slim Lip Pencil natural lip liner pencils come in a variety of dashing shades from auburn to orange and traffic stopping red to line and define your lips
Long Wearing Lip Liner Pencil: This buttery soft, long wearing lip pencil formula goes on easily and resists bleeding; Glide it on for an instant pump to your pout accompanying your favorite NYX Professional Makeup lipsticks and lip glosses
Lip Products for the Perfect Pout: Doll your lips in creamy, long lasting perfection; Try our complete line of lip makeup including liquid lipstick, lip gloss, lip cream, lip liner and butter gloss
Cruelty Free Cosmetics: We believe animals belong in our arms, not in a lab; All of our makeup is certified and acknowledged by PETA as a cruelty free brand; We don't test any of our products on animals
Discover NYX Professional Makeup: Try all of our professional makeup products today from eyeshadow, eyeliner, and false lashes to liquid lipstick, lip gloss, primer, concealer, setting sprays and eyebrow makeup
Cons
The packaging is fundamental.
A few shades look different on screen.
Some folks have complained that the hard tip fails to give them a smooth application.
Maybelline Color Sensational Lip Liner
Apart from the brand, you can trust the quality pigment of this lip liner. Its exceptional shade range of 15 deserves a spotlight. I only have their "Beige Babe" shade for my brown color. It says beige but is a dark brown shade. I even tingle my lips worry-free as it does not smudge easily. The rich, creamy formula won't make you believe that it is such an affordable piece. After I overline my lips with it, I apply my brown matte lipstick, which looks picture-perfect.
This item of 0.19 oz suits all skin types and tones. The color payoff is also a tick for me. I prefer this self-sharpening pencil to prevent any direct application on the lips.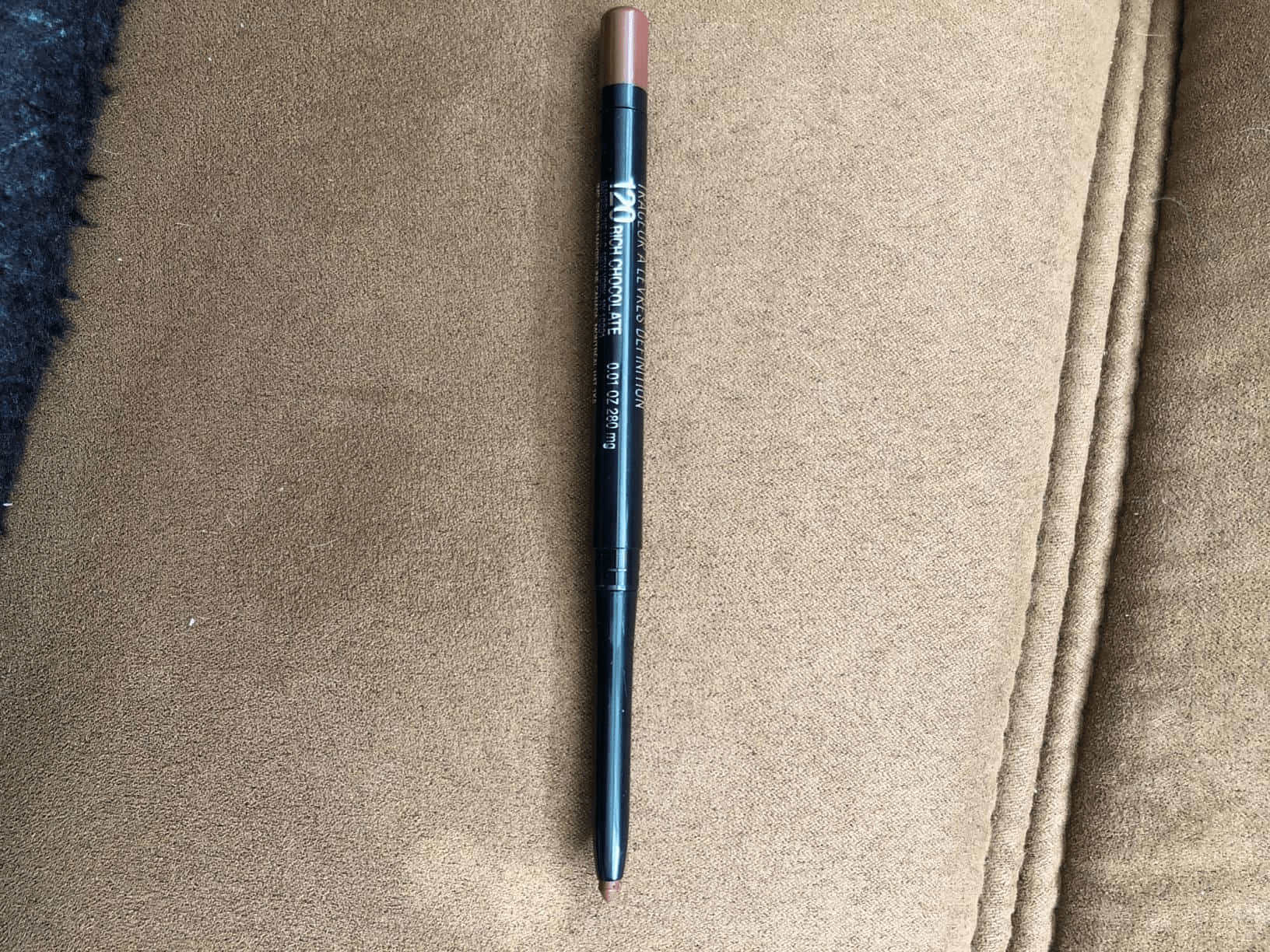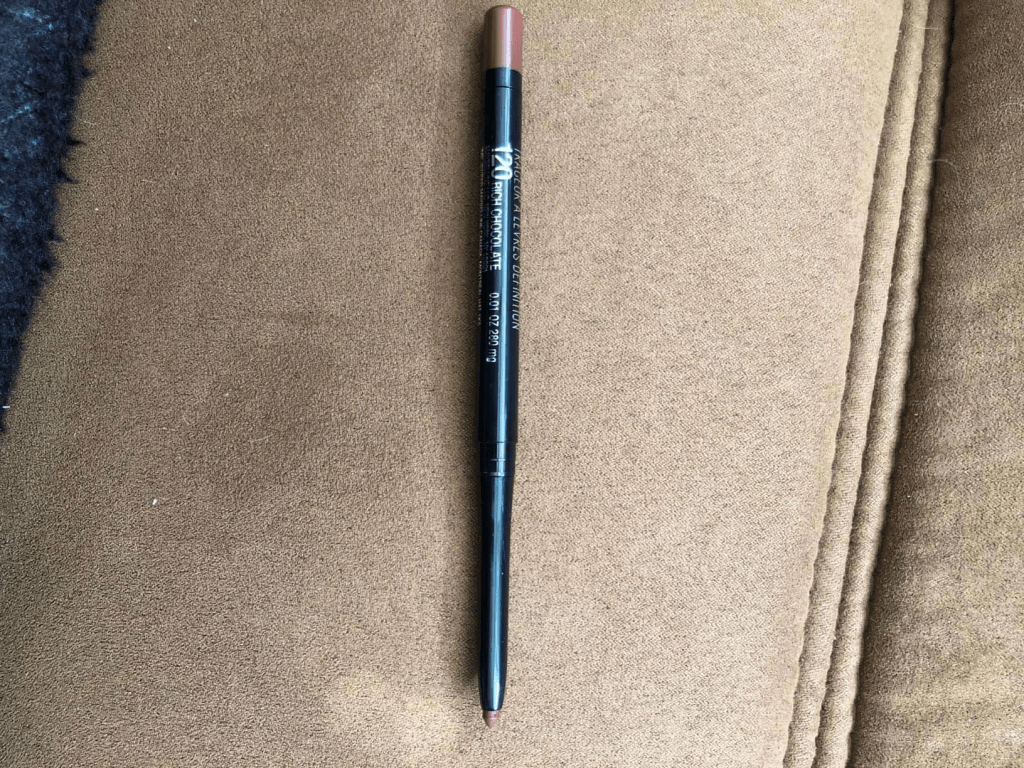 Pros
The shade range is inclusive of any color of lipstick.
It is sharpenable and reusable.
The creamy texture prevents harsh lines.
It is easy to apply and remove.
This lip liner adds an excellent pop of color to our lips.
Sale
Maybelline New York Color Sensational Shaping Lip Liner with Self-Sharpening Tip, Clear, 1 Count
Define Lips and Prevent Feathering: Clear lip liner is a creamy, smudge-proof formula that prevents lipstick bleeding and feathering. Create distinct edges with this clear liner for a perfectly defined lip look
Self-Sharpening Tip: This lip liner pencil is always on point to define, line and fill in your lips for quick touch-ups on the go. Slightly overline your lips to enhance lip fullness. Pair with your favorite Color Sensational lipstick
Sensational Color Shades: This shaping lip liner is available in 14 super-saturated shades ranging from Clear to Magnetic Mauve and Purely Nude. Use with all lip color shades as a lip primer to make your lipstick last longer
Create any look with Maybelline; foundation, BB creams, concealers, and setting powders for the perfect canvas, eye shadows, mascara, brow pencils, and eyeliners for any eye look and lip products, from showstopping lipstick to plumping lip gloss
Cons
Trimethylsiloxysilicate in this lip liner does not suit sensitive skin.
You may miss having your favorite color of lip shade.
A perfect and precise application needs a professional's intervention.
Mented Cosmetics Lip Liner
Lip Liners by Mented are so underrated, to be honest. After swiping past an array of lip-liners, I landed on Mented. I liked it a lot. So much so that I bought the lip liner and their lipstick, too; this pair of Semi-Matte Nude Lipstick and the "Dark Brown" Lip Liner are excellent. It gives a lavish cocoa-colored tint that goes on almost every attire of mine.
Once I wear it, I rest assured of its longevity, as it lasts up to eight hours. I have not exceeded four hours of wear, but it stays put. They have nine different shades suiting dark complexions. But it suits my fair face, so I don't mind looking at it. The variety in hues may have a surprise for you too.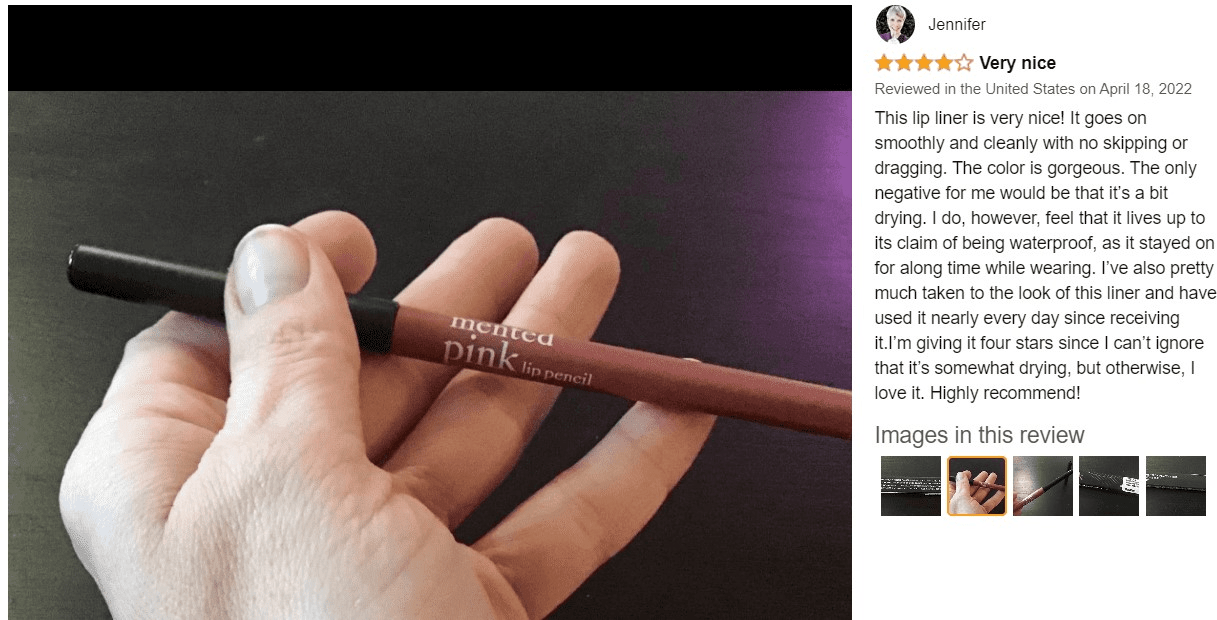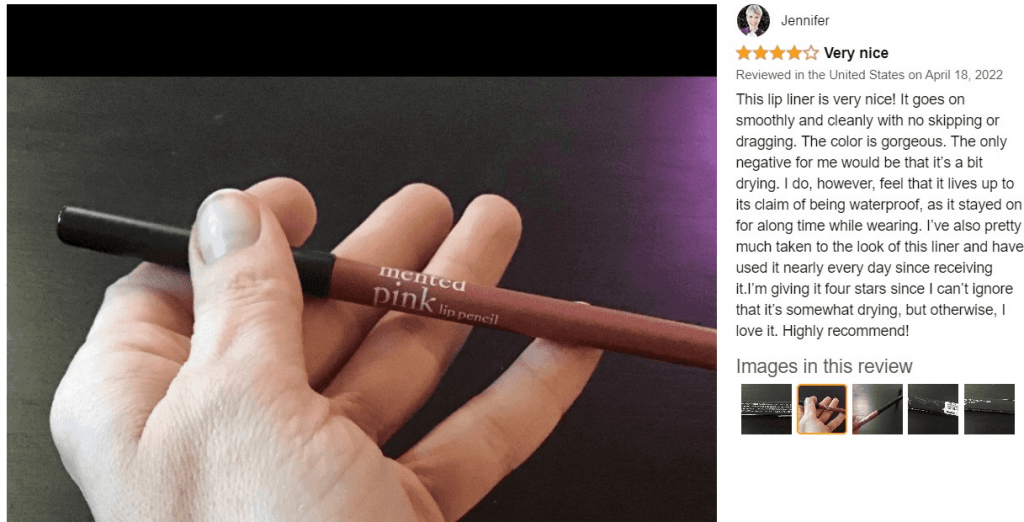 Pros
This product is cruelty-free and has safe ingredients
The buttery texture of this lip liner lasts long.
Mented Lip Liners flatter most deep skin complexions.
This lip liner has great shade options for brown and dark nude lipstick lovers.
Mented Cosmetics Dark Brown Lip Liner Pencil, Waterproof Lip Liner Dark Brown Lip Pencil, Natural Lip Liner Dark Lip Liner Vegan Cruelty-Free Makeup, Matte Lip Liners for Women
Natural Waterproof Lip Liner: This Natural lip liner glides across the lips for natural-looking definition that lasts. Our long-lasting lip liners are made with a creamy formula and buttery texture while being highly pigmented to provide for over 8 hours of wear.
Soft Brown Shade - This brown lip liner is a sun-kissed, dark chocolate brown with just the right color and shine. This lip liner pairs perfectly with Mented's Brown Bare Semi Matte Lipstick!
Made From Safe Ingredients - These lip liners for women are made with safe ingredients. Our lip liners are vegan, non-toxic, and paraben-free.
Cruelty Free Lip Liner - Going cruelty-free is better for you and for the planet. Our lip liner did not undergo animal testing. This is not only good for the animals but also for your overall health. Support an amazing ethical cause by purchasing cruelty-free products like Mented Cosmetics.
Universally Flattering - created by black women, celebrating all hues. Mented products are guaranteed to flatter any complexion of any hue.
Cons
The shades are limited to a few colors.
Some shades do not match the expectations of a dark color payoff.
A few complaints of the tip breaking off may worry you.
Milani Color Statement Lip Liner
This lip liner by Milani is a must-have if you seek a subtle overline to your lips that does not look extra. The nude shades look the same as shown in the picture. They are richly pigmented, creamy in texture, and long-lasting. The thing that I disliked was the product waste whenever I sharpened it. Besides that, this 0.04 oz of nude pencil is worth every penny. Its eight shades are diverse in color to suit the one your lipstick seeks.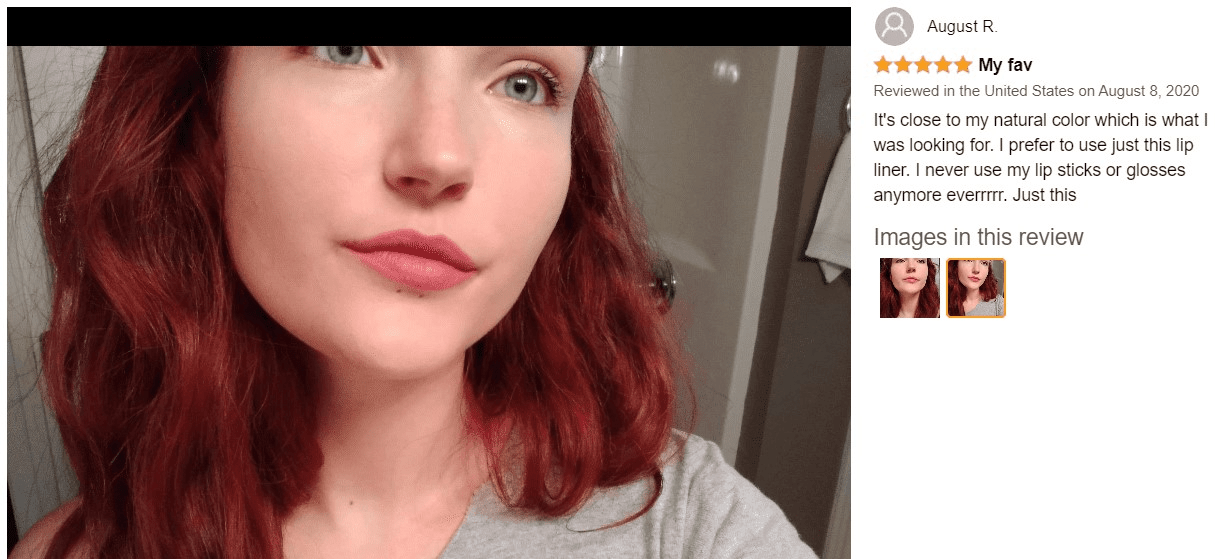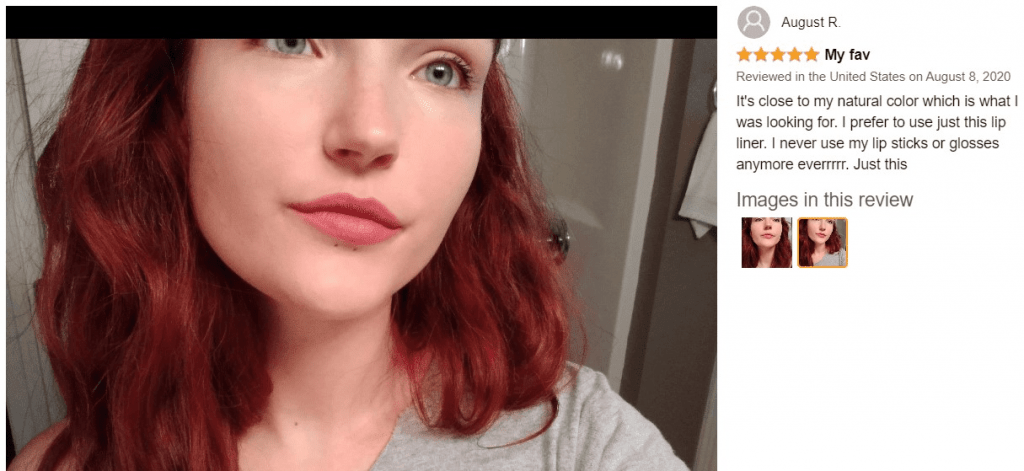 Pros
It gives a seamless application and a rich color payoff.
All the products by Milani are cruelty-free.
It has multiple shades that are long-wearing.
Milani Color Statement Lipliner - Nude (0.04 Ounce) Cruelty-Free Lip Pencil to Define, Shape & Fill Lips
TRUE INSTANT LIP COLOR: Color Statement Lipliner delivers statement-making color and seamless application with every stroke. Define, shape and fill in lips with ease.
AVAILABLE IN 8 SHADES: Choose from 8 vibrant shades including natural nudes, pretty pinks, and radiant reds. Every long-wearing, richly pigmented shade matches beautifully with all skin tones.
CRUELTY-FREE BEAUTY: This lip pencil's luxe, matte finish creates the perfect canvas for color and the easy-glide formula ensures quick, frustration-free application. Never tested on animals.
TIPS & TRICKS: Select the shade of lipliner that best matches your chosen lipstick color. Trace the outline of your lips first, then apply lipstick to make your lips pop.
WE ARE MILANI: Born in East LA, we've always been connected to the rich diversity of our neighborhood, because it's a place that truly embodies the melting pot of Los Angeles. We're not inspired by couture and top models. Our passion is real people, living real lives. Beauty is for everyone. No matter who you are or where you come from, we're here to fuel your self-expression with makeup for every shade, attitude, and ethnicity. No judgment. No exceptions.
Cons
We would appreciate more shades.
It may fade without touch-ups
This lip liner wastes some product in the process of making it sharp.
Revlon Colorstay Lip Liner
My neighbor, Sally, told me about the Revlon Colorstay Lip Liner. And I thank her for acquainting me with this product. It is so economical that one can buy two to three pieces in one go. The shade range is incredible. Pair it up with any lipstick; it has a variety of shades. I have seen Sally donning the shade "Wine," I liked how her lips did not feather for three hours until the end of her son's birthday bash. The top things I love about the Revlon Colorstay Lip Liner are these –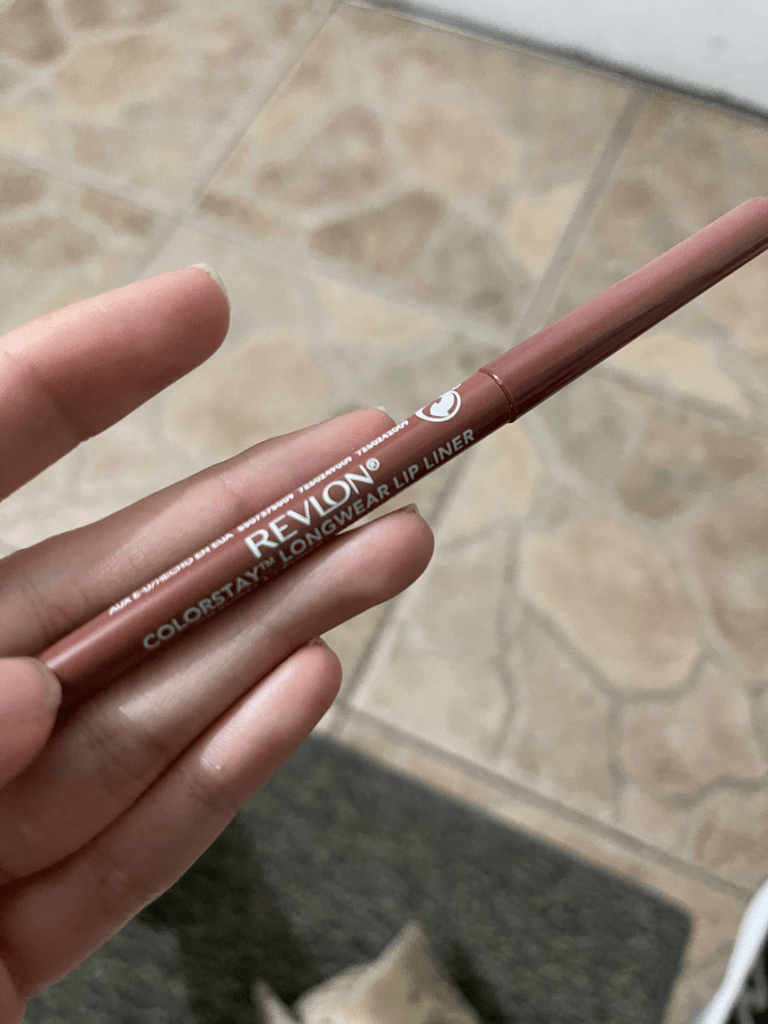 Pros
It is super affordable.
It comes with a built-in sharpener.
The application is hassle-free and smooth.
The sixteen shades fit in the majority of lipstick colors.
Sale
Revlon Lip Liner, Colorstay Face Makeup with Built-in-Sharpener, Longwear Rich Lip Colors, Smooth Application, 630 Nude
RICH COLOR & DEFINITION FOR FULL LIPS: Our cult-classic ColorStay lip liner provides lasting color to help your lipstick stay on longer and lips look fuller
LONGWEARING LIP COLOR: You get gorgeous, long lasting lip color that stays on for up to 8 hours after application without re-applying
HELPS PREVENT BLEEDING & FEATHERING: There's no bleeding or feathering with Revlon lip liner, just longwear color with a smooth and lush finish
BUILT-IN SHARPENER: This lip pencil comes with a built-in sharpener, so you don't have to look for extra tools on the go
14 BEAUTIFUL SHADES: Find the lip liner that fits your look, with 14 colors to choose from. Pair with Revlon Super Lustrous Lipstick for a rich and lush lip look
Cons
It is short lasting.
The stick is quite fragile.
The overline may sometimes give an unnatural appearance.
Honeybee Gardens Irresistible Lip Liner
Only a few people know about the Honeybee Gardens Lip Liner. Although it only has two shades, I like the pigmented color payoff that feels soft on my lips. The "Perfection" and "Zen" shades are versatile and vibrant. I pair most of my hazel-colored lipsticks with the "Perfection" shade. It has never irritated my lips, but it has some disadvantages besides the good features. Check each of them out!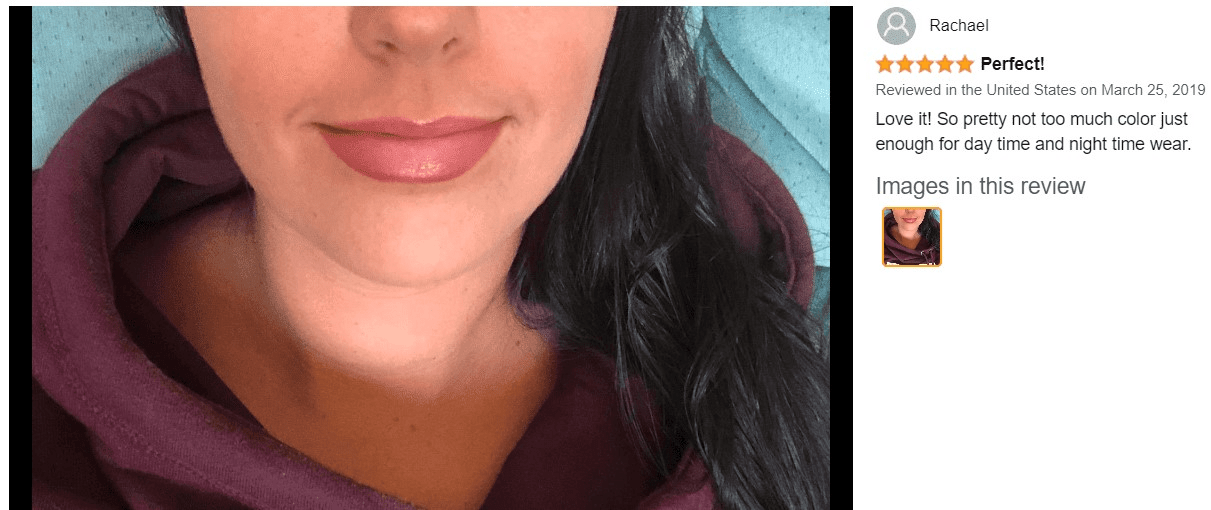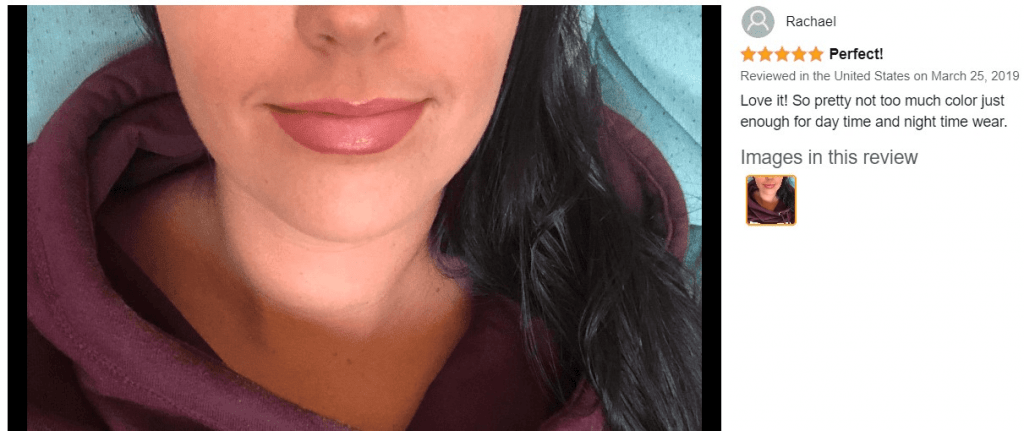 Pros
It is cruelty-free and Vegan.
It does not contain any gluten, paraben, and harsh chemicals.
The sharpenable pencil gives a precise application each time.
Honeybee Gardens Irresistible Red Lip Liner Pencil,Fantasy (deep red berry) Ultra-Soft Yet Weightless On Lips - Gluten Free, Vegan, Cruelty Free, Paraben Free
Color: Fantasy (deep red berry) Lip Liner Pencil is perfect to define and perfect the shape of your lips with artistic precision
Best of Beauty 2022 – Featured in Tati Westbrook's Best of Beauty selection for 2022! Get the perfect pout with this high performing lip liner pencil – everyone will turn heads when you walk into the room!
Artistic Precision - Honeybee Gardens Irresistible Lip Liner Pencil lets you define and perfect your lips with ease. With its velvety color and ultra-soft, weightless feel, you can get that perfect look time and time again!
Matte Finish - Get a lasting matte finish that won't feather or fade. The creamy formula blends easily to leave no harsh lines. Wear it alone, as a base for lipstick, or to line the lips for a glamorous look.
Certified Gluten Free & Vegan - Not only does this lip liner pencil provide superior color and sleek definition, it's also certified gluten free and vegan! No need to worry about harsh chemicals or dyes harming your skin; Honeybee Gardens makes sure only the best ingredients are used.
Cons
It has only two shades.
The color of this lip liner may fade quickly.
The hard pencil tip may not go smooth on the skin.
Palladio Retractable Lip Liner
Palladio's lip liner is famous for its rich and creamy texture that gives a smooth application on the skin. The ingredients in this lip liner are clean, paraben, and cruelty-free. I have tried smudging it deliberately, but the color only goes off slowly with a stiff blow. However, it goes blunt after a few uses and does not have an in-built sharpener. You should have it for the Aloe Vera and Chamomile Extract in this lip liner.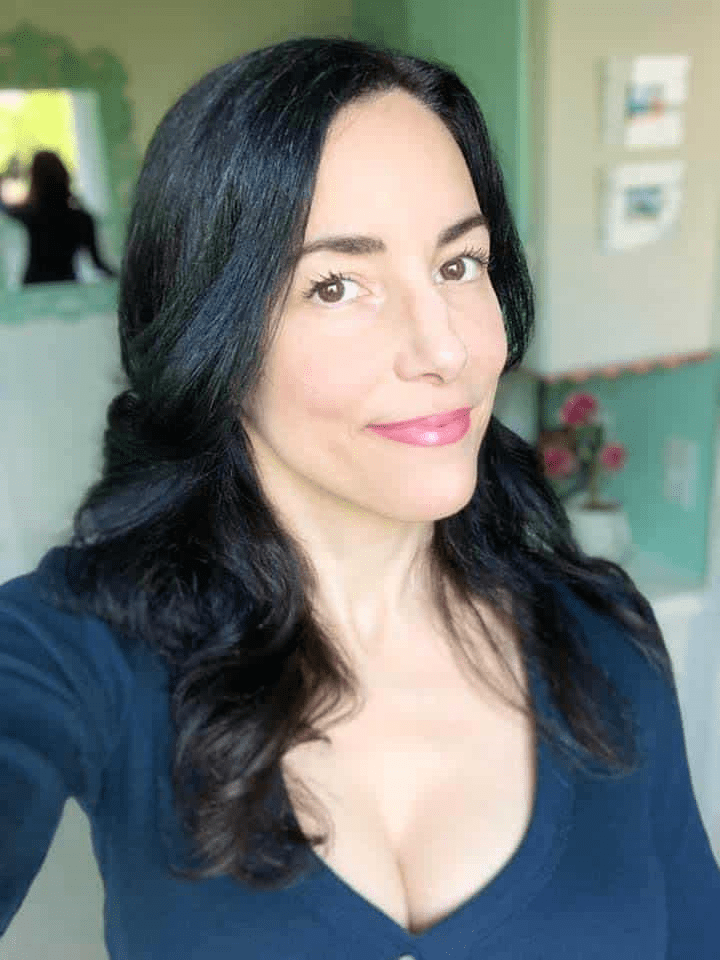 Pros
It is highly inexpensive.
The product is waterproof and sweatproof.
The ten shades of this lip liner may suit any lipstick color.
Palladio, Retractable Waterproof Lip Liner High Pigmented and Creamy Color Slim Twist Up Smudge Proof Formula with Long Lasting All Day Wear No Sharpener Required, Plum, 1 Count
RETRACTABLE, AUTOMATIC, SLIM TWIST UP: Slim design that does not require a sharpener. Simply twist when the product dulls and return the lip liner to its original state
LONG LASTING, WATERPROOF FORMULA: All day wear formulation allows for a long-lasting application which helps your lipstick stay on even longer. You can eat and drink with no smudging. Waterproof formula means there is no feathering or transfer
RICH COLOR AND CREAMY FORMULA: This lip liner glides over skin while smoothing texture for a seamless line, so you can re-shape and re-size the appearance of your lips. Enhance your pout or balance out the shade of your natural lips with this liner
BOTANICAL AND VITAMIN INFUSED COSMETICS: Enriched with Chamomile extract and Aloe Vera, this liner moisturizes, soothes and nourishes your lips. Cruelty Free, Gluten Free and Paraben Free
CLEAN BEAUTY: We believe that what you put on your body is as important as what you put in it. That is why we make sure that our makeup not only makes you look good but that it is also good for your skin! Our products are saturated with antioxidant vitamins like A, C, D and E; and powerful botanicals like anti-inflammatory green tea, soothing aloe, and energizing ginseng to help nourish your skin. We are 100% Paraben and Cruelty-free, in addition to offering a wide variety of gluten free and vegan options. High quality beauty should not cost a fortune
Cons
It may break easily.
The retractable lip liner is not self-sharpenable.
Some folks have complained of off-color results.
L'Oreal Paris Age Perfect Lip Liner
If you adore the brand for its solid makeup collection, you may expect a lot from this lip liner. The unique design of this lip liner is for mature skin to beat off the feathering. It shapes and defines the lips for sensitive skin as well. It does not tug or skip while overlining. The eight shades are transfer-free. I plan to gift this to my mother on her 60th birthday. The easy application makes it more attractive to buy.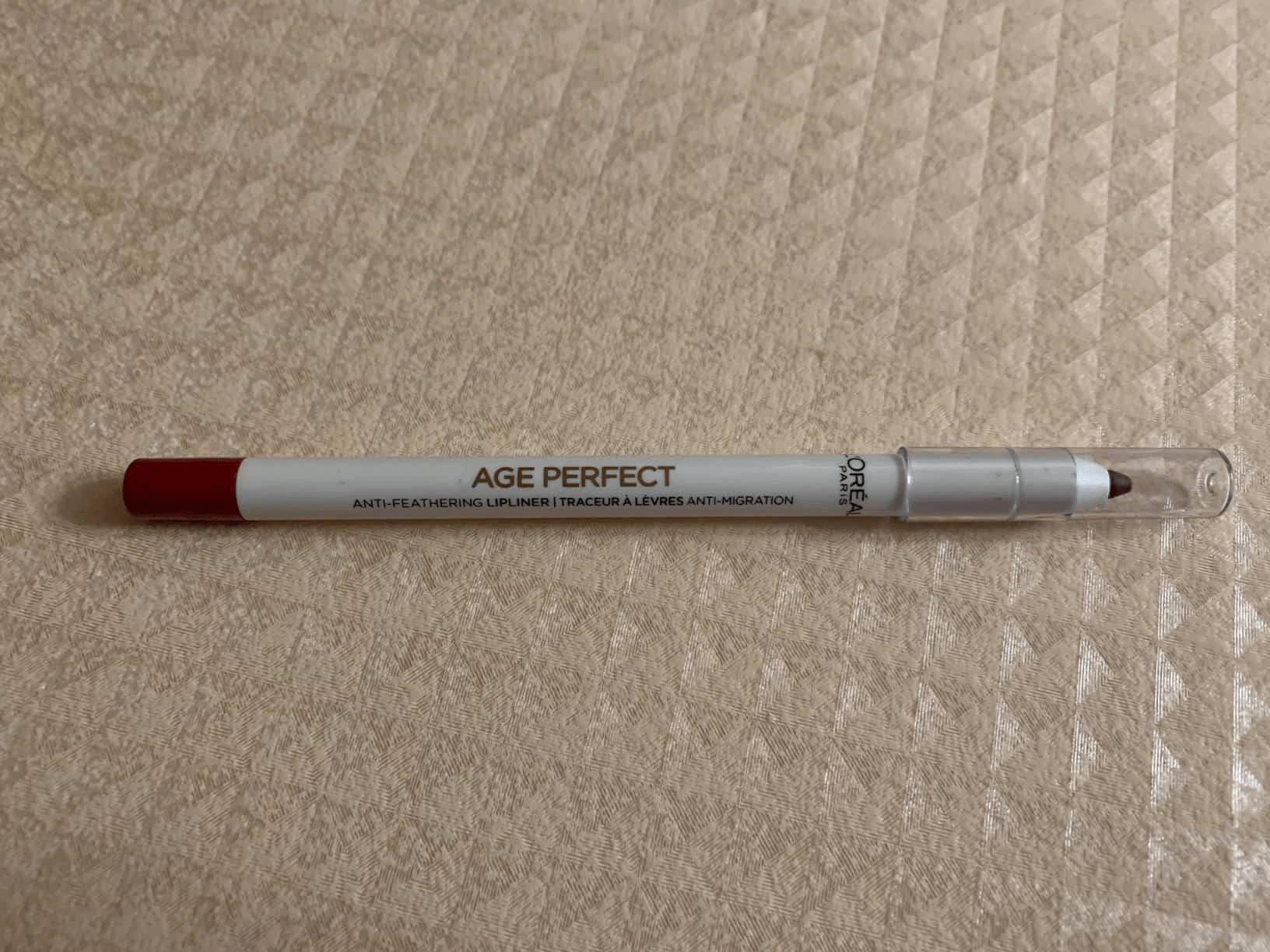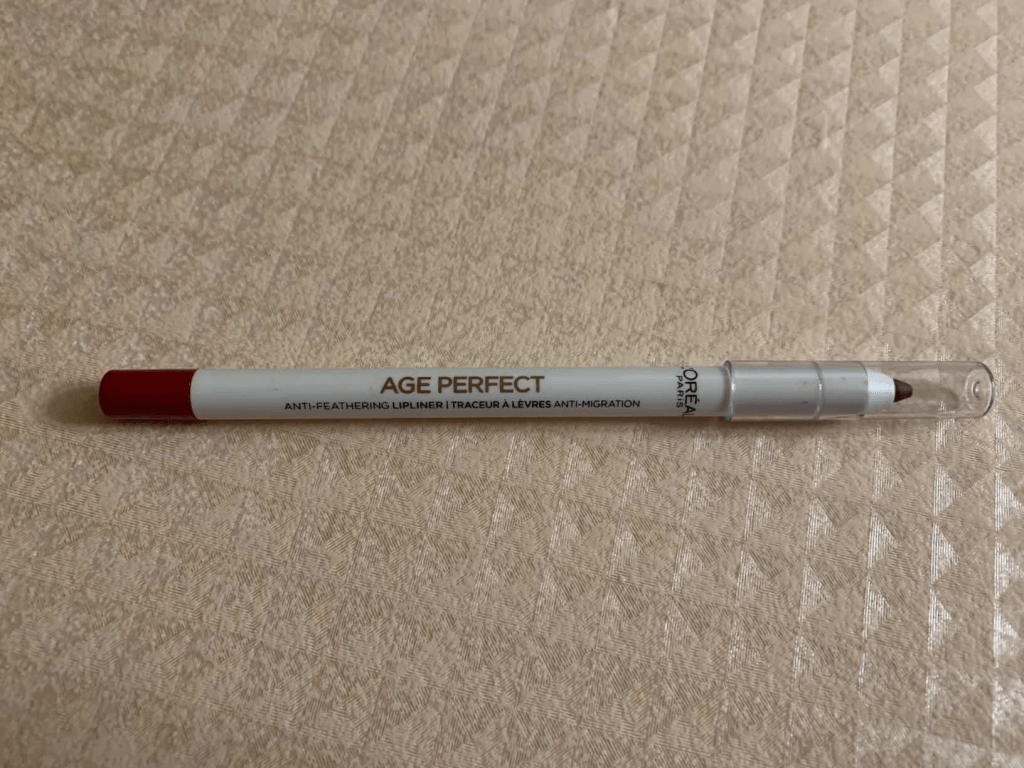 Pros
It is a perfect buy for mature-skinned people.
It gives a sharp edge to the lips.
It has a good shade range.
Sale
L'Oréal Paris Age Perfect Anti-Feathering Lip Liner, Rich Cranberry
Age Perfect Anti-Feathering Lip Liner: Formulated for mature skin to shape and define lips, this lip liner enhances natural lip contour with a transfer free, anti-feathering formula; Suitable for sensitive lips
Easy Application: Apply before lipstick to enhance your natural lip contour; The carefully crafted applicator features a soft tip for smooth application and allows for precision without the tugging
Age Perfect: Finally a makeup line specially designed for mature skin; Over 100 items including smoothing foundations, serum concealer, satin blush, caring mascara and hydrating lipsticks
Unique Formulas: Put together a flawless look with products specifically designed for specific needs of the 50plus consumer and formulated with caring ingredients like serum vitamins and minerals
L'Oreal Innovation: As the biggest beauty brand in the world, we have an unparalleled commitment to combining the latest in technology with the highest in quality for the ultimate in luxury beauty
Cons
Some of you may feel the shade range to be meager.
It may only work well with some lipstick formulas.
Some shades may give a light color payoff against what we see on screen.
Belle Beauty by Kim Gravel Lip Liner
The lip liner by Belle Beauty is retractable and goes smooth on the lips. This long-lasting lip liner is cruelty-free and waterproof. The moisturizing formula of this lip liner reduces flakiness and smoothes fine lines and wrinkles. It will help if you see this out, as it has a great collection of eight marvelous nude shades.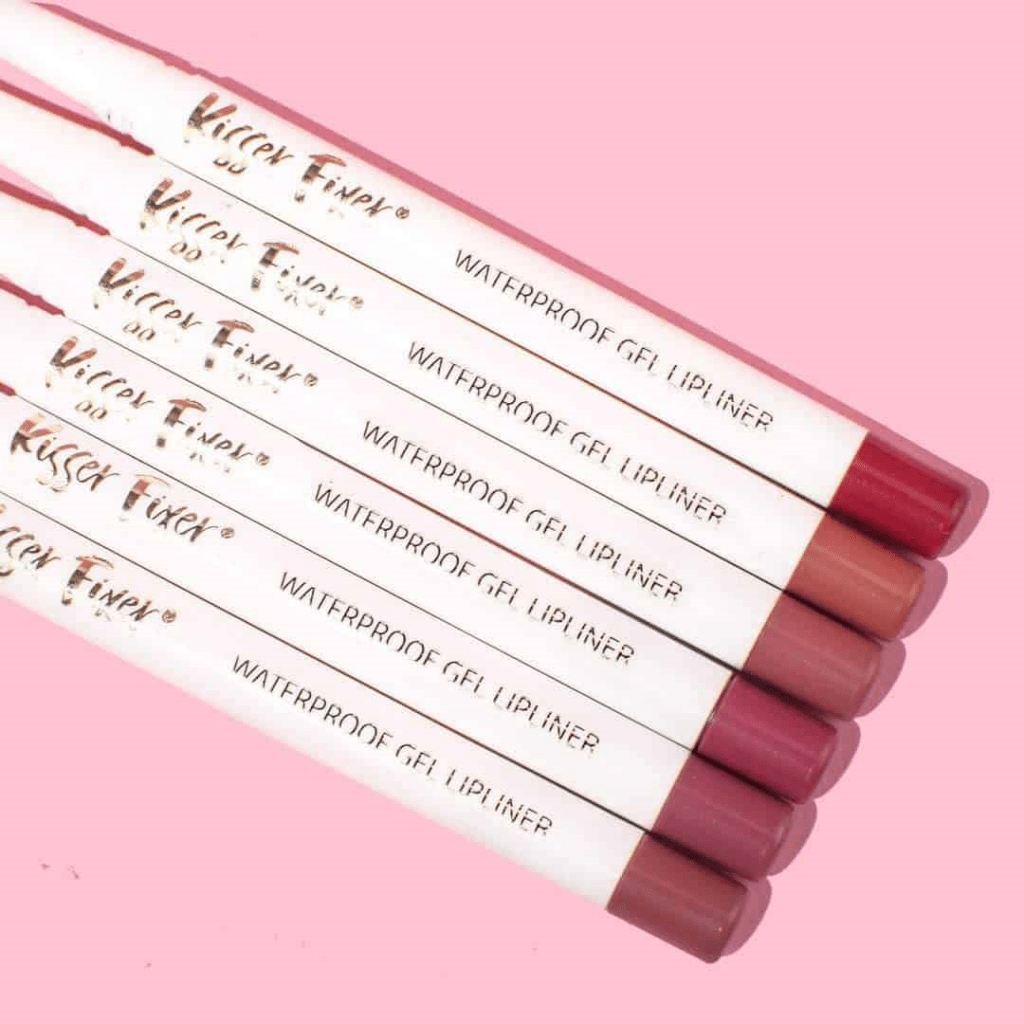 Pros
It is waterproof and gives a natural finish.
It also acts as a lip moisturizer.
It glides smoothly even on dry skin.
Belle Beauty by Kim Gravel Waterproof Gel Lip Liner - Cruelty Free Waterproof Lip Liner Pencil - Anti Feathering Moisturizing Formula (Brown Nude)
VERSATILE AND VIBRANT: The Belle Beauty Kisser Fixer Waterproof Gel Lip Liner is designed to be used as a lip primer, lip liner, or all over lip color. The retractable, thin pencil lets you create precious lines and a variety of rich, stunning looks!
BE BOLD: Apply Kisser Fixer Liquid Lipstick over the gel lip liner to achieve a bolder, fuller eye-catching look.
LIP MOISTURIZER: A unique blend formulated to reduce dryness and flakiness, smooth fine lines and wrinkles, and to moisturize and promote firmness. Give your lips the healthy, plump, luxurious treatment they deserve.
LONG LASTING LIP LINER: With its perfect coverage and its layered lip delivery system – it stays where you put it, bringing out the best in your lips! Perfect for creating a natural, youthful looking pouty lip that lasts all day and takes you into the night.
HIGH QUALITY LIP LINER PENCIL: Don't shy away from a luxurious lip. Our Kisser Fixer Gel Lip Liner is an all you need lip system that colors and revives even the most dry, cracked lips. A formula that ensures all products glide on smoothly, are never sticky or drying, and won't bleed. Paraben and cruelty free.
Cons
The shades are very few.
It is not sharpenable.
It may be hard to remove this lip liner.
Covergirl Farewell Feathering Lip Liner
I keep this lip liner on the list only for the sake of the transparency that it gives. If you do not want any shade or tint of color on your lip lines, this letter is for you. It goes with all the lipsticks, lip glosses, lip tints, and whatnot! It locks in the stays and makes them stay stuck for the rest of the day. As the name hints, this lip liner is truly a farewell for feathering.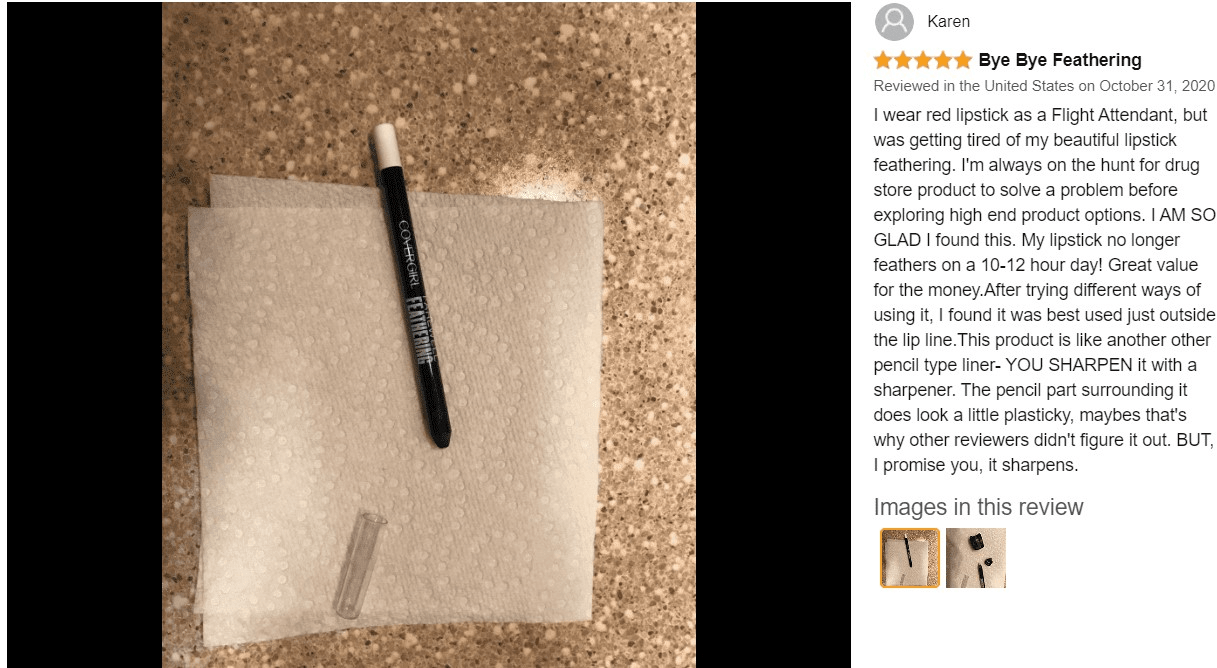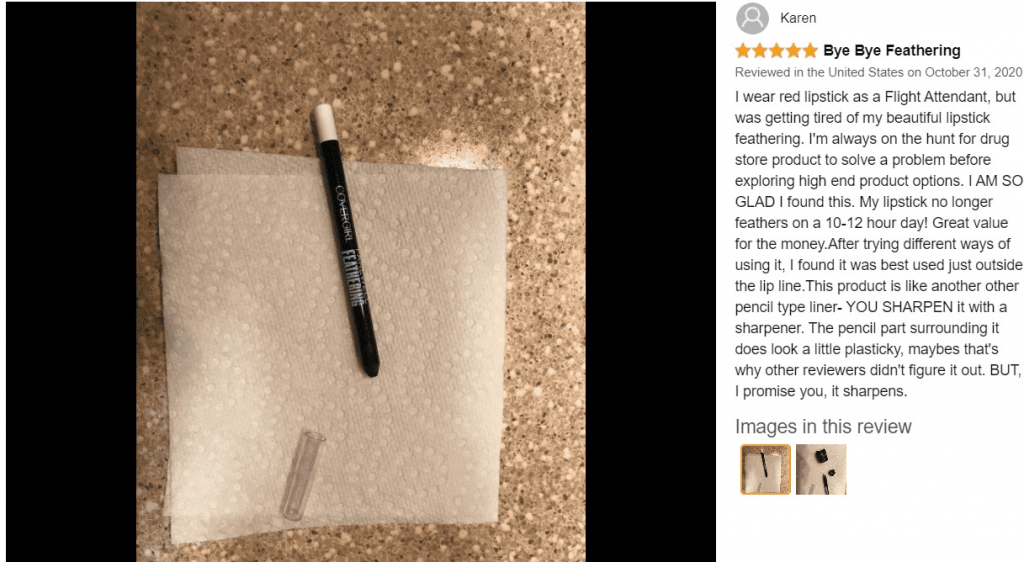 Pros
The anti-feathering agent locks in the color of lips.
It glides easily to give a precise application.
It works on all lip colors and skin tones due to its clear shade.
Cons
Some folks may prefer something else to the shimmery finish that this lip liner gives.
It may need a professional hand to make the application perfect.
It contains propylparaben, a form of paraben that harms the skin.
FAQs | Best Lip Liner To Prevent Feathering
These are some of the oft-asked questions about the topic I have answered. Look at them in case you have any further doubts.
What does lipstick feathering look like?
Your lipstick is creeping out of your natural lip line border. When bleeding or feathering (both are the same), your lip makeup looks messy, disoriented, and out of shape. Lip glosses and lip balms tend to feather out more than matte-finish lipstick.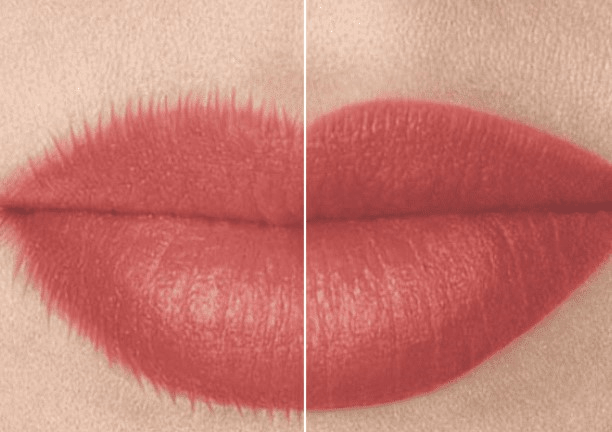 Which is the best lip liner to prevent feathering?
All the lip liners I mentioned above are unique in their ways and provide a great deal for money. A familiar thing among them is that they all prevent your lipstick and lip gloss from bleeding into the skin. You may choose anyone from this list that matches your taste and preferences. Check their pros and cons to gauge their features.
Can a lip primer prevent feathering?
The main work of a beauty primer is to hold the makeup for long hours. Likewise, a lip primer acts as a base for your lipstick to let it stay on without feathering, facilitating the even spread of your lipstick. However, it is optional, as one can also do without it.
How to stop lipstick from bleeding on older lips?
Older lips face more wrinkles surrounding them that are the seat of feathering. Using a lip liner or setting the lipstick with a translucent powder helps. One may even opt for Matte lipsticks instead of lip gloss and cream lipsticks. Still, one may apply the latter options when a primer bases it.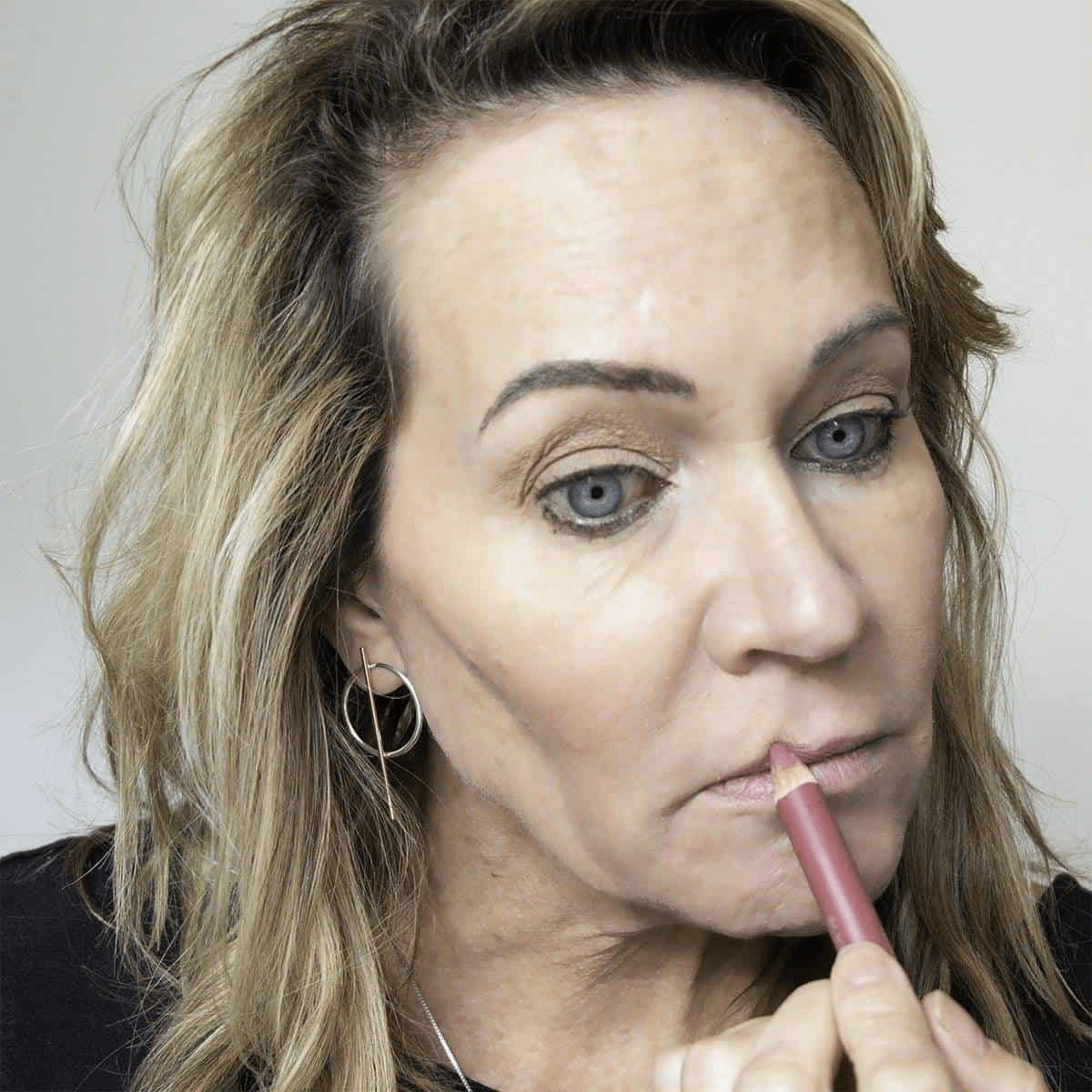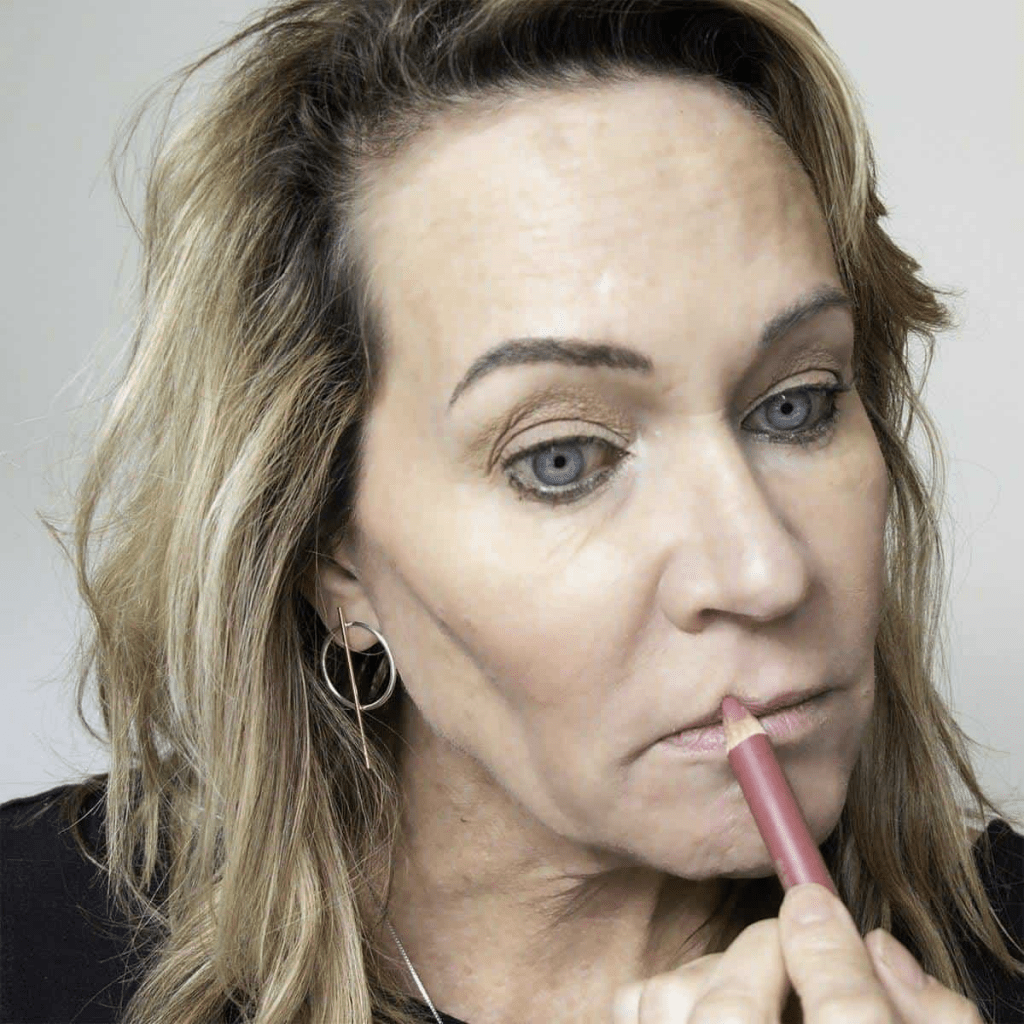 What is an anti-feathering lip liner?
An anti-feathering lip liner prevents your lipstick from crawling out of the lip border. It adds distinction to your natural lip line and supports your lipstick to remain in a proper and defined shape.
What is the best clear lip liner to prevent feathering?
The best clear lip liner to prevent feathering is the Maybelline Color Sensational Lip liner. I've mentioned it above. You may fill your lips with this liner and top it up with your favorite shade of lipstick. It is creamy yet smudge-proof that, bars it from creeping out of the natural lip border. You can try various ways to blend lip liner with lipstick for a smooth and even look.
On A Closing Note
You must have found the best lip liner to prevent feathering for yourself by now. If you wish to have Vegan lip liners go for any Vegan options this list mentions, and if you have matured lips, L'Oreal Paris Age Perfect Lip Liner is made for you. Just check out the ingredients list; you may have had a history of allergic responses to some. Nonetheless, almost all the products here are free of glutens and parabens and make a safe buying choice.
Lip liners prevent the lipstick from bleeding; I'd still say to go for the lip primer if possible, as it locks in the lipstick and does not let it feather at all. Our time ends here, and I wish you a good buy!
If you have any further queries, drop them in the comments, and we'll try to respond promptly.
I'm Sarah Abraham, the founder and co-author of Blushastic.com and a professional makeup artist. Beauty is more than just skin deep, and that's why I'm passionate about sharing my knowledge and experience to help people feel confident and beautiful on the inside and out.
Whether it's skincare, haircare, or fashion, my goal is to empower women to feel their best. With my expertise in the beauty industry, I strive to provide practical advice and tips that are accessible to everyone, regardless of their skill level or budget.