We often forget how vital eyelashes are for our face. Eyelashes enhance the look of our faces. Although not all of us are blessed with pretty eyelashes, we prefer to use extensions. Shaping our eyebrows becomes a task for us every other day. There's a new concept of using heated eyelash curlers. What are heated eyelash curlers? Is it necessary to use them? Which is the best heated eyelash curler on the market?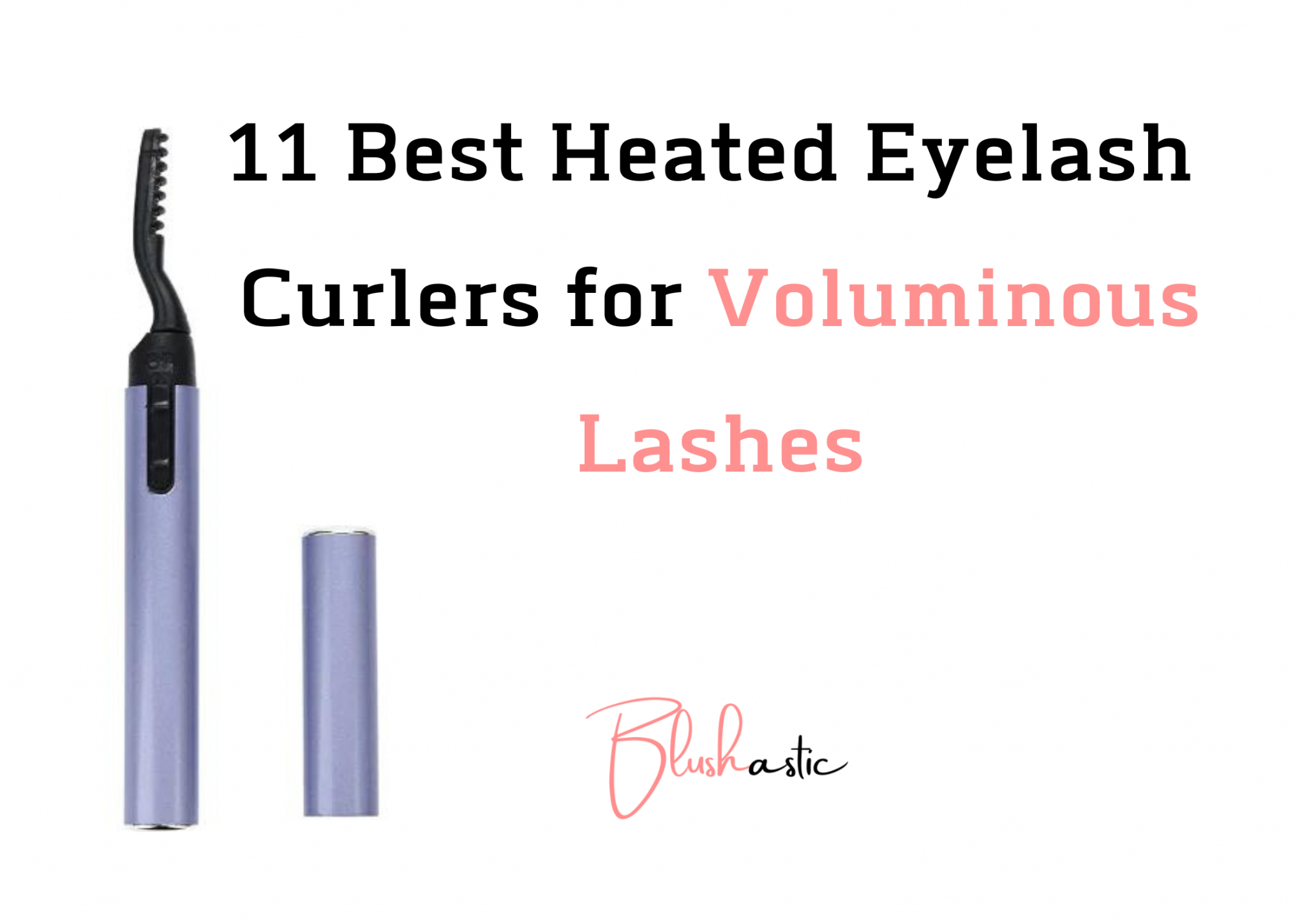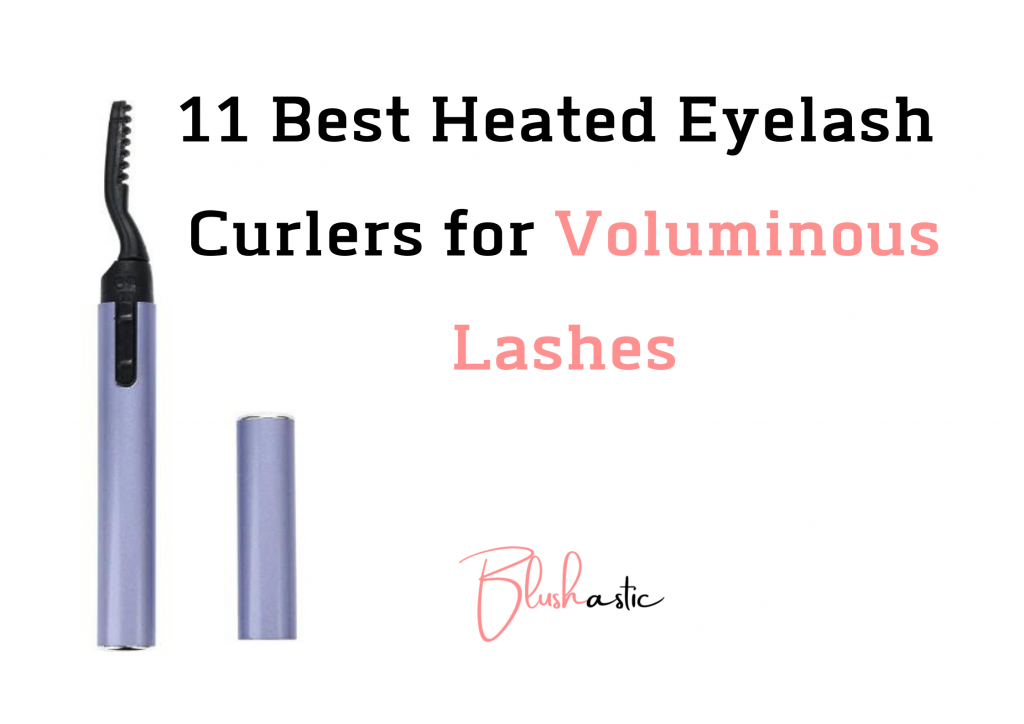 Eyelash curlers can help you shape your lashes better and provide a long-lasting hold to your lashes. With these, you need not worry about reshaping your lashes every hour. Eyelash curlers are supposed to give your lashes or your extensions the confidence they have been craving for. This is one of the hottest selling products in the makeup industry, and everyone wants to bag the best. How do we define the best, though? You'll get many options if you type heated eyelash curlers on the internet. How do you choose?
Best Heated Eyelash Curler | Top 11 Picks
An eyelash curler as a curling iron for your eyelashes. Eyelash curlers are perfectly safe for your lashes and do not harm them. We read concerns about people bringing heat closer to your eyes, although it is safe for you to use eyelash curlers. 
They help you to shape your eyelashes and provide a nice hold on them for a long time. The eyelash curlers were invented for prolonging curled eyelashes and they do the job. 
Your eyelash curler can be either battery operated or rechargeable. Whenever you want to buy any electronic item you need to consider the battery type, usability, attachments and features. These are the things that can make or break any product for your use. We have made your job much easier. We have curated a list of 11 Best Heated Eyelash Curlers.
Chela Heated Eyelash Curler 
Chela is cruelty-free, vegan, paraben-free, and gluten-free brand. The Chella Heated Eyelash Curler uses one AAA battery, which comes with the box. This eyelash curler is meant for making your eyelashes look more open and awake. 
Switch on the curler and let it heat up. Place the comb side on your eyelashes and roll it up as if you were ironing your eyelashes. After doing this for about 10 seconds, comb through your lashes. Repeat this till you get your desired look. 
Chella Heated Eyelash Curler with Included AAA Battery - Safe and Gentle Won't Damage Your Eyelashes (AAA Battery)
GENTLE FOR YOUR LASHES: Gentle heating wand on the heated eyelash curler is to be used after mascara application
EVERYTHING YOU NEED IN THE BOX: the eyelash curler heated gently warms lashes to deliver long lasting curl. AAA Alkaline Battery included.
MAXIMUM CURL: our heated lash curler is effective for maximum curl, but without damaging eyelashes
NO MORE CRIMPING: Say good-bye to the crimping from traditional lash curlers and say hello to a gentle heated curler
OUR MISSION: We focus only on brows and eyes and create salon-quality products. At Chella, we have simplified this confusing routine into "How to Brow in 3 Easy Steps" - 1 | FILL 2 | DEFINE 3 | HIGHLIGHT
The curler does not feel too hot on your lashes and does not burn them. The process of curling might take some time but be patient for good results. 
Pros 
It is essential to use mascara before using the eyelash curler.

The heat helps your lashes stay curled. 

It is fairly priced and affordable. 

The product works well as an electronic item. 

Easy to use.

The curler can distribute heat evenly through your lashes. 

It gives you long lasting results. 

There is a temperature indicator light which is a good feature.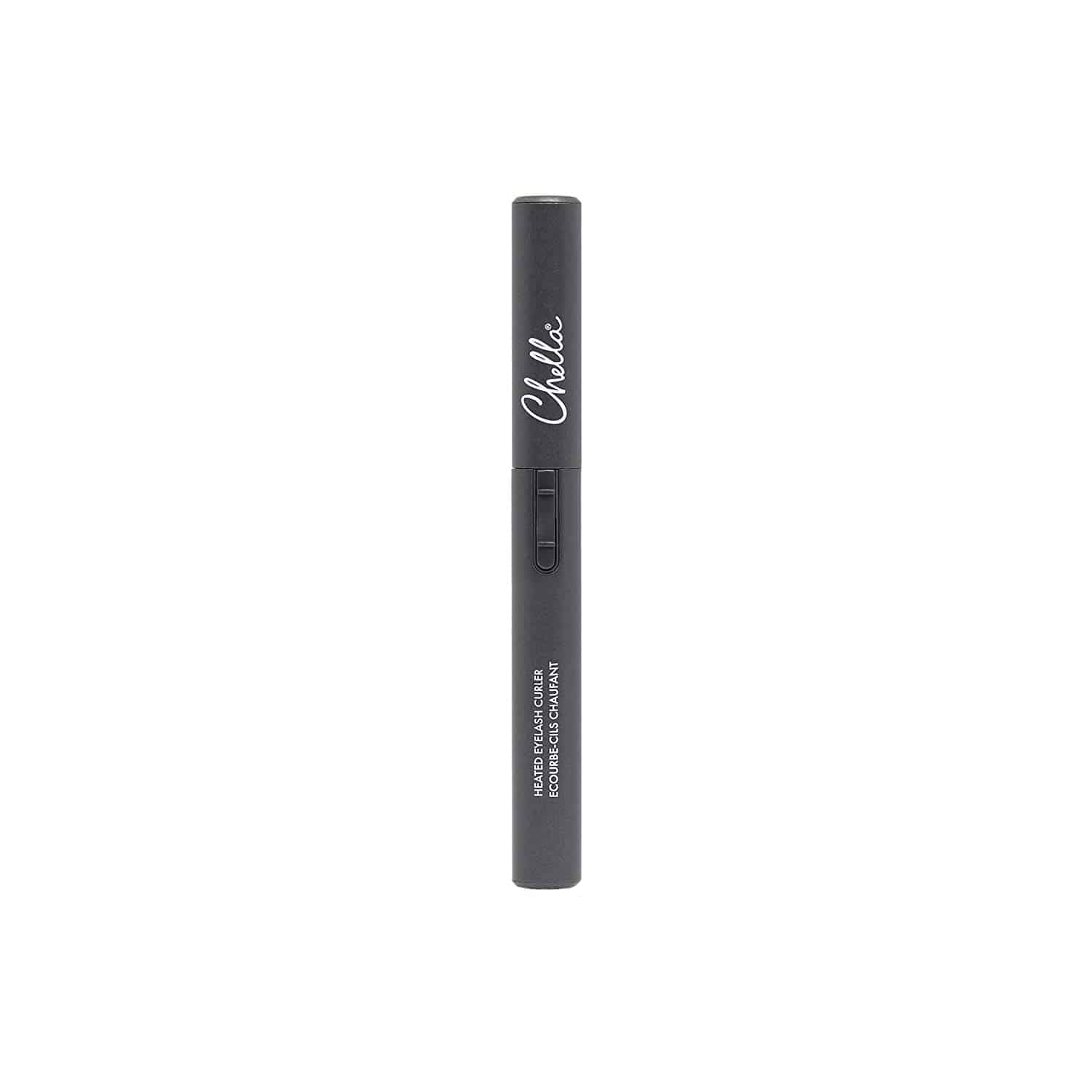 Cons 
You need to replace the batteries frequently in the curler to keep it working.

It takes a little longer than other eyelash curlers 

The material feels cheap
Lash Star Heated Eyelash Curler 
You might be very confused if this curler looks like a flash drive. This is a very portable eyelash curler, and you can carry it anywhere. The comb is a ceramic rod that heats eyelashes. It works on long and short lashes evenly. It can be charged almost everywhere. The curler has a compact design and looks smart. It displays temperature control on the curler and has an attractive gold-black color. If you want to use the curler, rest it on your lash base and sweep it in the upward direction. 
Positives 
The curler fully recharges in 2 hours. 

It creates long-lasting curls. 

It uses a standard USB port. 

It ensures the even distribution of heat. 

You can also use it to freshen up your look. 

Use your mascara before using the rod. This can help you get better curls. 
Negatives 
It takes a long time to curl your lashes. 
Remington Reveal Lash and Brow Kit 
Remington Reveal Lash and Brow Kit is an all-in-one heated curler and tweezer. The curler has heated prongs for your lashes. It does not tug on your lashes as a benefit. When the indicator light turns red, the device is ready for use on your lashes and you can also use it on lashes coated with mascara.
Remington Reveal Lash & Brow Kit, Heated Eyelash Curler and Precision Tweezers with LED light (EC300B)
Precision Brow Tweezers with Detail Light - The easy-grip tweezers are perfect for shaping and defining your brows, while the tweezers' detail light illuminates your brow area to reveal even the finest hairs.
Temperature Indicator - The indicator light turns red when the curler is heated and ready to use.
Protective Cap - The slide-on cap protects the curler head in storage and during travel.
Batteries Included - Batteries included for the curler and the tweezers.
There is also a light on the tweezer so that you won't miss a spot. It is designed to shape and define eyebrows. Battery packs are included in the kit. 
Benefits 
It has a temperature control light. 

The curler also has a protective cap. 

It comes with an inbuilt tweezer. 

Easy to use and anyone can use it. 

Batteries come included with the curler. 

There is no pinching or tweezing of lashes involved.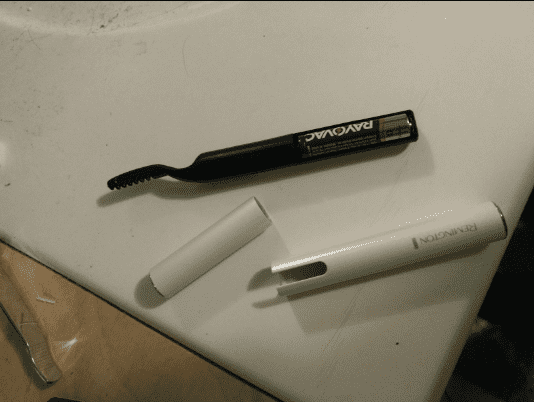 Drawbacks 
The inning bit is relatively short. 

The tweezers are not very effective. 

You need to press it very hard to curl your lashes and in the process you can also damage some of them. 

You might feel irritated with the heat as it feels too much for some people.
Acevedo Heated Lash Curler 
Acevedo is a highly-rated Amazon product that delivers thermal heating in just seven seconds. Its curler is more comprehensive which makes it  ideal for getting on every lash. Reviewers have enjoyed the device as it is temperature-controlled, so there's no burning or breaking of your lashes. It has a 30 seconds heating time. It comes in 2 heat settings and also an auto shut-off feature.
Acavado Heated Eyelash Curler,USB Rechargeable Electric Eyelash Curlers,LED Display 4 Temperature Setting Eye Lash Curler for Long Lasting Natural Curling,Makeup Tool for Eyes Pink
【4 TEMPERATURES MODES&LED DISPLAY】 Our heated lash curler with 4 temperature setting from low temperature (55 ℃) suit for soft eyelashes,Medium and Low Temperature(65℃)suit for corner
【HEAT UP IN 10S &LONG-LASTING CURLING】Acavado heating eyelash curler kit can just preheating up within 10-20s,better use effect after heating for 30s,made eyelash curling 24 hours,heat pads
【ANTI-SCALDING COMB DESIGN TO PROTECTIVE SKIN】This electric eyelash curler head adopts the ergonomic 15° radian design,fit your eyelashes curve,Long-lasting curling bumps and grooves
【USB RECHARGEABLE &FIT TYPE PROTECTIVE CAP】The eye makeup tools is rechargeable model that can be charged with a USB to save battery cost,can be charged by cables,laptops,power bank etc.The
【EASY TO CARRY &CUSTOMER SERVICE】The heated lash comb Portable&lightweight&small will not take up too much space in your makeup bag,it good partner to travel. Our heated lash curler is perfect
This is a rechargeable curler that charges fast. Moreover, it also has a protective thermal slot to prevent tugging or to pull your lashes. For best results you should apply waterproof mascara before curling. This is rated as the best eyelash curler for short lashes.
Pros 
The curler provides your lashes long-lasting curls.

It has a wide comb and it can get on all of your lashes. 

USB charging available. 

There are two curling modes and you can choose. 

The curler has a fast preheating. 

It also has a heat indicator light.

The curler is lightweight and has a portable design. 

Travel friendly. 

You can gift it to your loved ones on special occasions.  

Apply mascara first and allow it to dry completely before you use the curler. 

Clean the mascara off the wand after each use with the small cleaning brush that comes with the kit included.

Recharge the product for 2 hours before you first use it. 

You can use low heat 45-65 ℃ for thinner lashes, higher heat 65-85 ℃ for thicker lashes. 
Cons 
It does not separate your hair and you may have some clumping. 

The heat can make you uncomfortable at times. 

You cannot use it on bare lashes at all.
Slime Heated Lash Curler 
The heated curler works for everyone. The comb is safe to use on lash extensions. You just ensure you're not keeping the heat on the extensions for a long time. Plus, adding an LED light helps make applications even more precise. It has a rechargeable battery, so there is no need to run out of more batteries. It can be used for the most voluminous curls, natural lashes, false eyelashes, mink eyelashes, and eyelash extensions.
It also has a temperature sensor silicone indicator to let you know when it's ready to use. Low temperature 60-65°C for thinner lashes, high temperature 80-85°C for thicker lashes. It can be used for the most voluminous curls, natural lashes, false eyelashes, mink eyelashes, and eyelash extensions.
Positives 
It works on extensions and your naked lashes too. 

It has two curling settings. You can use the lower setting for thin, fine lashes and the higher ground for thicker lashes.

Just don't keep the curler too long on your extensions. 

The LED in the curler makes the application more precise. 

Your cost of the batteries is saved due to the rechargeable batteries.  

There is a one-year after-sale service. 

There is a sturdy and long-lasting effect on your lashes.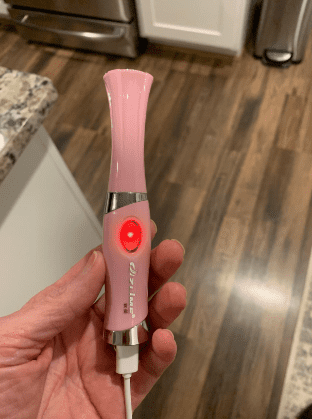 Negatives 
It does not heat up fast. 

It does not get hot enough. 

The light changes colors which is not very pleasant to watch.
Panasonic Heated Lash Curler 
The Panasonic eyelash curler provides lash curls from the base to the tip. It also distributes heat evenly. This is a wand-style curler with a smart design. It fits in either of your hands which can help you curl your lashes well. When holding the device in your hand, slide it up/down to switch it on or off. When you see 0, it means it's switched off, and when you see 1, it's switched on.
The frosted button in the center controls the rotation direction of the curler. 
Panasonic Heated Eyelash Curler Comb With Non-Stick Silicone, Wand-Style - EH2351AC
Panasonic heated eyelash curler provides long lasting curl in seconds with gentle, evenly applied heat along the entire length of the lash
Durable, circular lash curler comb separates, curls and styles lashes from base to tip without crimping or pinching. Operating time approx. 21 uses (2 min./ 1 usage)
Sleek, contoured heated eyelashes curler design fits naturally in either hand for maximum comfort and ease of use
Stylish heated lash curler styles and beautifies with or without mascara for the results you desire; Eyelash curler comb rinses clean under warm running water
Compact, portable heated electric lash curler and cap slip neatly into purse, bag or makeup case for quick, easy touch ups away from home; Powered with 1 AA size battery (not included)
The two directions will give you a different effect depending on which hand you're holding it in. There is a color indicator of the heat temperature before you accidentally touch it with your fingers. You should start with baby steps and you'll learn with time. Start with no rotation; use it along the length of your eyelash from the root to the top. This will help you learn and then use it as a pro. This is the best eyelash curler for extensions. 
The frosted button in the center controls the rotation direction. 
Benefits 
The curler is portable. 

Easy curling and curls your lashes pretty fast. 

There is no pinching of lashes or crimping involved in the curling process. 

The curler provides gentle heat which is not too strong. 

There is a heat indicator present which helps you.  

It is suitable for extensions or falsies. 
Drawbacks 
This comes with a learning curve, and it takes some practice to use it properly so you will not get the perfect lashes in one use.  

The battery does not last as long as you would want it to.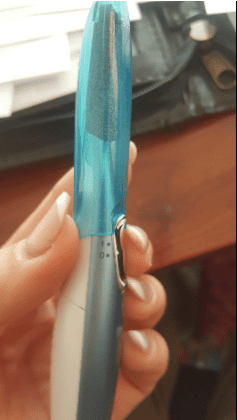 Wu Minglu Heated Lash Curler 
The Wu-Minglu electric eyelash curler gives your lashes a long lasting curve effect. It is built to suit different types of eyelashes. Its heating wire is made with a nickel-chromium alloy, this allows fast heating and saves energy. The preheating time is 10 seconds. 
Heated Eyelash Curler, USB Rechargeable Electric Eyelash Curler for Quick Natural Curling,Long Lasting Eyelashes Curl Tool Valentine's Gifts for Women (Black)
【Ready for eyelashs makeup】This heated eyelash curling kit includes everything you need to curl your eyelashes!Our heated eyelash curler with built in comb, USB charging cable and instruction manual. The WUMINGLU Heated Eyelash Curler will immediately lifted your lashes and resulted in a more eye-opening look.
【Intelligent Temperature Control】If you're concerned about the heat, not to worry; the eyelash curler features 3 heat settings: high, medium, and low, works for everyone. The First gear(122℉) for soft smooth eyelashes; the Second gear(150℉) for soft/short eyelashes; the Third gear(170℉) for thick/hard eyelashes. This eyelash curler is easy to operate and with thermal insulating protective slots can avoid heating wire contact the eyelid directly, and don't hurt your skin.
【Portable Charging Design】This best rechargeable lash curler looks very beautiful and stylish, which makes it super portable and a breeze to tote around. Equipped with a USB port, this can easily be charged almost anywhere—at home, at work, or abroad. The convenience of the rechargeable battery, so no need to run out of more batteries.
【10 Seconds Quick Heat Up】Our heated curler can heat up quickly in just 7-10 seconds and provides a long-lasting curl in seconds, which can save you a lot of time. The eyelash curler features a comb with heated teeth and evenly heats all types of lashes, especially unruly strands. This heated lash curler comb is wider, so it's ideal for getting every lash at every angle. Simple to use, and a compact design make this heated eyelash curler one of our absolute favorites.
【THE PERFECT GIFT】The heated eyelash curler kit is a perfect gift for your girlfriend, wife, friend, and lover. The heated lash curler is also the best gift choice for Valentine's Day, Thanksgiving Day, Mother's Day, Birthday, Christmas, and Halloween. If you have any issues about the Eye lashes Makeup Tools, feel free to contact us.
The curling may last up to a whole day. The heat pads quickly relax and separate the lashes while applying gentle heat evenly on your lashes. You can choose a different temperature design based on your desired curling.  
Pros
It heats up quickly in under 10 seconds. 

It is safe and durable. 

Equipped with three temperature settings. 

The curler is suitable for all lash types. 

It has a unique ergonomic hold. 

There are rechargeable batteries and you don't need to change the batteries. 

There is no clumping and pinching of the lashes. 

It is travel friendly. 

The curler is pretty lightweight. 

There is a long-lasting hold on your eyelashes.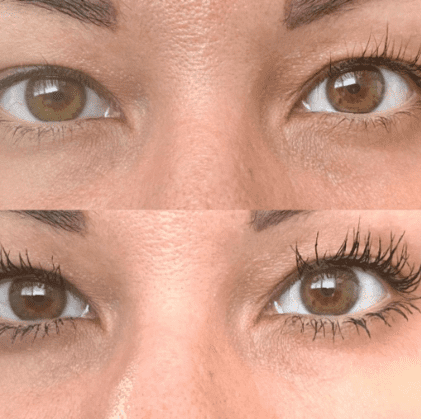 Cons 
This is not useful for short eyelashes. 

It is not very easy to use. 

The heat can be overwhelming. 

It can burn your eyelashes even at the lowest temperature. 

There is no durability, and it will stop working after some months. 
Touch Beauty Professional Heated Eyelash Curler 
Touch Beauty's heated eyelash curler provides instant, effortless, and long-lasting effect. The curler has silicone refill pads that can form a heat-protectant layer for the full length of your eyelashes. The sensing pad changes its color once it is fully heated. Use it together with mascara which has proven to have a good effect.
TOUCHBeauty Professional Heated Eyelash Curler with Silicone Refill Pad Curling Tool for Women Long Lasting Naturally Eyelashes TB-2003A
LASTING NATUALLY EYELASHES - Instant lift and lasting curl the eyelash easily, please use together with mascara makes a good effect
NO PAIN OR PINCHING - The heating silicone pad curls the entire length of your eyelashes without pinching or crimping
SAFE TO USE - Suitable temperature design will No damaging to your lashes, Innovative temperature sensing pad changes its color automatically when warming up, Please wait few minutes to ensure make it fully warmed up
ERGONOMIC & PORTABLE - fits every eye shape, and curls every lash. Mini-sized body fits easily in your purse and cosmetic bag
BATTERY POWERED - Recommend to use Alkaline battery to ensure warmed up quickly, 2 AAA battery operated. (Battery not included)
You need to wait a few minutes for the curler to warm up. Sadly it does not have rechargeable batteries and uses AAA batteries. So you need to make sure to have some extras with you.
Positives 
The curler heats in about 30 seconds. 

It has an ergonomic design. 

Pinch-free and crimp-free effect on your lashes.  

It creates a heat protectant layer for your lashes. 

It is safe to use and does not burn your lashes. 

Travel friendly due to its compact shape.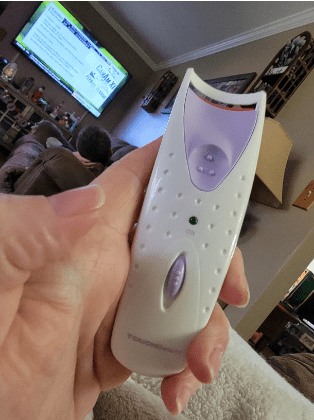 Negatives 
The curler does not warm up quickly.

You can get a crimp if you don't use the curler properly. 

The power light keeps flashing. 

It has short battery life and you need to keep some extra batteries with you.
Dust2oasis Heated Eyelash Curler 
The Dust2oasis eyelash curler can be used on all types of lashes without any damage.The arc-shaped comb head of the curler fits and shapes your eyelashes really well. This is ideal for deep curling.  
DUST2OASIS Heated Eyelash Curlers, Electric Eyelash Curlers, Rechargeable Lash Curler with Eyelash Comb for Makeup Natural Curling Eye Lashes and 24 Hours Long Lasting - Black 2023 Updated Model
QUICK NATURAL CURLING -- -The lash curler can fast heat up within 10s, and the curved curler head can perfectly fits the eyelashes make a perfect natural curling eye lashes quickly. Lasting for 24 hours
3 TEMPRETURE SETTING-- -Our portable eyelash curler heated equipped with three gear temperature design,can select High/medium /low temperatures level depending on the different eyelashes/region.
SAFE NO HARM---Absolutely safe to use, this electric eyelash curler is easy to operate and with thermal insulating protection slots can avoid heat contact the eyelid, hurting the skin.
RECHARGEABLE & PORTABLE ---This lash lift tool is Updated Type-C rechargeable, the compact design makes it easily fit into your bag like a lipstick
PROVIDE EYELASH COMB--- The package include one eyelash comb to help separate the eye lashes , one little brush to help clean after used. Dust2Oasis heat eyelash curler is best makeup tools gift for your lover on Valentine's Day /thanksgivings /Christmas and Birthday.If you have any issues about the Eye lashes Makeup Tools, feel free to contact us.
The kit also includes an eyelash comb that can separate your eyelashes. It also has a small brush that helps you to clean the comb after usage. Be careful not to repeatedly go over the same areas multiple times.
Benefits 
It comes with three temperature settings that allow you to adjust the temperature. 

The curler heats up in under 10 seconds. 

It is also said to keep your eyelashes lifted for the entire day. 

The curler is easy to operate and very user-friendly. 

It has a compact design and its travel friendly. 

It comes with rechargeable batteries with a USB charger.

The curler also has thermal protection slots. 

There is a switch and indicator light also present on the curler.  

It is also provided with an anti-scalding protection groove.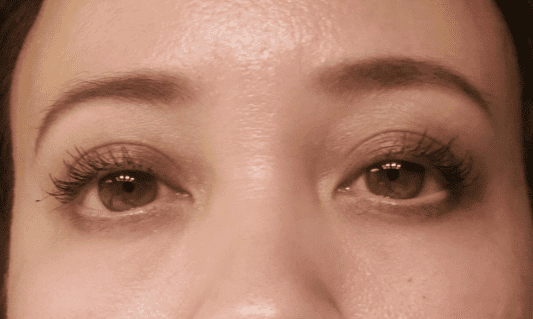 Drawbacks 
There are many complaints of inconsistent charging and power being used up quickly. 
Ebopea Electric Eyelash Curler 
Ebopea electric eyelash curlers comes in a five-piece set. This includes a heated curler, portable eyelash curler, mini curler, foldable eyelash comb, and double-head mascara. It uses USB charging. It also has an innovative built-in function that switches off power automatically after eight minutes, incase you forgot to turn it off. 
This is a three-stage clip method to curl your lashes. The eyelashes are divided into the middle part of the root to clip and slowly clip from the root to the outside. Before releasing and re-squeezing, move the eyelash curler to the uncrimped area of the eyelashes to ensure that each eyelash can be clipped. You can also use a mini lash curler for the lashes which are left out.  
The heating electric eyelash curler is suitable for thick and challenging to shape lashes. When the red dot at the end turns white, the warm-up is over and ready to use. You should roll up from the root of the eyelash to the end of the eyelash from the bottom. It should heat up within 7 seconds. The double head mascara has two ends. One end is a soft and delicate brush head gently applied to the end of the eyelashes. The second end is full of the thick brush head, gently spread so that the eyelashes instantly become curled. 
Pros 
It has a digital ambient display. 

Easy to use and user friendly. 

The accessories are durable and have long-term use. 

It does not burn or damage your lashes. 

The curler heats in less than 10 seconds.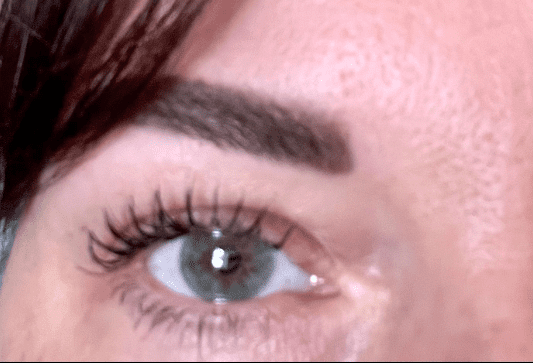 Cons 
It may not be suitable for short eyelashes. 

The charging takes so long 
Demonlick Heated Eyelash Curler 
Demonlick Curler is almost like a professional eyelash curler and it comes in a kit. The kit also includes a two-sided combing brush to give any final touches to your lashes. The curved brush head on one end has thermal insulating protection slots that can prevent any contact with the eyelid. A better curl effect comes if you use this eyelash curler together with mascara.
Double-Sided Heated Electric Eyelash Curler Rechargeable Lash Curler with 3 Temperature Gears Quick Heating Eye Beauty Makeup Tools for Women Girls
【3 TEMPERATURE MODES】: Three temperature ranges from 60°c (140°F) to 80°c (176°F). The first gear is blue, the second gear is red with blue, and the third gear is red. Short press to switch the temperature, long press again for 2 seconds to shut down.
【PORTABLE AND SAFE】: The small size of 6.8*17.1*4.1cm is easy to carry, so you can finish makeup on your eyelashes anytime, anywhere. The curved heated eyelash curler is perfect for real and fake eyelashes. Will not burn your skin at the highest temperature.
【USB fast Charging Design】:USB charging of cycle use, you can save the cost of batteries(Charge cable included).it can be fully charged in just one hour.
【Quickly Heat Up】:preheating up within 20s , Better use effect after heating for 30s.and made eyelash curling a whole day ,and it does also make your eyelash open and spread.
【Customer Service】:We offer 30-day money-back service for any quality issue. Please contact us if need any technical support for this product, we will always be there for you.
It comes with a heated eyelash curler, double-sided comb brush, USB cable, and user book manual. Do not clean the product with water. If you want to clean the brush head, please wipe it with a soft cloth or paper towel.
Positives 
It has temperature indicators. 

The curls can last up to 24 hours. 

There are three heat settings. You can choose between high, medium, and low-temperature levels. 

It has rechargeable batteries that can be charged anywhere. 

It heats up in under 10 seconds.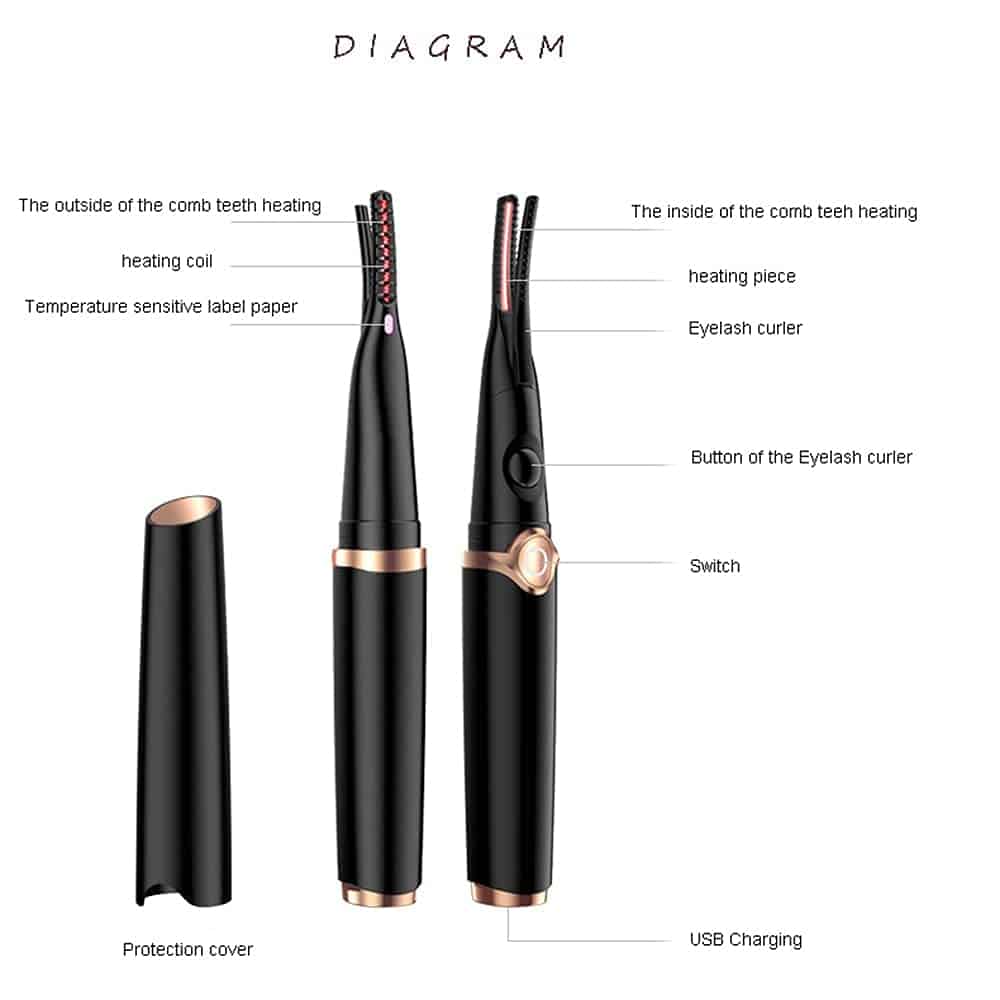 Negatives 
It does not work without mascara. 
FAQs | Best Heated Eyelash Curler 
What kind of heated eyelash curler is the best?
Heated eyelash curlers generally have some fixed criteria. You should always look for an eyelash curler with an evenly distributed heat suitable for the lash type and its power source. Thinking about changing batteries or recharging batteries is a huge selling point. Rechargeable batteries are always better as you don't have to visit the store for more batteries.
Are heated eyelash curlers good for your eyelashes?
Eyelash curlers are suitable for your eyelashes until you use them wisely and use one that does not heat up as much. This is why you need to choose a good one, so you don't burn your eyelashes. 
How do I choose an eyelash curler? 
When choosing an eyelash curler, you need to remember some specific steps. You need to choose one which fits your eye shape, comfort for the grip, and the handles which help you for a smooth glide; thirdly, the most important is the quality of the lash pads. 
Are some eyelash curlers better than the others?
Some eyelash curlers would be better than others. There are various ways your eyelash type matters when you choose one that suits you. The battery life, heat settings, and applicator wand make a huge difference. Some eyelash curlers offer you these specifics, which is why they can be ranked better than the others. 
Do more expensive curlers work better?
Not this is a myth that expensive eyelash curlers work better. It is more about fulfilling the purpose and being easy to use. Most eyelash curlers are not very expensive but serve the purpose and are durable for an extended period. 
Closure 
The search for the best-heated eyelash curler has ended, and we found a perfect choice for our specific eyelashes. There are eyelash curlers for different types of lashes, and we might differ in our selection of comfort. Although choosing one with a good comb and battery life might do the job. Also, make sure that you don't burn your lashes while using it, and keep the temperature to the minimum as much as possible. 
Marilyn's deep interest in fashion, beauty, and lifestyle has led her to pursue a fulfilling career as a freelance writer and blogger. With her bachelor's degree in fashion design from the Fashion Institute of Technology, she has developed a keen eye for style and trends, making her well-equipped to offer valuable insights into the latest fashion and beauty trends.