Healthy skin is the cornerstone of an attractive and confident look. It's crucial to take good care of your skin by following a healthy skincare regimen and shielding it from damaging environmental elements. Although immaculate makeup might help, taking good care of your skin can go a long way.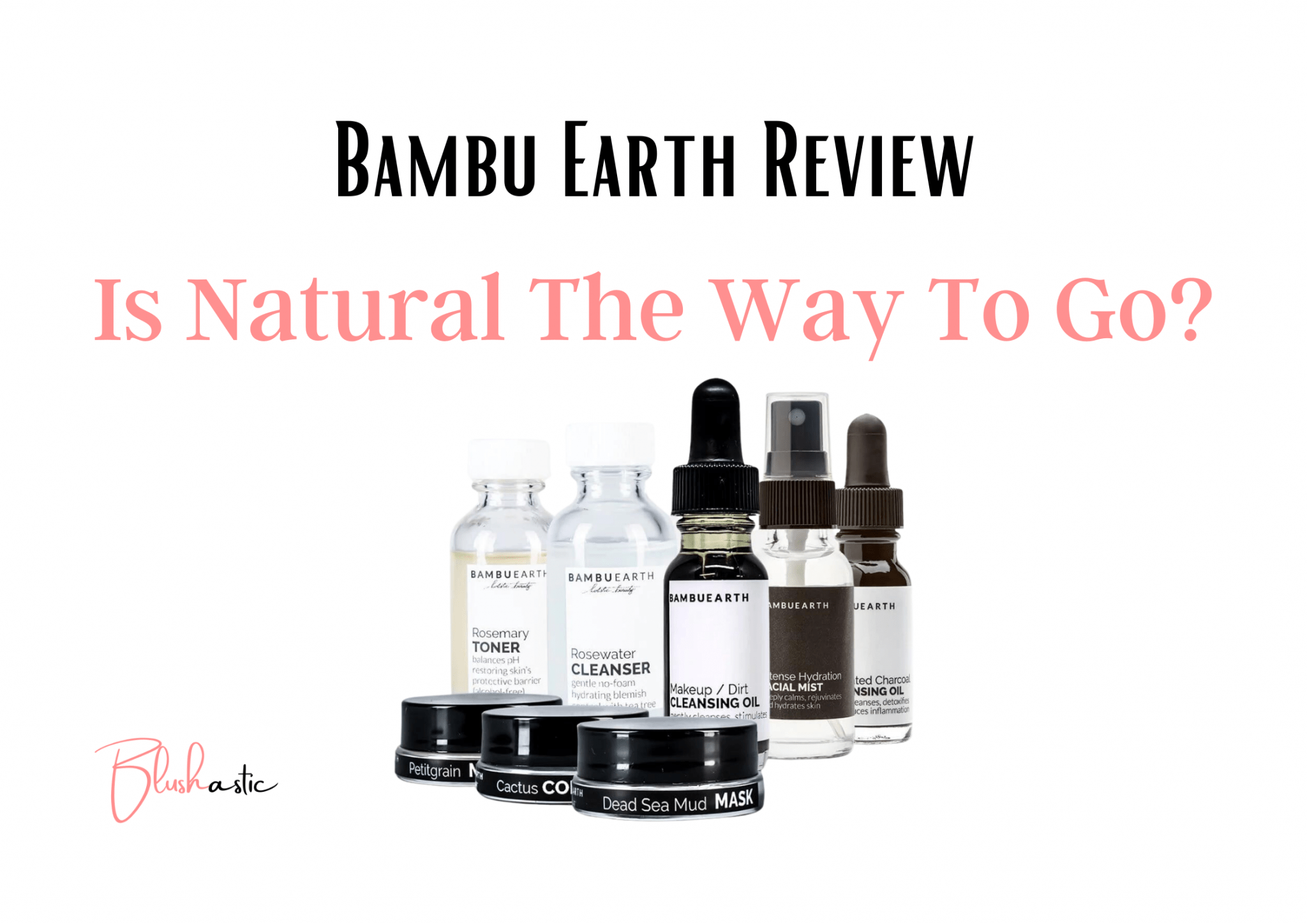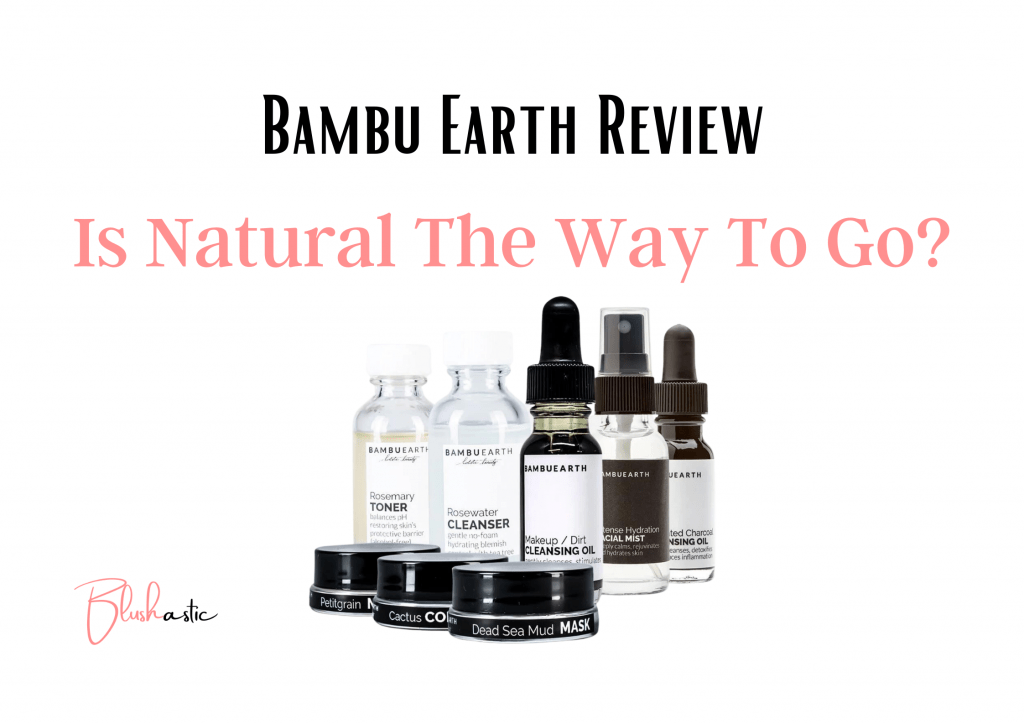 Utilizing simple and natural components in your skincare regimen will help enhance the health and appearance of your skin, which in turn can make your makeup seem even better. And if all this strikes a chord with you, you will adore our in-store goods today. This report is based on genuine Bambu Earth reviews, so let us investigate.
Bambu Earth Reviews | Is Natural The Way To Go?
Bambu Earth's founder, Amber Hawthorne, thinks skincare, cosmetics, attire, or a new hairdo cannot enhance attractiveness. Instead, she contends that these outside circumstances can only enhance and complement your innate beauty. Her goal is to offer organic and natural skin care products that support and improve the brilliance of your skin. She began out in the skincare business by making her soap from scratch, and today she sells a variety of healthy, chemical-free natural, and organic goods. 
She has amassed a devoted following because of her enthusiasm for producing effective, clean, sustainable goods. Amber established the criteria for the Bambu Earth line, mandating that all products be all-natural, organic, sustainably produced, and fair-trade. The company uses shea butter from a women's cooperative in Ghana and sources locally. Also employed are soaps packaged with seeded paper that sprouts wildflowers and recyclable glass containers.
In order to return skin to its original form, Bambu Earth uses the cleanest substances available on the planet. They are a terrific option for individuals who value ethical and environmentally friendly skincare because their products are vegan, cruelty-free, and devoid of synthetic perfumes and dyes. They are made with nutrient-dense components that aid in bringing the skin back to its healthy, natural condition and enabling it to perform as it should naturally. These products are designed to assist your skin's innate capacity to defend itself while also helping to maintain it clean, clear, and radiant.
If you desire a unique recommendation, you can visit their official website to take their 3-minute skin quiz, and they will put together a skincare program that includes lifestyle suggestions tailored to your specific skincare requirements.
The Products Offered By The Brand
The skincare line from Bambu Earth consists of cleansers, cleansing oils, toners, mists, masks, serums, moisturizers, and other items. You may get an overview of everything you can purchase by reading the information on the Bambu Earth product categories provided below. Bambu Earth provides everything you need to achieve healthy, bright skin, whether searching for a whole skincare program or just a few products to add to your collection. These products are mild but effective for all skin types because they have natural and organic components.
Cleansing Oil
BambuEarth Daily Cleansing Oil and Makeup Remover facial washing oil efficiently removes oil-based and waterproof makeup, grime, and pollutants while preserving the skin's protective moisture barrier. It is soft and suitable for all skin types, including oily, dry, and skin that is prone to pimples. It is manufactured from components that are responsibly derived from plants. It maintains the skin's protective oil barrier, which helps balance oil production, and has a smooth, opulent texture with an energizing finish. Moreover, it smells slightly sweet, earthy, and woody.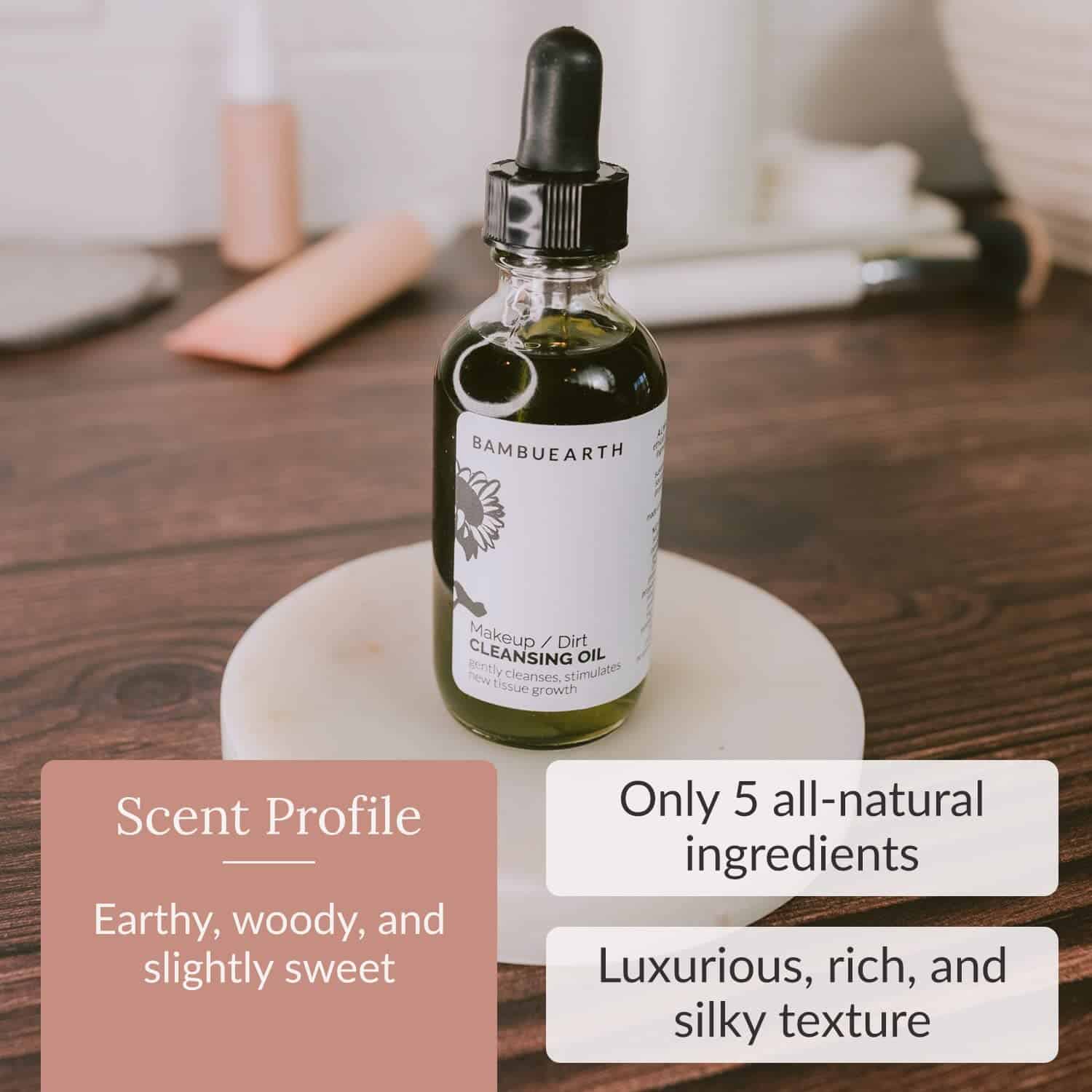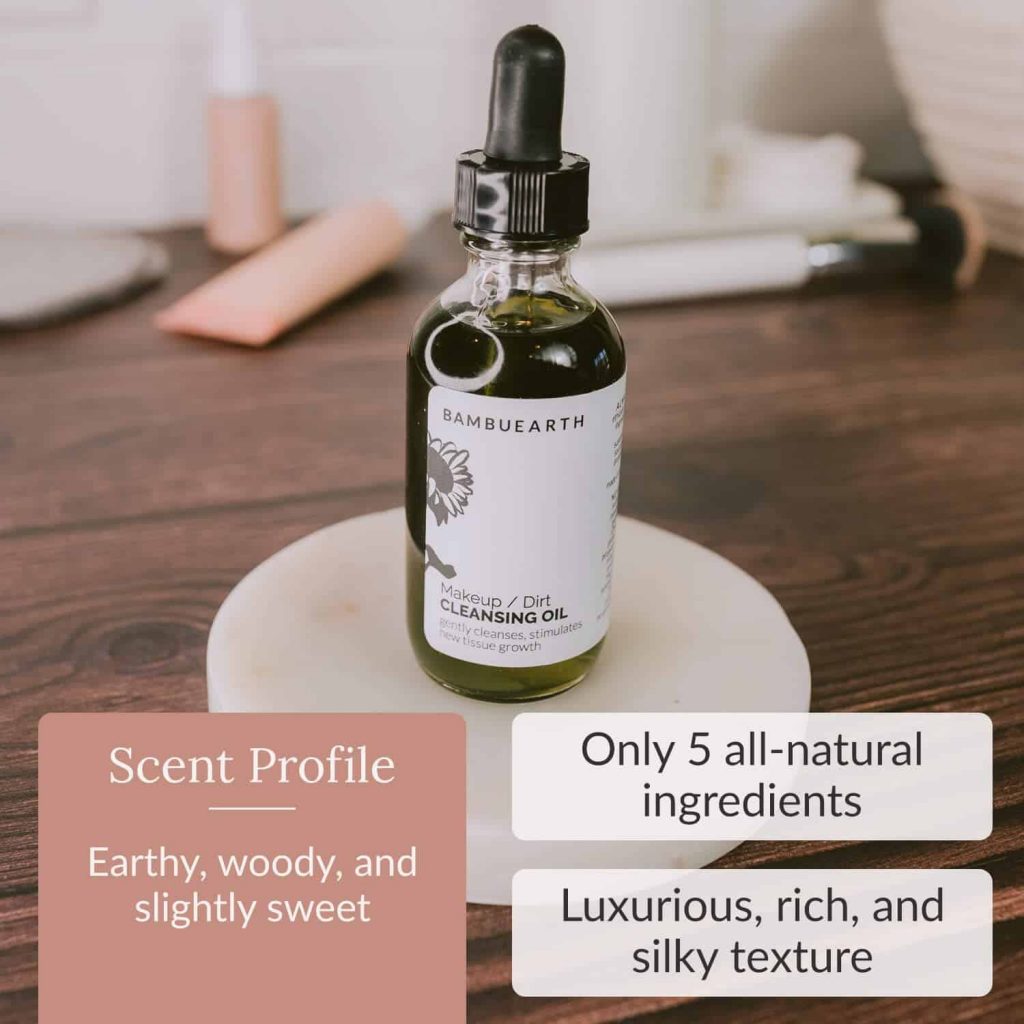 How to apply?
Use 1-2 droppers worth of product on your face and neck.
For 1-2 minutes, gently press and massage the skin.
Take off with a face towel that's fairly warm but not steaming.
Cleanser
Three components make up BambuEarth Rosewater Vegan Cleanser: tea tree essential oil, vegetable glycerin, and organic rosewater hydrosol. It facilitates hydration and moisturization, calms the skin, clears clogged pores, and lessens the visibility of blemishes. Moreover, it offers cleaning qualities that aid in removing residue and pollutants, balancing the face's natural oils, and washing the skin to give it a smoother texture. It is suited for all skin types and has antioxidant characteristics that aid in scavenging free radicals, which cause premature aging. Moreover, it has a gentle flowery aftertaste with a camphor-like and herbal scent.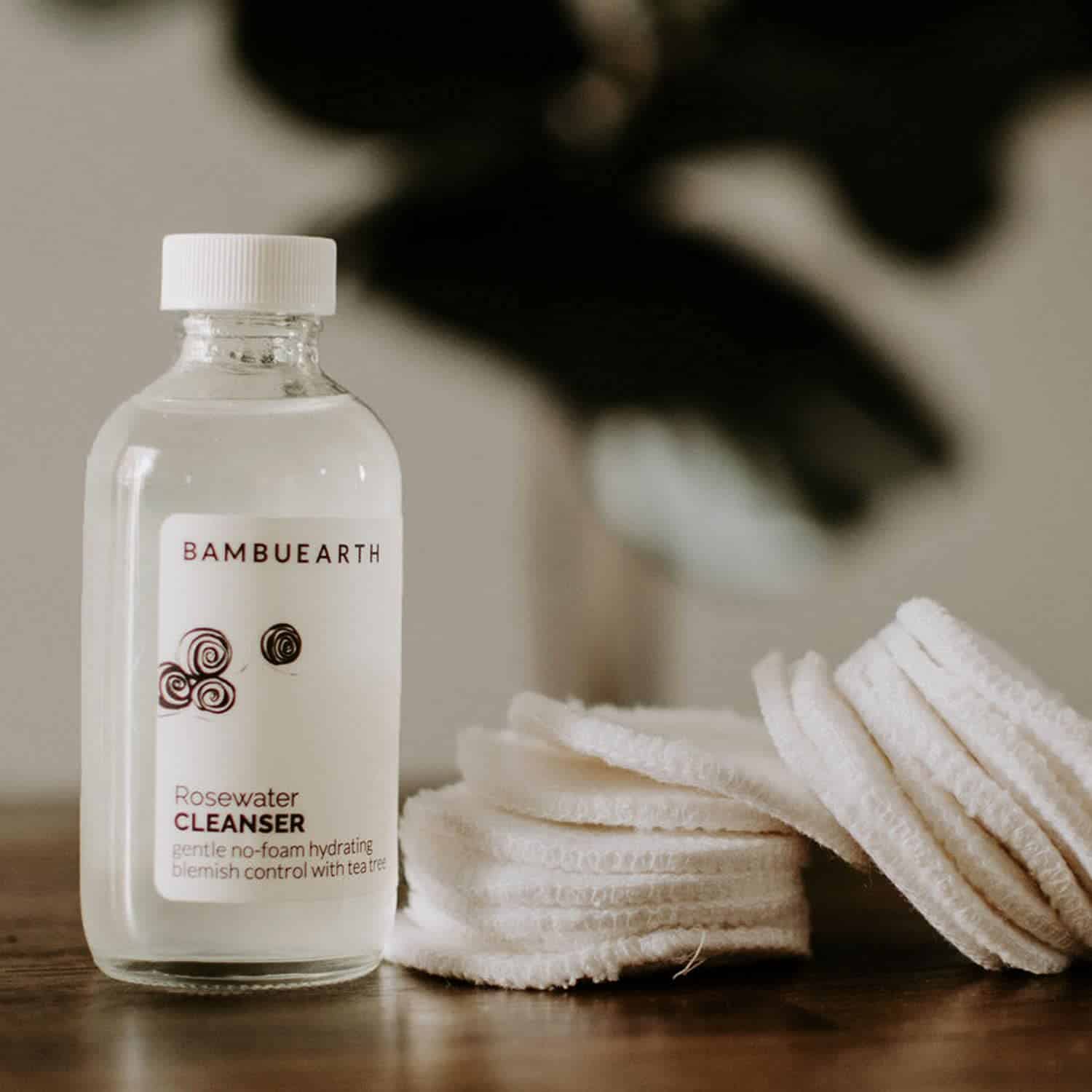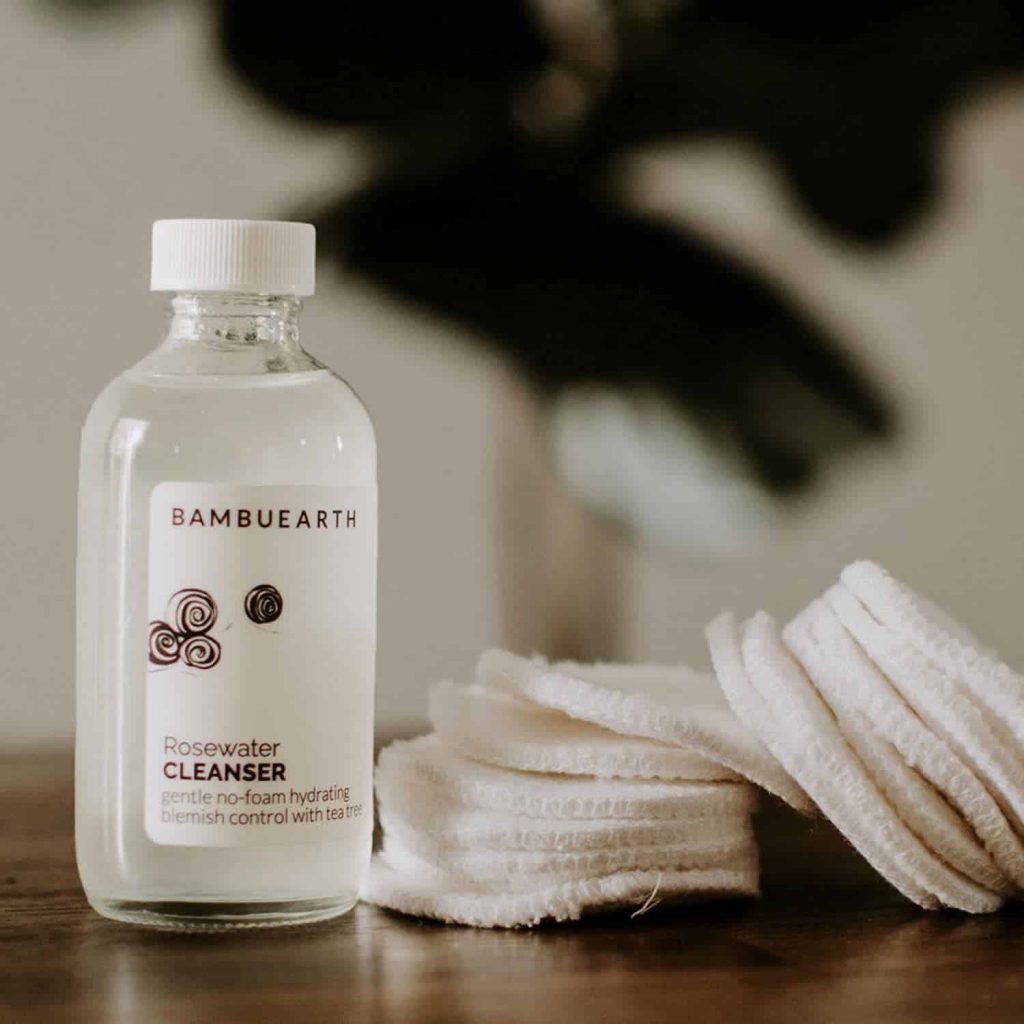 How to apply?
After removing the makeup, shake well and dunk a face pad in the solution.
Apply to the neck and the entire face.
Use warm water to rinse.
Toner
A blend of plant-derived chemicals called BambuEarth Rosemary Toner is designed to give your skin a healthy shine. It supports pH level balance, skin renewal, skin tone enhancement, and barrier health for the skin. It is good for all skin types and doesn't include parabens or any other harsh chemicals. This toner is the ideal addition to your at-home skincare regimen to give your skin a healthy appearance and feel. It has a zingy, acidic scent that is tempered by herbal and floral overtones.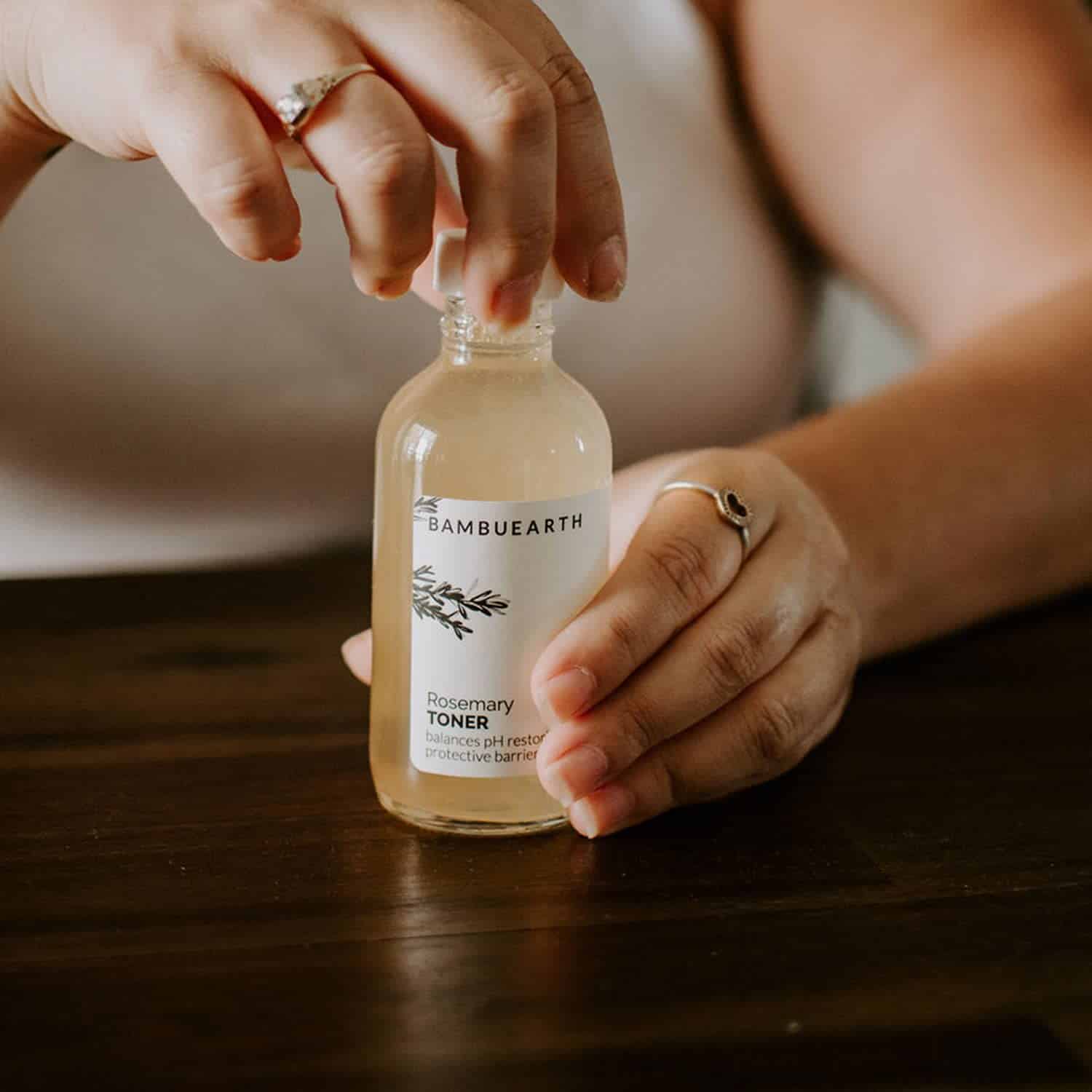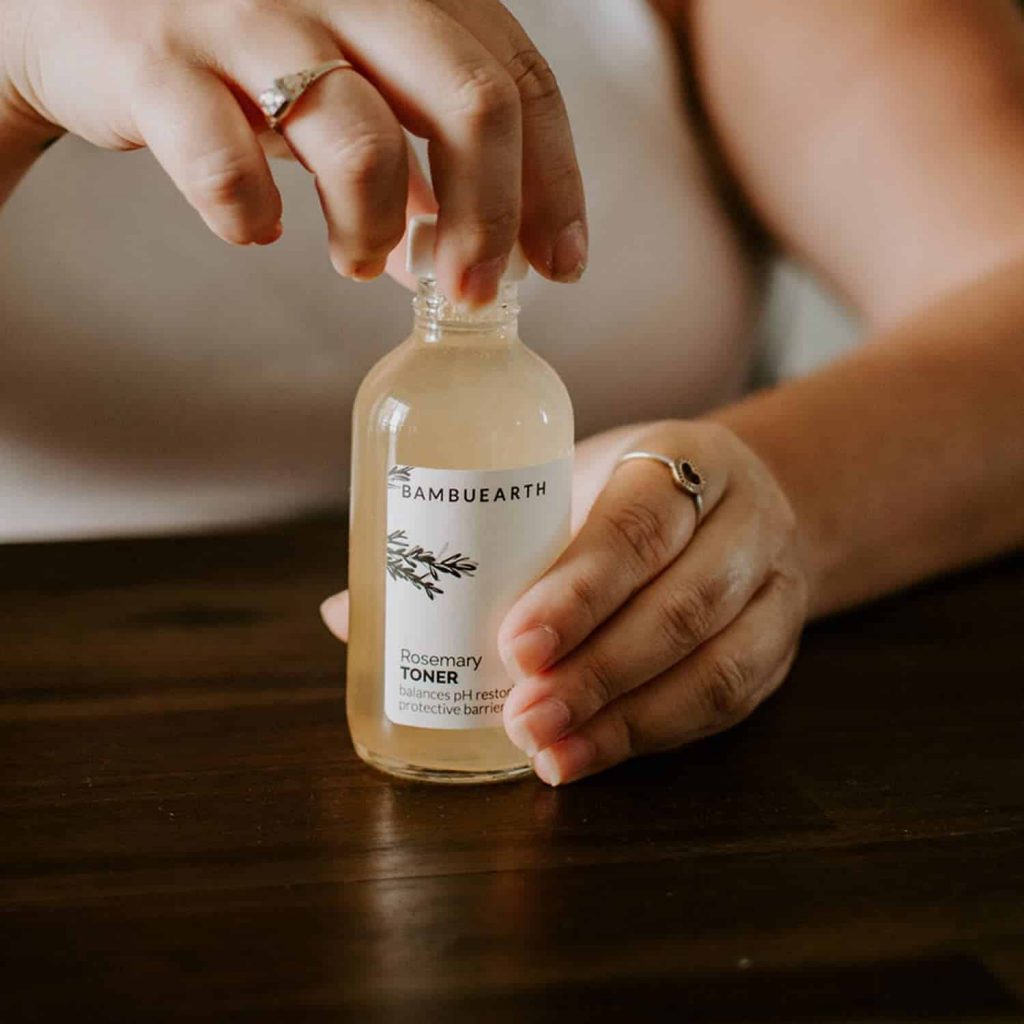 How to apply?
Apply with a face pad to just-cleaned skin after thoroughly shaking the mixture.
Let it completely dry.
Restorative Facial Serum and Petitgrain Moisturizer should be used after.
Facial Mist
This pure hydrosol mist is great for use as a face toner or to refresh and revive the skin throughout the day since it features extremely hydrating and nourishing aromatics that are very relaxing and uplifting. The organic components in this mist combine to give your skin a calming and revitalizing sensation, leaving it moisturized and nourished. All skin types, especially those who are worried about aging, can use it. Administer once daily for six weeks. Woodsy and herbaceous with a tinge of spice are the aromas it gives out.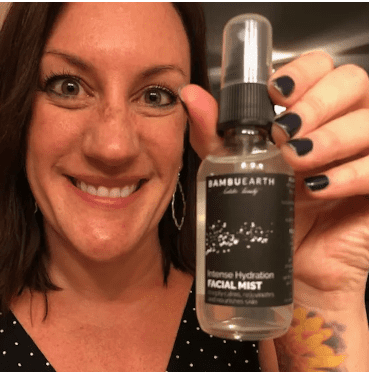 How to apply?
Spray skin thoroughly three to five times.
Once the skin is completely damp, apply a concentrate, serum, or moisturizer.
Keep in a cool, dark location.
Serum
A natural and organic face serum for skin restoration, the BambuEarth Cold-Pressed Repairing Facial Serum is made with organic, cold-pressed rosehip, pumpkin seed, and meadowfoam oils. Its reparative qualities aid in reducing the appearance of sun-damaged skin cells and skin irritation. Also, the light aroma of pumpkin keeps skin appearing more luminous while hydrating, brightening, and moisturizing it. It is ideal for all skin types but works especially well on people with scars or sun damage.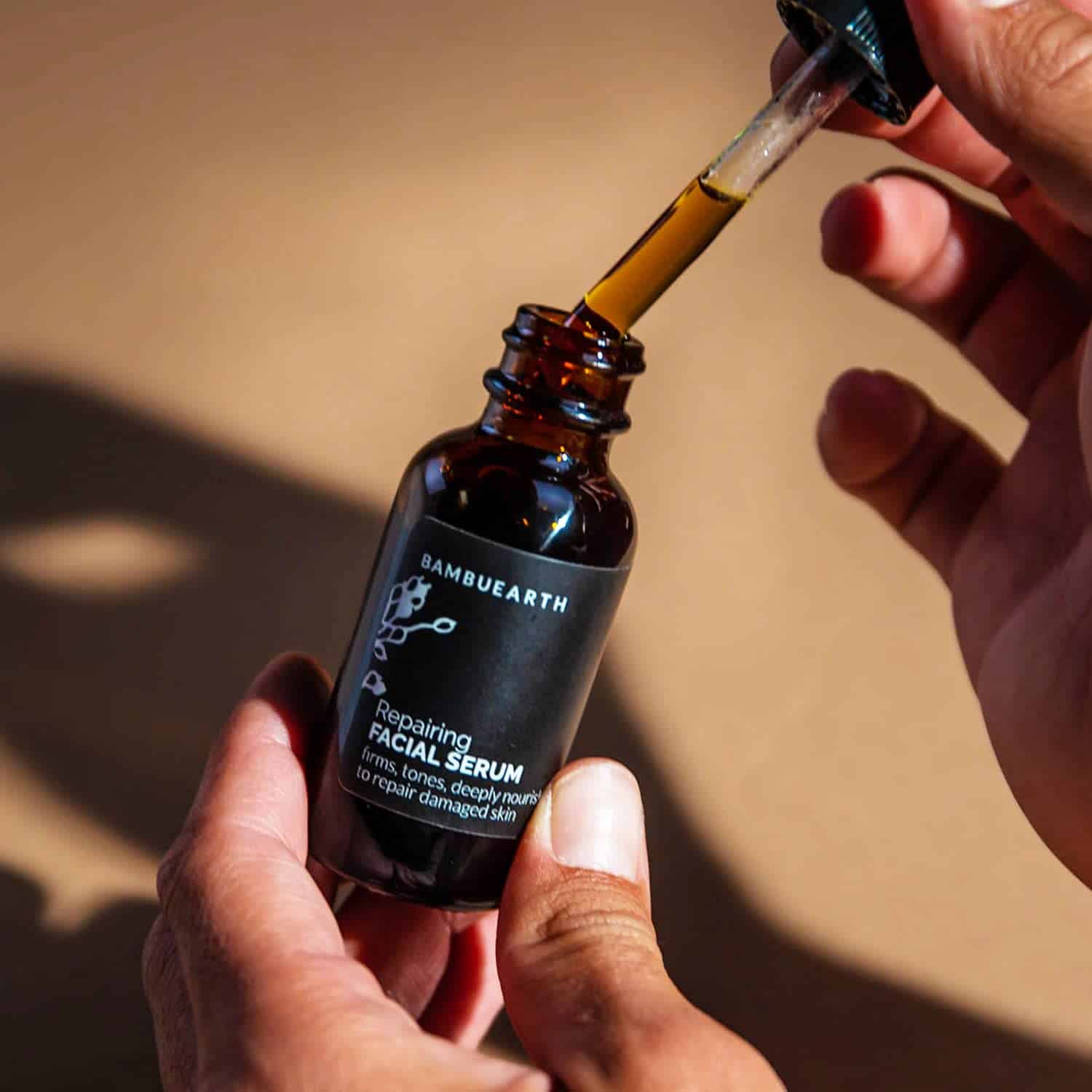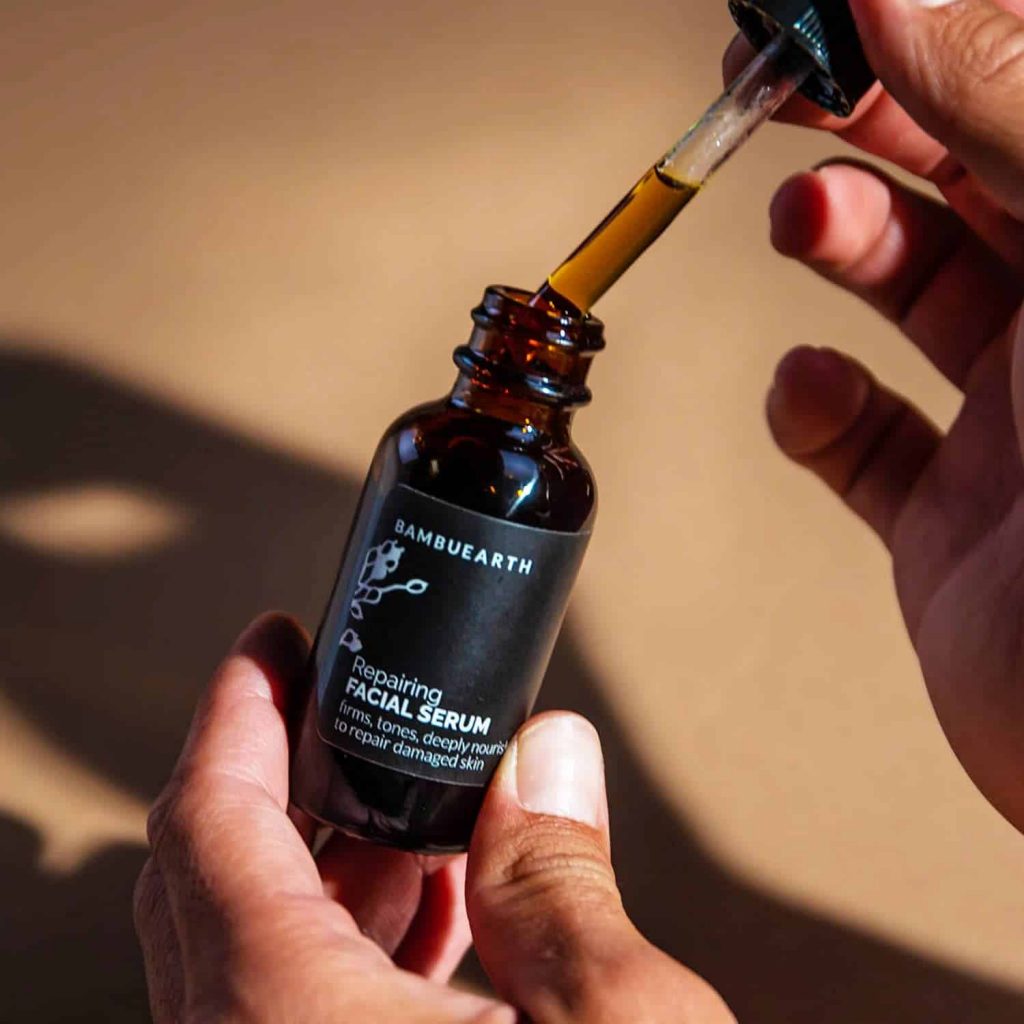 How to apply?
Apply following a thorough face and neck cleansing and toning.
Add 3–5 drops to your palms, press them over your skin, and let them sit for a minute.
Add a layer of Extreme Hydration Cactus Concentrate or Petitgrain Moisturizer.
Moisturiser
With four nutrient-rich ingredients, BambuEarth Petitgrain Moisturizer is a waterless moisturizer that helps dry skin become more hydrated and improves the look of acne and pimples. It is risk-free, more eco-friendly, cruelty-free, and loaded with nourishing oils and butter that support skin health. It contains organic, raw, fair-trade shea butter, which effectively softens, soothes, and hydrates the skin. It also works to build the skin's barrier so that more moisture can be locked in and skin hydration is increased. It also helps to hydrate, moisturize, and regulate your skin's sebum production. It is a mild face moisturizer for women that also helps to enhance the look of skin texture. It smells nutty and earthy by nature, with a smidgen of toasty smoke and vibrant citrus.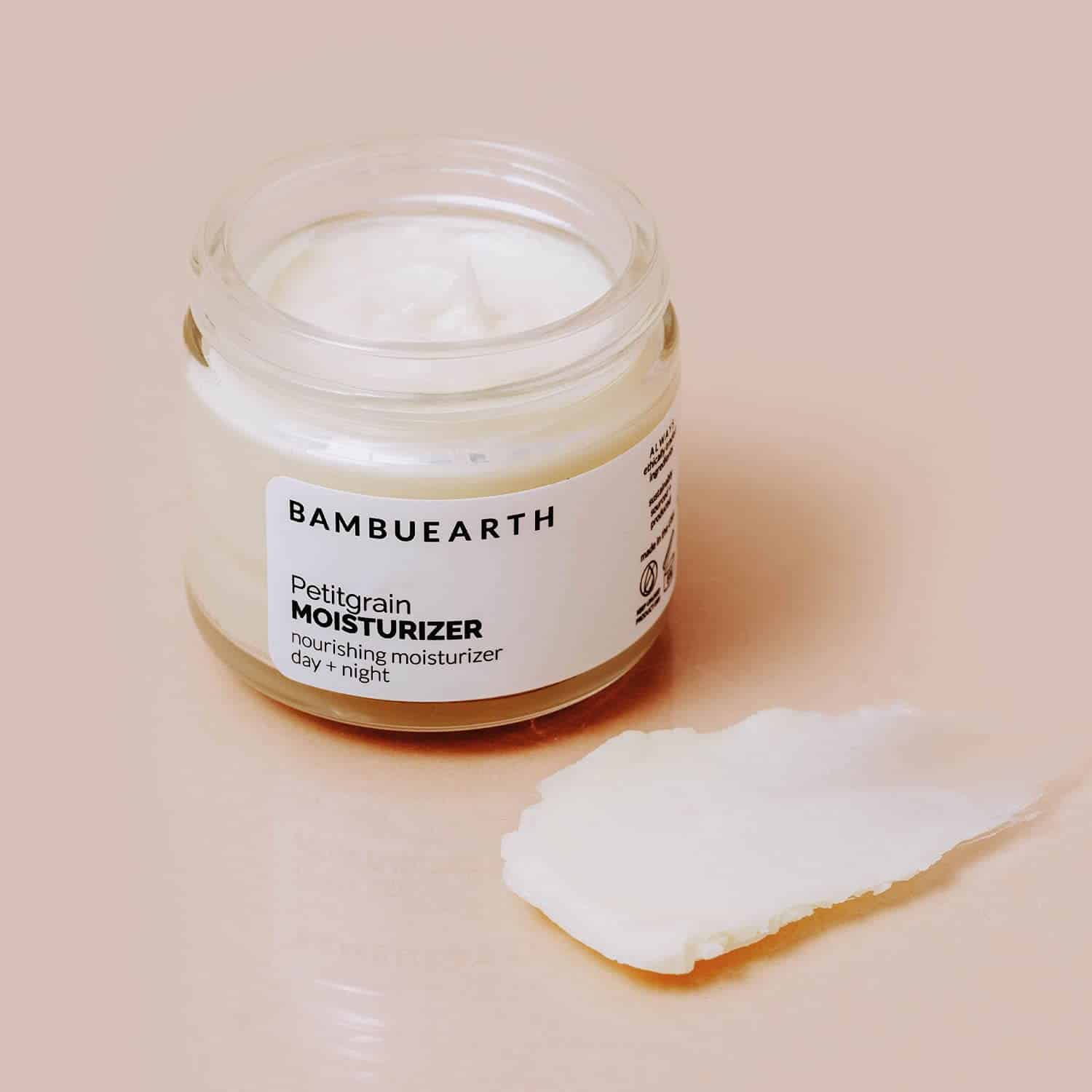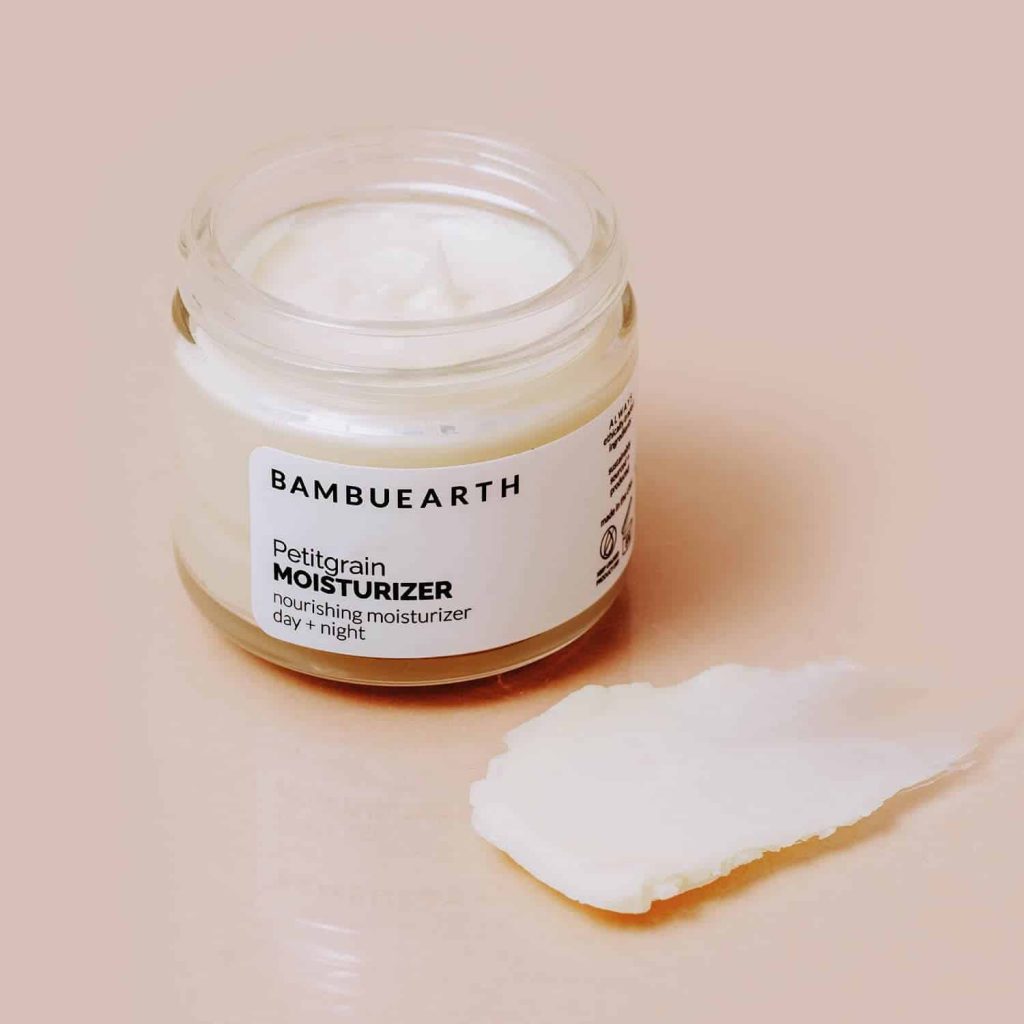 How to apply?
Use on a wet, just-washed, toned face and neck every morning and evening.
Apply a pea-sized quantity by massaging it in.
Layer more products if required.
BambuEarth Intense Hydration Cactus Concentrate Hydrating Face Moisturizer with a blast of antioxidants and powerful hydration; quickly absorbing cold-pressed serum is designed to tackle skin problems gently. Along with minimizing the visibility of scars, uneven patches, and wrinkles, it also helps brighten and tone up your complexion. Organic cold-pressed prickly pears, raw shea butter, murumuru butter, mango butter, baobab oil, kukui nut oil, and turmeric essential oil are examples of actual ingredients.
The moisturizing serum is good for all skin types and is made without dangerous ingredients like gluten, GMOs, sulfates, parabens, and synthetic scents. After cleaning and toning, the waterless face serum is the ideal supplement to your at-home skin care regimen. You'll adore its fresh, exotic, and flowery aroma, which is similar to a spa boost.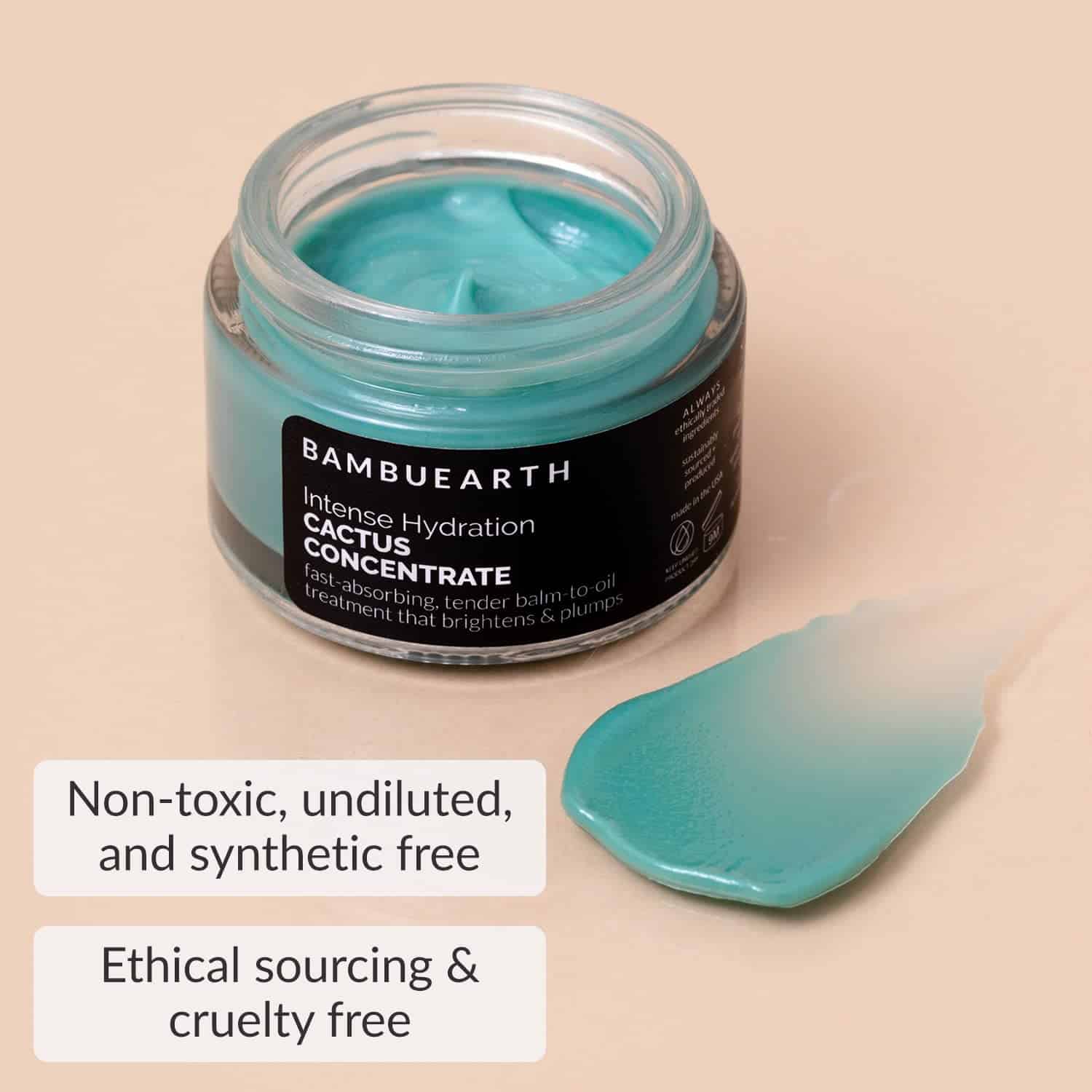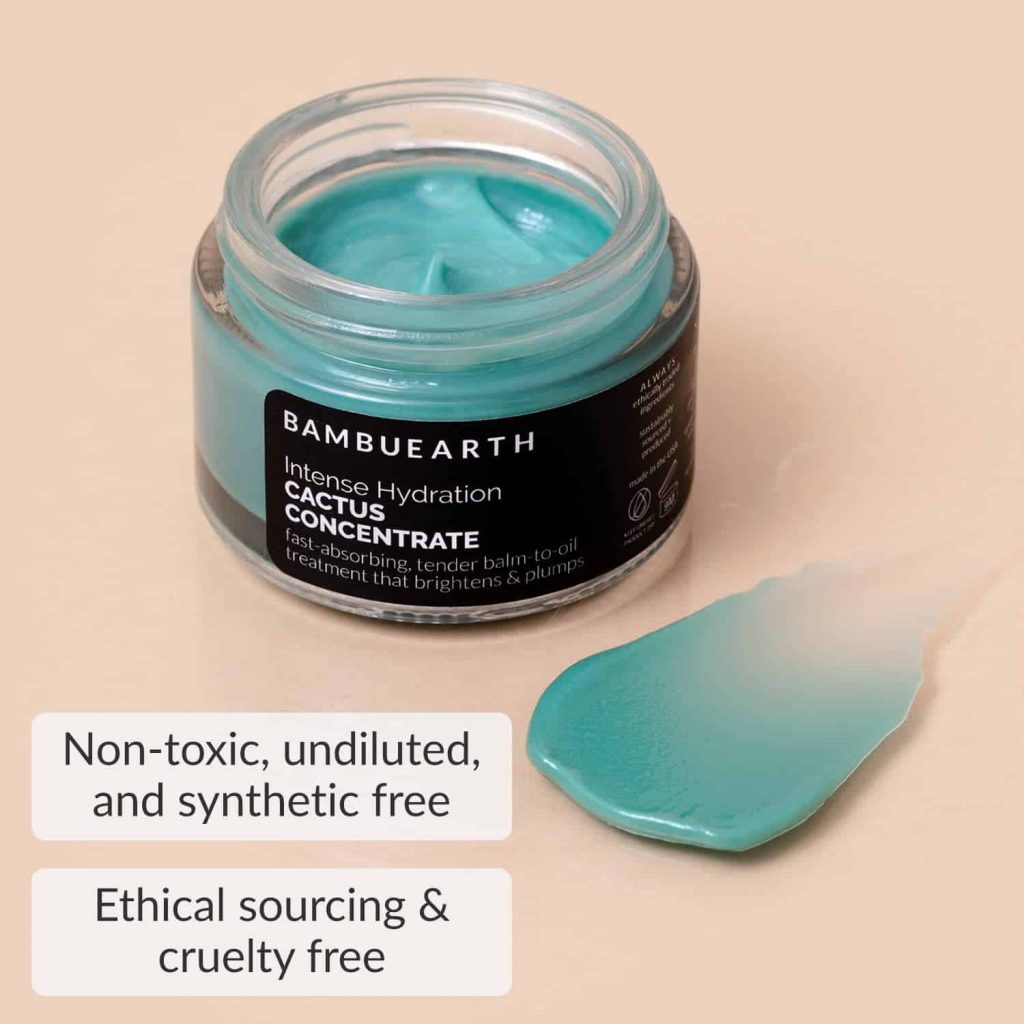 How to apply?
Warm a dime-sized quantity between your palms after AM/PM washing and toning.
Across the entire face and neck, press into the damp skin.
The region around the eyes, which may have puffiness, dark circles, or fine lines, should receive additional care.
Exfoliant
The Bambu Earth Exfoliating Mineral Face Polish is a mild facial polish that promotes a beautiful complexion by gently removing dead skin cells and promoting cell turnover. It is loaded with important nutrients that support skin hydration and renewal. Moroccan lava clay targets blackheads, while red lentils assist in exfoliating and brightening the face. It is ideal for people with sensitive skin who want to maintain a youthful appearance without irritating their skin. When moistened, the texture changes from a velvety fine powder when dry to a soft-grit, airy mousse-like clay. Unscented, with faintly sweet and spicy notes of pine.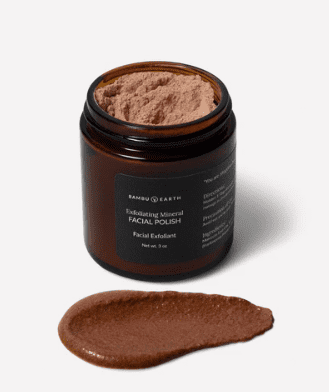 How to apply?
One tablespoon of powder should be moistened with a carrier oil or water to make a paste that may be used as an exfoliant.
Apply to the skin, give it a 30-second circular massage, then rinse.
Dry off any unused products. Keep your distance from your eyes.
Store in a dry, cold environment.
Mask
The BambuEarth Dead Sea Mud Mask contains a potent blend of real dead sea mud, lavender, and other organic oils that help your skin regain its health. Also, it aids in the improvement of oily and acne-prone skin's look, aids in the relief of skin irritability, and moisturizes the face for a healthy pinkish glow. It is a gluten-free mask that is prepared to use and that helps your skin look better. Fresh rain has a faint undertone in the aroma of the floral and camphor natural oil combination. Antioxidants and anti-inflammatory ingredients in the mask calm and nourish the skin, leaving it feeling supple and smooth. All skin types, including those with sensitive skin, can use it.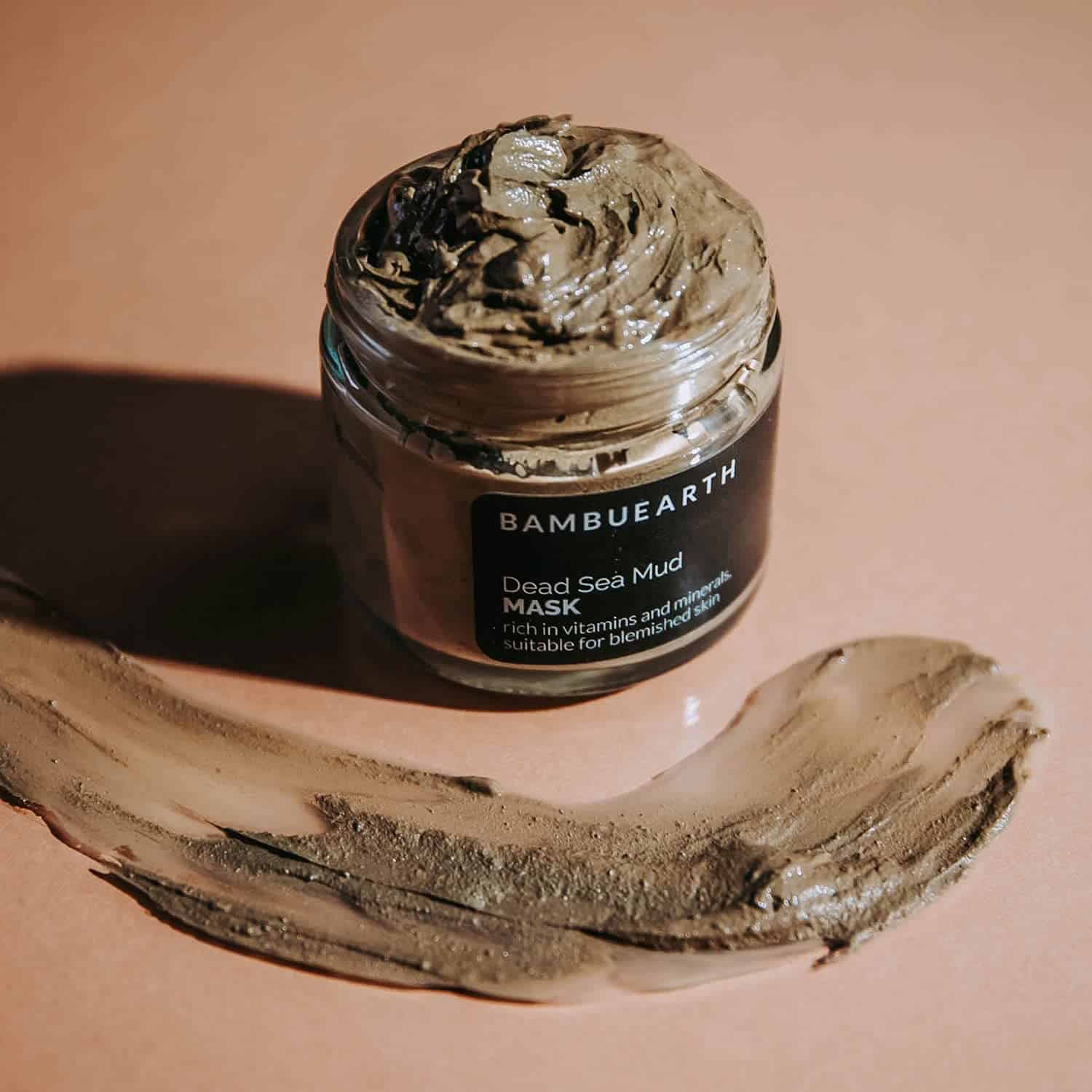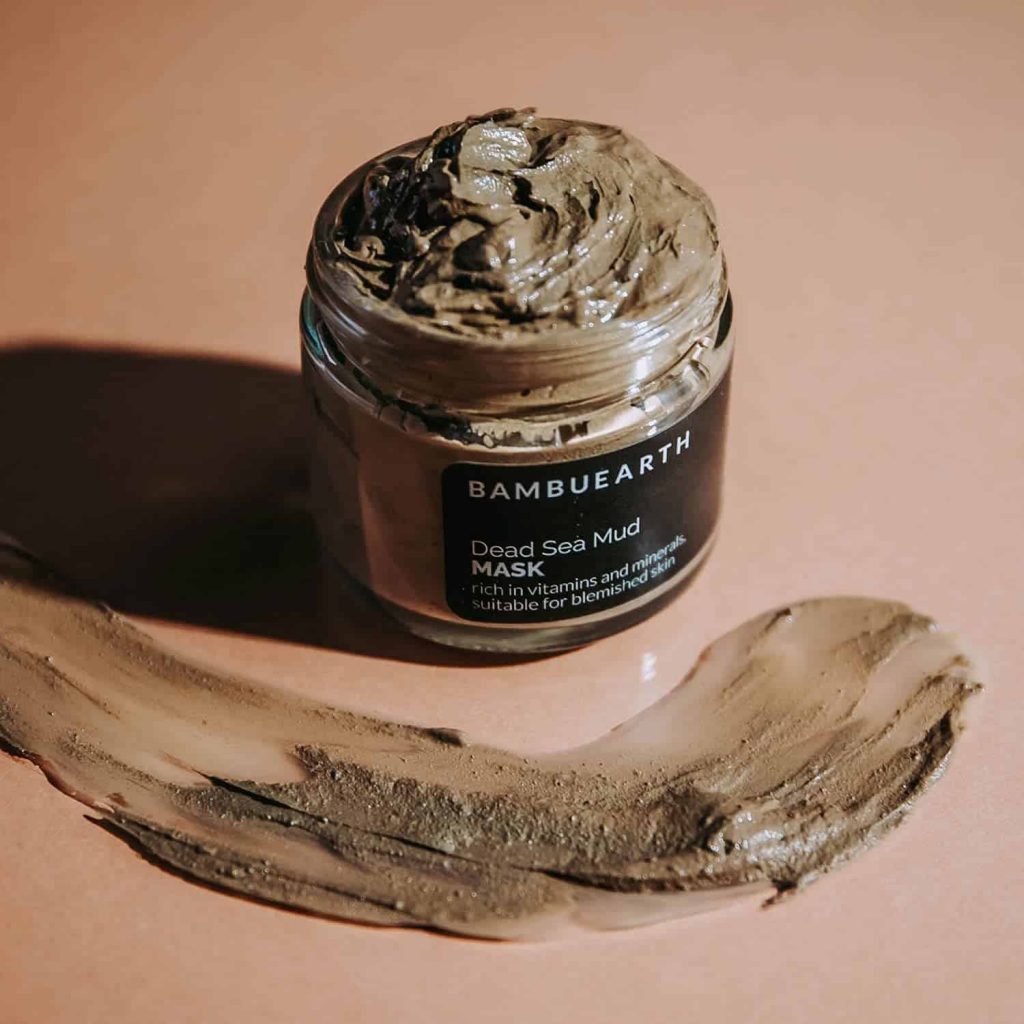 How to apply?
Apply generously to the face and neck, avoiding the eye region.
Rinse after allowing to dry for 10-15 minutes.
Use every third day, and dry store any unused product.
Eye products
The Vitamin C Boost Eyebright Serum is a vitamin C-rich blend that helps to reduce the appearance of dark circles and puffiness while working against environmental pollutants. It contains eyebright herb-infused camellia seed oil, pomegranate seed oil, and rosemary extract, which contain antioxidants and anti-inflammatory properties. It is fast absorbing with a lightweight finish and smells rosy, sweet, green, and herbaceous. It is suitable for all skin types.
With a potent combination of blackberry and black cumin seed, Antioxidant Support Overnight Eye Mask, a smoothing eye balm and mask treatment, helps enhance the appearance of fine lines and wrinkles while diminishing the sight of dark spots. Blackberry seed oil and black cumin seed oil are used to increase suppleness. Black cumin seed oil is rich in vitamin A, amino acids, and fatty acids that help repair skin cells.
How to apply?
Mornings – Serum
Use it whenever your eyes need a wake-me-up, preferably in the morning.
Roll gently on clean skin around the eyes.
Use the Antioxidant Support Overnight Eye Mask in the evenings for optimal effects.
Evenings – Mask
The skin should be cleansed and misted.
A pea-sized quantity should be applied to the ring finger, followed by a gentle pat on the eye region, going around the orbital bone.
Use your preferred Bambu Earth moisturizer after for the optimum effects.
Lip products
The Helichrysum Lip Butter is a moisturizing lip balm that helps improve the appearance of chapped lips, protects against dry weather, and acts as a base for lip color. It is made from organic Unrefined Fair Trade Shea Butter, Beeswax, Sweet Almond Oil, Organic Cold-Pressed Meadowfoam Seed Oil, and Essential Oil Blend. It feels soft, smooth, and with the body. It smells nutty, minty, and mildly floral and is suitable for all skin types.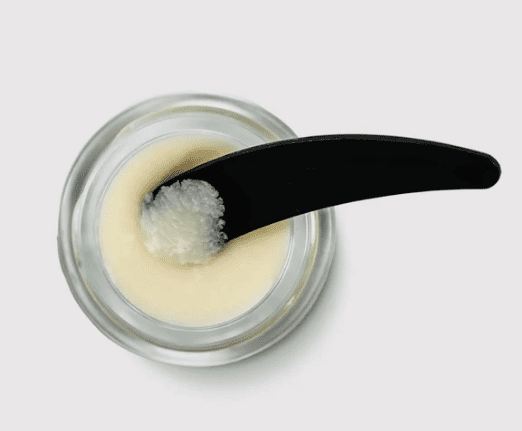 How to apply?
Lip Sugar can be used to prepare the lips.
Put a little bit on the lips.
If desired, finish with a lip color.
Body and Hair
Scrubs, oils, and even soap bars from Bambu Earth all help your body reap the rewards of excellent skin care. The skin is profoundly nourished, silky smooth, and youthfully bright after using the ultra-luxurious Earth in Bloom Body Glow body scrub. Dead Sea salt, which is rich in minerals, promotes blood circulation and offers therapeutic benefits that help your body's skin cells renew. 
Skin is nourished, moisturized, and left feeling smooth and non-greasy after using coconut oil. The iconic Earth in Bloom Body Oil is made with hydrating, anti-inflammatory cold-pressed oils that are high in antioxidants, vital fatty acids, calcium, and magnesium. With its antibacterial and antifungal qualities Lavender Oat Body Bar, a mild, handcrafted body bar, is perfect for the entire family. It also softens and cleanses the skin.
Advantages
Vegan.
Cruelty-free.
Minimal ingredients.
Ethical and sustainable.
Non-toxic ingredients.
Made in the USA.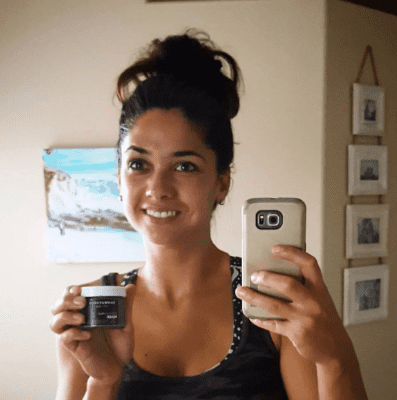 Disadvantages
The products may be too mild and may seem ineffective to many people.
Thick product consistency.
Products with natural ingredients are not sure to provide the benefits they claim.
The fragrance is a common denominator in several of the negative reviews.
Customer Feedback | Bambu Earth Reviews
This first buyer has had a great experience in the course of the year of obtaining Bambu Earth products and writes, "This product has been in my possession for over a year. Instead of the harsh formulations I had been using, I wanted to switch to more natural skincare products. My skin feels wonderful after using the washing oil. My skin looks radiant and feels smooth. I believe I am now taking care of my skin. The petitgrain moisturizer is another else I use, and my skin loves it! I like these products and am so glad I dared to experiment with something new for my skin!"
Another satisfied buyer who uses Bambu Earth with their entire family shares their gratitude, "This wonderful moisturizer has recently captured our hearts! After utilizing this lotion in March of last year, my husband and I have both received remarks on how smooth our skin is. It's our favorite time, both in the morning and at night! We adore the peaceful and earthy aroma! I am very smitten with this moisturizer! Also, I eagerly anticipate my Friday emails and information on skin education. Many thanks, Bambu Earth."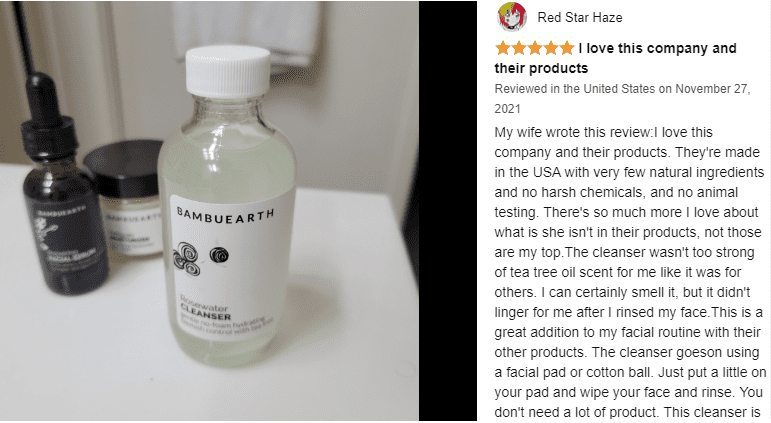 One happy customer has included multiple Bambu Earth products in their regimen and has had a great experience, "Although I've tried a number of Bambu products, the Intense Hydration Cactus Concentrate is my go-to pick and a need. I tried several moisturizers that weren't effective because I live in the desert, but this one keeps my skin the happiest. That was the only product I discovered that seemed to assist with my skin irritation caused by allergies."
This unhappy buyer finds the fragrance in Bambu Earth products quite off-putting and mentions, "First off, this stuff smells really terrible. To me, it smells like decaying leaves and unkempt grass. Second, the cleaning results are, at best, marginal. My makeup must be removed with intense pressure and rubbing. The amount of makeup lingering on my skin is always revealed after using the rose water cleanser and cleansing pad. I won't make another buy."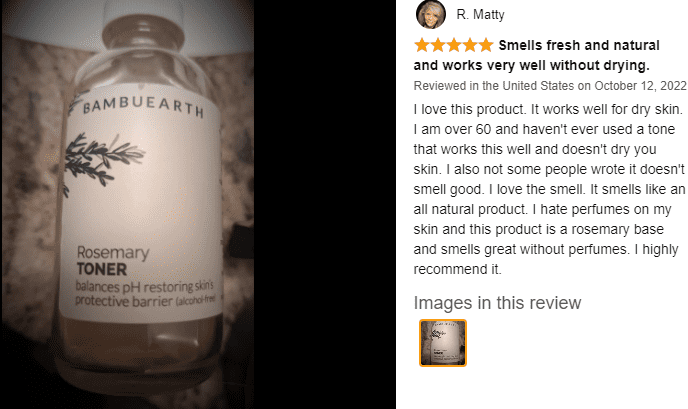 Another dissatisfied customer mentions the thick consistency and smell that made their experience suboptimal, "It's awful! It smells like tobacco, which is a shame because I really wanted to like it! My children claim that I stink as a result of it, and once applied, it feels like an oil. I had the impression that my face was covered in grit due to the grit in the moisturizer. It made it difficult for my makeup to adhere. The grit did not dissolve into the skin as I had anticipated."
FAQs | Bambu Earth Reviews
Where to buy Bambu Earth?
Following the skin assessment, you may continue buying on Bambu Earth's official product website. Several of their items may also be purchased on Amazon.
Is Bambu Earth vegan?
With the exception of our Anything Balm, which contains beeswax, all of the Bambu Earth products are vegan.
Is Bambu Earth cruelty-free?
Absolutely no animals were harmed in the making of any Bambu Earth goods.
Are Bambu Earth products available for trial?
Although Bambu Earth doesn't provide free samples, customers may buy Minis there. Each Mini comes with a step-by-step Skincare Guide and offers daily skin care for two weeks so you can test out their products.
Closure | Bambu Earth Reviews
Due to the all-natural, eco-friendly, and cruelty-free components used in their skincare products, which are also packaged with green materials, Bambu Earth has experienced tremendous growth in popularity. A devoted client base that values the brand's efforts to promote conscious consumption has been attracted due to its dedication to ethical business practices. Yet, it's also crucial to realize that cosmetics are chemical mixtures, whereas all-natural products could be a charade and not do anything for your skin. Using the right products is necessary to keep our skin glowing and healthy. Thus, opting for natural skincare products can be beneficial.
On the official product website, the ratio of good to negative reviews is considerably different, and Amazon presents a different picture of the product. So, it is up to our informed customers to make thoughtful choices. To acquire a whole picture of the product, it's critical to read both favorable and negative evaluations. Making an informed buying selection may also be aided by doing more research and comparing costs offered by other stores. Have a pleasant day, and thanks for stopping by.
I'm Sarah Abraham, the founder and co-author of Blushastic.com and a professional makeup artist. Beauty is more than just skin deep, and that's why I'm passionate about sharing my knowledge and experience to help people feel confident and beautiful on the inside and out.
Whether it's skincare, haircare, or fashion, my goal is to empower women to feel their best. With my expertise in the beauty industry, I strive to provide practical advice and tips that are accessible to everyone, regardless of their skill level or budget.