Most of us are miserable with the wrinkles, fine lines, and other reminders of aging we spend our days with daily. And we are still not ready to commit to the painful needles that come with Botox. So, is there no hope for these people who desire beauty and youthfulness in a non-evasive way? Clam down, for your prayers, have just been answered!
The faceoff of Frownies VS Sio is making users ask all the right questions they need to know before stepping into the anti-aging process. These brands are famous for their user-friendly patches that you can depend on to keep those ugly frown lines boxed away. But is it all that simple? Or is there a downside that you don't know yet?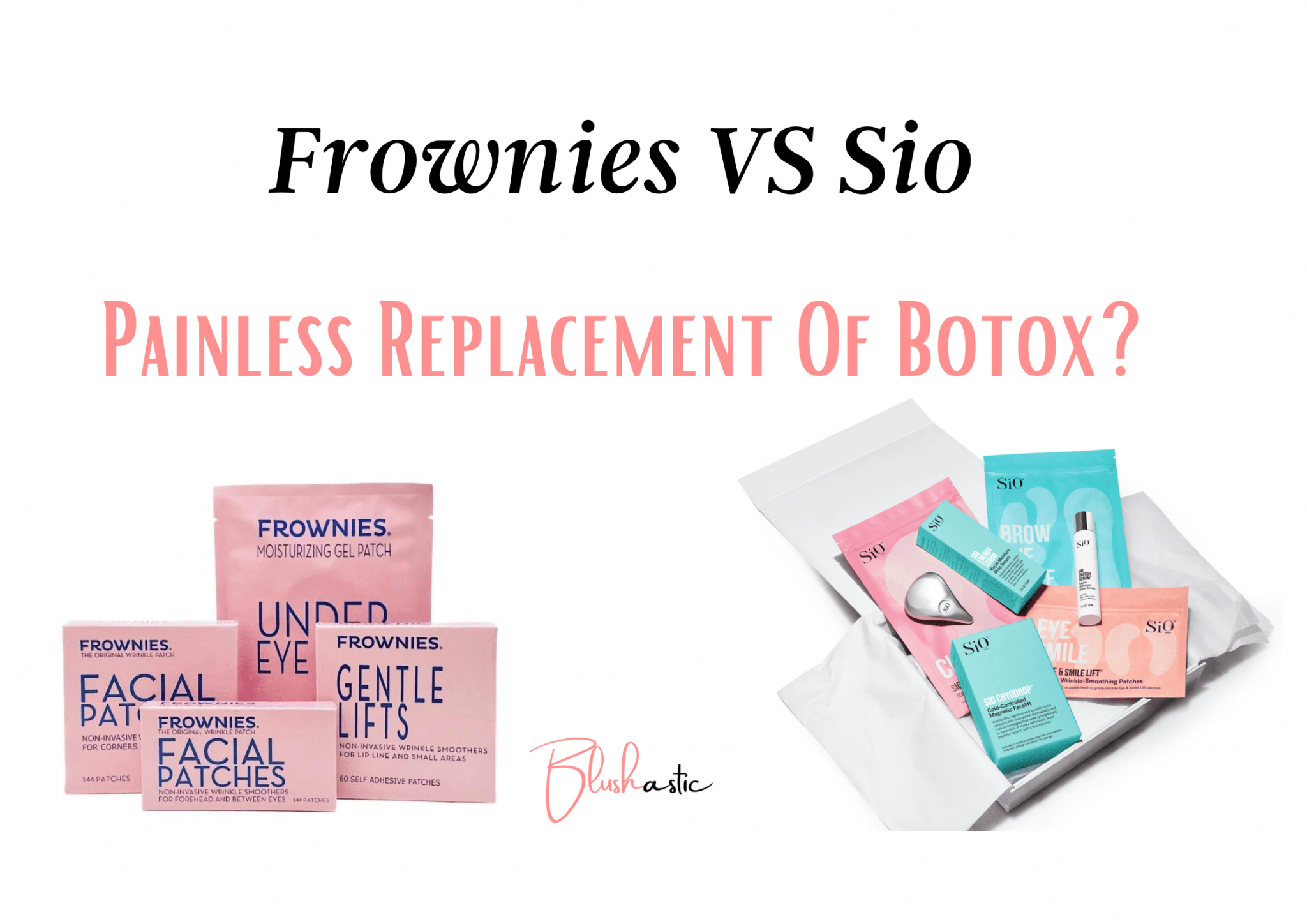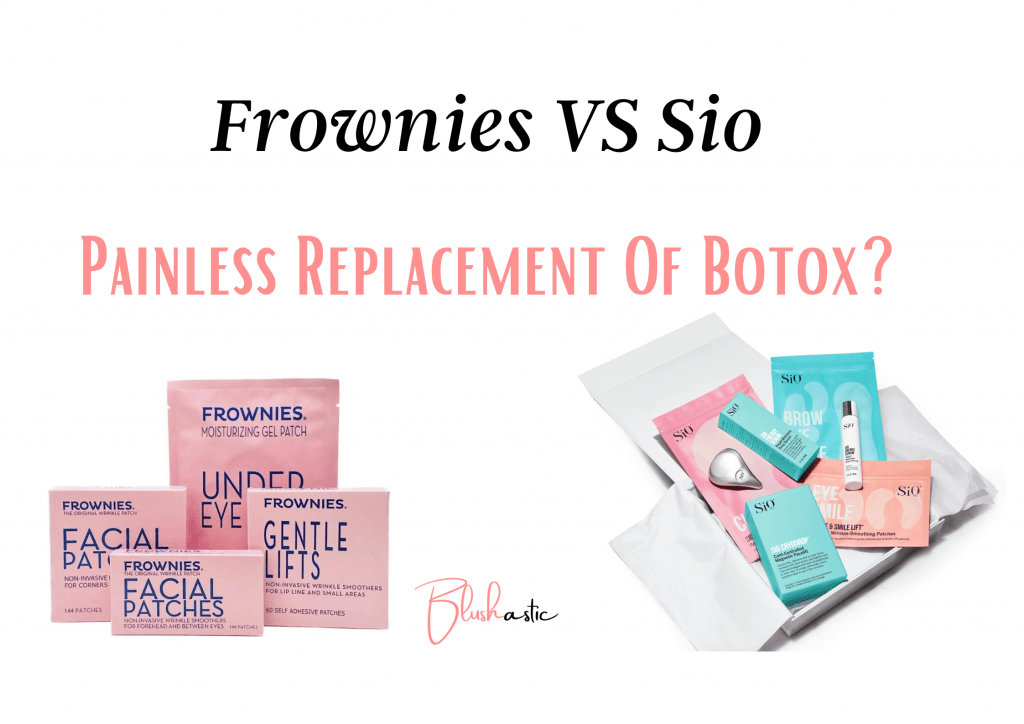 We have gathered everything there is to know about these two brands that are all the rage now. Before you make a choice, soak in all the information about them. Let us take a good look at all the crucial heads!
Frownies VS Sio | Painless Replacement Of Botox?
Product range & Purpose
The internet is buzzing every time about hacks to reverse your aging signs, and it's time we pay attention to the right things now. According to many positively overwhelming user reviews, Frownies Facial patches claim to bring back your skin's youthfulness by diminishing fine lines from different body parts like the forehead, corner of your eyes and mouth, chin and neck, and undereye.
Also, the brand claims o enliven your lips by giving them a plumping action that looks lifted. This helps accentuate the overall look of your face and enables you to fight aging signs, even while you are aging! Users are also entitled to many skincare basics like facial spray, serums, face wash, moisturizers, eye cream, body lotion, neck cream, toning cream, clay masks, and body wash. You can seek refuge at Frownies to claim your skin's most charm.
Sadly, aging is inevitable. But that's no reason for your beauty to get lost! And Sio Beauty is another anti-aging brand in the competition that helps put things back as they were. The band aims to pamper your face and body with patches and topicals. These help form actions that beautify your chest, brow, neck, super eye, eyelift, eye, smile, plunging neckline pack, hand lift, and lip lift. It also offers combos that are put together, especially for you. From what we read online, users can't keep about the fact that these products enhanced their decolletage, added firmness, and refilled all other missing essential nutrients.
Ingredients
We all depend upon skincare divas, making the ingredient business crucial. You pick the wrong thing, and you could ruin your skin. When you choose the right thing, you might see tremendous changes. Thankfully, Frownies understands that and features organic essential oils, aloe vera, peptide blend, and aspen bark extract. This powerful blend of botanicals reduces the intensity of your scars and spots and removes deep-set wrinkles from the base.
Thanks to the contribution of Hemp seed oil, oat oil, sea buckthorn oil, olive squalane, macadamia seed oil, avocado oil, and grape seed oil, the formula pumps up cell regeneration and promotes cell turnover to slough off the dead cells and allows to make space for the new ones. The Forehead & Between Eyes Wrinkle Patches are prepared with natural weighted unbleached Kraft paper and water-activated Starch-based adhesive.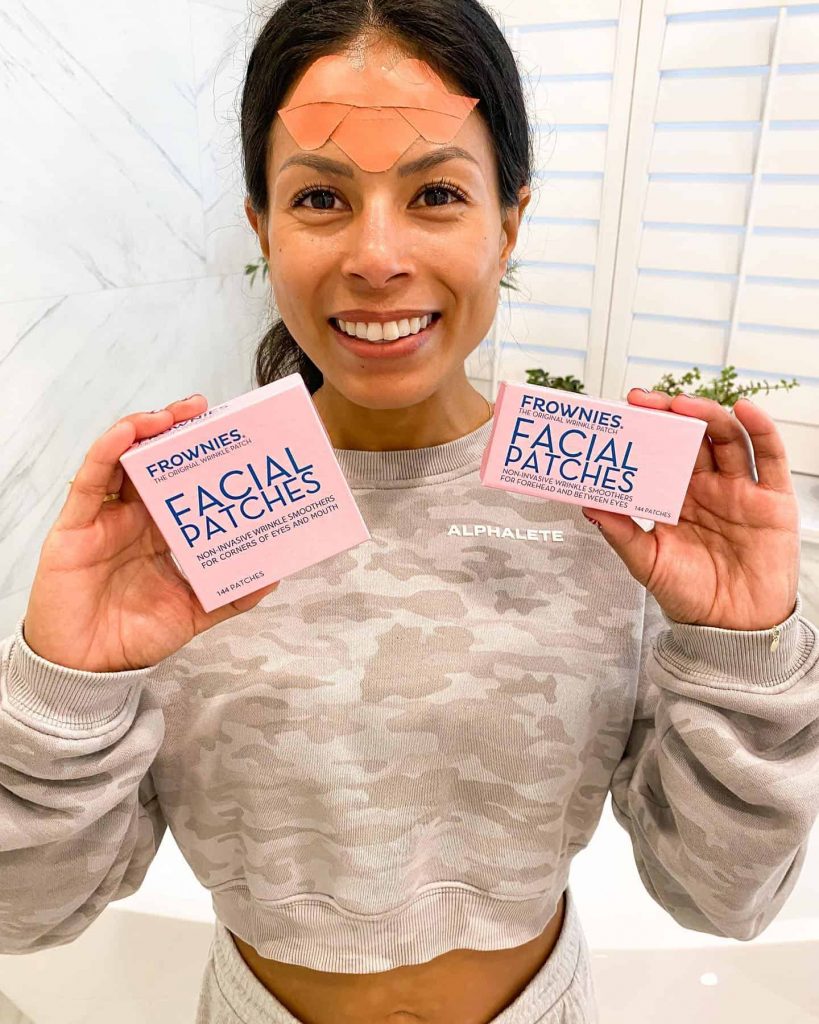 Keep your skin happy with Sio's ultra-lightweight patches designed with 100% medical-grade silicone and oxygen. This combination supercharges the patches and gives your wrinkles a goodbye! These patches infuse hydration required by your skin and offer multifold benefits like introducing a plumping effect, smoother texture, reducing scars, and promoting a younger-looking feel. Our skin goes through a lot daily, so these patches compensate for the water loss.
Effectvenss & Results
Frownies
The brand recommends using its Frownies Facial Patches every consecutive night for 30 nights to receive lasting results. That is because these non-invasive wrinkle smoothers help keep the muscles in a flat position to smoothen them. Doing this for three to four weeks straight enables you to maintain an excellent facial posture and sculpts your skin with firmness.
There are both immediate and long-term benefits to wearing these patches. When you remove a patch from your skin after keeping it overnight, you can notice your wrinkle of a fine line smoother than earlier. However, this might return as the day gradually advances. Above that, the brand uses consumption of ingredients that help t stimulate cell regeneration and brighten your complexion.
Sio
If you want a quick refreshing beauty boost to your skin, place the SiO patches on it and leave them undisturbed for 6–8 hours. Their medical-grade silicone actively draws moisture up to the skin's surface. This leads to plumping up your skin and temporarily reduces the appearance of wrinkles. When you apply the patches, you will experience a tightening effect which means they work.
The patches are reusable and claim to be reused up to 15 times. They will remain in perfect condition as long as you keep them dry. The results will last somewhat, ranging between one to four months. These patches strain your muscles and physically prevent you from making repetitive motions, leading to wrinkles, squinting, furrowing, and frowning.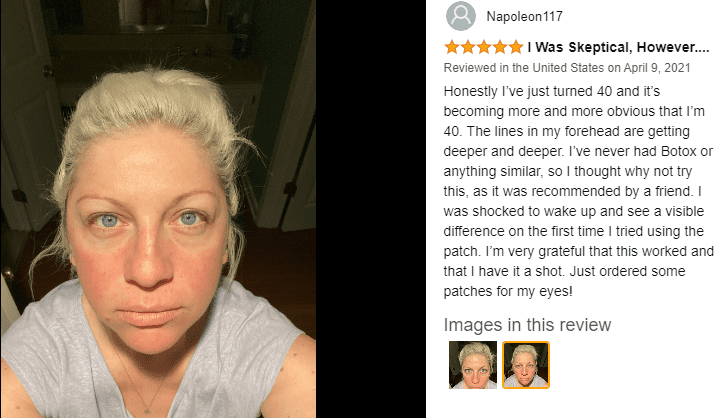 Convenience
If you are worried that your ant uses something charming on your face to look younger, just because you dont come in that age limit, you will be relieved here! Frownies claims that people of any age group can use these patches to enhance their skin's youthfulness. These anti-aging patches do not put restrictions on anyone. The brand even advises that the sooner or younger you start taking care of your skin, the better it will be!
Sio Beauty patches claim to be at your service with their claim to be reusable up to 10X times. If you want to drive the maximum benefits from a single patch, make sure that you apply them on your skin when it is dry and without any skin products or anything else. There should be no single water droplets left behind. After you have worn the patches, gently remove them. Keep your hands loose, and do not apply too much pressure to remove them. When you are done, rinse off with warm water, as it will take away any left-behind adhesive residue from your skin. Put the patches on the plastic storage shield (adhesive side down).
Safety & Side effects
Safety comes first before anything else. It does not matter how good or how popular a product is. It always comes down to whether your skin is in safe hands when you use it. We did some digging for you, and it has come to light that, Frownies works specifically on non-irritating and hypoallergenic ingredients, so your skin does not get agitated.
There are no nasty elements like latex or silicone, which may stuff your skin and make it feel unbreathable. Everything the brand designs is safe and can be used on all skin types, including sensitive skin. However, there is just one downside. The adhesive might feel very strong to pull off at times and has a weird smell attached to it, making sure uncomfortable.
The brand proudly claims that all its products are approved by dermatologists and have been tested for allergies that users might be prone to. Sio patches are designed with medical-grade silicone, which many doctors and surgeons trust and have been using for over 30 years. The adhesive used in the patches to stick to your skin has received approval from the FDA to be used as a component of medical devices.
However, if you are allergic to silicone or your skin starts to feel irritated after coming in contact with sticky adhesives like BandAids, do a patch test before using the patches. You could also refer to a professional doctor for advice. The patches are reliable; even pregnant ladies or breastfeeding women can use this product.
Pricing
It hurts when good things everyone is getting for themselves can't make their way to your beauty basket because you are broke! But your skin doesn't deserve this. That's why Frowneis makes its anti-aging services available at a lower price. The brand's best-selling option, Forehead & Between Eyes Wrinkle Patches, provides 144 patches at a much more affordable rate. At the same time, Sio is way more expensive and might hurt your bank balance.
This is because, at Sio, the brand is concerned about rejuvenating little and delicate parts of your skin, which you often ignore care for. Because the brand depends highly on medical-grade silicone, preparing silicone requires an enormous supply of energy which explains the high cost of the brand. On a general basis, Frownies caters to the budgets of most people. So, if you want your skin to experience a younger-looking version of itself, Frownies will help you seal this deal!
Evaluation Of Pros and Cons | Frownies VS Sio
Frownies Pros
Weightless formula and breathable
Possesses a lot of positive reviews online
Introduces a plumping effect on the skin
Adds firmness to the dermal layers
This primarily targets fine lines, crowfeet, and forehead lines
It tightens loose skin and helps lift the face
Corrects expression lines as well
Suitable for all skin types, including sensitive skin
Promotes supply of collagen and elastin
Breathable formula and does not suffocate skin muscles while sleeping
It prevents disturbance on the surface and keeps your canvas relaxed
It does not have latex or silicone
Heals skin by soothing the sun damage
Improves skin repair with the help of antioxidants
The patches are customizable
Protects against environmental aggressors
Boosts radiance and youthfulness
Prevents repeated facial movements that cause folds and creases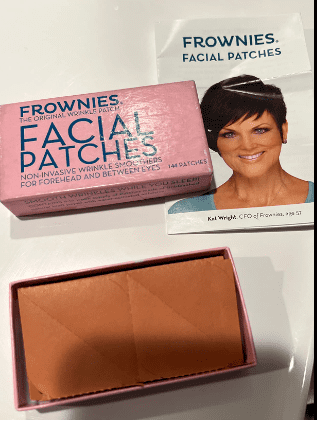 Cons
The patches may feel very tight and impossible to remove without lubrication. Users must be extra careful while pulling them off as the patches are very stiff, and sudden movements can harm the skin.
It may show improvements for some.
The adhesive has a strong and foul odor which might make users uncomfortable using the patches.
It might leave edge marks.
Sio Pros
Feels comfortable on the skin
Non-evasive formula
Locks essential moisture inside
Relaxes tension on neck, forehead, eyes, smile lines, and wrinkles
Infuses radiance and suppleness from within
Compliments all kinds of skin types
Reusable upto 15 times
Uses skin-friendly 100% medical grade silicone
Turns skin smoother by eliminating texture
It diminishes the intensity of fine lines and wrinkles and prevents future wrinkles from showing up.
Features a cruelty-free composition
Delivers a lifting action to the skin
Perfect for all wrinkle-prone areas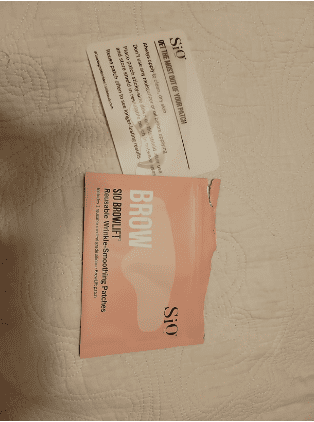 Cons
The patches are expensive.
They may not stick to the skin like before after being reused several times.
Customer Feedback | Frownies VS Sio
Sasha commented on Sio, "I have used both Frownies and Sio in my thirties, and I have to say that I love Sio patches more. My skin does not have that many deep-set wrinkles and fine lines, so it works even better for me. I love that I can reuse them so many times, and every time it helps diminish more and more flaws from my face. I have been using these for one year and have some pretty noticeable skin changes. My face looks more defined and younger now. When I recommended them to my sister, she was too happy to use them after seeing my results."
Ronnie mentioned about Frownies, "I am very disappointed because I have a lot of expectations from this, but I just couldn't bear to put it on my skin. The smell pierces the senses, and there was no chance I would endure that."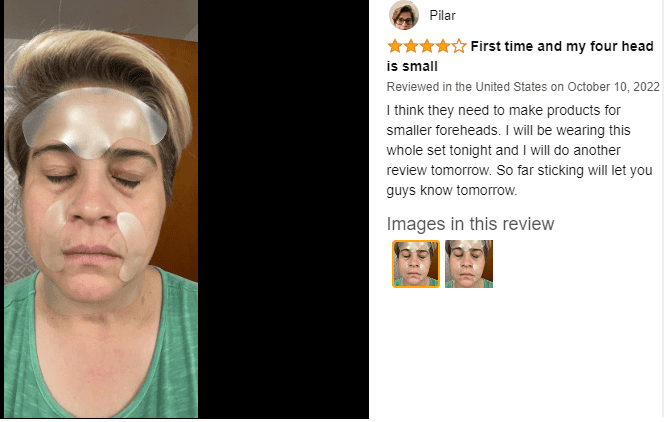 Nicky S. pinned on Sio, "After fishing through the internet for two days straight, I decided to buy these patches. I love how they are so precise and cover all parts of your skin. My only complaint is that they are too pricey, so I cannot purchase them often. I would prefer going for cheaper alternatives in the long run."
Meredith said on Frownies, "Not a big fan of facial patches as they make me feel uncomfortable, but this one has exceeded all my expectations. First, what stood out most was that they are incredibly lightweight and dont even pull your skin down. On top of that, I have sensitive skin, so my options have always been limited throughout my life. But this changed my skin for the better. My skin feels very soothing when I apply them, and there is no irritation. Yes, you have to be extra cautious while taking them off, but it did not leave behind any irritation for me. Go for it, guys!"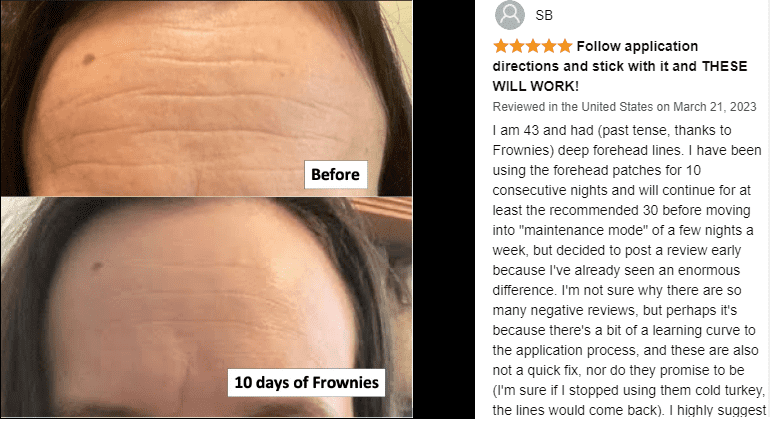 FAQs | Frownies VS Sio
What is the difference between Frownies and sio patches?
A significant difference between Frownies and Sio is the former takes the help of organic and botanical ingredients. It features 7 organic essential oils, aloe vera, a peptide blend, and aspen bark extract. In contrast, Sio depends upon 100% medical grade, specially prepared silicone. Also, Frownies Facial patches work on releasing the tension of the muscles and not on the skin's surface.
What celebrities use Frownies?
If there's anything the Kardashians are known for apart from their never-ending wealth, it is their beauty routine. The Kardashians, especially Kim, Kourtney, and Khloe, are fond of Frownies facial patches and claim to have tried it all. They feel happy about the fact that the brand offers something for everybody. Kris Jenner revealed that her husband, Bruce Jenner, also enjoys these patches for revitalizing his skin.
Do Frownies give permanent results?
Frownies facial patches will not permanently eliminate all the aging signs on your skin. These may be dynamic wrinkles, expression lines, or fine lines. However, reports shared by real-time users have expressed that they received long-term benefits after using these patches on their skin. As the sole purpose of the patches is to prevent your facial muscle movements, which lead to creases, wearing the patches daily can help release stress and train the muscles.
How long does it take for SiO patches to work?
It might take a person up to four weeks to start seeing some noticeable improvements. This may vary from individual to individual because everyone's skin is different. You will be able to get the skin of your dreams only if you make it a point to wear the patches at least three to four nights every week. This will help you achieve younger-looking skin and keep its appearance healthy. To derive the maximum benefits, users must be consistent with their usage.
How long do the results of Frownies last?
Although Frowies have managed to attract a lot of fame and popularity for their patches that offer your skin seamless results, it is essential to acknowledge that their results are short-lived and will wear off after some time. They are meant to smoothen your aging signs by temporarily preventing muscle movement. If you have an important event ahead of you and wish to look fresh and pampered, you must wear the patches for at least three hours before getting those results.
Closure
Slapping on good skincare has never been enough, so you must fall back on wrinkle patches to eliminate aging signs from head to toe! After having walked through the entire edit of Frownies VS Sio, it is evident that both brands are at par with each other on several notes. However, only one must be crowned as the winner. So if you are troubled by that choice, we will help you! If you are looking for a way that will not cost you all your savings, then Frownies is an ideal and cost-effective choice you can count upon.
On the other hand, if you want this beautifying routine to be effortless, without discomfort, then Sio Beauty patches are worth your time and money! They use 100% medical grade silicone and have been tested for all allergies so that you won't face any difficulty. Frownies, on the other hand, might cause you to pull your skin a bit too much while removing their patches. Ultimately, it falls up to you and what your skin needs at any given time. So, choose by considering all things. Because once you pick your hero product, there's no turning back!
Marilyn's deep interest in fashion, beauty, and lifestyle has led her to pursue a fulfilling career as a freelance writer and blogger. With her bachelor's degree in fashion design from the Fashion Institute of Technology, she has developed a keen eye for style and trends, making her well-equipped to offer valuable insights into the latest fashion and beauty trends.