Lipsticks enhance the look of your face. We love all kinds of lipsticks on occasion. There are various lipsticks in the market, some that we don't know about. Wonderskin Lip stains are trending on Tiktok, and currently, everyone is obsessed with them. They are not very new to the market, but they have been trending on Tiktok for some time now. However, there is a specific company that has been successful in making and selling this lip stain. It has been widely hyped, and everyone online is talking about it.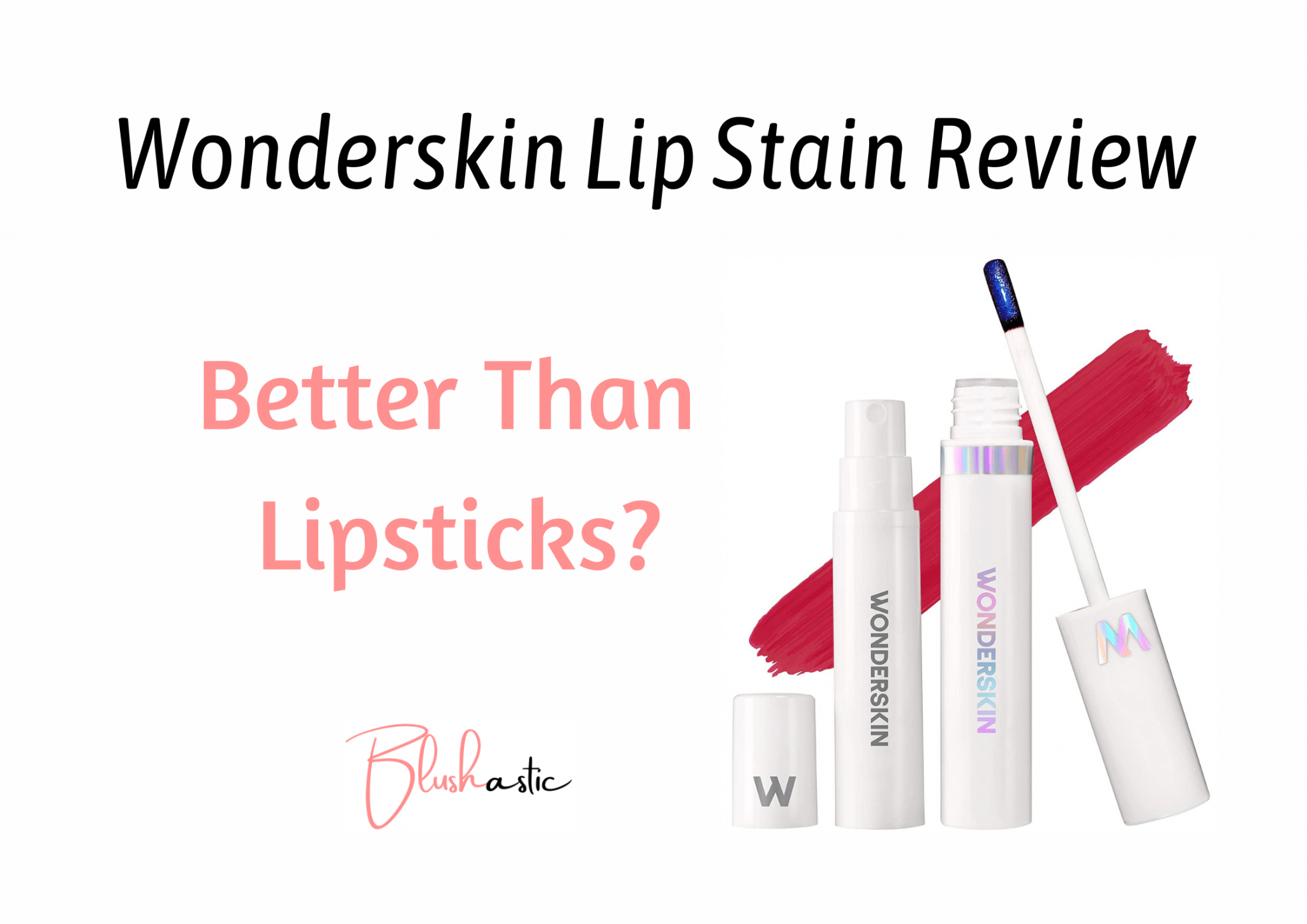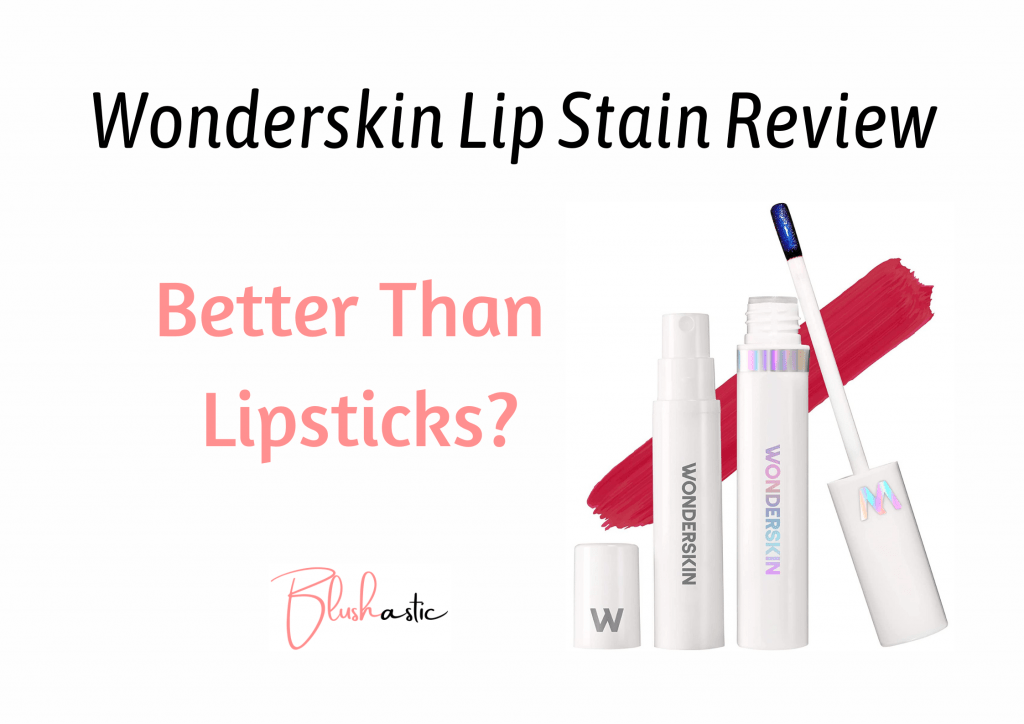 Wonderskin Lip Stain reviews will help us understand the product better. The internet is going crazy over lip stains and their process of application. There are millions of views for this lip stain, and girls love the lip stain. But let's get into it and know the reason behind the hype. 
Wonderskin Lip Stain Reviews | Which lip stain is best? 
Whenever any product goes viral on Tiktok, we need to understand the cause of the hype. Is the product worth causing this hype? Are lipsticks boring now? People are switching to lip stains because they are a fun way to apply and have a long-lasting color. It does not come like lipstick, but it comes in a kit. There is a process of using it, making it even more fun. A lip stain can be considered a tint, but this is a long-lasting tint with a distinct application process. People with lip darkening issues can use different colors of this lip stain to overshadow the darkening.  
Wonderskin Wonder Blading Peel and Reveal Lip Stain Kit, Transfer Proof, Natural, Long Lasting, Waterproof, Pink (Beautiful)
𝗟𝗢𝗡𝗚-𝗟𝗔𝗦𝗧𝗜𝗡𝗚 𝗟𝗜𝗣 𝗦𝗧𝗔𝗜𝗡 - Experience the ultimate long-lasting lip color with Wonder Blading Peel and Reveal Lip Stains. Our innovative formula ensures that our natural lip stain, liquid lip stain, and lip tint peel off, are smudge-proof, transfer-proof, water-resistant, and mask-proof, making them the perfect choice for all your day and nighttime plans. Say goodbye to constant touch-ups and hello to beautiful, long-lasting lip makeup that stays put throughout the day.
𝗣𝗔𝗧𝗘𝗡𝗧𝗘𝗗 𝗪𝗢𝗡𝗗𝗘𝗥 𝗕𝗟𝗔𝗗𝗜𝗡𝗚 𝗧𝗘𝗖𝗛𝗡𝗢𝗟𝗢𝗚𝗬 - Our viral lip stain is one of our most innovative products yet. Using our patent-pending Liquid Blading technology, our natural lip stain infuses colorants and pigments into the top layer of your lips, then seals them in to prevent feathering, fading, or budging for hours on end.
𝗧𝗛𝗘 𝗨𝗟𝗧𝗜𝗠𝗔𝗧𝗘 𝗣𝗘𝗘𝗟 𝗔𝗡𝗗 𝗥𝗘𝗩𝗘𝗔𝗟 𝗘𝗫𝗣𝗘𝗥𝗜𝗘𝗡𝗖𝗘 - Ready for the ultimate peel and reveal experience? After applying our lip stain, follow up with our patented Peel & Reveal technique to reveal a gorgeous, long-lasting waterproof lip stain. Our formula is perfect for anyone looking for a nude lip stain, natural lip stain, or bold lip tint.
𝗖𝗢𝗠𝗣𝗔𝗥𝗜𝗡𝗚 𝗦𝗧𝗔𝗜𝗡 & 𝗚𝗢 VS 𝗣𝗘𝗘𝗟 & 𝗥𝗘𝗩𝗘𝗔𝗟 Kit :Stain & Go is the 1-step, quick and easy, way to get long wear lip color that is transfer-free, feather proof and water resistant that will last for hours. Peel & Reveal is a 2-step process which uses our Activator to deliver hyper-staining for enhanced lip color and advanced 10-hour wear which is transfer proof, water proof and budge proof.
𝗣𝗘𝗥𝗙𝗘𝗖𝗧 𝗦𝗛𝗔𝗗𝗘𝗦 𝗙𝗢𝗥 𝗘𝗩𝗘𝗥𝗬𝗢𝗡𝗘 - Our lip stain collection features the perfect shade for everyone, no matter the occasion. From classic reds to natural nudes and soft fresh tints, our lip tints are the perfect addition to your makeup bag. Choose from our range of long-lasting lip stains that are designed to complement all skin tones.
There are different colors in the lip stain, and you can choose the darkness in shade or amount of pigmentation on your skin. The lip stain has a unique ability to win people's hearts and has made its mark if we look at the majority of views on Tiktok. We need to know more about lip stain and why it is creating a big hype. 
Wonderskin Lip Stain Ingredients 
The ingredients here are not very different from what we have seen. There are essential ingredients, and here's what you need to know about them. 
Purified Seaweed: Seaweed can be extremely hydration for your lips and does not let dry them. It also has a unique plumping quality that can be beneficial for making your skin look plump and juicy. Seaweed also has anti-aging, detoxifying, and protective benefits for your lips. 

Squalane: Squalane can be effective in hydrating and avoiding chapped lips. It can moisturize your lips and keep your lips plump. You can consider it to be hydrating and anti-aging on your lips. It keeps your lips plump without making them look dry through a long day. 
Wonderskin Lip Stain Kit 
The lip stain does not come individually, but it comes in a kit. There are three parts to the kit. 
Lip Masque Color: This is the magic maker. The color of the lip mask is blue. Color does not change with the shades but remains the same. The lip masque has to be applied first. You can consider this as lipstick and apply it all over your lips. It has a thick texture but glides on your skin. Apply the masque and keep it on for 30-45 seconds. After applying the blue lip masque, the color might be terrifying, but there is nothing to be worried about; it is about to get better.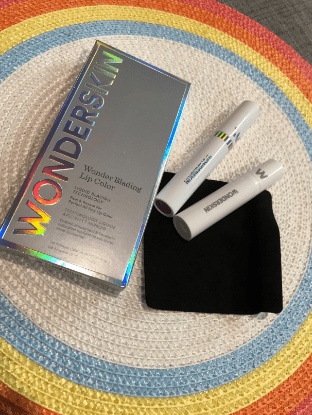 Lip Activator: After leaving the lip mask on for 30-45 seconds, you must apply it. The time you keep the lip mask on can darken the shade on your lips. You can keep the mask for a long time for a darker color. Spray the activator on your lips. The spray has a simple task, it reacts with the mask on your lips and forms a film on your lips. The blue color then wears off, and the lip stain's original color comes naturally. 
Swiper Towel: The swiper towel is used for cleaning the blue mask. You can peel the blue mask from your lips, revealing the lip stain's original color. The swiper towel can clean the remaining bits of the blue mosque. 
The process may be a lengthy one, but everyone. 
Benefits 
The lip stain has fantastic reviews, and Tiktok loves it too. Let's find out about the product's benefits and what is so special.
The application process of the lip stain is straightforward. According to reviews, this is not a one-step process but fun. 

The range of lip stains has three different colors. 

The packaging of the lipstick is minimal, and it is not very significant. However, the packaging looks pretty decent and to the point. 

What can shock you is the color of the lip stain. The lip stain is blue. It may look unusual, but it feels normal once you understand the application process. 
It has a very long staying power, and the lip stain stays for an entire day. 

The lip stain is easy to use and apply. 

It takes minutes to apply the lip stain and does not take much time. 

The product does not dry out your lips and keeps them hydrated for a long time. 

According to most of the reviews, the lip stain does not budge and does not bleed because of drinking or eating. 

It comes in a white bottle, and the packaging is very sophisticated. 

Shades in the lip stain range are very subtle, though they have recently added a darker red shade for women wanting a darker shade. 

All the shades look vibrant and very decent. 
Drawbacks 
There are minimal options in the shade range. The three shades are not enough, and the users need more shades. 

Some reviews say that the application process seemed very tough for them. It is not user-friendly for them and takes some practice. 

Getting the right amount of spray on your lips matters a lot. If you get more spray on your lips, then the color of the lipstick will bleed. 

The process can get messy, and you can get it on your fingernails if you don't get it right. 

According to some reviews, they did not like the color, or the color did not match what they were looking for. 

The long-lasting power did not work for some women; their lip stains started bleeding throughout the day. 

Contradictory to the ingredients, some women reported that the lip stain dries their lips and does not keep them hydrated or plump. 
Wonderskin Lip Stain Reviews | Before and After Results 
Lily says, "I am a traditional lipstick person and do not try anything else. I love lipsticks, and the ease of applying lipsticks never allowed me to try anything else. I came across the Wonderskin Lip Stain on Tiktok. I was amazed at the response that it got on social media. After following it for some time, I enjoyed the unique process of application and would recommend it to anyone who wants a lip stain for everyday use."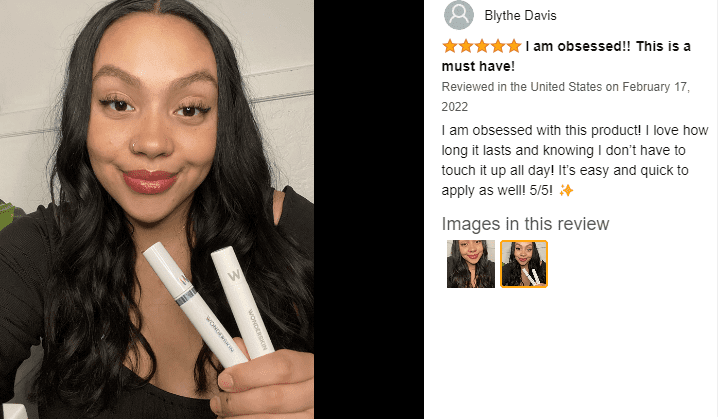 Amanda says, "I used the shade 'Lovely," and I am thrilled with it. It is a subtle mauve shade. I put the masque on my lips for about 30 seconds and then sprayed it with the applicator. It gave me a beautiful shade, and I started using it regularly. When I first started using the lip stain, I had no idea how to apply it. I started applying too much of the applicator, and my lipstick started bleeding soon. You're set if you get the knack for using the lip stain once. This is one of the best lip products I've purchased for the summer.
Ashley says, "Using a lip stain was never on my list this summer. One of my friends was applying for it, and it looked blue. She told me all about the lip stain, and I bought it out of curiosity. I started using the product every day. When I applied too much masque or applicator, the lipstick bled.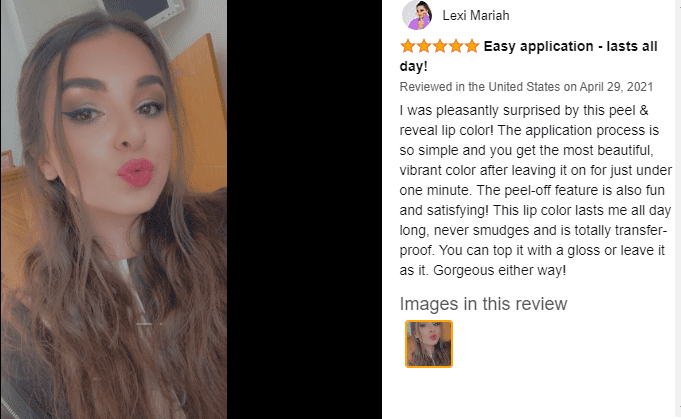 It did not feel very hydrating on my lips nor made them feel plump. After some time, it started drying out my lips. It also made my skin feel very dry, as if all the moisture was pulled from it. I would not recommend this lip stain for summers as it bled a lot for me, and I never seemed to get the formula for the application right." 
FAQs | Wonderskin Lip Stain Reviews
How does the Wonderskin Lip Stain work? 
Wonderskin Lip Stain works uniquely. This is not the normal one-step application process. It involves three parts that work together. First, you need to apply the blue-colored lipstick masque on your lips. After you've kept it for about 3-45 seconds, you need to spray on the activator.
The activator reacts with the masque, and then you can peel off the masque. If there are any blue bits of the masque on your lips, then you can remove them with the towel provided. This is how it works; after this process, you can see the actual color of the stain. You don't need to use a lip liner as the color doesn't stick to the skin. 
How long does lip stain stay on? 
Lip stains can generally stay for a long time. It can last for almost an entire day. The only case where the lip stain does not remain long is when you put too much applicator on your masque.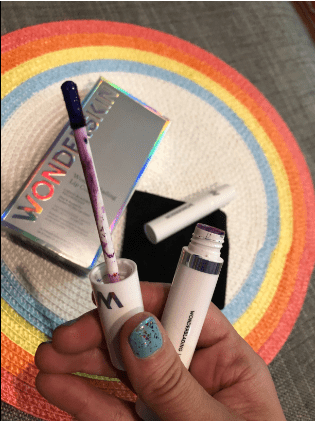 Does lip stain expire?
Yes, lip stains do expire. They generally have a shelf life of two years. If you start experiencing irritation or burning after applying the lip stain, you need to throw it off. 
Where to buy Wonderskin Lip Stain?
You can buy Wonderskin Lip Stain on their official website or from Amazon. It is available only on these two websites. 
Does lip stain come off? 
You can remove lip stains very easily. You can use your makeup removed or a damp cloth to remove the lip stain. You can take a cotton pad and take the remover on it. The lip stain melts away after doing this. 
Is lip stain terrible for your lips? 
Lip stains are not harmful to your lips and do not irritate. It does not harm your skin in any way. However, you should read the ingredients section. 
Closure 
The Wonderskin Lip Stain reviews were positive and negative. We enjoyed going through all of them. Some women thought that lip stains were a fascinating and unique concept, while some did not agree with it. It can go either way, as lip stains are a new concept, and it takes time for the market to get used to products.
Much like lipsticks, they might need some improvisation and innovation. The process seems a bit of a hassle as you do not understand how much of the product you need to use. Also, there are limited options in lip stain shades. With some improvement, it can replace lipsticks as a summer accompaniment. 
Marilyn's deep interest in fashion, beauty, and lifestyle has led her to pursue a fulfilling career as a freelance writer and blogger. With her bachelor's degree in fashion design from the Fashion Institute of Technology, she has developed a keen eye for style and trends, making her well-equipped to offer valuable insights into the latest fashion and beauty trends.