Do you often want to ensure you track down the best formulas for your skin while equally fitting your budget? We have got your back on this one! Natural ingredients can transform your skin's health, and adding them into a potent serum will do wonders you have only dreamt of until now! Serums add a little spice to your life, which only your moisturizer cannot do on its own.
So, what better way to do it than to seek the simplest thing sitting in your kitchen pantry? That's right, turmeric is the hero in this field, and according to Turmeric Dark Spot Corrector Serum, you can treat your skin the way it is supposed to be treated! But is it true? Let's find out with some genuine Turmeric Dark Spot Corrector Serum reviews.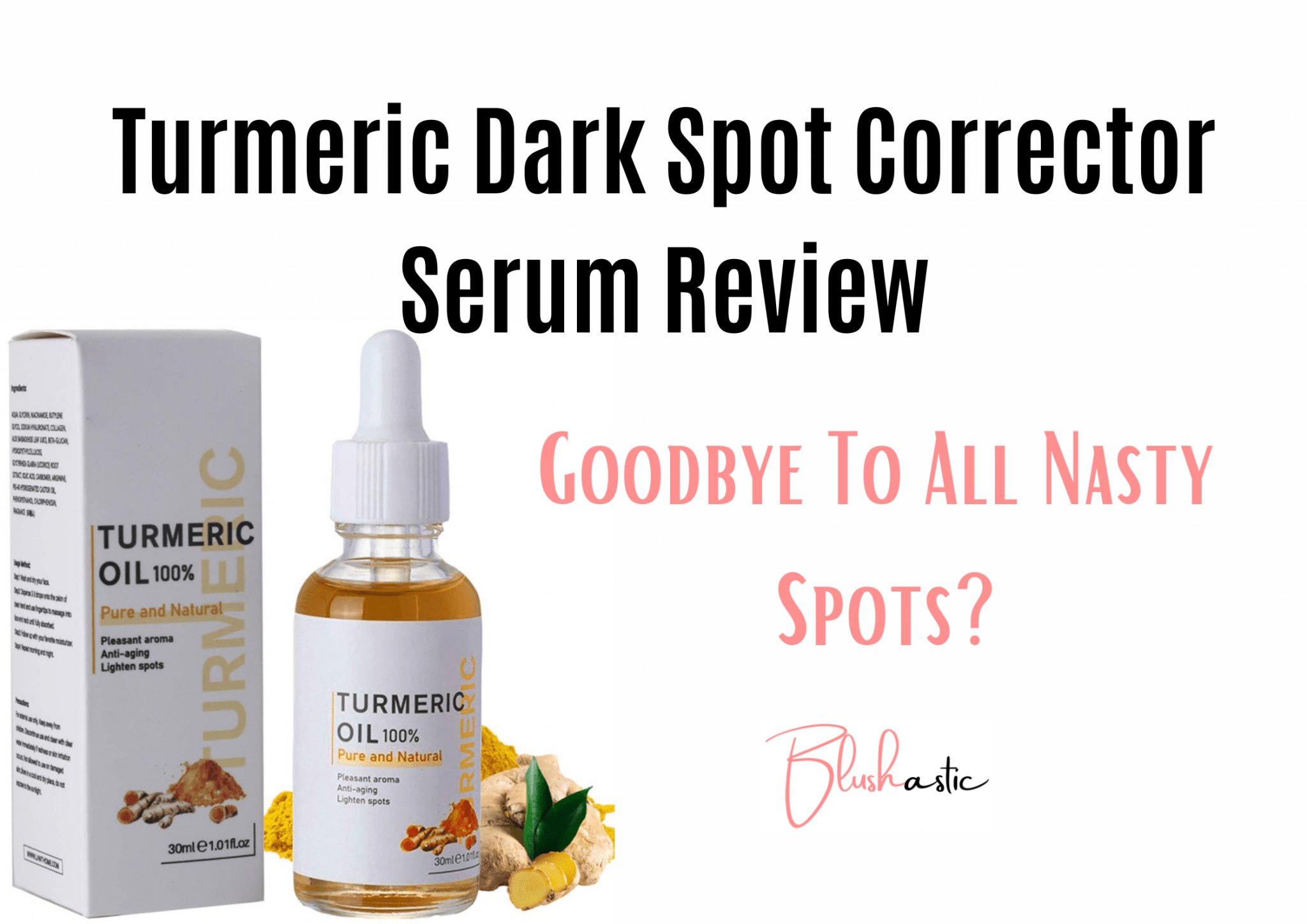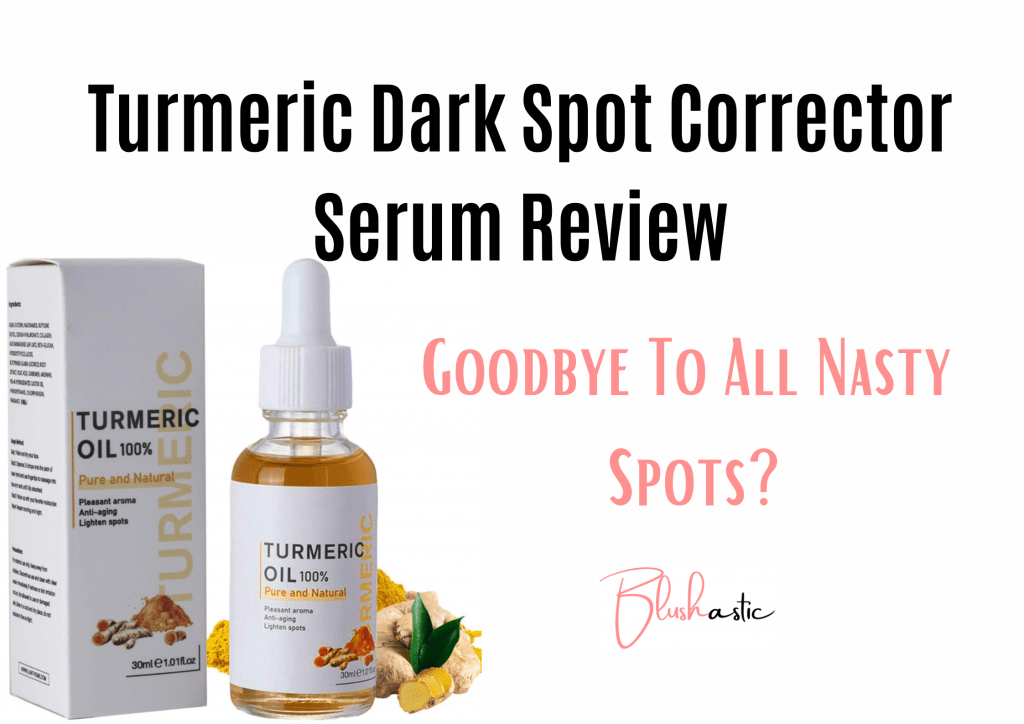 To get the skin of your dreams, you must rely on formulas that do more than just enhance your base's surface. A good serum should be able to penetrate deeper and solve things inside so that your skin can live up to its best on the outside. This turmeric serum claims to do all that for you. So, will you seal the deal with it? Or do you think you need to look elsewhere? Does this serum have what you are looking for? Let us find the answers to all your queries!
Turmeric Dark Spot Corrector Serum Reviews |
Goodbye To All Nasty Spots?
If you want your skin to go hand-in-hand with beauty, you must consider some things. Skincare is important and when it comes to glowing skin, serums play a vital role. But chemicals may not always answer your skincare woes, so you must focus on herbal and natural remedies. The Turmeric Dark Spot Corrector Serum claims it is designed especially for your skin and can be introduced to your everyday routine. It can save your day as it is organic and skin-loving without irritating your skin. But is it safe? Yes, it is! The formula claims to be non-toxic and does not include irritants like alcohol, pigments, emulsifier, preservatives, mineral oil, and heavy metals.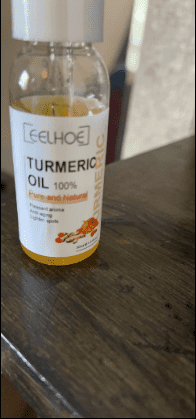 The serum works on the principle of critical ingredients like Curcuma longa extract, olive oil, and sodium polyacrylate. Other ingredients in this formula include the cooling goodness of ginger and lemon oil, which calm your skin's surface. The main aim of this serum is to neutralize the aging signs like fine lines, wrinkles, and creases and repair them from within. Apart from helping these vanish from your skin, the serum also reduces the effect of your visible dark spots, sun spots, and acne scars and replaces them with a sheet of brightness.
It is entirely safe for any skin type if you want to know whether you can benefit the most from this serum. But does that include users with sensitive skin too? Let us find that out for you!
Sale
2023 New Turmeric Dark Spot Serum Oil, Turmeric Face Serum Oil, Bright Skin Dark Spot Corrector Face Serum (colorless 2P)
【Purely Natural】Formulated with all-natural ingredients known to nourish skin like Turmeric and Lemon oil. Effective and safe to use for all skin types.
CHUKANGNAQE【How To Use】Drop an appropriate amount of serum into your palm. Apply into the desired area. Massage in circular motions until absorbed. Use daily for best results.
【Brighten Skin】Lightens and brightens uneven skin tones for fairer skin with a radiant glow.
【Suitable For All Skin Types】The turmeric facial serum is suitable for any skin, dehydrated or dry skin, dull skin, oily skin and acne prone, aging wrinkle skin.
【Wildly Use】Applicable to dark spots on the face, elbows, knees, underarms and other parts of the body.
How to apply?
Cleanse your face nicely, and pat dry.

Drop an appropriate amount of serum onto your palms.

Dont put in too much, as it won't guarantee your results faster.

Apply on all the desired areas.

Gently massage with your fingers in a circular motion. Do this until the formula is nicely absorbed onto your skin.

Follow this regimen regularly for the best results.
Perks
Promotes the youthfulness of your skin

Reduces fine lines, wrinkles

Effective wards off signs of dullness and lackluster

Fights the presence of melanin

Tackles, and remedies freckles, sun spots, age spots, and acne scars

Revives complexion with a radiant glow

Offers hydration by deep penetration

You can use it on the face, elbows, knees, underarms, and other body parts.

It gives your skin a touchably smooth effect.

No alcohol, pigments, spices, emulsifier, preservatives, mineral oil, and heavy metals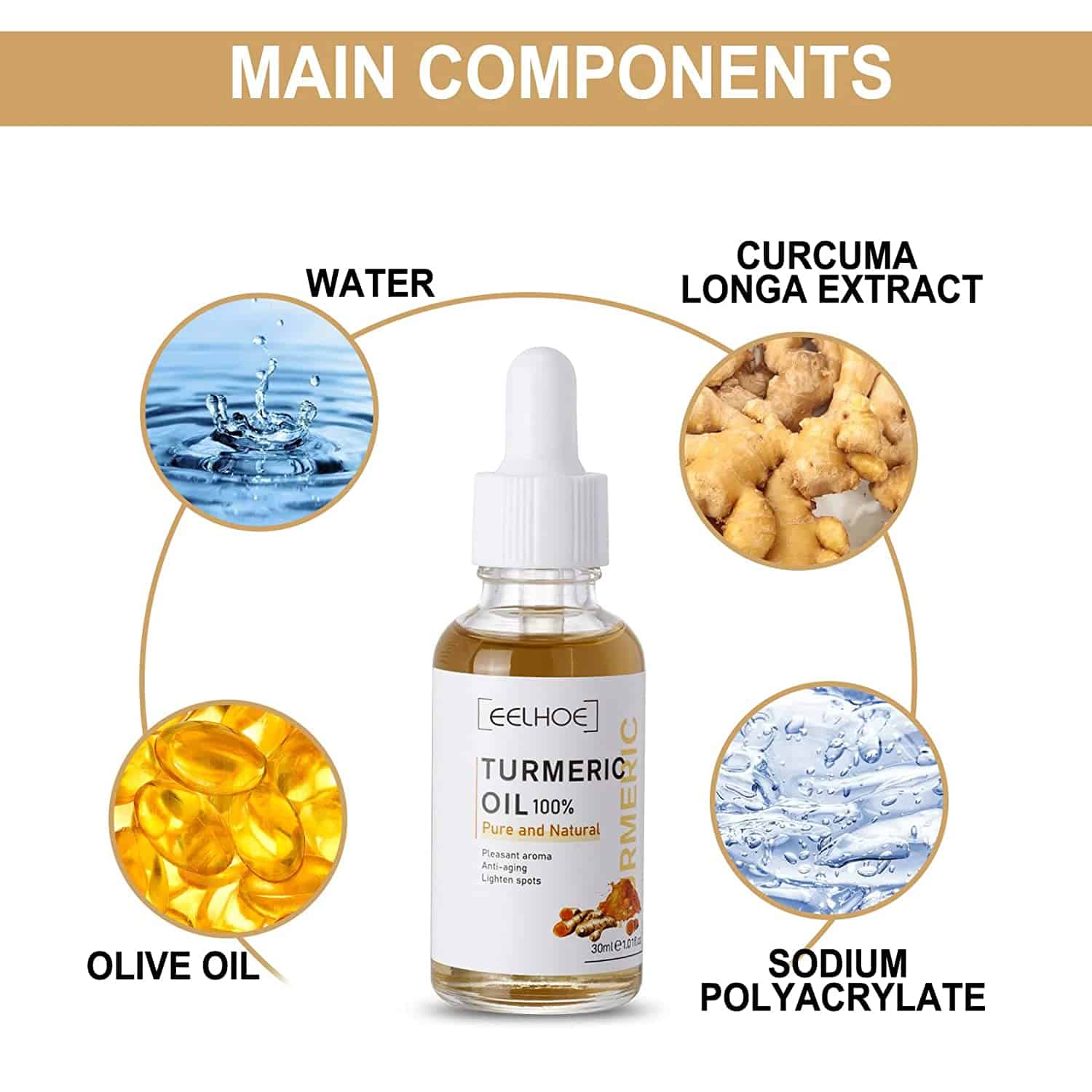 Drawbacks
It may only work for some.

The serum may aggravate your acne condition if you have sensitive or acne-prone skin, as it contains olive oil in its composition.
Key Ingredients – Turmeric Dark Spot Corrector Serum
The benefits of choosing the right ingredients in your skincare are of utmost importance and need to be understood rightly. And this serum checks all the right boxes your skin needs to replenish itself. Let us look at all the potent ingredients that the Turmeric Dark Spot Corrector Serum features.
Curcuma Longa Extract
It is difficult not to love something natural that comes directly from the earth. And on top of that, people use it in their day-to-day lives! So, it is difficult not to believe in the anti-inflammatory magic of turmeric, or Curcuma longa, which is the Scientific Name of Turmeric. This is why this skin-loving ingredient has been incorporated into this serum. It will diminish the rigid aging signs like fine lines and wrinkles and ward off dullness.
This leaves behind a radiant complexion and has been used for a hundred years for skin whitening. Turmeric also keeps the oiliness at bay, combats acne, and gives you a healthy-youthful canvas.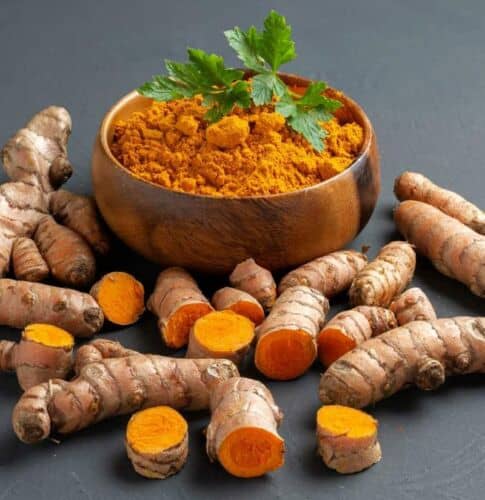 Olive Oil
This kitchen staple has exceeded the expectations of people, which is why beauty enthusiasts can't keep their hands off this potent ingredient in their skincare regimen! Olive oil is a kind of emollient with rich and healthy fats and gives your skin the goodness of antioxidants. Its moisturizing properties often cause people to wonder. It prevents water loss, shields the skin against environmental damage, prevents premature aging, and enhances the healing power of the skin, to look more rejuvenated.
Sodium Polyacrylate
Sodium Polyacrylate has been used in this serum because it is a synthetic polymer that works as an emulsion stabilizer for your skin. The main motive of this element is to prevent your face from showing signs of aging and remain youthful.
Apart from these 3 key ingredients of the serum, the formula also depends on other equally essential elements like ginger and lemon oil to accentuate your skin's health.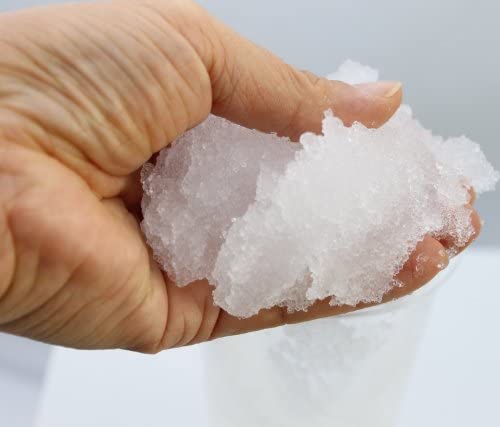 Customer Insights | New Turmeric Dark Spot Corrector Serum
No one likes to be cheated, especially when buying potent skincare products that will deliver according to their claims. But at the same time, many products are lying around to trap you. So how do you find out the best for your skin? Luckily, we did this for you! This serum has been chosen by many beauty finders, who believe it relieves their skin of its burden of blemishes, dullness, and whatnot. When we set out to see this for ourselves, we asked around a few reliable sources, and here is what they had to say about Turmeric Dark Spot Corrector Serum Reviews.
Melinda commented, "I have always been a fan of herbal and natural products that are not too loaded with chemicals, so I chose this one. The best part about this serum is that it does not feel heavy on my skin and has given me significant results quickly. My skin has always looked dull, so I needed something badly to bring back its glow. This spot corrector formula is very flexible and helped me get the skin of my dreams. To be honest, I have even stopped preparing homemade facials and concoctions, which I used earlier, as the serum keeps my skin's suppleness intact."

Cindy J. mentioned, "I have been dealing with spots of nasty acne for quite some time, so I thought to give this one a try. I should have read the ingredients list better because my skin type is extra sensitive, and this formula contains olive oil, which just worsened matters. This is not a good experience."
Kirsten said, "To know that you can bring back your younger-looking since is a notion I always fall for, and this serum has proved efficient for my skin. The formula is lightweight and quickly absorbs onto the skin. They prevent irritation, so I have had no complications in using this almost daily. What I like the most is that it has greatly reduced my fine lines, and my forehead looks crease-free."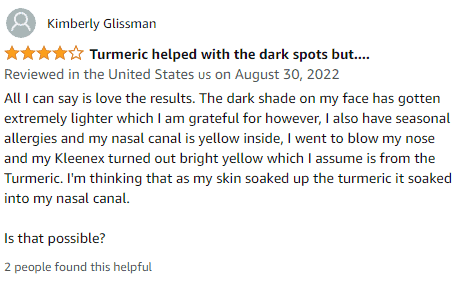 Evangeline pinned, "Felt like this serum was too average compared to its claims. I can easily find alternatives with similar ingredients that do what it promises."
Candice A. expressed, "If you want a good serum that has value for your money, you should go with this one blindly. It is not only cost-effective but also possesses a formulate that penetrates deep into your skin, to repair and revive it from within. I bought it because of its anti-aging pretties that make my skin look years less. My dark spots are still there, but their intensity has decreased since earlier."
FAQs | Turmeric Dark Spot Corrector Serum
Does Turmeric Dark Spot serum work?
There are mixed reviews about the serum, but most of them point out the good parts. The Turmeric Dark Spot Corrector Serum works hard to remove your dark spots and acne marks from their roots. This keeps wrinkles from settling and increases your skin tone with enhanced brightness.
How many days does turmeric take to remove dark spots?
Start using turmeric by incorporating it into your daily beauty regimen, and you can mix it with milk to make a paste. Remember to use your moisturizer later. Turmeric can help fade and lighten your dark spots if you follow your application consistently for two weeks. However, this still depends on different individuals. For some, it can show effective results in less than two weeks, whereas for others, it can take slightly longer.
Does turmeric brighten skin permanently?
The effects may not be permanent, but you might incorporate that ingredient turmeric in regular intervals in our skincare if you want to keep the consequences of that glow longer. It possesses skin-lightening properties and dulls dark spots.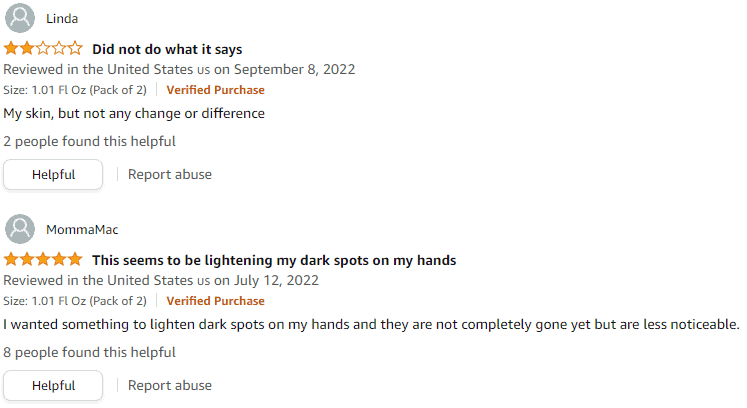 Does turmeric increase pigmentation?
Turmeric has been strongly associated with hyperpigmentation whenever skincare is concerned. Studies conducted by dermatologists and users show that if you have darker patches of skin or hyperpigmentation, these effects can be lowered by more than 14 percent over four weeks if you use turmeric paste.
Does turmeric age your skin?
No, turmeric does not speed up the aging process but reduces it. Turmeric helps stimulate collagen production in your cells, giving rise to more elasticity and keeping your skin plump. This reduces premature aging signs like fine lines, wrinkles, etc., and gives your skin a youthful and radiant appearance.
Can turmeric remove melasma?
Turmeric is known to possess an ingredient called curcumin inside it, which has powerful antioxidant properties. This helps travel to the inner corners of the skin and lighten the surface of the skin. You can use turmeric powder with milk and apply it on your face as a DIY mask to treat melasma. Wash it off with lukewarm water later.
Why does turmeric burn on the face?
Although turmeric has been accepted as the final remedy for many skincare troubles, or even digestive ones, it may not be suitable for you at all times. There is a slight risk of contact dermatitis; if you develop it, you can experience nasty symptoms like burning, itching, stinging, or soreness in your skin.
Closure
Bad habits ruin your face, but we often need to pay attention to that. Switching to natural, earth-inspired remedies like this turmeric serum is a must-have for compromised skin, no matter how parched it looks. According to most Turmeric Dark Spot Corrector Serum reviews, this serum makes sure it travels deep down into the dermis, where it can work more efficiently and improve your skin. This skin-brightening powerhouse strives hard to turn the darker parts of your skin, into lighter zones, by illuminating it from within.
The reviews we gathered from real-time users are average and hit the middle ground mostly. While some claim they got to see all the miracles in their skin, they were hoping to and received it. On the other hand, some users saw no noticeable changes.
So it depends on what you want for your skin, how much money, and within what period. If you are worried about the budget, this is a very economical option, as it caters to everyone. No one likes to have aging signs covering their face. If you do not want to be commented on or asked about this number, you should update your skincare routine with this serum, for it keeps those nasty signs at bay!
I'm Sarah Abraham, the founder and co-author of Blushastic.com and a professional makeup artist. Beauty is more than just skin deep, and that's why I'm passionate about sharing my knowledge and experience to help people feel confident and beautiful on the inside and out.
Whether it's skincare, haircare, or fashion, my goal is to empower women to feel their best. With my expertise in the beauty industry, I strive to provide practical advice and tips that are accessible to everyone, regardless of their skill level or budget.