Seeking out the most vibrant complexion on your face is a beautiful thought. Vitamin C serums promise this serious glow so you can make anyone's day you pass across the street! When the world was introduced to this serum, half of the globe started chasing this idea of radiance and illuminated skin tone.
This gave rise to several vitamin C serums hanging in the cosmetic town ever since. But a much more thoughtful formula is required to make these wishes come true without aggravating acne or breakouts that want to be a mainstay on our faces. This edit is of the Truskin Vitamin C Serum VS Cerave which claims to have the best formula for brightening your skin.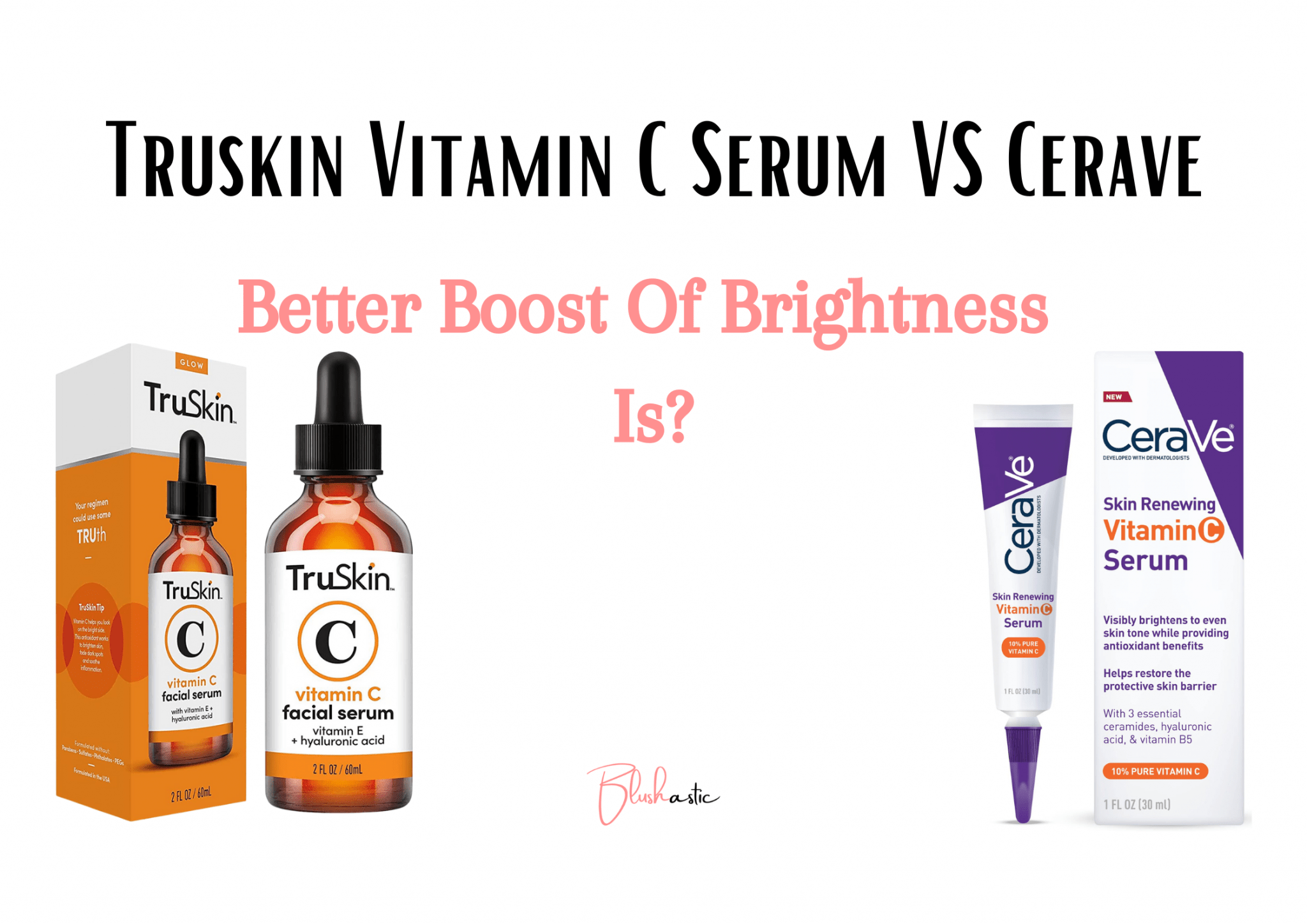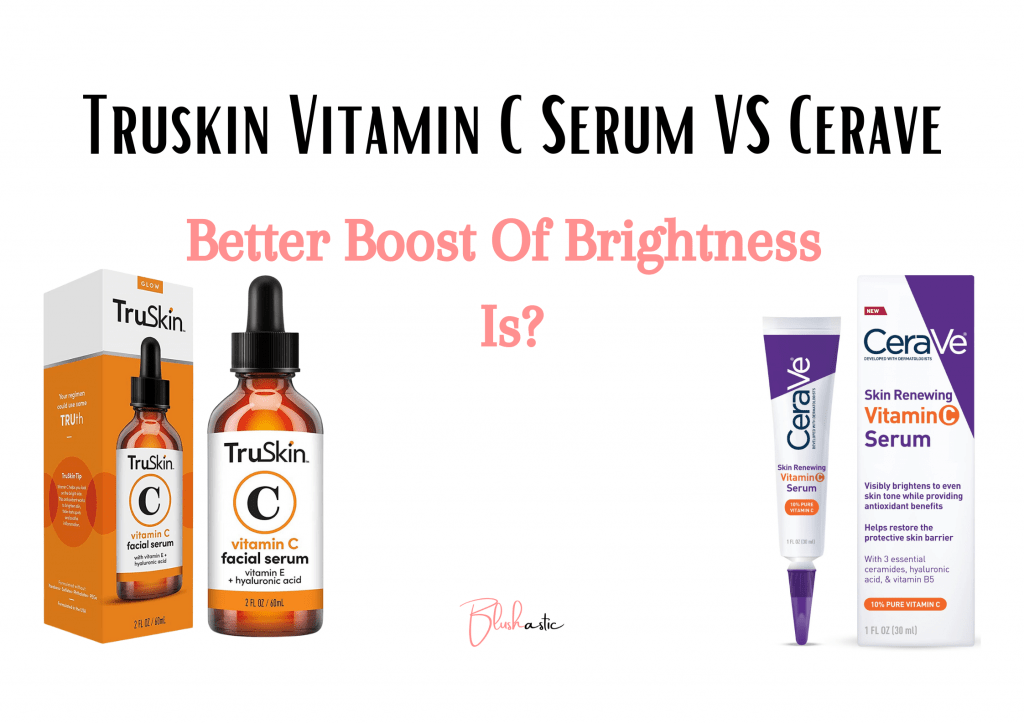 Especially when you are comparing the same thing, it will be easier for you to compare. But not in this case, where both brands are excelling in their paths of beauty, it makes it almost impossible for skincare enthusiasts to pick just one and be satisfied with it. So the option you choose must be good enough so that you never look back at the other one.
To help you conclude a decision, we have broken down different heads that talk more about each brand's vitamin C serum and what they offer. You may have lots of doubts already, so keep calm! Let's see which one will win your skin over!
Truskin Vitamin C Serum VS Cerave | Better Boost Of Brightness Is?
Product Range
Truskin has a vast ocean of skincare lovelies to choose from if you are in the mood to amp up your appearance. The brand covers a lot of concerns. Be it for acne or clogged pores, collagen loss due to age, fine lines, wrinkles, uneven skin tone, dark spots, or sun damage, and it has suitable formulas to target each issue from its root.
All skin types liek dry skin, oily skin, sensitive skin, and dull skin, can remedy their problems and find an appropriate measures. Truskin offers a bunch of daily skincare necessities, liek cleansers, toners, serums, eye care, moisturizers, and sunscreen.
While with each passing day, new skincare issues are known to people, it is essential to deal with them before the matter gets out of hand. Cerave does this effectively by allowing its users access to many must-haves, like cleansers, rated the best by many prestigious sites.
Apart from that, there are Facial moisturizers, Body cleansers, Body moisturizers, Facial serums, sunscreen, Skincare for babies, and Ointments. You can build a whole regime here if you are a newbie and feel lost.
Ingredients
The Truskin Vitamin C Serum uses key ingredients like botanical hyaluronic acid, MSM, vitamin C, and Vitamin E. Botanical hyaluronic acid has the ability to hold 1,000 times its weight in water. Thai helps seal the moisture on your skin and reduces fine lines and wrinkles. It also aids in encouraging tissue hydration so that your skin looks lighter.
MSM or Methylsulfonylmethane is nature's beauty mineral, as it helps stimulate collagen, improve texture, and boost keratin, adding youthfulness to your canvas. The vitamin C used in this formula is in the form of Sodium Ascorbyl Phosphate (SAP). Regular ascorbic aid is avoided because its shell life is concise. Every ingredient is special and contributes something substantial to make your skin brighter.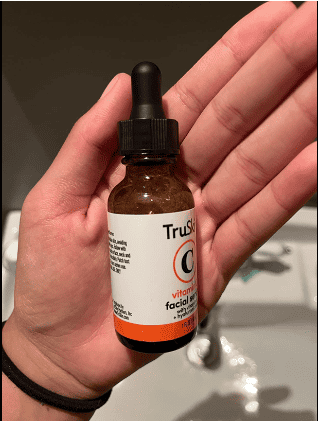 The Skin Renewing Vitamin C Serum from Cerave is still catching up in the race when concocting an iconic blend of ingredients to amplify your radiance. Loaded with 10% pure vitamin C, 3 essential ceramides help revitalize your skin's protective barrier. Hylaurnuic acid pampers the skin with its moisturizing properties, whereas vitamin B5 (pantothenic acid) ensures your skin's hydration and soothing demands are met.
A unique MultiVesicular Emulsion Technology (MVE) is embedded in the serum, penetrating deep into your layer and replenishing your skin's existing ceramides. Both brands take the help of skin-loving ingredients to aid in your journey of getting lighter and brighter skin.
Convenience
It would be a draw between the two leading brands in terms of convenience because both offer the same thing in a different style. However, some people have reported that Truskin serum feels a bit sticky. It has a drying time of just 30 seconds, so you must be quick. On the other hand, the Cerave Vitamin C serum has a drying time of 60 seconds and feels very comfortable to wear without any greasiness.
Results & Effectiveness
The Vitamin C from Truskin offers multiple benefits to the skin evens skin tone, brightens your complexion inside out, reduces signs of aging like wrinkles and fine liens, and also shields the skin by fighting environmental or stress aggressors which pose harm to your protective outer barrier. There are no parabens, sulfates, phthalates, or PEGs to ensure no skin irritants compromise your dermal layer.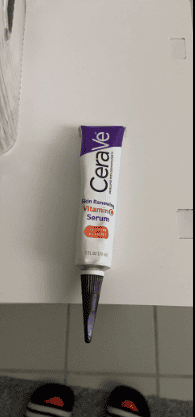 The ingredient list for all the products of Cerave brand is updated regularly, so make sure you go through them for safety measures. Dermatologists developed it. The formula is suitable for all skin types, including sensitive skin, and offers the same benefits as that Truskin. The serum is Allergy-tested, fragrance-free, paraben-free, and does not block your pores.
You can expect positive results in just a few weeks of using both formulas, so there is less competition here. Also, this may vary from individual to individual. Some may see results faster, while others may see them late. But make sure you are using it regularly and following up with a healthy lifestyle to enhance those improvements and bring them sooner.
Safety & Side Effects
According to experts, any vitamin C can have side effects like itchiness, redness, skin rashes, irritation, or a tingling sensation. This is because sometimes vitamin C contains ascorbic acid. Due to the presence of this acid, the formula can dry your skin. So if your skin is sensitive, and you have used an extreme concentration of vitamin C that your skin cant take, then you are likely to suffer from these side effects.
In some cases, users reported that they experienced burning too. But that is because you are using too much of the product when your skin has yet to be used to it. But this may be only for soem people. Everyone will react differently to the product or may respond differently.
Ensure you do not have active acne; this serum can aggravate your condition and worsen the breakouts. The Cerave Vitamin C serum consists of denatured alcohol to help with faster and better absorption onto your skin. However, this can also cause extreme dryness.
Price Structure
Price is a significant factor, as most people judge the products based on this. What you buy must meet your skincare demands because you will purchase it again if it works. Something feasible, yet doing miracles for your skin, is always appreciated, compared to a little bottle that costs a fortune! When you use the Truskin Vitamin C Serum's 30ml bottle daily on your neck and face, it will easily last you 2 to 3 months and comes with a price tag of ** dollars.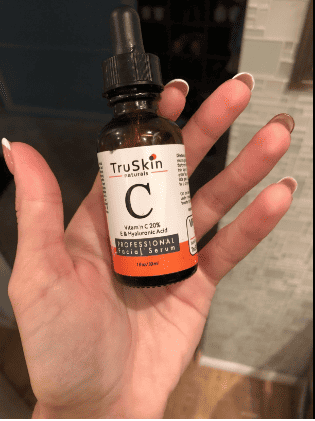 At the same time, the Cerave Skin Renewing Vitamin C Serum's 30 ml bottle will also last 2-3 months if you use it once daily. This bottle costs around ** dollars, which is more than the price of Truskin. Although the difference is not much, it still feels better to save extra dollars where possible! Above that, you can also find it under discount during sales and improve your shopping experience.
Evaluation Of Pros And Cons | Truskin Vitamin C Serum VS Cerave
Truskin Vitamin C Serum Pros
Helps in reversing sun damage
Suitable for Oily, combination, sensitive, dry, and normal skin types
The formula is packed with skin-friendly botanicals
Enhances complexion by adding brightening pigments
It helps deal with the loss of collagen
Corrects dullness, dark spots, and bumpy texture
Considered a trio of the three best antioxidants
MSM amplifies absorption rate and boosts results
It makes sure the skin does not lose its stock of moisture
Has bagged many awards
It makes skin healthy and youthful
Fights off free radical damage
Safe for all as it uses a much gentler form of L-ascorbic acid
Cons
It dries very quickly as the drying time is only 30 seconds
Skin feels tightened after application
It may not give you that much brightness
Skin feels very sticky until other products are layered
Cerave Pros
Lightweight in texture
It does not feel greasy or sticky
Features the purest form of vitamin C
Boosts skin hydration from the inside out
Lightens acne marks in just a few weeks
Smoothens aging signs like fine lines
Reduces the appearance of wrinkles
Protects skin with a burst of antioxidants
Fast-absorbing formula with a drying time of only 60 seconds
Enhances brightness and radiance
Designed with 3 essential ceramides, and many vital ingredients
Shows results in a few weeks itself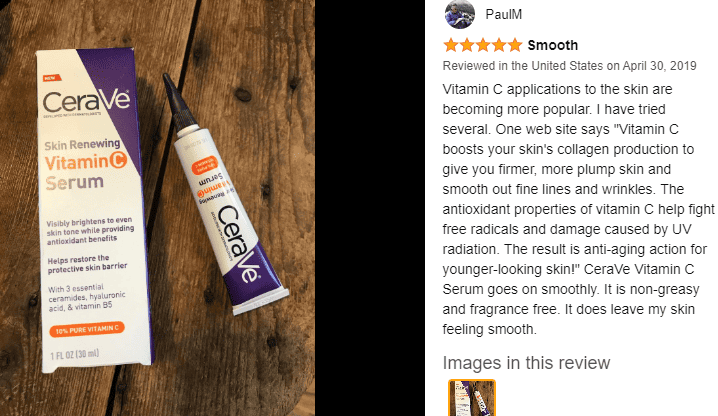 Cons
Its a bot expeisnve than Truskin
The formula comprises denatured alcohol, which may be bad for sensitive or dry skin as it causes dryness.
Users have to set up the packaging, which might be bothersome.
It is not cruelty-free
Customer Feedback | Truskin Vitamin C Serum VS Cerave
Every opinion matters. Especially when you have the confusing job of choosing between two leading brands competing for the same thing. So we collected real-time reviews from users who have been in this position already and know more than you do. They have shared their experiences with the vitamin C serum of both brands. Let us see what people are saying.
Adrielle commented on Truskin, "I have always looked at my sister's skin and admired it. Her face is always glowing, although she does not do much for her skin. At the same time, I use several products, but I have been unable to chive that deep-lit glow like her. She recently told me about this serum she had been using for months, so I was excited to try it.
I was becoming impatient in the first few weeks of application because she spoke highly of it, but I knew I had to be patient. This is the third month now, and my skin looks much better and healthy. It's like it helped remove a veil of dullness that was sitting on my face for so long. The formula is very comfortable too, and I love it."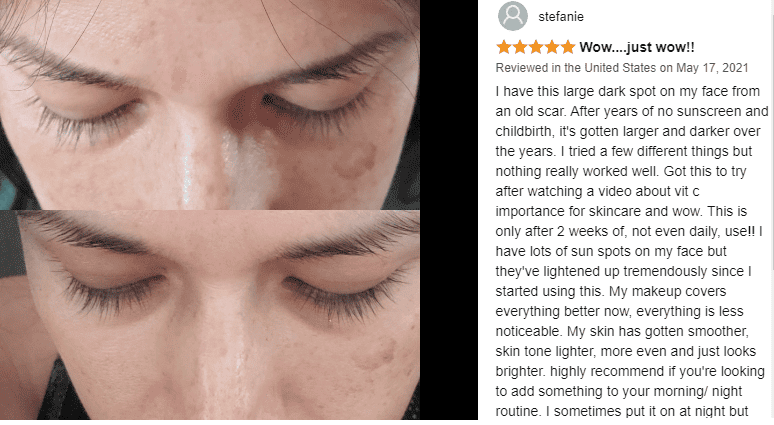 Eva expressed on Cerave, "It made my skin very sensitive. Even my acne became very bad after I used this for about three weeks. I dont know why this happened because I had a lot of expectations from this serum. I wish I could go back and undo the damage."
Natalie pinned on Truskin, "This did nothing for me. This was just an experiment, so I am glad I did not spend much on this."
Leslie said on Cerave, "I dont know why no one told me about this earlier. My skin could have been so much better if I had started doing this earlier. But anyway, atleast it is helping me now. I take weekly pictures too, and I see the difference between 12 weeks. The dullness is gone, and my skin seems very refreshed these days. The changes are slow, but it is happening. My face looks healthy than earlier in pictures these days. Thank god someone online suggested me this, because I dont know what I would have done if I did not find this."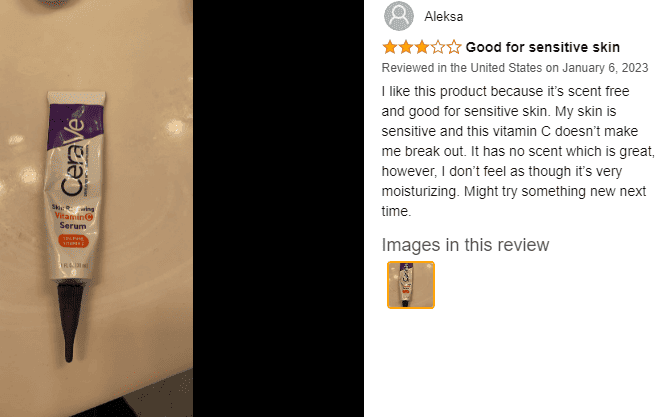 FAQs | Truskin Vitamin C Serum VS Cerave
Is TruSkin Vitamin C Serum good for your skin?
Consistent with your usage, the serum may improve your skin in a few weeks. It could reduce acne, fine lines, and other aging signs like wrinkles. Users can also expect to receive a smoother canvas, brighter complexion, and fading of dullness.
Does CeraVe vitamin C serum cause acne?
No, the brand clearly states that vitamin C serum cannot cause acne or breakouts. But if you have a very susceptible skin type, it can aggravate your sensitive skin. Also, if you already have acne, sometimes adding a vitamin C serum can worsen its condition. This is because vitamin C is L ascorbic acid. So, acidity or high acidity(depending upon percentage) can be too rough for some skin types and lead to itching, redness, and irritation.
Is CeraVe vitamin C worth it?
According to reviews, most people say the formula feels more nourishing and hydrating than other vitamin C serums. But as compared to the multifold humectants and emollients loaded in the mixture, they do not serve as an effective alternative for moisture loss. It mainly depends on the skin type of the people using it. If you have a combination of oily skin, your dermal layers may find this hydration to be enough. However, if your skin is dry and needs ample moisture, this serum will not cut it alone.
Does TruSkin Vitamin C Serum work?
Many users have reported that they saw noticeable results in their skin just after a few weeks of usign the serum. Most of them revealed that they saw a brighter complexion, faded dark spots or sun spots, and acne scars. People also said that adding vitamin C to their routine helped achieve a more even skin tone by eliminating texture. It also helps in dealing with wrinkles and fine lines.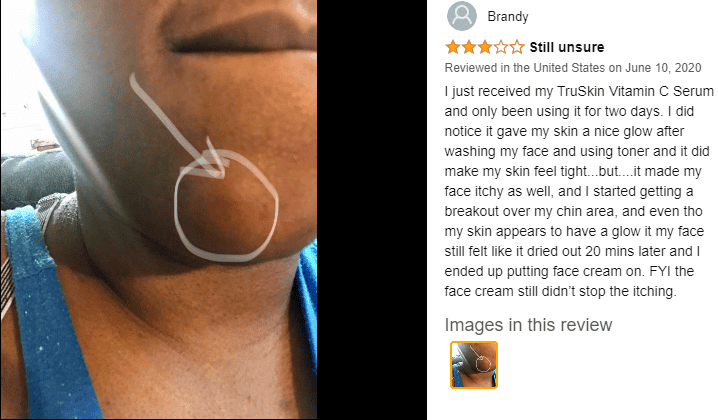 Why is CeraVe vitamin C turning my skin orange?
The formula contains 10% pure vitamin C itself. So, when there is a high vitamin C or L-ascorbic acid concentration, the serum gets a creamy yellowish tint. But after you have worn it for quite some time and come in contact with sunlight, it oxidizes. This oxidization gives your skin an orange or brown color. If your formula starts darkening after one use, discard it as it has already been oxidized. This way, it cannot provide or amplify any skin-brightening or other benefits.
Closure
We all have a weakness for bright skin that looks as radiant as the sun. Especially when the winter months have dried your skin from within, Incoropartgn vitamin C serum can be a healthy way of bringing back the lost charm of your face. In this battle of Truskin Vitamin C Serum VS Cerave, we have laid down everything for you to know to make your decision.
Every factor of importance deals with your issues the same way. Looking at it from a safety point of view, there is a good chance people will be more inclined towards including the Truskin formula in their routine rather than Cerave. That is because the latter comes with a comspotion of denatured alcohol. Although it is mixed in the procedure for good reasons and to give better quality absorption, it can side effects for soem users by causing excessive dryness.
So if you do not want to encounter problems with your skin, do a patch test on your hand 24-48 hours before using it on your face. This will give you your answer! When money is concerned, you will spend almost equally in both cases. However, even if half a dollar bugs you, you can go for Truskin. Otherwise, make Cerave your muse, as are hundreds of other vitamin C lovers!
Rebecca is a skilled writer with a passion for makeup and skincare. With years of experience in the beauty industry, she has a deep understanding of the latest trends and products and a talent for creating engaging content that resonates with her readers. Whether she's writing about the latest skincare products or sharing her favorite makeup tips, Rebecca's writing is always informative, entertaining, and inspiring.