If you know us, we are obsessed with accentuating our lashes and everything that comes with it! But what if you woke up one day to find that all your flirtatious arches had vanished from your lash line? Shocking, right?! While it's a nightmare to most of us, some people live with it now. The Internet has gotten us fixed to our screens which put a lot of pressure on our eyes, improper sleep routine, unhealthy diet, stress, and a lot of other factors devour our delicate eyelash strands, which makes you embarrassed even to apply coats of mascara. So what can you do to show your lashes some TLC?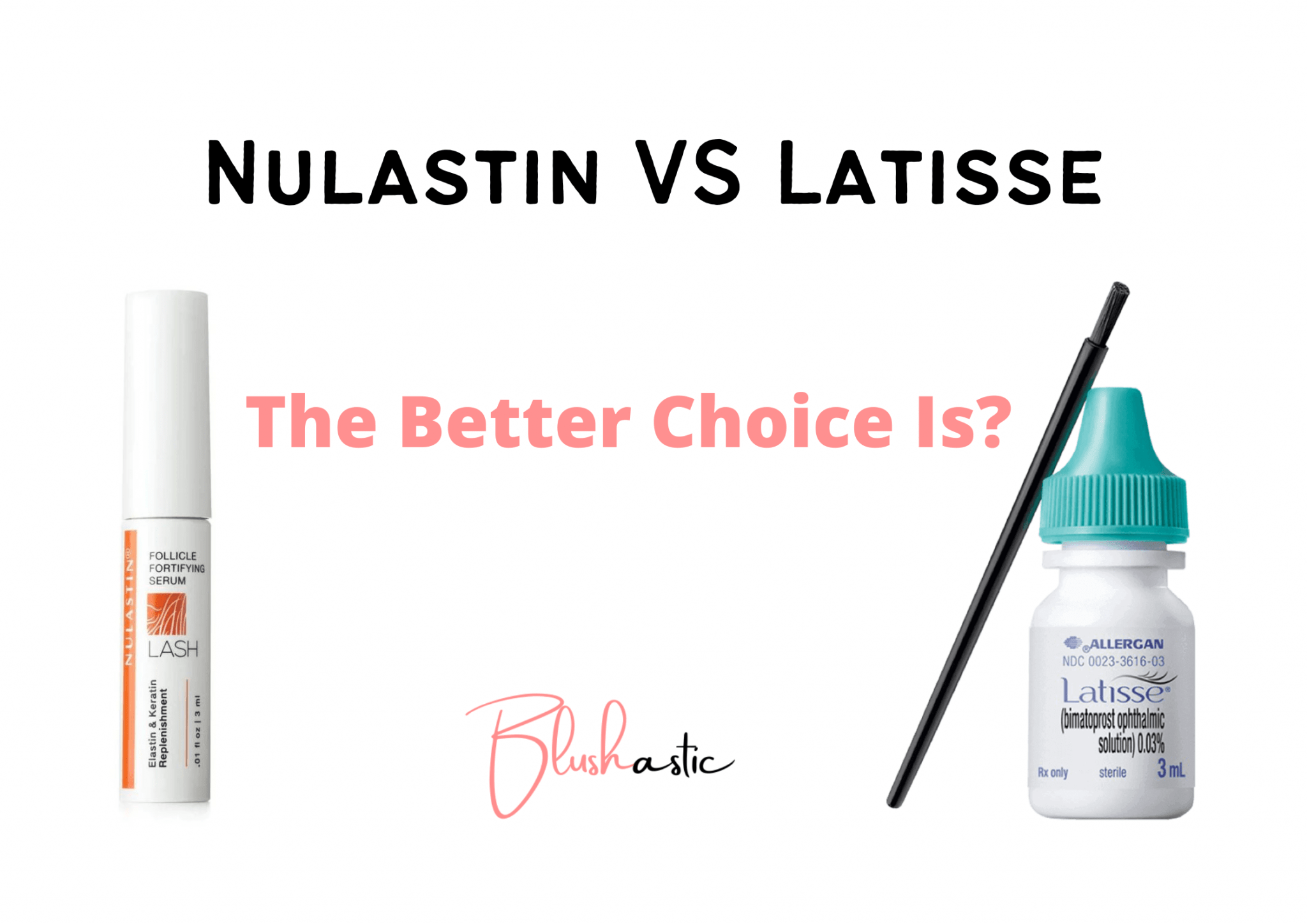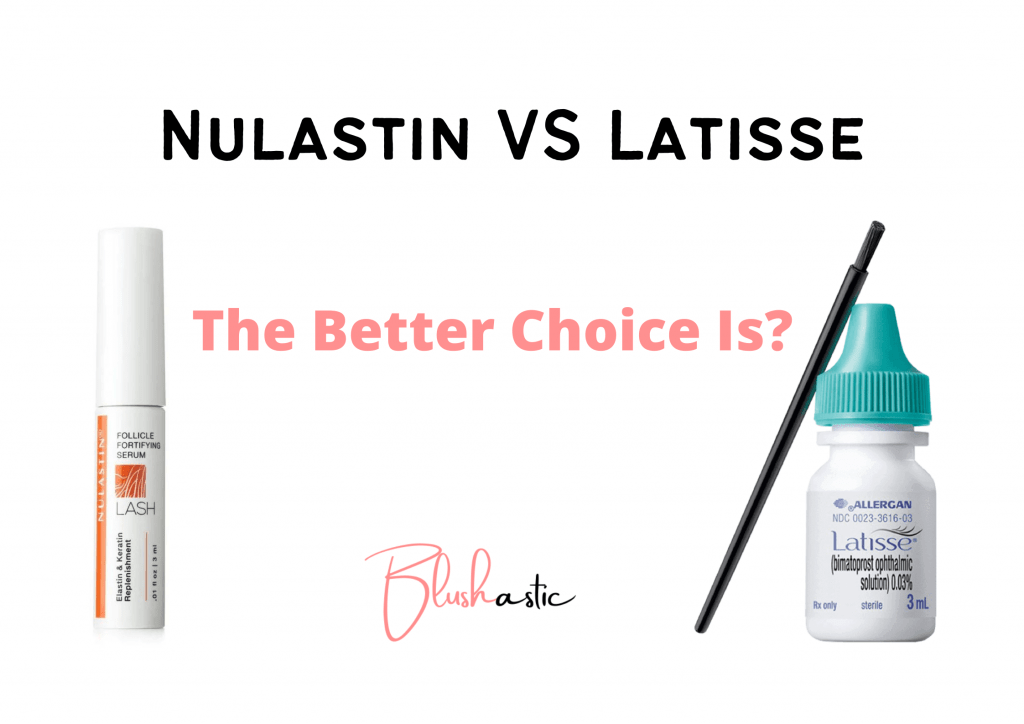 Manifesting dreamy lashes may not be enough, so you might need to shake things up outside your dreams! We asked a lot of makeup influencers, and they revealed that the secret mantra behind their bushy and hefty lashes is deeply rooted in lash serums like Nulastin and Latisse. However, the faceoff of Nulastin VS Latisse has brought forward a lot of questions that people don't have answers to.
If you want to reduce the bulk of stress hovering around your lashes, these two brands claim to pamper them in ways regular serums and supplements can't. So, is Nulastin better than Latisse? Which is better Nulastin VS Latisse? Do we have a final answer? There's only one way to find out, so keep calm, and take notes!
Nulastin VS Latisse | The Better Choice Is?
Product ranges 
Nulastin is a revolutionary cosmetic brand that offers products for your skincare like cleanser, hydrating serum, lip balm, moisturizer, and all your face needs to be revived from its dullness. Apart from this, it also offers scalp treatments for attaining healthy hair. It is primarily famous in the cosmetic industry for selling lash and brow growth serum products so you can have bushy arches. 
If you need to portray a well-kempt aesthetic skin all day, you need to treat your base like the queen she is! And Latisse claims that you can achieve this in months! The medical brand has gained popularity worldwide by offering a splurge of services like their oh-so-crazy lash-enhancing solution and other treatments like Botox, gel fillers, and breast implants. It won't be an overstatement to say that if you want a game-changing revamp session, Latisse can be your ride or die!
Ingredients 
Nulastin 
The major primary cycle ingredients of Nulastin include Elastatropin, which is vital in fortifying your hair follicles. The presence of elastin in this lash serum helps in amplifying your hair's condition. It targets the sole cause of hair fall and thereby remedies it by encouraging hair regrowth. SymPeptide is a pentapeptide that thickens the width of your lashes, making your lashline appear fuller and bushy.
It magnifies your beauty in no time, as it is one of the quickest ways to improve lashes. Nulastin also features Phosphate Buffered Saline, carbomer, and keracyte. Keracyte helps restore the lost elastin, revitalizes the cells, and makes the lashes elongated and voluminous.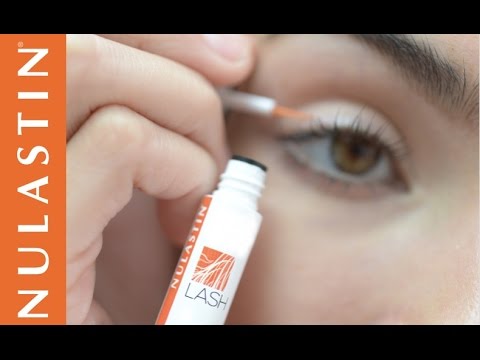 Carbomer acts as a lubricant and removes any dirt and grime present across your lashes. So if you want to breathe life back into your lashes, carbomer is the key! Phosphate saline is a water-based solution that heals damaged cells and replenishes them from their lackluster. Other essential ingredients include HGF (Hepatocyte Growth Factor), Sodium Phytate, EPA Lipid (Eicosapentaenoic Ester), Phenoxyethanol, Ethanol, and TEA in small quantities.
Latisse 
Latisse solely depends upon its hero ingredient known as Bimatoprost, a common name for rejuvenating your lash volume. This topical treatment targets shorter and thinner lashes and helps stimulate denser growth. The component is very flexible as it is used in medical and makeup products. This prostaglandin analog focuses on the growth phase of your lash strands and has been proven to give results where users see their weak and thin lashes become thicker, fuller-looking, and more healthy.
However, you should still consult your doctor if you suffer from eye diseases like glaucoma before using it. Latisse also has Sodium Hydroxide, which mountains the pH levels and wipes your lashes free from excess sweat, dirt, and unwanted moisture.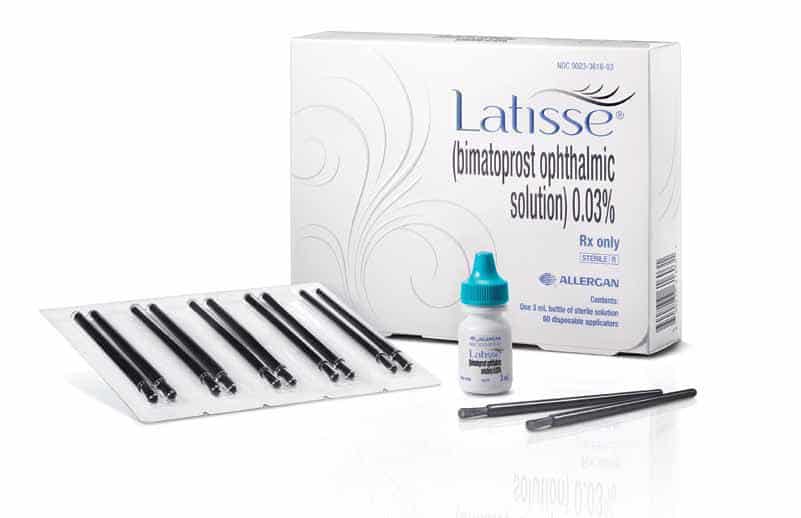 Benzalkonium Chloride is present as an inactive component of this mixture but still brings many potential benefits to the table. As it possesses microbial efficacy, it is used as a preservative and only requires you to use a minimal amount to see improved lashes. Apart from this, Sodium Chloride, popularly hailed as common salt, is the cleaning lady of the composition, as it helps eliminate excess oil production, which is why it is opted by users to be sued as makeup removers. Citric acid also helps in encouraging lash growth and offers full-fledged nourishment to your hair. 
Effectiveness
Nulastin helps in plumping up your lashes in just eight weeks, where there are very menial chances of things going south. When a 12-week clinical trial was conducted to ascertain the efficiency of the product, it was revealed that almost 75% of the users who had participated saw an overall improvement in the health of their lashes. There was a 49% reduction in the brittle or dry texture, and their eyelash strands felt more smooth. Around 97% of people felt a significant difference in their appearance. They claimed to have received a touch of youthfulness.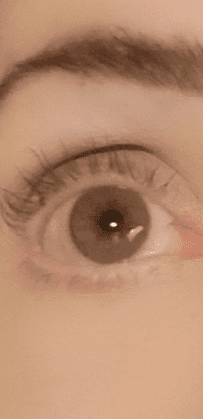 Latisse has garnered attention from everywhere thanks to its ophthalmic and medicated solution. This solution explicitly targets different concerns and helps treat them. Users may see improvement in their lash quality between four and sixteen weeks. The brand's clinical trial shows that 25% of the users were satisfied by receiving longer and elongated lashes, which gave their eyes more definition.
106% of users swore by the results as their lash density elevated, while 18% were excited to receive darker and fuller lashes. Both brands give what they claim in different periods, so it is just a matter of choosing what your skin agrees with.
Price 
Nulastin offers its 3ml bottle jar at around 60-70 dollars, which is way less than Latisse, so if you are looking forward to returning home without emptying your purse, this is a great choice. Thinking about using the product, in the long run, will save a lot of money compared to Latisse.
This bottle will last you for four to six weeks, and you can use it twice daily. Also, as this product is just cosmetic and not a drug, you won't need any prescriptions or regular visits to your dermatologist. So Nulastin might offer a better deal than its other competitor.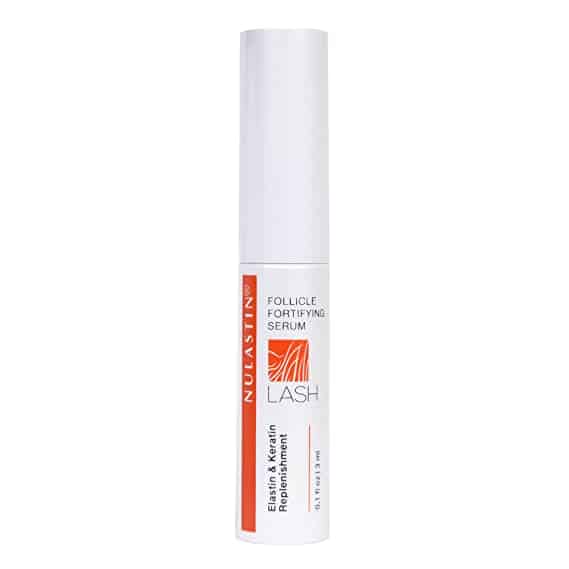 When it comes to the price, even the best products face a lot of reluctance from users. Latisse is not indifferent to this. The brand has clearly stated that getting a prescription is necessary to get this solution, and it is more expensive than Nulastin. The lash serum comes in three different sizes; the least quantity of 3ml is a one-month supply. It ranges from 90-120 dollars.
Being a month's supply, users are likely to wear out of it soon, so you would have to repurchase it. This would require you to get a prescription all the time you went to buy one, of course, along with the doctor's fee! So if you don't mind throwing away your money into the pool, this is your drill. 
Side effects 
Nulastin has been proven to be a lot safer, as the side effects of Latisse are pretty harsh when both brands are kept for comparison. Nulastin depends upon natural ingredients which are ethically sourced. As they are cruelty-free, paraben-free, gluten-free, vegan-friendly, clinically evaluated, and proven safe, users are only likely to develop any allergies after using makeup. These effects are minimal and happen only when you have sensitive skin.
Their formulations are free of top common allergy-causing preservatives — including lanolin, topical antibiotics, and MCI/MI. Survey evaluations suggest that users reported almost no adverse effects during clinical trials. However, you should still do a patch test first because better safe than sorry!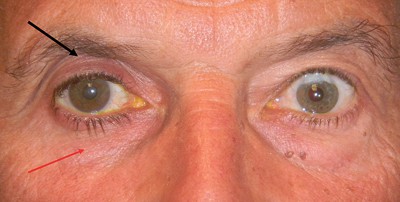 However, Latisse is not so forgiving! Latisse's list of side effects is as scary as it is endless. Although they use sterile applicators, the potential side effects include dry and itchy skin, redness around the eyes, permanent darkening of the skin around the eye, or the iris(cannot be reversed), drooping of upper eyelids, or shrinking of the fat pad beneath the eye. If you want these harmful effects to be gone from your skin, you can stop using them, and they will vanish.
However, one downside to using Latisse is that the side effects will go away, and so will the positive results, like thicker lashes. Your lashes will revert to their previous condition when you stop using them. 
Convenience 
Not many people are aware of this, but, Nulastin does not have the reputation of a drug, so users are not required to have any prescription, to buy this. Thereby, no approval from the FDA! This means less fuss than Latisse, which makes it mandatory to get a prescription from a doctor if you desire to use it.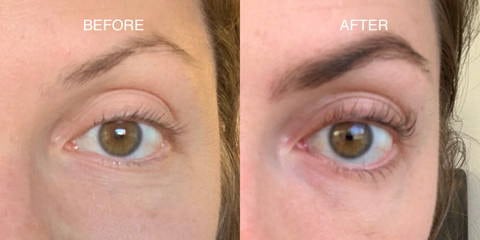 The main reason behind this is that it is a much stronger potential than Nulastin and was initially formulated with the help of drugs for other purposes. As a result, growing lash results were a secondary side effect. So if you don't mind all the legal drama, you can go with Latisse, or if you are a busy bee, Nulastin will serve you well!
Nulastin VS Latisse | Evaluation of Pros and Cons
Nulastin Pros 
Prepared from naturally-derived ingredients 

It conditions your lashes deeply 

Offers hydrating benefits 

Energizes the look of your eyelashes

It supports the body's elastin levels

It helps attain thicker and fluffier lashes

Cheaper than Latisse 

The patented formula contains a

complex chain of 600 amino acids

GivesIt gives eyes a healthy-looking appearance 

0.1 ounce, which is almost 3 ml, will last you 4-6 weeks, whereas the 3ml of Latisse is just for one month's supply 

It helps fortify the lash follicles 

Clinically tested formula 

It has particular keratin proteins to nurture lash health 
Cons 
It does not have FDA approval 

It also causes minimal side effects
Latisse Pros 
It has the approval of the FDA. 

It gives visible results in just about the starting 4 weeks, which can continue developing until 16 weeks. 

Has gIt has through many clinical trials in which it has succeeded 

A key ingredient is a topical bimatoprost 

The primary function is to boost the growth cycle of lashes 

makes it makes darker and fuller 

Fills up open spots 

Pumps up the natural volume with additional density 

As it is a flexible formula, you can also use it on your brows 

It is packed with sterile applicators 

Extends your eyelashes' longevity

Available in three different sizes to choose from 
Cons 
May cause the permanent darkening of the iris 

Darkening of the eyelid may occur, but it is reversible 

You need to have a prescription to buy it

Your lashes will go back to their original state when you stop using it
Customer Feedback | Nulastin VS Latisse
Stella M. said to Latisse, "Finally, my lashes found their perfect match! It's been two months since I started using this, and I can already see the results I was waiting for. My lashes have almost stopped shedding; they feel stronger at the base, my lashline looks fuller now, and it even amps up my whole appearance. They don't look lifeless anymore and have a shiny effect on them. I am careful not to miss my application because I don't want to return to looking ugly. I must be honest, and I can't thank this brand enough!"
Samantha commented on Nulastin, "Just when I thought my life was getting worse, this lash serum walked into my life for good. I have been unsatisfied with my lashes ever since I was a teenager. But after I started doing this regularly on my lashes, my eyelashes felt more hydrated, pumped up, and healthy from within. There is a significant reduction in their falling out, and I can finally see all the empty spaces being covered up with thicker lash strands. Love this."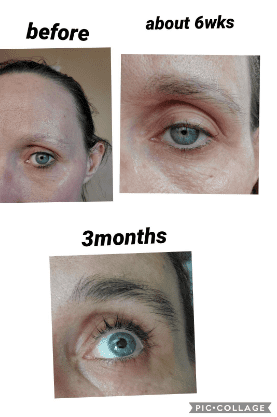 Kelly pinned about Latisse, "I don't know who thought using this on their eyes was a good idea because I am left with rashes and nothing more. At first, I was very excited to try it out, after I got it with great difficulty. During my first application, I felt a slight tingle, but I ignored it because I thought that would be normal. Sometime later, my eyes felt itchy and dry, so I washed off my face. This was indeed a bad investment for me. I would not recommend going for this to any woman."
FAQs
Is Nulastin better than Latisse? 
The answer to this question will vary from person to person and also depend upon other factors. If you are on a budget, you will love Nulastin more because it saves you extra dollars, while Latisse is a tad bit expensive compared to it. Also, you don't have to get a doctor's prescription to get Nulastin, which may benefit many customers who want a hassle-free lash-enhancing session. 
Who should not use Latisse?
One should check out Latisse's ingredients: bimatoprost,  benzalkonium chloride, sodium chloride, sodium phosphate, dibasic, sodium hydroxide/hydrochloric acid, citric acid, and purified water. If your skin is allergic or sensitive to any of these ingredients, it may not be a good idea to use Latisse. However, it is better to take a consultation with your doctor before you purchase this formula.
What happens when you stop using Nulastin?
Remember that a thing only lasts as long as you care for it. The same happens in the case of Nulastin. Users found that all the positive effects, like their enhanced thicker volume, stronger, and healthier lashes, all reverted to being like their original condition when their eyelashes looked dull, weaker, and dehydrated. Their sparse areas were visible again, and all that the deficiencies they had fought with the formula came right back after they stopped using Nulastin.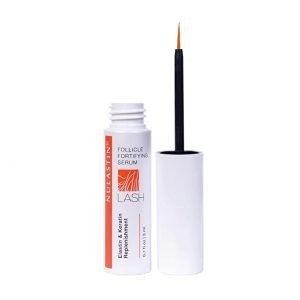 What works just as good as Latisse?
Alternatives like LashFood, LiLash, and Revitalash contain a splurge of amino acids, vitamins, herbs, etc., that induce the growth of your lashes. Apart front is, users may also opt for eyelash extensions to make their lashes look fluffier because they are way cheaper and do not require any trouble of a prescription or many side effects. You can also consider switching to a healthy diet and vitamin supplements to review the health of your lashes and make them fuller-looking. 
Can NULASTIN change the eye color?
If users use it according to the instructions provided carefully, it won't get inside the eye and thereby won't have any physiological effect on your eye color. The formula has undergone many clinical trials and did not show the risk of any ocular irritation that users might face in the cornea or eyelid. 
See Also: GrandeLash VS Latisse | Here's Your Pick!
Closure 
Let's be honest: Sitting in front of the mirror to see your lashes slowly falling out daily is not an ideal scene. While you may believe that a standalone approach will help you reclaim your luscious and luxurious eyelashes, you might be right this time. Many skincare powerhouses are lying in the open that we are not yet aware of. Luckily, news traveled fast, and now users have gotten eir hands full on the ultimate battle between Nulastin VS Latisse. Nulastin and Latisse have been proven to be on top of their game when giving your lashes a revamping session. 
Your eyes are just as sensitive as your heart and require to be dealt with great precision and care. Because one wrong move can easily cause a lot of blunders, you would not want to encounter. If you are confused between these two equally good options, we suggest you break their pros and cons down according to different heads.
If you are scared to face any side effects, you might feel like siding with Nulastin on this one because the risks here are almost negligible. Although both feature more positive results from trials, Latisse charges a lot more than Nulastin for you to look beautiful. If you feel like hopping in for the breaking-the-bank ride, feel free to embrace Latisse. However, if you feel difficult to part with your precious bucks like us, Nulastin will do wonders for you! 
Marilyn's deep interest in fashion, beauty, and lifestyle has led her to pursue a fulfilling career as a freelance writer and blogger. With her bachelor's degree in fashion design from the Fashion Institute of Technology, she has developed a keen eye for style and trends, making her well-equipped to offer valuable insights into the latest fashion and beauty trends.