Fashion is changing, and so is our skin. Magical lash mascaras or falsies may have been your love at first swipe, but you need to bid farewell to those stubborn habits. Because it's time, you revive your own now! No doubt, eyes are the prime point of attraction to someone's face, but countless reasons have left your lash region like a drought!
Don't you wish to wake up to voluminous, longer, thicker, and dramatic lashes that never stop adding to your stunningness? That's right, lash-enhancing serums are making a grand entry in the makeup sector that you can't stop swooning. Before-after pictures of lash lovers introducing these serums drive beauty enthusiasts crazy as soon as photos regarding the same surface on the internet.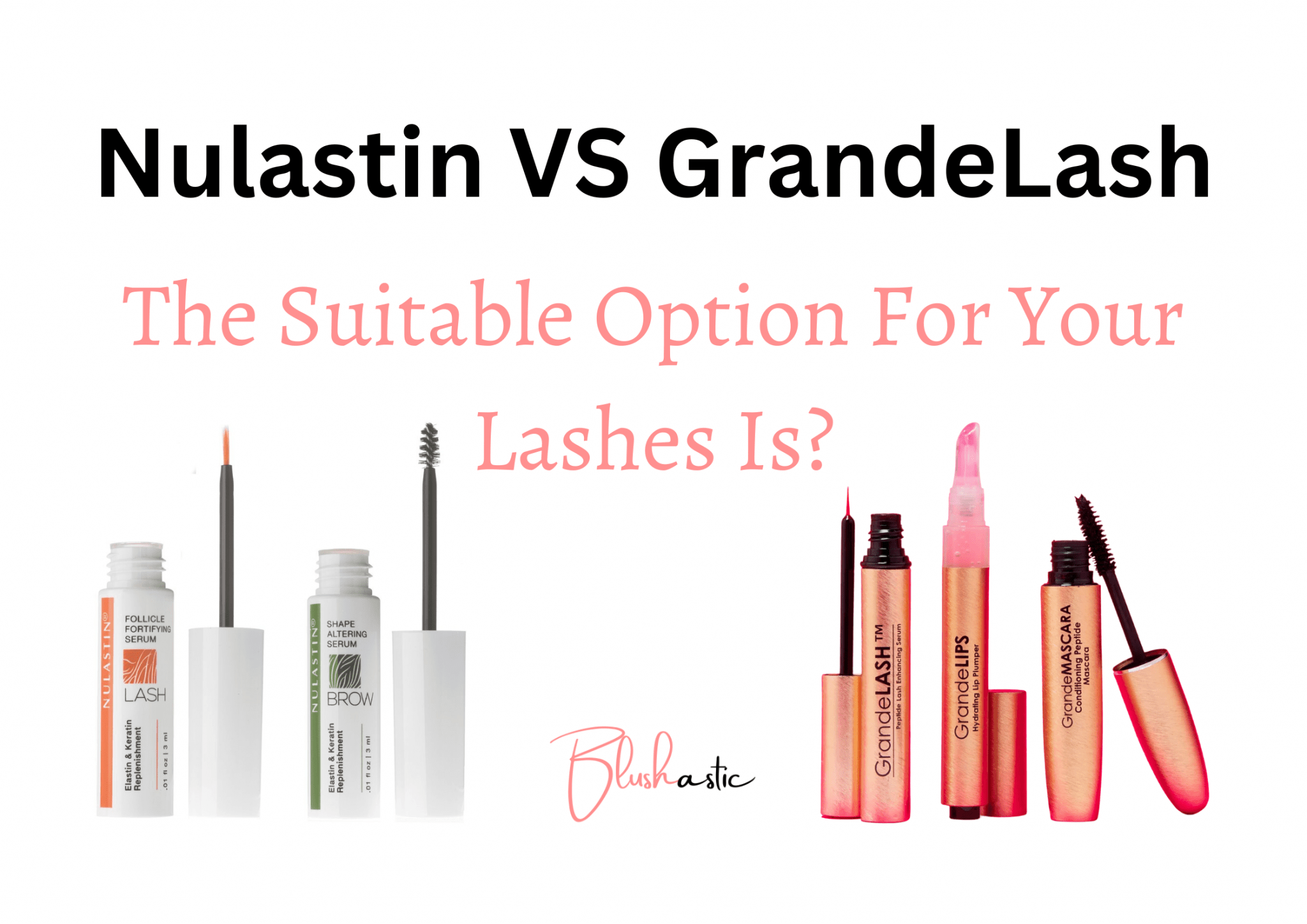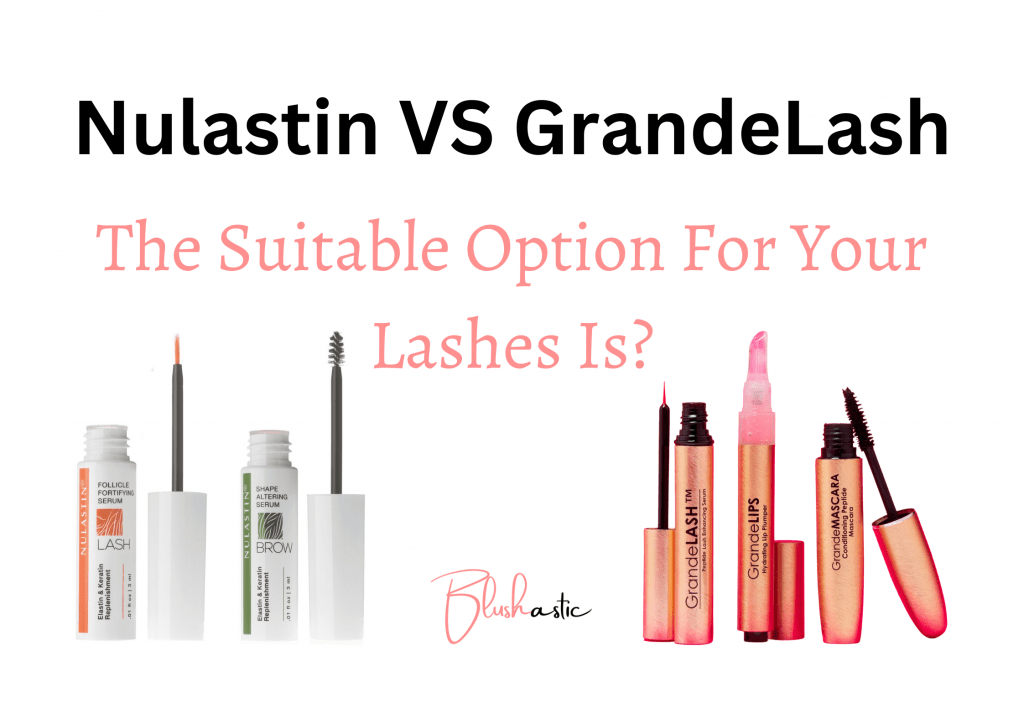 The new divas in the beauty industry who have been creating splashes wherever they go are these babies, which has brightened them to a potential faceoff. According to a scoop from the beauty editor's desk, the battle of Nulastin VS Grandelash has caused a significant section of the beauty globe to worry, as they can't decide which is better for them.
Both equally pose to be the savior of your lashes, thereby reviving a glamorous beauty you already possess. So, which one do you think will cater to your needs best? Should you consider getting a backup? Will this definitive guide address all your concerns with patience? Let us find out!
Nulastin VS GrandeLash | The Suitable Option For Your Lashes Is?
Product range 
A good skincare plan means that your beauty station needs to be refilled and replaced with products that promise to transform your skin's health from 0 to 10 and simultaneously deliver results. Nulastin is a groundbreaking skincare brand that has become a familiar name for beauty influencers seeking revitalizing methods to amp up their skin. This brand takes pride in its Estaplex technology, which has been infused in different products offered by the brand to combat specific concerns of your skin and remedy them.
What stands out about the brand is they cover aspects like Lash, brow, hair, and skin so that you dont have to depend on different products for different issues. This one-stop destination claims to have it all. It features best-selling compositions like LASH and BROW Dual System with Elastaplex, BROW 2-PACK Shape Altering Serum, and LASH 2-PACK Follicle Fortifying Serum with Elastaplex®. Also, the HAIR 2-PACK Vibrant Scalp Treatment, Rejuvenating SKIN Facial Moisturizer, and Gentle Exfoliating SKIN Cleanser. The brand covers formulas for beautifying your lashes, brows, lips, hair, and skin. 
While no competing brand wants to miss out on the limelight, Grandelash ensures that it puts forward its best skincare foot in the cosmetic industry. One will be surprised to know what this brand Grande Cosmetics offers to please its customer base. It pampers your lashes, brows, lips, hair, or skin. For lashes, it gives out mascara, liner, primer, serum, lash tools, etc. Under the category of brows, it provides serum, brow fills, and supplements.
In the same manner for your hair, it offers serums, shampoos, conditioners, accessories, and tools, while for your lips, it gloves plumping gloss, plumping lipstick, lip masks, and lip scrubs as well. Even more interesting about this brand is that it offers additional supplements to revitalize your beauty, mood, and sleep routine. Grande Cosmetics wins this round because the brand offers a lot more to you so that you can restore your skin's inner radiance in the right ways. 
Ingredients 
The bone of contention in the battle of Nulastin VS Grandelash for the Best Eyelash Serum is the eyelash-fortifying formulas of the individual brands. The Nulastin Follicle Fortifying Serum has been enriched with the goodness of Elastaplex® Technology. All the ingredients falling under this lash-enhancing formula are naturally derived and locally sourced. The elastin and keratin proteins present here are the hero ingredients and help revive the load off your lash follicles, evading all the dullness and impurities.
This formula is especially Handmade in small batches; apart from these critical ingredients, other potent elements present in the serum are water, Phosphate Buffered Saline, Myristoyl Pentapeptide-17, Carbomer 980, Hepatocyte Growth Factor, Sodium Phytate, (+)-Cloprostenol Isopropyl Ester, Phenoxyethanol, Ethanol, and Triethanolamine. Special care has been taken that they have no added fragrance for sensitivity issues.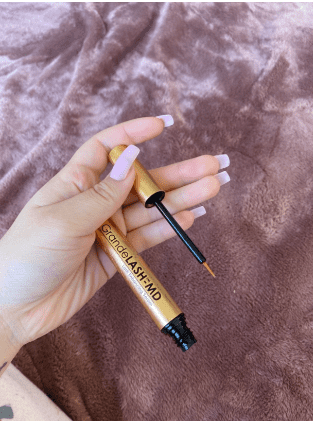 Similarly, the pride of Grande Cosmetics is the GrandeLASH-MD Lash Enhancing Serum which has bagged countless awards for its claim to deliver exceptional results that will make you swoon. This has been done for all the right reasons because the serum has a lot of unusual ingredients stored in its powerhouse. These are amino acids, hyaluronic acid, sodium hyaluronate, vitamin E, or tocopherol acetate.
Other essential components include panthenol, glycerin, chamomile flower extract, coltsfoot leaf extract, Panax extract, and ginseng root extract. Regarding the ingredients game, Grandelash is the better option of the two, and it has an efficient army of elements compared to Nulastin, which is required for lash health. 
Effectiveness & Results 
Both skincare brands put a very confident front when it comes to their best-selling products. When we asked about Nulastin, the brand revealed that a 12-week study was conducted among a certain amount of users to evaluate the efficacy of the lash-fortifying serum. The results showed that up to 60% of participants were immeasurably satisfied and happy as they could see visible improvements.
If you have put your mind to purchase this for yourself, you should know that upon consistent and regular usage, you can see the results after about 6-8 weeks. If you wish to accentuate those results, you must use the product longer. However, everyone's skin is different, so that the serum may show other effects in other people. Make sure you incorporate the product religiously into your routine. 
Grande Lash has a lot of beauty tricks hidden up its sleeve. This award-winning lash-enhancing serum has won the favor and interest of many fashion influencers who believe in getting beauty right. The formula of this lash-enhancing serum is infused with a blend of vitamins, peptides, and amino acids. When a 12-week consumer study was conducted among some participants, the brand found that in a matter of just the initial 4-6 weeks, most users saw an improvement in the appearance of their lashes which appeared to be thicker.
The overall development takes a whole period of over 3 months. 97% of users noticed more volume in their lashes, 94% saw their lashes looking more healthy, whereas 91% were pleased to have elongated lashes than usual. This also fulfilled their wishes of getting fuller lashes that were no more brittle or suffered from thinness. 
Pricing structure 
Comparing the lash-enhancing serums of both brands gives a better picture of knowing better. The Follicle Fortifying Serum with Elastaplex® from Nulastin comes in six different kinds of supply in a series for 5 weeks, 6 weeks, 7 weeks, 8 weeks, 9 weeks, and 10 weeks. At the same time, the 2ml supply of the Grandelash serum will last you for about three months. If you consider the quantity and the price, Grandelash offers you less quantity, but it will last you much longer than Nulastin.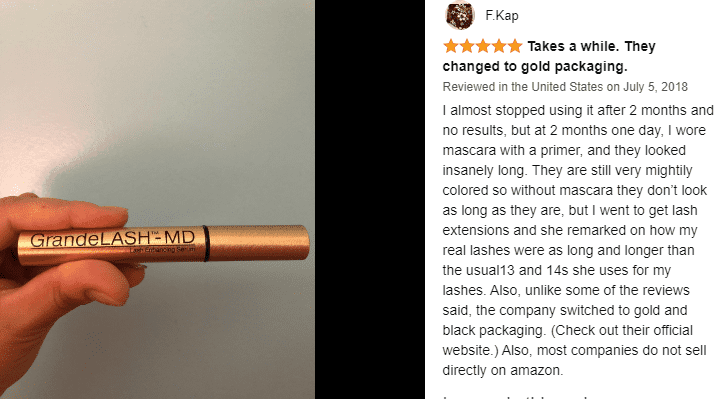 Also, the cost is comparatively lesser than Nulastin. You can also up the amount of the formula if you wish to have more and get yourself the 4ml supply that will last about six months. If you want a trial basis, Grandelash might be your better option, for it also offers you a 1ml collection that claims to last 6 weeks. This caters to the budget of more people and thereby has a better fanbase. 
Safety & Side effects 
Nulastin has claimed that its products seamlessly complement all types of skin, irrespective of your age, gender, or health. However, the brand strongly disbars anyone from using Nulastin who is under the age of 18. All those with a prior medical condition or developing any disease while using the serum need to consult their physician regarding the lash amplifier.
Pregnant women, or those women who are breastfeeding and nursing, are also considered to steer clear from it as these surveys and their effects have not been studied adequately. There are some red flags you need to look out for, like allergies in users, which might happen in rare cases. Nulastin is not approved by the FDA, which remains a significant cause of worry among users.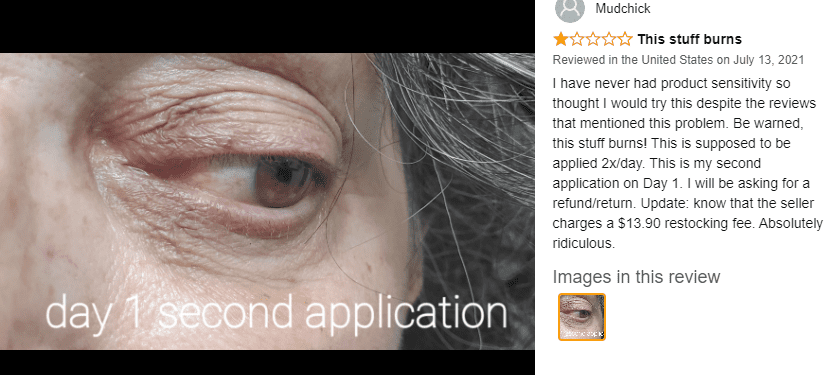 Grandelash is entirely safe for lash extensions as it is water-based and does not possess any adhesive to mess with your contacts. Although the formula is Ophthalmologist-tested, Cruelty-free & vegan-friendly, people under 18 are advised not to use it.
Also, pregnant women, women who are breastfeeding or nursing, and people inclined towards dry eyes or undergoing chemotherapy should not use the serum. Side effects of Grandeash might be considered more dangerous than Nulastin, as it involves redness, possible irritation, and a change in the color of your iris, which cannot be reversed. 
Evaluation of Pros and Cons | Nulastin VS GrandeLash
Nulastin Pros 
Features a

complex chain of 600 amino acids

Designed with naturally-derived ingredients 

Deeply conditions and hydrates brows and lashes 

It helps cover sparse areas with ease

It makes your eyelashes thicker and pumped up 

Strengthens lash follicles from within 

Free of parabens, gluten, added fragrance 

Users can wear it under contact lenses or false extensions 

Tested and approved by ophthalmologists 

Vegan composition, cruelty-free 

The patented formula offers a healthy boost to your lashes 

A lot of options to choose from depending on your need

Delivers keratin proteins to nurture lash health 

It takes 6-8 weeks to show results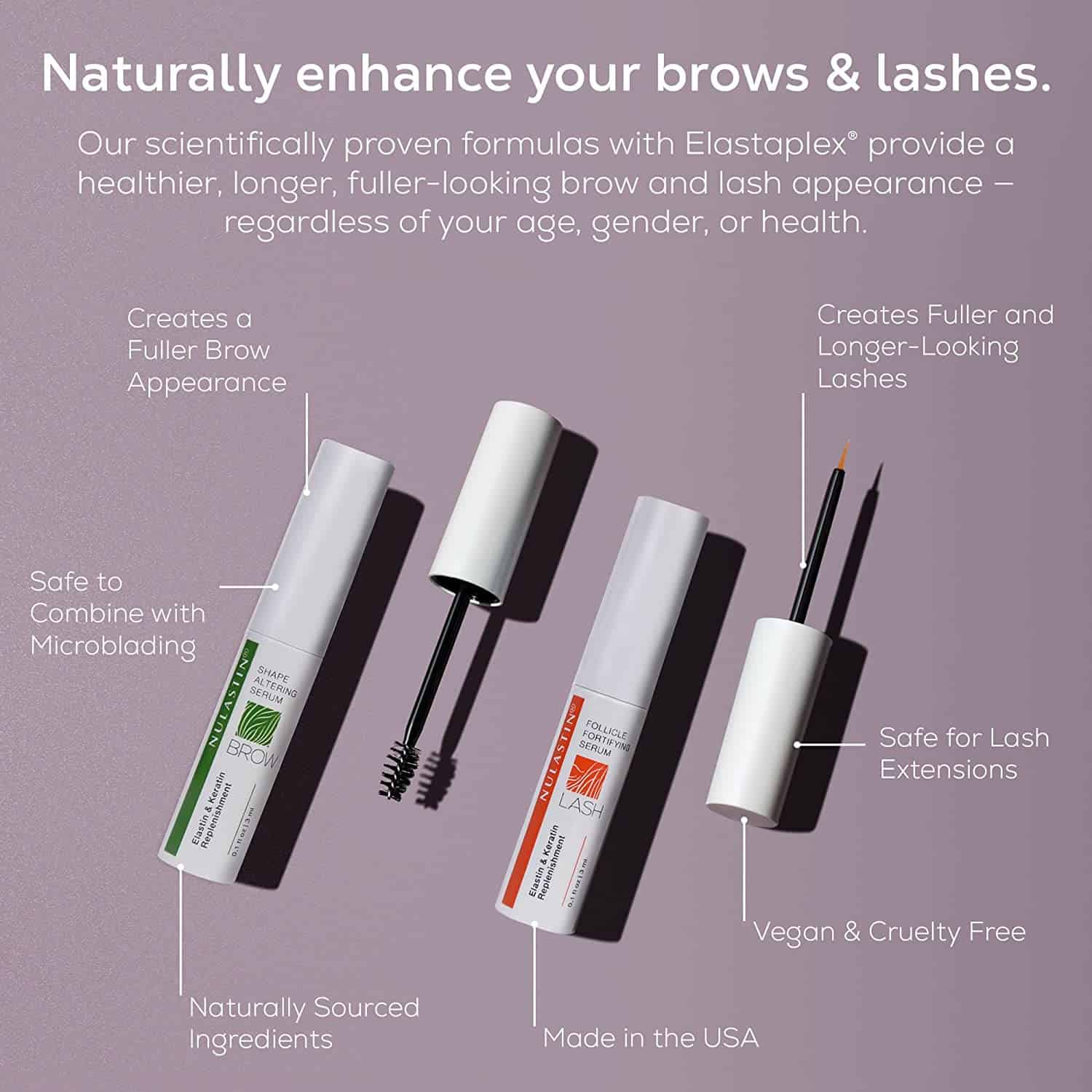 Cons 
It may take longer to show results 

It might cause allergies in rare cases 

Not approved by the FDA 
Grandelash Pros 
No prescription is required to buy this 

It has a lower price than Nulastin 

It has amassed over 33k reviews on Amazon 

Bagged multiple awards by multiple beauty sites 

Features essential vitamins and peptides that promise the growth of lashes 

Adds more volume and thickness to individual lash strands 

Revitalizes the appearance of your lash line 

Brings substantial improvements in just 4-6 weeks 

It helps cover up empty spaces 

Conditions lashes from roots to tips 

It prevents lashes from falling out or breaking through sufficient hydration. 

Free of parabens, never been tested on animals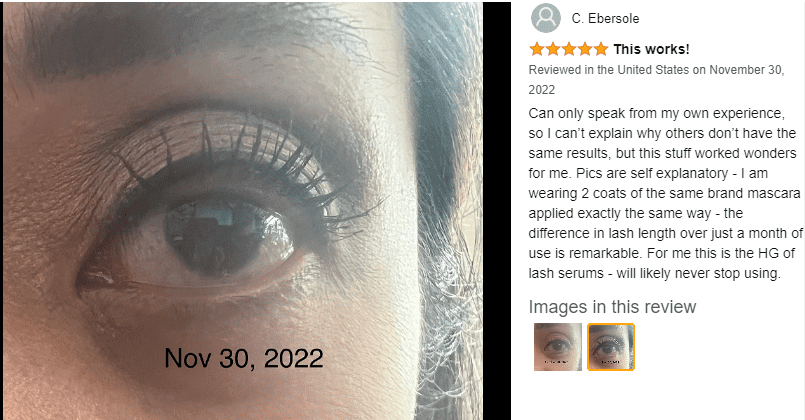 Cons 
The FDA does not approve it

Side effects like itchiness, redness, darkening of the eyelid, and darkening of the iris, which is irreversible, may occur. 

Lashes revert to their original condition when you stop using the formula. 
Customer Feedback | Nulastin VS GrandeLash
Establishing a good skincare game among your friends can be challenging, especially when many brands pose as your life savior. In contrast, in reality, they might be a trap. Falling into them involves the risk of having your skin undergo terrible situations and might steal away any good progress you have made with those pigmented areas. We truly sympathize with your beauty, so we knew we needed to take matters into our own hands. Though the battle of Nulash VS Grandelash is solid for both brands, we asked around to know what people think of them. Here are the reviews from real-time users that we have to reveal before you make your choice. 
Riley L. commented on Nulastin, "Back when I was in my teenage years, I wouldn't have considered using this because I had thicker and voluminous lashes. Only recently, I noticed a heavy breakage in my lashes, so I started to consider options like lash enhancers. When I first came upon this serum, I did not believe even one bit that it would help prevent lash falling and revive the health of my lovelies. Ut after using it for 5 months, I started feeling better about myself. My lashes looked healthy once again, and I could tell the shedding had stopped to a large extent. Thankful to whoever recommended this to me!"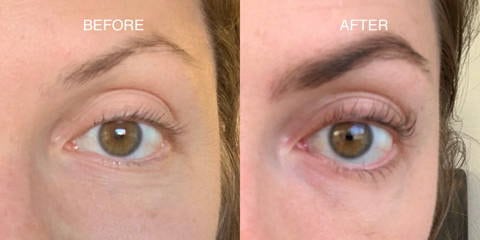 Jennifer pinned about Grandelash, "This is a true miracle formula for my lost lashes, for I have never felt better with any other fortifying formula until now. This helps condition my entire lash length and adds to their vibrancy."
Christine said about Nulastin, "Did not think I would have to spend my entire bank account on this serum, as it ridiculously costs a lot. What I don't like about this formula is it is not accessible to everyone's budget, so people remain untouched by its goodness. I wish the brand would reconsider the pricing structure and make things easier."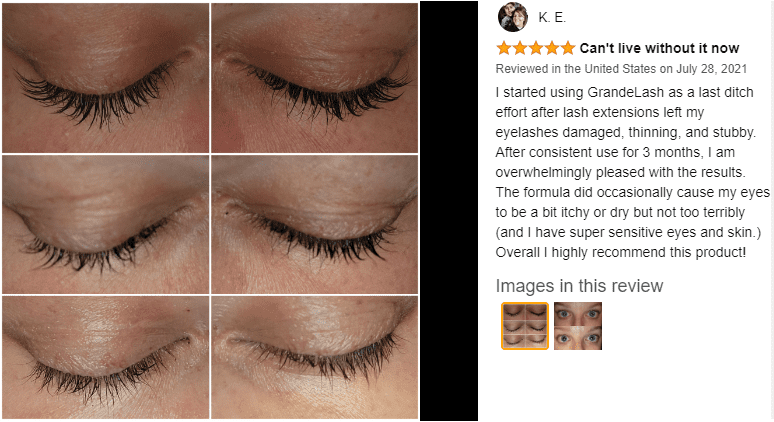 Nora talked on Grandelash, "What I have learned so far is this not all serums that claim to make things better for you will suit your skin or deliver what they say. So you must be careful about such formulas, as you can even have bad akin allergies. Grandelash did not meet my expectations, and on top of that, it disappointed me a lot. As soon as I completed one month of using the serum, I could notice my eyelids to be slightly darkened. It was only later that I realized this was a side effect."
FAQs | Nulastin VS GrandeLash
What happens when you stop using GrandeLASH?
All the benefits you have acquired in using the serum diligently for days will disappear, and your lashes will revert to their original position. This means that if earlier you suffered from incessant falling or breaking of lashes and an empty lashline, you have applied the serum over 6 months to achieve a fuller-looking volume finally. Once you stop using the serum and exclude it from your beauty regime, your lashes will become like your previous ones, where the lash follicles are broken and look unhealthy. 
How effective is GrandeLASH?
When the brand conducted a 12-week study to test the claims on the product's efficacy, we found that most were satisfied. 97% of participants noticed their lashes to be more prominently visible, while 94% and 91% of participants, respectively, saw healthier-looking and longer lashes.
Is GrandeLASH safe to use?
Although users swear by the presence of potent ingredients like vitamins, amino acids, and peptides in the lash formula, other components can cause worry for your lashes. This is called Isopropyl Cloprostenate (ICP) and may result in a permanent color change of your iris. 
Is Nulastin toxic?
The brand claims that all ingredients used in the formula of Nulastin are naturally derived, and no nasties present can compromise your safety. Assurance is given that all elements are clinically evaluated, don't have parabens, gluten, and have a vegan composition. None of them have been tested on animals.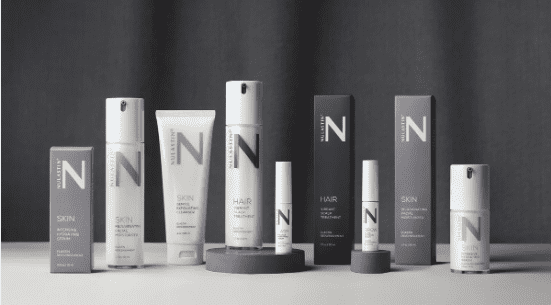 What is the active ingredient in Nulastin?
High-end ingredients like Elastatropin, Keracyte, SymPeptide, Argireline, Matrixyl, ProliSel, and Hepatocyte Growth Factor are some of the significant elements in Nulastin. 
How quickly does Nulastin work?
The timing of results is different for different customers, which means that if one user sees results sooner, the others might notice them late. Reports from the brand suggest that most customers might see improvements in their lash, brow, hair, or skin health in just a few weeks of using Nulastin, where their lashes appear denser and more luxurious. Use the product twice daily (morning and night) for six months, and you will not be disappointed.
How long does a tube of Nulastin last?
One tube of Nualstin will easily last 4-6 weeks. But this also depends on the quantity or supply you are buying. Nulastin lash fortifying serum offers different collections that last for different types of weeks. So, you can choose accordingly for the period you want it. 
Closure 
We know you all secretly wish to unveil the best eyelashes of your life so that everyone constantly falls in love with them. So how to ace those perfect, dreamy lashes that everyone in showbiz seems to be going wild for? After doing a good amount of digging, we found that the battle of Nulastin VS Grandelash possesses a strong serum game that can breathe life into your lifeless lashes and revive them with glam once again! Both lash brands have broken the internet, so the sooner your beauty routine has this key to unleashing thicker and longer lashes, the better! 
Price has been and will always be the most crucial factor when trying to get your hands on an exotic skincare product that claims to restore your skin's health. So, if you have loads of it, you can purchase Nulasitn. However, if you want the best of beauty within a budget, Grandelash will help you out seamlessly.
Both brands lay their best lash-foot forward from the effectiveness POV, so it's hard to judge. However, if you are on a time crunch like most beauties are and need to see results faster, Grandelash, you help save the day. It claims to deliver noticeable changes in your lashes in just 4-6 weeks, whereas Nualstin does the same in a round of 6-8 weeks. 
I'm Sarah Abraham, the founder and co-author of Blushastic.com and a professional makeup artist. Beauty is more than just skin deep, and that's why I'm passionate about sharing my knowledge and experience to help people feel confident and beautiful on the inside and out.
Whether it's skincare, haircare, or fashion, my goal is to empower women to feel their best. With my expertise in the beauty industry, I strive to provide practical advice and tips that are accessible to everyone, regardless of their skill level or budget.