Makeup is an art. It is a way of expressing yourself; it is how you want to look and feel. Makeup can also be used as a tool for self-expression and empowerment. A concealer helps you get the perfect base to express yourself through makeup. It is helpful in hiding blemishes or spots which you do not want to be visible.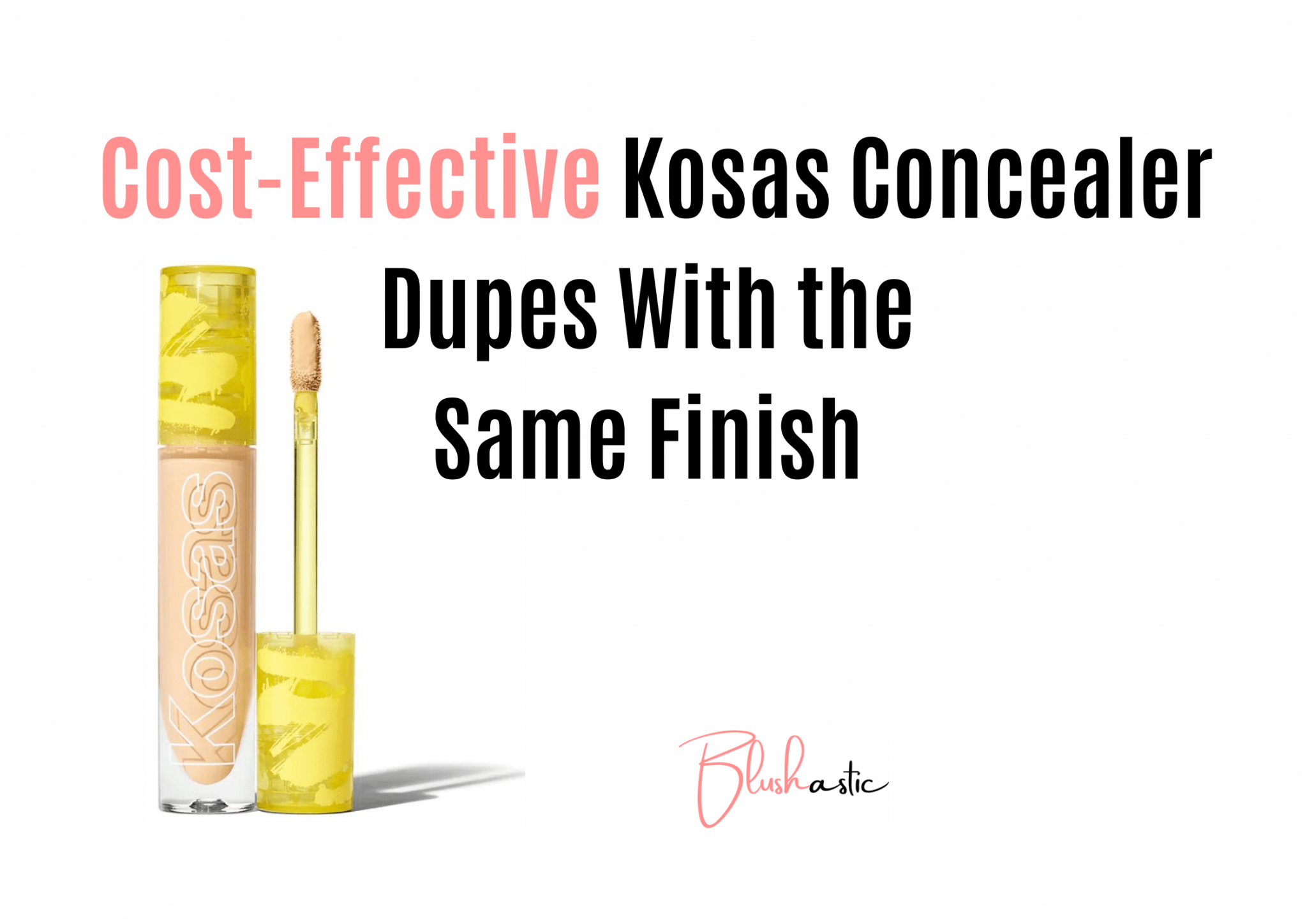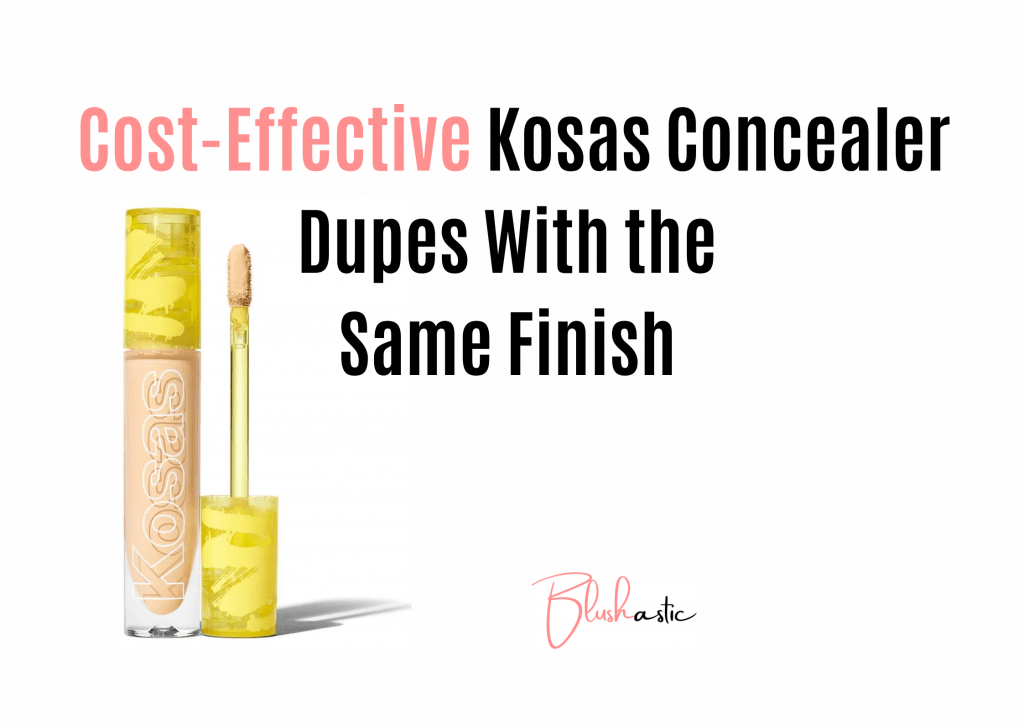 There are 4 types of concealers: cream, liquid, powder, and stick. Creams have a thicker consistency than liquids or powders. Most of us pick cream concealers because it works best for our skin type and make-up routines. Kosas came up with its super creamy and brightening concealer that is easily blendable and non-creasing. Isn't this the best thing ever? For a lot of people, indeed, it is but certainly not the price. Thus, people are looking for an affordable Kosas Concealer Dupe.
But Kosas is a high-end brand, and if you want to spend less than $28 on concealer, don't worry. We've got you covered. Here we have listed 11 Kosas Concealer Dupes that you can try to save some cash!
Kosas Concealer Dupe | Get the Same Finish with Cost-Effective Products
Kosas is a clean beauty brand that creates products that are the favorites of many. Kosas Concealer is no exception. Its creamy formula provides a smooth, crease-free finish and is excellent for all skin types. The product has medium coverage but is buildable and can provide full coverage. We can understand why it's a favorite.
The concealer comes in 28 shades, so no matter your skin tone, you will find a perfect match here. Besides being an ideal makeup product, Kosas Concealer is vegan, cruelty-free, and gluten-free.
All these qualities make this concealer worth the hype, but if you want to save money and have the same finish, here are some fantastic Kosas Concealer dupes.
Maybelline is one of those beauty brands that has been a favorite for generations. We've seen our mothers use it, and now we are using it. Maybelline age rewind Eraser is a fantastic Kosas Concealer dupe because it is buildable because of its creamy consistency and medium coverage.
This concealer is available in many shades and is suitable for all skin tones. It has innovative packaging with a cushion tip. You just have to twist the bottle, and the product will appear on the tip, and you can apply it easily.
Perks
Innovative Packaging.

The smooth and creamy formula of the concealer.

The concealer is easily blendable and does not tug the skin.

It provides decent coverage, which is buildable.

It lasts for a long time.

A budget-friendly option for Kosas Concealer.

Fragrance-Free product.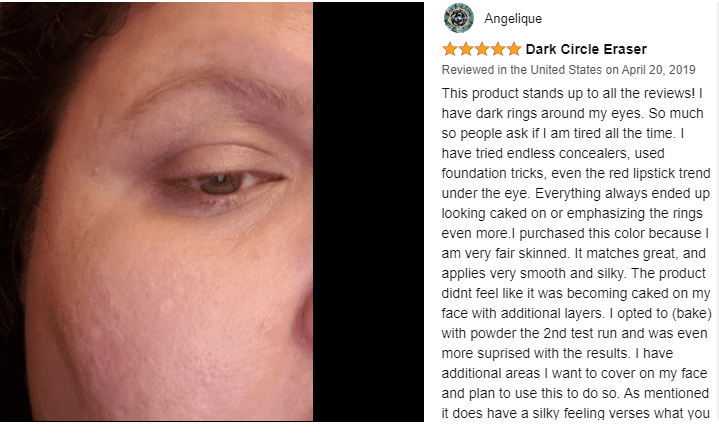 Cons
The cushion tip might get messy and lead to product wastage.

It's challenging to get the product on the tip when you use it for the first time.

Can look a bit ashy on some people.
The formula of the NYX Concealer serum is magic! This concealer serum is smooth and lightweight and provides good coverage too. Unlike many other high-coverage concealers, it does not get patchy or heavy. You can use it on eyelids to get your eyeshadow look more prominent.
It provides a smooth, natural-looking finish. It has nourishing ingredients that you usually find in a skincare serum, like vitamin E and glycerine. It comes in 13 shades which makes it suitable for most skin tones. This serum went viral on Tik Tok and rightly so!
Pros
Lightweight serum concealer.

It provides a smooth finish and doesn't settle into creases and fine lines.

Gives a medium coverage in the first layer itself and is buildable.

Gives a natural finish and doesn't look cakey or patchy.

Has skincare ingredients like vitamin E, Glycerine, and Cica.

Has multiple shades to choose from.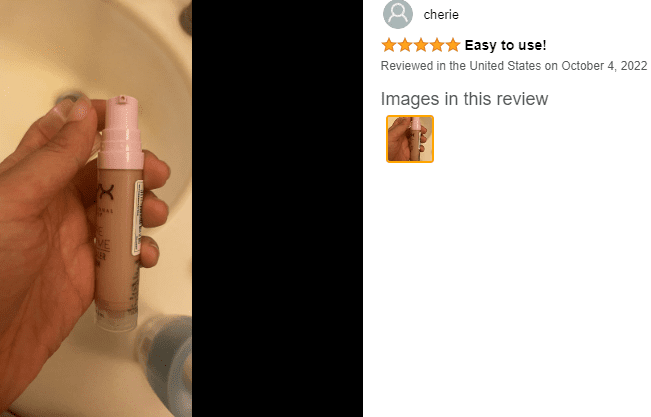 Cons
Not a wide range of shades is available.

Packaging can be improved.
This Concealer by Rare Beauty is phenomenal, just like Gomez's songs. A lightweight, easily blendable formula that gives a smooth finish. Who doesn't want that?
This Rare Beauty concealer has a liquid formula and glides effortlessly onto the skin without making it look patchy. If you have an environmentalist spirit, you'd be happy to know that the product is entirely vegan and paraben-free.
Advantages
Lightweight formula with medium coverage.

Easily blendable and does not tug at the skin

Liquid texture provides easy application.

Vegan Product.

Paraben Free

Suitable for Dry and Combination skin.

Gives a natural-looking and radiant finish.

Disadvantages
Not suitable for Oily skin type.

Not easy to blend with fingers.

Not ideal for a full-coverage makeup look.

It might crease if you have a lot of fine lines.
Nars Radiant Creamy Concealer
Nars is a renowned makeup brand and has several cult-favorite products. Nars Radiant Creamy Concealer is just another addition to that list. It has a smooth texture that glides over the skin easily.
It has impressive coverage and gives a radiant glow to the face. This product can be used for highlighting and contouring as well. It is long-lasting and doesn't set into the skin's fine lines. This product is rated 4.3 on Sephora, which makes it worth a try!
Perks
Creamy, smooth texture.

It easily applies to the skin and is not patchy.

Provides medium to full coverage.

Lasts for a long time.

Has a smooth non-creasing formula.

Available in small sizes as well.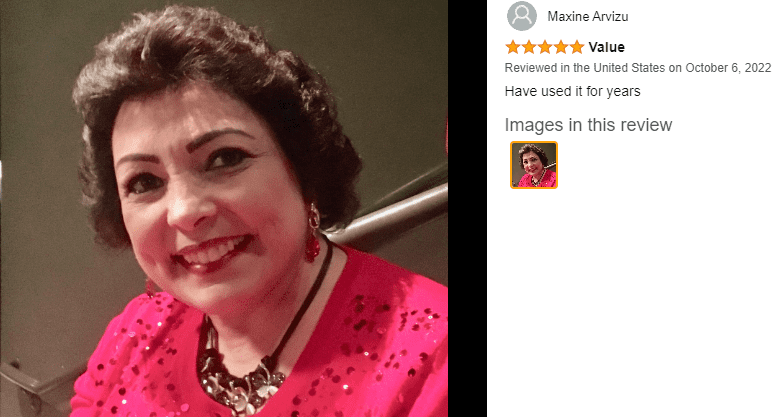 Drawbacks
It can be expensive for some people.

Not Cruelty-free.

Not a clean beauty product.
Tarte Shape Tape Concealer
With this Tarte Shape Tape Concealer, a little bit goes a long way. If you want to use a little product that is long-lasting creamy, and provides full coverage, this is the concealer for you. This concealer does its best to deliver your smooth, crease-free finish with just a tiny amount of product.
After applying this product, the skin looks immediately lifted and highlighted. It has a moisturizing waterproof formula suitable for daily use. It is available in many shades, and almost every skin tone will find its match. Thus, it is an excellent Kosas Concealer Dupe.
Pros
Long-lasting concealer.

It contains licorice root that prevents creasing.

Waterproof formula.

Contains moisturizing ingredients like Shea butter and Mango Butter.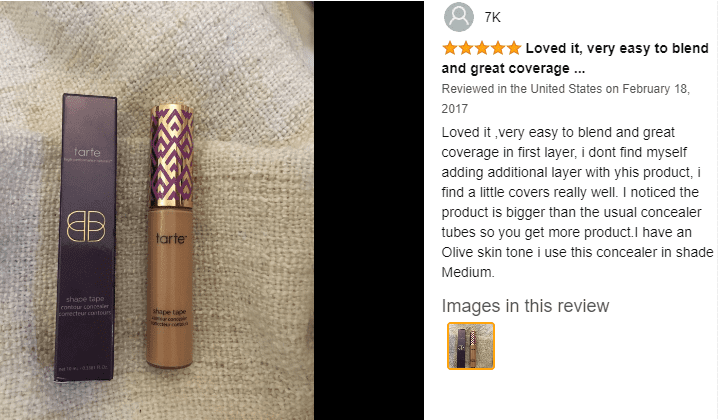 Cons
Contains fragrance.

The product is not cruelty-free.

It might not be suitable for sensitive skin because of the presence of fragrance.
L'Oréal Paris Infallible Full Wear Waterproof Concealer
This is one of the best long-wear concealers on the market. L'Oréal has been around for a long time and has given many iconic products. Its Infallible concealer is a new addition to the list, from the creamy texture to the packaging.
If you have used the products from L'Oreal before, then you already know that this concealer is worth a try!
Pros
Creamy texture and easily blendable.

It is a long-wear formula that doesn't crease easily.

It contains silica and glycerine that gives a smooth finish after blending.

The waterproof formula makes it fit for everyday use.

Affordable and readily available.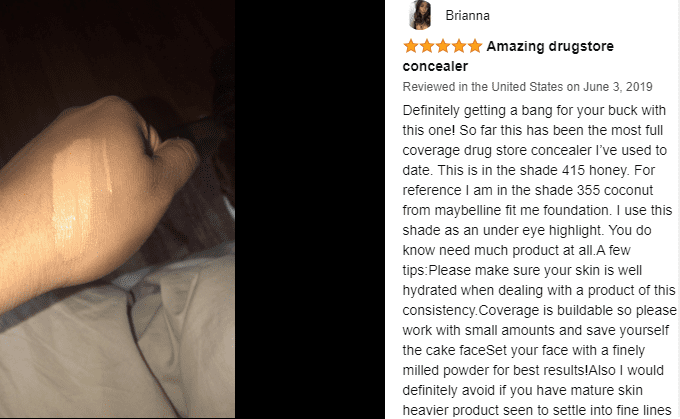 Cons
It dries easily and quickly, so you must blend it instantly after applying.

It's not cruelty-free.

Contains Fragrance.
Fenty Beauty Pro Filt'r Instant Retouch Concealer
If you're the one who prefers a matte finish over the shiny one, Fenty Beauty Pro Concealer is for you. It gives a natural finish without making your face look heavy or oily.
This concealer contains glycerine which keeps the skin hydrated but doesn't make it look oily. The formula gives a soft matte finish and full coverage.
Advantages
Gives a smooth matte finish.

Provides full coverage and is suitable for covering blemishes.

Its sweat-resistant formula is perfect for summer.

Doesn't feel heavy on the skin.

Available in 50 shades.

It is a cruelty-free product.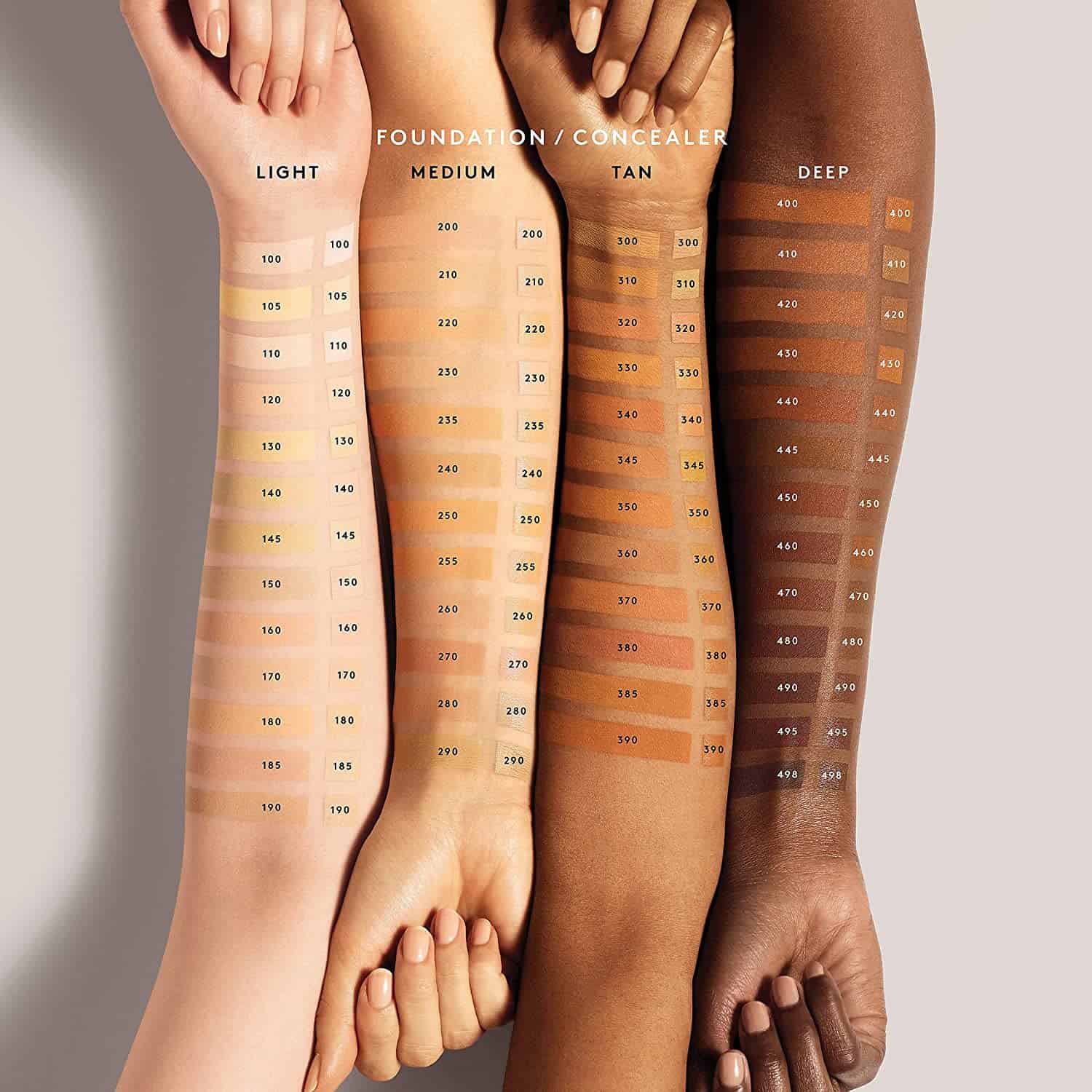 Disadvantages
This concealer contains alcohol.

It can be a bit expensive for some people.
Catrice Cosmetics True Skin High Cover Concealer
The formula of this concealer truly feels like a second skin. It has hyaluronic acid, which makes the formula very hydrating and easily blendable. This concealer might be a holy grail for you if you have dry skin.
It has a long-wear formula that keeps your skin supple and hydrated. That's why it's the best Kosas Concealer Dupe.
Pros
Gives a glowy smooth finish.

It has a long-wear formula and is perfect for an everyday makeup look.

Contains Hyaluronic acid, which makes the skin hydrated.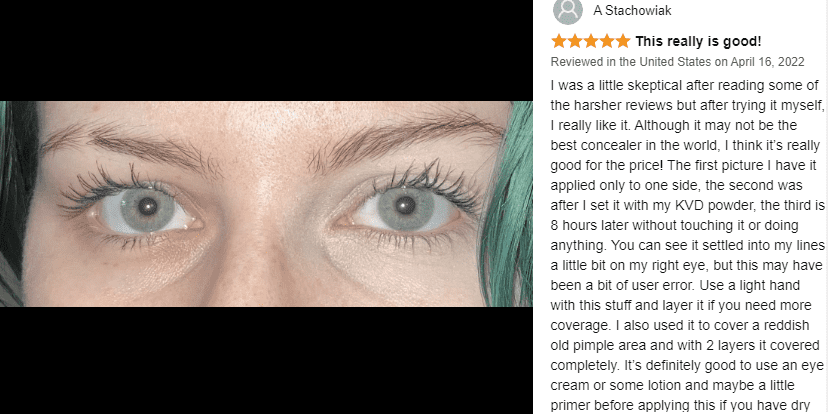 Cons
It contains Fragrance.

It has a limited range of shades.
Almay Clear Complexion Concealer
This concealer is perfect for most skin types. It provides good coverage and covers all blemishes perfectly. It has a perfect consistency which is suitable for daily use.
The full coverage formula covers the blemishes quickly. It is hypoallergenic and ideal for sensitive skin. It has skincare ingredients like salicylic acid and aloe vera, which improve the skin's appearance.
Pros
It contains salicylic acid, which works to make your skin better.

The chamomile present in its formula soothes the skin.

It is suitable for acne-prone skin and keeps your acne under control.

It provides good coverage without making your skin look cakey.

Cruelty-free and non-comedogenic.

It is a fragrance-free formula.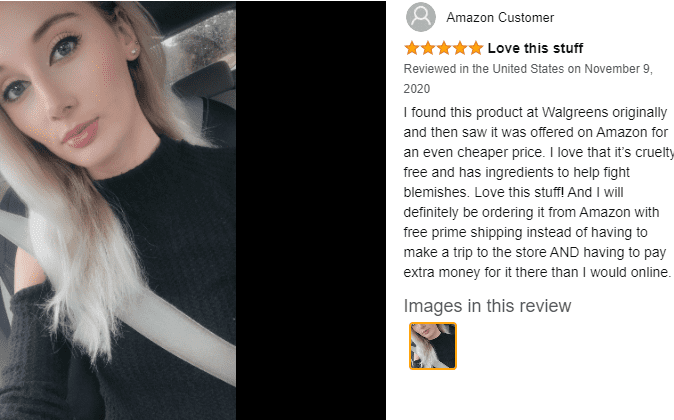 Cons
It might be unavailable at stores sometimes.

It might crease if you have excellent lines.

Blending the product is a difficult task.
Beauty Bakerie Instabake 3-in-1 Concealer
This product blends easily and gives that effortless glow. It has a creamy consistency and is a good option if you want to cover dark circles. The concealer comes in cute packaging with an applicator.
The applicator has a fine tip, which makes the application process easy and comfortable. Beauty Bakerie concealer has a thick consistency, which works for many people.
Pros
The concealer has a creamy thick consistency.

It provides full coverage.

It is perfect for covering dark circles, blemishes, and discoloration.

The product gives a smooth, hydrated finish after blending.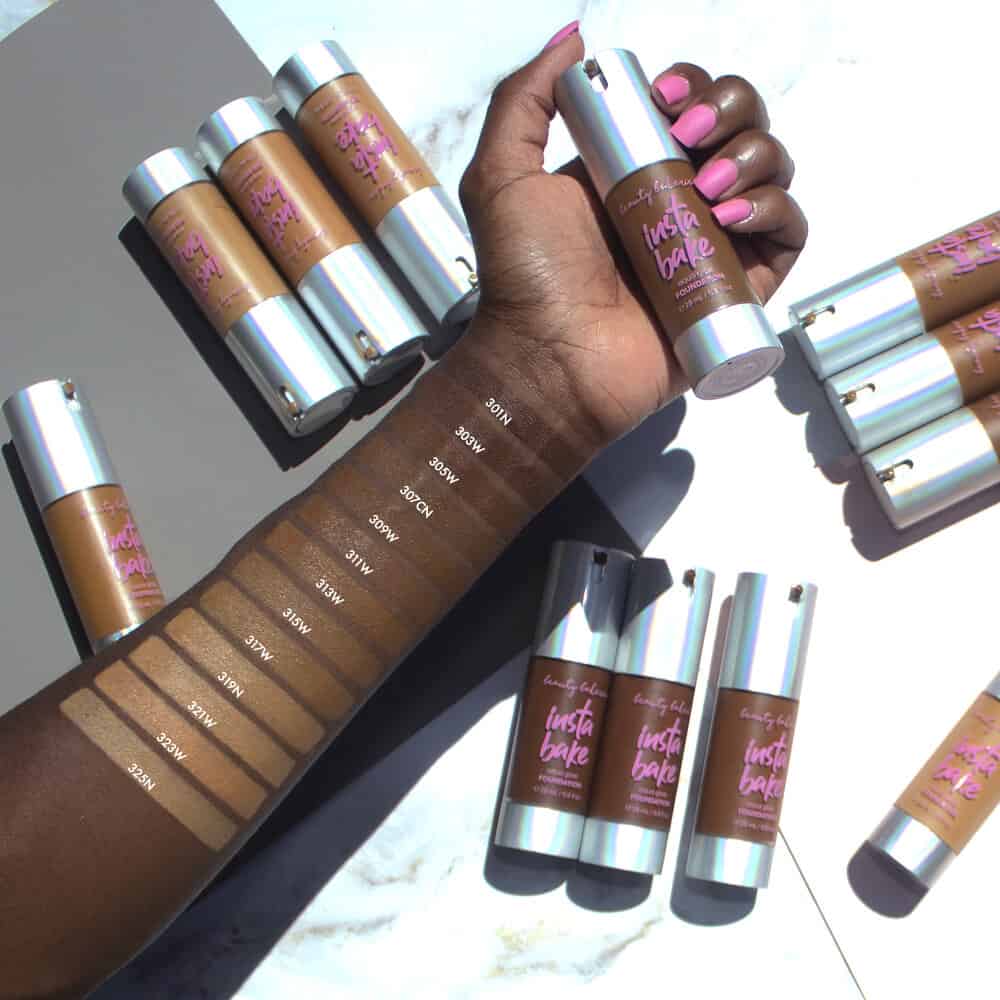 Cons
It is available in smaller packaging.

It can be unavailable at stores, so you have to keep checking.
The Ordinary Coverage Concealer
The Ordinary is a beloved budget beauty brand of many. The product comes in a tube packaging with a small nozzle. It blends easily, even with fingers, and lasts long. The concealer gives full coverage, but surprisingly, it isn't cakey. It has a silky finish that makes you look radiant.
If you have dry skin, remember to moisturize before applying the product. The concealer is lightweight but very easily buildable, which makes it perfect for hiding those unwanted marks making it an ideal Kosas Concealer Dupe.
Pros
A budget-friendly makeup product.

Effortlessly buildable and provides full coverage.

Lightweight and easily buildable.

Doesn'tfeel cakey or heavy on my face.

The concealer does not oxidize, and the color remains the same throughout the day.

The packaging is compact and convenient and can be carried easily.

The small nozzle is perfect for dot application.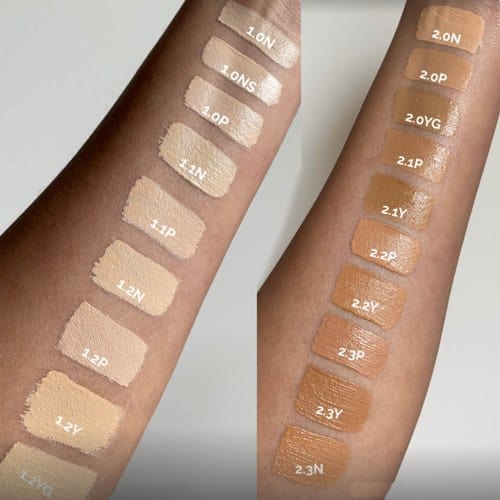 Cons
It might set into fine lines after 8-10 hours of wearing.

Only comes in a smaller package than 8ml.
Closure
Each skin type is different, and choosing makeup products that complement your skin color and type is very important.
Concealers are essential to a makeup look, and you should pick the right one to get that flawless finish. Kosas Concealer provides a smooth creaseless finish and lasts long. However, this concealer can be a bit pricey for many people. But you can still get the makeup look of your dreams.
In this article, we presented to you 11 Kosas Concealer Dupes. Try these and find out the best one for yourself!
Rebecca is a skilled writer with a passion for makeup and skincare. With years of experience in the beauty industry, she has a deep understanding of the latest trends and products and a talent for creating engaging content that resonates with her readers. Whether she's writing about the latest skincare products or sharing her favorite makeup tips, Rebecca's writing is always informative, entertaining, and inspiring.