Barely-there makeup may have gotten people hooked on, but the ultimate sparkle of a lit-from-within glowy face cannot be beaten. And, depending upon only your highlighter, or a dewy blush is not going to cut it. You will have to do much more to make your makeup a statement. Have you ever wondered why celebs on red carpets or promotional events get that glittery liner? Or the luminous cheek tint that looks as if it is just applied? Or even that supple-looking skin with hints of minimalism yet blended with the right glam?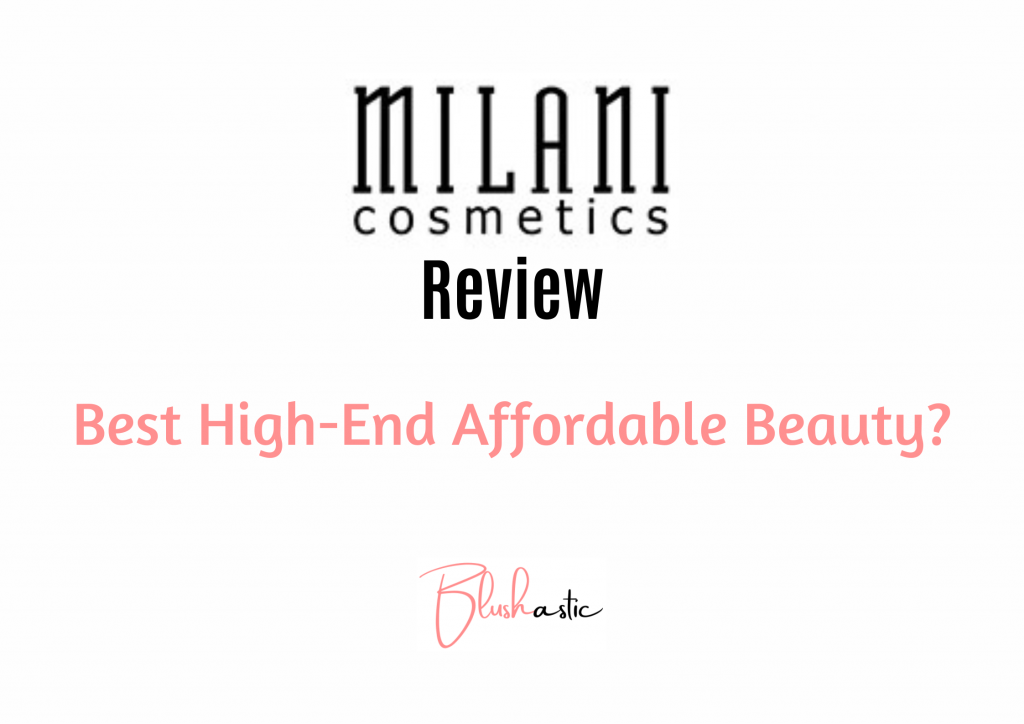 What is the trick? The answer is an entirely fledged makeup routine that does not miss out on any essential. According to Milani Makeup, this groundbreaking beauty brand claims to offer it all when all things makeup is the hot topic! But will it be enough? Milani Makeup reviews will do the needful.
Beauty might be skin deep, but that does not mean the crust of your canvas should be left ignored! It also deserves some TLC, and this brand ensures your skin gets it. For this, it has designed various products to help set your makeup seamlessly and make you realize that your skin needs it so badly to sit in one place! Is Milani Good For Sensitve Skin? Without hovering over any more doubts, let us get to it. 
Milani Makeup Reviews |

Best High-End Affordable Beauty?
Different makeup brands enter and leave the cosmetic industry every waking hour of fashion, but only a few manage to leave an impression on people, a good one. But when you are already in this doldrum of looking good and amping up your appearance business, you must continuously experiment with products to find the right skin match. Some products will make you feel how wrong they are for you, while others will just feel right.
Milani Makeup is one such brand that feels right to millions of users,s who swear by its lightweight and silky formula that glides and blends in the right way! But, Is Milani A Clean Brand? 
The formula of any makeup product is the key to creating an even, smooth, and supple makeup look. And for this, it requires a pleasing composition inspired directly by nature, and this brand claims to deliver that. Ingredients like Turmeric Root Extract, Caffeine, Sodium Hyaluronate, Niacinamide, Ascorbic Acid, Panax Ginseng Root Extract, (Jojoba) Seed Oil‬, and tocopherol or vitamin E are some of the ingredients so commonly found in the products of this brand.
All of them are skin-loving and spoil your skin with nourishing and moisturizing qualities. The brand takes pride in being 100% cruelty-free and assures that no being with fin, fur, or feathers was harmed during the process. 
The brand has vegan consumption in all its products as well. Though everything has been reported to be good, people yet have certain doubts regarding it. What users have loved most about this makeup brand is the ease with which you can afford these products and make your social events happier!
Perks 
Evens out skin tone

Hides imperfections with flair 

Keeps your skin camera-ready at all times

Designed with light-diffusing particles that add radiance 

Infuses lasting airbrush finish 

Gives a natural flush to your skin 

Offers long-lasting effects 

Camouflages discoloration, and redness

Actively combats signs of aging like wrinkles, under-eye circles, and fine lines 

The formula is waterproof and sweatproof 

Delivers a heavy payoff 

Comes in a plethora of bold, and subtle shades 

Perfect for all types of skin 
Drawbacks 
Though the brand does not test on animals and is vegan, it has still been in the headlines for not being transparent about the use of some ingredients like palm oil, shea butter, and mica. 
Bestselling Products of Milani 
Milani Baked Blush
If any product from the brand deserves a ticket to the front-row seat, it's the hero product from Milani, the Milani Baked Blush. Preferred by many enthusiasts on social media and even luxury salons, this formula has garnered over 30k reviews on Amazon and is available in 20 flirtatious shades of pink and peach!
Milani Baked Blush - Petal Primavera (0.12 Ounce) Cruelty-Free Powder Blush - Shape, Contour & Highlight Face for a Shimmery or Matte Finish
RADIANT BAKED BLUSH: Richly pigmented and highly buildable, the beautiful matte and shimmery shades of Baked Blush are the perfect cheeky pop of color for every skin tone. Shape, contour and highlight your best facial features.
AVAILABLE IN 12 SHADES: Choose from 12 different rosy shades to add a natural shimmer or matte finish to your complexion. Mirror and mini brush are included.
CRUELTY-FREE BEAUTY: This powder blush is formulated with the best ingredients to add a natural glow to your face. Sunbaked on Italian terracotta tiles, the warm finish adds a radiance that is the very essence of beauty. Never tested on animals.
TIPS & TRICKS: Apply with the included mini brush or Milani Blush Brush starting at the apple of your cheek and gently swiping up and away. The buildable formula enables you to create a natural or more rosy look.
WE ARE MILANI: Born in East LA, we've always been connected to the rich diversity of our neighborhood, because it's a place that truly embodies the melting pot of Los Angeles. We're not inspired by couture and top models. Our passion is real people, living real lives. Beauty is for everyone. No matter who you are or where you come from, we're here to fuel your self-expression with makeup for every shade, attitude, and ethnicity. No judgment. No exceptions.
Looking pretty might require effort, but when you have this blush at your disposal, your job is to sit and relax! The highly buildable formula offers shimmery and satin shades to get a sunbaked glow depending on your moods. So, next hunt for rosy glam for your skin, you know where to call!
Milani Conceal + Perfect 2-in-1 Foundation + Concealer 
The Milani Conceal + Perfect 2-in-1 Foundation + Concealer from Milani has to be the talk of the town, unarguably! An? If not, it deserves every bit of it! We are not using this, but users are! This 2-in-1 multitasker offers your skin a beautiful base when you're too busy to follow up on its wishes. This duo from the brand is A work of art and offers you medium-to-full coverage.
This kind of coverage is exactly what your agitated skin needs. The formula is not too much that your skin will feel heavy under and not too less that il get ignored in the crowd. Everyone's skin needs noticing, and this blend proves it effortlessly!  And it comes in 45 shades, so happy matching!
Milani Baked Bronzer
That warm cupcake look that is not too burnt and subtle is making headlines, and the Milani Baked Bronzer shows how. Before you hear from anyone else, we would like to tell you that this bronzer has been baked on Italian terracotta tiles, which makes its formula more special than others.
Milani Baked Bronzer - Dolce, Cruelty-Free Shimmer Bronzing Powder to Use For Contour Makeup, Highlighters Makeup, Bronzer Makeup, 0.25 Ounce
RADIANT BAKED BRONZER: Crafted on Italian terracotta tiles, Baked Bronzer is all about a streak-free glow with a slight shimmer finish. Shape, contour and highlight your best facial features with our highly recommended bronzing powder.
AVAILABLE IN 3 SHADES: Choose from 3 of our highlighters makeup glowing colors ranging from soft gold to tantalizingly tan to create a natural, sunkissed look that lasts all day.
CRUELTY-FREE BEAUTY: This powder bronzer is formulated with top-of-the-line ingredients to add a shimmering glow to your face and body. Never tested on animals.
TIPS & TRICKS: Use the Milani Powder/Bronzer Makeup Brush to dust Baked Bronzer lightly on your face and body—anywhere and everywhere you want to glow.
WE ARE MILANI: Born in East LA, we've always been connected to the rich diversity of our neighborhood, because it's a place that truly embodies the melting pot of Los Angeles. We're not inspired by couture and top models. Our passion is real people, living real lives. Beauty is for everyone. No matter who you are or where you come from, we're here to fuel your self-expression with makeup for every shade, attitude, and ethnicity. No judgment. No exceptions.
Glow, Soleil, and Dolce are the three key shades available in this range, and each is equally and irresistibly better than the other. If you are bent on taking something from home today from this beauty pantry, it should be this bronzer for sure!
Milani Color Fetish Matte Lipstick

,
The Milani Color Fetish Matte Lipstick in the shade Blossom has taken over the internet with a huge splash. If you didn't know about it tool now, this would be your bad! The pigment-rich lipstick range offers you 14 iconic shades specifically designed to complement all skin tones. One stroke of this beauty would offer a heavy payoff, so you can go about your day without worrying about meaningless touch-ups. The formula has been infused with the nourishing power of Hyaluronic Acid and keeps your lips plushy-soft like cushions!
All the other soothing oils in the formula ensure your lips feel smooth upon touch and keep dryness in check. It is time you ditch your chapstick, for this lippie offers you so much more!
Milani Make It Last 3-in-1 Setting Spray and Primer- Prime + Correct + Set
Do you want your makeup to last long? The answer lies in this 3-in-1 spray from the brand! 
A setting spray is the holy grail product of any makeup enthusiast bent on trying to lock the look in place. The formula works like a charm and prepares the base of your skin in the most caring and excellent way. Because of this formula, your foundation will be in place without budging.
Milani Make It Last 3-in-1 Setting Spray and Primer- Prime + Correct + Set (2.03 Fl. Oz.) Makeup Finishing Spray and Primer - Long Lasting Makeup Primer and Spray
PRIME + CORRECT + SET: Make It Last Prime + Correct + Set Setting Spray preps your face, reduces the appearance of imperfections and then locks in for the long haul. You can enjoy up to 16 hours without a crease or smudge in sight. Spray before or after makeup application, or wear it alone for a captivating natural finish.
LONG-LASTING WEAR: This illuminating finishing spray and makeup primer delivers just the right dose of dewy to your complexion with a cooling, refreshing feeling, while locking in your makeup for up to 16 hours without creasing, smudging or fading!
VEGAN, CRUELTY-FREE BEAUTY: The vegan formula primes, hydrates, and illuminates your skin. Spray under or over makeup to set your look, or wear on its own for a healthy radiance all day long.
TIPS & TRICKS: Hold bottle 8-10 inches away from your face and spray in a zigzag formation. Do not spray directly into eyes.
WE ARE MILANI: Born in East LA, we've always been connected to the rich diversity of our neighborhood, because it's a place that truly embodies the melting pot of Los Angeles. We're not inspired by couture and top models. Our passion is real people, living real lives. Beauty is for everyone. No matter who you are or where you come from, we're here to fuel your self-expression with makeup for every shade, attitude, and ethnicity. No judgment. No exceptions.
Your primer also blends easily with your skin, preventing ant streaks or smudges. After all, who wouldn't hate to see all that hard work and sweat melting away in the humidity? So if you have been having this kind of trouble for some time, take some cues from Milani because we have our eyes all set on it!
Milani Highly Rated Anti-Gravity Black Mascara 
Do all the hot and sensual things come in black? Because if that is the case, we are drooling over the Highly Rated Anti-Gravity Black Mascara, another bestselling courtesy of Milani! Creating the perfect bold-eye look might feel like a strenuous task even when you have been provided with A step-by-step guide. Not anymore! This formula promises to last as much as 24 hours and deliver a curling lift effect to your babies.
The formula is infused with heavy pigments that bring out the intense black look and contains castor oil, which moisturizes your lashes with a healthy coating. No need to spend extra calories on worrying, for it claims to remain seamless without smudging or clumping your sincere efforts. So, if you want to create those fairytale eyes, this mascara will show you the best way to let your eyes talk! 
Customer Feedback | Milani Makeup Reviews
No one likes to be fooled by reading something only to find that the product isn't what it said in real life. To save you and your wallet from this melancholic trouble, you should only look up to trusted and reliable sources which come forward with the right information and believe in the well-being of your skin.
After all, you would hate to see your foundation settling into those fine lines and becoming chalky, right? So we decided to take matters into our own hands and seek out the pure truth from you. Let us hear from users themselves about their experience with the brand. 
Nadia Z. commented, "I don't know if anyone on the planet is not obsessed with bronzers. This is my favorite because it enhances the radiance of my complexion without forming any ugly streaks. The dolce shade is my favorite, as it adds the right amount of definition to the points of my face where it wants it. The formula is lightweight and feels like it is not there on The skin. Now I know the secret behind my best friend's sun-kissed look, for she swears by it! Loving this new item."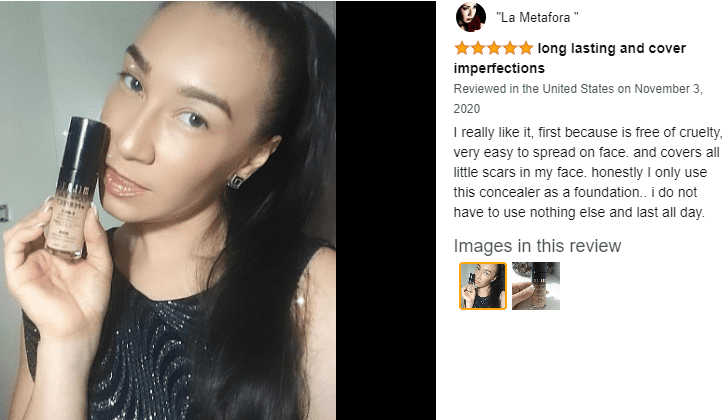 Julia pinned, "At first, I was a bit reluctant to buy this, as all the previous I have used did not suit my skin. The brand claims it includes no harmful ingredients, so I finally bought it, which was a mistake. It made my skin feel very heavy after some time."
Camille expressed, "After making a lot of efforts, I finally got my hands on this blush and haven't been able to stay calm since. I love everything bout it. Its formula features are seamless and give my skin a rush of strawberry color. I would do it happily if I could wear it day and night, even while bathing and sleeping. What I loved the most about this is that there are many shades of pink, and I happen to be a pink person!"
Andy Ross said, "Did not think I would ever say this, but this did not look good on me. I have a fair complexion, and most of the products look nice on me. However, I feel this is too shimmery for me, and I tend to create a look with subtle, neutral undertones. This formula is way too overpowering in effect."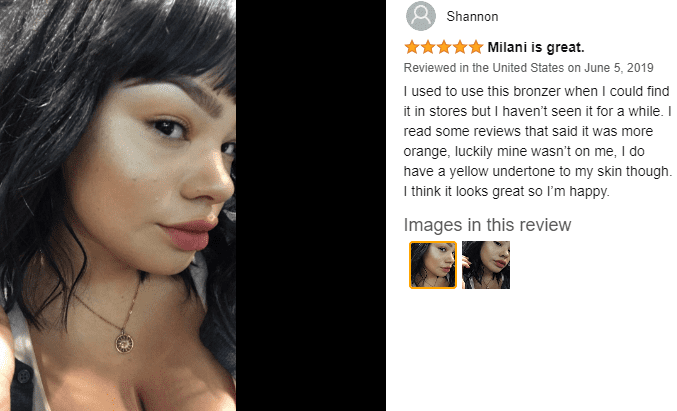 Christy mentioned, "I love how it adds a plumping vibe to my lips, with a glossy and delectable finish. Thank god, I won't have to go through the pain of needles again! This is a must-have for every girl out there."
FAQs | Milani Makeup Reviews
Is Milani high-end makeup?
You could say that Milani is an expensive yet affordable brand that has topped many beauty boards with its promising formula. They strive to design high-quality products, to match the charm of every unique skin tone. Reviews suggest that it has done a pretty good job in it. 
Who is Milani Makeup's owner? 
The renowned beauty brand Milani Cosmetics has made many headlines due to its skin-pampering formulas that amp up your beauty in seconds. The brand's headquarters are in Los Angeles, and it claims to cater to all skin tones, irrespective of their beauty goals. The brand's owner is its founder Laura Minc, who works hard to make these products accessible to all kinds of budgets, and people. 
Is Milani Cosmetics black-owned?
Most people today think that Milani is associated with black culture and people. But that is not right. The brand has always been upfront about its inclusivity mission, and the founder of this brand is a Caucasian woman. 6% of the brand's staff was black, but Milani is not a black-owned business. 
What is Milani known for?
The best brand products that have shaken the beauty industry with this charm are the Baked Blush and the Conceal + Perfect 2-In-1 Foundation and Concealer. These products are loved for being melanin-friendly and offer you the benefit of choosing from many shades. 
How long does the Milani Makeup foundation last?
The brand's multi-tasking foundation and concealer formula is its bestseller. The formula offers medium to full coverage that dries into a lovely matte finish and locks itself in place for 7-8 hours. It is weightless in texture and even complements sensitive skin. 
Where to buy Milani Makeup?
The Milani Makeup range is accessible and spread across the globe, so you can get your hands on them without much sweating. You can visit sites like Amazon, Walmart, Target, and Ulta to buy Milani products. You can also see the brand's official website and place your order if you want more product information.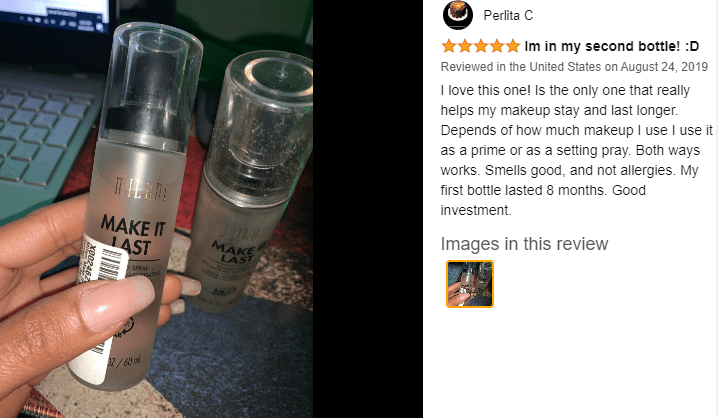 Is Milani Makeup hypoallergenic?
No, the brand does not mention whether this formula is hypoallergenic. Above that, it is still subjected to using harmful ingredients like mica, palm oil, and shea butter which might block your pores, causing impurities to be stuck within. 
Closure 
Beauty may lie in the eyes of the beholder, but that should not stop you from using makeup! Don't you think so? Flawless skin, nude lips, glimmering eyes, and glazed cheeks, we know you have a thong for all of these! So we thought to unburden you from stress and dig up some scoop. According to Milani Makeup reviews, the brand offers your skin a golden yet cost-effective chance to experience a beauty routine that you will be stuck with for good!
Users said the brand offers all the beauty lessons you need to learn ASAP if you want to achieve that high-maintenance girl look!
Milani reviews point out that, from all those users who had the opportunity to try these products, 93% were satisfied with the natural and fresh look it created, and 90% couldn't wait to upload their pictures, for their skin looked flawless and ethereal. The products strike the right balance and help flatter your skin in ways you haven't done before.
The bronzer adds some severe volume that highlights your favorite parts of your face, like those cheekbones which look extra sharp or your jawline that takes pride in its chiseled tone. We are feeling more than ready to introduce some Milani into our life. What about you?