In a hurry to paint that head? Keep your hands to yourself! Hair colors are not everyone's cup of tea! Ask them who have been embarrassed with walking out of the shower with orange, or Rapunzel-blonde hair, but in a not-so-good way! A lot can go wrong if you are a newbie in hair transformation, so it never hurts to have a helping hand! If you desire to color-correct your way through the streets of redness that linger on your skin like unwanted guests, we have some inside scoop that you will want! But, a hair color to minimize redness in face? How's that supposed to work?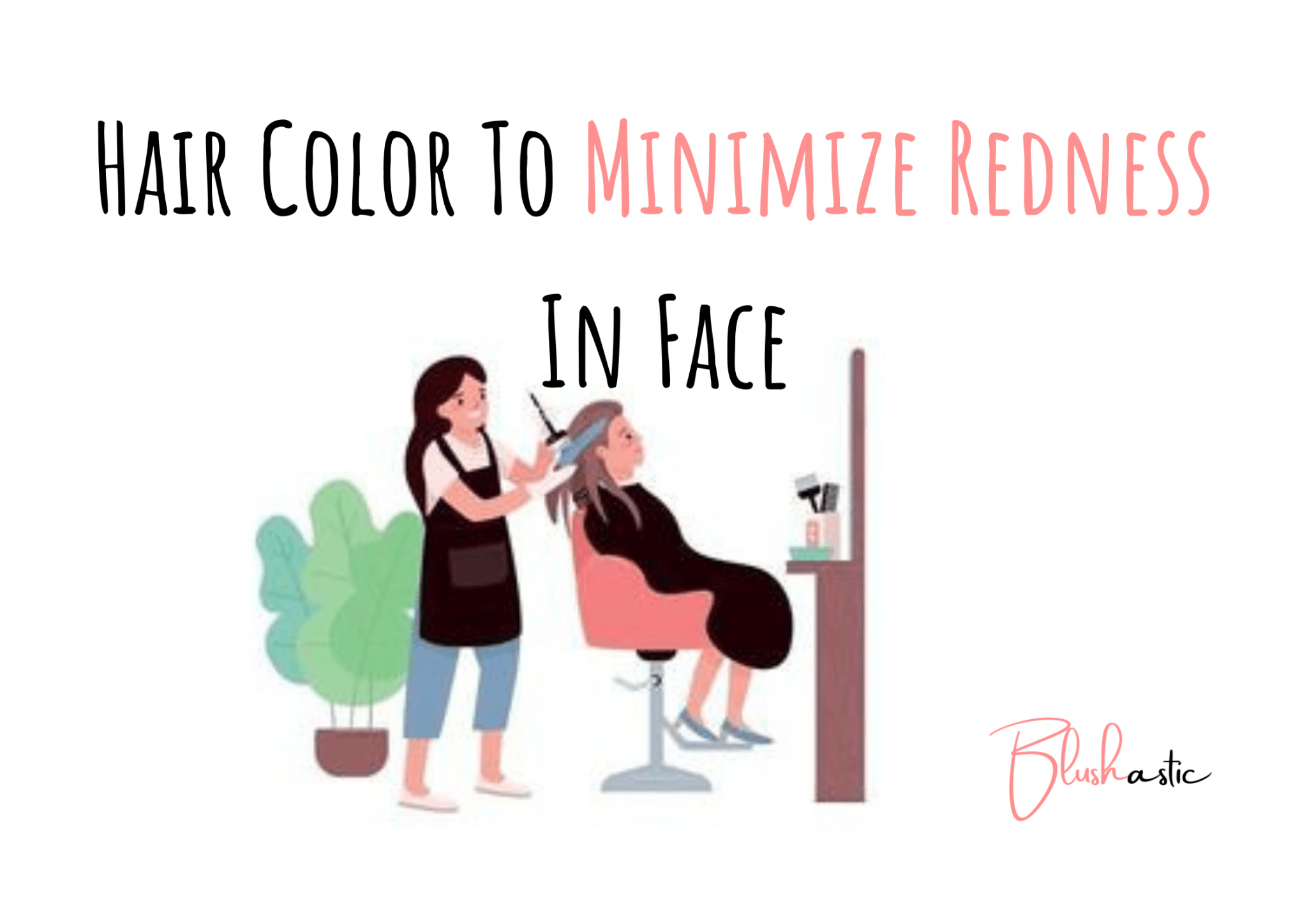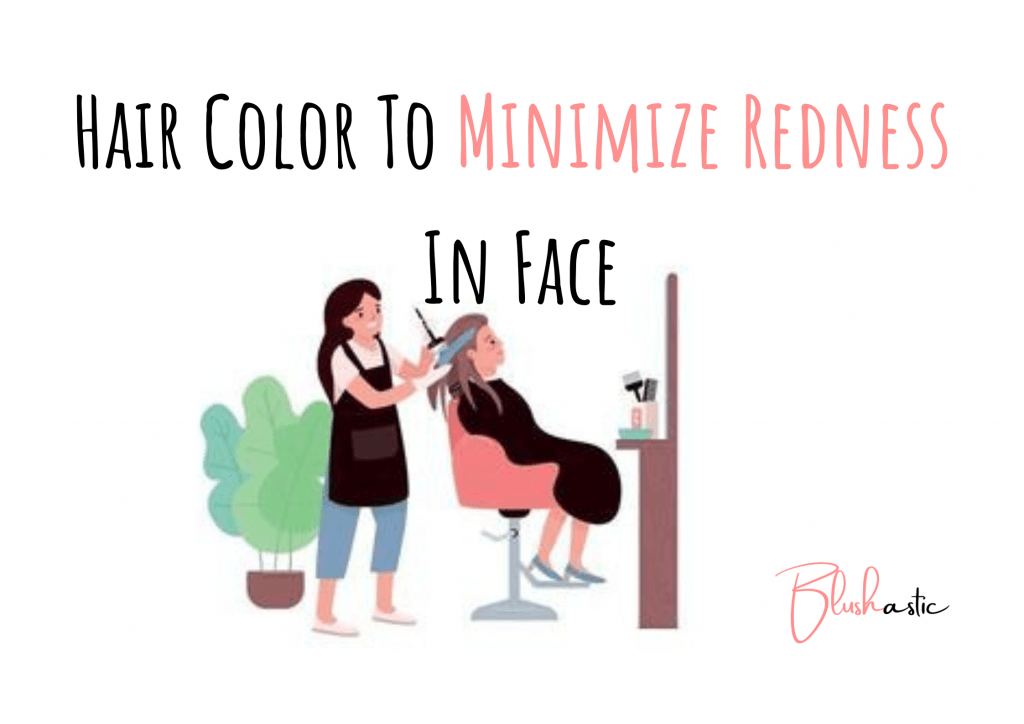 Chocolatey brunette, brownie cupcakes, sparkling reds, fantasy orange, or honeycomb hues are making a big splash as beauty experts have recommended them to neutralize the effects of redness and bring your hidden radiance. They will soothe the redness and give your appearance the charming vibe it has been yearning for. Tune up your glow, for things are about to get hot here and fast! 
Hair Color To Minimize Redness In Face
Colors That Make Skin Look Less Red
Before you take the plunge, educate yourself about the different hair color levels and tones in the color chart. Not everything will suit your complexion, no matter what undertones your red skin has. Different swatches and reference pictures are necessary so that you understand their intensities and temperatures and whether they will suit the redness in your skin.
Haircare is an important practice just as the skincare, and when we are talking about how hair can compliment the skin, we must know that being born with gorgeous hair is just a myth. Hence, it's quite certain to follow not just the regular practice but add an extra layer of protection to your hair by using genuine haircare treatments.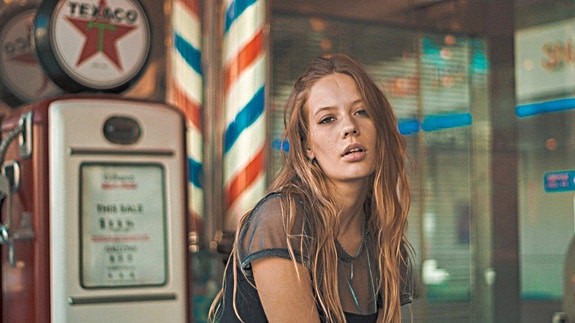 You also have the liberty to mix different tones. If you have a bluish undertone, you might go with aubergine shades, whereas warm tones, like tones that mimic looks of orange and red, might also give your hair you want to keep! 
What Color Hair Looks Good With Rosacea? (B

est Hair Color for Rosacea)
Let's first understand what rosacea is. Almost 14 million Americans suffer from this chronic inflammatory skin condition, while there remains a swarm of others unaware that something like this exists. This condition causes your skin to be flushed, which makes your face look soar. The intelligent thing is to pick a tone contrasting to your complexion.
For example, if you have a warmer undertone, cold hair colors will act neatly, whereas warm colors will be more your thing if you have cool undertones. All colors may look equally good on your skin with a neutral base. However, if you are someone who often gets plump like a tomato, soft and warm shades like caramel and tones of chestnut are your friends!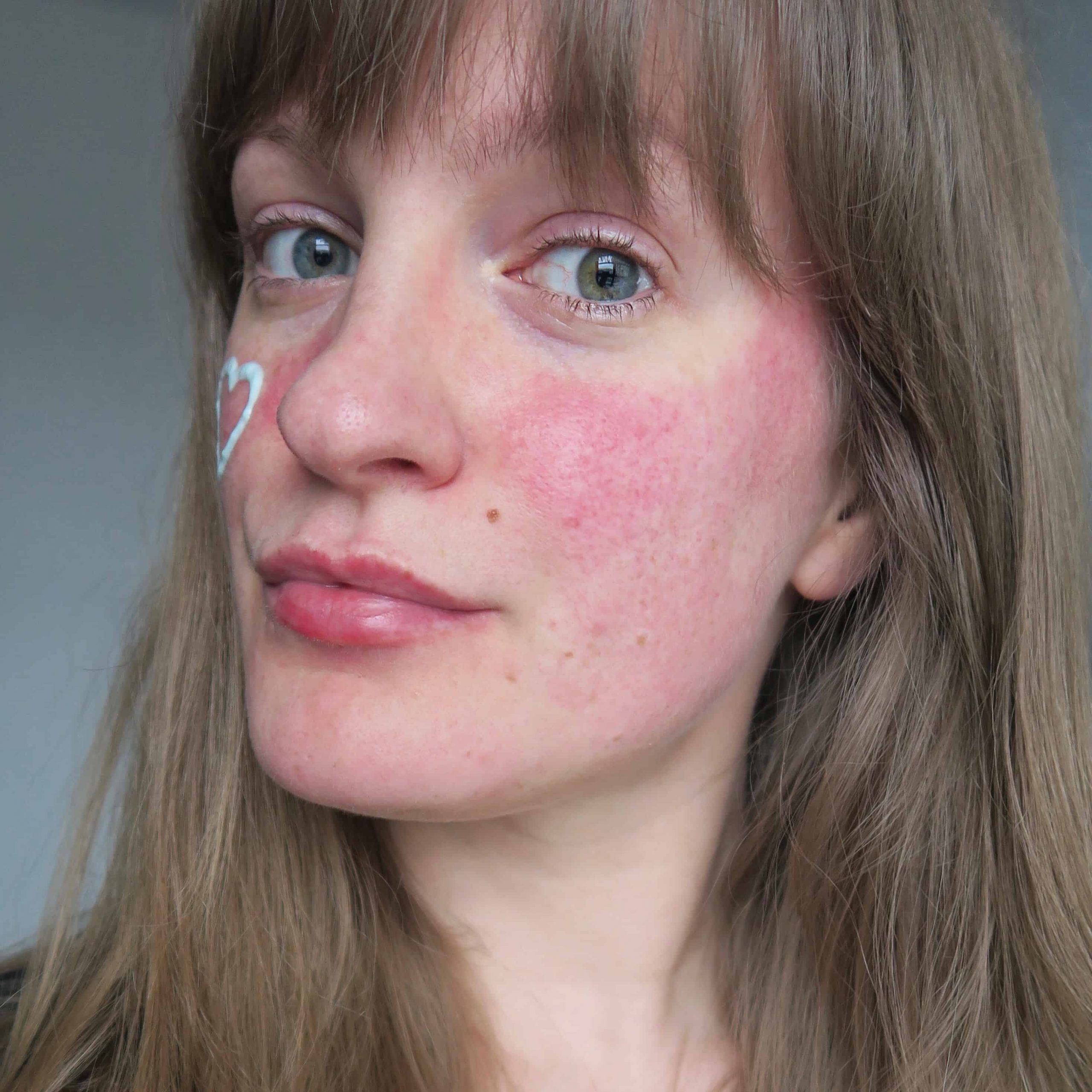 Cold shades like ash blonds with green in their base may intensify the redness on your skin, so make sure to avoid making that mistake. If you are naturally a brunette or have dark brown hair, with your age, it tends to get darker. You can use it to your advantage, as this helps take away the limelight from your red skin if you use a neutral base color. Highly saturated colors will wash out the base tone and amplify the redness, whereas less saturated tones will create a strange contrast.
You must keep all pointers in mind, as this spectrum of techniques will either make your look or break it! We would prefer the former! 
What Hair Color Cancels Out Red On Face?
Magic From Red
Instead of following the footprints of every other redhead, try to stand out from the crowd. Play and experiment with copper or orange tones of the red family. By this, we mean that prevent sticking to vivacious ranges like blues and purples, and go with coppery reds, bronze, and orange, as they will infuse more warmth to your complexion.
These subtle and humble tones of red have a habit of giving your fair skin a nice flush of color and helping in masking redness. These game-changing rose-gold tones add a splurge of dimension to your facial features so that your face looks appealing, with hints of shimmer!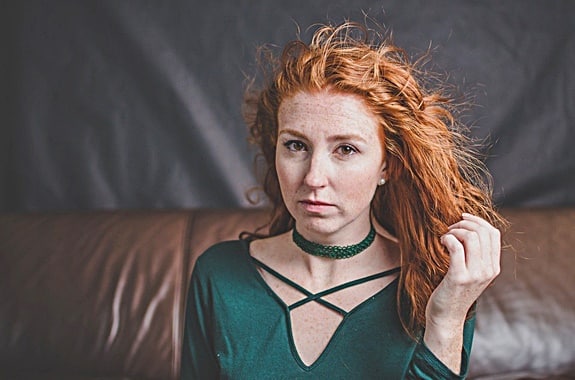 Rush Of Gold
The golden hour calls for enchanting tones that will enhance the depth of your complexion and put all the redness to rest!  So if your pick or very fair with soft undertones of gold, incorporate honey blondes and strawberry blondes into your arsenal. Take inspiration from warm tones which are not too brassy, as they can dull your ensemble.
Illuminating hints of gold like a glazed donut have light-reflecting properties and add an undefined, healthy luster to your locks. These warm tones bring an enviable blush to your cheekbones and make the red look less red! If you want a picture to look at for reference, we hope you are as crazy about Blake Lively as we are! 
Bask In Blonde | Best Hair Color For Red Face
We understand you don't want your peachy fair skin to clash with more stunning colors. This is why blondes are a safe space to resort to in desperate times! Choosing warmer and down-to-earth tones of honey can get you compliments from people when you are least expecting it! This earthy hue will minimize the redness in your face and add elegance.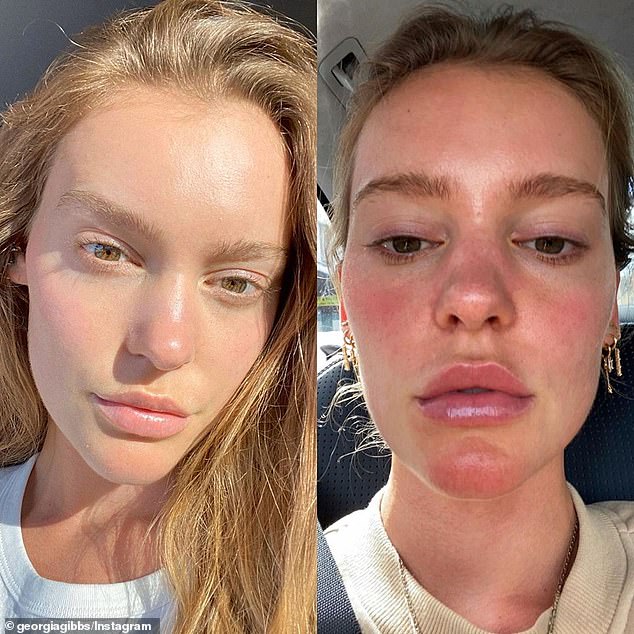 Make sure you don't go too light, as it will create a washed-out look and accentuate the effects of rosacea on your skin. Pamper your highlights with these summer-glow options so that when you step out in the sun next time, you don't need its charm to shine!
Bake With Brown 
For a red complexion that is glowy, the shade of golden brown is the safest way to accentuate your appearance. On top of that, it will be just the cherry on the cake if you are a brunette! Many users have popularly opted for this shade, as it prevents stress on your red skin and shifts the focus off them.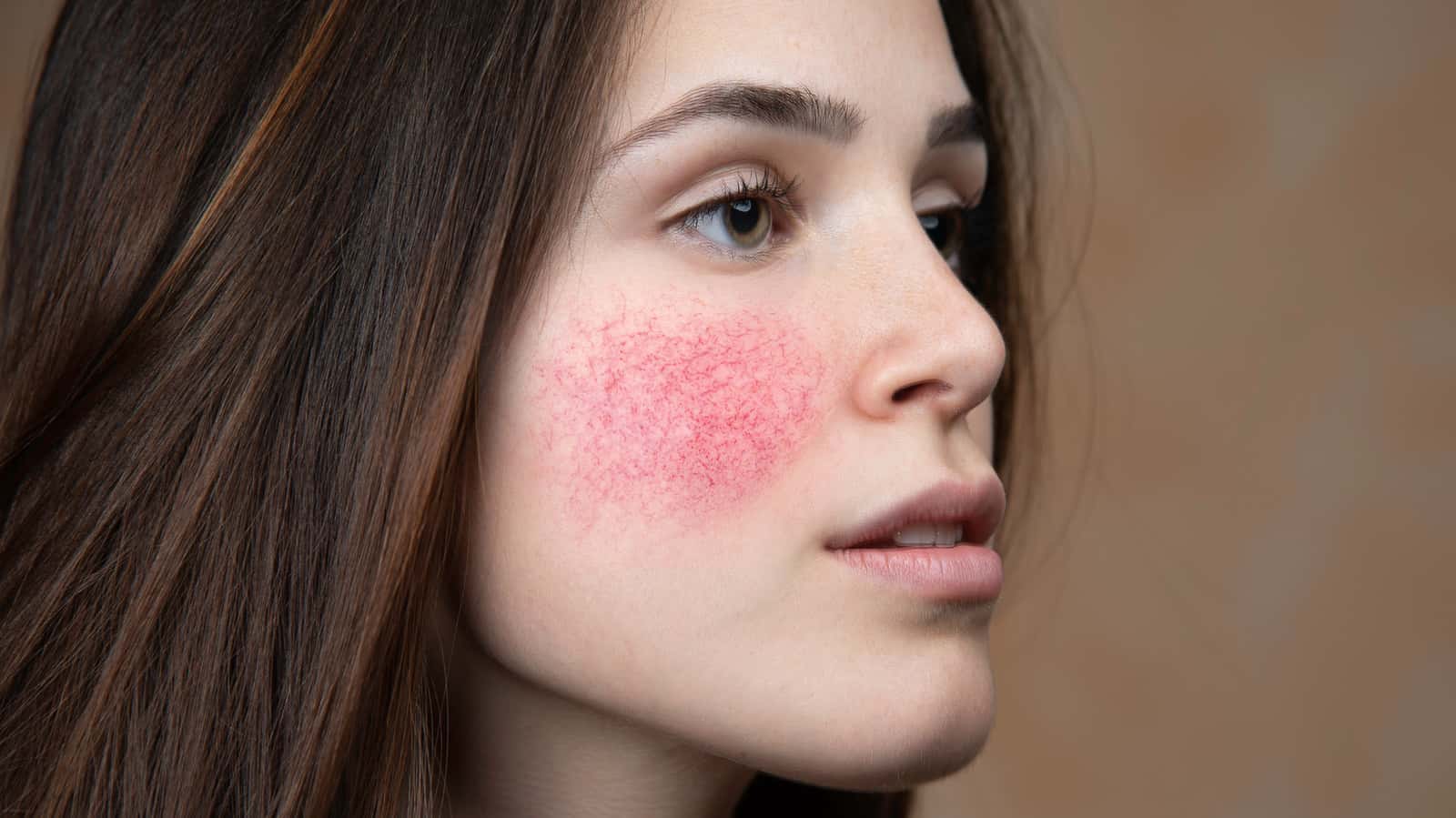 This look is the easiest to pull off and keeps the redness calm and less noticeable. Survey says that the ideal brunette shade is loved almost nine out of ten times, so if you typically want to become a brownie, you are in safe hands!  
What to avoid while choosing the Best Hair Color For Fair Skin?
A tailored skincare regimen is a must to adopt, especially when looking at what neutralizes redness on your face so that your complexion is flattered. The perfect sync of your hair color with your skin tone makes it vital to stay away from cool shades or colors with hints of green and those with underlying hues of a greyish tone. Apart from this, also steer clear from shades like faint brownish tones with speckles of olive.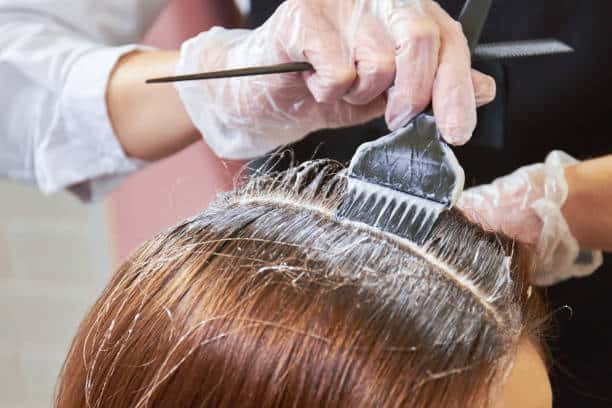 The primary reason behind this is that blue and green shades in the color chart tend to add more prominence to your skin's redness and make your imperfections more noticeable. We don't want that, do we? The rulebook says the key is to stick with warmer tones like mocha browns, cool icy blondes, and violet reds, and treat yourself to some head-turning moments. 
Final Thoughts On Hair Color To Minimize Redness In Face 
Now, that you know the importance of haircare, well certainly, you must look for the right haircare treatment and be more cautious about the haircare products just as you look for skincare. It's 2022, and the hair color trend is more significant than ever. Be it summer, fall, summer, or monsoon, the in-demand looks of the season are controlled gold, and our red-skin beauties will agree to this!
Before you usher in a pool of colors in front of you, you must know the basics by heart because no one likes to be called out! Do you know that you can put your redness under a blanket if you pick out the right soulmate shade from the palette? Yes, the right hair color to minimize redness in face will match your rosy skin like a match made in heaven. 
Hair color to neutralize red tones in hair reddit comments reveal that you can go red or ginger because the last thing you want to do to yourself is trigger your condition! But the New Hair Color Trends this year is all about going wild! While you might want to give in to this temptation, experts recommend sleeping with apricot lowlights, sienna red, or even burnt cinnamon.
This hue of color is having big moments in fashion and is a great way to rejuvenate your look and give your appearance a rich and glossy vibe. So, are you in to create some compelling drama? 
I'm Sarah Abraham, the founder and co-author of Blushastic.com and a professional makeup artist. Beauty is more than just skin deep, and that's why I'm passionate about sharing my knowledge and experience to help people feel confident and beautiful on the inside and out.
Whether it's skincare, haircare, or fashion, my goal is to empower women to feel their best. With my expertise in the beauty industry, I strive to provide practical advice and tips that are accessible to everyone, regardless of their skill level or budget.