After the internet got tired of answering your how-to bring back my hair questions, ScalpMED came up with a series of reinventing formulas that are essentially crafted to pump your hair back into being fluffy and thick as a weed! For all those times DIY haircare masks cant come to rescue you, this can be your hope! According to many Scalpmed reviews, the company claims that it eliminates the frustration of all its clients, which solely comes from hair loss. Their formula consists of an FDA-approved topical ingredient, Minoxidil, which works wonders for your hair, bringing your gorgeously thick mane back into the picture!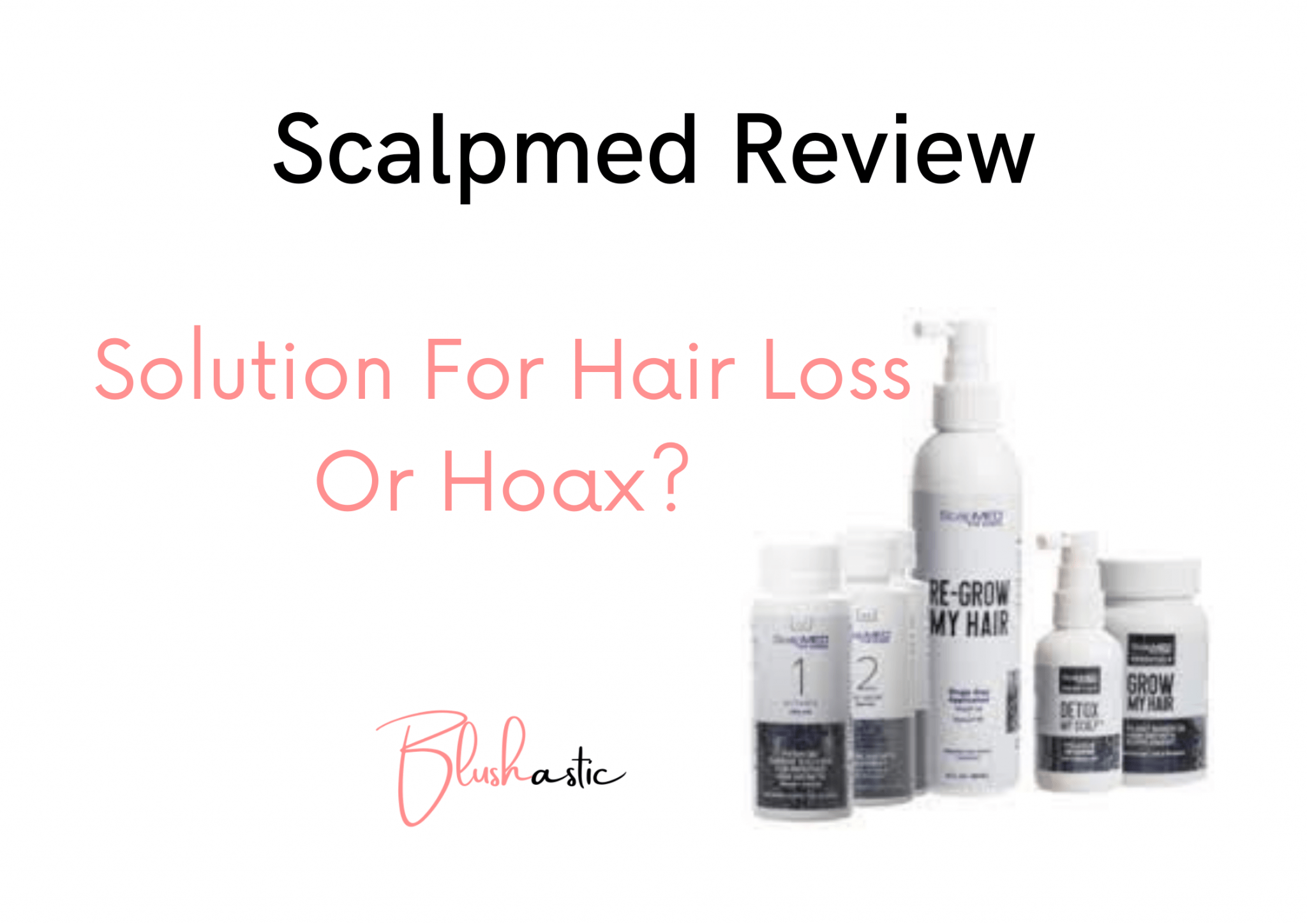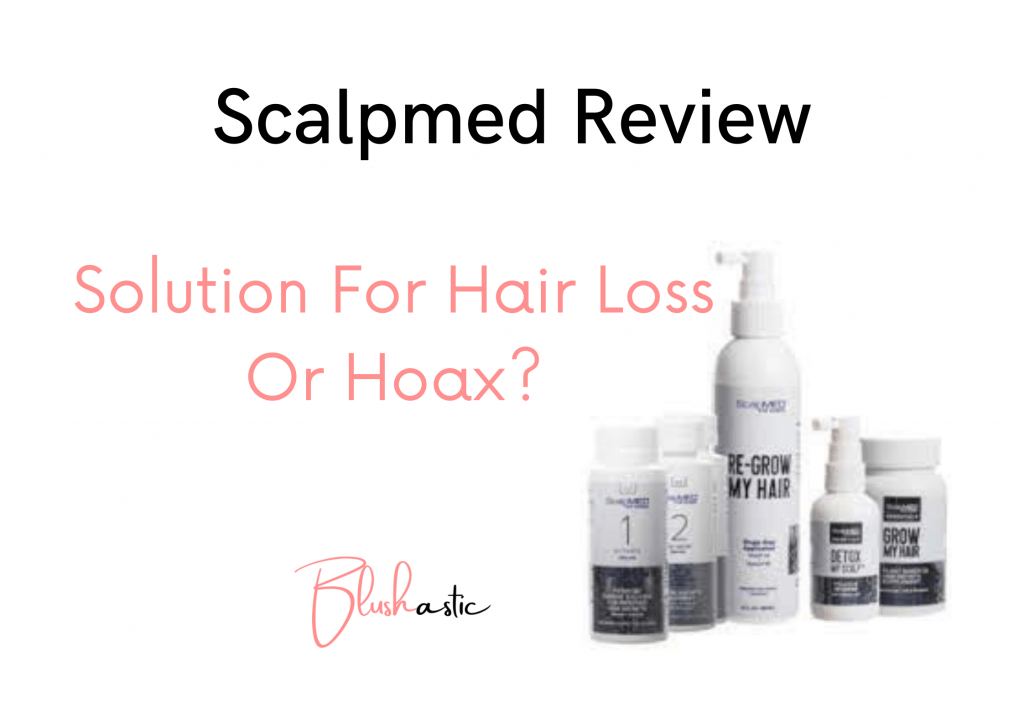 Healthy hair indicates a healthy lifestyle. But sometimes, unplanned activities and awful genes snatch away your precious volume, leaving your soft waves with stunted growth. 
Grooming bad habits like smoking and drinking are equally taxing and result in hair loss. Scalpmed offers a therapeutic option for all those in desperate need of getting their hair back. The company boasts of its products that boost your confidence by repairing your hair follicles, giving stability and power to your hair shafts. So is Scalpmed worth your time and money? Here's everything we have learned about it! Without wasting more breath, let's dive right in!
Also Read: Xtreme Lashes Reviews | Best Way To Perk Up Your Eyes?
Scalpmed Reviews | Solution For Hair Loss Or Hoax?
Did you know that many dead follicles lie undetected within the dermal layers of your scalp? This maximizes hair loss, as healthy hair doesn't get proper conditions to survive. All the locked-up tension in our body settles in different places and triggers hair thinning. We are as shocked as you are! Primarily, we take ourselves for a little reinvigorating therapy so that our scalp feels energized on this holiday! Scalpmed claims that it works double duty to keep your strands healthy, moisturized, and happier!
The company offers shampoo, conditioner, detox sessions, and hair supplements for men and women, which are supposed to get your volume back onto your head. We would be lying if we told you we believed this at first. A lot of hue and cry has been there regarding Scalpmed. Their line of products has not received the stamp of approval from the FDA, which may cause many people to stray away.
Meanwhile, their formula consists of enigmatic ingredients like Beta-Sitosterol, zinc, biotin, niacin, green tea, horsetail extract, selenium, saw palmetto, linolenic acid, turmeric, and bamboo extract. All these come together to reduce inflammation and nurture your scalp lovingly. 
Scalpmed uses a unique multi-patented approach. This technique requires two primary components Vitadil, and NutrSol, to be infused together. The former speeds up the effects of Minoxidil which is present in twitching itself and amps up hair regrowth. The thought of painful surgeries needn't bother you if you have this at your service!
Perks 
Nourishes follicles 

Has Nutrisol, which acts as a catalyst for minoxidil

Its products have a longer shelf life, that is of 2 years

It contains minoxidil in its composition, which is known to boost hair growth and has been approved by the FDA.

No sexual side effects from consuming Scalpmed supplements 

Retinol enhances collagen production

Increases elasticity

Promotes growth of new hair in 2 months 
Drawbacks 
Somewhat on the expensive side as you have to continue using 

Involves chances of scalp irritation 

Only one ingredient has been approved by FDA and the rest which is not

It may take a lot more than two months to see visible differences in hair growth

Complications in the return policy

Mixed reviews showed a lot of users were unhappy with the effects

4% of users didn't receive any results 

May not provide results to those who are in their last stages of hair loss
Scalpmed offers a list of products devoted to strengthening your hair so that you can relish in stunning tresses. The products eagerly fight hair loss and claim to bring back your thicker hair. Let us take a look at them.
ScalpMED CORTEX ENLARGER (Thickening Hair Spray)
Beauty trends are expanding, and so are varieties of hair sprays! Hair sprays are dedicated to giving you salon ready-hair so that your twisted up-dos stay twisted! This hair sprays from ScalpMED is all about plumping up your hair to look nothing but energized, crispy, and thicker. The spray is enriched with the goodness of panthenol, which helps thicken hair shafts and fibers.
This hides all the bald spots or sparse areas you wish your hair were. Both men and women can take advantage of this hair spray irrespective of their hair loss. The spray promises to last all day so that your flyaways don't give you a hard time!
Perks
Panthenol provides strength to hair

Amplifies volume 

Fuller-looking and bushy hair

Non-sticky finish 

Prevents dry scalp

Repairs damaged tissues of hair

It doesn't leave any trace of its presence 

Provitamin B5 forms a layer of moisture 
Scalp Med Cortex Enlarger Thickening Spray, Unscented, 8 Ounce
No sticky mess, completely invisible and undetectable
Works on all hair types regardless of the extent of hair loss, hair thinning or balding
Ingredients promote thicker hair shafts to instantly add volume for fuller looking hair
Free of sulfates, parabens and gluten
Not tested on animals
Drawbacks 
Expensive for a hair spray 
ScalpMED DETOX MY SCALP – Scalp Detoxifier 
Our scalp is the root of our health and beauty, so you must pamper it with a good detox session every once in a while. Scalp detoxes help release all the pent-up stress and help rejuvenate it from within. This act of exfoliation enlivens the hair, making it look youthful. The scalp detoxifier from the company is a good choice if you want to get rid of all those nasty waste lying idly on your skin. This clogs the pores and damages the hair follicles, which leads to thinning and irregular falling out of hair.
The detoxifier helps purify the scalp by scrubbing out all the unwanted dirt. This pushes away toxins and allows healthy hair to grow. The follicles also remain clean so that your hair looks refreshingly neat! Scalp facials help optimize your hair growth by profoundly moisturizing your roots. After all, sometimes a good massage can make all troubles go away!
Perks 
Removes excessive sebum buildup 

Deeply cleanses follicles

Purifies interior walls of hair shafts 

Kills bacteria

Breaks toxins 

Promotes healthy-looking hair 
Scalp Med Panthenol-DX Follicle Detoxifier, Unscented, 2.2 Ounce
Over time cholesterol and oils build up and clog the interior walls of hair follicles
Clogged follicles prevent hair from growing to its potential thickness
Designed to quickly remove years of build up in seconds and keep your follicles clear for a lifetime of full and healthy hair
Free of sulfates, parabens and gluten
Not tested on animals
Drawbacks 
A bit pricey 

Not all users got effective results from using this
ScalpMED GROW MY HAIR (Hair Growth Supplement) FOR MEN
Sometimes our haircare routines cant do it all, so there are supplements to amp up the process so that you can get your beautiful hair faster! The company has specially designed hair supplements for both men and women to revitalize their hair health. To charge up your scalp with their magical benefits, a deeply nutritious formula consisting of plant extracts and vital elements has been put together.
The ScalpMED® Extra Strength Formula Herbal Hair Supplement, with PhytoComplex™, acts as a superfood for your scalp and helps strengthen it from the inside out. The composition consists of ingredients like Beta-Sitosterol, Biotin, and Saw Palmetto, which is necessary to reverse all damage caused and infuse a charming glow.  
Beta-Sitosterol (BS) is a kind of phytosterol loaded with benefits that helps fight many hair loss diseases. It serves as a primary tool in fighting Dihydrotestosterone(DHT), known as one of the primary causes of male pattern baldness. 
Perks 
It makes up for hair deficiencies 

Actively assists in hair growth 

Laden with essential nutrients 

Zinc active repairs broken tissue 

Infused with turmeric, bamboo extracts 

It doesn't involve any sexual side effects 

Selenium kills fungus and dandruff 

Horsetail extract helps breathe life into shrunk hair follicles 
Drawbacks 
Expensive as you have to keep using them 

No substantial evidence backing up their assertion
ScalpMED GROW MY HAIR (Hair Growth Supplement) FOR WOMEN
Perks 
Supplies essential nutrients to the hair

It consists of a fine blend of plant extracts 

Promotes healthy scalp

Delivers denser hair 

Anti-inflammatory properties keep any irritation at bay

Restores natural shine
Drawbacks 
On the expensive side

It may not give the intended results 
ScalpMED THICKEN MY HAIR – Daily Cleanser Thickening Shampoo
Who said glamorous and shiny hair is only reserved for special days? While people are searching for some summer hair inspo, most of us are too scared to try any stunt with our hair that is not sophisticated. The Daily Cleanser Thickening Shampoo from Scalpmed has turned all tables with its organic blend of ingredients that penetrate deep into your scalp to detoxify dust and grime and make way for healthy hair.
Loaded with Phyto-Pūr®, the shampoo is a great way to boost your hair regimen if you have trouble sleeping at night because of hair thinning. Many plant-based cleansers are involved, which clean each shaft with the utmost care so that that lustrous shine inevitably follows!
Perks
Thoroughly cleanses 

Eliminates clogged impurities

Pampers each hair shaft from root to tips

Helps thicken hair

Loaded with botanical ingredients 

Restores lost shine 
Drawbacks 
A user said that it made his hair too much frizzy than before. 
ScalpMED REPAIR MY HAIR – Daily Thickening Conditioner
Fashion night out or not, your hair deserves to stay sprinkled with glamour all the time. A good conditioner is the perfect post shampoo dose your hair can receive and helps nourish your gorgeous waves. While a good conditioner is meant to keep away all the frizz, give soft and nourished curls, and shoo away tangles, the right one is hard to come by! The Daily Thickening Conditioner is an enhanced formula prepared from herbal extracts and 22 essential amino acids which act as food for your hungry locks. It infuses a radiant sparkle; they cant pass you by without noticing!
The vegan formula does not contain any harsh sulfate or parabens and acts as the most awaited treatment for your hair. Threonine, Tyrosine, and Vitamin D are the hero ingredients present here, which refuse your hair to look anything but dazzling!
Perks 
No parabens 

Sulfate-free composition

Entirely vegan 

Smoothens and detangles 

Loaded with vitamins and minerals 

Infused with 22 essential amino acids and herbs 

It adds a natural shine

Promotes healthy-looking hair 
Drawbacks 
It may not work for everyone. 
Scalpmed Side Effects | Scalpmed Reviews
While we are discussing the good stuff, let us not forget the possible side effects of the medication. Many hair growth medications involve a slight chance of inviting sexual side effects. But Scalpmed has put a full stop to these notions by saying that their formula does not hamper health in this way. Their ingredients have botanical and do not mess around except minoxidil, which may cause scalp irritations.
It may also cause swelling of the lips, change in hair color, burning sensation on lips, and swelling of feet, hands, and tongue. Minoxidil is FDA approved; you shouldn't overlook these signs of allergic reactions. If you fall prey to such symptoms, kindly stop using the products and immediately consult a doctor.
There are some other signs as well. It would help if you were on the lookout for a while using Scalpmed products. These are given as follows, 
Difficulty in breathing

Chest pain, 

Irregular heartbeat

Dizziness

Redness of scalp

A sudden increase in weight 

Unwanted facial hair growth in the forehead and ear
Customer Feedback | Scalpmed Reviews 
Eleanor commented, "I have believed in Scalpmed since I was a teenager. This has always been my go-to whenever I experience a tremendous loss of hair. Thanks to this, my locks are in better condition now. They are super thick and strengthened from within. This was a great investment indeed!"
Grace pinned, "I was suffering from thin hair when I heard my friends talk about this. I decided to give it a try, so I bought it. After using it continuously for a month, I hoped it would do me some good, but I kept waiting, and nothing happened. My hair is the same as it was, fragile. I am not going to get this again."
Felix mentioned, "Cannot express how thankful I am towards this for bringing back my lost hair. My hair looks very refreshed now, as compared to earlier. My hair fall has drastically stopped, and I love how healthy it seems all the time. "
Lillian expressed, "I do not know why anyone would want to get this for their hair. This is way too expensive, and I would suggest going for supplements. You can also buy cheaper alternatives having similar composition."
Alice said, "Scalpmed has returned me my confidence back. Now I no more feel embarrassed to walk out of my door with my hair. Scalpmed infuses all nutritious ingredients into your hair so that they look lustrous and happy. This beats all other expensive treatments I got done earlier."
FAQs | Scalpmed Reviews 
Is Scalpmed legit?
Scalpmed claims to reverse all the hair damage caused by hair fall or thinning to all-natural and beautiful hair. For this, the company offers treatments consisting of shampoo, scalp detox spray, and supplements designed to stimulate hair growth. However, no ingredients except just one are approved by the FDA, which may make people a little hesitant to buy them. Besides, all the assurances given by the company have not been supported by solid evidence. 
Do you have to use Scalpmed forever?
Users are expected to keep using Scalpmed. In the long run, this can get super expensive, so you get the liberty of turning to other solutions having Mimoxifyl, which are comparatively cheaper. Make sure the formula suits your scalp and hair type, and you are good to go. 
Does Scalpmed really work?
Users came forward with mixed reviews regarding the products of the company. Some were delighted with the results as it reduced their hair fall rate to a great extent, while others reclaimed dissatisfaction and complained of not seeing any good results. Scalpmed doesn't aid in curing hair loss but helps in regrowing your hair. 
Where to buy Scalpmed?
You can purchase products from Scalpmed by directly visiting their official website. You can find all your favorite products listed and then place your order. 
What are the side effects of ScalpMED?
All those people having sensitive scalp may experience certain discomfort while using Minoxidil. Once you have enrolled in the minoxidil treatment, and it has been 4-6 successful weeks, men may temporarily experience a sudden increase in hair loss. Similarly, the scalp detoxifier of the company consists of alcohol in some portions of its mixture, which may prove to be irritating for some users.
What happens when you stop using minoxidil?
Minoxidil is prepared for long-term usage for clients dealing with hair loss. So if you stop using it abruptly, all the hair you have regrown because of the medication will be lost. 
You Might Like: Latisse Reviews | Just Another Hyped Lash Serum?
Closure | Scalpmed Reviews
Scalp med reviews assure that their products are for anyone suffering from hair loss or thinning. With the presence of their over-the-counter medication, the company promises its clients to maximize their original volume. While some users said that mindful use of this routine could accelerate your hair texture, it did not turn out to be fruitful for others. Let us hope you are sincere with your usage so that the products show their maximum potential!
I'm Sarah Abraham, the founder and co-author of Blushastic.com and a professional makeup artist. Beauty is more than just skin deep, and that's why I'm passionate about sharing my knowledge and experience to help people feel confident and beautiful on the inside and out.
Whether it's skincare, haircare, or fashion, my goal is to empower women to feel their best. With my expertise in the beauty industry, I strive to provide practical advice and tips that are accessible to everyone, regardless of their skill level or budget.