Do you know what is frustrating, especially when you are a teenager? Breakups might be the obvious answer here, but no! Its – Acne. And the funny thing is, it always turns up on your face with friends! Tackling these stubborn pimples in their early stages should be done before you carry them to adulthood and, ultimately, all your romantic dates! Acne may not bring out the best in you, but we have something that will! 
To prevent it from lasting a lifetime, you need to stop blaming your hormones, genetics, environmental factors, stress, skincare, and diet and start stressing about something that matters. These two skincare brands are no new faces in the cosmetic sector and have built a vast ocean of trust around them. But recently, the comparison of Curology VS Apostrophe has put people in a dilemma. What do you think? Which one will be your savior?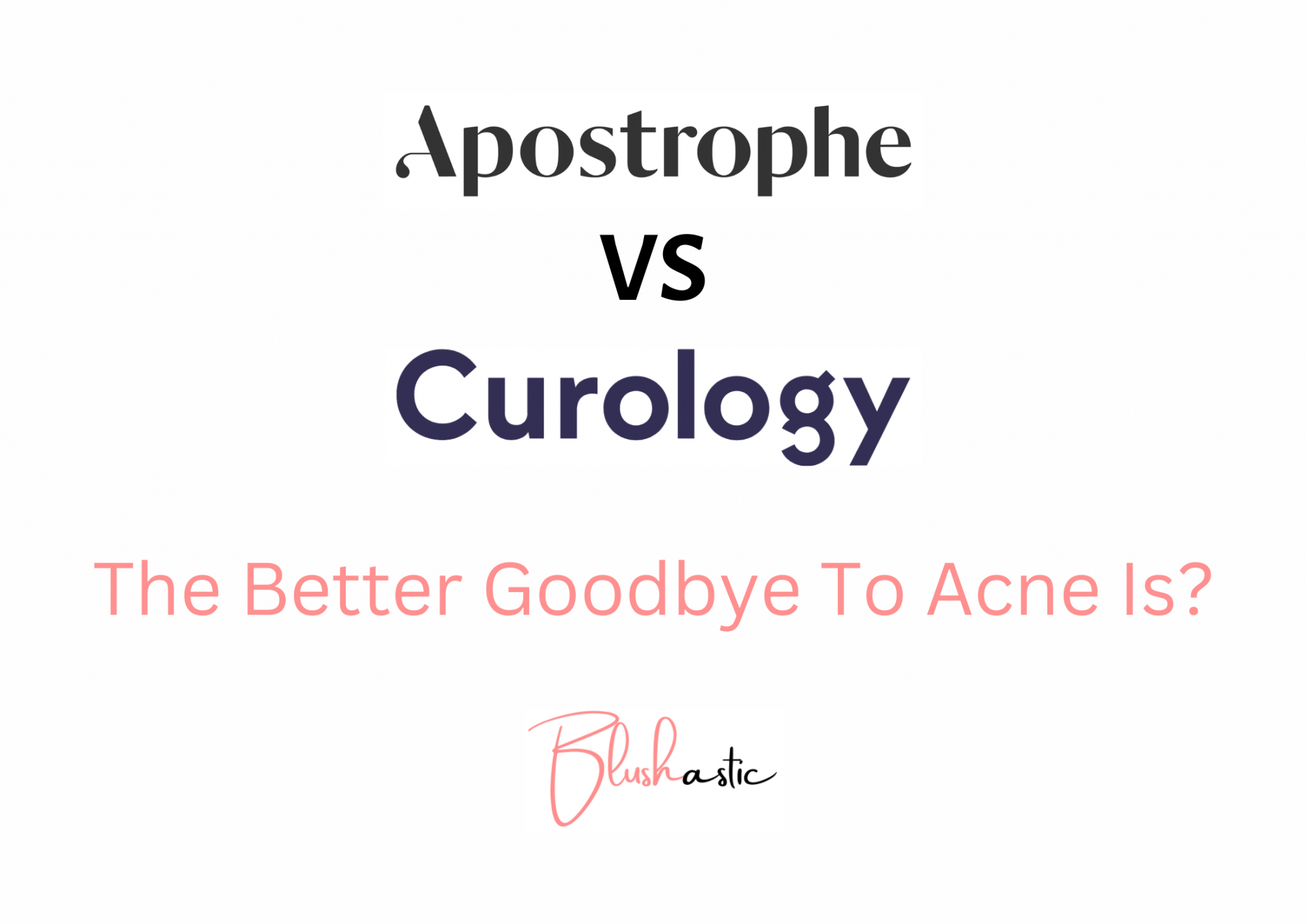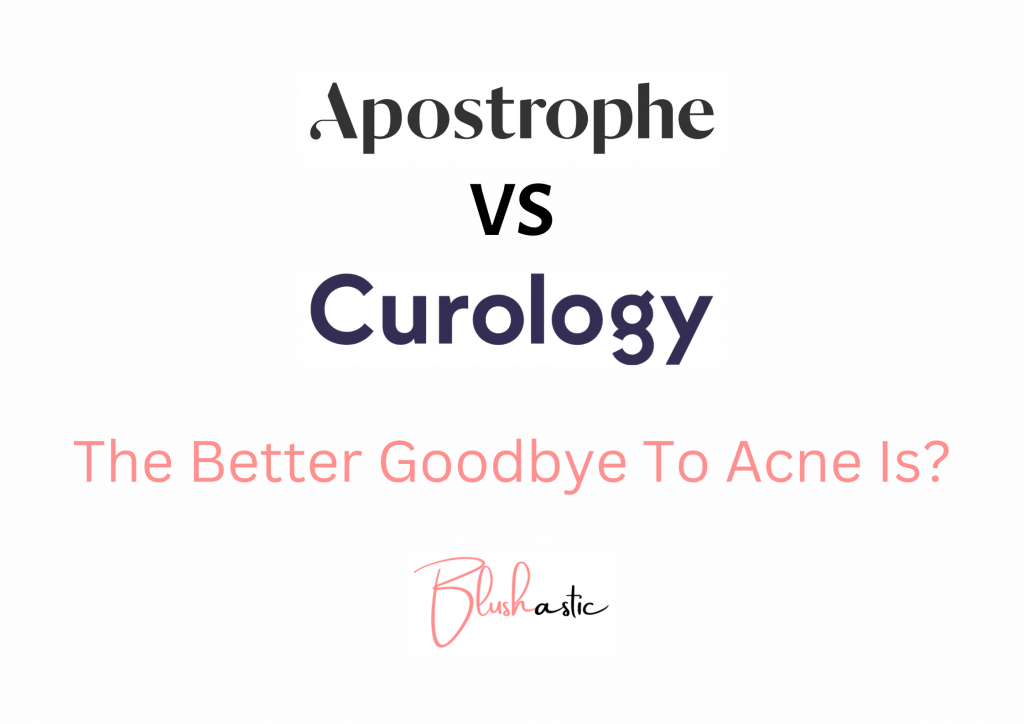 Compared to 3% of men, 22% of women in the US suffer from acne, which comes in different shapes and intensities. After devoting countless hours of research, we know how to make your acne-filled skin less complicated. Easy, get an excellent personalized treatment! But everything comes at a price, and we are sure you are ready to pay the fee for this one! Enough of this small talk, and let the hunt begin!
Curology VS Apostrophe |
The Better Goodbye To Acne Is?
We believe you want to keep your skin cozy throughout the year and the one after that. Thankfully, both of these luxurious cult favorite brands feature the know-it-all formulas infused with the right amounts of potent ingredients that are supposed to magic on your skin. But the formula game can only last up to a certain level. So we gathered information on different heads you will want to consider before giving your final decision. Let us get on it right away!
Product range 
Like in a feast, guests tend to sway towards the menu card, which has more options. Similarly, skincare lovers have to consider siding with a brand offering more. This instills a feeling that the brand can or has the potential to solve more problems than the rest. So let us see if both of these skincare giants compete. Curology offers customizable, all-in-one solutions for issues like acne, breakouts, wrinkles & fine lines, and dark spots.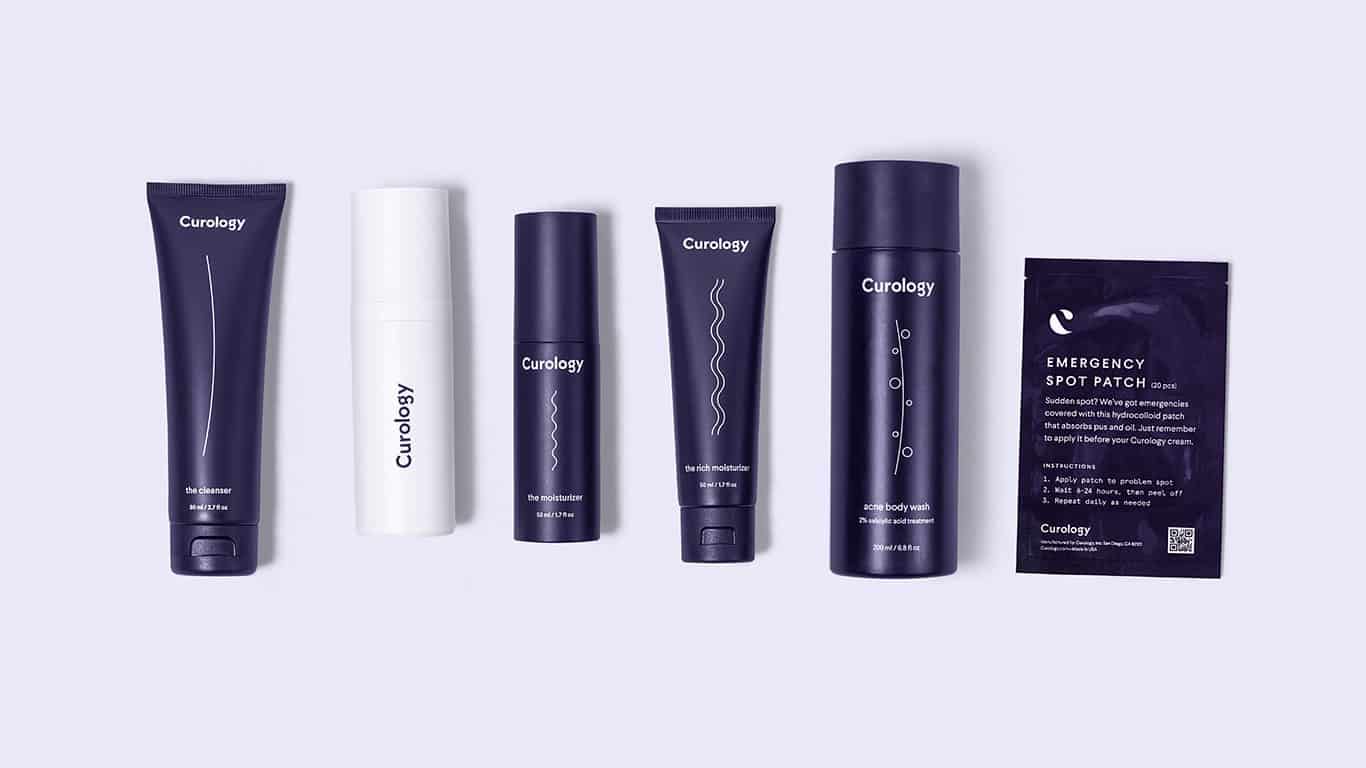 For this, the brand provides its compounded medication in the form of products like the cleanser & moisturizer duo, emergency spot patch, sunscreen, acne body wash, micellar makeup remover, and lip balm—all these falls under its everyday essentials. You also get the benefit of personalized formulas like the Custom Formula for acne and the Custom Formula for anti-aging. 
Apostrophe is dedicated to helping you meet your skincare goals so that the trail of ugly acne leaves picnicking on your skin. For this, it offers an exceptional range of Custom Topical Formulas and Customs Oral Medications. These effective acne medications have proven ingredients that restore your skin's condition and put it back on its journey to healthy-looking skin.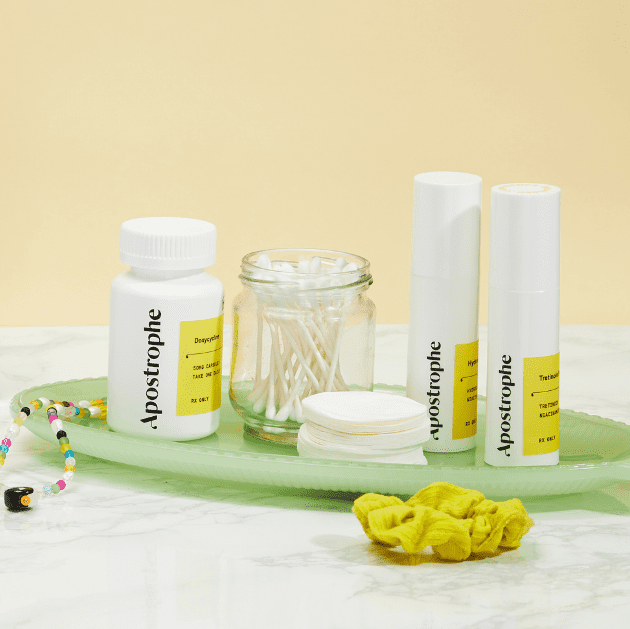 The oral formula, or pills, features antibiotics and hormonal treatment to give you quicker and better results. The body acne treatment and sunscreen are other derm-approved solutions the brand offers to pamper your skin. 
Ingredients 
The experts know it all right when using different ingredients to make the ultimate concoction for your skin. The composition must blend in, smoothen your canvas, and avoid all dangers. Curology experts know what they are doing, so better leave it to them! The brand features active ingredients like tretinoin, niacinamide, clindamycin, zinc pyrithione, azelaic acid, and vitamin C. Every component here has a specific role to play and targets different concerns.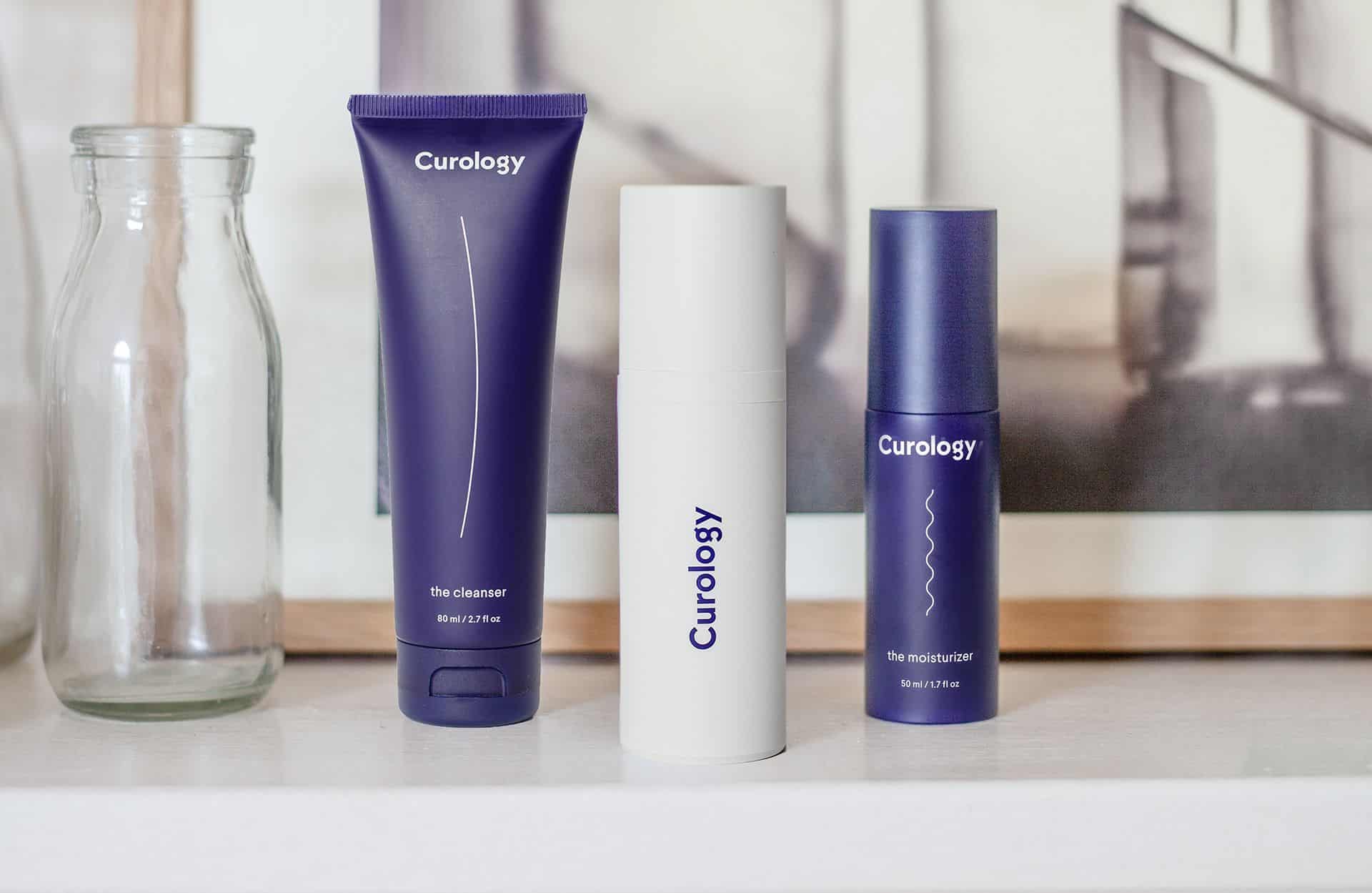 These primarily include driving off the harsh acne-prone skin problem and those related to aging signs. Curology also incorporates other elements, depending on skin sensitivity. These are hydrating plant sugars, hyaluronic acid, shea butter, mineral formula with zinc oxide 9.4%, and 2% salicylic acid. There is no space for fragrances, beeswax, parabens, sulfates, irritants, or drying ingredients. All of the present bits are non-comedogenic and offer you a vegan experience. 
Acne is not an easy nemesis to defeat, and only the right kind of potion can guarantee some respite for your troubled life. Thankfully, this brand rescued many people, especially women, who have forgotten what it feels like to have a clarified skin tone. Apostrophe takes pride in all its custom-curated formulas by its dermatology team, who make the dream of getting healthy skin sound effortless. The brand depends on handpicked ingredients chosen only to free your skin from acne, wrinkles, rosacea, and melasma.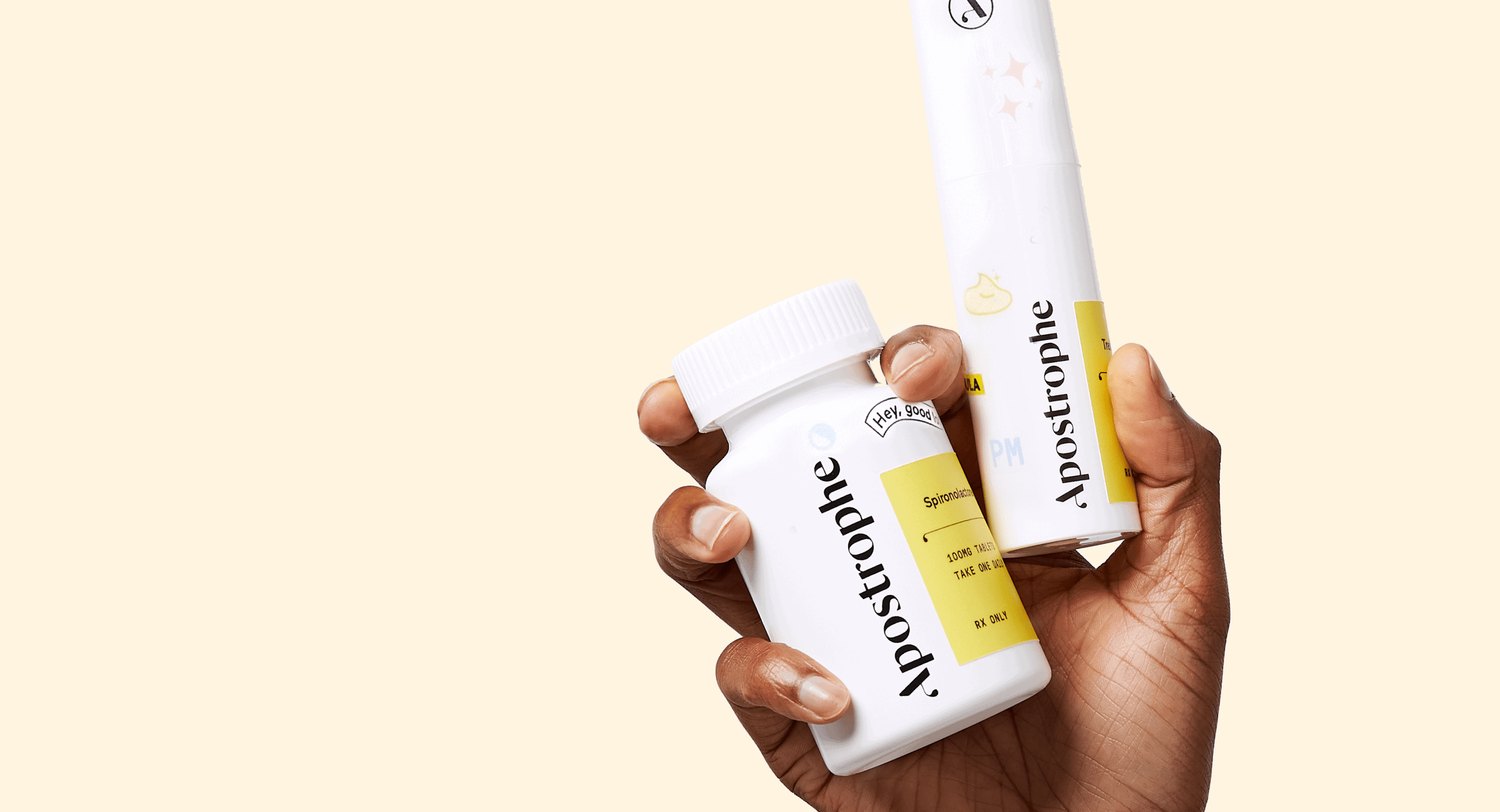 These active ingredients include some of the most potent elements in the skincare industry, like Tretinoin, Clindamycin, Benzoyl Peroxide, Azelaic Acid, Metronidazole, Doxycycline, Spironolactone, Tranexamic Acid, Hydroquinone, Niacinamide, Tazarotene, and Minocycline. According to reviews, this brand has lived up to its reputation. 
Effectiveness & Results 
When it comes to dealing with anti-aging treatments, Curology's custom formula is the best in town! They feature some of the most helpful elements which understand exactly what your skin needs and deliver it without hassle. The procedure exfoliates the skin of impurities and unclogs the pores. This polishes the skin and fades away spots, discoloration, and blemishes. Curology stands with many skincare giants just because of its effectiveness.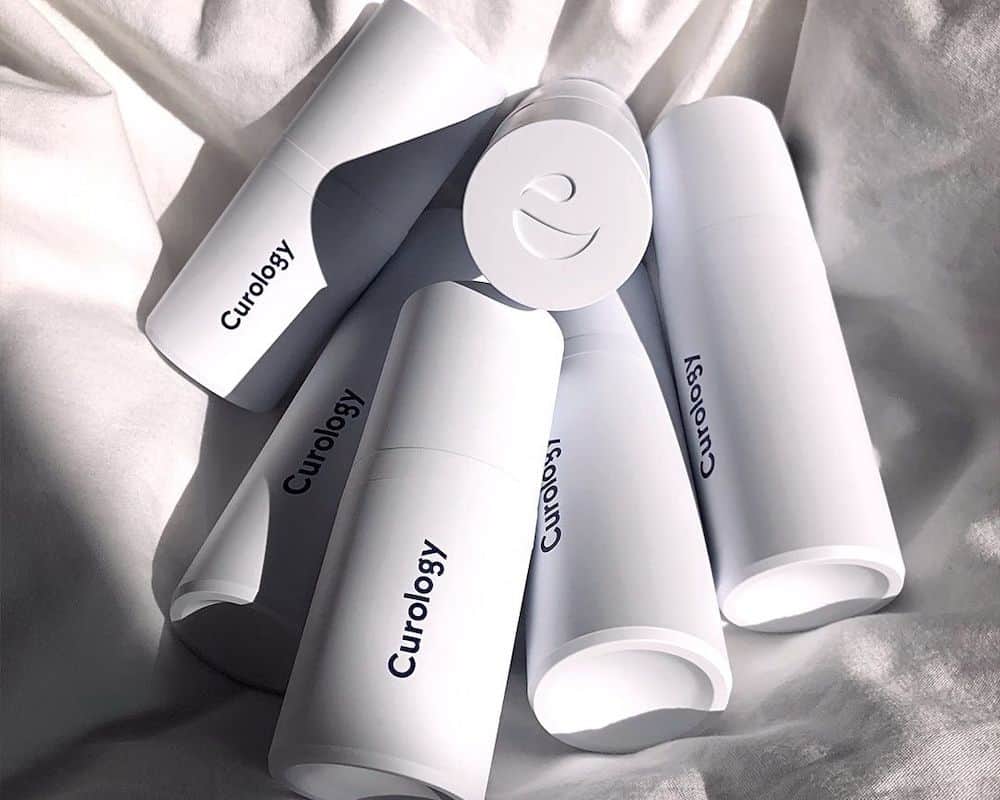 Salicylic acid also slips off the debris sitting, evades white and blackheads, and creates a smoother complexion. Among 856 customers using Curology for 3+ months were surveyed and reported that their products had improved their cystic acne. Clindamycin is an excellent addition to one's skincare regimen, as it addresses bacterial infections in severe acne and soothes inflammation. The formula also fights dullness, wards off wrinkles, and enhances your skin tone by introducing a whole new spark of radiance. 
Apostrophe does not fall far behind the wagon when giving your skin a peel of action from the rigid sheet of acne above it. And by that, we mean the brand is good news if you suffer from severe acne problems! Tretinoin is quite the hero in this formulation and has been touted as an acne healer.
This is associated with serving multifold benefits like exfoliating your skin, creating an even tone, unclogging stubborn pores, calming down inflammation, promoting collagen production, and reducing touch scar marks. It also offers anti-aging benefits and minimizes the look of wrinkles and fine lines. Additionally, benzoyl peroxide helps end acne-causing bacteria by cutting them from the oxygen supply. So, if you have tried many different products, but the breakouts still won't leave you, you can do things better with Apostrophe! For it is tried and tested!
Accessibility and convenience 
At Curology, you will only have to go the extra mile to get a prescription, as are the custom formulas for anti-aging and acne. For the rest of it, you should be relieved, for there are trusted licensed dermatologists and medical professionals who will assist you every step of the way. They will address all your concerns regarding skin care. Because when you or yoru skin is trying to fit in with a new product, queries arise regarding the silliest of things. You will be appointed a dermat within your state.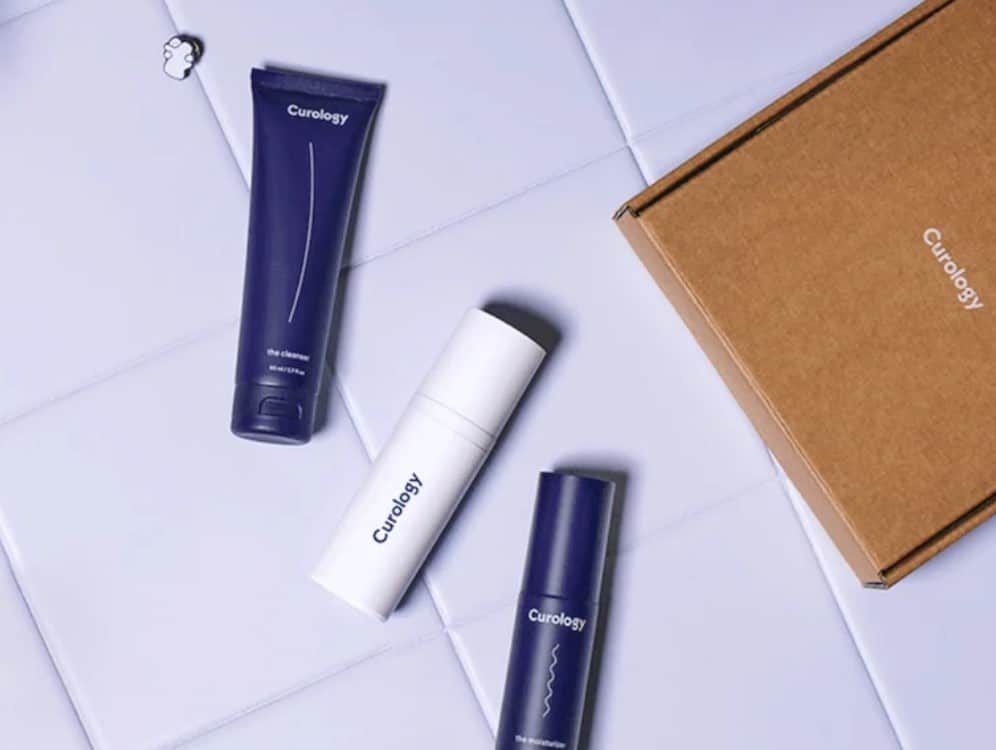 The brand's team will also include physicians, physician assistants, and nurse practitioners to make your job easier. If this is your first time, the first subscription box of Curology will cost you only ** dollars which is affordable. This will take care of your handling and shipping charges. When you purchase within your subscription, it will cost you around **dollars. If you want your hands on the custom formula, pay 40 dollars per shipment with free shipment included. The online dermatologist visit is free here! 
Apostrophe promises to treat your acne from the inside out and the outside in with its fuss-free process. The prescription skincare products include the Custom Topical Formula and Custom Oral Medications. While there is a 90-day money-back guarantee on Curologee, none is present here. This might be reason enough to put off shoppers. Another drawback of this brand is that it charges **dollars for an online visit with a dermatologist, whereas it is cost-free in Curology. Non-prescription products are unavailable here, so you must make an effort whenever you want to buy an Apostrophe skincare product. 
Side effects 
Do you think that side effects are part and parcel of the skincare world? What a coincidence. We think so too! But which offers you a safe space for your skin between Curology VS Apostrophe? Or are they both equally faulty? 
It should be kept in mind that, whatever skincare you introduce your skin to for the first time, there's a slight chance that your skin might feel unwelcomed. In this case, depending on the fragility of your top epidermal layer, you will experience something or nothing at all. Curolgy does involve specific side effects you need to look out for. Users who experimented with this brand had quite some things to say.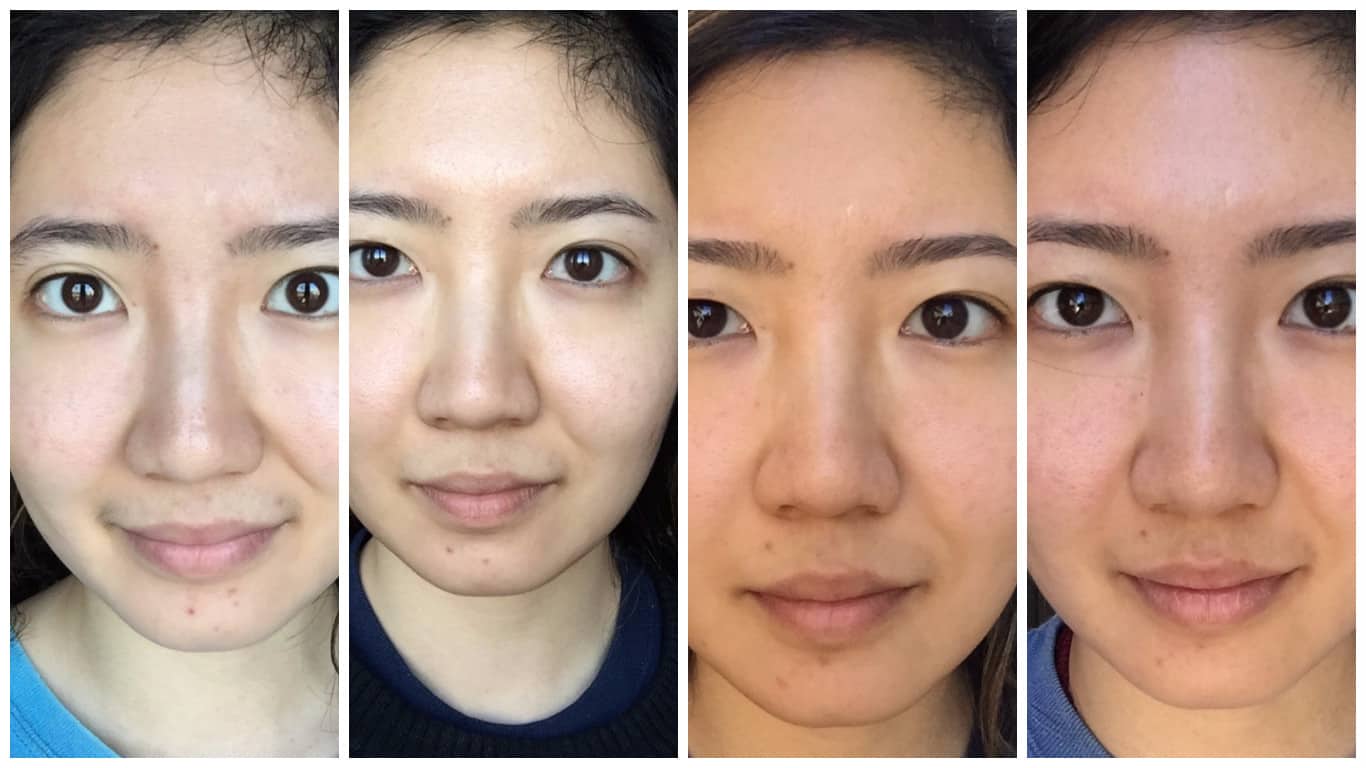 It was revealed that the formula causes halo spots around the application area. Users might also notice darkening of the skin too. The reason behind this has been associated with the potential use of hydroquinone. Apart from this, it would be best if you also were careful of symptoms like Cushing's syndrome, hyperglycemia, and eye problems when your skin starts entering the world of Curology. 
Apostrophe is a pro here, and we don't mean it in a good way! The brand has a long list of potential side effects, depending on the ingredients used here. For example, the Tretinoin Formula might make you more sensitive to the sun and issue redness or peeling. Benzoyl peroxide may induce swelling of the face/lips/tongue/throat,  rashes, and other allergic reactions. Users might experience some irregularity in breathing.
Things can get dirty because of rare side effects of the Clindamycin + Benzoyl Peroxide Formula, including watery or bloody diarrhea and abdominal pain. Nausea, vomiting, diarrhea, and loss of appetite have often been taunted as acne medications' most common side effects. It is crucial that women who are pregnant or breastfeeding stay away from such products to ensure safety. 
Pricing 
Now, the price ranges of any brand give away some hints about it initially. However, to measure both potential brands on an equal note, let us take similar factors and put them to the test. For example, if we take the newest launch of Curology, its sunscreen, and compare the sunscreen compositions of both brands, it will give you better quality.
The formula of Curology has a broad spectrum SPF 30 UV defense and offers you 40ml, at just **dollars, provided you have a legit subscription to Curology's Custom Formula. The skincare brand offers subscription services to its clients, which costs from **dollars to **dollars per shipment, so you should be ready to empty your purse.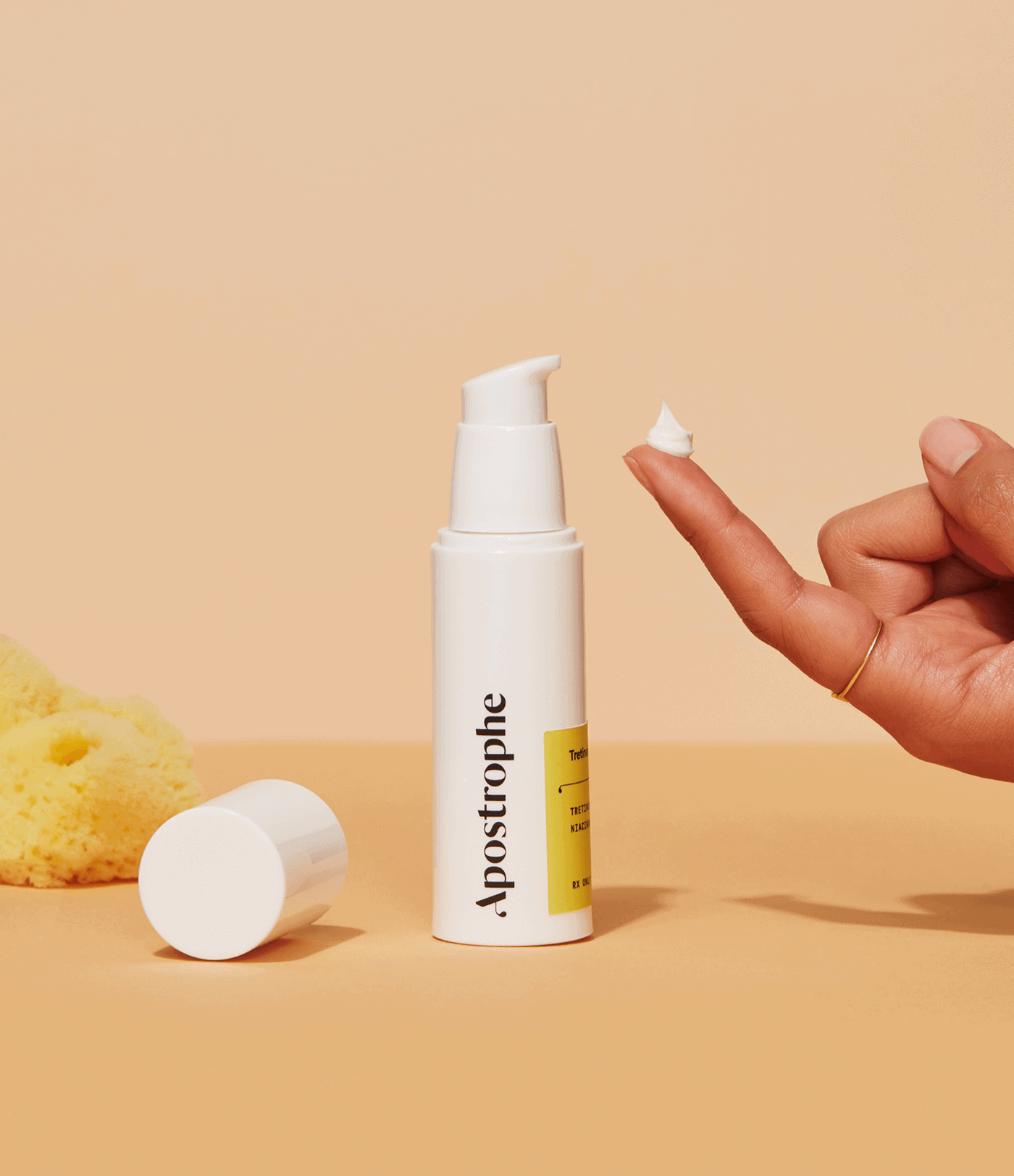 At the same time, the Screen SPF 43 of Apostrophe offers you 88ml and costs you about **dollars. This is a good deal, as it provides way more than double the quantity and less than double the price of Curology. So, if you want some extra squeezes of protection and have dollars to cash out, Apostrophe will be a clean bet! The best part is it offers UVA and UVB protection to complete your skincare ritual correctly. Apostrophe charges **dollars to users for its online-dermatologist visits. 
Evaluation of Pros And Cons
Curology Pros 
Purifies and detoxes skin through an intense cleaning action

It soaks up all the extra dirt and does not clog pores 

Amps up moisture levels 

Refills need hydration and nourishment 

It does not strip off the delicateness of your skin

Free of nasties and hypoallergenic, fragrance-free, paraben-free, sulfate-free, alcohol-free, dye-free, and phthalate-free.

The formula does not have added scent. 

It helps combat chest acne, face acne, and back acne 

Suitable to be used on sensitive skin, and other skin types

It contains vital ingredients like shea butter, niacinamide, and hyaluronic acid 

Increases suppleness and calms irritation 

Promotes repair and feels weightless 

Reduces the intensity of breakouts 

Weakens the appearance of your wrinkles 

Different skincare plan is available depending on your skin type and can be changed anytime. 

Protects and nourishes the skin's moisture barrier 

Never been tested on animals

Features a vegan composition 

Cons 
Curology providers can't prescribe their user isotretinoin(an ingredient that is widely effective for clearing up acne). You will have to get it yourself. 

The formula may feel heavy on the skin after some time and weigh it down

It may not help treat a severe form of acne 

There is no face-to-face interaction, so skincare assessment may not be ideal.

The strength of the formulas is lower than the topical treatment in drugstores. 
Apostrophe Pros
It helps in fighting stubborn body breakouts.

It focuses on removing acne from all body parts, like the butt, back, and chest.

Improves the condition of clogged pores

Reduces inflammation by reducing acne-causing bacteria

Formulated for all types of skin

Offers prescription-strength formulas 

It helps in balancing out excessive oil production

Targets and remedies for sparse eyelashes and male pattern baldness

It evens out skin tone and keeps dryness at bay 

Feels smooth, creamy, and luxurious on the skin

Keeps skin hydrated and protected 

Features derm-approved, broad-spectrum protection

Fit for all skin types, and especially for acne-prone skin

Features effortlessly blendable formula 

It contains topical ingredients like aloe, niacinamide, Clindamycin, vitamin E, sodium hyaluronate, etc.

Uses tretinoin to solve most of your acne problems 

Effectively treats hormonal acne, wrinkles, rosacea, and hyperpigmentation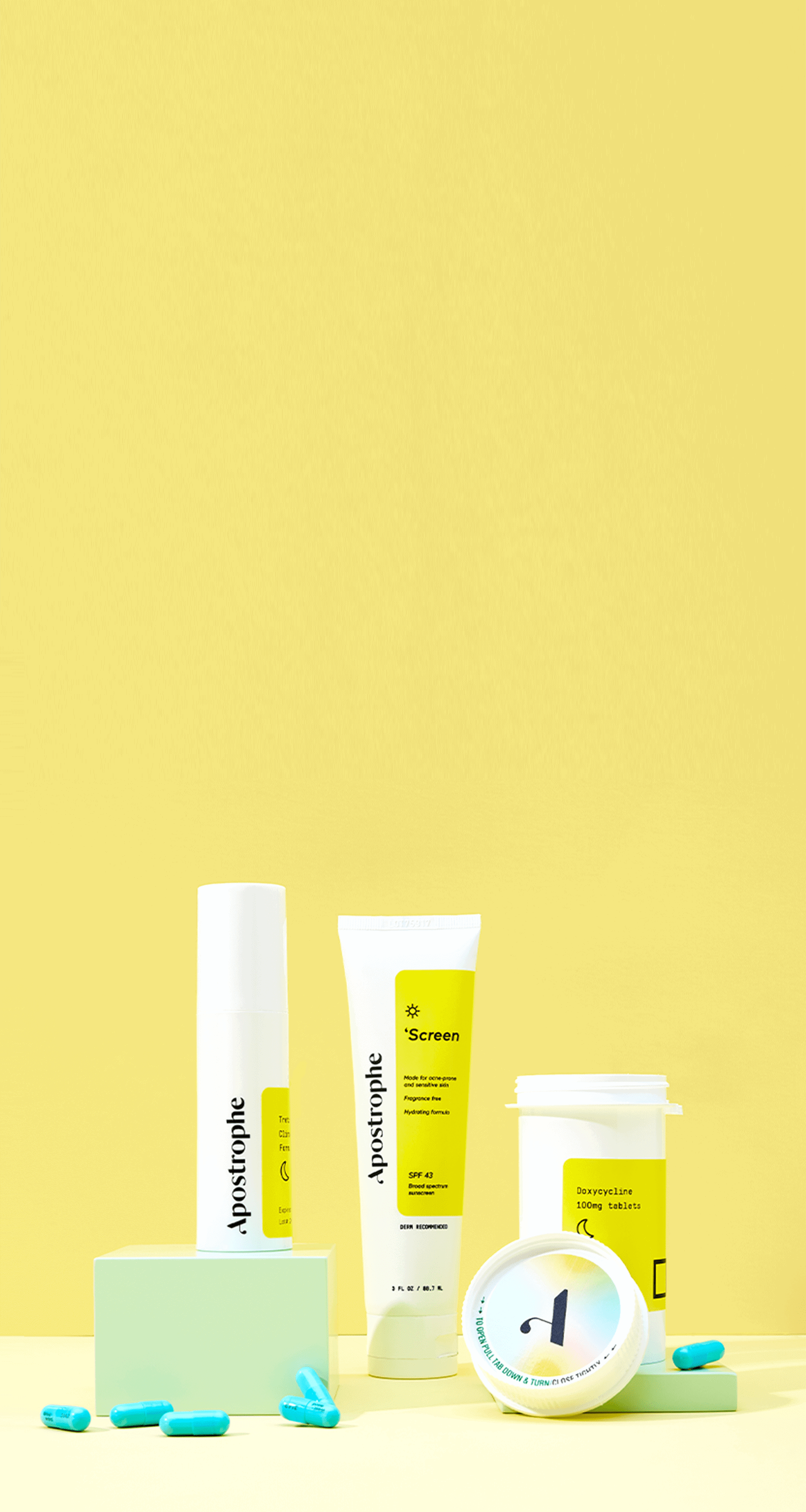 Cons 
No non-prescription products are available, which might become tiresome because you have to get a subscription. 

It costs more than Curology. 

There is no reliable information on whether this brand is cruelty-free. 
Customer Feedback | Curology VS Apostrophe
Skipping the doctor's advice might not always be a good choice, but it's the same thing if you have people to trust. We wanted to make this complete definitive guide easier for you, so we collected opinions from trustworthy places that have been through the process you are about to enter. Just by looking at it, you cannot say a product is good or bad.
This is why there are customer reviews, and we make sure to get the word of real-time users to give you a transparent experience in getting the soul-skincare regimen for your troubled skin. Let us see what the reliable sources we met have to say about the feud between Curology VS Apostrophe.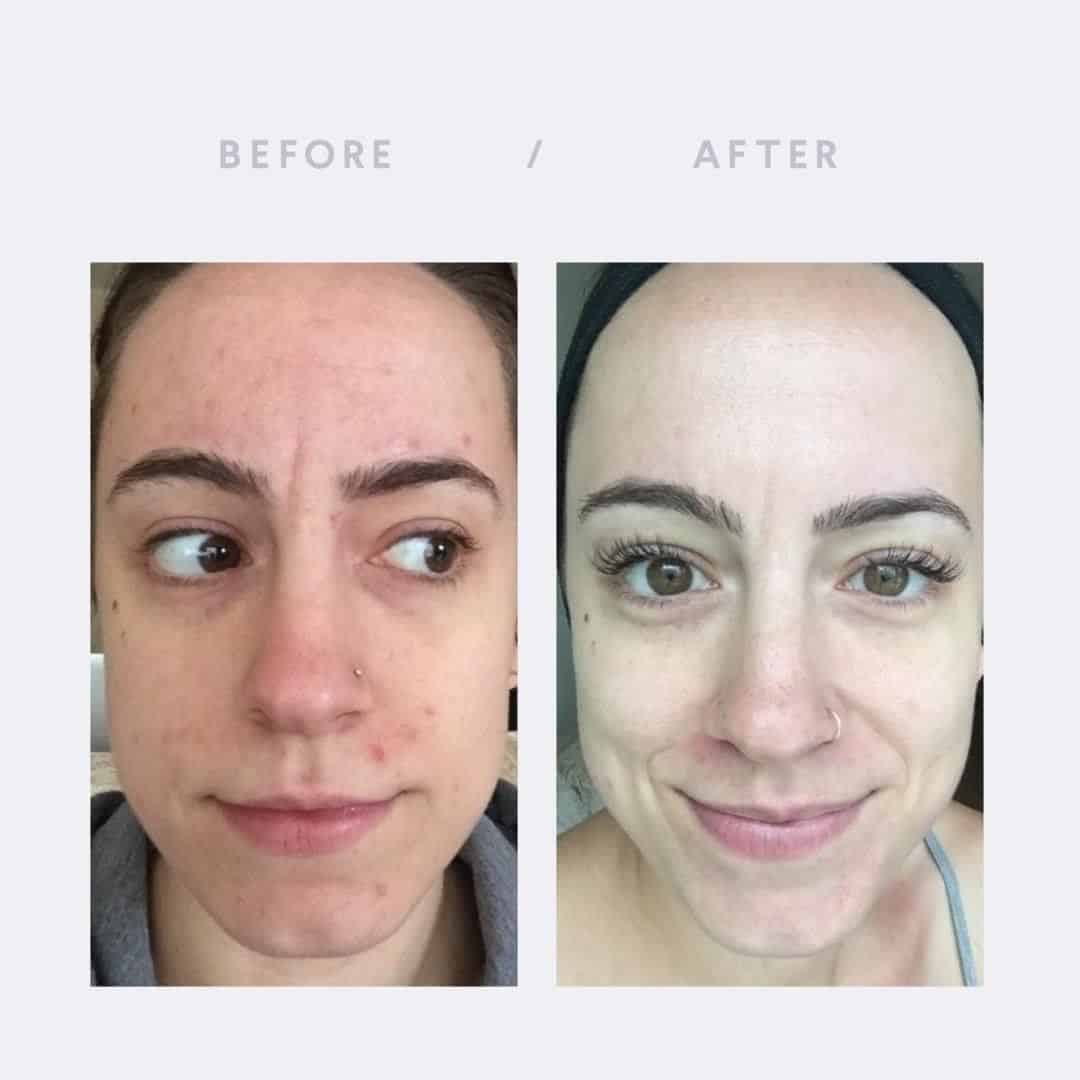 Madre L. expressed on Curology, "I wonder where had this brand been hiding all along because its custom acne formula is just what my skin needs. I recently discovered this four months ago and haven't been able to stop using it. My skin feels toned out and touchably soft. What I love the most is I have a smoother base now, and my foundation sits in so beautifully, without giving away any flaws. Thanks to this, I am rid of my pigmentation and scars for good! I cannot express how thankful I am!"
Quinn pinned on Apostrophe, "I didn't have a good feeling about this at first because I have sensitive skin that reacts to almost everything. But I heard many positive reviews about how it uses tretinoin to clear acne. I have a lot of breakouts, so I was eager to buy this. That was probably the biggest mistake I made. My skin started to feel itchy and burnt. I even felt my upper layer was peeling off. I should have read the side effects before jumping in."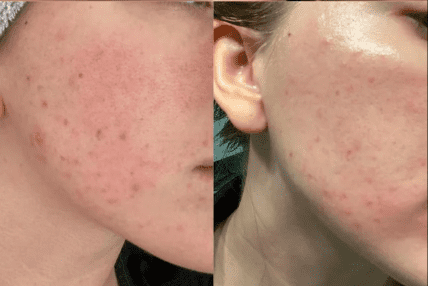 Sansa said about Curology, "First, I thought I couldn't get any luckier because my skin started looking clearer and felt supple. I thought the regimen was doing its trick until sometime when I experienced my skin getting darker when I applied the cream. After that, I stopped using the product and will not try it again." 
Guinevere commented on Apostrophe, "My skin loves every bit of it. Even my husband is happy that he helped me eliminate my tough acne problems. This product is my favorite, and I feel everyone should try it at least once."
FAQs | Curology VS Apostrophe
Does apostrophe prescribe hydroquinone?
Yes, this skincare brand does prescribe the benefits of hydroquinone to its users. After customers have paid a fee of 20 dollars to get an online visit with a dermatologist, they will receive a customized treatment plan that includes hydroquinone or another appropriate prescription product to help make their skin healthy.
Is Apostrophe a legitimate company?
Apostrophe is a legit skincare brand that addresses a series of skin concerns like acne, rosacea, wrinkles, fine lines, hyperpigmentation, melasma, sparse eyelashes, and male pattern baldness. The best part is all users will have a board-certified dermatologist to talk to and get their concerns answered.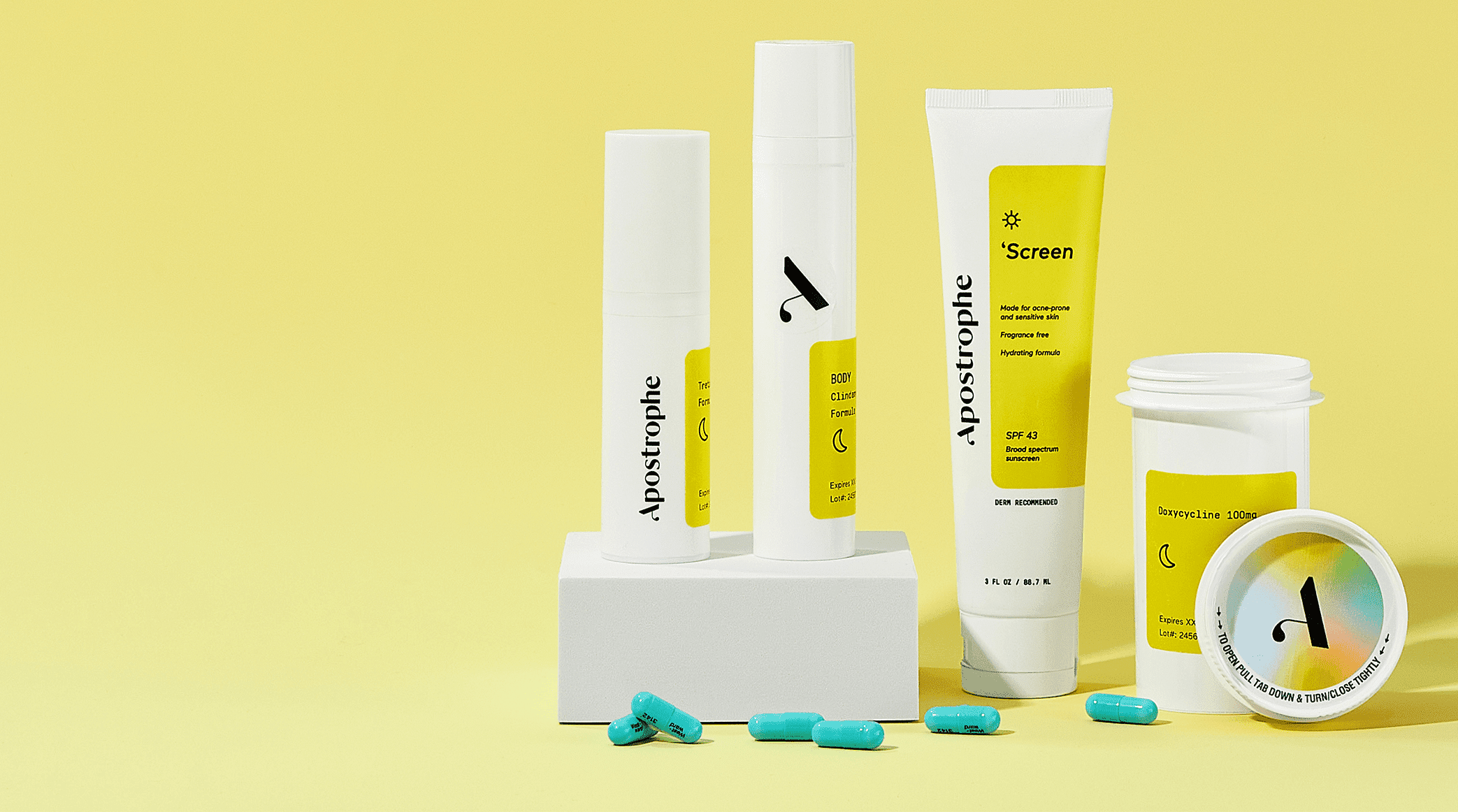 Is Curology as good as they say?
Yes, the brand has managed to grab the attention of a lot of users in the skincare world who are at war with their skin because of hormonal acne. They use a unique and typically personalized Rx acne cream which helps relieve your skin to some extent. Users said they could finally be free of their stubborn pores and saw their skin condition improve after incorporating this skincare brand into their regimen.
What are the drawbacks of using Apostrophe?
As there is no face-to-face interaction between the client and the dermatologist, the entire process might not be smooth and effective. Another major setback of this brand is it is not available in all the states yet, so skincare lovers can't avail of its benefits. 
Is Curology the same as Proactiv?
Both Curology and Proactive offer a three-step routine formula to fight acne. Proactive focus on only clearing up acne, whereas Curology covers different skin concerns. Proactive brand puts stress on benzoyl peroxide, Adapalene, and Salicylic Acid to heal your skin. In contrast, Curology relies on ingredients like Tretinoin, Niacinamide, and Clindamycin, to amplify your skin's health. 
Does Apostrophe Tretinoin help with acne?
Apostrophe Tretinoin is a blessing to people struggling with acne, as it addresses problems like sun-damaged skin, aging signs like wrinkles and fine lines, clogged pores, and hyperpigmentation. The products falling under this brand are specially formulated with this hero ingredient, as it improves the condition of acne, no matter how severe it is. Apart from this, it also puts a leash on acne and aging signs in the long term. Users can also notice diminishing effects in post-inflammatory hyperpigmentation and improved skin texture. 
Which is better, tretinoin or hydroquinone?
From studies conducted by a bunch of skincare experts, it has been found that hydroquinone has a prominent role to play, in comparison to tretinoin, as a priming agent. This helps maintain the results that the users have derived in peels and lowers the occurrences of post-peel reactive hyperpigmentation. 
Closure 
Now, we will not give into this catfight before it becomes messy. So, we asked around and did full-fledged research on whether you wanted help. The clear path to effective skincare finally points to the battle of Curology VS Apostrophe and users finally have something to say. The moment is here, and only one of the names will be on everyone's lips. So, which one is the most deserving? After much anticipation, we are ready to reveal it. Both brands' reviews were average, yet customers appeared to be attracted to both brands when different concerns were put into question. 
When it comes to price, Curology is a clear winner. Although, let us not forget that Apostrophe offers way more quantity than the former, so it's entirely up to you and what you seek. Curology evaluates you in the right amount so that you get clear skin, and Apostrophe also guides you through its treatment plan with the help of professionals.
Apostrophe skincare has a prescription-strength formula, so your skin can benefit more if you have severe acne because of tretinoin, compared to Curology. If you are trying to beat the overall issue of age catching up on yoru face, blemishes, or breakouts, Curology will serve you right. Risk is involved with both, but they say no pains, no gains, for a reason, right? 
I'm Sarah Abraham, the founder and co-author of Blushastic.com and a professional makeup artist. Beauty is more than just skin deep, and that's why I'm passionate about sharing my knowledge and experience to help people feel confident and beautiful on the inside and out.
Whether it's skincare, haircare, or fashion, my goal is to empower women to feel their best. With my expertise in the beauty industry, I strive to provide practical advice and tips that are accessible to everyone, regardless of their skill level or budget.