Sticking to your natural hair color and not trying out different hair colors isn't the thing, especially in this generation. Even if you have convinced yourself to get your hair colored, you may be in a situation where your hair isn't agreeing anymore. And to be honest, it is pretty concerning. Because the number of chemicals used in hair dyes or hair colors can, to a certain extent, damage your hair. And damaged hair means either brittle, broken hair or extremely dry and frizzy. Brittle hair leads nowhere but to hair thinning.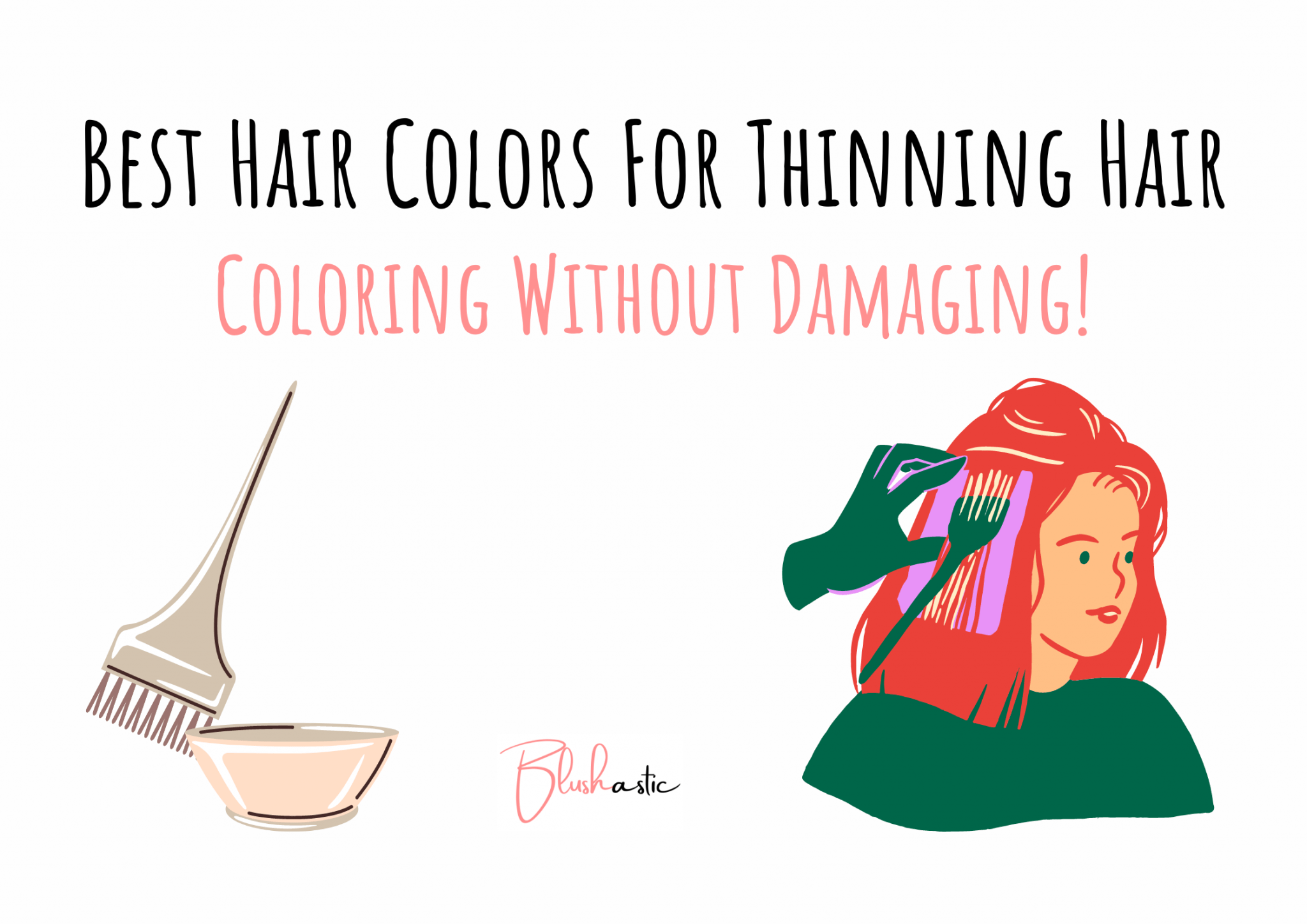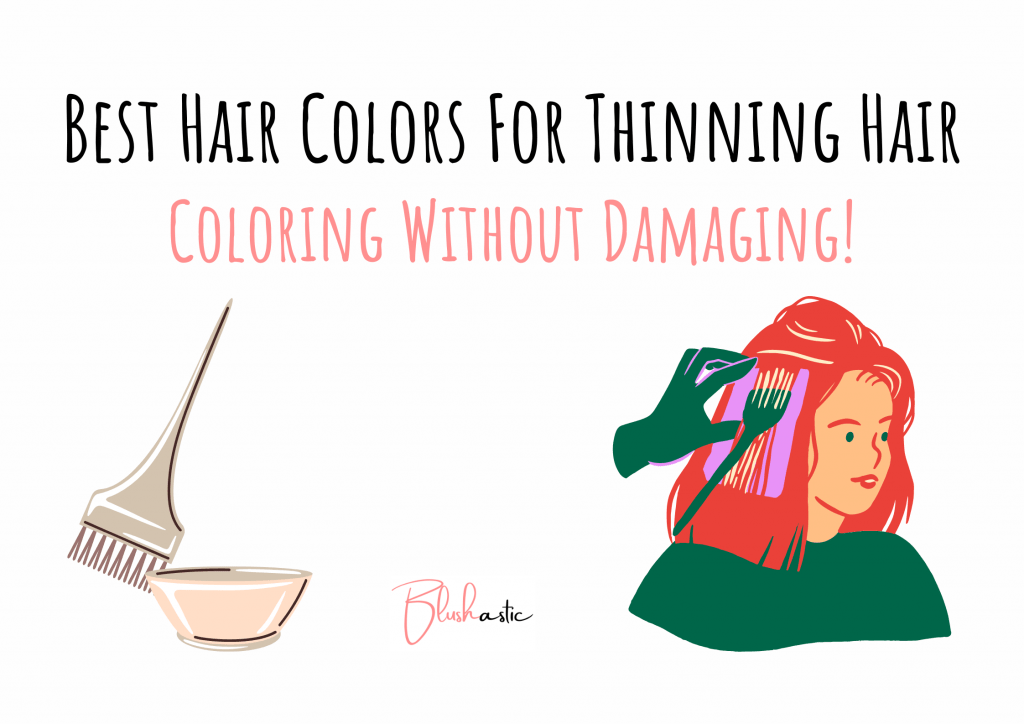 Even when you manage to color your hair, the chemicals and use of heat tools cause thinning of hair. In that situation, we would find ourselves searching for the best hair color for thinning hair that causes no damage to the already damaged hair. Thus, we bring you some of the best hair colors for thin hair.
Best Hair Color For Thinning Hair
Thinning hair can be a significant concern, especially if you still want to get your hair colored. To avoid thinning hair as much as you can while still coloring them, it is best if you use semi-permanent hair colors. They let you enjoy your hair without causing long-lasting damage to them, as they are free from ammonia and peroxides.
Semi-Permanent Hair Colors 
The main issue of coloring your hair might be hair thinning or hair loss. But if you still want to color your hair while suffering from hair loss, then the best option is to opt for semi-permanent hair colors. The reason is apparent: these colors last for a few weeks and do not contain ammonia or parabens, which can be the main reason for hair damage. 
Clairol Natural Instincts Semi-Permanent Hair Dye
Clairol is the No.1 semi-permanent hair color brand, based on the products sold. This has to be enough for us to be convinced to use it because the more products sold, the more customers have used them, and the better insight you get from the reviews. It is created with the majority of vegan ingredients that help increase the hair's shine while giving it a good color of your choice, making it the best color for thinning hair. 
Sale
Clairol Natural Instincts Semi-Permanent Hair Dye, 6.5 Light Auburn Hair Color, 1 Count
Pack of 3 Clairol Natural Instincts semi permanent hair color kits in Spiced Tea Light Auburn; Ammonia free hair dye with aloe & Color Treat Conditioner fades naturally without harsh root lines so your hair will be healthy & radiant from roots to tips
Natural Instincts hair color will infuse your hair with natural looking, radiant color that conditions; This semi permanent color fades naturally over 28 shampoos, so go for an easy brunette one month & a brilliant blond the next
Our Natural Instincts hair color lasts for 28 shampoos, fading naturally without harsh root lines to keep your hair looking radiant; Natural Instincts dye is semi permanent, so stay neutral with your natural hair color, or revel in revealing a new you
Our natural, radiant hair color in ammonia free shades with conditioner leaves your hair gorgeous from the roots to the tips; Reveal your hair's most brilliant shade with our multiple tones of hair dye colors in shades of black, brown, auburn, red & blond
All Natural Instincts hair coloring products for women & men are ammonia free, infused with antioxidants & conditioning aloe to give you long lasting, semi permanent & natural hair color using a treatment as nice and easy as a trip to your favorite salon
It is formulated with coconut oil, considered a savior for thinning hair. It helps your hair hold the protein, so it doesn't run out of protein. This protein lock helps slow down the process of hair thinning and hence prevents hair breakage. The creamy formula also contains aloe vera, which is said to improve the strength of your hair by making it thick and healthy. It is enriched with vitamins like Vitamins A, C, and E, all of which help promote healthy hair and add luminous shine.
Pros
Formulated with globally famous hair-beneficial ingredients like coconut oil and aloe vera, the cream strives to nourish your hair.

It makes sure to leave your hair feeling shiny.

As per the brand, it lasts up to 28 washes.

Contains natural ingredients.

Your hair also feels soft.

Has a good and fresh smell.

Easy to use.

It contains no ammonia.

No added parabens.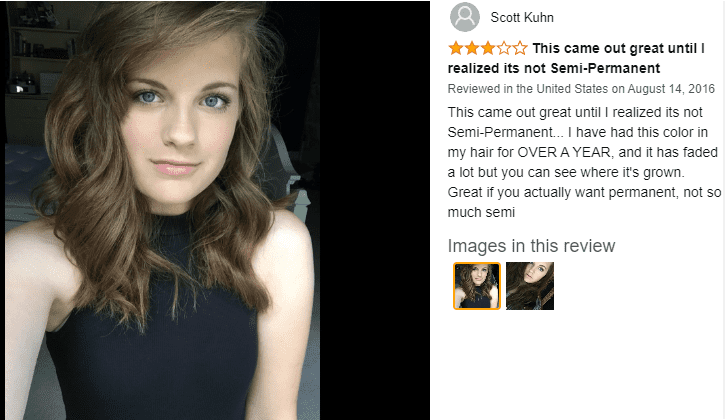 Cons
Some users said the hair color did not last long.

A specific section of people also claimed that the new formula was quite disappointing and did not give them the color they wanted.
Arctic Fox Semi-Permanent Hair Color 
Formulated with all-natural ingredients, Arctic Fox claims to be very conditioning and hydrating to your hair. It not only colors your hair but leaves it very nourished because of the no alcohol, PPD, or harmful chemicals policy. It has a range of funky colors that will make you can try.
ARCTIC FOX Vegan and Cruelty-Free Semi-Permanent Hair Color Dye (4 Fl Oz, AQUAMARINE)
Mermaid vibes for days! Aquamarine is one of our most pigmented blues with aquamarine/teal undertones. It'll turn out most vividly on pre-lightened hair, but will still work to give a deep teal tint to darker shades of unbleached hair.
#AFProTip: To cover a more brassy-toned blonde, try mixing Aquamarine with a little bit of Purple AF to get a perfect cobalt or a deep indigo!
Made only from vegan ingredients with no animal by-products. No harmful chemicals in Arctic Fox hair dye that damage the hair like chemical based hair colors.
Arctic Fox hair dyes are gentle for frequent use and actually conditions your hair as it restores vibrancy.
Long lasting Colors, Smears Less, Sweet Scent, No Peroxide, No Ammonia, No Ethyl Alcohol, No PPD.
The creamy texture involves citric acid, the famous antioxidant that helps strengthen hair follicles. Strong hair follicles mean less breakage and no more thinning of hair. Citric acid helps improve the scalp area by reducing dandruff and increasing blood flow. It is also made of hydrolyzed soy protein, an excellent hair-conditioning agent that helps make your hair appear better.
Pros
The citric acid present helps in improving the health of your hair and scalp.

Does not damage the hair.

The brand mentions that 15% of the profits earned are donated to animal charities.

100% vegan.

Cruelty-free.

The scent is delightful.

It has got over 80k+ reviews on Amazon.

Free from PPD, ammonia, and parabens.

Sulfate and Silicone-free.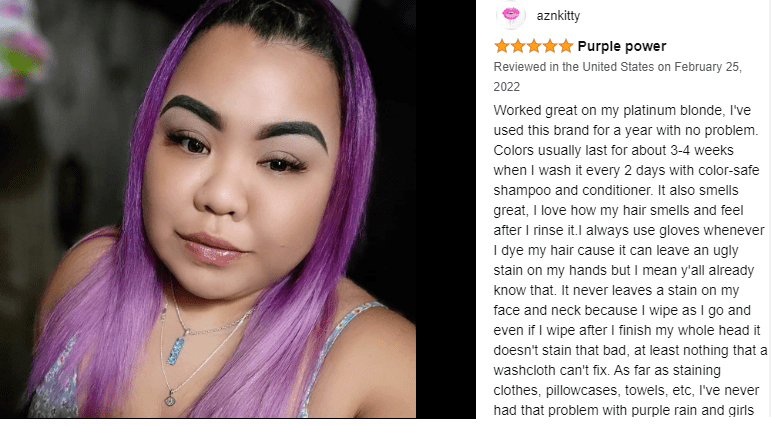 Cons
Some users said the Poseidon Blue color and the Purple caused quite a bit of staining, even after frequent washes.

It has a few shades available compared to other brands.
Pravana ChromaSilk Vivids Semi-Permanent Hair Color
Another best hair color for thinning hair is Pravana ChromaSilk hair colors are all about trying those vivid shades, and they are semi-permanent; you can have them off within a few days. Moreover, these shades are inter-mixable with any other Vivids shade, giving you a wide range of vibrant colors. You can have all these shades without compromising the health of your hair.
Sale
Pravana ChromaSilk Vivids (Violet) 3.0oz
It is easy to use, with no developer required
It gives hair artists everything they need to concoct, mix and create endless color palettes
Suitable for all hair types
The Vivids collection is a non-oxidative hair color, meaning you do not have to use any oxidizing agent, for example, a developer, before you use the color. It contains hydrolyzed silk and keratin, making the color more profound into your hair shaft. While doing this, these ingredients also make sure your hair is kept safe, soft, and healthy. So, in the end, when you are done with the vivid styling and coloring, you are left happy with the color and the amount of softness and shine your hair has.
Pros
It is formulated with a mixture of silk and keratin that nourish your hair.

They help in making your hair look softer and healthier.

There are various shades available.

These shades are inter-mixable, and hence you can create your custom colors.

Speedy and easy application.

Only requires a little effort.

Your hair is left feeling soft and shiny.

Your hair now has an intense hair color.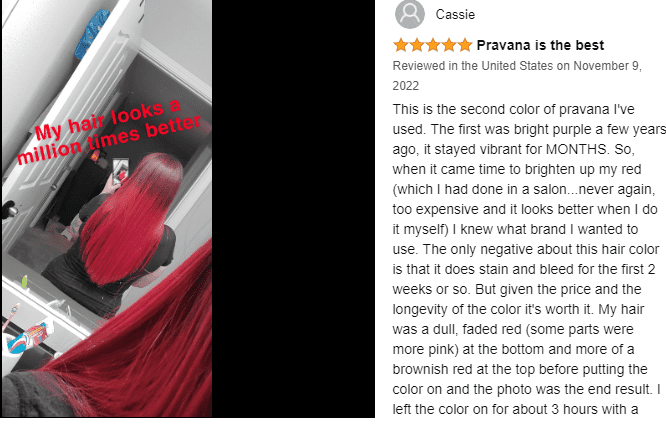 Cons
The blue color was a turn-off as it faded off within a single wash.

As per some users, the new formula stained everything.
Herb Speedy Color Cream
Herb Speedy Color Cream is a Korean brand that is a safe option for people who wouldn't want a lot of chemicals on their hair, either generally or maybe because of hair thinning. It is a gentle hair color cream suitable for people with sensitive skin. However, if you have susceptible skin, always do a patch test. This hair color cream is designed to reduce the allergy reactions that some people may suffer from.
Herb Speedy Color Cream (Dark Brown)
SPECIAL FORMULA TO MINIMIZE THE ALLERGY REACTION : Herb Speedy does not contain allergy reactant such as PPD (P-Phenylenediamine), Diamine and suitable for users with extremely sensitive scalp.
VEGAN CERTIFIED, SCALP FRIENDLY NATURAL HAIR DYE : Made with All Natural Ingredients with high-quality herbal extracts that provide safe and comfortable coloring experience.
MADE WITH NATURAL HERBAL INGREDIENTS : Made only from vegan ingredients contains herbal extracts with Licorice Root, Paeonia Albiflora Root, Sage, Matricaria, Rosemary extracts, and Camellia Japonica Seed Oil to provide rich nutrition to your hair and scalp.( Ammonia and Paraben Free)
REVOLUTIONARY SPEEDY COLOR CREAM : While conventional natural hair color dye requires 40 to 60 minutes to complete the coloring, Herb Speedy Color Cream offers satisfactory result in just 20 minutes (10 minutes each for #1 & #2 cream).
SUNLIGHT PROTECTION : Herb Speedy has patented (Korea Patent No. 0665342) sunscreen agent which prevent color fading from sunlight damage.
The 5 natural herbal ingredients in this hair color cream are Sophora Angustifolia, Paeonia Albiflora, Panax Ginseng, Green tea leaf, and Licorice root extracts. These ingredients help make your hair and scalp feel refreshed while maintaining cleanliness. Green tea leaves help protect your hair from hair breakage or hair thinning as it induces hair loss. Licorice root extracts are known to have properties that relieve irritation and cause soothing effects. It also works as a moisturizer by keeping your hair free from dryness.
Pros
The hair color gel is infused with many natural herbal extracts that help your hair improve with natural treatment.

The 5 herbal extracts present help in maintaining your hair as well as your scalp.

It also contains a Sunscreen agent that protects your hair from damage.

Does not cause an itchy scalp.

Does not cause any allergies.

It is an excellent alternative to popular brands that cause allergies or side effects.

Free from ammonia and PPD.

Paraben-free.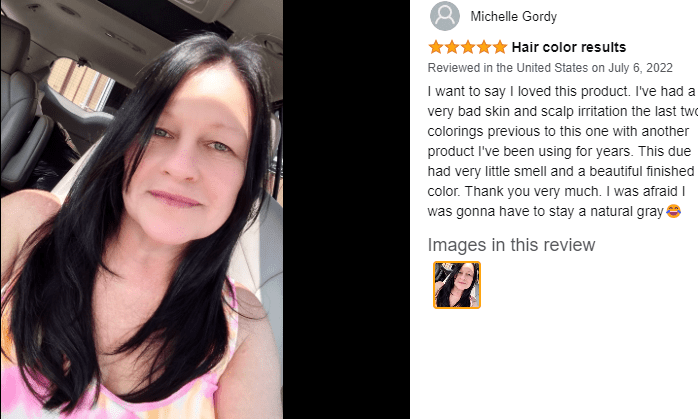 Cons
The smell can be very unpleasant.

Since this is unlike other traditional hair dyes, the process is a little different and requires some extra steps.
Permanent Hair Colors
Some options for permanent hair colors have excellent formulas that will strengthen and nourish your thinning hair. Some of the best ones are mentioned below.
Garnier Hair Color – Olia 
Garnier has embarked on its journey as a hair color brand by winning many hearts. It has a worldwide fanbase that trusts the brand with its various shades. Garnier's Olia is a permanent hair color that is free from ammonia and hence works on making your hair look healthy. Your hair fibers are thickened and hydrated with the nourishing formula of Garneir's Olia.
Garnier Olia Ammonia Free Permanent Hair Color, 100% Gray Coverage (Packaging May Vary), 3.0 Darkest Brown Hair Dye, Pack of 1
Oil Powered Permanent Hair Dye: Olia is an ammonia free hair color kit for brilliant color and visibly healthier looking hair; Using an exclusive 60 percent oil blend with natural flower oils, Olia has a unique no drip cream formula
Ammonia Free Hair Color: Olia transforms coloring your hair into a new sensorial experience; Because Olia hair dye is ammonia free there is no harsh ammonia smell
Garnier Hair Color: For hair nourishing, easy to use permanent hair dye, temporary hair color, root touch up, or to enhance your natural hair color, turn to Garnier hair color
Olia Hair Dye: Olia offers 34 shades to meet your color needs; From our blonde hair dyes to our rose gold hair dyes, Olia has the right shade for you
Inspired By Nature: Garnier carries an array of products for your hair and skin care needs, from shampoos, color care and styling products to formulas that cleanse, moisturize and repair skin
It is formulated with 60% oil, natural Sunflower, and Camellia oil. Sunflower oil has some good hair benefits; it helps in stimulating hair growth, so if you have been suffering from thinning hair, this can be your plus point. Sunflower oil is also an emollient and makes your hair feel soft and smooth with an addition of a beautiful shine. Just like that, Camellia oil also serves some practical hair benefits. It helps retain the moisture in your hair, which does not make your hair feel very dry. It also protects your hair from environmental damage and scalp irritators like dandruff.
Pros
The formula contains some beneficial flower oils like sunflower oil and camellia oil that have great hair benefits.

As per the brand, around 89% of women experienced no hair damage.

Garnier's Olia has about 34 shades available.

Non-drip creamy texture.

Very affordable.

Free from ammonia.

Paraben and silicone-free.

Vegan formula.

Cruelty-free.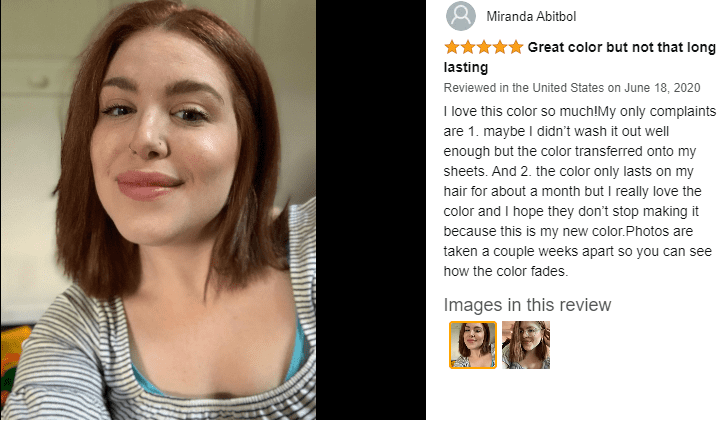 Cons
Users claim that it can get too oily sometimes, so much so that the oily texture stays behind on your hair even after rinsing them.

For some users, it made their hair turn greasy and left patches.
Schwarzkopf Keratin Color 
Here's another best hair color for thinning hair: a permanent hair color that can be a good option for you if your face hair thinning. You may ask why a permanent hair color when you already suffer from hair loss. Well, the answer is simple, it contains a Keratin formula. The pre-color serum makes your hair healthy and strong while they undergo the process of coloring. The formula also helps strengthen the hair structure, so there is no more hair loss.
Sale
Schwarzkopf Keratin Color Permanent Hair Color Cream, 5.6 Warm Mahogany
100% GRAY COVERAGE: Gray coverage with long lasting color intensity.
CARING COLOR: Long lasting permanent color with pre-color serum for strong and healthy-looking hair
UP TO 80% LESS HAIR BREAKAGE: (vs. untreated hair) Enhanced K·Bond-Plex repairs inner hair structure and coats the hair surface after the coloration process for strong and healthy-looking hair.
RICH, EVEN COLOR: The Pre-Color Serum conditions the hair before coloring for a more even color result from root to tip.
If your hair is longer than shoulder length, we recommend using 2 boxes of Keratin Color hair dye for the application.
The keratin color uses the K-Bond-Plex technology to repair your hair, especially when they are treated with chemicals during the coloring process. As per the brand, this technology prevents about 65% less hair breakage. This keratin-based formula contains hydrolyzed collagen, the smaller versions of collagen that helps improve your hair's health. It is also said to improve the health of your scalp, and if some claims are to be believed, it also helps in hair growth. The presence of hydrolyzed keratin works on reducing the frizz and also the breakage of your hair. It also improves the moisturizing environment of your hair strands, making them smooth. 
Pros
Made with a keratin-based technology.

The pre-color serum works on conditioning your hair with the proper nourishments.

It leaves your hair feeling healthy and nourished.

No undertones.

Offers various impressive shades.

Has a sweet smell.

Causes no hair breakage.

Provides good gray coverage.

Comes at a very affordable price.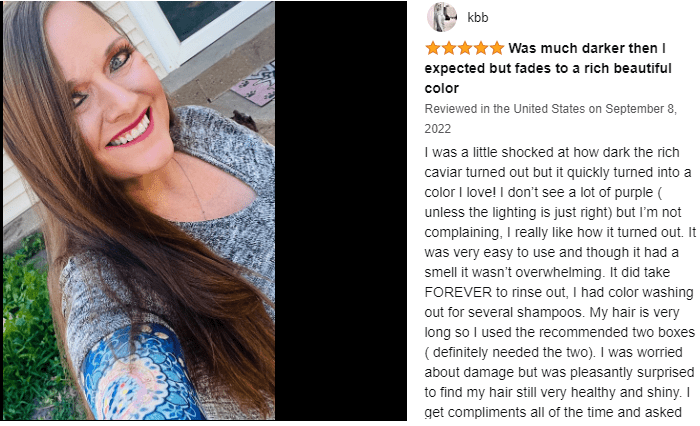 Cons
The keratin formulation did not do much for some people, as they faced dry hair tips.

Some users experienced brassy hair within a few days of its application.

Contains ammonia.
L'Oreal Paris Age Perfect by Excellence
Few brands in almost every industry have garnered immense customer support and trust. It is not just because of the variety of products they offer, but even the number of years they have been developing them. L'Oreal Paris is a brand that stands firm in hair colors or other fields. L'Oreal Paris Age Perfect by Excellence is specifically for those who have gray hair and also suffer from hair thinning. It is for the mature hair that helps it get colored,, making them look fuller and thicker.
The Age Perfect is formulated with Pro-Keratine Complex, providing your hair with desperately needed replenishment. This Keratin complex helps restructure your hair and make it smoother, shinier, and softer. It is found in hair colors because they help you regain your strong and healthy hair by replenishing and nourishing them while they undergo some severe coloring process.
Pros
It consists of a Pro-Keratine Complex that provides your hair with the right amount of nourishment.

Available in around 20 shades.

Does not have a strong odor.

The color does not go brassy.

Keratin helps in repairing hair cuticles.

The color lasts long.

Very affordable.

Does not drip or bleed.
Cons
Some users complained that you had to buy shades 2 or 3 times lighter as they did not give the right color.

Contains ammonia.
Revlon Colorsilk Hair Color
Revlon is another famous hair color brand offering different styles and colors. It is among the affordable hair colors that you can get at your drug stores or supermarkets. Being free from ammonia, this hair color does not damage your hair. It provides a 3D color gel technology, a mixture of different pigments and polymers that deliver natural-looking and multi-tonal color throughout your hair. 
Sale
Permanent Hair Color by Revlon, Permanent Hair Dye, Colorsilk with 100% Gray Coverage, Ammonia-Free, Keratin and Amino Acids, 41 Medium Brown, 4.4 Oz (Pack of 1)
PERMANENT AT-HOME HAIR DYE: Convenient hair color kit for at-home use co-developed with salon experts for long-lasting gray coverage
KERATIN ENRICHED HAIR COLOR: Nourishing, ammonia-free hair color formula is infused with Keratin and Silk Amino Acid to leave hair in better condition than before you colored it
100% GRAY COVERAGE: Revlon's 3D Color Gel Technology delivers rich, natural-looking, multidimensional color with shine that lasts
EASY TO USE HAIR COLOR KIT: Changing your look or covering greys is simple with an easy at-home process from root to tip
41 NATURAL LOOKING SHADES: With shades of black, brown, blonde, red, and platinum hair dye, there are so many beautiful colors to choose from
It is infused with keratin and silk amino acids that help your hair get better or at least not get damaged while it is colored. These silk amino acids are water-soluble glycoproteins that are majorly used in hair care products because they have excellent moisture-preserving qualities. So when you apply this, you know your hair is protected from dryness and dehydration.
Pros
The formula comprises keratin and silk amino acids that serve some great hair benefits.

The conditioner, 'silk-protein after color,' has excellent conditioning properties that protect hair from damage.

Readily available.

More than 40 shades are available.

Hair looks smooth, soft, and shiny.

The quantity is impressive.

Comes at a very affordable price.

Free from ammonia.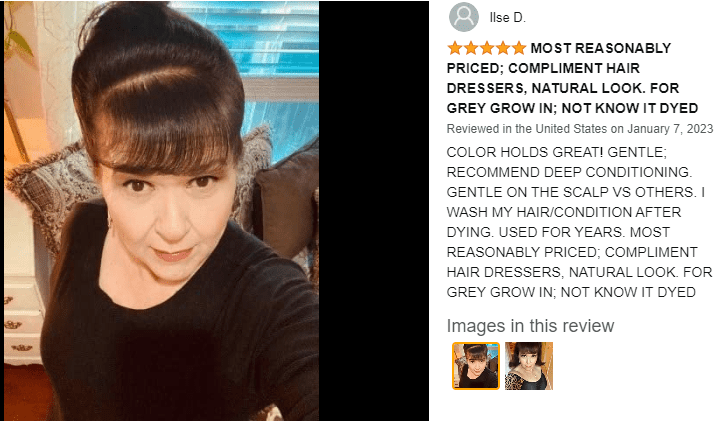 Cons
As per some users, the platinum color did not show up, leaving some patches that turned out to be yellow.

It may be a runny formula.
Herbatint Permanent Hair Color Gel
Suffering from thinning hair makes us rethink our decision, especially when dealing with chemicals. Opting for natural ones can be a 'natural' choice. Herbatint's Permanent Hair Color Gel is all about infusing herbal ingredients that protect your hair with herbal benefits. This ammonia-free hair color gel is designed to nourish your hair while protecting your scalp and hair so that the results are long-lasting.
Sale
Herbatint Permanent Haircolor Gel, 2N Brown, Alcohol Free, Vegan, 100% Grey Coverage - 4.56 oz
THE NATURAL SERIES - The N (Natural) Series shades color your hair creating a natural, even color. Gentle formula allows you to lighten your natural hair color up to a maximum of 2 shades. A permanent ammonia-free coloring made with organic herbal extracts which covers 100% of grey hair for a natural and intense tone rich in highlights. Not just color, works to restore vitality and healthier, naturally beautiful hair.
ORGANIC HERBAL INGREDIENTS - Unique formula enriched with the properties of 8 highly pure organic herbal extracts that perform a toning and soothing action. Designed to protect and enhance colors, nourish, and protect hair and scalp, preserve color intensity and provide a natural and long-lasting result. A true synergy between nature and technology, protects the skin while coloring and nourishing the hair to restore its health and beauty.
TESTED TRUSTED APPROVED - Clinically and dermatologically tested on sensitive skin, its skin compatibility is excellent. This result confirms the brand's distinctive quality and its unique delicately balanced formula. Our products, with their natural and gentle formulations, all tested on sensitive skin and enriched with certified organic plant extracts, are conceived to offer the most natural alternative for those who are conscious about health and environment.
MADE WITH NATURE IN MIND - Made with gluten-free, non-GMO ingredients. An eco-friendly, gentle formula made without ammonia, resorcinol, parabens and is alcohol fragrance free. Herbatint is against animal testing and is suitable for vegans. Our packaging is made of totally recyclable uncoated paper. The bottles can be reclosed and used again, allowing you to use the only necessary product and keep the rest for later applications to avoid useless waste.
CREATE STYLE YOUR WAY, ON YOUR OWN TIME - AT Home color has never looked so natural. Thanks to a consistent and odorless formula, our gel is easy to mix and apply, proving perfect results in just 40 minutes, every time! Great option if you are looking for at home, permanent hair color. Unique because of its complete and holistic approach to at home color, giving you the ability to customize colors and develop your own unique style.
The formula is infused with 8 organic herbal extracts that give your hair the proper treatment while making it ready to preserve the color so that it stays intense. Some herbal extracts include aloe vera, meadowfoam, witch hazel, walnut, and others. The walnut and Rhubarb in the hair color gel help intensify the color while providing suitable conditioning properties to your skin.
Pros
The hair color gel is enriched with organic plant extracts that are certified.

The herbal ingredients protect and nourish your hair.

Around 36 shades are available.

These shades can be blended to create your custom shade.

Clinically tested.

Free from ammonia, parabens, and alcohol.

Cruelty-free.

It is dermatologically tested as well.

Recyclable packaging.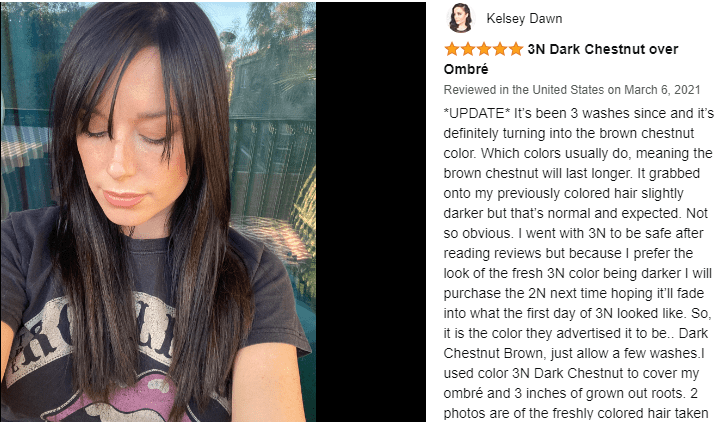 Cons
The scent can be more pleasant.

The formula can be watery and thin.
ONC NaturalColors Healthier Permanent Hair Color
ONC NaturalColors is all about getting the hair colors you want without compromising the health of your hair. The brand claims it uses a healthier way to open up the hair cuticles to let the color in by using the already-trapped heat released from the hair dryer. In contrast, other brands use chemicals that raise the pH levels and open the cuticles. This hair color formula has a very low pH that works gently to condition your hair.
ONC NATURALCOLORS (1N Black) 4 fl. oz. (120 mL) Heat Activated Healthier Permanent Hair Dye with Certified Organic Ingredients, Ammonia Free, Vegan Friendly, 100% Gray Coverage
2:1 COLOR & HAIR CARE: Get the natural-looking color you want without damaging the hair. Permanent healthier hair color formulated with vitamins, herbal extracts, and essential oils to gently nourish and protect your hair and scalp.
HEAT-ACTIVATED: ONC does not use harsh chemicals to raise the pH level to open cuticles. Instead, it works by trapping the heat released from the head using a Thermal Heat Cap or Hair Dryer. A healthier natural way to open the hair cuticles and let color in.
100% GRAY COVERAGE: 100% gray coverage even on stubborn grays. Salon quality hair color results at home for long-lasting radiance from root to tip without damage.
ORGANIC INGREDIENTS: Enriched with certified organic ingredients like argan oil, aloe vera, orange extracts, chamomile, coconut oil and vitamins, to make your hair silky, shiny and soft. Cruelty-free and vegan.
NO HARSH CHEMICALS: Free from ammonia, parabens, resorcinol, sulfate, gluten, silicone, and harsh chemicals. Lowest pH formula resulting in more gentle processing for outstanding condition and shine.
The hair color consists of certified organic wheat protein, aloe leaf juice, grapefruit extract, comfrey leaf extract, and orange peel extract that strive to make your hair soft and silky. The grapefruit extract is said to have antibacterial and antioxidant properties that protect your scalp from harmful color-oxidizing effects. The orange peel extract has properties that reduce dandruff and help in conditioning the hair. The aloe vera present strengthens the hair while relieving itchy scalps. Wheat protein helps restructure your hair by repairing the damage by adding some proteins into your hair follicles.
Pros
It is formulated with unique certified organic extracts that help with hair benefits.

The hair feels shiny and soft.

It lasts for a long time.

Provides good coverage for gray hair.

The ONC kit contains almost everything you might need during the coloring process, the developer, color gel, shower cap, gloves, brush, and a few others.

Free from ammonia, parabens, and sulfates.

Cruelty-free.

Vegan.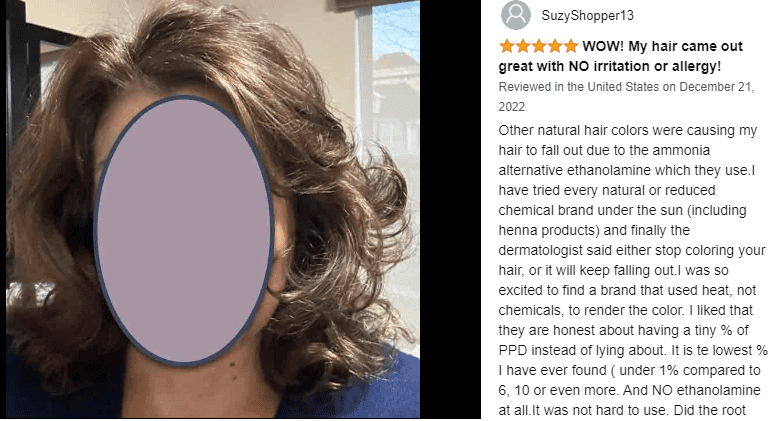 Cons
The process of using a blow dryer makes it quite time-consuming and tedious. 

Some users experienced itchy scalps after using the hair color.
Naturtint Permanent Hair Color 
Being in the hair color market for over 25 years, Naturtint hair color has undoubtedly grabbed many customers and their trust, and thus, it is the best hair color for dreadlocks. With a botanically inspired formula, the hair color has been dermatologically tested. The fascinating thing about it is that it is the first-ever permanent hair color certified by USDA. 
Sale
Naturtint Permanent Hair Color 5N Light Chestnut Brown (Pack of 1), Ammonia Free, Vegan, Cruelty Free, up to 100% Gray Coverage, Long Lasting Results
BETTER INGREDIENTS, Better Color, Better You!
FREE FROM Ammonia, Parabens, Artificial Fragrance, Resorcinol, Heavy Metals, Sodium Lauryl Sulfate and Sodium Laureth Sulfate.
ENRICHED WITH PLANT INGREDIENTS like Oleic Acid, derived from olives, and Meadowfoam Seed Oil to nourish and moisturize your hair for added softness and shine.
UP TO 100 % GRAY COVERAGE for long-lasting, natural-looking results with 32 mixable shades to choose from that deliver vibrant color, deep hydration and gorgeous hair.
VEGAN AND CRUELTY FREE, so you can feel good about making an ethical choice.
It is infused and made with many plants and seed oils, so rest assured that this hair color has some natural, high-quality ingredients. The presence of oleic acid in the formula helps make your hair hold water as it controls the water loss in your dreads, making it soft and pliable. The meadowfoam seed oil also is a game changer as it is known for its emollient properties that keep your hair hydrated. It also prevents your hair from the unnecessary tangling and brittleness that break your hair and cause hair thinning.
Pros 
The formula has naturally appealing and high-quality ingredients.

The hair color is available in 32 mixable shades.

Oleic acid and meadowfoam seed oil help nourish and hydrate your hair.

It is cruelty-free.

Free from ammonia and parabens.

Cruelty-free.

USDA-certified.

Dermatologically tested.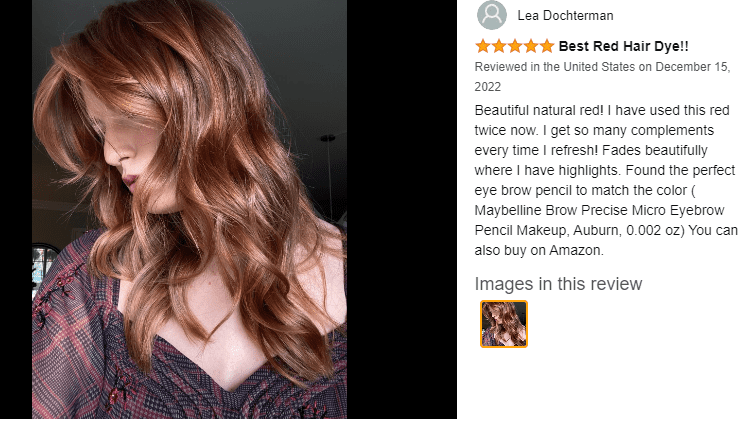 Cons
The new formula upset some people as they reported hair shedding and thinning.
FAQs | Best Hair Color For Thinning Hair
Should I color my hair if it is thinning?
If you suffer from hair loss or hair thinning, it is best not to put your hair under more stress by coloring it. Visible signs of hair thinning, like breakage, should make you aware that your hair is not doing well.
Which hair is color type best for thin hair?
Semi-permanent hair colors are a good option if you want to color your thin hair. This is because they do not contain ammonia, are usually gentle, and do not cause much damage.
Which hair color is the best for thinning hair?
Choosing hair colors or shades that match or are a good contrast between your hair and scalp will make the patches less visible.
Closure
Taking care of your hair should be an essential task in your life. This should be given more importance when you suffer from thinning hair or hair breakage because, in that scenario, your hair needs more care. But what about you coloring your thin hair? That is equal to putting them under a lot of stress.
But with good hair colors that are ammonia-free and work with natural ingredients, you can still protect your hair from further damage and stay with the latest trends in hair coloring. So with our handpicked choices of the best hair colors for thinning hair, make your choice and go for it!
Rebecca is a skilled writer with a passion for makeup and skincare. With years of experience in the beauty industry, she has a deep understanding of the latest trends and products and a talent for creating engaging content that resonates with her readers. Whether she's writing about the latest skincare products or sharing her favorite makeup tips, Rebecca's writing is always informative, entertaining, and inspiring.