Makeup has evolved in such a way that people have come up with so many innovative makeup products. The chaos made when we have to carry these things outside is unexplainable. August and Monroe Blemish Camouflage is a makeup product that is a concealer, color corrector, and skincare product that heals your acne scars, everything in one place.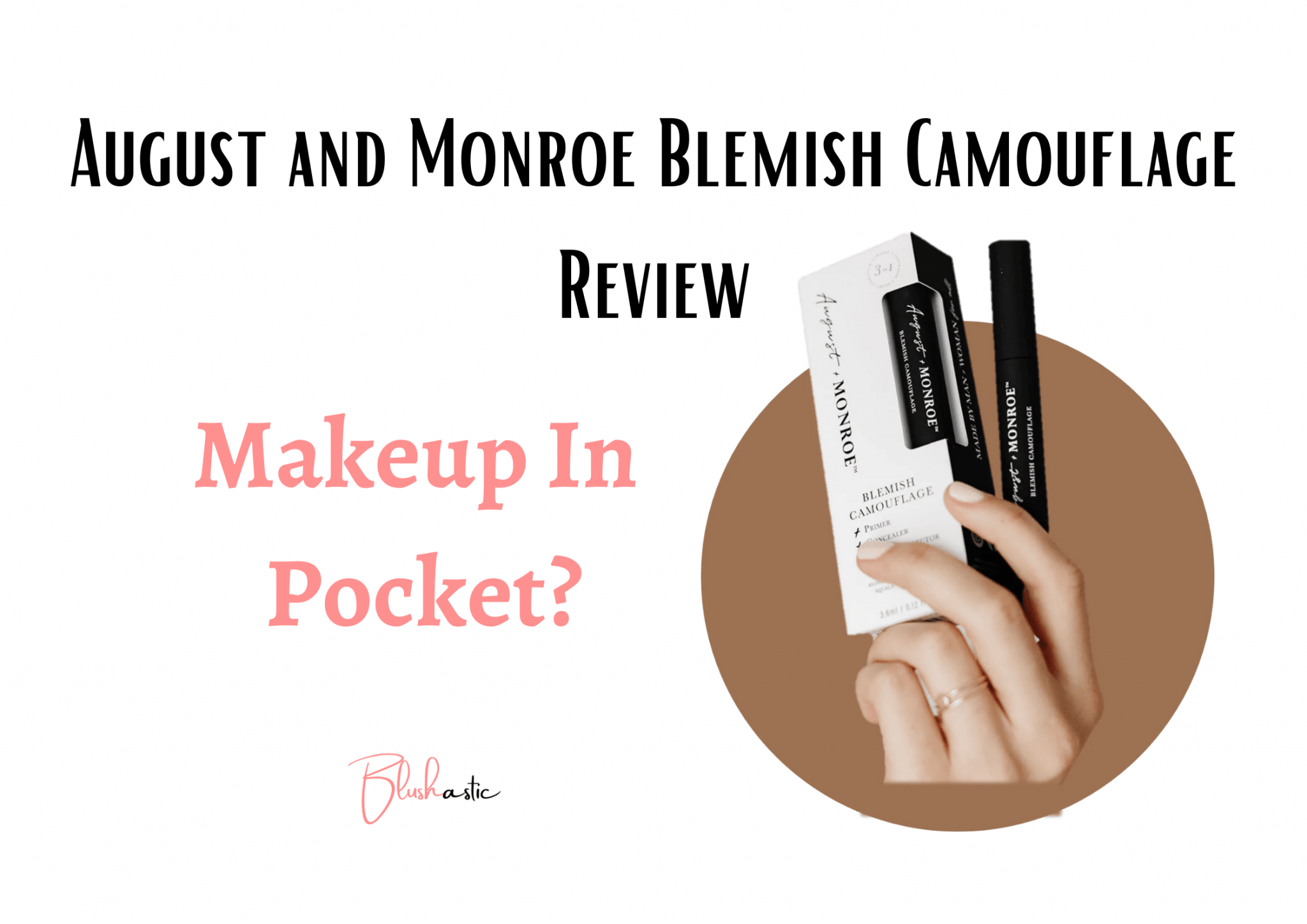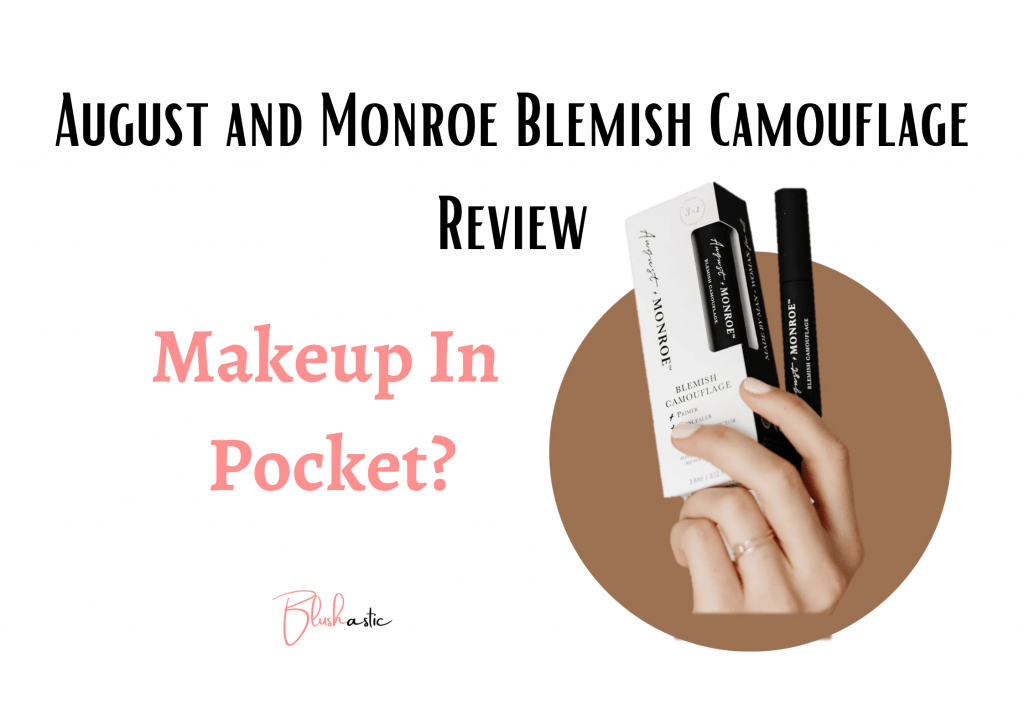 And guess what? Say bye to carrying different products when you step out because this pen is all you need! But is this 3-in-1 pen worth the hype? Do all three makeup products come out well? Let's look at some August and Monroe Blemish Camouflage reviews to clarify our doubts.
August and Monroe Blemish Camouflage Reviews | Worth The Investment?
As you already know, from the name, August and Monroe Blemish Camouflage Pen is a makeup pen that aims at camouflaging the blemishes on your skin in such a way that they aren't visible at all! This pen also makes hiding acne scars relatively easy as it blends and mixes with your skin, so it looks all-natural. 
If you think this pen is exclusively a makeup product that consoles the blemishes, then let us stop you there! Because as per the brand, the pen not only does the job of concealing but also healing the pimples with clean ingredients.
Sale
August+Monroe 3-in-1 Blemish Camouflage Pen - Help Conceal+Heal Breakouts - Pimple Spot Treatment, Concealer Stick, Face Primer, with - Salicylic Acid Cream, Vegan, 20+Shades (3 to 6 month supply)
3-IN-1 BLEMISH TREATMENT CONCEALER — Why just cover a blemish when you can both conceal+heal it? Our multi-purpose pimple concealer combines makeup with skincare to reduce the visibility of acne and other blemishes. Also helps improve overall skin and prevent unnecessary breakouts. Made for Women, Men & Teens. #GenderNeutral He/Him She/Her They/Them Ze/Zie
CONCEAL+HEAL PIMPLES ALL-IN-ONE — Use Day & Night Primer Face Makeup Blemish Concealer Acne Spot Treatment for Face, & Body. NEW blemish treatment for face, acne spot treatment, proactive acne treatment, salicylic acid spot treatment, pimple spot treatment, acne concealer, dark spot corrector, etc… highlight ways it can be utilized. Our concealer makeup, acne cream is a great alternative to acne patches, pimple patches, zit cream & benzoyl peroxide spot treatment.
NEW COLOR-BURSTING TECHNOLOGY — When used as a concealer with salicylic acid (proven acne-fighting medicine) the formula blends smooth from WHITE to COLOR using heat of clean fingers & circular motion application, helping best match the pigment of your skin. Reduce redness, conceal pimples w/ pigment-bursting bead technology. Blends darker the more you rub in, a little goes a long way. Create 20+ shades from light/medium to medium & NEW fair & dark ranges coming soon!
CLEAN INGREDIENTS — Vegan, Non-Toxic, Plant-Based, Cruelty-Free, Paraben Free, Sulfate Free, Fragrance Free — meet the Clean at Sephora Standard! Healthy skin ingredients include; Aloe, Arnica, Bakuchiol, Squalane, Salicylic Acid Cream & Vitamin C Serum for Face. Help as proactive emergency blemish treatment, face primer, acne treatment, spot acne treatment, hormonal acne treatment, acne treatment for teens, and helps fade acne scars. Peace out acne scars Fight Maskne!
CUSTOMER HAPPINESS PROMISE — 100% say it covered blemishes used as an acne concealer & 95% showed a reduction in pimple size within one single use. Mask acne treatment, best pimple cream spot treatment, best pimple-blemish concealer & best pimple drying lotion. Most experience noticeable results within 1-2 applications. Get help with product questions & usability on our FAQ page | Unisex & For All Skin Types | Create 20+ Color Shades | 0.12 Fl Oz | 3-6 month supply
The Camouflage pen is designed with a formula that helps in causing relief to your skin areas where you may feel itchy and irritated. It also contains ingredients that help in fighting wrinkles and blemishes. To know more in detail about these key ingredients, keep reading.
Prime Ingredients 
Aloe Leaf Juice
Concentrated aloe leaf juice is among the key ingredients present in pen. Aloe vera is known to have anti-inflammatory properties that help give your skin a soothing effect and relief to itchy skin. Moreover, aloe vera juice can give your skin a good amount of hydration and nourishment that helps your skin get repaired. So with aloe vera in your makeup product, you can sit at ease knowing it will make your skin feel healthily hydrated and give your skin a cooling effect.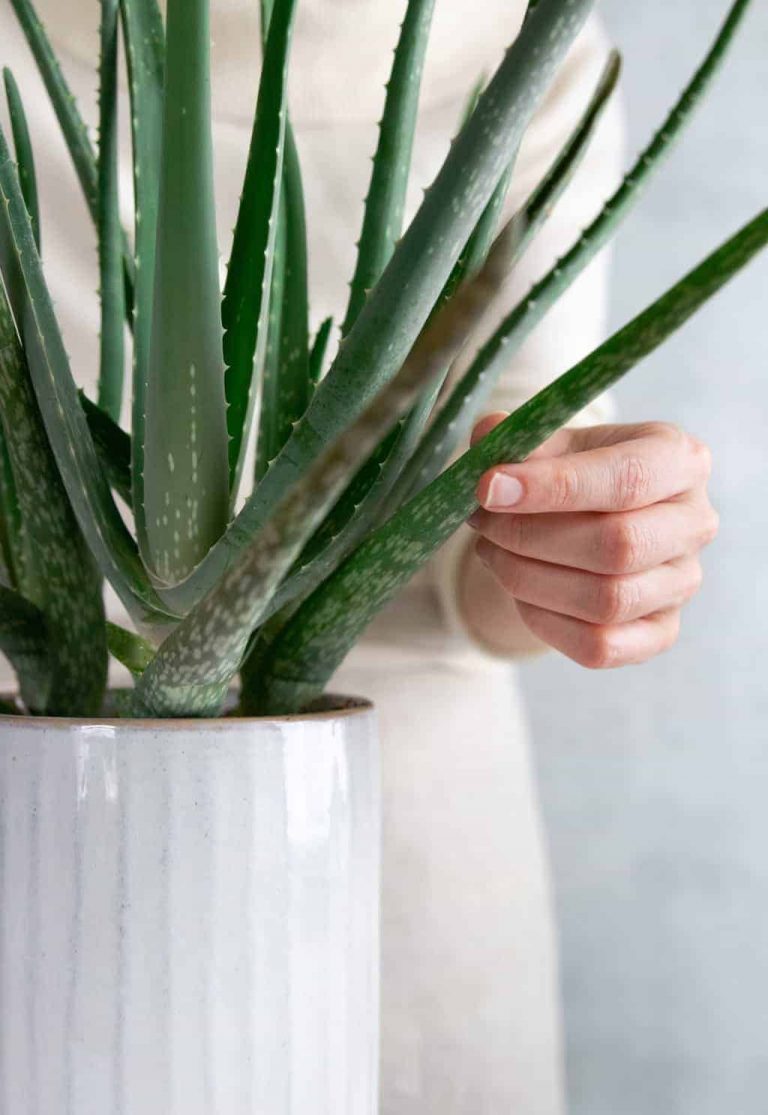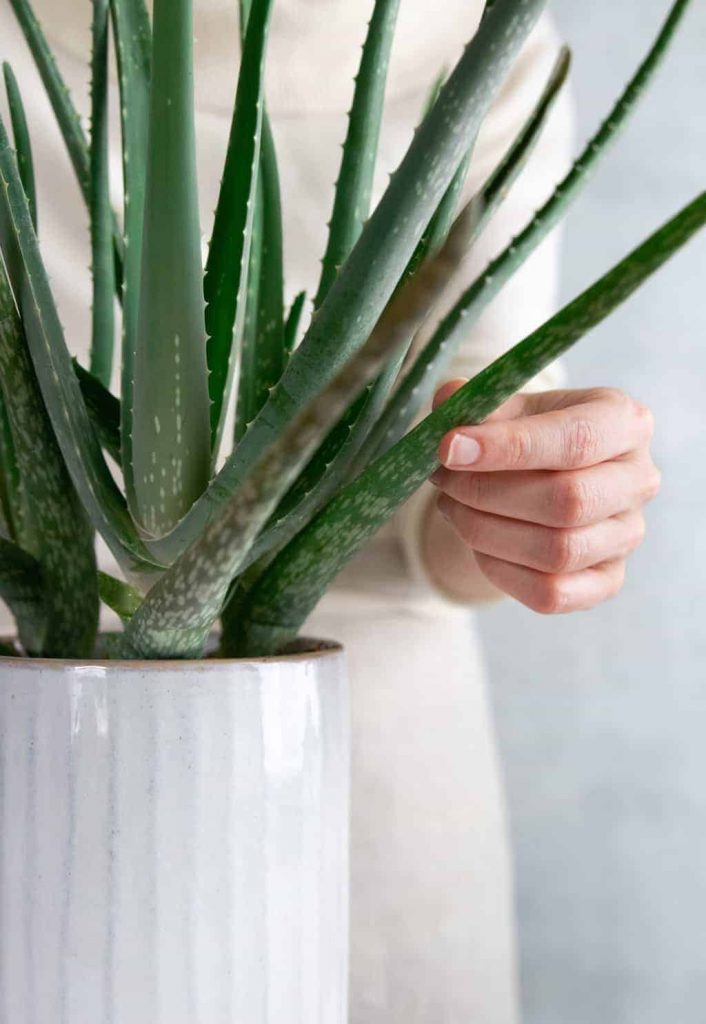 Blackberry Seed Oil
Blackberry seed oil is known to have soothing properties that give your dry and itchy skin relief! Besides, this ingredient contains vitamins A and E, which have antioxidant properties. Blackberry seed oil also improves the hydration in our skin while improving elasticity as well. And because of this, you can find blackberry seed oil in several moisturizers!
Vitamin E
As you know, this pen isn't only about makeup; it has ingredients that heal acne scars. And one of those ingredients includes Vitamin E, an excellent antioxidant that protects your skin from damage. It can prevent inflammatory damage that might be caused due to UV rays. It is a great ingredient that makes your skin look younger and radiant.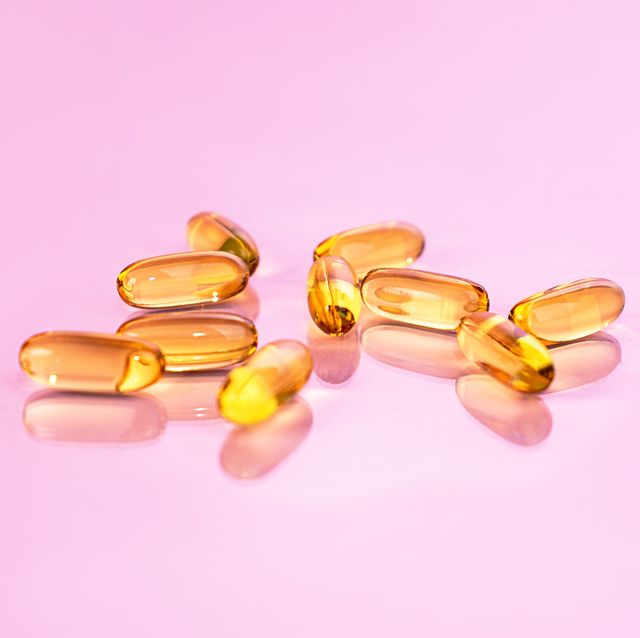 Vitamin C
Even if you are new to skincare, you might have still heard about Vitamin C and its benefits for the skin. It is mainly used in products with brightening effects as it is considered an excellent brightening agent. It also reduces spots, redness, as well as hyperpigmentation. As per studies, it can also slow down the aging process as it protects your skin from Sun damage and minimizes the appearance of wrinkles and fine lines on your skin.
How To Use?
August and Monroe Blemish Camouflage Pen is a 3-in-1 pen. This means that the pen functions as three different things: a primer, concealer, and night corrector. You can use it in all the 3 ways by following the steps mentioned below:
As a Primer:

When you want to use the pen as a primer, make sure you use a moisturizer along with the pen. The moisturizer and this primer together will create a good base for your makeup to be applied on.
As a Concealer:

It is pretty straightforward if you want to use it as a concealer. All you have to do is find the areas where you need a concealer and apply a small amount of the product. Then blend it in circular motions till you get the color you want. Blend out the edges where you feel an excessive amount of product.

As a Night Corrector:

Since this pen also performs the duty of a healer, you can use it overnight to heal your skin. After cleansing your skin, apply it in desired areas and leave it overnight. Don't blend it or mix it thoroughly into your skin. Let it sit on top of your pimple or scar and get absorbed throughout the night.
Benefits
The pen is not only a makeup product but also a skincare one.

It has ingredients like Vitamin E and Vitamin C that help make your skin look better.

It also contains ingredients like aloe vera juice that nourish your skin and provide hydration to it.

You can use it for multiple purposes, all with the same formula.

It blends easily with your skin.

It is available in more than 20 shades.

As per the brand, based on a survey conducted:
98% of people claimed that the concealer matched their skin tones well.

100% of people experienced no irritation or dryness.

95% of them said they would suggest this product to a friend.

The brand offers a 14-day return policy.
Travel friendly.

Dermatologist-approved.

Cruelty-free.

Vegan.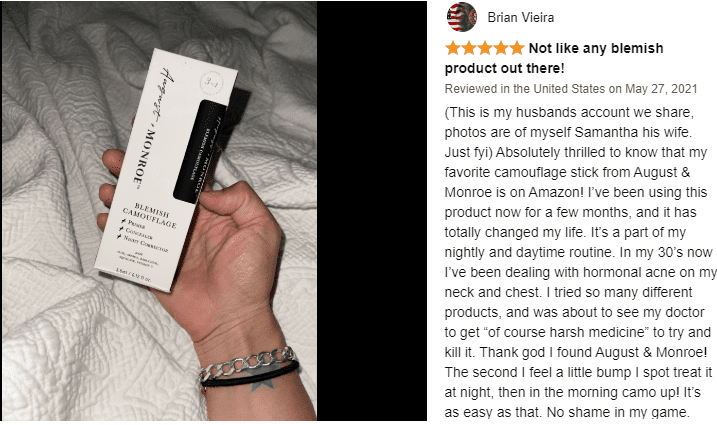 Drawbacks
Some users reported that the color did not match their skin tone. 

It may not give the exact coverage you might want.
August and Monroe Blemish Camouflage Reviews Before and After | Customer Feedback
A user named Stephanie said, "Considering the 'Camouflage' part of the product, I didn't know what to expect from it, but AMAZING – it is great! As soon as I applied it, it blended into my skin color. The blending process was straightforward and absorbed really quickly into my skin, making applying foundation very easy. For covering up blemishes, all you require is a tiny amount of the product.
And like other products, it does not turn cakey or flaky. I even tried using it as the night corrector and left it overnight. In the morning, my blemishes were flattered, and covering them was very easy. I love that this product is made from clean ingredients, and the packaging is environmentally friendly and recyclable!"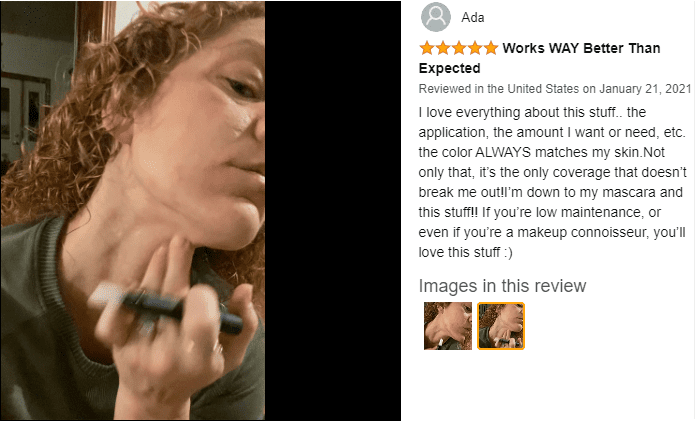 Another user, Nicholas Thomas, commented, "Here is my feedback, in two points. The first one is about the color matching theory. It is all about beads that are colored and get popped. The more you rub the product, the dark it gets on your skin. And the color is warm, around an orange shade, though I hoped it was a more neutral one. The next point is that the product is very less in pen.
When I apply it, I often have to keep twisting it, so it comes out, and to be honest, it still doesn't. I sometimes twist it around 10-20 times! Considering the price it comes for, it should go a long way, but based on the number of twists I have to do, it will get over soon. The consistency or thickness is good, and even the way it dries out into a matte-ish finish is good. Overall, the product is fine, but with the amount of product you get, it is overpriced."
FAQs | August and Monroe Blemish Camouflage Reviews 
Should I apply the August and Monroe Blemish Camouflage before or after my foundation?
Since it can heal your scars or blemishes and even camouflage them, apply it before the foundation. It will also form a layer and protect your skin from the other makeup products that you apply to your skin.
At what time should you use it?
It depends on you. If you are looking to cover blemishes and spots for an event, you can use it to camouflage them. Just like that, you can use it overnight to treat your blemishes and spots!
How long does it take to notice the results?
As per the brand, you might take an average of 2-4 uses to see the results. If you use it as an overnight corrector, people have said they noticed the results within one application.
Closure
These August and Monroe Blemish Camouflage reviews explain that it can be a good and effective solution for you, especially if you are looking for simple and handy products to cover your spots. It has a wide range of shades available, so finding your match might not be difficult. Considering how a small pen-like product can do 3 things, it sure should be a product that should be in every vanity! Not just your vanity bags, they should also be there with you in your pockets! 
Marilyn's deep interest in fashion, beauty, and lifestyle has led her to pursue a fulfilling career as a freelance writer and blogger. With her bachelor's degree in fashion design from the Fashion Institute of Technology, she has developed a keen eye for style and trends, making her well-equipped to offer valuable insights into the latest fashion and beauty trends.