Given that the eyes are the windows to the soul and one of a person's most distinguishing features, it is crucial to take good care of the skin around them. Additionally, the skin around the eyes is unique, which ups the difficulty. The area around your eye is far more photosensitive and environmentally sensitive than the rest of your face and body since eyes are crucial sensory organs, and our bodies inherently integrate mechanisms for their protection. 
This thin layer of skin is undoubtedly necessary for all that and more. Still, since thicker skin is more resistant to abrasive chemicals, the weather, and UV radiation, the skin around your eyes suffers the most when it comes to the onset of early indications of aging.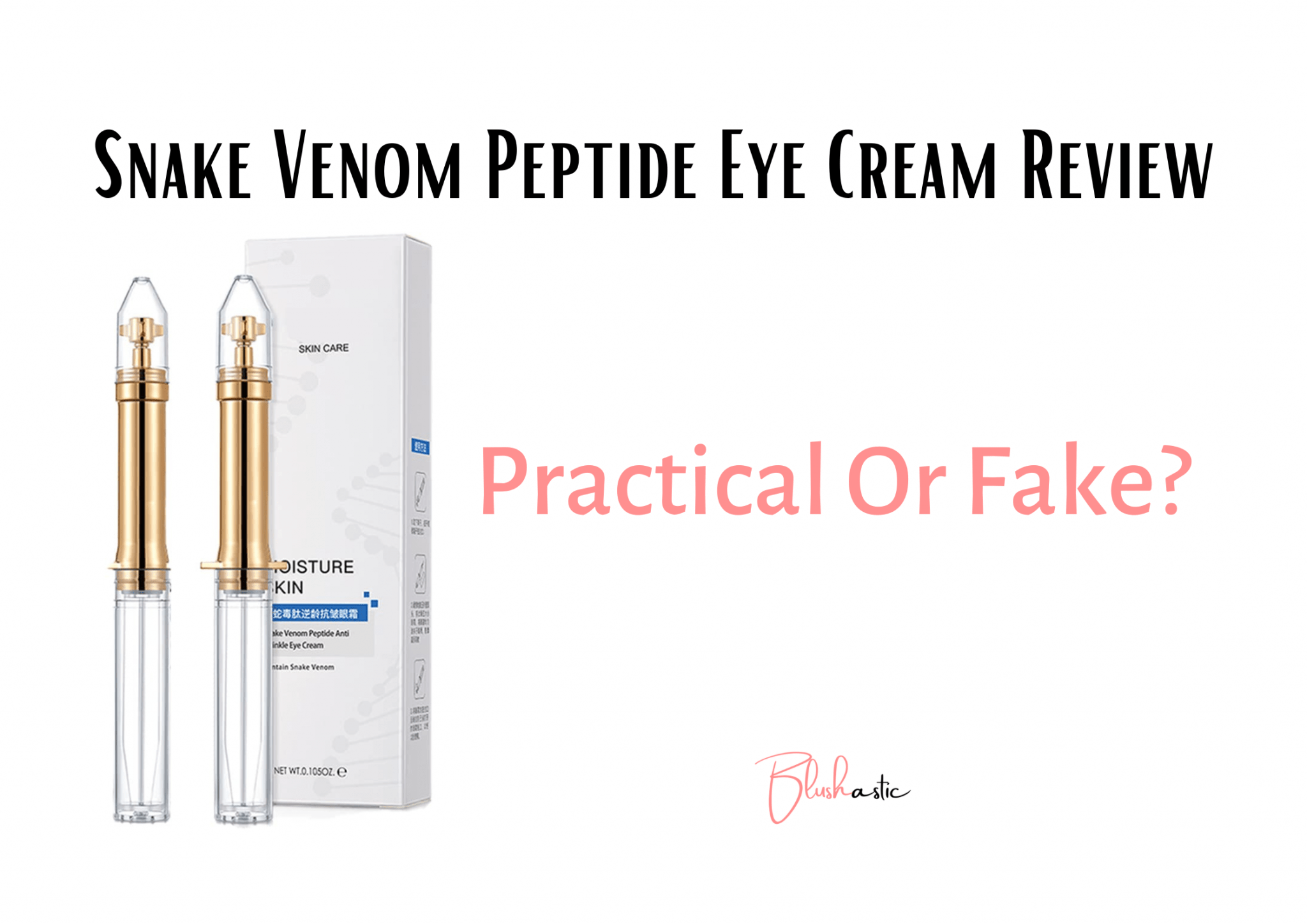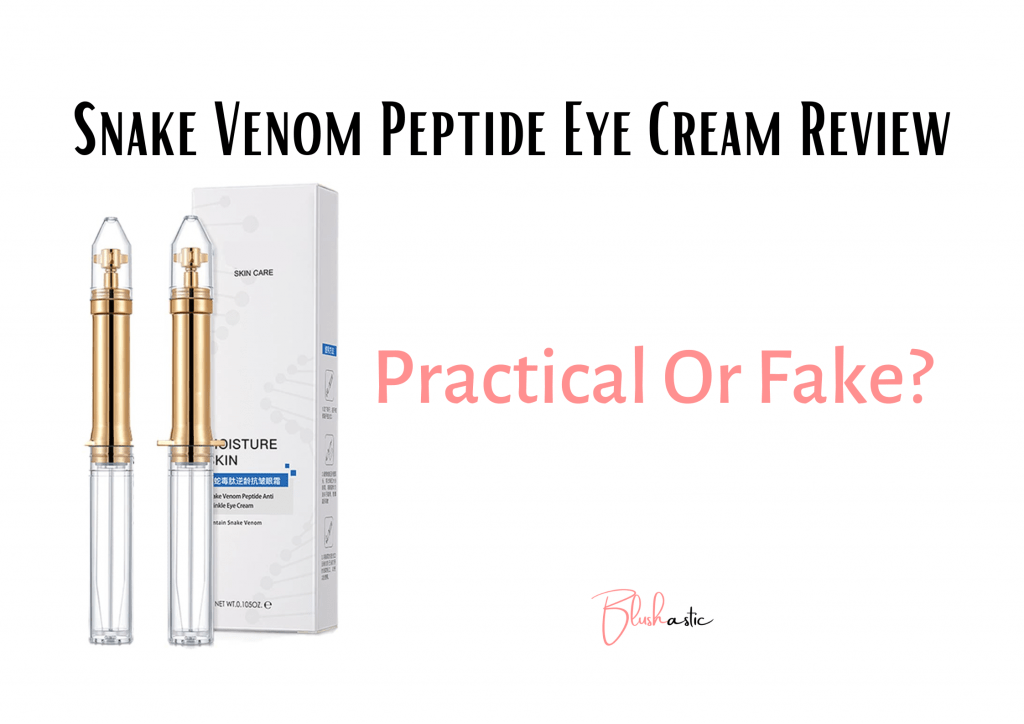 Did all the chatter about under-eye wrinkles, puffy eyes, eye bags, and dark circles worry you? Then hold out on your dejected sighs for a moment because the cosmetics industry has revolutionized more than ever, and a nifty active ingredient is always just around the corner. So let's get acquainted with peptides and an eye cream that has employed it in their formula. Based on Snake Venom Peptide Eye Cream reviews, this report will help us get a better picture, so let's get to it.
Snake Venom Peptide Eye Cream Reviews | Effective or Not?
We're talking business because peptides are frequently referred to as "Botox in a jar." And while we are well aware that many chemicals fall short of expectations, peptides are unquestionably something you should get your hands on. Peptides and polypeptides are naturally occurring amino acids in the skin, and collagen comprises three polypeptide chains.
Therefore, using peptides in skincare can increase the skin's collagen synthesis because they are smaller and more easily absorbed by the skin than collagen molecules. The effects include restoring the skin's natural barrier to reducing wrinkles, increasing suppleness, reducing inflammation, and eliminating breakouts.
Now, peptide-containing eye creams must be the rage, but is that the case here? The Snake Venom Peptide Eye Cream certainly offers some remarkable ingredients, starting with the oligopeptides we previously covered in great detail. As well as some perfectly complementary ones like hydrolyzed collagen to help structural bonds form in the epidermis and collagen and elastin formation in the dermis.
4PCS Snake Venom Peptide Anti-Wrinkle Eye Cream, Chaffee Life Snake Venom Peptide,Snake venom eye cream,Lifts Firming Anti-Wrinkle Eye Serum Tightener,for Remove Eye Bags/Dark Circles/Eye Wrinkles
【Snake Venom Peptide Anti-Wrinkle Eye Cream】----Absorbs quickly to rejuvenate the delicate eye area for bright, lifted and youthful-looking eyes,An eye cream serum specially formulated for the delicate skin around the eyes. Activates collagen production and penetrates deeply to reduce signs of aging(Notice: There are two anti-wrinkle eye creams in one box, 4 in total)
[SNAKE VENOM PEPTIDE EYE CREAM EFFICACY]: Snake Venom Peptide Anti-Wrinkle Eye Cream Plus contains snake venom-like peptide skin care ingredients,Helps reduce eye skin problems such as dark circles, puffiness, fine lines, bags under the eyes, wrinkles and crow's feet for youthful rejuvenation
[REFRESHING AND EASY TO ABSORB] - Our snake venom eyes treatment serum using safe and gentle natural plant ingredients, making super refreshing and fast-absorbing with no greasy residue, leaving skin silky and smooth
[How to use]: Step1 Take an appropriate amount of eye cream and apply it to the skin around the eyes; Step2 Massage and push the eye cream gently on the eye area; Step3 Gently massage Massage from the inside out to help the skin around the eyes fully absorb.
[SUITABLE FOR ALL SKIN]: Designed to eliminate wrinkles and reduce eye bags, our eye cream absorbs easily into the skin under the eyes. It is safe to use around the eyes whether you have normal skin, oily skin, dry skin or skin
Also, glycerol acts as a humectant and draws water from the environment to keep your skin hydrated, and sodium hyaluronate has anti-aging and moisturizing abilities. Even though the brand says it will help you achieve several objectives in your skincare journey, the conflicting customer evaluations do not support that claim, so let's move on to that.
Advantages
The company claims the following outcomes for your skin:
Rapid absorption.

Reduces wrinkles, crow's feet, fine lines, bags under the eyes, dark circles, and puffiness.

Skin rejuvenation.

Plant-based components that are safe and natural.

They are inexpensive and can be purchased in multipack sets.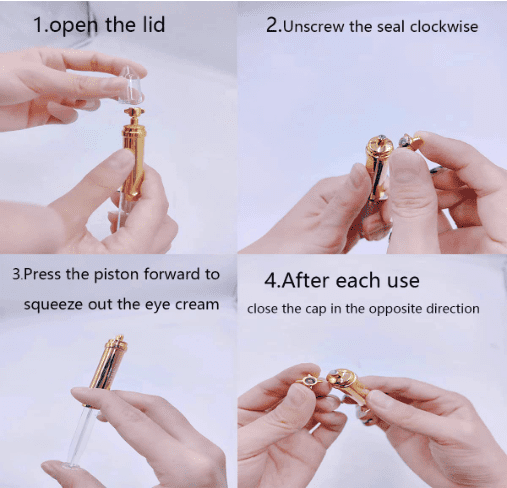 Disadvantages
The product has not fared well with the customers, which are the common drawbacks pointed out.
Greasy texture.

Ineffective.

Suspicions are raised because the materials and directions are printed in a foreign language (perhaps Chinese).
Customer Feedback | Snake Venom Peptide Eye Cream Reviews
Only a few customers reported using this product to their benefit, while the majority of customer reviews were neutral or unfavorable. The general experience with purchases has been that the product does not cause breakouts but produces no results either. The blatantly unrealistic advertising video irked some as well.
Our first customer luckily had a decent experience with their purchase, with some visible changes they mentioned. In their own words, "This has been working well for me for a week. It has helped my under-eye bags, even though it is not one of those dramatic eye creams that tighten everything. They are less pronounced. Since using it before night for a few days, my eyes don't look as dry in the mornings as they usually do. I had to translate the ingredient using Google. It does work, but not as well as their ludicrous video commercial."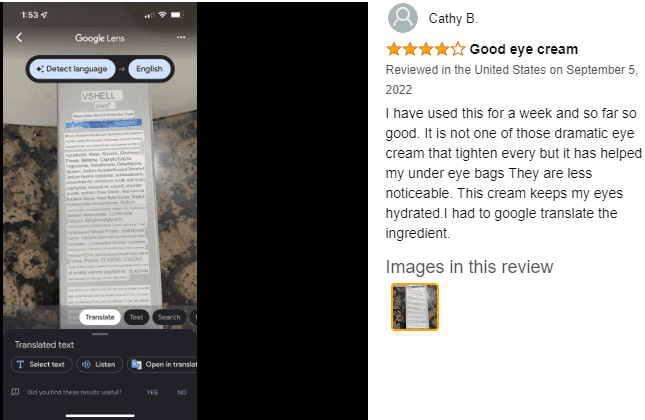 On the other hand, this customer's usage fell short of her expectations, and they said, "I was eager to utilize this product after watching the promotional film. So I placed my order. Upon receiving it, I hurried upstairs to try it since I was so excited. It utterly fails to function in any manner, shape, or form. My face stayed the same; it simply got oily. All creases and bags vanish when the product is applied below the eyes in the video. That is not at all how it operates. Just a greasy face moisturizer, really."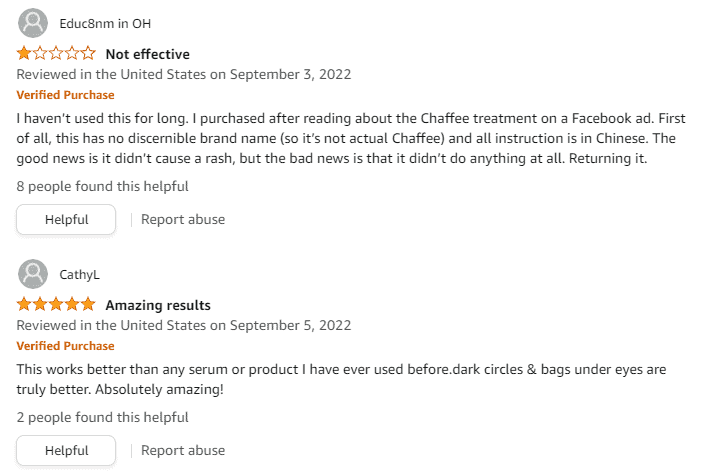 Another buyer shares their concern about the brand and product origins, "After reading about the Chaffee treatment in a Facebook advertisement, I made a purchase. First of all, the only language of instruction is Chinese, and there is no obvious brand name on this product (so it is not Chaffee). The good news is that it didn't lead to a breakout, but the bad news is that it accomplished absolutely nothing. Sending it back."
FAQs | Snake Venom Peptide Eye Cream Reviews
Is Snake Venom Eye Cream safe?
Although the brand states that the contents are secure and derived from plants, there is little evidence to support that claim. However, some buyers who have used the product and have managed to translate and comprehend all the ingredients find them alright for usage.
Are there Snake Venom Eye Cream side effects?
Itching, stinging, swelling, and skin redness have been reported in those with sensitive skin after taking snake venom creams. However, not every user will encounter unfavorable side effects.
Closure | Snake Venom Peptide Eye Cream Reviews
The Snake Venom Peptide Eye Cream is an example of a product that occasionally fails despite having a fantastic formulation and great ingredients. The fact that the product has not hurt or damaged any customer's skin is unquestionably a plus, despite the overwhelmingly negative feedback concerning the cream's efficacy. However, that is still insufficient to convince you to buy a product that neither you nor we are certain about. 
Although this product may have been well-intentioned, its execution was subpar. The lesson to critically assess every good before purchasing may be what you are walking with today instead of a product. We wish you many successful future shopping endeavors. We appreciate your visit!
Marilyn's deep interest in fashion, beauty, and lifestyle has led her to pursue a fulfilling career as a freelance writer and blogger. With her bachelor's degree in fashion design from the Fashion Institute of Technology, she has developed a keen eye for style and trends, making her well-equipped to offer valuable insights into the latest fashion and beauty trends.