All moisture barriers of your skin become weak and surrender to itchiness, and flaking skin, upon being exposed to dryness for a prolonged period. Aquaphor Healing Ointment has received approval from many and claims to stop the ugly war your skin has been dealing with humidity, cracked surface, and whatnot. The formula is thick and soft like a cushion, which is the right buildable texture your compromised skin needs. 
It hydrates the overall body by flushing out dullness and gives you an impeccable glow that will last all day long! Effects of Sleeping With Aquaphor On Face is a drugstore secret everyone wants to know, but not all can tell! So we thought of making things less sweaty for you!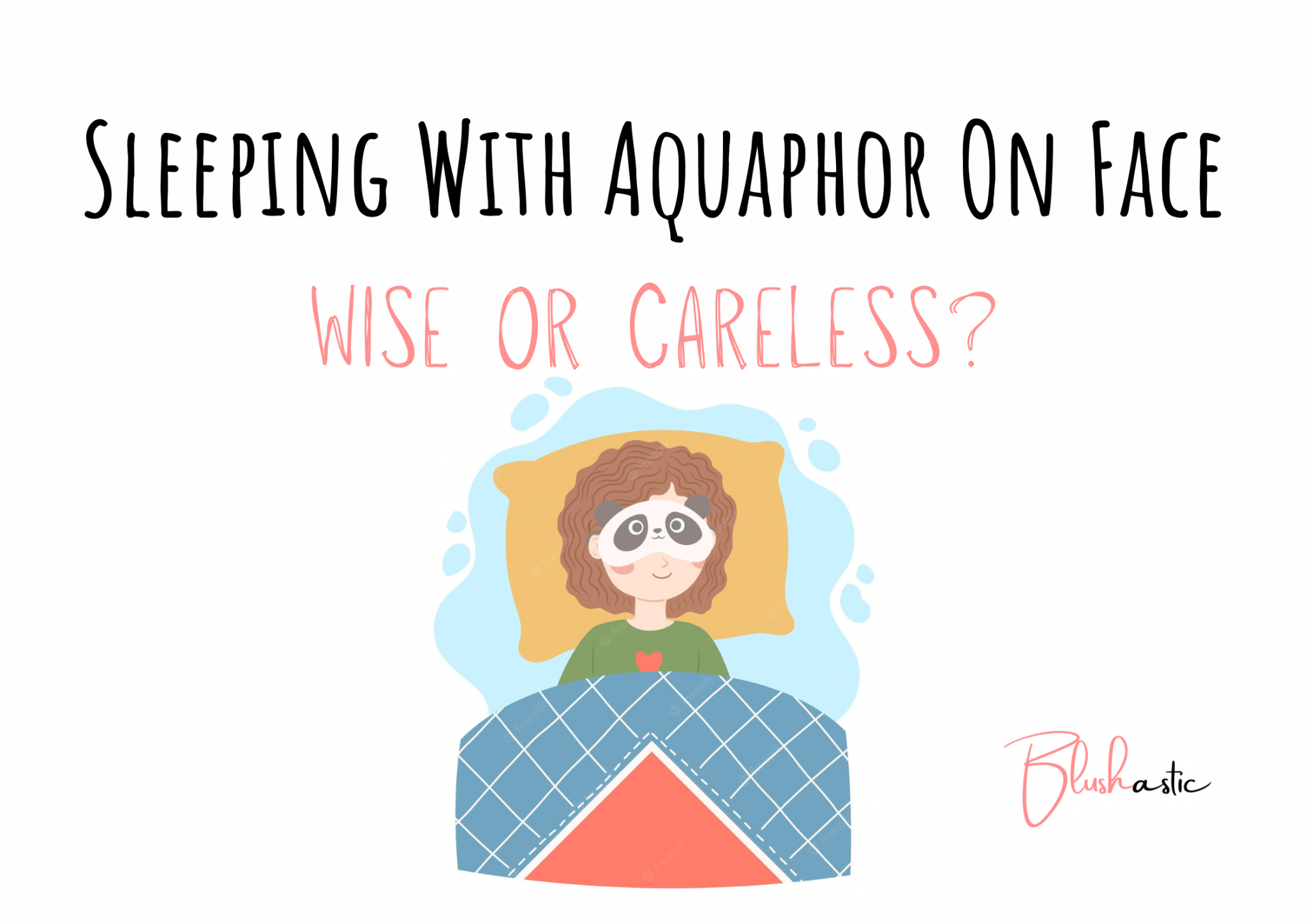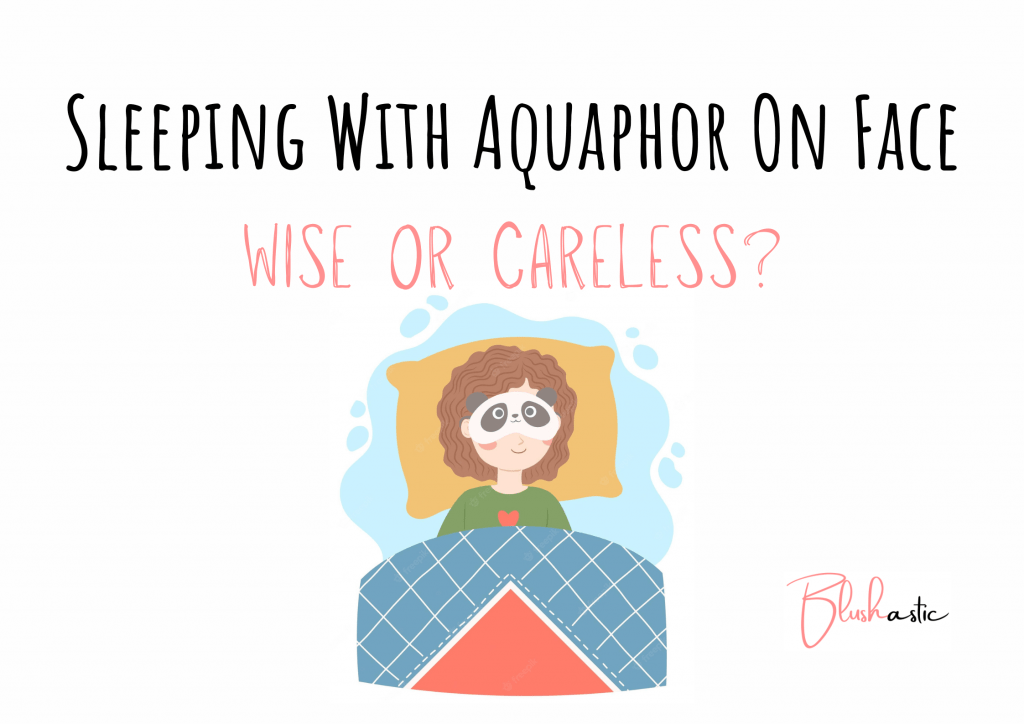 Why does every celeb keep stressing about drinking at least three liters of water daily? Is plump and supple skin that hard to get? Certainly not. You can't always lock hydration on your skin with diets, supplements, and water. However, you can fix things much more effortlessly when you have a tub of Aquaphor tucked away in your makeup vanity! But why is Aquaphor the newest beauty bling of thousands for glowing skin? Let us see what miracle recipe this 6-dollar drugstore product is cooking up!
Sleeping With Aquaphor On Face |
Wise Or Careless?
They say the journey of happy skin starts with moisturization, and we finally have news of achieving it without spending half our fortune. The big reveal is here now. Sleeping with Aquaphor on your face will bring your skin some much-needed sweet dreams it has been missing out on! Yes, you read it right. After finishing your nightly skincare routine, take a generous amount of this ointment, and apply a thin layer as the last step.
This layer will act as a blanket and lock in all the moisture inside. When you wake up, the cracks will be long gone, and your skin will be softer. So, if you were worried about putting this on your fragile face and dozing off to wonderland, this is your green light!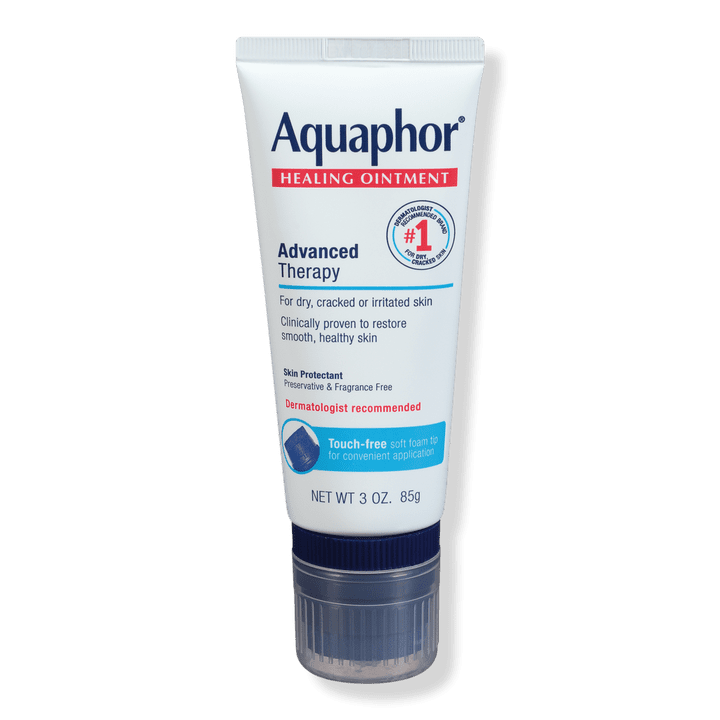 Thanks to its reputation, the balm treats dry skin, dermatitis, and scrapes, which people usually go through. Sometimes you have put so much makeup on your face, but by the time you remove it, your skin is disappointed in you. This ointment will help heal the agitation and even hide your wrinkles to some extent.
You should misunderstand it with any anti-aging crema, as it won't vanish those insecurities but reduce their intensity. For all those asking Can I Use Aquaphor On My Face daily, the answer is yes, you can! It is safe to do so and brings back the missing moisture your canvas needs to nurse itself back to health!
Benefits Of Sleeping With Aquaphor On the Face
Dry skin is not attractive, whether a man or a woman. Cracked and chapped-looking skin diminishes your personality and might make you fail a first impression test! Luckily, this topical moisturizing ointment's sole purpose is to keep the dryness at bay and remedy itchiness or irritation. If you want to give your skin some significant dose of hydration it has not received, you mustn't keep it waiting! Apply some generous layer of Aquaphor all over your boy to amplify your inner radiance. This gives your body a well-hydrated glow, and you, confidence!
Prevents double trouble from wounds
Yes, the skin does heal naturally, but that does not mean you can't do anything to help! Aquaphor gives you some big-time relief, primarily associated with elevating the time to heal a minor wound. It possesses wound-healing attributes and reduces redness and swelling in the area of the injury. Cases like shallow cuts and mild burns that don't require serious medical attention can be treated by applying some of this ointment to the affected area. It also steers clear from extensive scarring from a minor wound.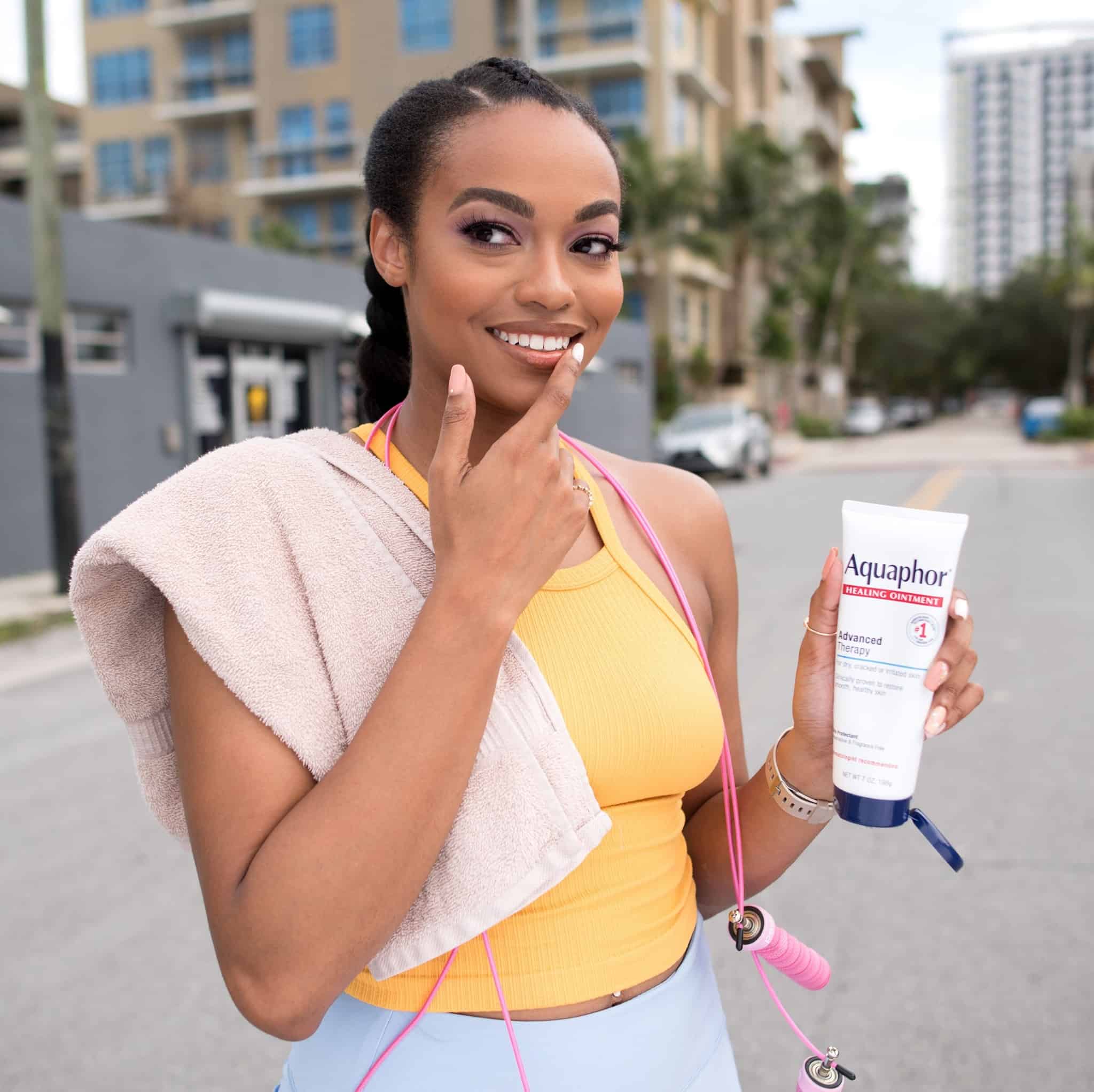 Aquaphor is the best pediatrician-recommended diaper rash cream that will seal up all rashes in 6-7 hours. It forms a protective shield all around your baby's delicate skin with the help of its power-packed ingredients like zinc oxide, panthenol, and glycerin. This acts as humectants and emollients and repairs the rashes all night while you and your baby are in your beauty sleep! The formula is devoid of fragrance, preservatives, or dye, so it is safe. 
Can Aquaphor For Face Wrinkles be the next anti-aging cream on a budget? We think so! The formula infused hydration into your skin enough so that your fine facial lines and wrinkles appear less dramatic and faint. It does not precisely help you prevent aging signs or treat them, so you can shift to retinoids if you want a break from these rigid signs.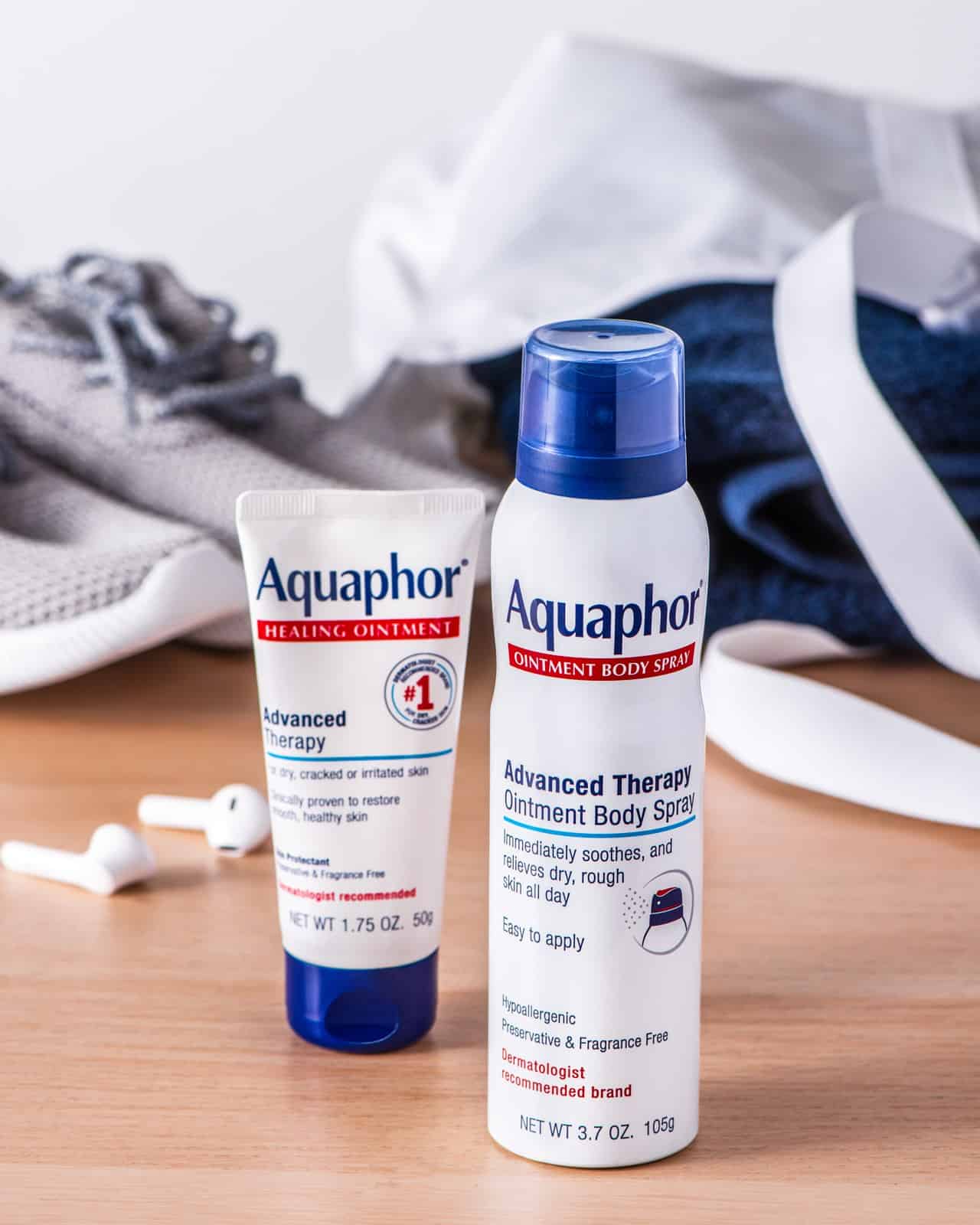 Add life to your beauty regimen
Breathe life back into your dull makeup routine with one swipe of this cream, and see the magic happen. Blend the cream with pigmented powder-based makeup like blush, highlighter, or eyeshadow. This will create a beautiful dewy look and keep the moisture locked within. You can use it for touch-ups whenever you need to introduce some brilliant sparkle in your makeup cabinets. 
By now, you must have gathered where Aquaphor goes, hydration follows, so what better place to invite it to, other than your dry pucker that looks like it has seen a ghost! As long as you have a thin healer in your vanity, your lips can be revived and restored to their state of plumpiness. You can scoop up a thick layer and put it on your pout, as this acts as an intensive lip mask. You can also wear it on winter days, as the lip balm will ward off all dryness and prevent chapped skin or dehydration from returning for any last goodbyes!
An impressive cuticle cream
If you polish your nails in a different shade every day, we know how hard it must have been for your lovelies! Time to show them some love. Applying Aquaphor on and around your cuticles will soften them and enhance their suppleness. It heals your compromised cuticles faster and will offer you respite if you leave it overnight. The ointment also provides finishing touches to your nails and makes them appear nourished and shiny.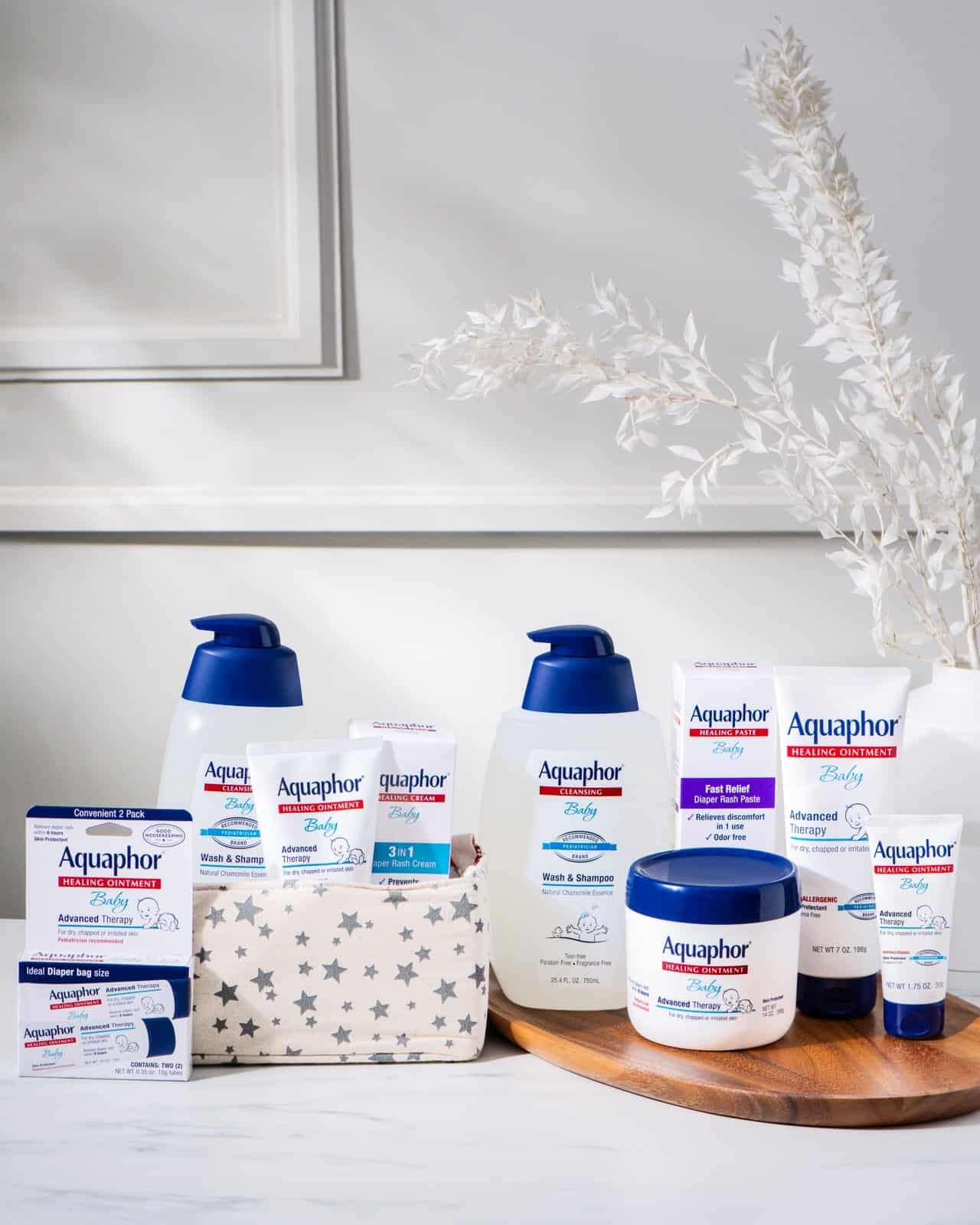 Nourishing way to remove makeup 
Makeup removal need not be nasty, especially when looking like a koala bear from all the waterproof mascara, kohl, and eyeliner. So how do you effortlessly get rid of all the fuss without ruining the fragility of your skin? Guess what? No more debate with creating your winged eyeliner, for this cream acts as an excellent makeup remover and wipes every bit of the product you have applied. It does not bring any tears or redness to your skin, compared to other solutions that fry your skin out in the process. It keeps your skin moisturized in the process. 
When you get a tattoo, that skin area needs to be taken care of in a particular way. And by respect, we mean some harmless hydration play. Of course, other healing tattoo balms are available, but Aquaphor offers an ideal environment for your new tattoo to heal by enveloping that part of the skin in a thick layer of moisture. By forming this protective barrier, it prevents water from escaping away. It is also fragrance-free so it won't irritate your sensitive skin. 
It treats cracked skin, so a potential foot or hand mask
You can't be roaming around in your socks the whole day at all places in the house, which is why you will need a good foot cream or a hand cream to get through the day! Especially in colder months when the sun is too shy to show up, keeping dryness off limits to your skin is a good idea, and Aquaphor vouches for it! You can rub it on the areas you feel need some nourishment and pull up a sock or glove. Then go to sleep. When you wake up, your skin will thank you good morning!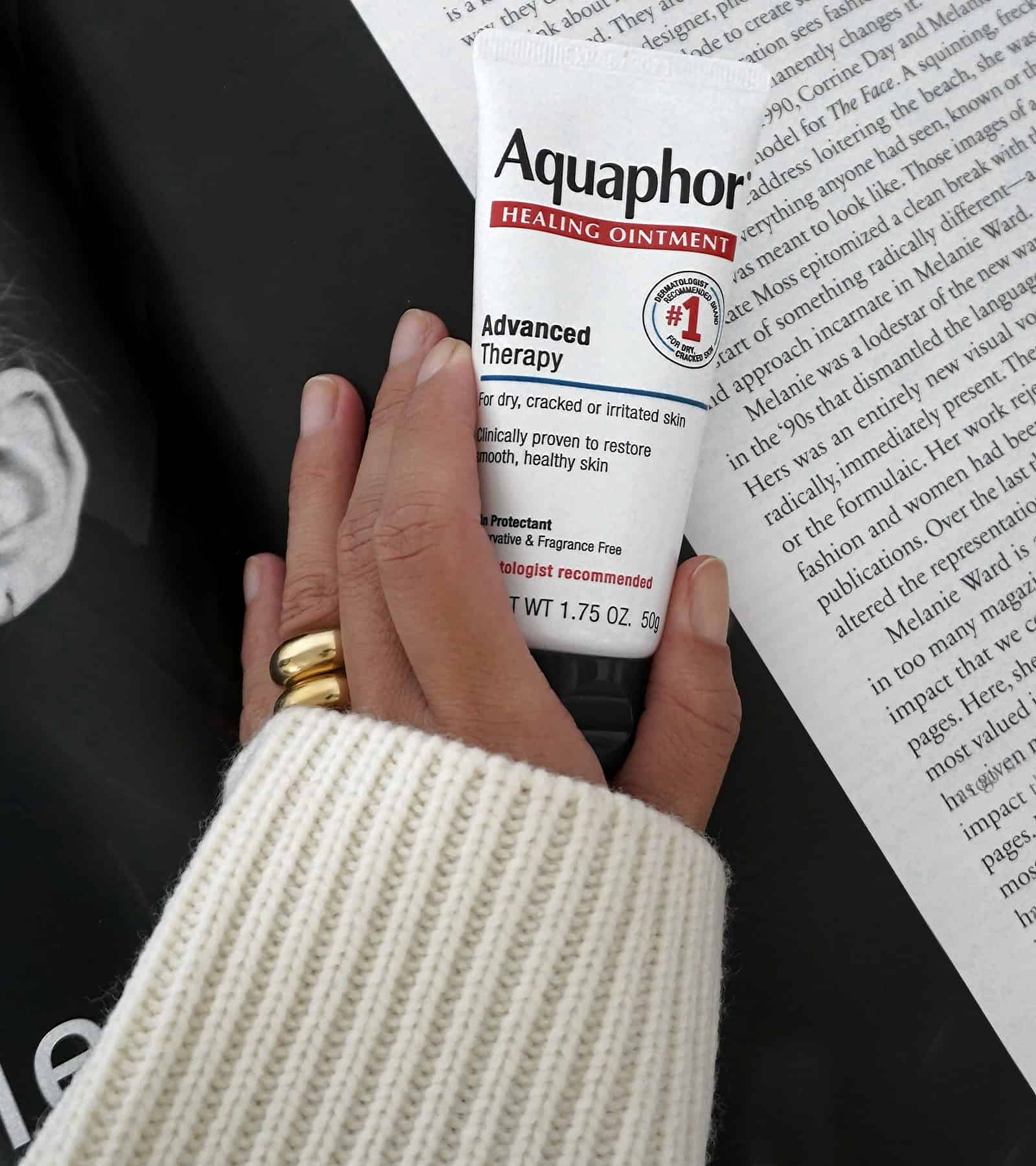 Can your brows and lashes benefit from this healing ointment? We don't see why not! You might not have found the perfect eye cream to soothe your dark circles, but Aquaphor will do it for you! It helps prevent eczema or dryness on the eyelids as well. Above all, this magic ingredient helps strengthen your lashes and brows from within. This gives them an impeccable shine and encourages a healthy-looking appearance.  Don't bring the formula near the eyes as it can irritate. 
How to use it correctly?
Aquaphor seems to have grown on people and their day-to-day activities. So it fits you know how to use it, for different concerns. 
As a moisturizer 
Cleanse your face thoroughly. 

Pat it dry with a clean towel. 

Make sure your skin is damp and not completely dry. This will allow the cream to soak in and absorb better.

Gently apply some ointment. 

Massage until it is absorbed fully.
As a makeup remover 
Apply a thin layer all over your face.

Take a cotton swab and press your fingers gently to remove the makeup.

If you want to wipe off the heavy makeup from your eyes, take some ointment on a cotton ball. Swipe on your eyelids and lashes, ensuring no formula or debris stays behind. 

Rinse your wash with your favorite cleanser to get rid of any residue.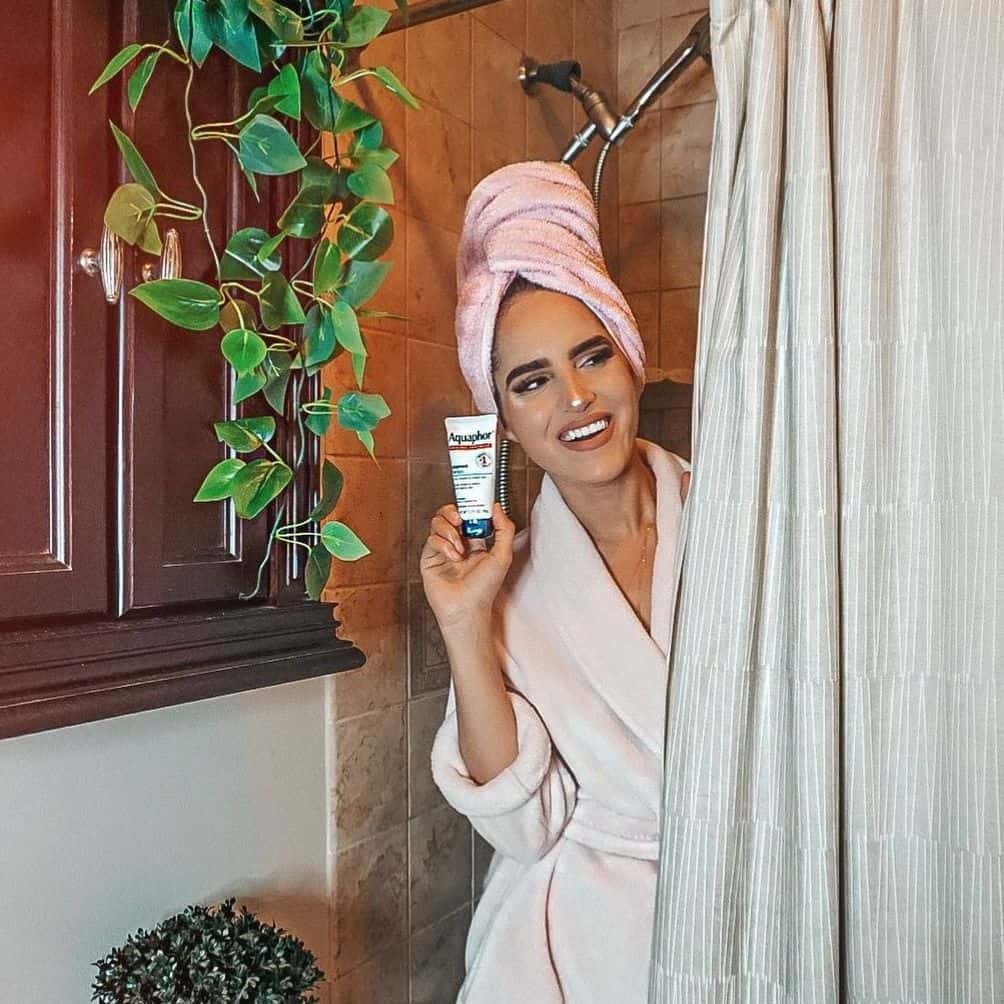 For cracked hands/feet
Wash your hands or feet. This ensures there is no other dust. 

Rub some ointment on the affected area

Put on your socks or gloves to seal the moisture in before you go to bed.
For chapped lips 
Wash your face, and pat dry. 

Apply the balm on your lips and wait for ten to fifteen minutes till it gets absorbed.

You can apply a thin coat above your lipstick to give it a glossy look. Please do the same and use it in your makeup to create an illuminated look. 
As a rash-healer 
Clean the area and pat dry. 

Take a generous amount and apply it to your rashes.

Let it absorb thoroughly. 
As a remedy for Cuts and burns 
Make sure it is not an open or significant wound. 

Clean the wounded area with Dettol to ensure hygiene 

This removes any unwanted impurities

Allow it to dry

Appy some Aquaphor as it will speed up the healing process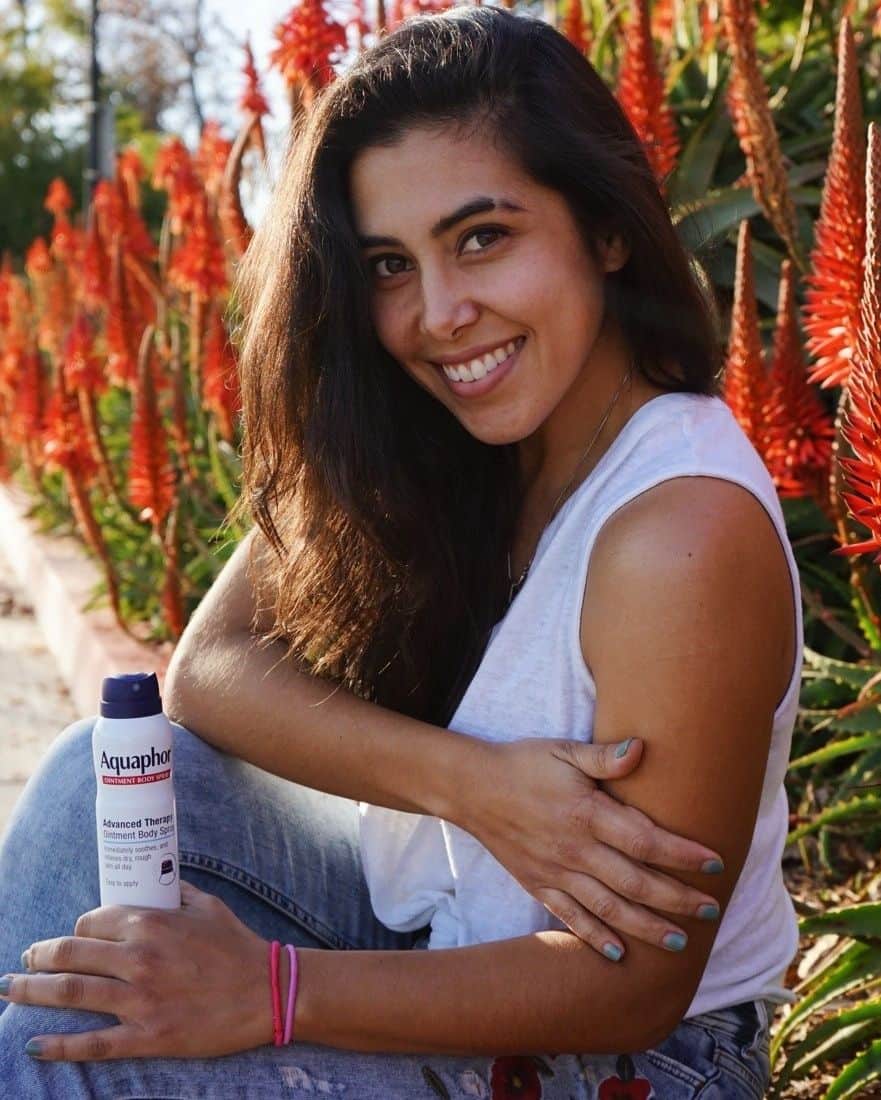 Side effects or drawbacks 
To be crystal clear, no emollients pose a threat to your skin. And, as Aquaphor is a petroleum-based product, it is highly improbable to experience any adverse reaction. However, in rare cases, it can cause allergic reactions like rashes if you have sensitive skin. Other people might not encounter any side effects. Hot seasons can block your pores with all types of dirt, so you must cleanse your skin thoroughly before applying Aquaphor. Owing to its nature, it will trap all the moisture along with the dirt inside. This may lead to acne and pimple problems. 
If you want to do a patch test first, it will be beneficial in many ways and can save you from further trouble. Dab some cream on any part of your body. Wait patiently for 24 hours to see if you have any reaction. If your skin feels fine and healthy, you can be sure that putting Aquaphor on your face is a safe choice. However, in other cases, the Aquaphor Before And After Side Effects include the following problems that users can face.  
Burning or a stinging sensation 

Redness and irritation 

Swelling(especially of the face/tongue/throat)

Feeling of dizziness 

Changes in the skin, such as (turning white/soft/soggy from too much wetness)

Causes breakouts on acne-prone skin
Note – You should always use Aquaphor on minor-closed wounds, not on open wounds, as it can aggravate the condition. Also, don't use more than the indicated dosage or for extended periods. If you experience any irregularities in your skin, immediately consult your dermatologists. 
FAQs | Sleeping With Aquaphor On Face
What's the difference between Aquaphor and Vaseline?
Both Aquaphor and Vaseline are products that hydrate the skin and prevent it from going dry. Aquaphor is an ointment containing petrolatum, like vaseline, to heal minor cuts or injuries and to avoid dryness. The formula contains mineral oil, glycerin, panthenol, and lanolin. It has a thicker consistency and feels less oily than Vaseline. On the other hand, Vaseline contains only petroleum jelly and treats injury to prevent infection. It has a thinner consistency but feels greasy. If you are allergic to Aquaphor, you can switch to vaseline.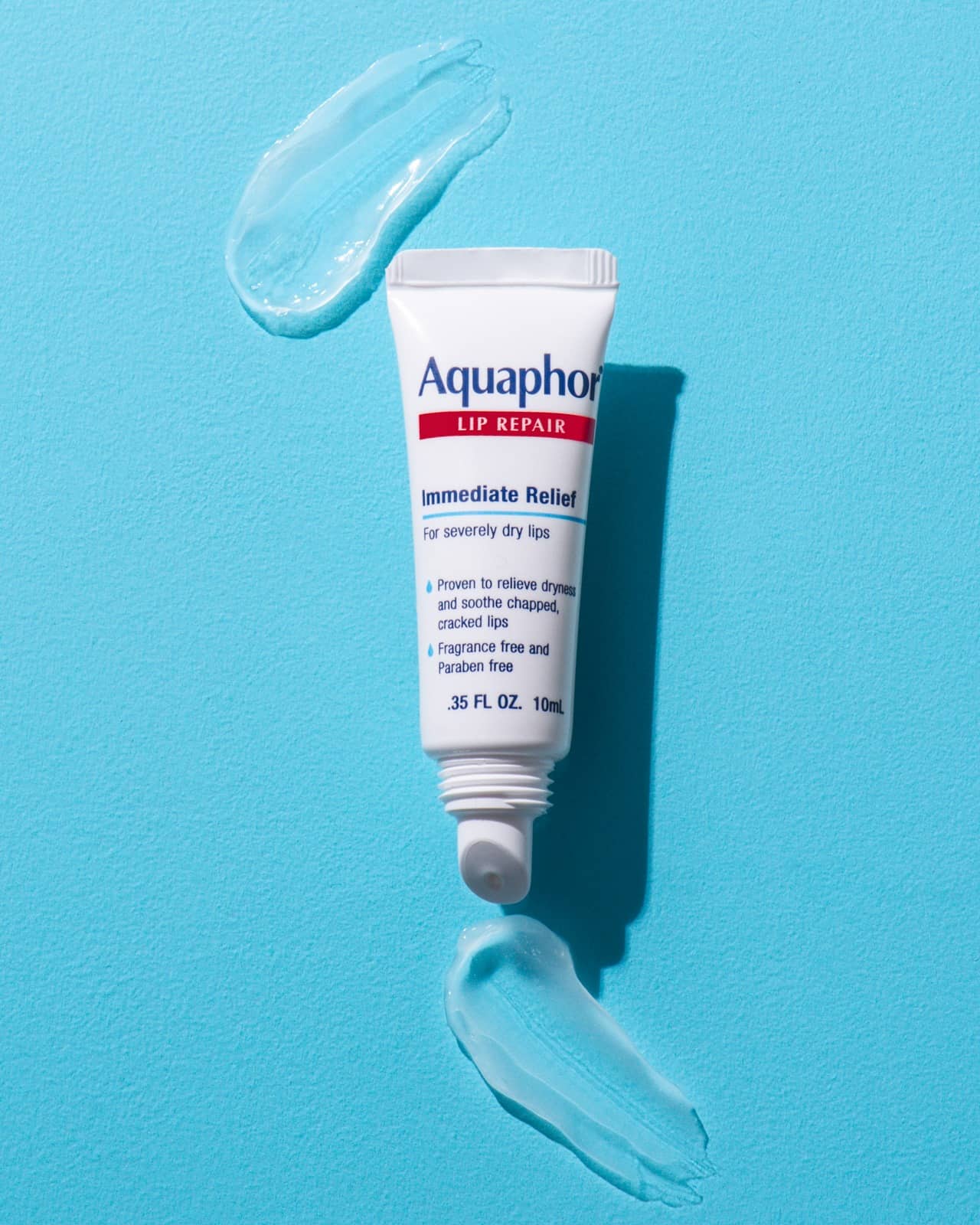 Does Aquaphor break you out?
If you have oily or acne-prone skin, then yes. Using Aquaphor will only make conditions worse. This may also cause burning, stinging, redness, or irritation. So, make sure to do a patch test first. 
What does Aquaphor do for your face?
Aquaphor acts as a face moisturizer and helps keep it healthy and moisturized. But, unlike other legit creams, and typical moisturizers, it works in a slightly different way. Instead of introducing water to the skin, it draws in extra moisture from the outside environment and helps retain what is already present on the skin. 
Can you use Aquaphor on your eyelashes or eyebrows?
Yes, you can use Aquaphor to amp up the appearance of your lashes and eyebrows. The formula acts as a clear pomade to help laminate your lashes. Run some harmless swipes on your brows to hold them in one place, and it will look like your arches just walked out of a salon. It also helps strengthen your lashes and delivers them with a sheen effect. 
How Long Does Aquaphor Take To Heal Skin?
It depends upon what case you are using it. For some, it may take 10 days to heal your irritated skin. For others, you need to be consistent with your usage for 6 months to heal your skin. 
How long does Aquaphor last on the skin?
Aquaphor is extraordinarily flexible and takes about ten to fifteen minutes to settle onto your skin seamlessly. You can use it to escape from cut and cracked wounds.
Closure 
Drinking eight glasses of water is not the only way of keeping your skin hydrated. But Aquaphor understands the importance of moisturizing your skin in all seasons of the year like clockwork! The secret path to a dewy-AF skin need not always cross through stacks of dollars or a mouthful of luxury names you can't pronounce. Sometimes, they look as simple as this one! Sleeping With Aquaphor On face throughout the night can be magical when you wake up. Your skin will be ultra-nourished, well-fed, glossy, radiant, and less wrinkled. 
MoistYou will need Moisturization every day, no matter what your skin type is. While your favorite moisturizer may not cater to your skin's needs every day, Aquaphor will. From many tried-and-true favorites, Aquaphor responds to every skin type in the most gentle and caring way. Users have loved it since day one for its affordability, which won't bother you, even if you stock up a pile of them on your beauty shelves! We don't know about the inside-out, but if you want to pamper your skin on the outside, you will have this ointment cum moisturizer to thank for your glow! So, who's ready to meet their skincare goals faster?
I'm Sarah Abraham, the founder and co-author of Blushastic.com and a professional makeup artist. Beauty is more than just skin deep, and that's why I'm passionate about sharing my knowledge and experience to help people feel confident and beautiful on the inside and out.
Whether it's skincare, haircare, or fashion, my goal is to empower women to feel their best. With my expertise in the beauty industry, I strive to provide practical advice and tips that are accessible to everyone, regardless of their skill level or budget.