Pregnancy is a rollercoaster ride, as I'd always heard, and I witnessed its ups and downs firsthand when my best friend became pregnant. Observing all the physical changes that occur during this phase is fascinating. However, these effects can frequently cause insecurity, restlessness, and fear. My friend experienced a similar situation when she noticed stretch marks on her belly and upper thighs at the beginning of her third trimester.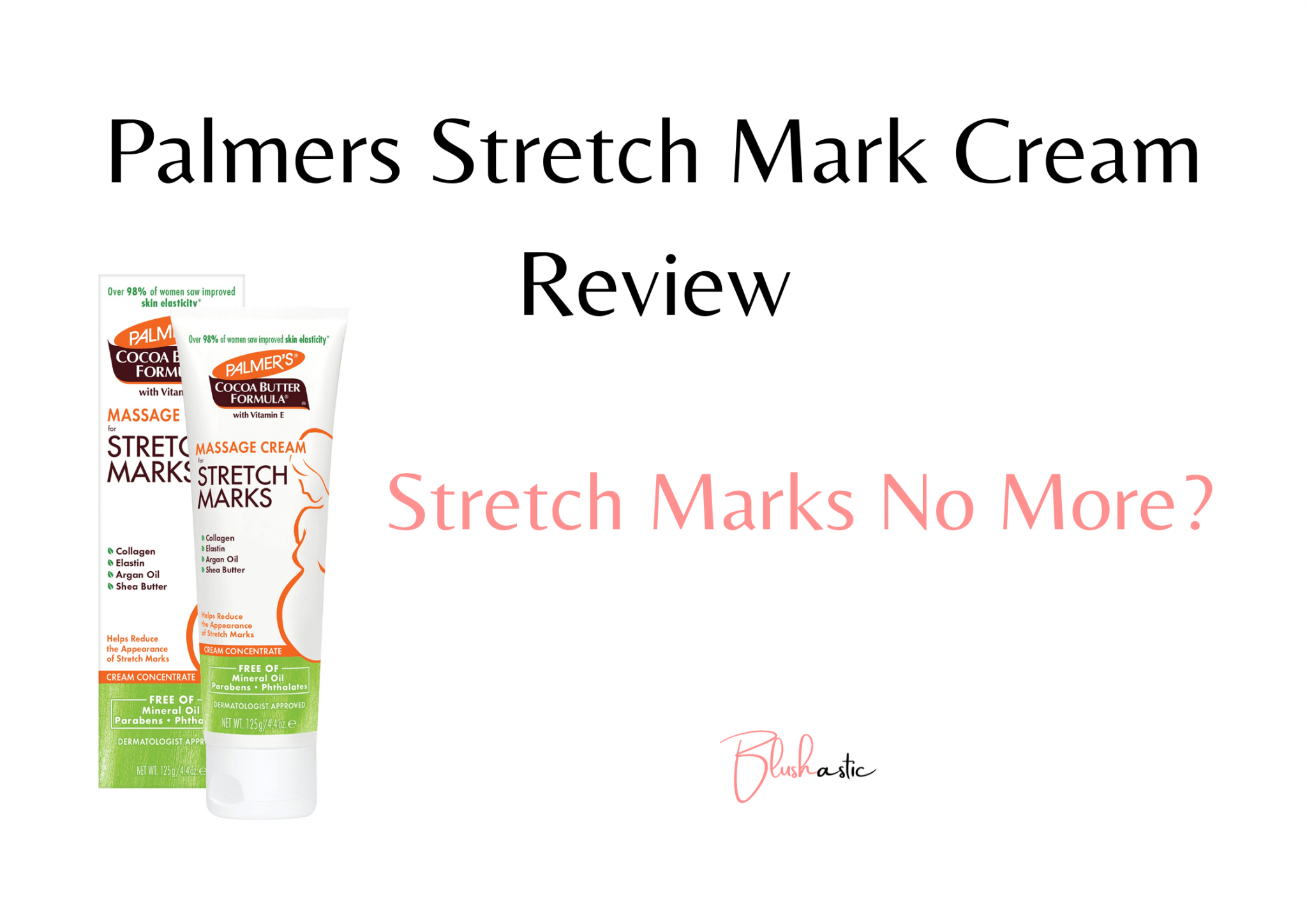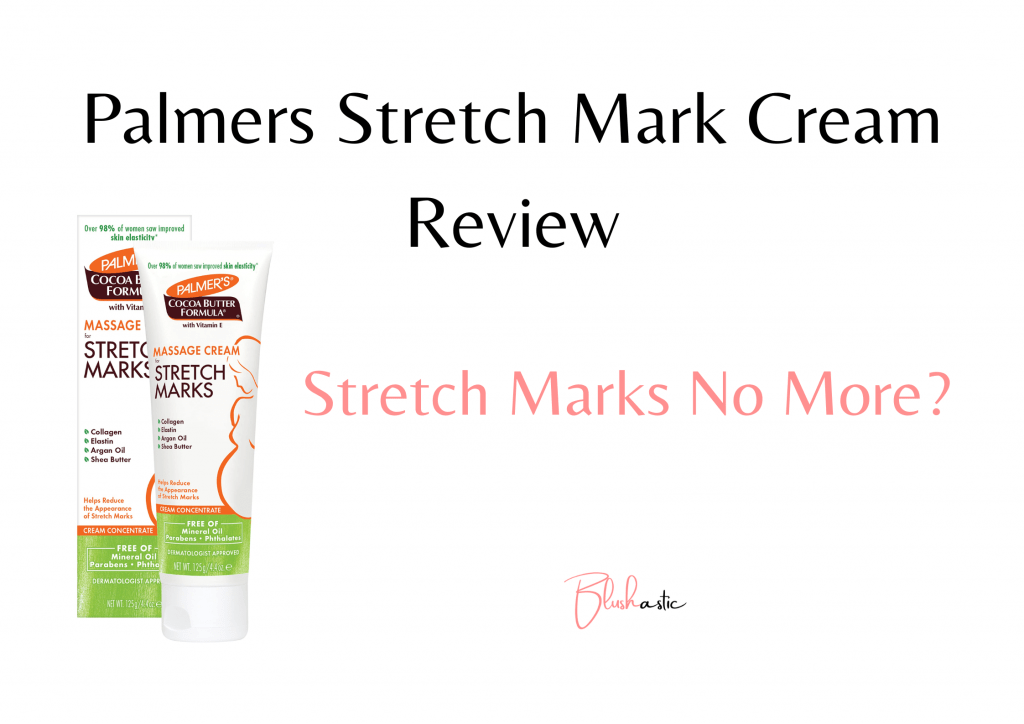 Her colleague recommended Palmer's Stretch Mark Cream, which she used during her pregnancies. Nina (my friend) has been using this product on her recommendation for 6-7 months. I have personally observed the performance of this stretch mark cream and feel well-equipped to answer the question, "Does Palmer's work for stretch marks?" So I decided to write this Palmers Stretch Mark Cream review to decode the true potency of this product for all you mothers-to-be and determine whether it's worth a shot.
Palmers Stretch Mark Cream Review | Worth A Try?
Palmer's is one of America's first skincare brands, founded by E.T. Browne in New Jersey. This company is well-known for its cocoa butter products and was the first to offer a full line of cocoa butter-based creams, lotions, soaps, body oils, and lip balms. Palmer's believes that 'natural is beautiful,' so they constantly strive to use natural and raw ingredients in their products that thoroughly nourish and condition the skin. Palmer's has become the most recognizable brand in the beauty industry, with products sold in over 80 countries worldwide.
Sale
Palmer's Cocoa Butter Formula Massage Cream for Stretch Marks and Pregnancy Skin Care, 4.4 Ounces (Pack of 2)
Massage Cream For Stretch Marks: This cocoa butter stretch mark cream helps visibly improve your skin elasticity and reduce the appearance of stretch marks due to pregnancy or other fluctuations in weight
Special Formula: Made with Cocoa and Shea Butters to soften, smooth and plump skin, plus a blend of ingredients to improve hydration and support stretching skin in the tummy, hips, thighs, bust and more
Finest Ingedients: We strive to use only the finest natural, raw ingredients to bring you soft, hydrated and beautiful hair and skin. We support sustainable production of Shea and Cocoa Butter and Coconut Oil worldwide
Choose What's Real: Our beauty products and hair and skin treatments feature real high-quality, plant-based ingredients in formulas that really work to hydrate and soften, from lip balm to bar soap to body butter
Palmer's: Our Cocoa Butter, Coconut Oil, Shea Butter, Olive Oil, and Vitamin E product lines include creams, balms, lotions, oils and soaps for hand and body, face, lip, and hair care, pregnancy and stretch mark care
Palmer's Stretch Mark Cream is designed specifically for those seeking a solution to diminish the appearance of stretch marks caused by pregnancy or weight fluctuations. It targets stretch mark-prone areas such as the tummy, hips, thighs, bust, and buttocks. It also relieves dryness, improves skin elasticity, and moisturizes skin for 48 hours. According to an 8-week in-home trial of 102 female panelists aged 18 to 49, the hypoallergenic and dermatologist-approved formula improved skin for over 98% of women. Palmer's Stretch Mark Cream is widely available in stores and online for less than $10.
Palmer's Stretch Mark Cream Ingredients
Cocoa and Shea Butter
Cocoa butter, extracted from cocoa beans, is well-known for its ability to hydrate and nourish the skin deeply. It is also said to improve skin elasticity, blood flow and protect against UV rays. Shea butter is made from shea tree nuts and is famous for its anti-inflammatory, emollient, and healing properties. It has also been linked to lowering collagen breakdown and boosting its production.
Although these butters provide the skin with optimal hydration, smoothness, and suppleness, their effectiveness in reducing stretch marks is inconclusive.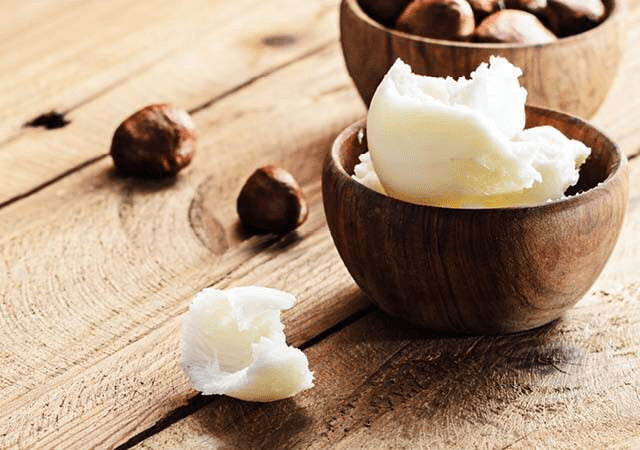 Vitamin E
Vitamin E is a fat-soluble component essential for hydration, antioxidant activity, and protection. It penetrates your skin to strengthen the outer protective barrier and prevent free radical damage, slowing aging. Its antioxidant properties stimulate collagen production, which is necessary for skin strength and elasticity. As a result, Vitamin E may help heal stretch marks and scars; however, research is inconclusive.
Oils
Palmer's Stretch Mark Cream is infused with Argan, Coconut, and Almond oils. Argan oil is high in minerals, fatty acids, and vitamins and promotes skin elasticity. Coconut oil, derived from raw coconut, promotes skin health and protects against free radical damage. Almond oil is high in fats, aiding moisture retention and keeping the skin soft and supple for long periods.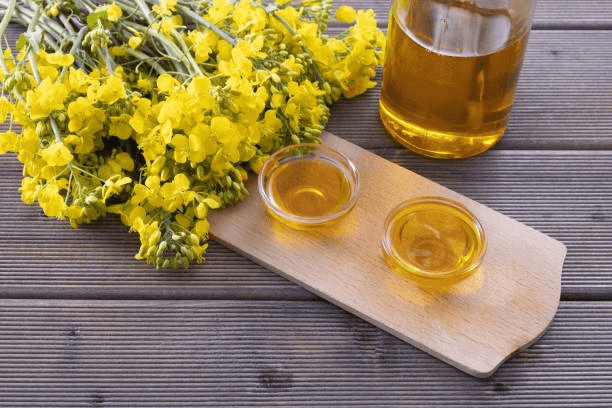 Hydrolyzed Collagen and Elastin
Collagen and elastin are structural proteins that provide firmness, elasticity, and resilience to your skin. One of the primary causes of stretch marks is the breakdown and loss of these vital components. As a result, incorporating these elements can help improve your skin's appearance.
Hydrolyzed collagen and elastin are refined versions of the original components that have been hydrolyzed. They may help to improve the skin's appearance by reducing stretch marks and even preventing the formation of new ones. However, experts believe a product must be used consistently to achieve these results.
Pros and Cons of Palmer's Stretch Mark Cream
Perks
Affordable and easily accessible
A concentrated formula to target and reduce stretch marks caused by pregnancy or weight loss/gain
Ideal for use on stretch mark-prone areas such as the tummy, hips, thighs, bust, and buttocks
Increases skin elasticity, firmness, and moisture retention
The formula is hypoallergenic and safe for all skin types, including sensitive skin
Over 98% of women in a home trial reported improved skin elasticity, texture, and tone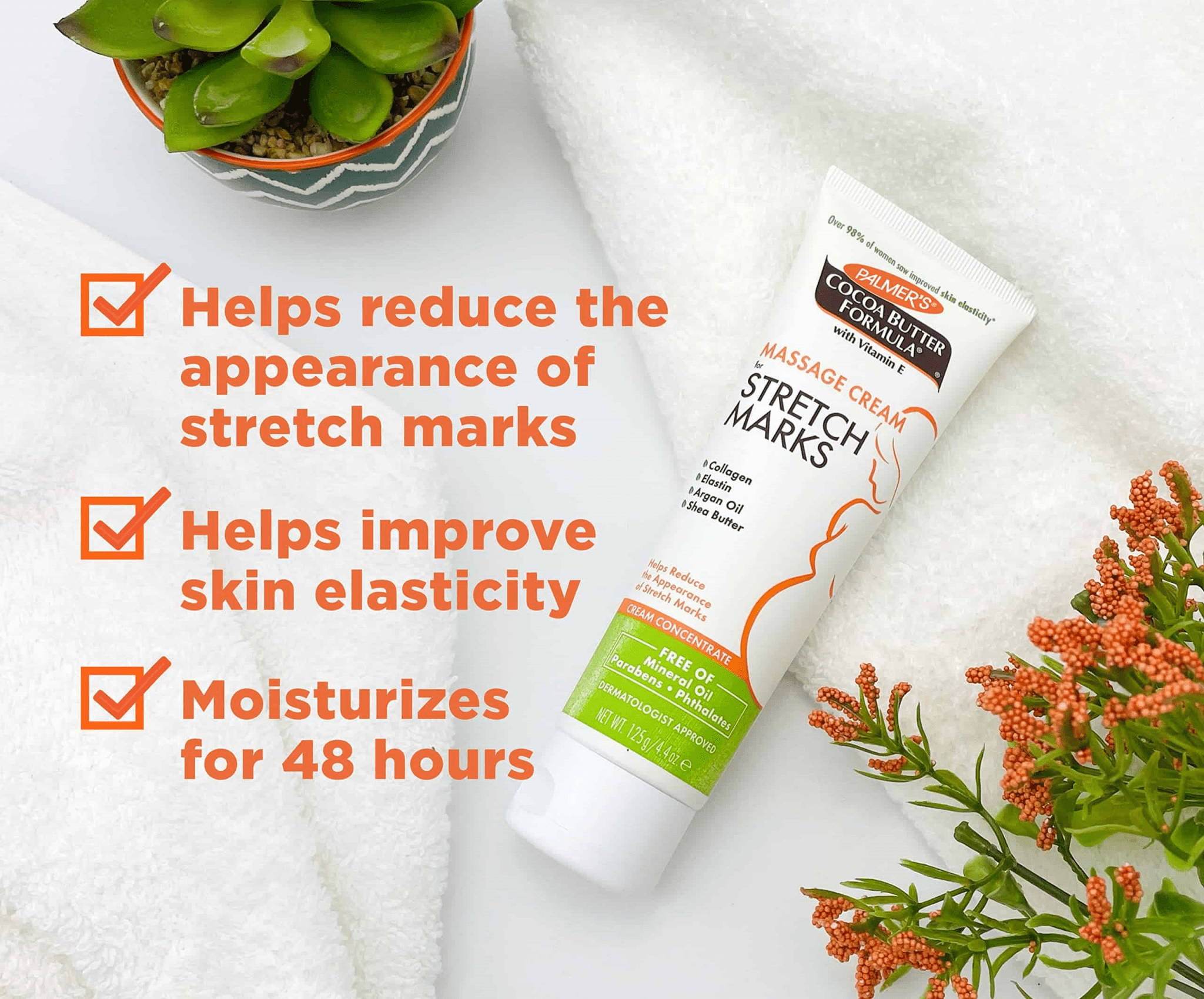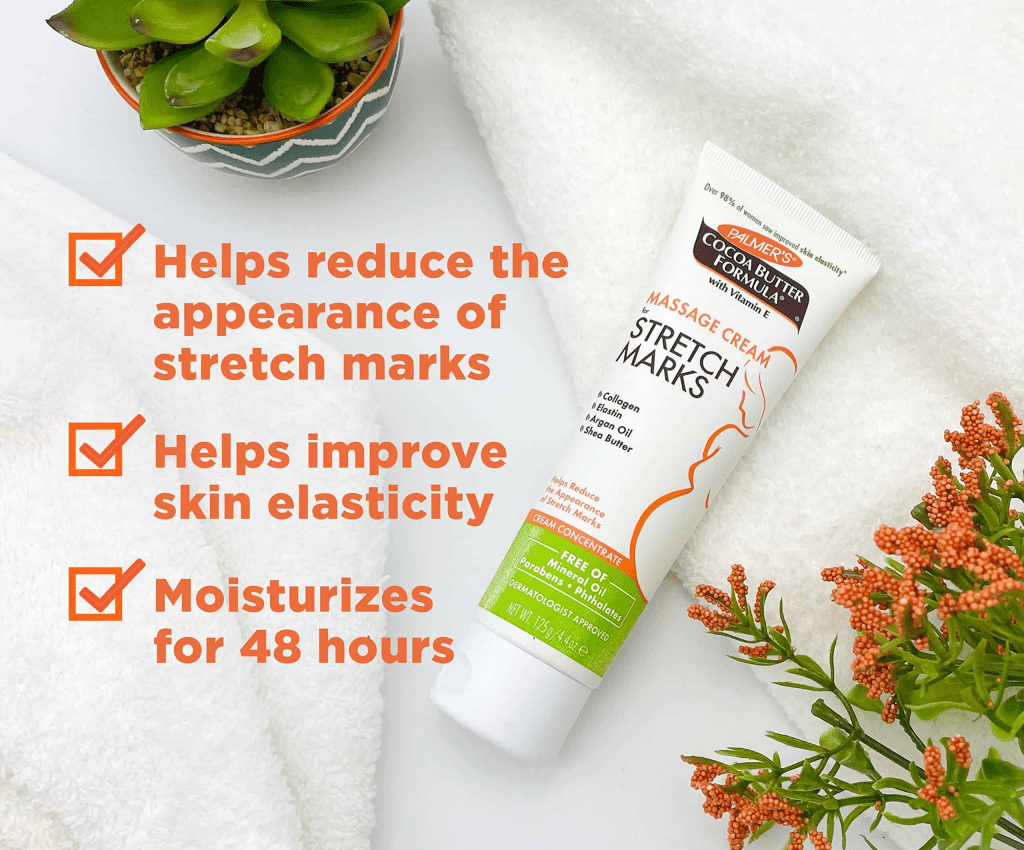 Drawbacks
Requires consistency and time to show visible results
It may be ineffective in treating prominent stretch marks
Some customers dislike the greasy and oily after-finish
Has a fragrance that may irritate some people
Palmers Stretch Mark Cream VS Lotion
The popular Palmer's Stretch Mark Cream is also available as a lotion. It comes in a sturdy bottle with a pump and contains 8.5 FL OZ of product. This lotion is readily available at local retailers, pharmacies, and online through Amazon. Like the cream, it is inexpensive and will cost you less than $10.
Palmer's Stretch Mark Lotion can be used all over the body to improve skin elasticity, reduce stretch marks, and keep skin soft and supple. It contains cocoa butter, collagen, elastin, lutein, and oils to help with dryness, uneven texture, stretch marks, and scars.
Both products have comparable pricing, accessibility, and ingredient lists, so how do you choose which one to buy? Here are some key differences to consider when making your decision.
Packaging: Palmer's Stretch Mark Cream is packaged in a tube, whereas the lotion comes in a sturdy plastic bottle with a pump.
Tube packaging is lightweight and easy to transport but can become messy during product removal. While bottles with pump packaging are more challenging to carry around, you can get the product without a mess.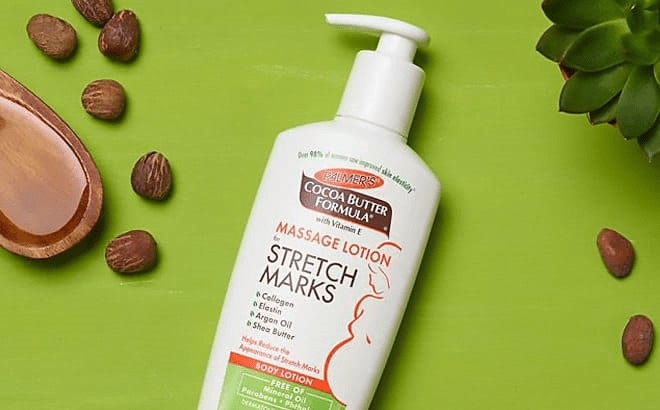 Area of Use: Palmer's Stretch Mark Cream is a concentrated formula that aids in removing stretch marks, particularly from commonly affected areas such as the tummy, hips, bust, thighs, and buttocks. Palmer's lotion, on the other hand, is ideal for use all over the body. So, depending on where your stretch marks are most visible, you can choose either.
Consistency and Finish: Creams are typically thicker than lotions due to varying water and oil concentrations. While the former is ultra-hydrating, it may leave a greasy film on the skin, making it feel sticky and oily. Conversely, lotions are light, non-greasy, and quickly absorbed, but they may not be as nourishing and hydrating as creams.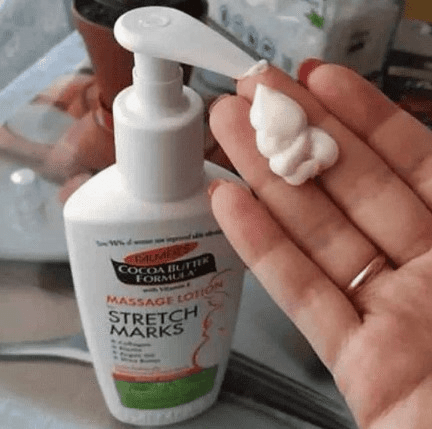 Skin Type: Determining or considering your skin type can also help you choose the right product. Because of their thick and rich consistency, creams are best suited for dry to excessively dry skin types. On the other hand, lotions are ideal for people with normal to combination to oily skin because of their lightweight feel.
Palmers Stretch Mark Cream VS Bio-Oil
Bio-Oil is another well-known brand for stretch marks and scar reduction. With the seal of approval from gynecologists, over 400 skincare awards, and clinical studies backing its claims, it certainly attracts a lot of attention, with celebrities like Kim Kardashian vouching for it.
As the name implies, Bio-Oil is a blend of multiple oils and supporting ingredients designed to address common skin concerns such as stretch marks, scars, pigmentation, and dryness. Retinyl Palmitate and Vitamin E are two of the product's notable ingredients.
Retinyl Palmitate is a non-irritating retinoid that may help improve signs of aging by increasing the production of proteins that keep skin smooth and firm. Vitamin E is an antioxidant that combats free radicals, prevents damage, and slows aging. The brand ensures this product is lightweight, easy to absorb, and non-greasy.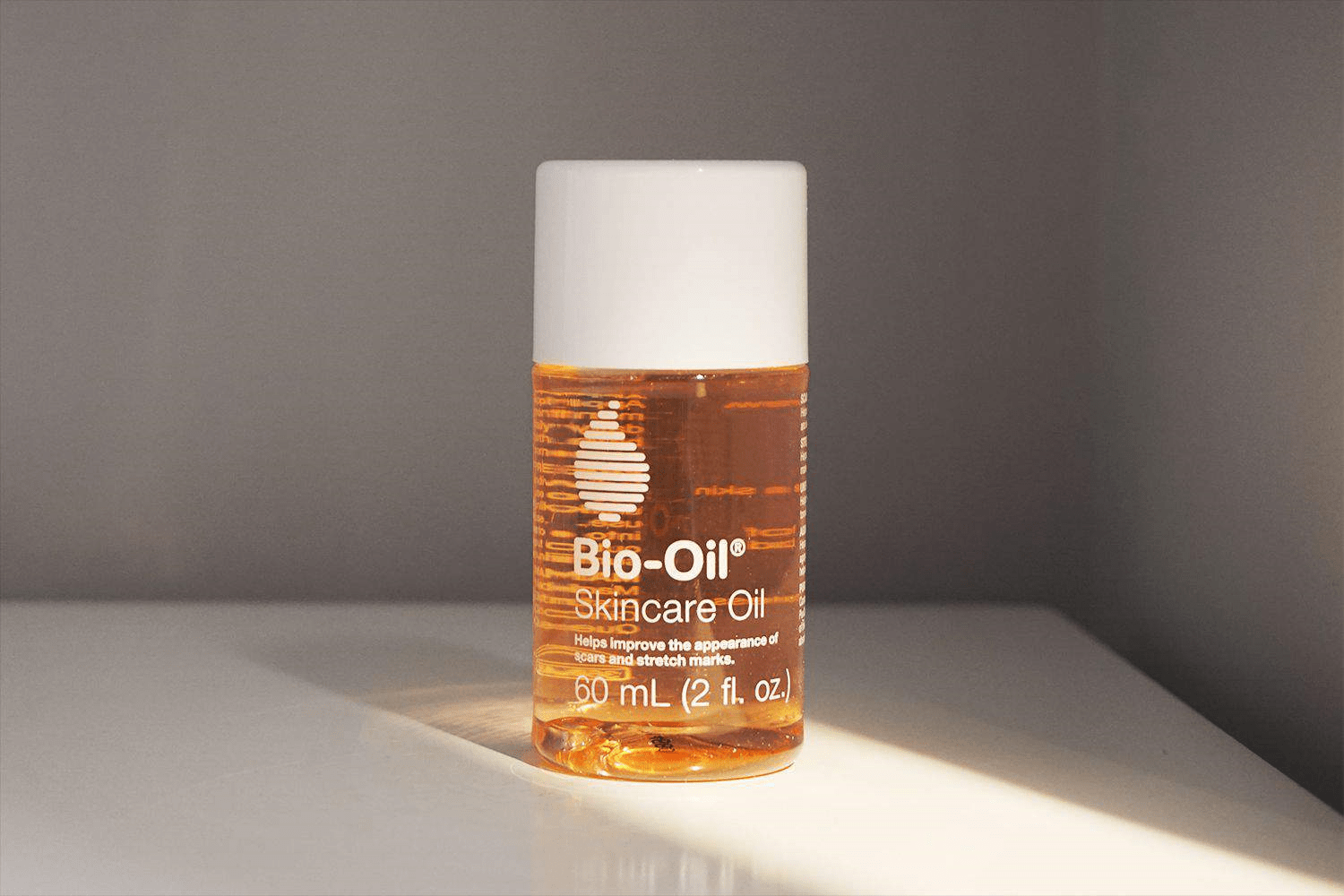 Here are some distinctions to help you choose between Palmer's Stretch Mark Cream and Bio-Oil.
Formulation and Spreadability: Palmer's Stretch Mark Cream is a thick, rich cream that hydrates the skin effectively without leaving it greasy. However, Bio-Oil is an oil; while the brand claims it is lightweight and non-sticky, oils are generally heavier than creams, which means it may leave your skin sticky and heavy, especially if you have combination or oily skin. In addition, Bio-Oil may be more difficult to spread than creams that spread quickly.
Ingredients: When we compare the ingredient lists of both products, we can see that they both contain elements that are thought to improve skin elasticity, increase collagen production, and moisturize the skin. Palmer's Stretch Mark Cream contains oils, kinds of butter, hydrolyzed collagen, and elastin. In contrast, Bio-Oil contains essential oils, Vitamin E, and Retinyl Palmitate. The efficacy of these components to reduce stretch marks is unknown, with results varying from person to person, putting these two products on the same potency level.
Skin Concerns: Determining your skin concerns can assist you in selecting the best product for yourself. Palmer's Stretch Mark Cream purports to improve skin elasticity, hydration, and the appearance of stretch marks. On the other hand, Bio-Oil helps with scars, uneven skin tone, signs of aging, and dryness in junction with removing stretch marks.
Evaluation and Consumer Testimonials | Palmer's Stretch Mark Cream Before and After
We'll look at some customer reviews I gathered from various online platforms. But first, I'd like to briefly describe my best friend Nina's experience with Palmer's Stretch Mark Cream. She started using this cream shortly after her third trimester began. She has dry skin, so she appreciates this cream's thick and silky consistency, which glides on smoothly. It quickly penetrates the skin, making it appear plump and glowing. However, she dislikes the nutty scent of this cream. Fortunately, it goes away after a few hours.
Nina has been using this cream three times per day for about six months. This stretch mark cream truly delivers on its promises of intense moisture and improved skin tone. However, Nina did not see the desired results in terms of stretch mark removal. She claims that some of her stretch marks remain as visible as before. This cream only effectively faded and blurred small and subtle stretch marks, giving her skin a fairly even tone.
While she saw these improvements in her belly area, she saw little to no improvement in the appearance of stretch marks and lines on her upper thighs. Overall, she describes this product as effective, but the results take a long time to appear and vary by area.
Now, let's see what other customers have to say about the performance and efficacy of this cream.
Coraline stated, "I've been using Palmer's products for years and truly love this brand. On a weekly grocery run to Target, I came across this stretch mark cream and decided to try it. My two pregnancies have left some stubborn stretch marks on my upper arms and hips. I wasn't expecting this cream to work as well as it did. I've been using it twice daily for three months, and the stretch marks and scars on my upper arms have almost completely disappeared. I have yet to notice any changes in my hips, but I am extremely impressed. I will definitely continue to use this product."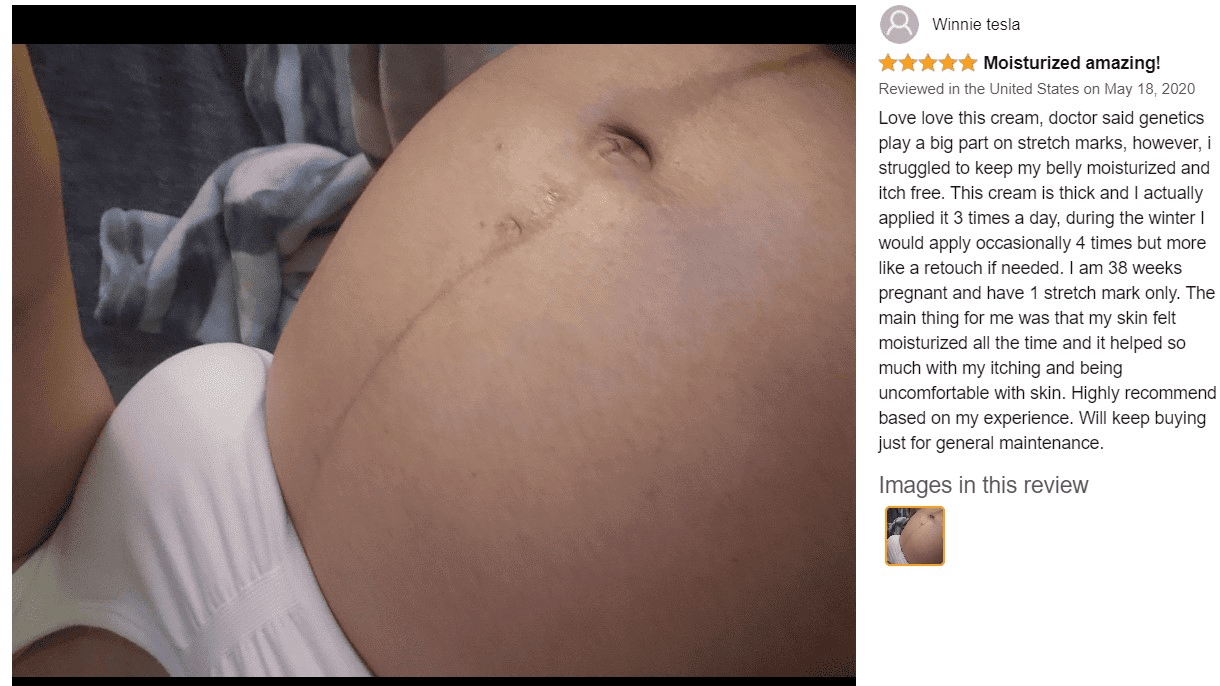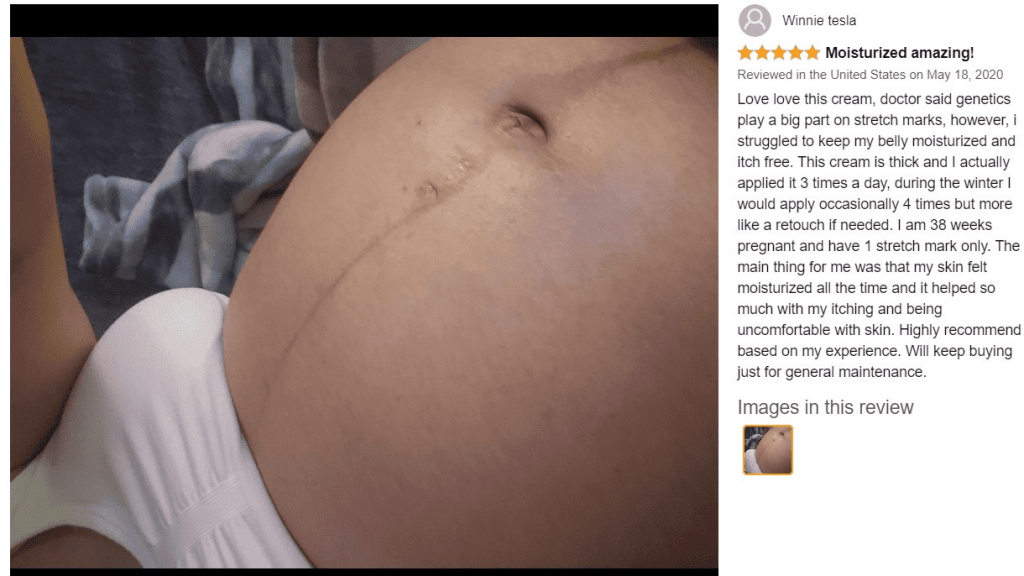 Mindy stated, "I really dislike the smell of this cream, and it lingers on my skin for hours. I've been using it for a few weeks and so haven't noticed any noticeable changes in the appearance of my stretch marks. I just don't like the smell and the greasy finish it leaves behind, so I'm not going to use it anymore. I think I'll try the lotion version of this."
Patricia stated, "I was really hoping this cream would work, but even after 5 months of consistent use, I've only seen a small difference. However, I really like how moisturizing this cream is, so I've started using it instead of my regular moisturizer. It's also cheap and lasts a long time."
Frequently Asked Questions | Palmers Stretch Mark Cream Review
Do dermatologists recommend Palmer's?
Palmer's is a dermatologist-recommended brand, with three out of four dermatologists recommending their products. Palmer's Stretch Mark Cream is a hypoallergenic formulation free of mineral oil, parabens, dyes, phthalates, and allergens that dermatologists and gynecologists frequently recommend for those looking for a solution to reduce stretch marks.
How Do You Use Palmer's Stretch Mark Cream?
Palmer's Stretch Mark Cream should be applied generously in a circular motion to stretch mark-prone areas such as the belly, thighs, bust, arms, and buttocks twice to thrice daily. You must perform a patch test prior to using this cream to avoid allergic reactions or side effects. This is especially important for pregnant women because skin sensitivity increases during this time.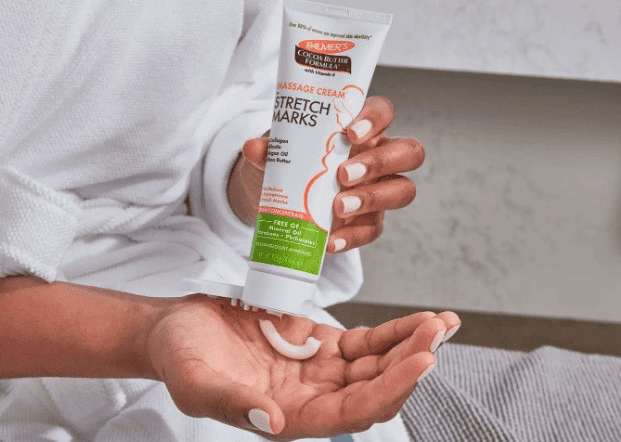 How long does it take Palmer's Stretch Mark Cream to work?
Stretch mark treatment and reduction is a difficult task, so users should not expect significant results in a short period. Based on a home trial, it is safe to assume that Palmer's Stretch Mark Cream will take at least 8 weeks to show noticeable results. Nonetheless, the results are highly subjective and depend on the skin type and severity of the condition.
Does Palmer's Stretch Mark Cream have any side effects?
Palmer's Stretch Mark Cream is safe and allergen-free, making it suitable for even the most sensitive skin types. There have been no reports of significant side effects from using this cream; however, if your skin is allergic to one of its components, you may experience some irritation. As a result, before using this cream on sensitive areas, you should perform a patch test.
Does Palmer's Stretch Mark Cream work on old stretch marks?
No conclusive evidence supports Palmer's Stretch Mark Cream's ability to treat old stretch marks. Nonetheless, you can use this product for at least 8 weeks to see if it is powerful enough to work on your skin. You should seek medical attention if topical creams do not alleviate your condition.
Final Thoughts
We've reached the end of our Palmers Stretch Mark Cream review, and now it's time to share concluding thoughts on this product. Palmer's is a well-known brand known for their effective formulations. Palmer's Stretch Mark Cream is a cost-effective and handy product for those looking to reduce stretch marks commonly resulting from pregnancy and weight fluctuations.
This cream has advantages and disadvantages; the only way to determine its true potency for you is to try it out yourself. Remember to perform a patch test and use this cream consistently for at least 8 weeks to see noticeable results. Although whether or not this cream will treat your stretch marks is subjective, I am confident that everyone will appreciate its nourishing and moisturizing properties.
I'm Sarah Abraham, the founder and co-author of Blushastic.com and a professional makeup artist. Beauty is more than just skin deep, and that's why I'm passionate about sharing my knowledge and experience to help people feel confident and beautiful on the inside and out.
Whether it's skincare, haircare, or fashion, my goal is to empower women to feel their best. With my expertise in the beauty industry, I strive to provide practical advice and tips that are accessible to everyone, regardless of their skill level or budget.