Who doesn't want to get rid of that unwanted facial hair? And that too without the need to go to a salon. Depilatories come a long way to help us remove facial hair and smoothen out the skin. They are quick, easy to apply, and give us instant results. For many years, people have selected Nair as the chosen one for this task. The face cream and wax strips are also a part of the Nair family. But which one is better among the two? In our Nair Face Cream VS Wax Strips, we gauge all the aspects to conclude the better one for you.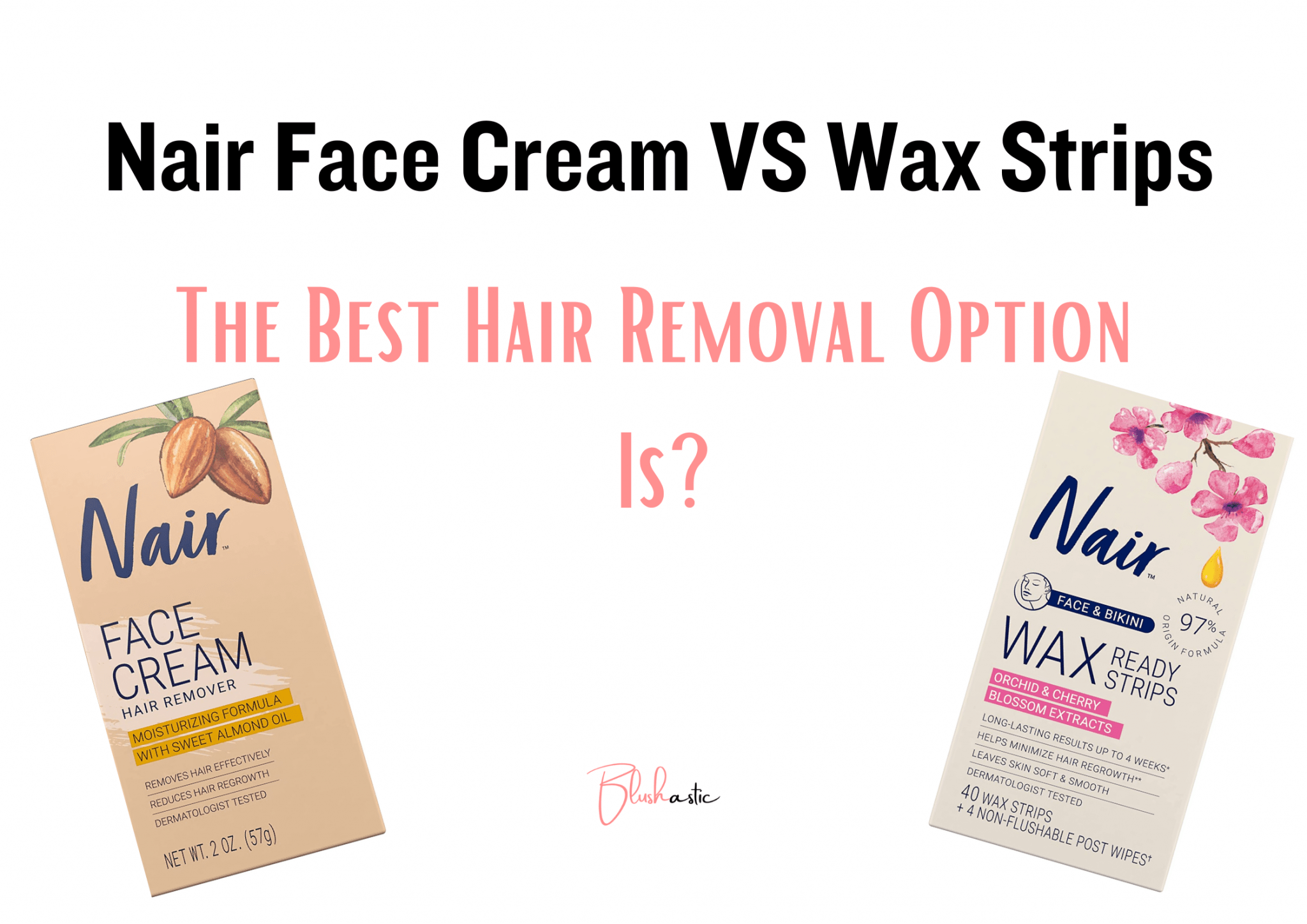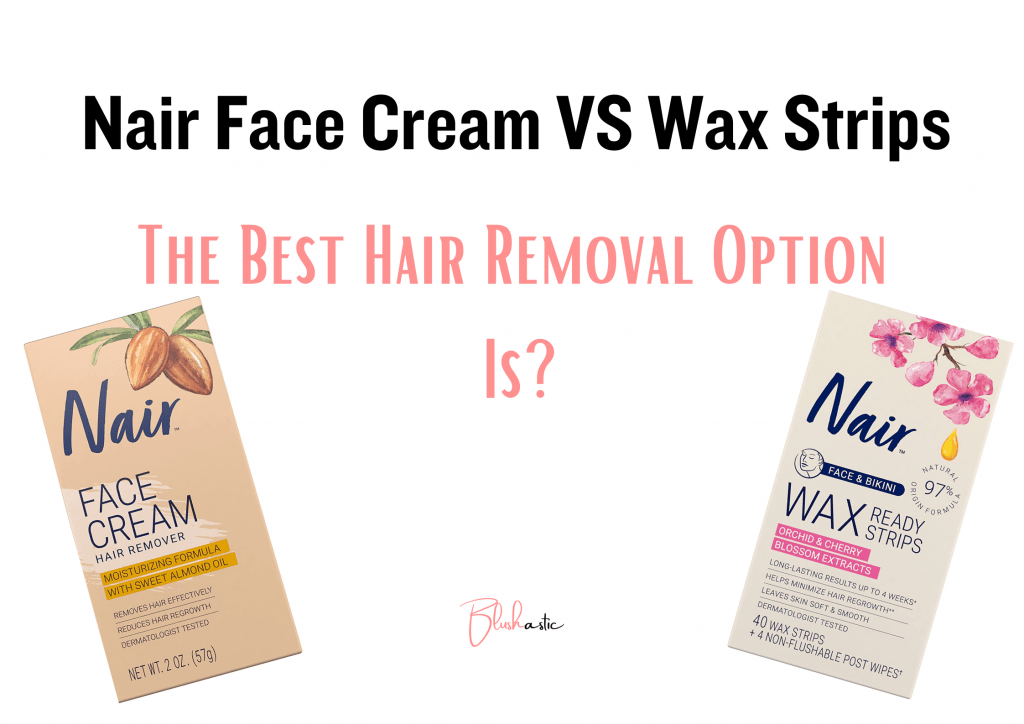 Even if these products receive laud for their features, there are some concerns you need to be wary of. What are these concerns? Do they have any side effects? What is the track record of the customer's feedback? Head down, and you will get to know soon.
Nair Face Cream VS Wax Strips | Which One Is Better For You?
Nair has plenty of depilatories for different parts of the body. It also includes products for Men and sensitive skin. The face cream and wax strips have the same effect, but their processes are different. One has proved to be more efficient, while the other one is less painful. We judge them based on their Appearance, Application, and After-effects.
The Appearance
The Nair wax strips for sensitive and normal skin come in different colored packaging, similar to the Nair hair removal face cream. Here are all their details in appearance. I discuss the brand, buying options, packages, and more.
About The Brand
The brand began in 1940 by introducing Nair Lotion, a new way to remove hair. In 1983 the brand clinched the #1 Hair Removal Brand title and subsequently released a series of products that aid in removing hair all over the body. Nair expanded its line of products by adding products devised for men as well as for sensitive skin.
Packaging
The Nair Face Cream Hair Remover used to come in a pink colored packet, which the brand has now replaced with a beige-colored (Sweet Almond Oil version) packet.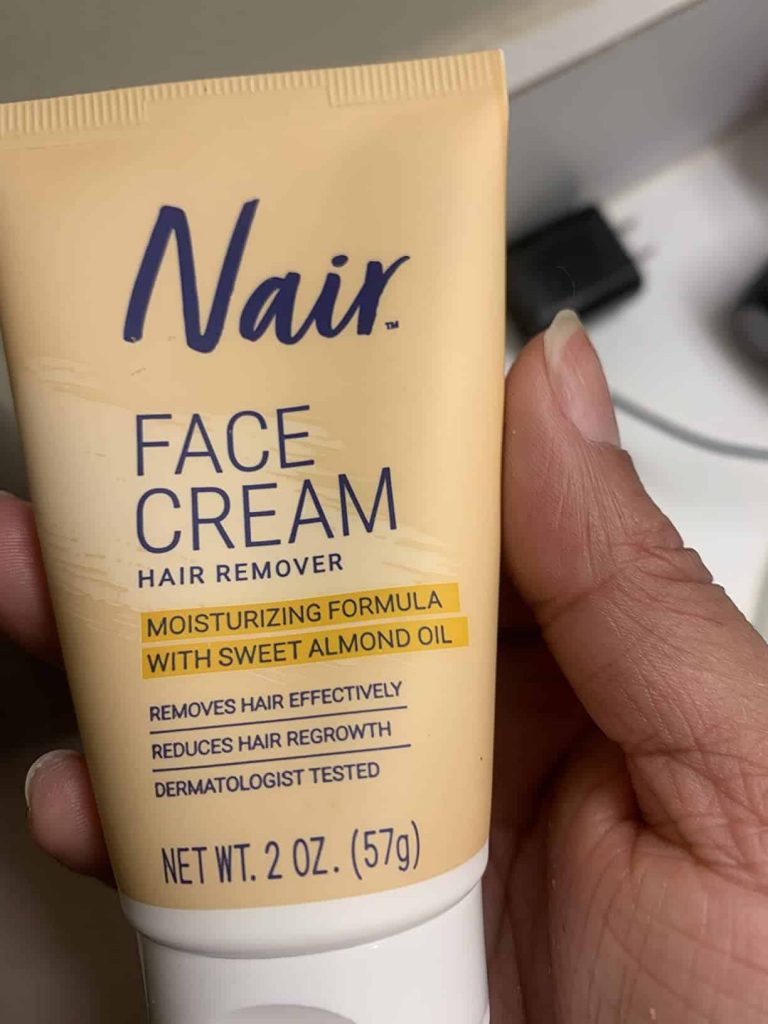 Nair Wax Ready Strips for the face and bikini come in pink colored packets having 20 double-sided strips.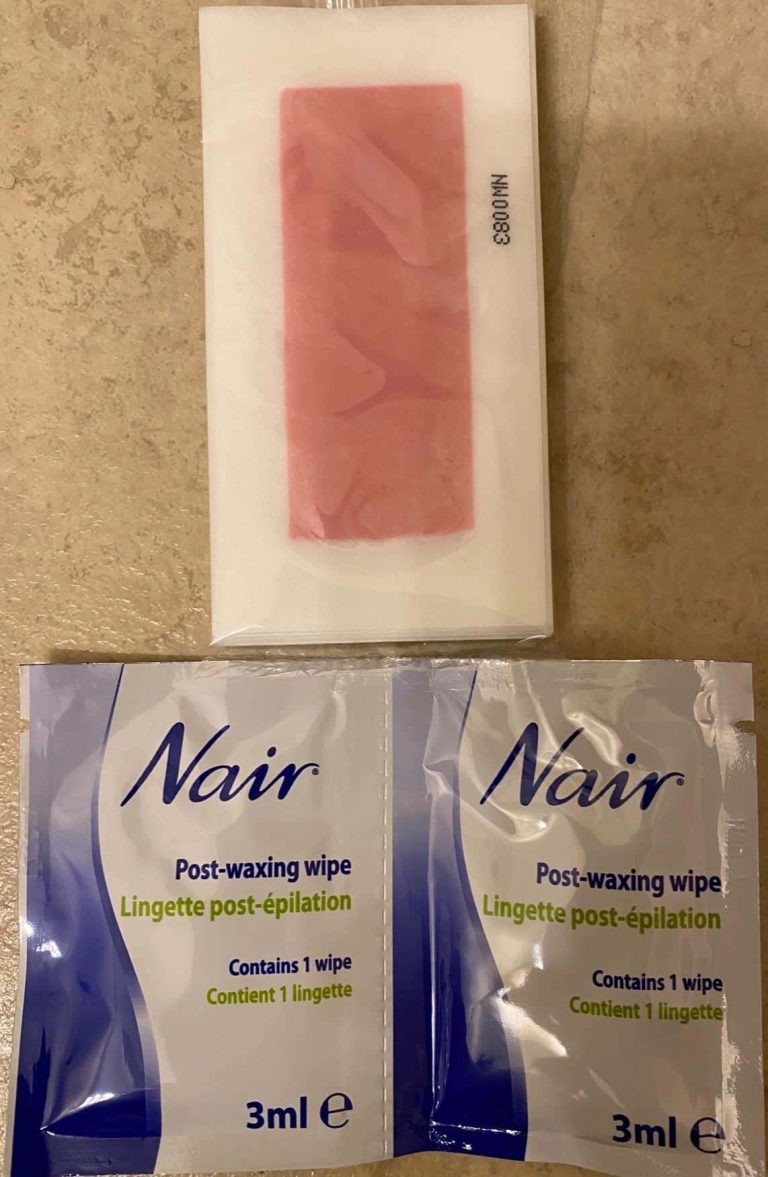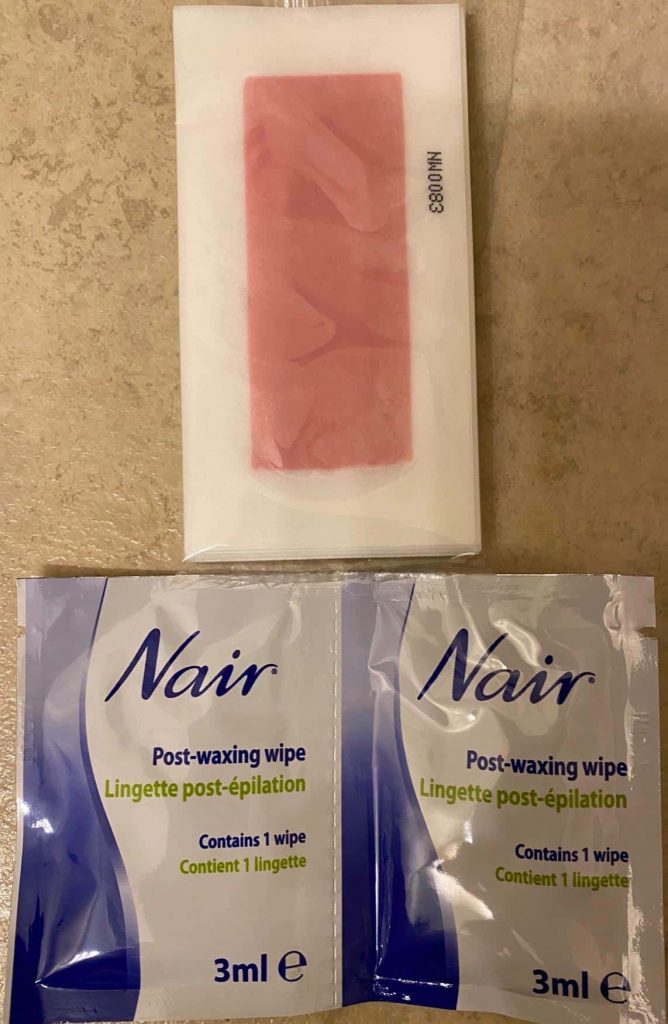 Ingredients
The Nair face cream has calcium thioglycolate as the prime depilating agent. Cetearyl alcohol as an emulsion stabilizer, and calcium and sodium hydroxides as pH adjusters alongside fragrance, mineral oil, and iron oxides (for the colorant function).
Nair wax strips comprise glyceryl rosinate for film forming, polyethylene (as viscosity increasing agent), cera alba as an emollient, and other ingredients.
From Where To Buy?
You can get Nair face cream and wax strips from their official website. Here, they have even mentioned the retailers' list (both local and online), where you can quickly get the products. Select the products you want, and the site aids you with further steps.
The Application
You may use these products on your upper lip, chin, and cheeks.
Usage Details
Nair recommends a patch test before you use their products. Follow the instructions to use them in a small area wherever you want to remove hair and wait 24 hours. Proceed with the application only if the skin appears normal and untroubled.
To use the Nair face cream:
Squish out a blob of cream, and apply generously over the area of unwanted hair.
Leave it for 3-10 minutes (depending on the fine or coarse hair).
Wipe it off with a damp washcloth.
Rinse your face with lukewarm water, and dry your skin with a clean towel.
Generally, 5 minutes is good, but do not leave it for more than 10 minutes.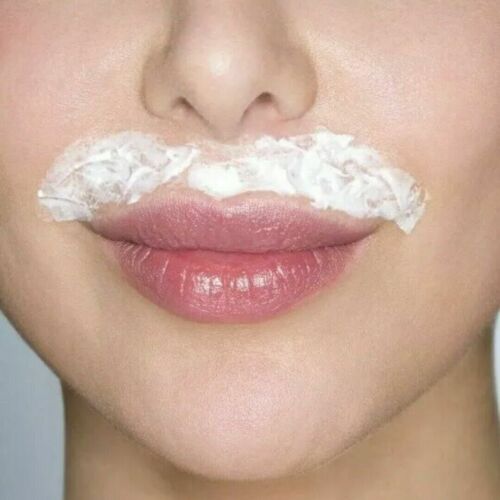 To use the Nair Face wax strips:
Separate the strips and apply the waxy side to your skin.
Press it down firmly in the direction of hair growth, i.e., from the roots towards the ends.
To remove hair, grab the edge and pull it off quickly (in the opposite direction of the hair growth). Reuse the strip until it's no longer sticky.
Use the post wipe to remove any residue and soothe your skin. And you are done!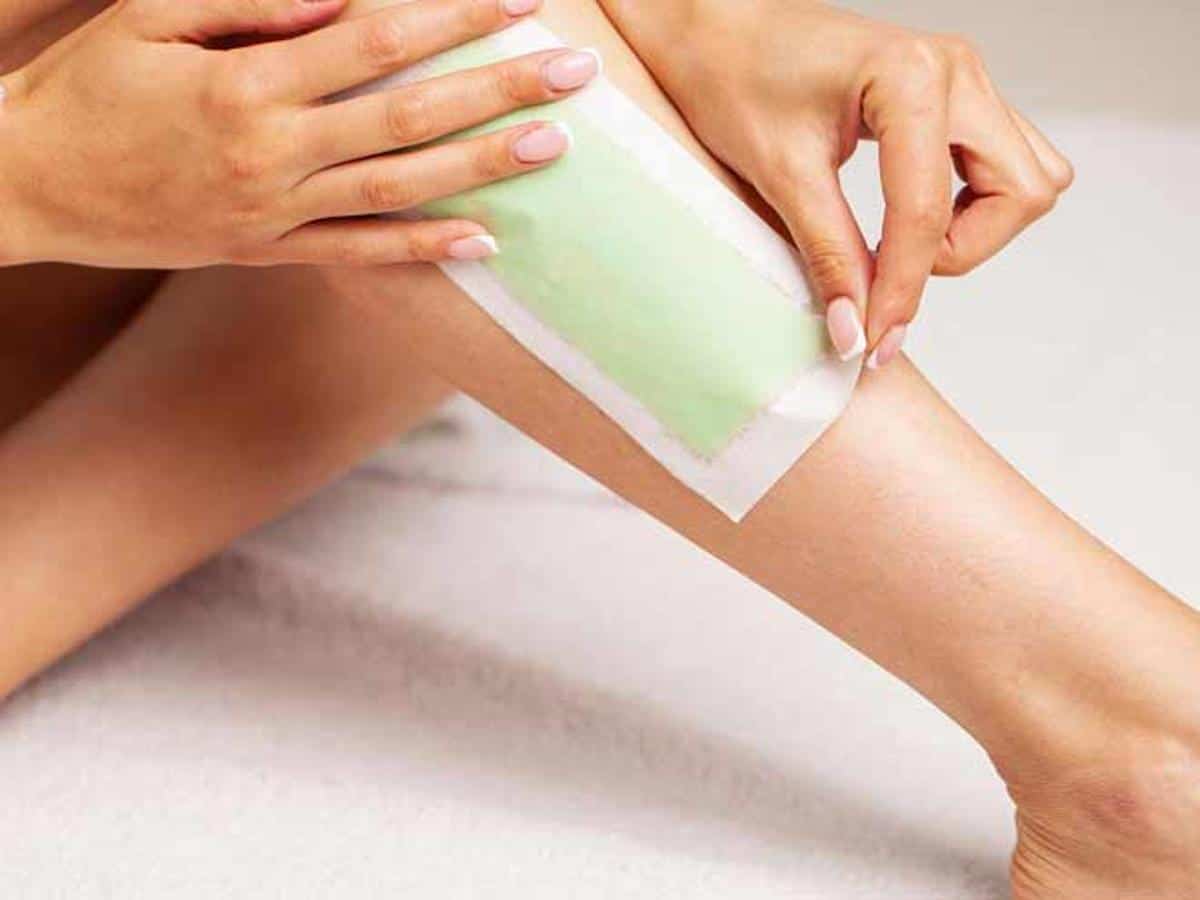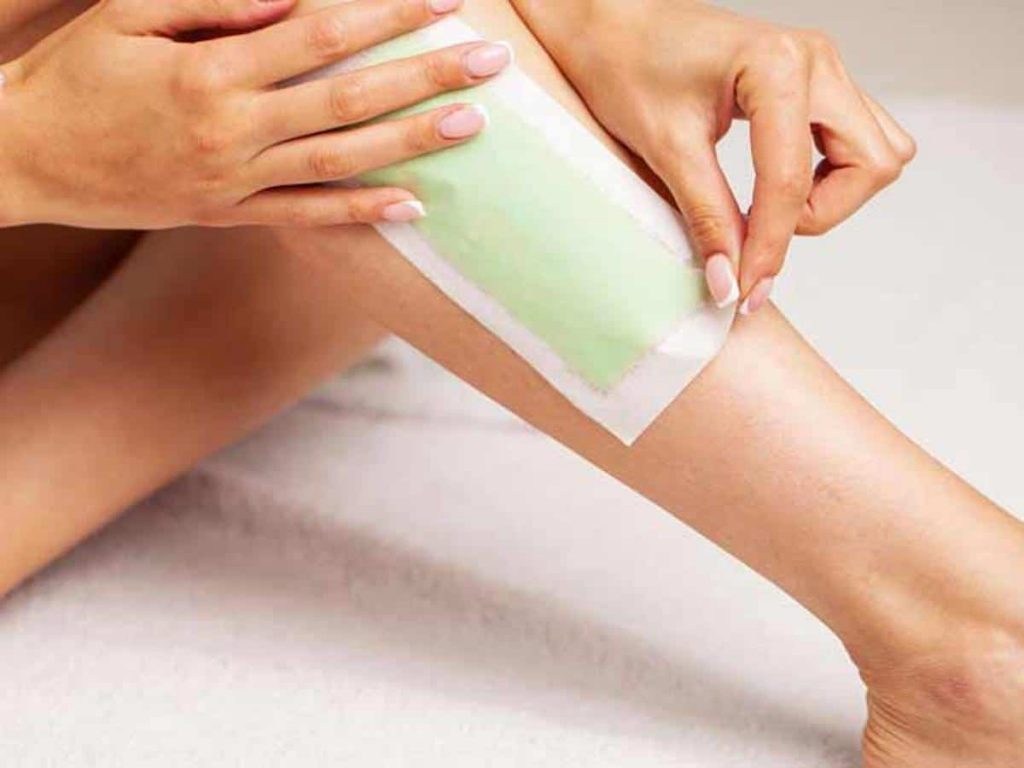 The Results
The face cream dissolves the hair above and slightly below the skin's surface, lasting longer than shaving. It may last up to 2 to 5 days, depending upon the pace of your hair growth. It is a better and painless hair removal method.
The wax strips work on fine to coarse hair. The skin remains hair-free and smooth for up to 4 weeks.
The After-Effects
The after-effects of these products are:
Side-effects
A common side-effect of these products is the after-feeling of burns and irritation.
Re-application
You may reapply the face cream after a few days (maybe 5-6). Keep a gap of at least 72 hours before reapplying the product.
You can reapply the wax strips after a few weeks of the initial application.
Check out the reasons for buying(or not) these products.
Pros And Cons Of Nair Face Cream
Pros
Less expensive than salon hair removal options.
Pain-free and easy to use.
A formulation for sensitive skin is available separately.
It dissolves the facial hair in less time.
Cheap alternative to salon-style hair removal.
Sale
Cons
It contains mineral oil and is not fragrance-free.
The sweet almond oil version is less liked than the original (pink and white colored) version.
The product label lacks the expiry date; instead, it only says to replace it one year after opening.
It emits a singed smell during removal, which later goes off.
Some customers reported experiencing face burns.
Pros And Cons Of Nair Wax Strips
Pros
Alcohol-free and dermatologist tested.
It makes an affordable hair removal treatment.
The effects last longer than the Nair face cream.
Ideal for sensitive skin as well.
Sale
Nair Hair Remover Wax Ready Strips, Face and Bikini Hair Removal Wax Strips, 40 Count
One (1) box of Nair Hair Remover Wax Ready Strips, Face and Bikini Hair Removal Wax Strips with 40 hair remover wax strips and four post wipes
Face and bikini area hair removal strips help remove stubborn hairs and reveal beautiful, hair-free skin. Helps minimize hair re-growth for long lasting results
Wax strips require no warming or rubbing for mess-free application. Infused with Orchid & Cherry Blossom Extract
Dermatologist tested. Wax strips for bikini and facial hair removal are safe for all skin types and even removes short hair
Face and bikini hair remover wax strips give you smooth results that last up to four weeks
Cons
The process may be painful.
It contains mineral oil and fragrance that may bug some of you.
You may sense a slightly pungent smell while removing your hair that goes off later.
It doesn't come with an expiry date.
Customer Reviews | Nair Face Cream VS Wax Strips
Both these products have amassed a lot of positive and a few negative feedbacks.
Nair Face Cream
Serra comments, "This hair remover cream helped in my last minute before attending a meeting. It leaves my skin moisturized afterward."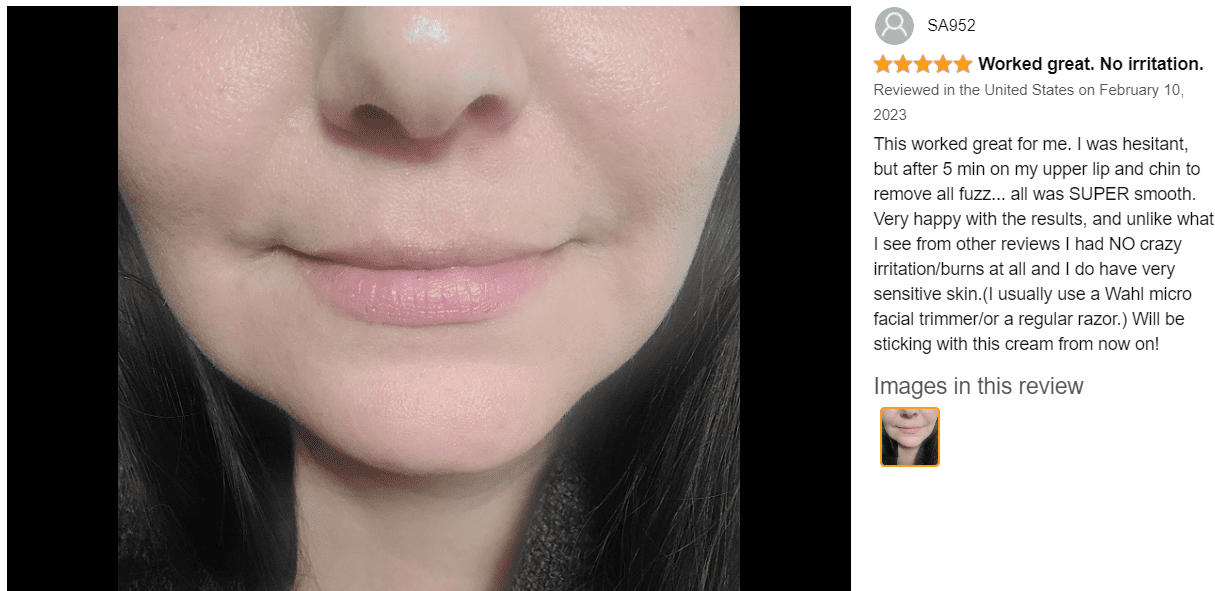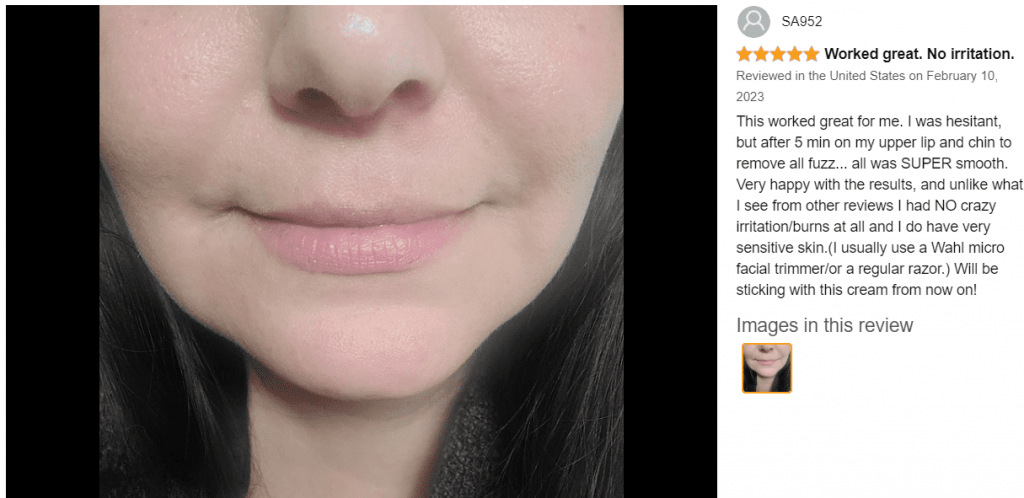 Nancy questions, "I don't know why they gave a sensitive tag to this cream when it doesn't work well on it. It cleaned my facial hair, but my face burnt later."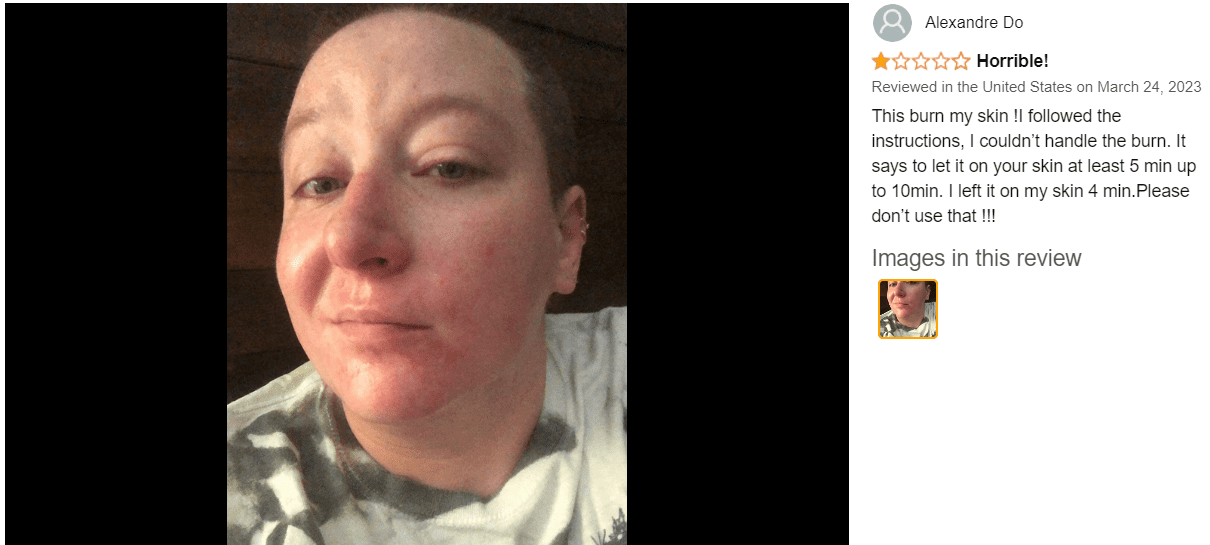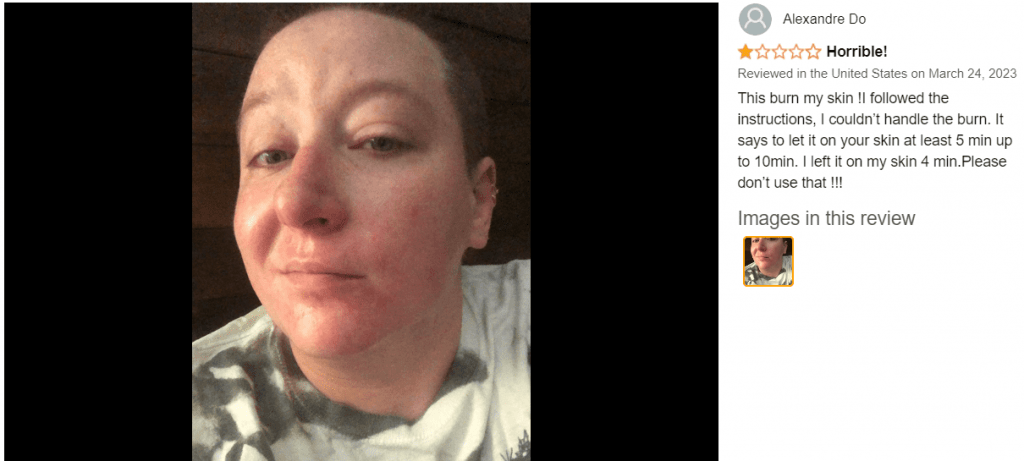 Nair Wax Strips
Elisabeth asserts, "The strips are worth trying. My annoying facial hairs are all gone now. I highly recommend it."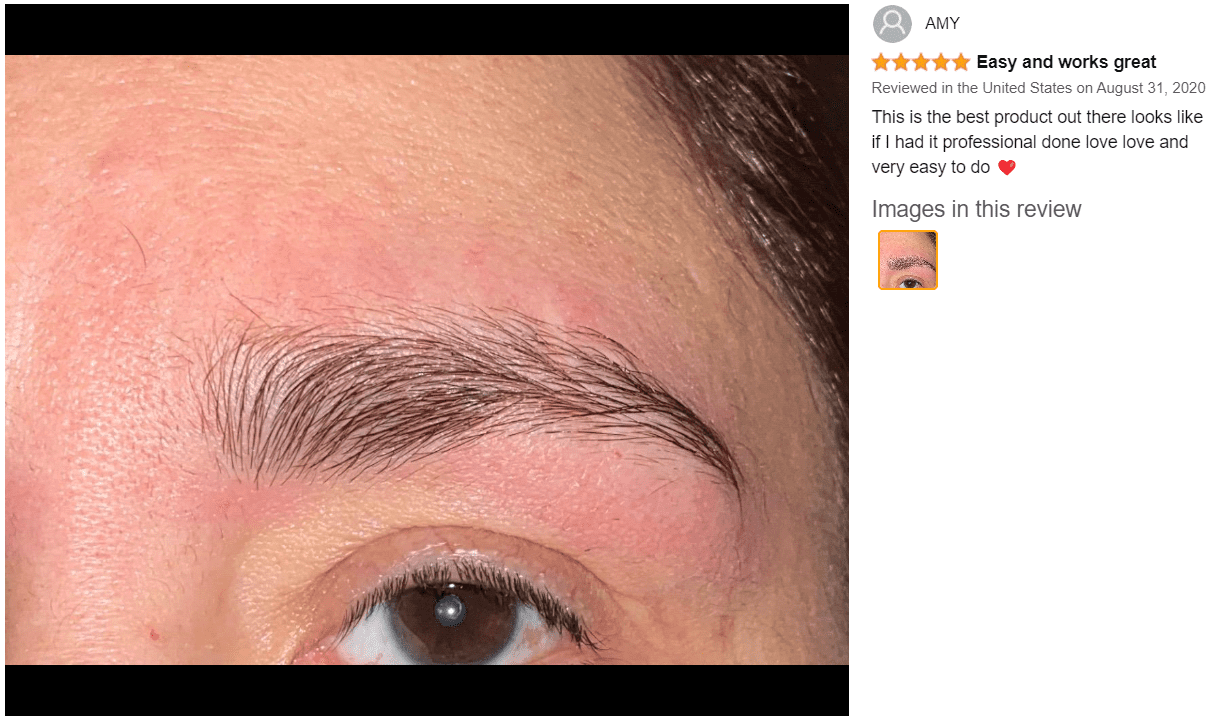 Marie claims, "The glue quality is not up to the mark. It doesn't easily stick to the hair."
FAQs | Nair Face Cream VS Wax Strips
Before moving on to the final thoughts, there are some of the most common FAQs that I tried answering.
Should I use Nair face cream or wax strips?
If you seek a pain-free process, then Nair face cream is good for you. But its results are short-lasting. Here, Nair wax strips are handy as they can last up to 4 weeks.
Do Nair wax strips work?
Yes! Nair wax strips work and are known for their efficient facial removal process that lasts up to 4 weeks. Until then, enjoy a facial hair-free and smooth face.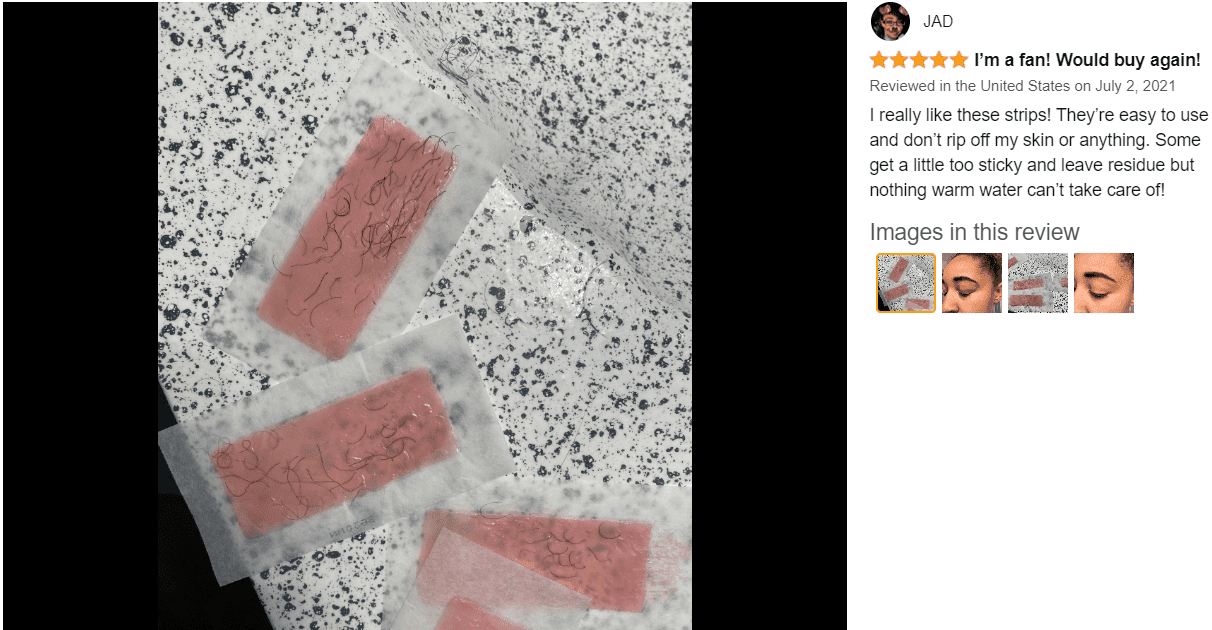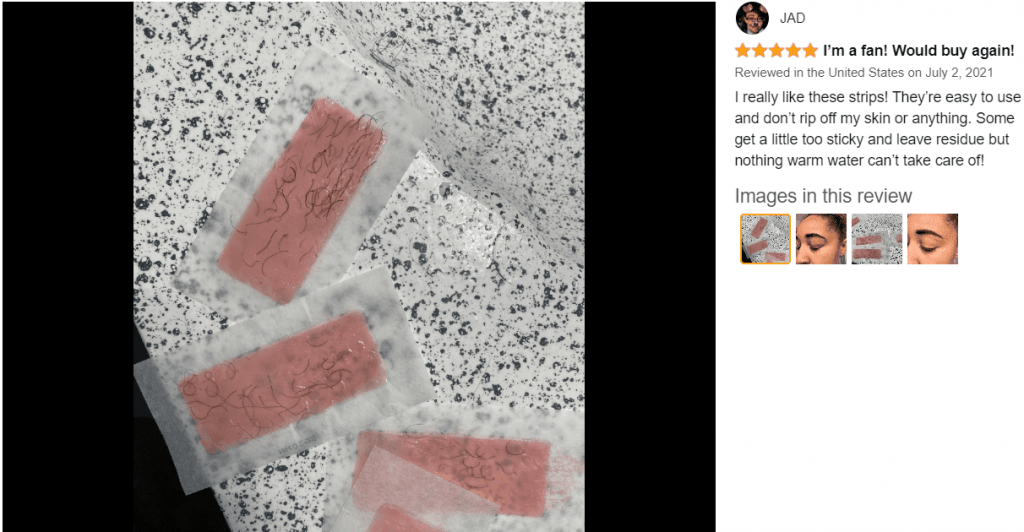 Which one is better, Nair face cream or wax strips?
Both of them have their pros and cons, as discussed earlier. You can go through them to see which product matches more to your preferences.
Which is more convenient to apply between Nair face cream and wax strips?
Both products are convenient to apply, easy to remove, and go smooth on your skin. Read all their details above to confirm your choices.
Closure
Such is an overview of Nair face cream VS wax strips. The final verdict remains clear. The Nair face cream is pain-free, yet its results are less long-lasting than that of Nair wax strips, which are painful. Both work excellently in removing facial hair and smoothing the skin. But go for a patch test first. I hope this article helps in finalizing your purchase.
Do you want to ask something or add some missing details? Then, comment below and let us know.
Marilyn's deep interest in fashion, beauty, and lifestyle has led her to pursue a fulfilling career as a freelance writer and blogger. With her bachelor's degree in fashion design from the Fashion Institute of Technology, she has developed a keen eye for style and trends, making her well-equipped to offer valuable insights into the latest fashion and beauty trends.