It is common for people to have their facial skin free from unwanted hair, and why not. Because on an important knowledgeable note, removing hair can not only enhance the appearance of your skin but will also create a suitable environment for applying makeup. The skin also stays hygienic and free from dirt trapped by the hair. To help you achieve better hair-free facial skin, Nair has developed one of the most-loved hair removal creams, Nair Face Cream. But is it worth the hype? Let's hop on to some unbiased Nair Face Cream reviews to check if it is worth trying.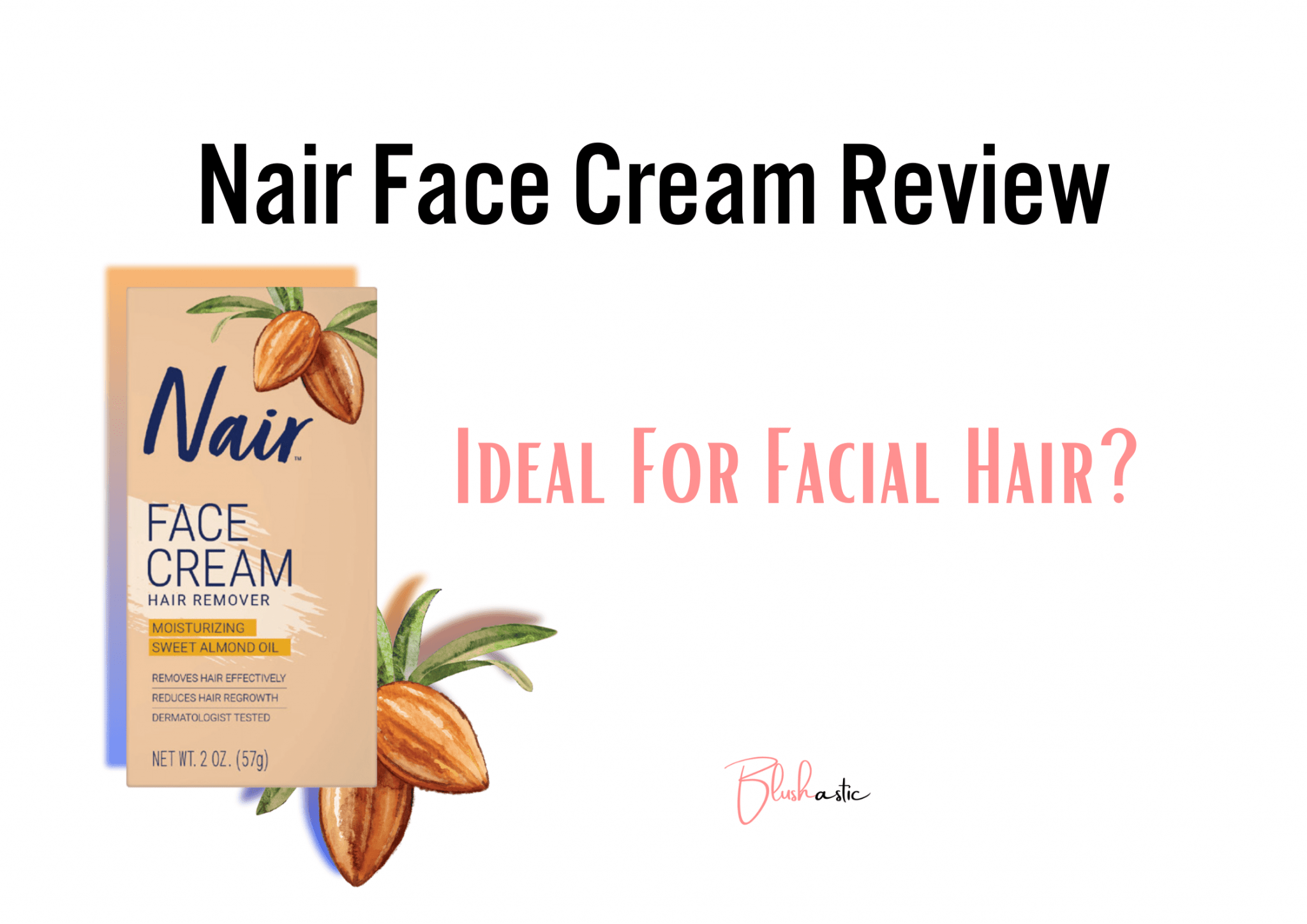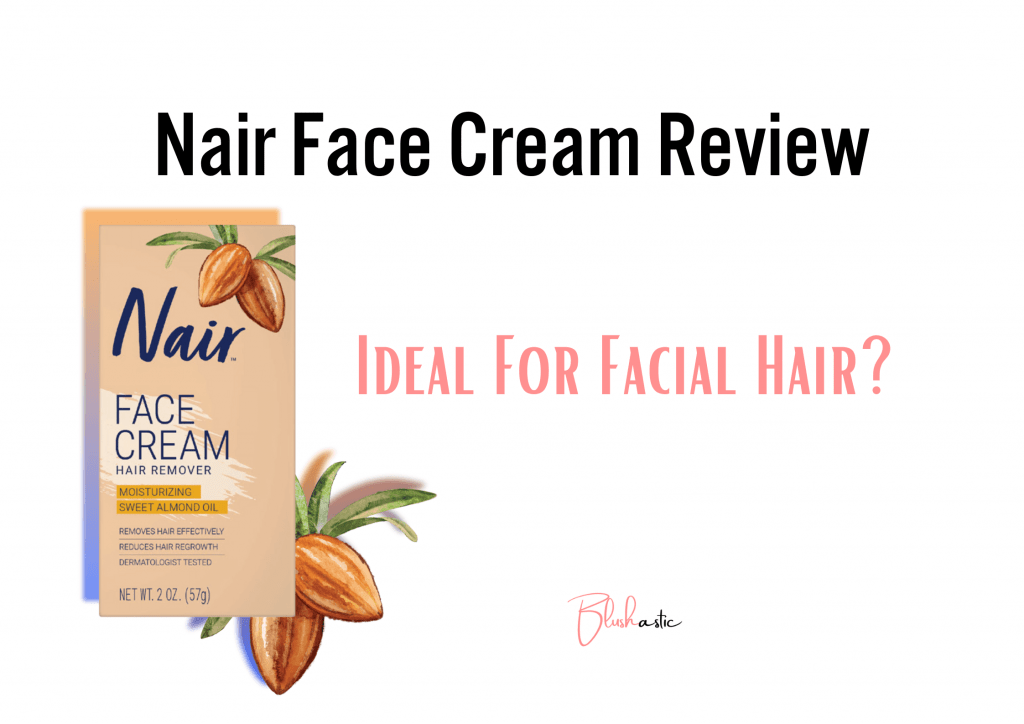 Nair Face Cream Reviews | The Ultimate Hair Removal Solution?
Nair is a hair removal brand that's been used and loved by thousands of people, and no doubt, it has been rated the #1 Hair Removal Brand in the US. It has got an experience of over 80 years of and hence develops products that are created with the magic of Science. As per the brand, its Hair Remover products are engineered to be applied on any part of the body, making the skin smooth and soft.
The brand has expertise in creating different products with different innovations. For your facial skin, Nair offers its Nair Face Cream Hair Remover that only helps you give clean and hair-free skin but also leaves your skin smooth and radiant. Plus, not to forget, this hair removal method is all fun and games because you can happily get a painless hair removal process while bathing your skin with nourishment. With the infusion of sweet almond oil in the cream, your skin will thank you for the pampering.
Sale
Ingredients
Sweet Almond Oil is the only highlighted ingredient of the Nair Face Cream. Below are some great benefits it provides to the skin, which deserve the spotlight among the elements.
Sweet Almond Oil
Sweet Almond Oil can remarkably make your skin soft and smooth. These soothing properties can be credited to sweet almond oil being an excellent moisturizer. It helps keep your skin hydrated, making it look more supple and healthy. This ingredient also has anti-inflammatory properties, giving your skin a soothing and relaxed feel. It also contains Vitamin E, a fantastic antioxidant that protects your skin from damage.
How To Use Nair Face Cream?
Since the process involves removing the hair from your skin, it's better to take a little precaution and follow the steps below to get hair-free, smooth, and soft skin.
First of all, do a patch test before you step into the complete application of the cream. This cream right here is for your face, and you wouldn't want your face turning red or any such thing. So always do a patch test well before you try the product.
Next, be ready with everything you may need during the process, so you don't waste time finding stuff when the cream has already been sitting over time on your skin.
Before applying the cream, ensure your skin is cleaned and free from any makeup residues, oils, creams, or lotions. Also, keep your skin dry before you have the Nair Cream on your skin.
Apply a generous amount of cream to the areas you feel you need. The brand suggests you apply a thick layer covering all unwanted hair.
After the application, here comes the important part, set the timer. You should keep the cream on your skin for about 10 minutes.
Within 5-6 minutes, you can remove the cream from a small area to check if the hair is easily uprooted and wiped.
If yes, you can wipe off the entire area with a damp cloth and then rinse that area with lukewarm water.
Benefits of Using Nair Face Cream
The Face Cream is enriched with sweet almond oil with great skin benefits.
The presence of sweet almond oil not only keeps your skin moisturized and hydrated but will also leave your skin feeling smooth and supple.
The cream does its job of removing unwanted hair and is, in fact, perfect for areas like upper lips, cheeks, and chin.
It also helps kick off dead skin cells and exfoliate the skin.
Using the cream can give you long-lasting results, meaning your skin stays soft, smooth, and hair-free for an extended period.
As per the brand, using Face Cream can even reduce hair growth.
It is dermatologically tested, so people concerned about the product's authenticity can be relieved.
It is very affordable, so it has become an excellent choice for many people as they can pick it without considering their budget.
Drawbacks
It may not be suitable for people with susceptible skin as it can turn the skin red and leave patches of redness.
In some cases of sensitive skin, it can give a burning sensation.
It can be too scented for some people. Thus, you can try an at-home hair removal device.
Nair Face Cream Reviews | What Do The Customers Say?
A user named Hannah Rausch commented, 'When I was in my teens, I used to shave my chin area. Even as an adult, I got to keep removing the unwanted hair on my chin, or I might have a beard. Because of my shaving, I had razor bumps on my jawline; I even started to have ingrown hair along my chin. So then, I started using Nair for my face. I used to use Nair for my legs before.
I am in love with Nair as it does its job! However, it does cause some irritation to my skin as I have sensitive skin. I shower immediately after applying the cream, and that has helped my skin feel calm. My advice is that you do not leave the cream on your skin for more than the recommended time of nine minutes.'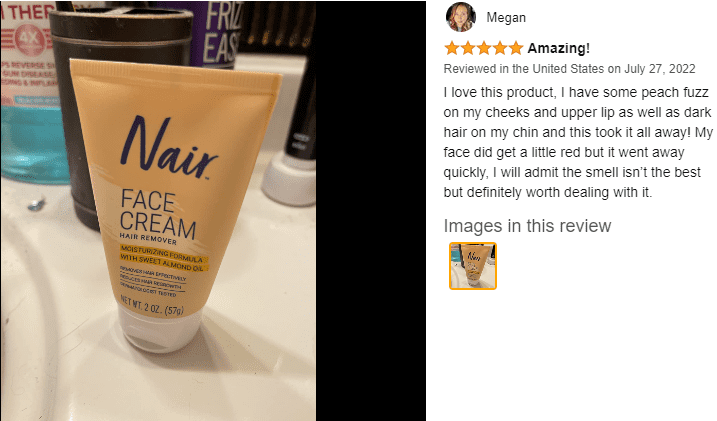 Another user named Lacey C. said, 'I applied this product this morning and followed all the directions mentioned in the box. After setting the timer, after 3 minutes, the area on my face where I had applied the cream started to burn. I had to wipe off the cream instantly. I even took a shower with cold water and later used scent-free body wash to wipe off the cream completely. As for now, I have a chemical burn on areas like my jawline, my chin, and even my upper lips. I have thrashed it in the garbage and decided not to buy it or even suggest it to anyone.'
Another user commented, 'Talking about what the product does; it does what it says. However, it is not for people with sensitive skin. When I decided to apply it, I used a little on my face; honestly, that was the right choice. After applying it, I felt burning sensations, which got quite uncomfortable in the applied areas. But wherever I had applied it, it did remove the hair from the area. One of my family members used it and did not face any such problem, and it was okay for them. So, do a patch test and try on a small area first.'
Frequently Asked Questions | Nair Face Cream Reviews
Does applying Nair Face Cream last longer compared to shaving?
The brand takes pride in claiming that its products help you achieve hair-free skin that provides results that last longer and longer than shaving. This is because these products remove complete hair underneath the skin's surface.
Can pregnant women use Nair Face Cream?
As per the brand, yes, expecting women can use their products, considering they follow all the instructions and the directions mentioned. If still in doubt, they should consult their respective doctors.
Is Nair Face Cream good for your face?
Nair Face Cream is enriched with Sweet Almond Oil that makes the hair removal cream helps moisturize the skin and make it look buttery soft, and supple. It also helps with the skin's hydration, making it look healthy and radiant.
Final Words
Taking care of your skin can include making it hair-free. Not only because it makes the skin glow and look radiant but also because removing unwanted hair will help your skin become more hygienic. Being the number 1 brand it already is, Nair has various hair removal products to help you achieve soft and healthy skin.
Nair Face Cream has been tried by thousands and has gathered many positive reviews. The major drawback or the negative point we have come across is from people with sensitive skin who said it caused burning sensations. So if you do not have susceptible skin and are looking for good hair removal creams, it's probably time to try Nair!
I'm Sarah Abraham, the founder and co-author of Blushastic.com and a professional makeup artist. Beauty is more than just skin deep, and that's why I'm passionate about sharing my knowledge and experience to help people feel confident and beautiful on the inside and out.
Whether it's skincare, haircare, or fashion, my goal is to empower women to feel their best. With my expertise in the beauty industry, I strive to provide practical advice and tips that are accessible to everyone, regardless of their skill level or budget.