If women love anything truly, deeply, and madly, it's – lipsticks. (Sorry, boys!) and not just any lipstick! Away from the sheeny-shiny, and boldly washed options, we have finally gone onboard with the perfect nude that feels like velvet on your pucker. The rave for nude has made a triumphant return in eh beauty industry, and every next-door neighbor seems to be taken by it. This range of color is not too peaky and yet drives their attention to your Cupid's Bow. MAC has been quite forgiving in the lipstick business, as most of its innovations create a splash of color everywhere they go. 
People follow them blindly because no one wants to stay away from rich cocoa that makes your lips feel alive! According to reviews, the Honeylove shade is quite a firecracker but falls on the pricey side. So, people wanted a MAC Honeylove dupe that is cost-effective yet similar.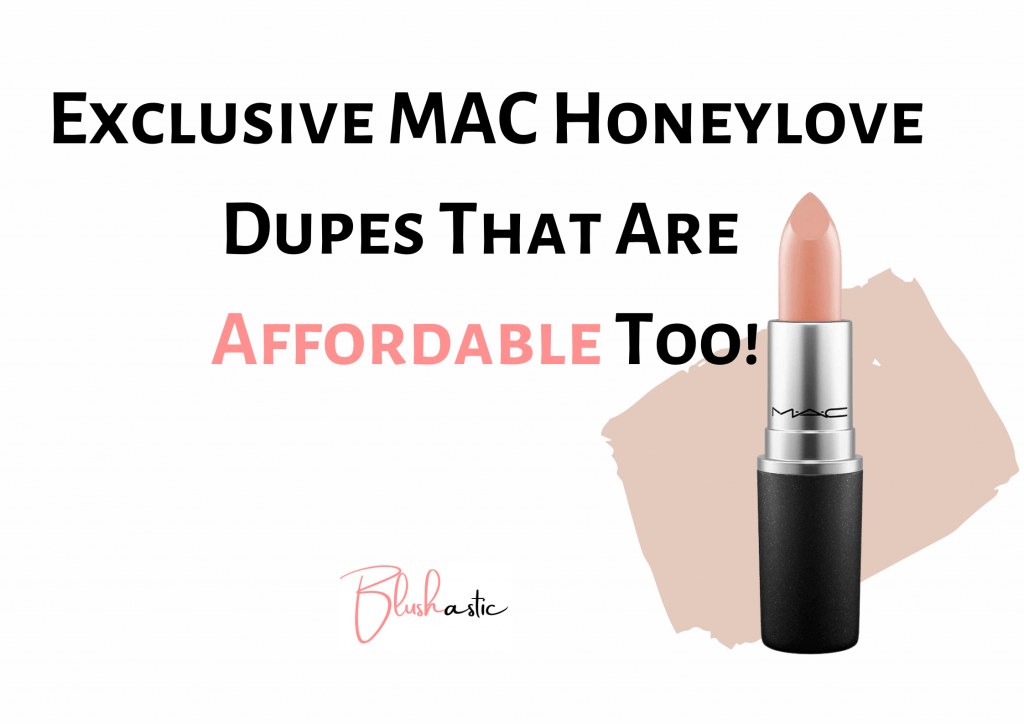 The original shade has all things covered except its price point. It does not cater to everyone's budget, so not all MAC lovers can get this for themselves. But this does not mean beauty cant follow you! We have 11 sensational-looking shades that look just like the real thing. Want to try it for yourself? Let us dive right in! 
MAC Honeylove Dupe |

For All Hours Of The Day?
MAC made quite the first impression in the makeup town when it launched its matte lipsticks and lip liners. The collection blew up the internet, as lipstick lovers were eager to get their hands on different shades. This ultimate range features colors from exotic families like pinks, berries, reds, oranges, and nudes. Meanwhile, the shadow which got sold out too soon was the Honeylove, featuring a light beige nude tone, pampered with hints of rose and peach.
It seemed like everyone could take their eyes off this cutie. But why? The creamy, rich lipstick formula stands proudly with its high color payoff, which offers your pout an immediate risk of pigment. And there, all the attention is on your lips! 
MAC Bestseller Lip Shades 
The creamy matte lipstick gives you 10 hours to revel and soak up the beauty of your lips, during which it promises not to spoil your mood by feathering. While every note about this option seemed to be hitting just right, users were unhappy with the expensive price tag and came forward to ask for some respite.
But the heart wants what it wants, so we have gathered 11 hydrating options that won't let your lips down! These lipsticks promise that they won't feel too heavy on your budget and will succeed in giving your lips a fuller and pouty look. Are you ready for the big reveal?
L'Oreal Colour Riche Lipstick "Fairest Nude"
It may seem too good to be accurate, but it is what it is! And if you love the Mac Honeylove, you will want this one. Having attracted over 27k reviews on Amazon, the L'Oreal Colour Riche Lipstick in the shade Fairest Nude has got every MAC lover under its spell. It mimics the peachy nude of the original a lot and has undertones of cinnamon pink.
Sale
L'Oreal Paris Colour Riche Lipcolour, Fairest Nude, 1 Count
Colour Riche Lipcolor: Indulge in richness beyond compare with our most luxuriously rich color and hydration; Colour Riche Lipstick is enriched with nourishing ingredients like Omega 3, Vitamin E, and Argan Oil to soften lips
Gorgeous Hydrating Lip Color: Keep lips soft, smooth, and ultra hydrated with Colour Riche Lipstick; Choose from a spectrum of show stopping shades, for lasting, creamy color that delivers intense hydration
L'Oreal Paris Lipsticks: Whether you want a bold red lipstick or the perfect nude, you can choose a color for every occasion; Choose matte lipstick for highly pigmented shades or choose creamy lipstick colors for smooth, soft and hydrated lips
Because You're Worth It: L'Oreal Paris Makeup helps you create the look you want with our full line of makeup including foundations, concealers, highlighter makeup, brow pencils, eye shadow palettes, lipsticks and much more
Perfect To Pair With: L'Oreal Paris Colour Riche Lip Liner, a creamy lip liner to perfectly define and contour lips
This shade spectrum has been combined with nourishing ingredients that refresh and rejuvenate. Omega 3, vitamin E, and argan oil are the star elements that soften any dryness and allow your color to glide like butter. Users revealed that it gave their lips a plushy and polished look. The best part about buying this MAC Honeylove Dupe is getting three of these for one MAC!
Perks 
Formulated with rich argan oil

Glides like silk 

It gives a luxurious creamy feel

Hydrates lips to their core

Suitable for every occasion

Delivers a smoother, and softer pucker 

Packed in a sleek golden tube 

It contains omega 3 and vitamin E to nourish 

52 creamy satin shades in total are available 

Available at a super affordable price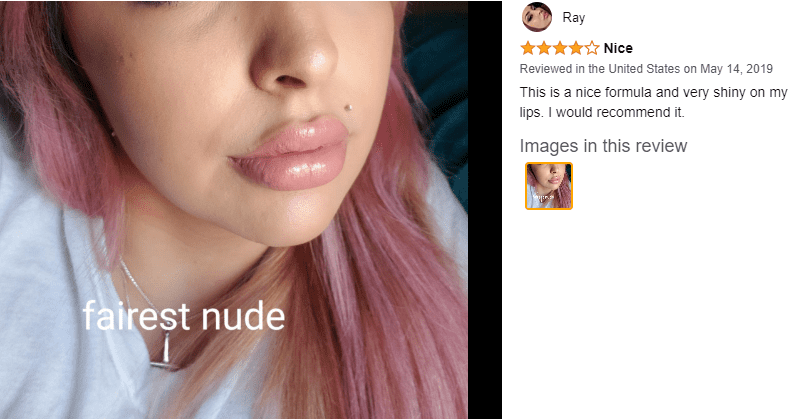 Drawbacks 
The lipstick has a peculiar chemical smell that might put off users. 
Maybelline Color Sensational Matte Lipstick "Beige Babe"
A swipe of nude looks effortless and adds an indefinite charm to your complexion. Nude lippies have a different fanbase altogether, and the Beige Babe shade from Maybelline clearly explains why! The lipstick is contained in a silver cylinder and gives off a color that is a perfect blend of beige and nude. What's interesting is it will complement all the different skin tones due to its flexibility.
This inti-matte contains golden pigments that bring out a natural boost of color in yoru lips by adding dimension to your pout. A touch of honey nectar has been incorporated into this lipstick, as it is responsible for giving your crescents feel sumptuous and glide across each other in a silky manner. If you want to make your pucker fuller-looking instantly, this whipped mousse formula is the right way to go about it! Users who tried this out said it made all the difference for them. 
Perks 
Rated as Amazon's choice 

The creamy formula dries down into a sultry matte finish 

Infused with honey nectar to give a luscious feel

Feels comfortable throughout the day

Matches all ranges of skin tones

It gives your lips an unbeatable radiance

It contains golden pigments that naturally give your lips a flush of color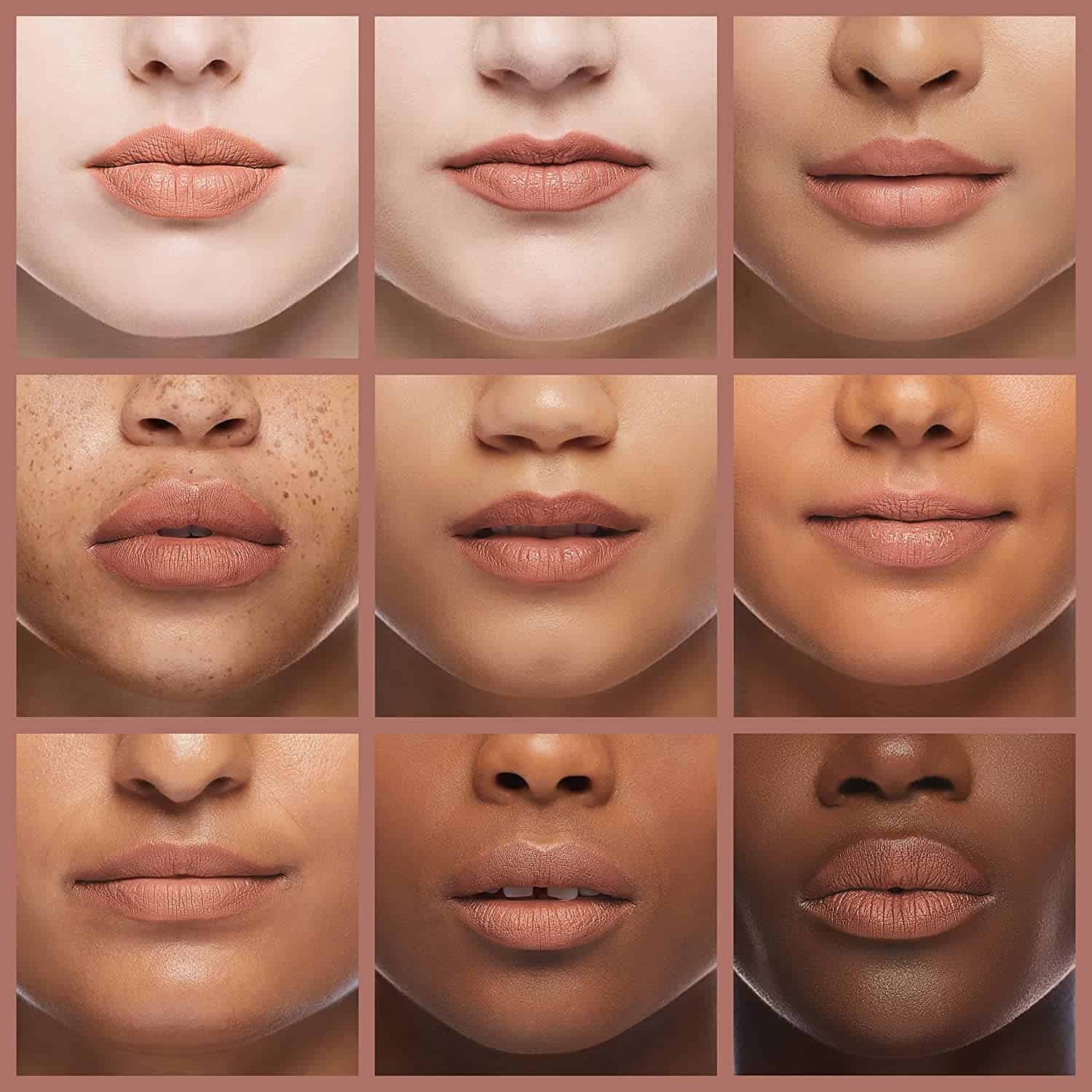 Drawbacks 
The actual shade looks very pale and lighter on the skin.
Peripera Ink the Velvet Lip Tint | #030 CLASSIC NUDE
The perfect shade of brown is what everyone wants, but when it has slight hints of nude shimmering, it changes the total game. Just like the Peripera Ink, the Velvet Lip Tint in the color Classic Nude is an example of why you should get your hands on a MAC Honeylove Dupe without wasting time! This modern liquid lip tint coyly dries down into a nude shade, with undertones of cocoa and brown laced.
Sale
Peripera Ink the Velvet Lip Tint | High Pigment Color, Longwear, Weightless, Not Animal Tested, Gluten-Free, Paraben-Free | #030 CLASSIC NUDE, 0.14 fl oz
[STAY ALL DAY - BOLD AND LONG LASTING COLORS] Stay a bold lip with our Ink the Velvet Tint! Our tints use a breakthrough formula with high intensity color pigments that naturally stain your lips. The color goes on smooth and will last throughout the day.
[VELVETY SMOOTH FORMULA] We use an adhesive formula with a double layer elastomer that fills in the fine curves of your lips so you can get that emollient and silky finish.
[WEIGHTLESS AND FRESH FINISH] A lightweight layer of color on your lips helps you get through the day without having your lips feel sticky or clumpy. Comfort is key!
[APPLICATOR TIP] Designed with a precision applicator to shape and line your lips for a precise and perfectly applied lip.
[FUN AND FLIRTY COLORS] A collection of colors that fits every complexion. Find your signature color from our wide selection of gorgeous shades!
If you are a cappuccino fan, you will love it! The long-lasting formula features high-intensity pigments that give yoru color the boldness they deserve by adequately staining them. If you are big on comfort, this lippies promise no stickiness, or clumpiness, so you can settle for it without flinching. The color allows different skin tones to play and gives their pucker a beautiful off-rosy blanket. So, if it is in your interest this fall, we suggest making a decision quickly!
 Perks 
Possesses 22k reviews on Amazon

It costs half the price of MAC Honeylove

Offers a comprehensive option in peachy nude shades

It has high-intensity color pigments 

It uses a

double-layer elastomer to stick to your lips perfectly 

It gives a silky finish throughout 

It lasts all day without feeling sticky or clumpy 

It has a precision applicator to define your curves

It fits every range of complexion 

More than 25 colors are available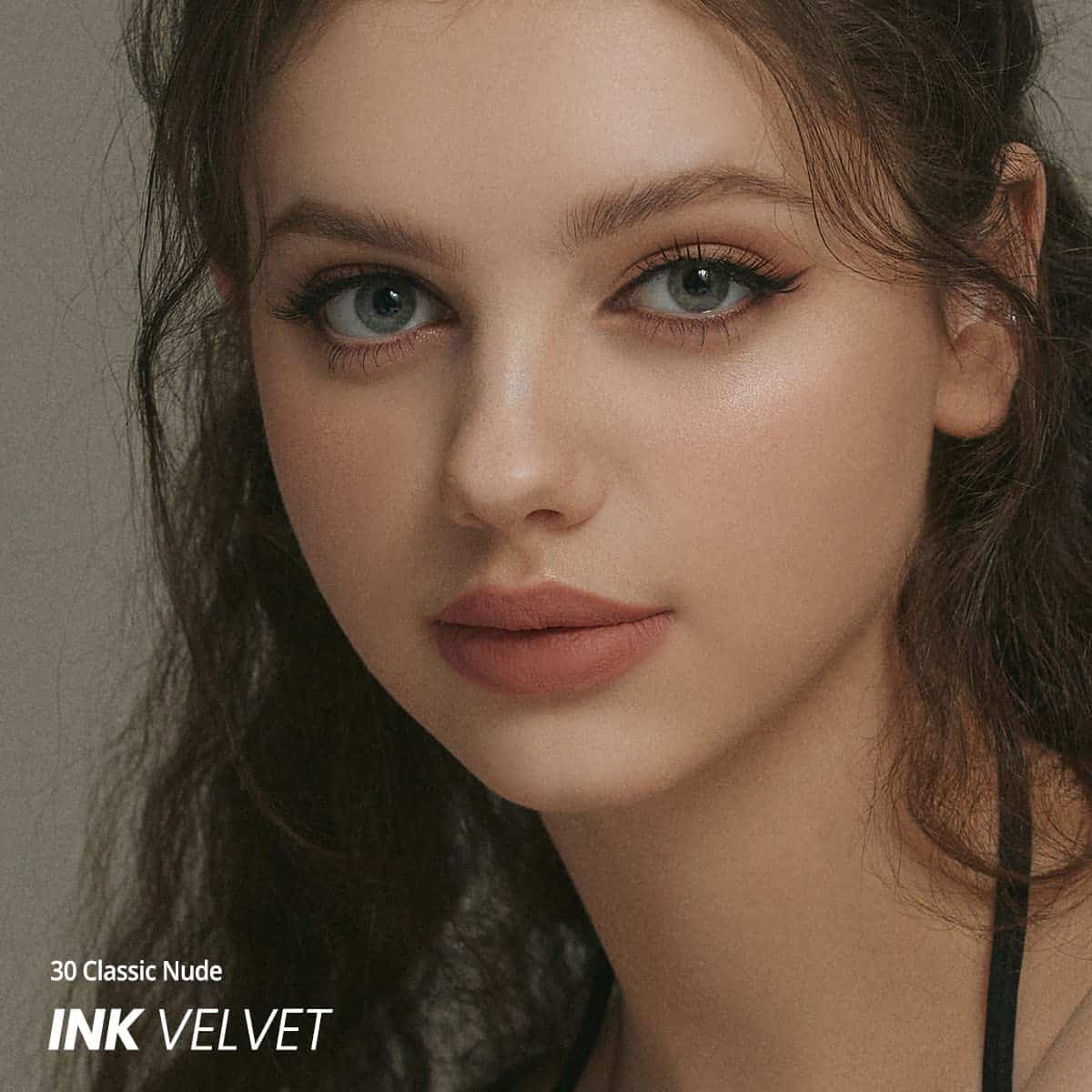 Drawbacks 
It wears off quickly without leaving a tint. 
NYX PROFESSIONAL MAKEUP Lip Lingerie XXL Matte Liquid Lipstick – Turn-On (Peach Nude)
NYX lovers know how to choose a good lipstick shade, especially in confusing nudes. Not all buffs are for your skin, and this brand's Peach Nude understands. The formula possesses a color that takes inspiration from the beauty textbooks of Honeylove itself. So, if you were searching for an alternative, consider yoru prayers answered. It gives your pout a "my lips but better" look as the lipstick is non-drying and claims to stay away from cracking, budging, fading, or transferring for up to 16 wholesome hours.
Sale
NYX PROFESSIONAL MAKEUP Lip Lingerie XXL Matte Liquid Lipstick - Turn-On (Peach Nude)
Long Lasting Matte Lipstick: Contour and accentuate your lip shape with this vegan lipstick that sets to a smooth matte finish for fuller looking lips; No crack, no budge, no fade and no transfer for up to 16 hours
Lip Stain Color: Swipe this lightweight and comfortable longwear lipstick on the center of your lips and blend out with your finger or brush for a lip tint look designed to enhance all complexions
Lip Products for the Perfect Pout: Doll your lips in creamy, long lasting perfection; Try our complete line of lip makeup including liquid lipstick, lip gloss, lip cream, lip liner and butter gloss
Cruelty Free Cosmetics: We believe animals belong in our arms, not in a lab; All of our makeup is certified and acknowledged by PETA as a cruelty free brand; We don't test any of our products on animals
Discover NYX Professional Makeup: Try all of our professional makeup products today from eyeshadow, eyeliner, and false lashes to liquid lipstick, lip gloss, primer, concealer, setting sprays and eyebrow makeup
The formula feels very lightweight and comfortable and blends seamlessly with the oval precision applicator given along with it. Every woman should own a good nude, and according to reports by reliable sources, this one makes the right fit. Be it a day event or night, and this shade promises to doll up your lips in a breathtaking style. 
Perks 
It can be used as a lip contour 

It helps accentuate your curves 

It does not crack, budge, fade, or transfer

It lasts up to 16 hours 

Lip-hugging applicator for fuss-free application 

Cruelty-free certified by PETA

It has a vegan composition 

It dries into a flirtatious matte finish 

32 exotic shades in different color ranges 

Maths skin tone of all complexions 

Adds a boldness to plump up your pucker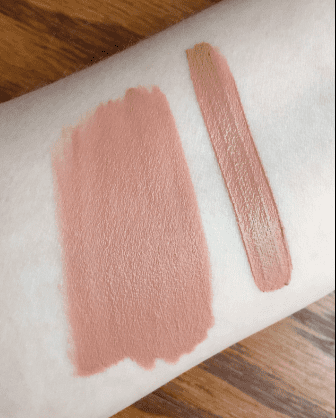 Drawbacks 
It feels a little clumpy after some hours
Revlon Super Lustrous Lipstick, Bare Affair (044)
Yes, affairs can be dangerous, but not when they come in the form of the Revlon Super Lustrous Lipstick in the shade Bare Affair! This lipstick is a perfect nude shade, just like having the perfect pair of sneakers or jeans that blend into your every mood and event. The cult-classic option from Revlon is a favorite of many, as it feels super-moisturizing. The formula is laced with microfine pigments, which add a lot more vibrancy to the original color without weighing your lips down.
Sale
Revlon Super Lustrous Lipstick, High Impact Lipcolor with Moisturizing Creamy Formula, Infused with Vitamin E and Avocado Oil in Nude / Brown, Bare Affair (044)
YOUR FAVORITE LIP MAKEUP: This cult-classic, iconic lipstick is the perfect combination of high-impact color and a super-moisturizing formula
ADDICTIVELY COMFORTABLE FORMULA: Super Lustrous Lipstick is infused with Vitamin E and avocado oil for a creamy, super-moisturizing, comfortable feel
VIBRANT, LIGHTWEIGHT LIPCOLOR: We use microfine pigments so the lipstick shades are rich and high impact, but also won't weigh you down
4 UNIQUE FINISHES: Choose your finish! Try 4 lipstick finishes: Classic Super Lustrous in cream or pearl, Super Lustrous Luscious Mattes, or Super Lustrous Glass Shine
130+ BEAUTIFUL SHADES: There are over 130 ways to play with cool, classic and trendy shades ranging from nudes, pinks, reds, corals, browns, and purples
Vitamin E and avocado oil are also a part of this combination and help to make your lips feel comfortable, supple, and smoother. This shade also possesses a light beige tone like MAC's and costs just a fraction of the real thing, making it a cost-effective deal for lipstick lovers. Instantly amp up your lips into a juicier and plumper feel, for this option has all the qualities to tick the MAC Honeylove Dupe checklist. 
Perks 
It leaves a sheer finish on your lips 

Feels exceptionally creamy and rich

Promises to moisturize your skin nicely 

It delivers a high-impact color because of the microfine pigments 

It contains vitamin E and avocado oil

Available in four unique finishes

82 plus shades to choose from 

It costs just a fraction of the MAC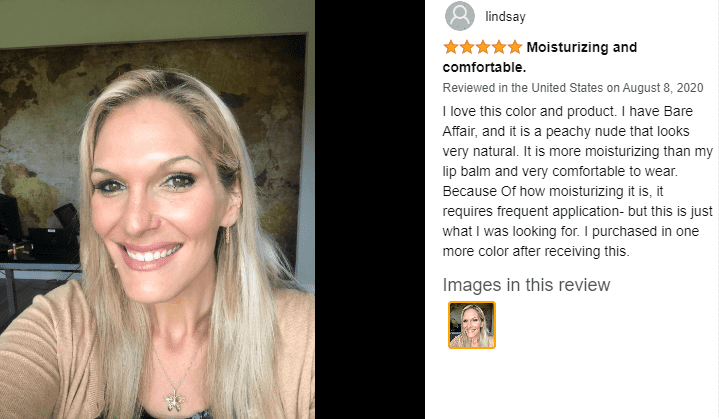 Drawbacks 
The pink shades look orange 
Milani Color Statement Lipstick, Nude Creme
Do you want to make your face look youthful and full of energy all day long, but yoru lipstick won't allow it? It's time to ditch that and go straight to the Nude Creme shade from the Milani range of Color Statement Lipsticks. The shade reflects similar properties to the original shade from MAC and makes you feel passionate and confident whenever you wear it.
Milani Color Statement Lipstick - Nude Crème, Cruelty-Free Nourishing Lip Stick in Vibrant Shades, Pink Lipstick, 0.14 Ounce
VIBRANT COLOR LIPSTICK: Milani knows that the best way to make an entrance is by making a statement. Feel confident wearing Color Statement Lipstick in a variety of vibrant colors.
AVAILABLE IN 40 SHADES: Choose from 40 different lip stick colors ranging from pretty pinks, radiant reds, and passionate purples for a statement-making look that lasts all day.
CRUELTY-FREE BEAUTY: Infused with nourishing vitamins A and C, Color Statement Lipstick feels as good on the lips as it looks. Never tested on animals.
TIPS & TRICKS: Running late and need a quick way to make your look pop? These bold makeup lipsticks work wonders on a face with minimal makeup. Swipe on one of the various shades for instant glam
WE ARE MILANI: Born in East LA, we've always been connected to the rich diversity of our neighborhood, because it's a place that truly embodies the melting pot of Los Angeles. We're not inspired by couture and top models. Our passion is real people, living real lives. Beauty is for everyone. No matter who you are or where you come from, we're here to fuel your self-expression with makeup for every shade, attitude, and ethnicity. No judgment. No exceptions.
Users have loved the most about it: the formula is formulated with a graceful mixture of vitamins A and C that sits gently on your lips without weighing them down. It helps yoru lips cope with the harsh effects of the environment and keeps them soft and away from dryness. Paired with Mac's spice lip liner, it can be your go-to look. This makeup artist-approved formula is quite the hit among beauty enthusiasts for its affordability, which makes you want to get this for yourself. Go on, seal the deal!
Perks 
Delivers a vibrant look to your lips

Never been tested on animals 

Infused with a nourishing blend of vitamins A, and C

It makes your lips pop out instantly 

Available in

40 different lipstick shades in a variety of color ranges

Suitable for all complexions

It offers a full mattified finish 

Cost-effective 

Deliver a long-lasting wear 

Cruelty-free certified by PETA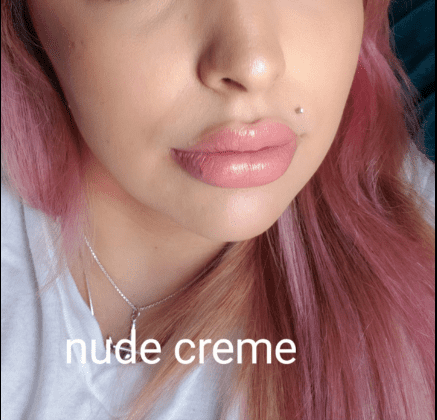 Drawbacks 
The formula may dry out your lips often. 
Wet n Wild Mega Last Matte Lip Color Nude, Never Nude
A good nude lipstick is a woman's comfort zone in makeup. There is no drama required, just effortless swipes that hug your pout and make it look delectable, but all that praise, we mean the Wet n Wild Mega Last Matte Lip Color Nude, in the shade Never Nude, is quite the bombshell! This shade lies beautifully between toffee and caramel, so if you are craving some chocolate on a good day, this will fulfill your wishes.
wet n wild Mega Last Matte Lip Color Nude Never Nude
Mega Last Matte Lipstick: This semi matte lipstick is infused with Hyaluronic Acid, Natural Marine Plant Extracts, Coenzyme Q10 and Vitamins A & E, for velvety full color coverage that nourishes lips
Perfect Your Pout: Available in 13 Cruelty-free, Gluten-free, and Fragrance-free shades, this long lasting, creamy matte lip color delivers full coverage in one swipe, glides on easily, and won't feather or bleed
Best Face Forward: From bronzer and blush to primer, highlighter, natural finish powder, and concealer, we've got you covered and photo ready for your next big thing. You've met your true makeup match
Always Cruelty Free: We are 100% cruelty free and always have been! We also carry vegan makeup & tools such as foundation, nail polish, contour palettes, lipstick, makeup brushes and more
Stay Wild: We are the trusted beauty destination for beauty lovers of all ages, ethnicities, skin colors, and economic statuses. No matter who or where you are in life, we have a product for you
The formula features a powerhouse of exotic ingredients like Hyaluronic Acid, Natural Marine Plant Extracts, Coenzyme Q10, and Vitamins A & E. All these come together to rejuvenate your worn-out lips from whiting and relieve them from their lackluster. You get full-color coverage and also a break from worries. This is because the lipstick does not contain gluten or fragrance and feels proud to be cruelty-free. So, when are you going shopping?
Perks 
Offers full-color coverage 

It contains many exotic ingredients to nourish your pucker

It does not have added fragrance

Features high pigmentation and a creamy texture 

Gluten-free, vegan composition 

Never been tested on animals 

Prevents color from feathering or bleeding 

Easy application with the crayon formula

13 different shades to choose from 

Compliments all skin tones beautifully 

Easily affordable option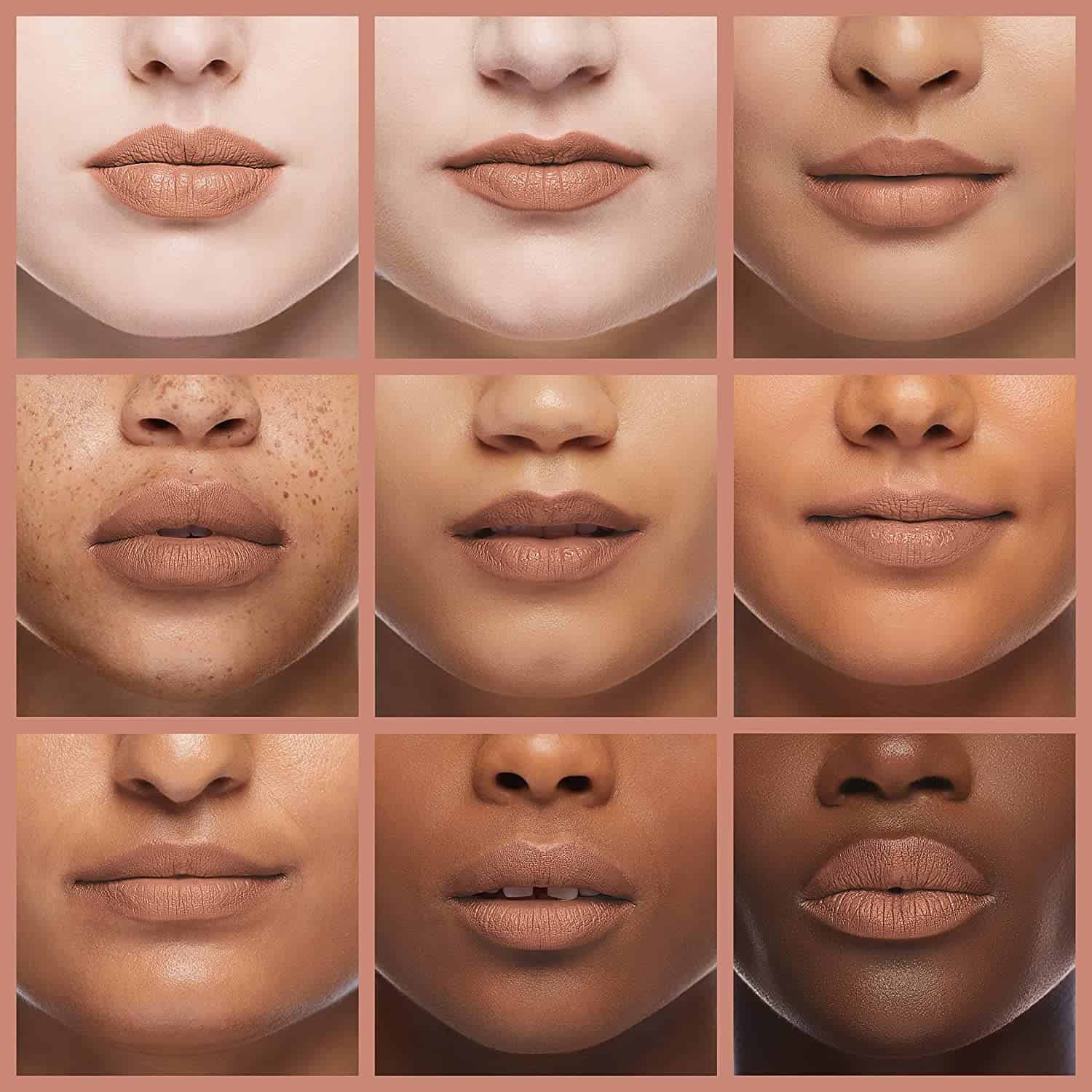 Drawbacks 
The lipstick does not glide smoothly
Maybelline New York Super Stay Matte Ink Liquid Lipstick, Poet, Light Rosey Nude
When one is out in quest of plumpy nude shades, being offered a list of tried and tested products can soothe the soul. But not many people will come to your rescue. Luckily, we are interested in the things you are, and we found out that the light nude rosy shade of the color Poet from Maybelline is just what you need on all days of the week to feel fresh and restored!
Sale
Maybelline New York Super Stay Matte Ink Liquid Lipstick, Long Lasting High Impact Color, Up to 16H Wear, Poet, Light Rosey Nude, 0.17 fl.oz
Perfectly Matte: Achieving a flawless, color-intense matte finish is just a swipe away with Maybelline Super Stay Matte Ink liquid matte lipstick. Get up to 16 hours of wear with this liquid lipstick in shade Poet for a light rosey nude lip color
Iconic Longwear Formula: The long lasting formula of this highly pigmented liquid lipstick gives you super saturated color in a smudge-free, matte finish. Color locks in, feels and looks fresh all day, with no transfer
Sculpt With Precision: Get effortless, smooth application every time with the unique arrow applicator. This matte lipstick glides on easily for comfortable all-day wear. Removes easily with Maybelline Super Stay Eraser lipstick remover
Explore Your Creativity: We're committed to celebrating beauty, self-expression and creativity with our full line of makeup, from foundations, bb creams, concealers and bronzers to mascaras, brow pencils, eyeliners and lipstick
Maybelline New York: The number 1 makeup brand for every look, style and skin tone; We combine technologically advanced formulations with on-trend expertise and New York City edge; Diverse, on the pulse, inspired by the city and tested on its streets
The saturated liquid lipstick is loaded with pigments that leave a bold impact and make everything else seem less important. It glides easily on yoru crescents and feels comfortable throughout the day without inviting irritation. The formula is creamy and dries into an attractive mattifying look. Pamper your pucker because there is no smudging involved. Next time you run out of all your beauty essentials and don't have anything to look glamorous, remember one swipe of this nude will have all eyes on you!
Perks 
Delivers long-lasting high, impact color 

Stays on for 16 hours 

Does not smudge or cause transfer 

It looks freshly applied all day 

Supersaturated and highly pigmented 

Locks into a matte finish 

Unique arrow applicator for smoother applications 

It can be removed easily 

Range of forty shades to choose from 

It suits all complexions beautifully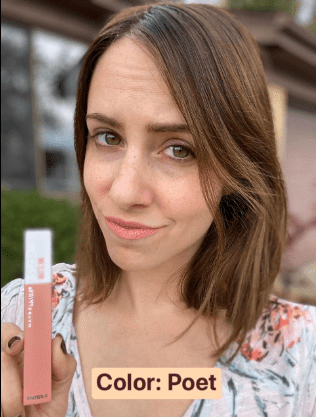 Drawbacks 
Feels incredibly sticky on your lips. 
Buxom Full Force Plumping Lipstick, Icon
"I don't want nude lipstick," said no woman ever. And no one ever will! That's because  Icon is here to give yoru lips an iconic look! Plump your lips in this super saturating shade from Buxom, and look confident throughout the day. The formula feels creamy and velvety, as it has been put together with handpicked elements like hyaluronic acid and conditioning oils. 
This fills up every inch of your pucker and offers other benefits like smoothening and hydrating them. The teardrop-shaped tip has been carefully crafted to allow you to add heavy definition to your Cupid's bow. Yes, it does cost just like MAC, but don't you feel your lips deserve to feel ultra-luscious and expensive? The satin finish is long-lasting and accentuates every bit of your lips seamlessly. We are picking this baby out for all our ZOOM meetings, are you?
Perks 
Enriched with hyaluronic acid, and conditioning oils

Tear-drop shaped tip offers precise application 

Delivers a rich payoff of satin color 

It gives full coverage and a luscious feel

Long-lasting effects

It feels smooth and hydrating, with a tantalizing tingle 

It makes lips plumper in one neat stroke 

16 creamy and bold shades 

The teardrop tip helps make an X in the cupid bow and adds definition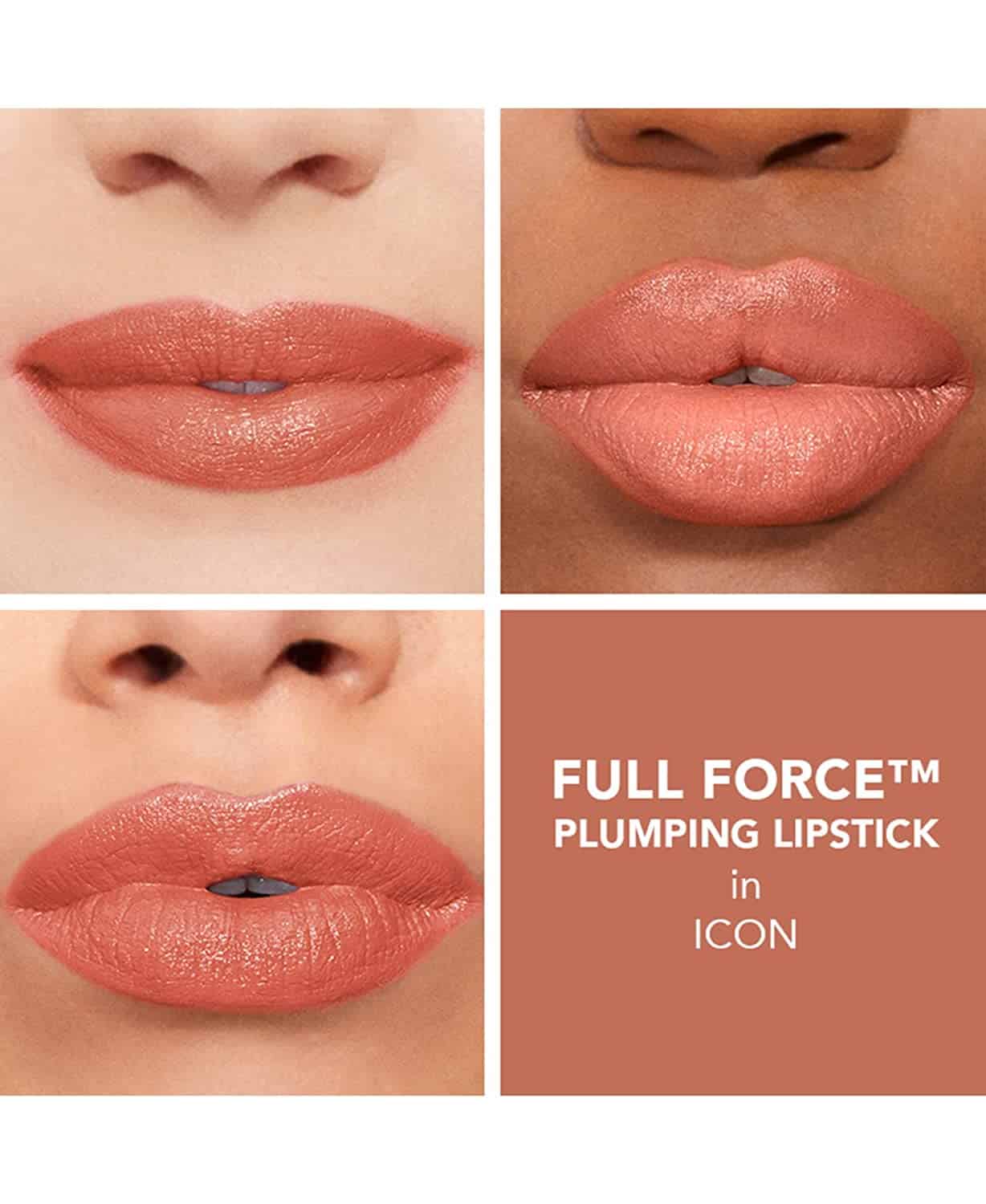 Drawbacks 
Expensive like Mac Honeylove 
Rimmel London Lasting Finish by Kate Lipstick "014"
With over 3k reviews on Amazon, the Rimmel London Lasting Finish by Kate Lipstick in the shade "014" is a creamy, soft lip color that claims to flatter all complexions. The formula is similar to MAC Honeylove, as this one delivers a no-shine matte creme finish that envelops your lips sumptuously and amps up your entire makeup within seconds. It promises 8 hours of wear, where it claims to stay in place without bleeding, and feels extra plush and luscious.
Rimmel Lasting Finish Lipstick, 014, Pack of 1
Long lasting color for up to 8 hours of wear.
Highly pigmented colours that flatter each and every skin tone and make-up look.
A soft and creamy formula that envelops your lips comfortably all day long!
Color Protect technology provides longer wear with 25% more color impact.
Apply in one smooth stroke to for an elegant after rouge cherry lips, a natural nude look, deep red lipstick, natural beige, or even coral lips; there's a shade to suit every style.
This is not too light or too beige but bold enough to allow other features and high points of the face to be highlighted. If you think our beauty bag needs a makeup staple, it is this one without any hint of doubt. The formula also introduces Color Protect technology, ensuring that your lipstick gets 25% more color. It compliments our skin tones and all moods. So, if you are investing your dollars, this lipstick offers you the most economical way out!
Perks 
Long-lasting effects for up to eight hours 

Flook flattering on all skin tones 

Deliver heavy pigmentation 

Feels soft, creamy, and comfortable

It makes lips more soothing and more kissable 

Infused with a unique

Color Protect technology 

Available in different shades that suit everyone's style 

It has a very economical price point 

Requires one smooth stroke for a rich payoff 

It gives 25% more color impact

It illuminates your dull pout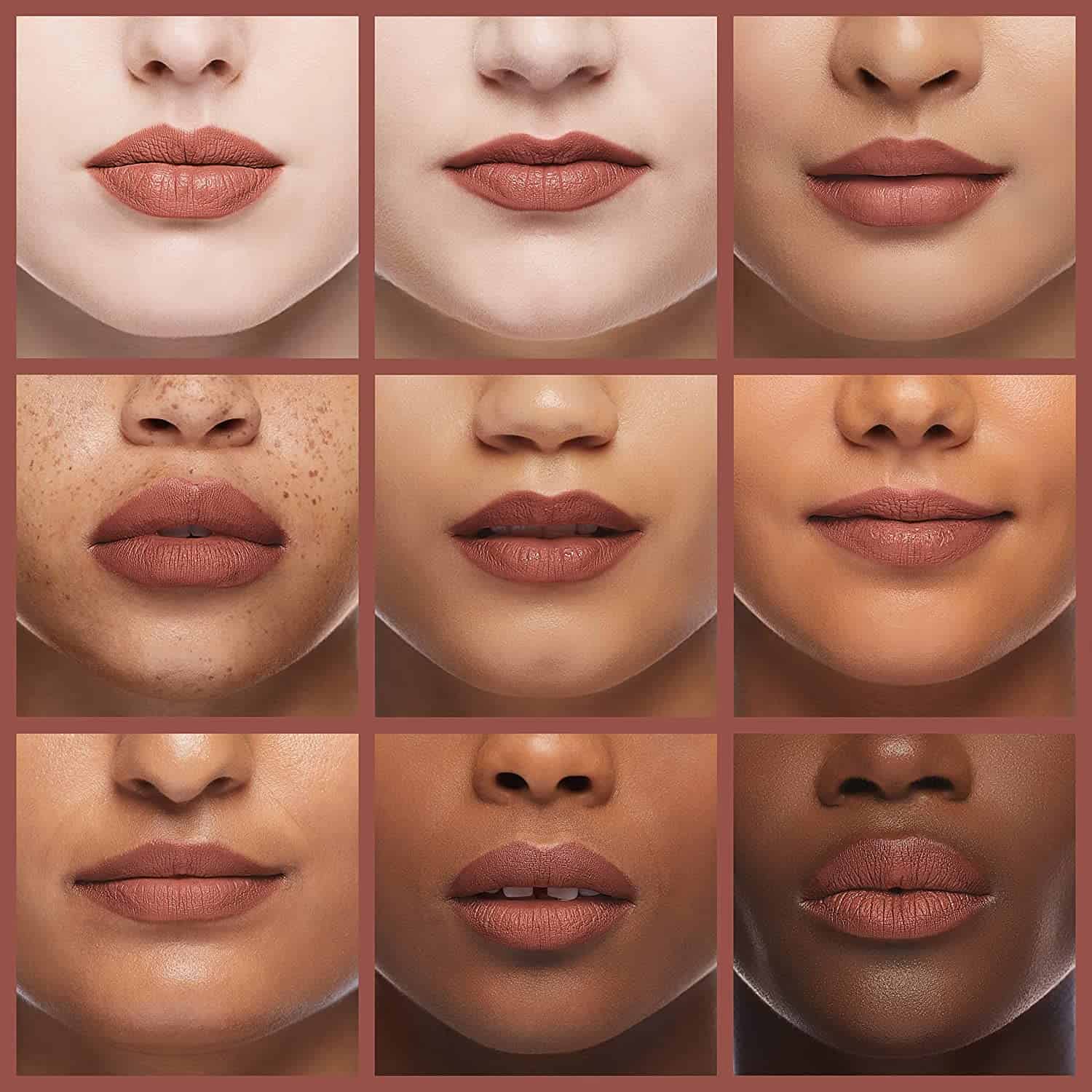 Drawbacks 
The color looks different in real.
Maybelline Color Sensational Lipstick, Nude Nuance
When we are talking nudes, it is impossible for the Maybelline Color Sensational Lipstick, in the shade Nude Nuance, not to make a dramatic entrance into the list! Favored by many makeup artists and beauty influencers, this shade is a holy grail in the true senses. No matter what you wear with it, it seamlessly blends in to add more finesse to your entire ensemble. It has the right undertones of coral brown and beige and feels the right thing to wear daily.
Maybelline Color Sensational Lipstick, Lip Makeup, Matte Finish, Hydrating Lipstick, Nude, Pink, Red, Plum Lip Color, Nude Nuance, 0.15 oz; (Packaging May Vary)
Matte Finish Maybelline Lipstick: This velvety, hydrating matte lipstick goes on in one swipe, delivering bold, intense color that lasts; Formulated with honey nectar for a sensuous finish
Color Sensational Lipstick: For hyperpigmented lip color in an ultra-hydrating formula, look no further than Color Sensational lipsticks; Available in matte, satin, and gloss and shades from nude to bold black
Maybelline Lips: Layer on intense color that lasts with Superstay 24 hr Lip color, slay a matte lip with SuperStay Matte Ink Liquid Lipstick, renew with Baby Lips Moisturizing Lip Balm, or add gloss to any color with Clear Lip Gloss Topcoat
Maybelline has what you need to create any look: foundation, bb cream, concealer and highlighter to create a perfect canvas, eyeshadow, brow pencils and eyeliner for any eye look and lip products, from show stopping matte lipstick to au natural lip balms
Remove Maybelline Makeup With Micellar Water: Use Garnier Micellar Water as a gentle makeup remover at night, and as a facial cleanser in the morning to prep skin for Maybelline makeup
The creamy matte finish delivers a bold pigment of color that is lightweight and comfortable simultaneously. Pure precious oils are put into this formula to make your lips hydrated for a long time without flaking or cracking up. It fulfills its job of enhancing the natural tone of your lips and spicing up their appearance. The best part is you don't have to break the bank to get this, and that's what we are counting on!
Perks 
Feels ultra-hydrating and sensational 

Follows a one-swipe formula to deliver a bold color 

Formulated with caring oils and honey nectar

Lasts 12 hours 

It gives your lips suppleness and comfort 

Enriched with shea butter 

Features a cream matte finish 

Boldly pigmented shades 

It has over 53k reviews on Amazon 

Available in 30 different shades 
Drawbacks 
Becomes cakey after some time.
FAQs | MAC Honeylove Dupe
What Colour is Honey Love MAC?
The Honeylove shade from MAC is a Light beige tone with undertones of rose, which brings out an altogether eye-pleasing color. 
What is the most popular nude lipstick of MAC?
The MAC Amplified Creme Lipstick in the shade Blankety has managed to grab a lot of eyeballs, with its soft hue being a game changer. The color tone also features a hint of pink, so if you are looking for a rosy nude, this is the perfect one.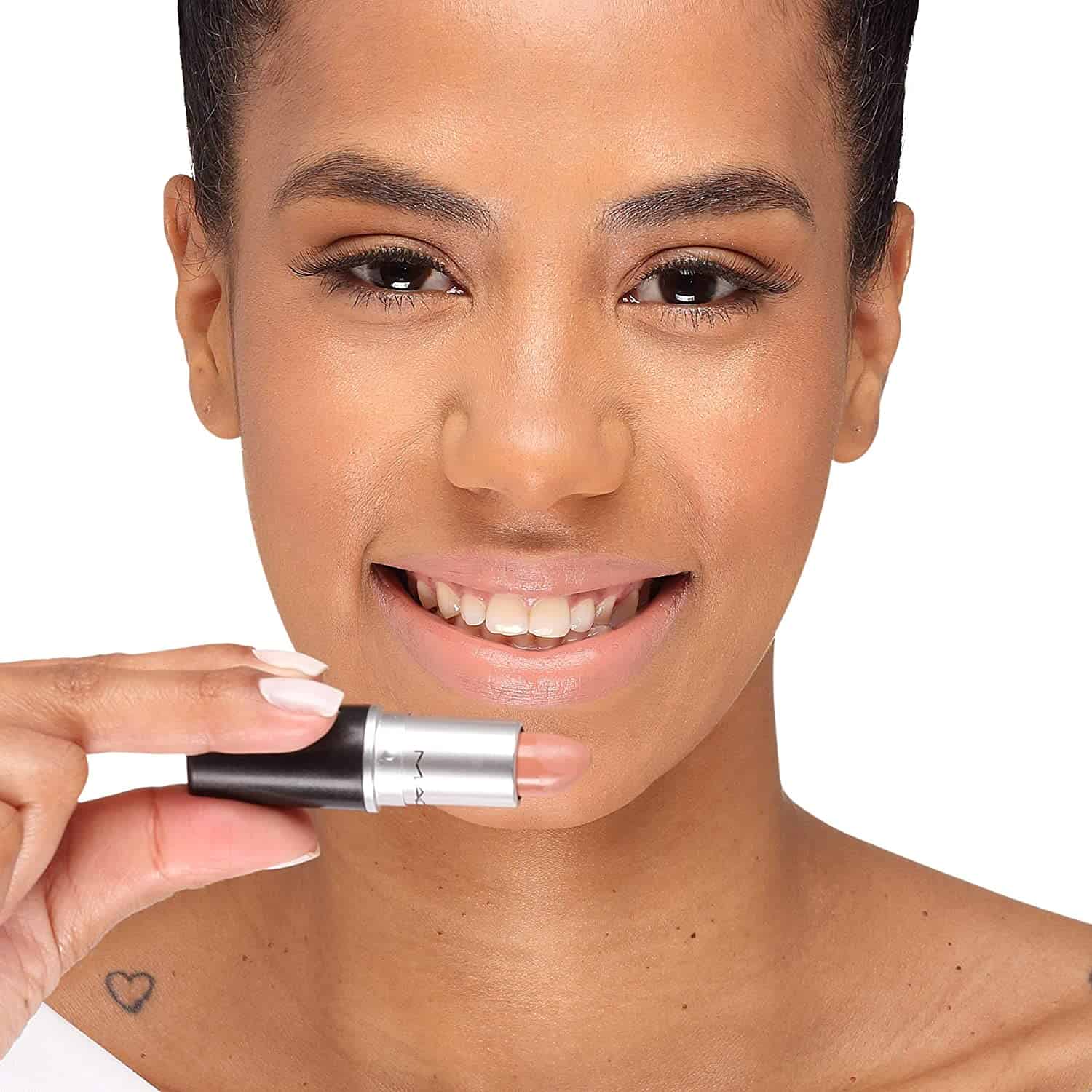 Which shade is best in MAC lipstick?
The MAC Matte Lipstick in Velvet Teddy, MAC Retro Matte Lipstick in Ruby Woo, MAC Matte Lipstick in Diva, and the MAC Satin Lipstick in Rebel are some of the most popular shades of the range, which have got people crazy to buy them. 
Which MAC lipstick lasts the longest?
The brand's RETRO MATTE LIQUID LIP COLOUR is a big hit whenever there is a discussion of which MAC lipstick lasts the longest. Yes, thirteen shades in this range have been bathed in a splurge of pigment. This allows your lips to feel smooth for 8 satisfying hours without bleeding or feathering. 
Closure 
From all the wide range of taupes, magentas, pinks, corals, toffees, and caramels you own, a nude strikes the perfect balance between too much and too less. So, what a shame if your makeup vanity does not have one! The ideal nude lipstick must be the perfect travel companion for all your vacations. It needs to have the right amount of everything, be it cool tones, warm tones, smell, color payoff, and most importantly, the price point! 
Balmy beiges, tan browns, matte and satin chocolates are not only a good start, but also suit every complexion if you want to get your way around a good nude. According to news from many beauty editors, this guide of MAC Honeylove Dupe will quench your thirst for having a luxurious nude shade without putting a dent in your purse. Users revealed that it made their lips feel luscious and cared for. We have got our lipstick priorities sorted for this season. Have you?