Who doesn't like well-polished beautiful nails? Beautiful nails always make us feel like we are well-maintained and kept together. But do we want to spend on professional manicures every time? Probably, no. That's when we need Nail Polish. Selecting a Nail polish might seem daunting because something is always left out no matter how hard you try to find a good nail polish. Sometimes the nail polish chips off, and you might not like the texture.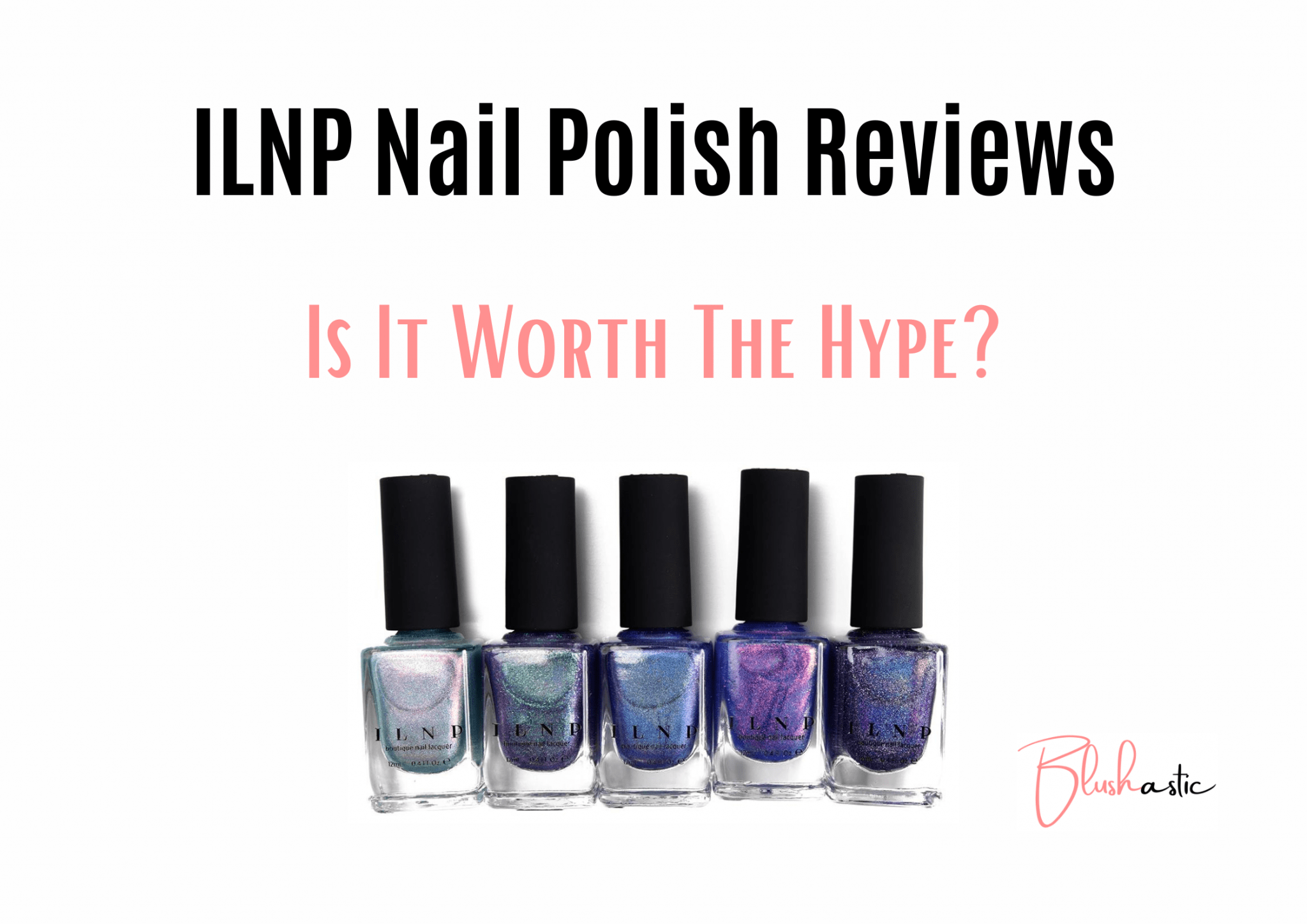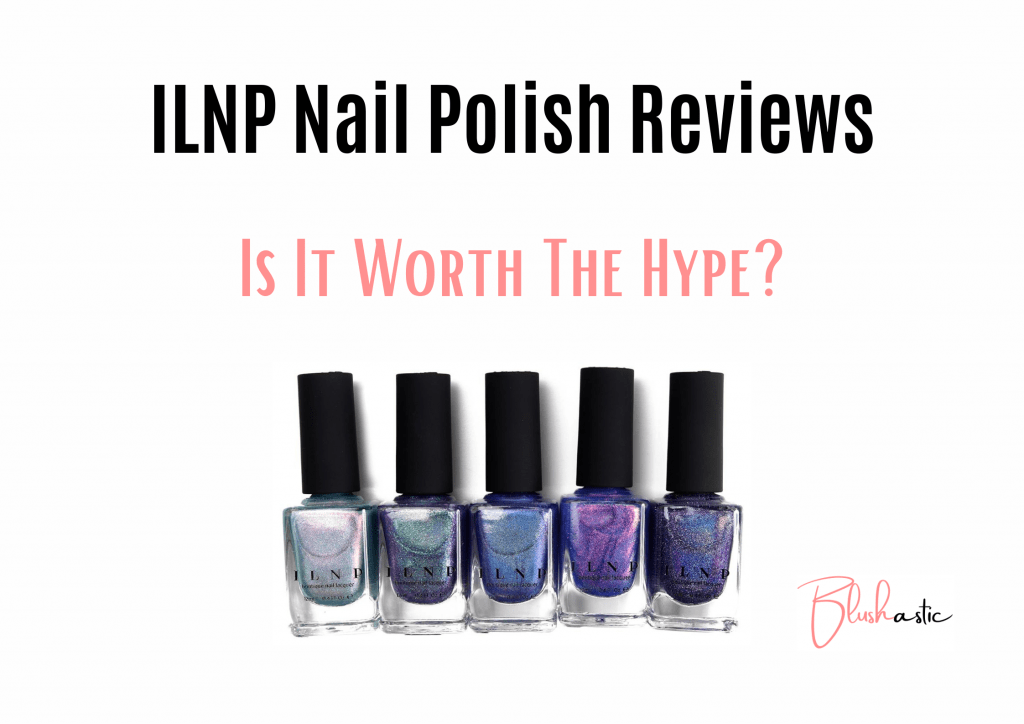 The worst part is if you get everything perfect, you don't find the shade you want. ILNP nail polishes have been in the Limelight for quite some time now. These nail polishes claim to give you a manicured look at a cost much less than a professional manicure. Let's look at ILNP nail polish reviews and see if they are worth it. You must go through this article to learn about these nail polishes and decide if you want to buy them.
ILNP Nail Polish Reviews | Is it Worth the Hype?
ILNP sells one of the most high-end nail polishes in the market. This brand has a variety of multi-chromes, duochromes, and glitter too. It offers a wide range of high-quality boutique nail polishes. Most of their nail polishes are metallic, glitter, holographic or jelly. It is like a world full of sparkles and glitters.
They have the perfect shimmery finish that you love. ILNP has creative nail polishes. Each one of their shades has a unique statement look. It is never a single solid color but rather something playful and bold. Their nail polishes have color-shifting features, chromes, and loads of glitter.
But the brand is not just about dazzling and shiny nail polishes. They also have a wide range of subtle and calm shades that you might need for professional purposes. They have shades to suit your bold look too. They also have several collections if you enjoy a particular style but want different tones. ILNP has a variety of products ranging from subtle to loud shades and an infinite number of shades to suit your mood and look. 
ILNP's products are cruelty-free. They neither test their products on animals nor collaborate with organizations that do so. Their products are also very safe for your nails as they are free from toxic and harmful substances such as xylene, camphor, formaldehyde, etcetera. Therefore ILNP can be your go-to ethical brand, and you don't need to think twice before placing your order with them.
How to apply?
ILNP presents you with a variety of colors and shades. And not just that, they also have glitters, holographic, and chrome shades. This means you can choose any shade and style according to your mood, look, and occasion.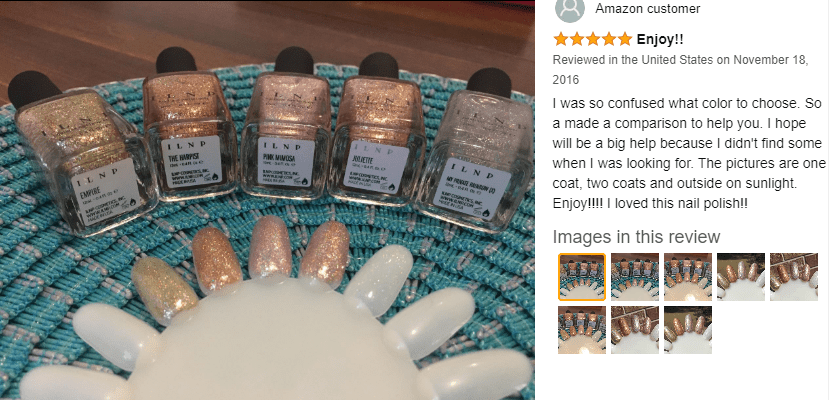 You can choose a subtle and pastel shade of pink or a nude shade to match your office look and suit your professional vibe. Apply a pretty shimmer or glitter shade when getting ready for a party. To own a statement look, you can use a holographic shade. Their multi-chromes and duochromes are very attractive too. ILNP has a shade for every look, every mood, and every occasion. They provide you with beautiful nails without having to go for expensive manicures. You can use UV light to dry it up.
Here's a step-by-step processor applying the ILNP nail polish.  
Before starting to apply your nail polish, you must prepare your nails.

Apply petroleum jelly to prevent the polish from staining your skin. Soak your nails in warm water.

Push back your nail cuticles and moisturize your nails and the skin around them. 

Make sure the previous coat of your nail polish has dried adequately before applying another one. 

Try to apply at most three layers of nail polish. 

Make sure to apply a base coat before you go for the top coat. 

Clean your polished nails using an earbud and nail polish remover. 
Advantages
The advantages we have gathered from the numerous ILNP nail polish reviews are below. 
One of the ILNP range's significant advantages is that it is safe for your nails and is non-toxic. They are free of harmful substances such as xylene, triphenyl, toluene, paraben, and formaldehyde. 

Their products are cruelty-free and completely vegan. Only high-end products are used by them that do not harm the environment.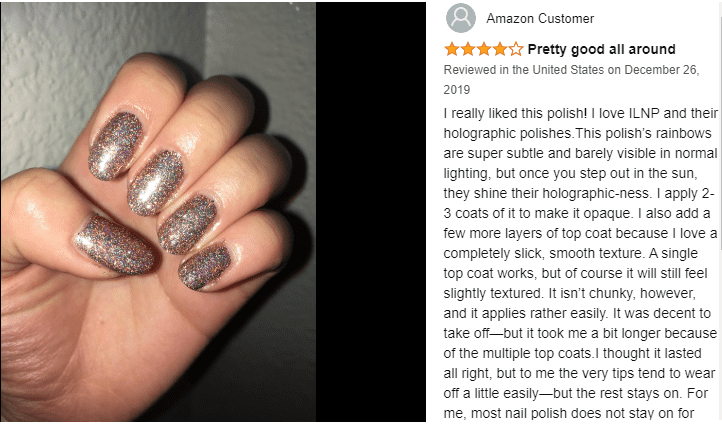 Their nail paints provide a unique holographic look without any grainy texture. 

The finish is smooth as silk and is long-lasting. It does not chip easily. 

They provide maximum coverage in two to three coats. No need for a base coat either, as they are fully opaque.   

The best "special effects" nail polish available in the market.

Super reliable and gentle on skin formula.

Attractive and luxurious design 
Disadvantages
We also came across a few drawbacks in the ILNP nail polish reviews.
The nail polish can be hard to wear. It is more difficult to apply nail polish than to get a manicure done by professionals. 

It might take longer to dry, which can be uncomfortable. If you apply nail polish at home, you will not have a UV Nail Polish dryer. In the absence of professional tools, nail polish takes longer to dry. 

Its texture needs to be liquid enough to be applied easily. ILNP Nail Polish has a thick consistency and might get clumpy if not used properly. 

The sparkle and shimmer might be too much at times. 

ILNP usually offers only high-end nail polishes, which might be a bit costly for significant sections of society.
Customer Feedback | ILNP Nail Polish Reviews
No one likes to see their nail paint chipped off just a day after they apply it or to have a shade other than what they see and enjoy. So to save yourself from such disappointment, you need to be thorough with the actual reviews of any product. 
As stated above, ILNP nail polishes also have several advantages and disadvantages. Now let's move on to the ILNP nail polish reviews customers give. 
Persia commented, "I am impressed with the ILNP nail polishes. It was super duper easy to wear. It did not chip off and looked as good after a week as it did the day I applied it. The color comes up most beautiful ever. The best part is that the glitter nail polish does not leave a bumpy or gritty texture. The finish is very smooth. In my opinion, it is worth the hype and absolute value for the money. It is perfect in every way, and I love it."
Another one said, "The best part about this is the color. It gets opaque in just two coats. There is no need for more coats. And the sparkle is so pretty. I love its smooth texture. The other glitter nail polishes leave a grainy texture, but this one is smooth as silk.
You do not have to reapply it often as it does not chip even after 2 to 3 weeks. It looks as good as it was the day I applied it. Also, glitter nail polishes are usually very hard to get rid of. But this one is just as easy to remove as it is to apply. ILNP has a shade and style to match every one of my looks and go with every outfit of mine. I love the brand." 
Sarah commented, "I came through ILNP a year ago while browsing. I had not heard of the brand before that. I placed my first order and was in love with the quality of the product. Since then, this has been my favorite nail polish brand. I love how the holographic color appears in the sunlight. It shines so brightly and gives a glossy look to my nails. The glitter nail polish gives a fantastic look at night. One of its rare qualities is that you can add it to the tips of your nails where it wears down, and it will perfectly blend with the previously applied nail polish. Isn't that wow?"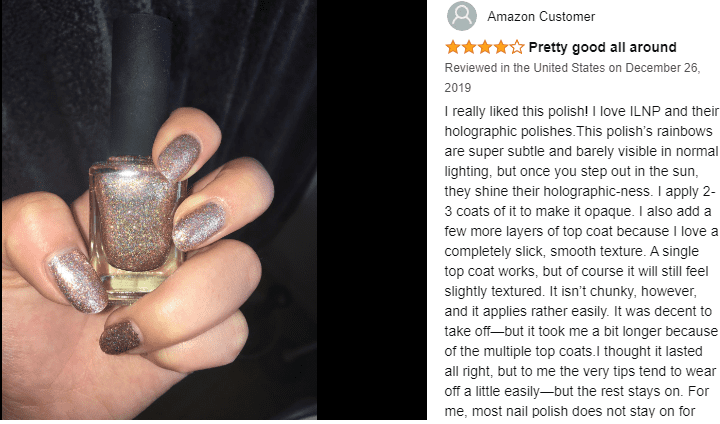 But ILNP is not just about positive reviews. According to the ILNP nail polish reviews, some customers were not that satisfied with the product they got and thought of it as a waste of money. 
Eugenia said, "It was great when it was new. But now, after a few months, it is just a disappointment. Its texture has completely changed and is not worthy of being applied. Its color is not that bright, either. It did not give the right texture and the perfect opacity even after applying 4 to 5 coats. A huge disappointment and an absolute waste of money."
A majority of people thought of ILNP as a fantastic brand. They loved the nail polish, its texture, color, and the look it gave them. But as you read above in the ILNP nail polish reviews, a few customers were not content with the product and would not recommend buying it. 
FAQs | ILNP Nail Polish Reviews
How to Use ILNP Nail Polish?
ILNP provides customers with several nail polishes, including Jelly nail polish, holographic, toppers, and ultra chromes. The method of application is the same for all these types. Apply a precise quote on clean nails. Let it dry. You can add a top coat to make the nail polish last even longer. ILNP suggests applying two coats of nail polish to get a vibrant color.
Where is ILNP Nail Polish Sold?
Some reviews suggest that these are worth a shot. ILNP nail polishes are sold on the official website of ILNP and Amazon. You might find new launches and incredible discounts on these nail polishes during Christmas and other occasions.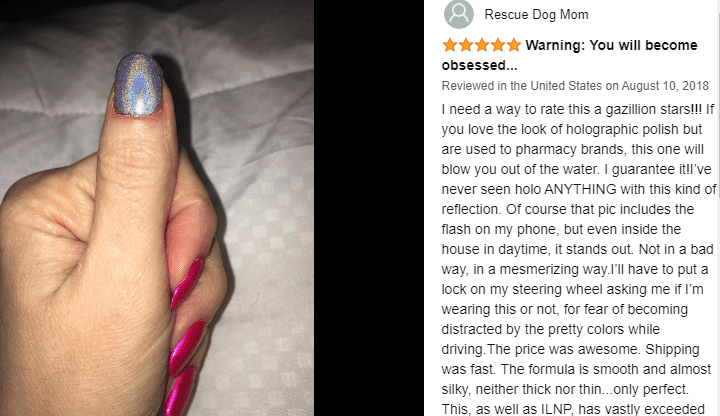 Is ILNP Nail Polish Good?
ILNP is a nail polish brand and has been around for a long time. They provide various colors with different finishes, ranging from matte to chromes. Some users suggest that these nail polishes are what the price is and do not chip off. However, they are easily removed with nail polish remover.
What are the Ingredients in ILNP Nail Polish? 
ILNP is an entirely cruelty-free product brand. It does not even take raw materials from suppliers who are not cruelty-free. The nail polishes are nontoxic and safe to use. ILNP nail polishes do not contain Toluene, Formaldehyde, or Dibutyl Phthalate; our nail polishes are also free from Formaldehyde Resin, Camphor, Ethyl Tosylamide, and Xylene. This nail polish's vegan and cruelty-free formula make it a go-to choice for many people. 
Final Words
ILNP is a brilliant nail polish brand that offers a wide range of varieties in both shades and finishes. This brand got a lot of hype from social media, and now everyone wants to know how it works. 
ILNP gives more than 24 shades of nail polishes which are suitable for almost all occasions. ILNP nail polish reviews suggest that these nail polishes do not chip off. They also stay on for a long time and provide a vibrant color. You can go through all the shades of ILNP nail polishes on the official website and choose the one that matches your needs. They also have holiday collections, which have Perfect combinations of colors for different occasions and seasons.
The nail polishes are vegan and cruelty-free. Suppose you care about the planet and the animals. There might be other reasons to try this product, but this adds bonus points. 
Rebecca is a skilled writer with a passion for makeup and skincare. With years of experience in the beauty industry, she has a deep understanding of the latest trends and products and a talent for creating engaging content that resonates with her readers. Whether she's writing about the latest skincare products or sharing her favorite makeup tips, Rebecca's writing is always informative, entertaining, and inspiring.