If you are also seeking relief for your dry, cracked lines making a sharp mark on your face, a punchy moisturizer is all you need. Moisturizers form an integral part of our daily skincare regimen. So, we must have something that is both comforting and compelling.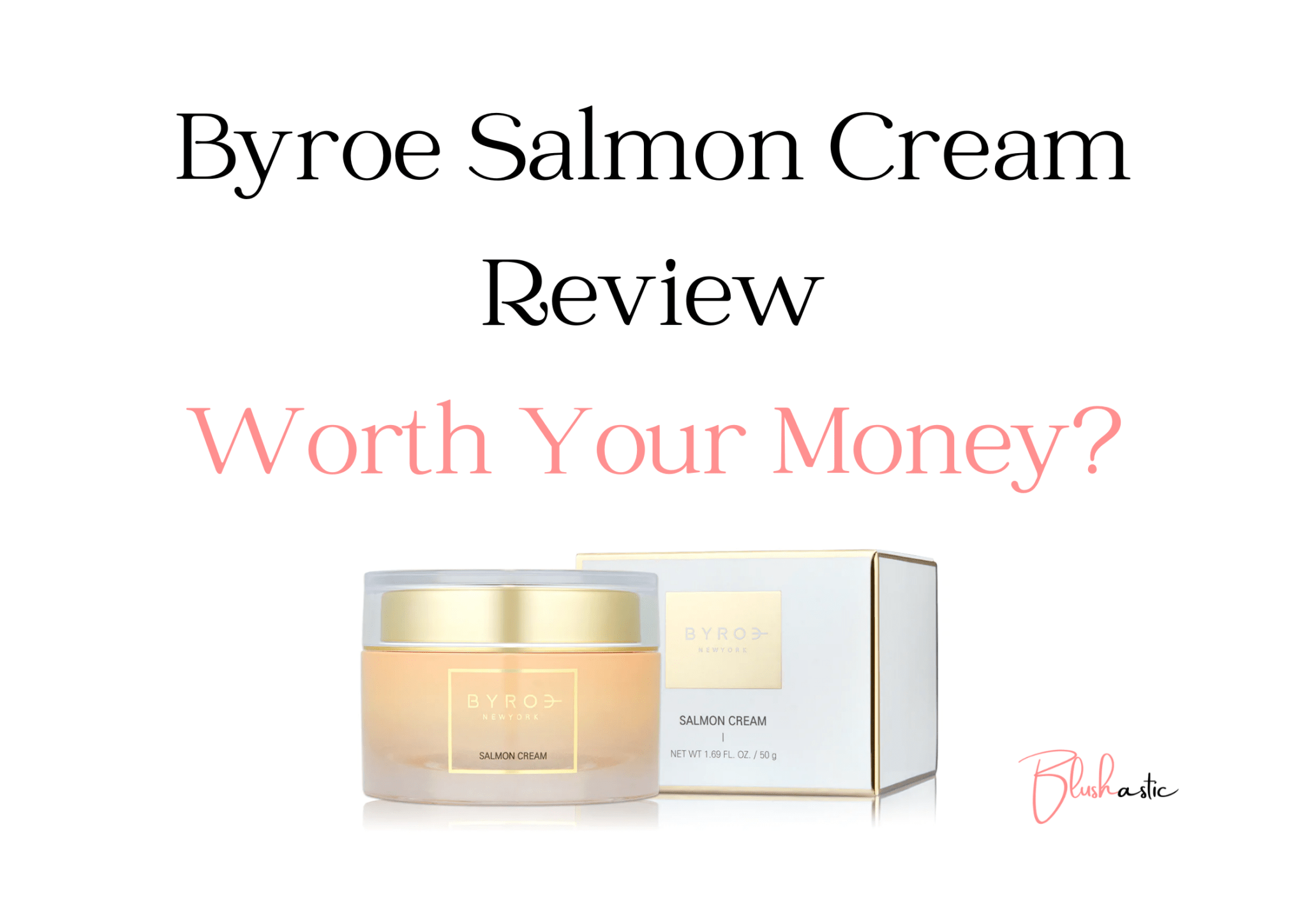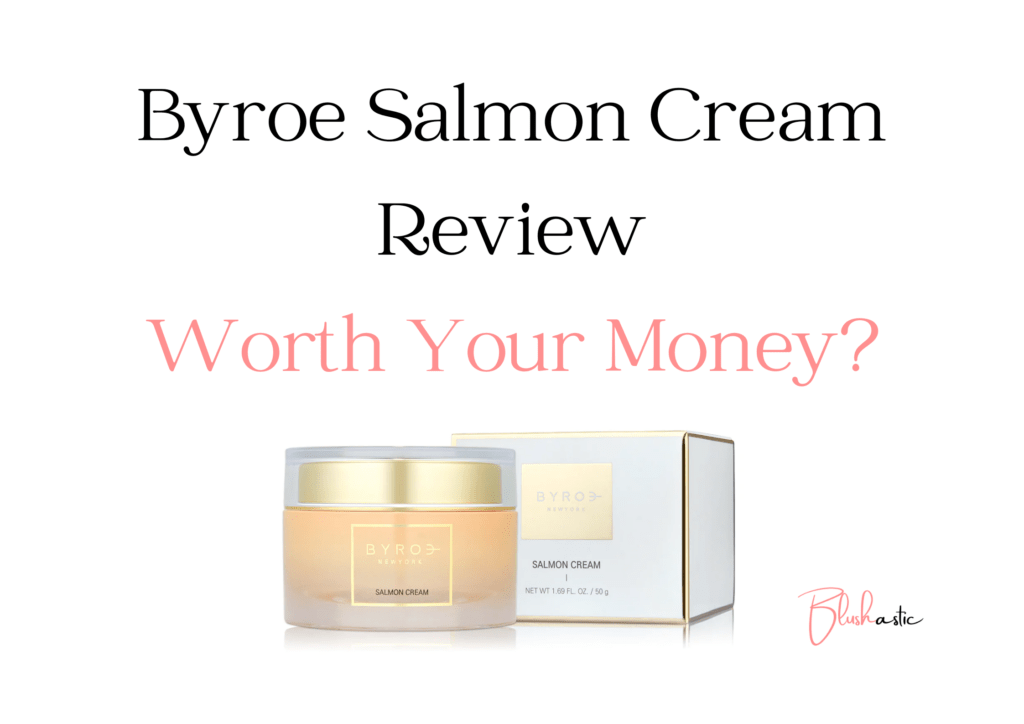 It brings us to Byroe's Salmon Cream, which vows to do the same and has a quirky composition. But let us see if our Byroe Salmon Cream Reviews pass this claim. As we unpack its performance, usage, ingredients, perks, side effects, and reviews, learn about this product and know if it's worth your purchase.
Byroe Salmon Cream Reviews | Truly Moisturizing Or Merely A Mimic?
Byroe is famous for its skincare products infused with the properties of food items. Speaking of its Salmon Cream, it has protein-rich salmon egg extract (Salmon Caviar) and other skin-friendly ingredients that the brand claims bring an overall even-toned radiance to our skin's texture and complexion. It also boasts of the plenty of benefits of Salmon Caviar. Furthermore, it heals the skin's moisture barrier, preventing transdermal water loss.
Does salmon make you look younger? While the Byroe Cream contains antioxidant-rich salmon, which may help you look younger, it is best to use products created exclusively to counteract signs of aging. For example, Eelhoe Collagen Boost Serum is a potent product that effectively reduces wrinkles, restores sagging, and fades dark spots to give you a healthy and younger-looking appearance.
Where to buy Byroe Salmon Cream? You can find Byroe Salmon Cream on Amazon and other offline and online retailers. Most people get it as an add-on from their beauty subscription site, IPSY.
How To Use?
If you also wonder how to use the Byroe Salmon Cream on your face or other body parts, know that it is just a breeze, but to get the correct application, follow this step-by-step process.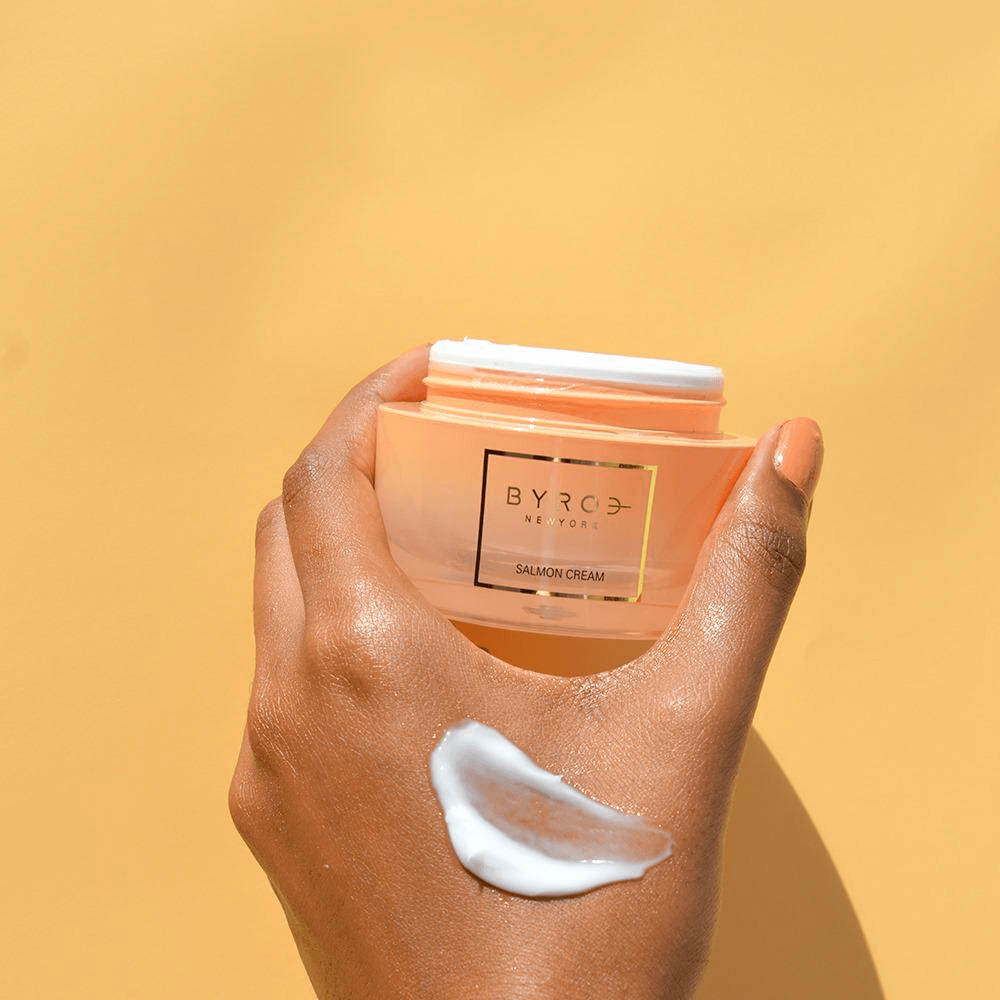 Cleanse your face with your daily cleanser.
You can apply your regular serum or use the bell pepper serum by Byroe on your damp skin. It absorbs quickly, hydrating your skin and retaining its moisture.
Using your fingertips, apply dots of this cream on your forehead, cheeks, and chin.
Blend across and gently massage your face. You can apply it to your neck and chest.
You can use it twice daily (both AM and PM) alongside your regular skin care products.
Ensure that the other items you use in your daily skincare do not react with each other. Besides, if this cream makes your skin uncomfortable, cleanse your face and cease its use. Seek medical aid in this case, if necessary. Let's see in the next section if this cream has anything you should be concerned about.
Byroe Salmon Cream Ingredients
This product is indeed hydrating as its initial ingredients are water and glycerin, which intensely moisturize the skin and prevent water loss. Consequently, you get a long-lasting moistened skin surface that looks soft and supple.
Niacinamide, or Vitamin B3, is a potent ingredient and an antioxidant. It yields plenty of skincare benefits that work wonders on our skin eventually. It lightens our complexion, diminishes pore size, treats inflammatory skin conditions, and performs other anti-aging roles.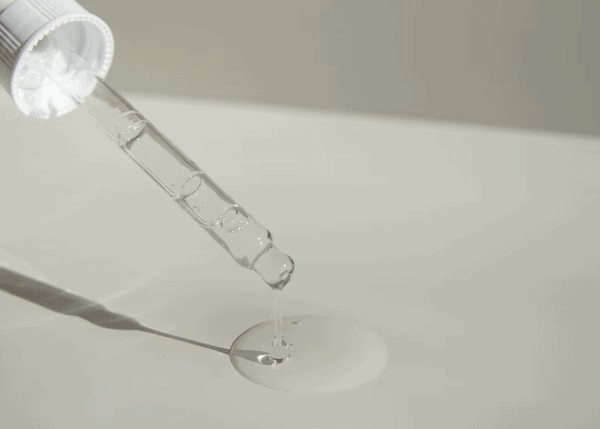 Methylpropanediol stimulates the penetration rate of this cream's other ingredients, enhancing their overall functions.
Cyclopentasiloxane in this product is an emollient that lubricates the skin and makes the cream's texture silky.
Salmon Egg Extract or Salmon Caviar is one of the best origins of omega-3 fatty acids with high doses of Vitamins A and E.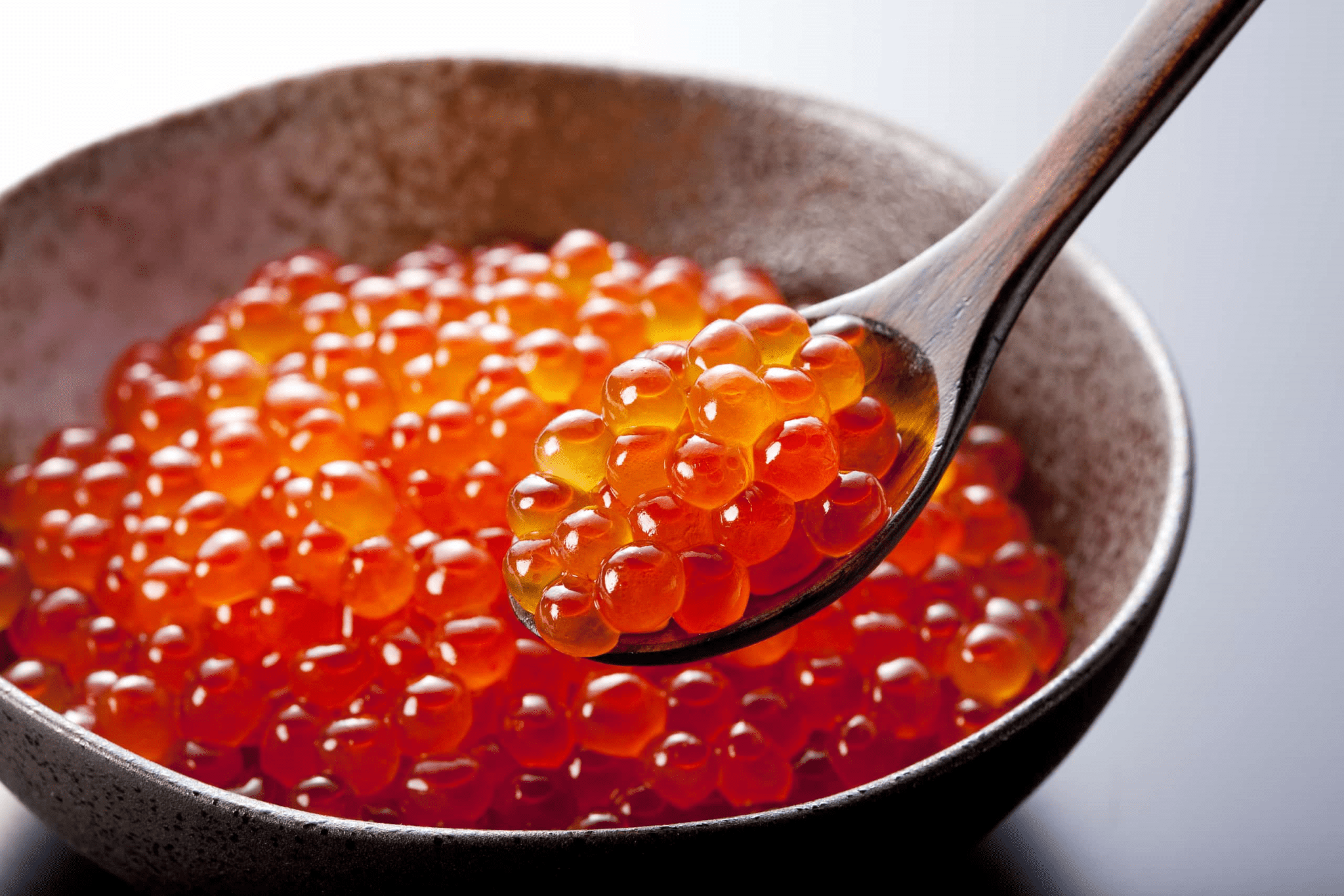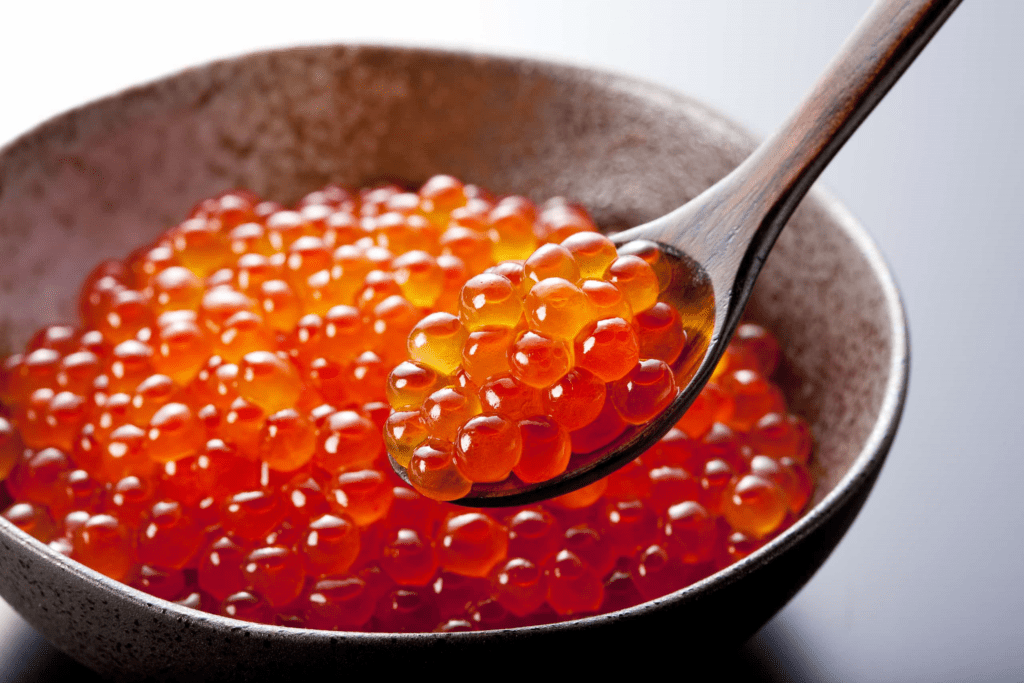 A Few Concerns
Fragrance in this product may trigger allergic symptoms, especially if you have sensitive skin. It is an amalgamation of different oils and aromatics and has vague details. Dermatologists also suggest avoiding using products with fragrances.
Disodium EDTA is an additive in skincare that products to maintain its integrity in the long run. But it may make your skin dry sometimes.
Phenoxyethanol is a preservative, too, that may irk some skin.
These are a few ingredients you should look at before purchasing this product. You can view its list of complete ingredients by clicking here. Moving ahead, let us see the pros and cons of this cream.
Pros of Byroe Salmon Cream
It is lightweight, fast-absorbent, and does not leave an oily or greasy feel.
It may suit almost all skin types, but it is best on dry, aging skin types.
You get holistic care for your face, neck, and chest areas when you use it daily.
Niacinamide brightens the skin tone, and anti-aging peptides boost collagen production and firm the skin instantly.
The Salmon Caviar gives an all-around benefit of protecting our skin from oxidative damage that causes premature aging.
It has UV-blocking astaxanthin that gives the fish its color. This robust antioxidant fades fine lines and wrinkles and shields cell membranes from radical damage.
The product has the backing of successful clinical trials to prove its efficacy in alleviating dryness, improving hydration, and minimizing fine lines on the skin.
This salmon cream is free of triclosan, paraben, mineral oil, phthalates, and benzophenone.
The texture of this moisturizer is rich and creamy and works great on mature skin, too.
It moisturizes deeply, making your skin supple, smooth, and soft for extended hours.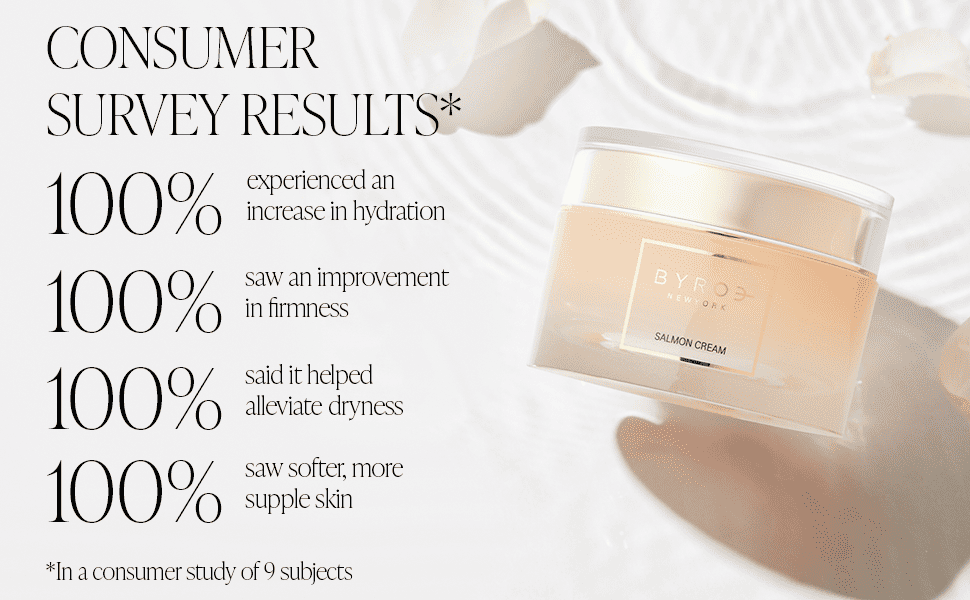 Cons
It is expensive!
It gives off a light smell.
A few ingredients may irritate sensitive skin.
Sometimes, your skin may peel after you apply it.
This product has silicones, so it may not suit oily skin types.
If you are looking for a Byroe salmon cream dupe, I suggest you try Numbuzin's Velvety Beauty Cream. This cream contains roughly the same ingredients and benefits as Byroe's Salmon Cream, coming at a very reasonable price for the quantity that it offers. 
Customers' Tales | Byroe Salmon Cream Reviews
Before you delve into other people's feedback, let me share mine first. So, I came across this cream through Ipsy's BoxyCharm. Even I was reluctant to see why they would use salmon in skincare. Would it smell like salmon? But this lightweight moisturizer was just the perfect choice for my dry skin.
And no, it did not smell like salmon; it had a mild fragrance. My post-application skin always felt hydrated and nourished. I always used the Byroe Tomato serum before the cream. Anyways! I had to discontinue the use as it is expensive. This cream came off as a savior to me, but let's see what others feel about it.
Mally shares, "I have a tad bit oily skin, and I searched if I can use Byroe cream for acne. It had some ingredients helpful on acne-prone skin, and since its prime ingredients are water and glycerin, I guess it worked without breaking out my skin."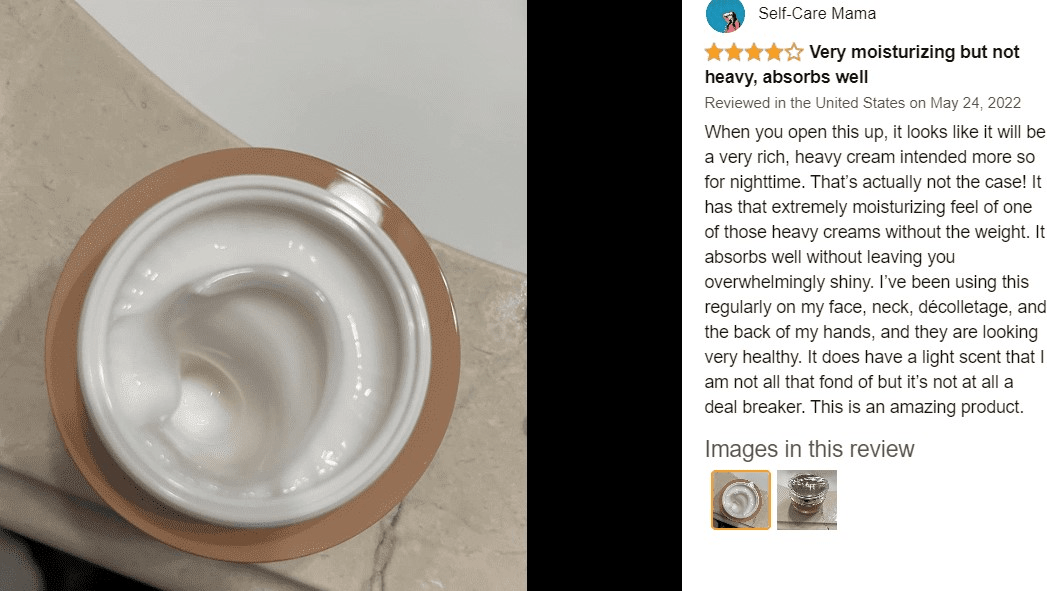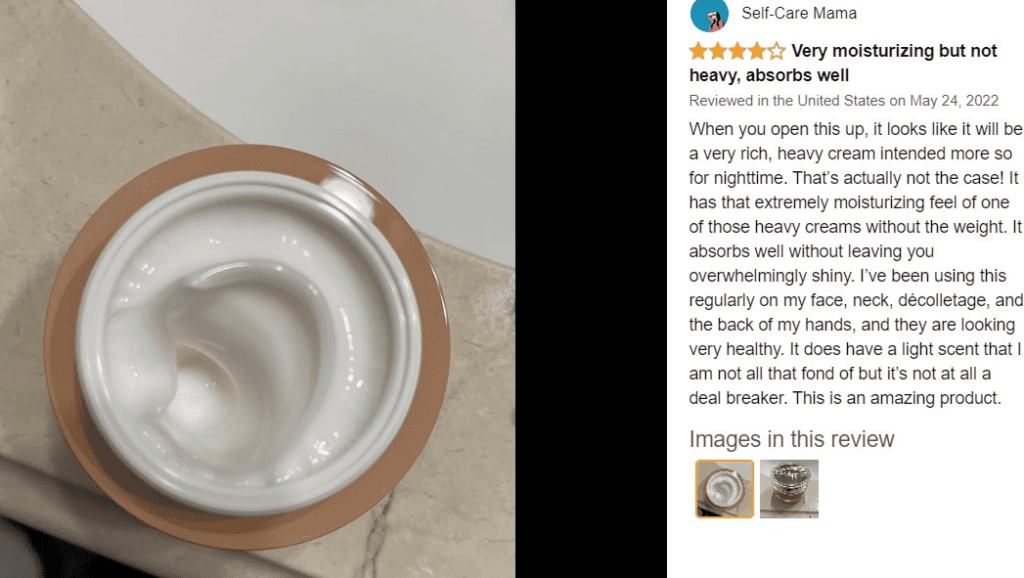 Sandra mentions, "I like how densely creamy it is but does not feel thick on my skin. After seeing a Byroe salmon cream Reddit review, I was convinced to use it, and I'm already in love with it."
Katie claims, "My skin peeled and burned after using this cream. So, I don't know about others, but I am not recommending this cream to anyone."
As you can see, this product got mixed reviews. It fared well on some skin and not on others. Do a patch test of this cream on your neck and leave it for 24 hours beforehand untouched to see if this cream works on you. Discontinue if you sense any irritation.
Frequently Asked Questions | Byroe Salmon Cream Reviews
Some questions are buzzing around the salmon cream and, more importantly, the food item, salmon. Let us know about them.
What does salmon cream do?
The Byroe Salmon Cream moisturizes and nourishes the skin deeply to revitalize your skin and make it vibrant and healthy-looking. It also makes your skin supple, smooth, and free from getting dry for up to many hours. Plus, it has other benefits of the age-defying skin look we saw earlier.
Does salmon tighten skin?
This salmon cream can make your skin firm and elastic. Even in the consumer study of 9 participants, after four weeks, the users saw an improvement in their skin's firmness level. Besides, it stimulates collagen, naturally maintaining our skin's elasticity and volume.
Is salmon perfect for your skin?
Salmon has a tremendous amount of omega-3 fatty acids that make your skin glow, fight inflammation, boost collagen secretion, and help make your skin healthy. Salmon skin has plenty of nutrients like vitamins, antioxidants, and omega-3 that help treat acne.
Can salmon reduce wrinkles?
Salmon in both food and skincare helps with treating and lessening wrinkles. It is famously called an anti-aging food item for the kind of similar benefits that omega-3 fatty acids have on our bodies. Moreover, topical creams, like in Byroe, help diminish wrinkles and fine lines upon continuous use.
Closure
As we move closer to the end of our Byroe Salmon Cream Reviews, we see that this cream is distinctively built and incredibly potent. You can conveniently incorporate it into your daily skincare. The formulation of this moisturizing cream is composed of many skin-friendly ingredients that bring textural changes and a glowing tone later.
However, a few ingredients, like fragrance and others, ignite a sense of concern. Even the mixed reviews speak of a must-do prior patch test that we should pay attention to. Overall, Byroe Salmon Cream looks promising, but to know if it would work on your skin type, scan the details mentioned above and patch test before use.
If you have further queries, drop them down in the comments section, and expect an answer soon.
Marilyn's deep interest in fashion, beauty, and lifestyle has led her to pursue a fulfilling career as a freelance writer and blogger. With her bachelor's degree in fashion design from the Fashion Institute of Technology, she has developed a keen eye for style and trends, making her well-equipped to offer valuable insights into the latest fashion and beauty trends.