Don't you love to blink dramatically looking in the mirror? We love when our eyes do the talking. So, why stop flaunting yourself as you age? Beauty brands mindful of launching products that complement our graceful aging are simply adorable. Not only do mascaras boldly coat our eyelashes, but they also give our eyes a beautiful feeling. One such mascara that goes along these lines is Boom Bright Pro Age Mascara. But is it worth a try? Let's know about it in our Boom Bright Mascara Reviews.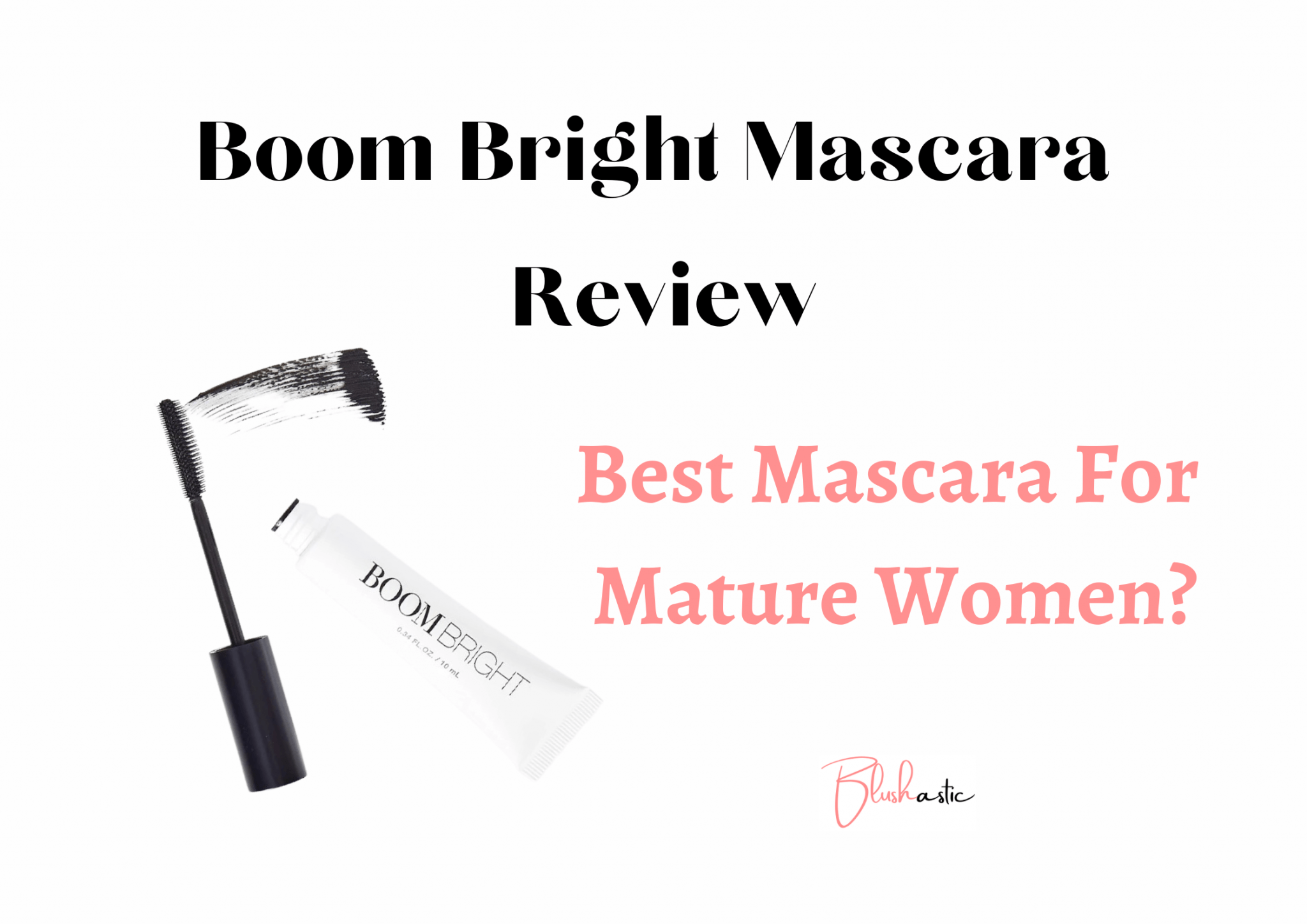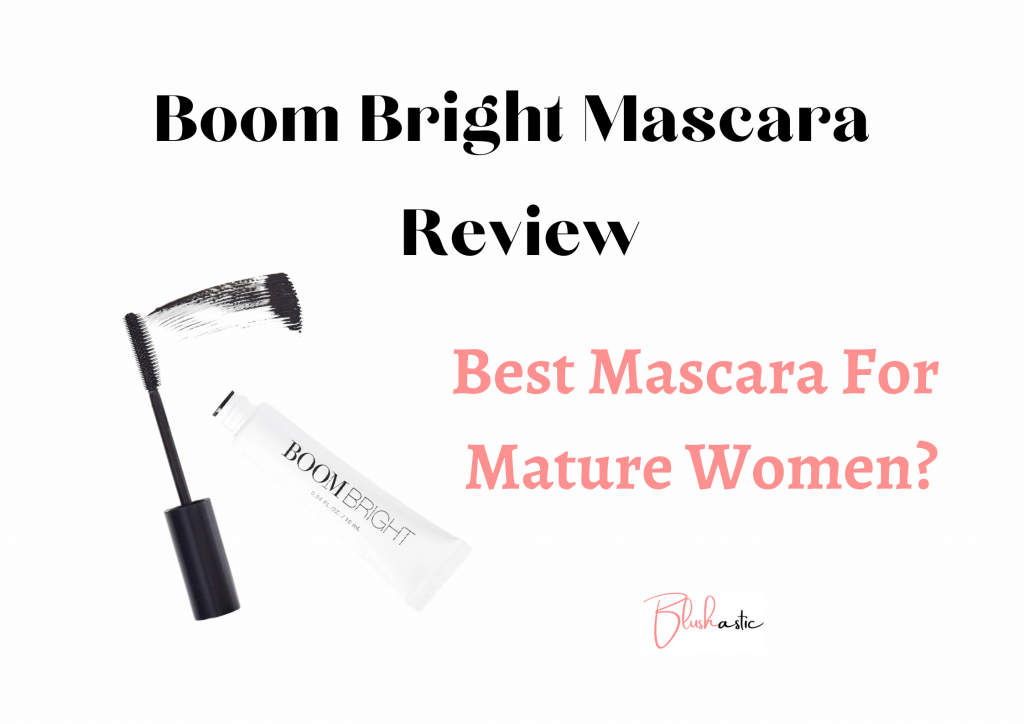 More often than not, we find brands claiming to be the right ones for our skin and age. But what veracity do they hold? Do they have any side effects? I assessed this product on various fronts to present the complete picture.
Boom Bright Mascara Reviews | Is It Worth A Try?
Boom Bright mascara comes to the rescue for women over 50. It belongs to the brand BOOM! by Cindy Joseph, which has different beauty products under its umbrella. Multiple videos on YouTube certify that Boom Bright Mascara is the perfect product for pro-age women. But they don't come with a clear assertion that they are unsponsored. 
This article is entirely non-sponsored, and we strive to put facts forth and judge the product based on various elements. But before you see the detailed report of this product, know, in short, what affects your eyelashes that changes the whole look of it.
How do eyelashes change as we age?
Like the hair on our scalp naturally thin as we age, our eyelashes are no exception. It goes through the growth cycle, stays, sheds, and rejuvenates. The process continues up to a certain point. After which, our eyelash follicles (minute skin openings from where the eyelashes come out) slow down or even stop producing new lashes altogether. Thinning of eyelashes is a natural outcome of the aging process.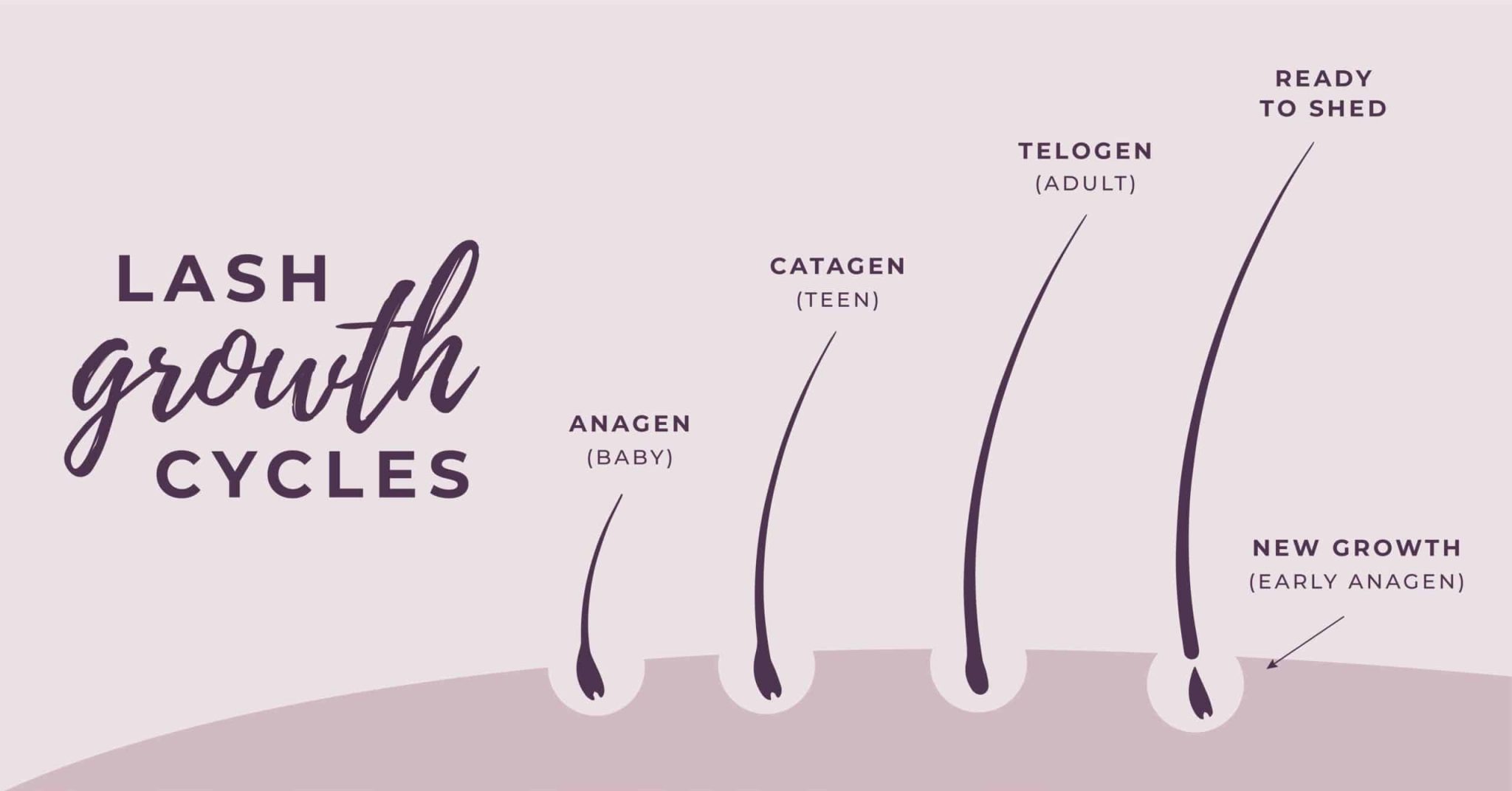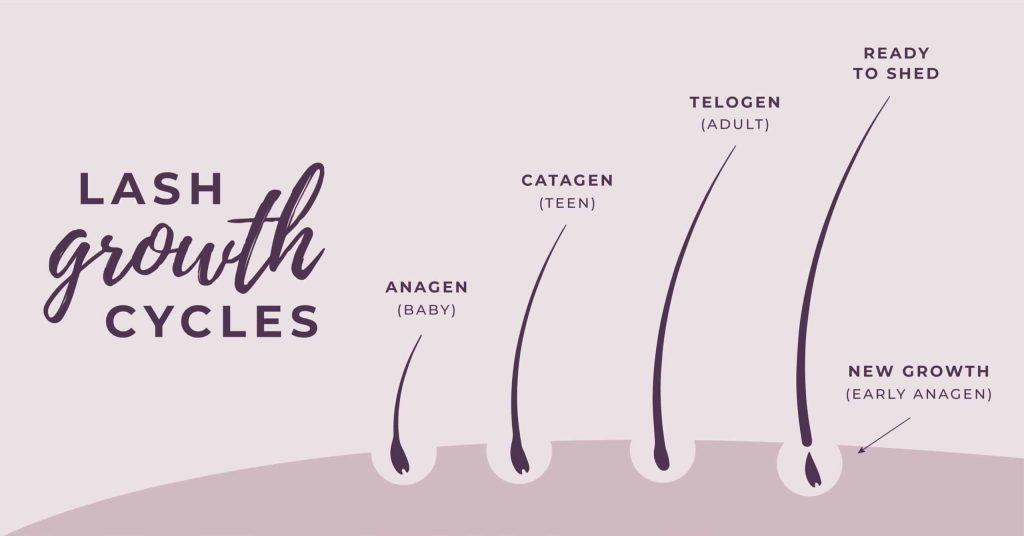 In such a case, we take the help of beauty products (like mascara) to define our dull lashes. Some mascaras go gracefully on our gray lashes. Is Boom Bright Mascara one of them? Let's see.
Boom Bright Mascara Reviews | In A Gist
Boom Bright Pro Age Mascara is for women in their mature years, specially curated for their sensitive eyes. The unique water-based formula segregates and defines the short, thin lashes common in women over 50. This product boasts clean, hypoallergenic ingredients that won't aggravate lash breakage. The black color payoff that this mascara flatters every complexion and hair color. But it goes decently well with silver hair.
BOOM! Bright Pro Age Mascara - BOOM! by Cindy Joseph Lengthening & Strengthening Hypoallergenic Mascara for Older Mature Women w/Sensitive Eyes (Black)
NO CLUMPING OR FLAKING: Boom Bright is made with a unique water-based formula and includes a tapered defining wand to lengthen, separate and define the shorter, finer lashes that women often experience after 50
MOISTURIZING, CLEAN INGREDIENTS: Highlight your lashes without drying them out; Our mascara is made with clean, hypoallergenic ingredients that help hydrate lashes, retain moisture, encourage growth and prevent lash breakage
PERFECT FOR ANY SKIN TONE: The universally flattering, soft black color of Boom Bright complements every complexion and hair color without looking harsh or severe. (This color is particularly flattering with silver hair!)
COMFORTABLE FOR EYES: Keep your eyes comfortable all day and night with a clean, hypoallergenic mascara that resists flaking into your eyes
LONG WEAR FORMULA: Boom Bright's non-waterproof formula is designed to be wearable all day while resisting smudging, smearing or running; Unlike harsh waterproof mascaras, it won't dry out lashes and removes easily
The non-waterproof formula of Boom Bright mascara makes it wearable all day long. It resists any smudge, smear, or clump from forming over the eyelashes. Lashes remain free of the excessive dryness that waterproof mascaras yield. This mascara's moisturizing nature helps soften up the lashes, thus complementing them.
Product Details
This 14 ml mascara comes in a squeezable tube that can be recycled. So when it's running low, squeeze it from the bottle to make the most of it before throwing it away.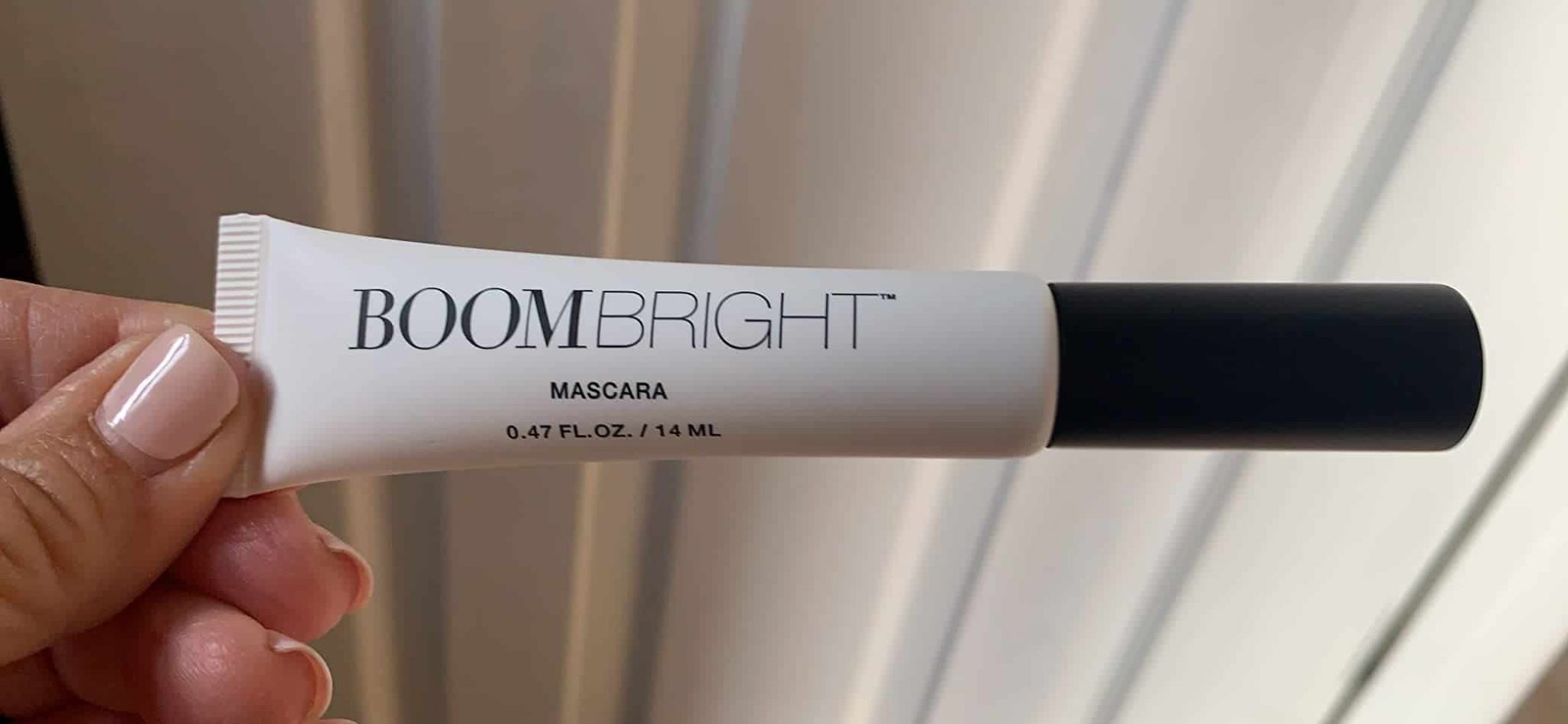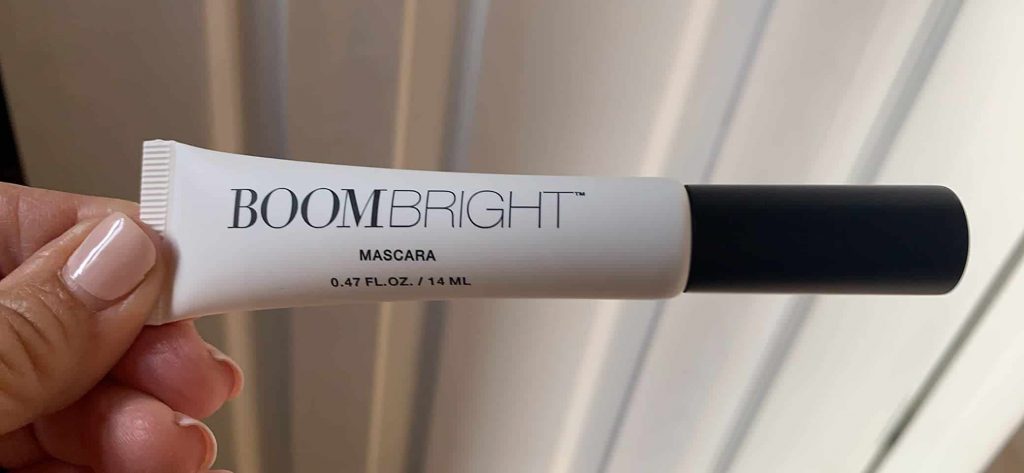 The silicone wand of this mascara is medium-sized. It has a slight taper to cover your lashes (especially the corners) in detail. With the aid of the brush, you may re-coat it as many times as you like. The bristles are soft and go smooth on your short, thin lashes.
Our next part talks about the ingredients list that makes up the composition of this product.
Boom Bright Mascara Ingredients
The vital ingredients of Boom Bright Mascara and their functions are listed below.
Carnauba Wax is used to give a dry finish to the eyelashes so that it doesn't end up getting sticky. It helps the mascara stay clump-free and moisturizes lashes for a lasting stay.
Glycerin in this product acts as an adhesive to make the mascara stay put for longer durations. Glycerin is also hydrating in nature and adds smoothness to the mascara.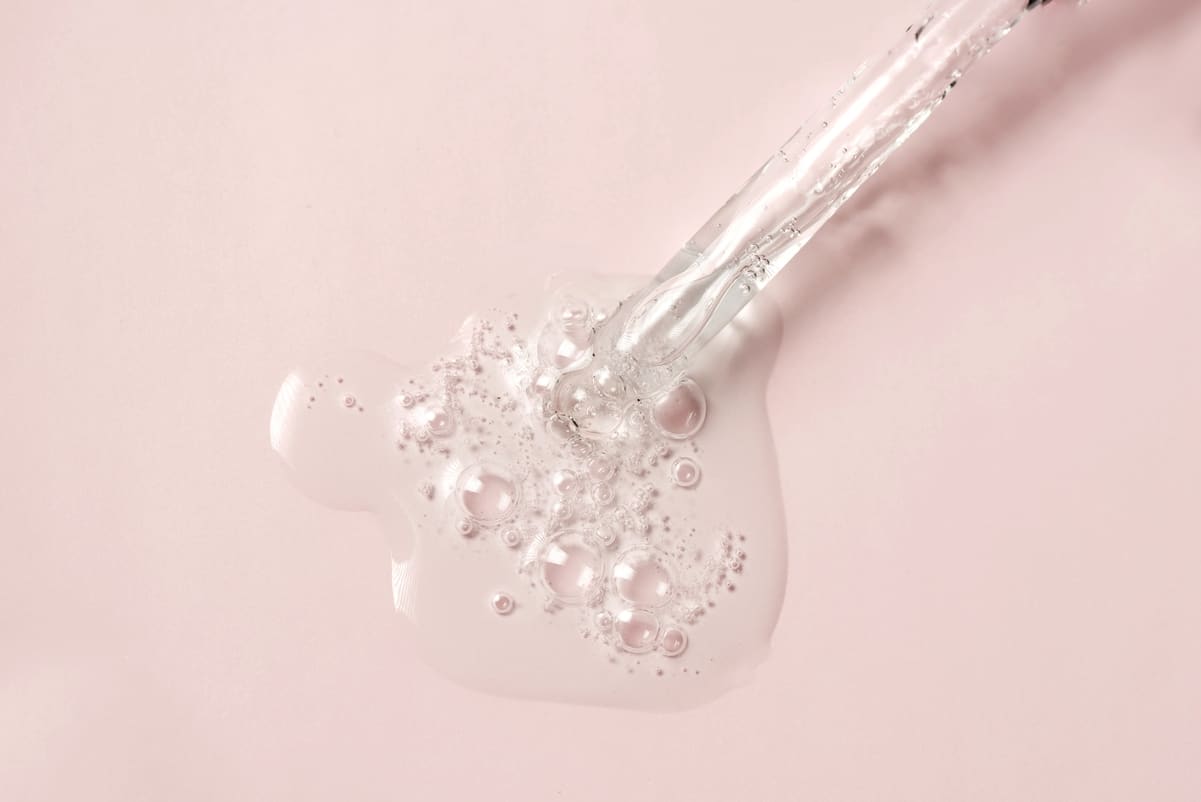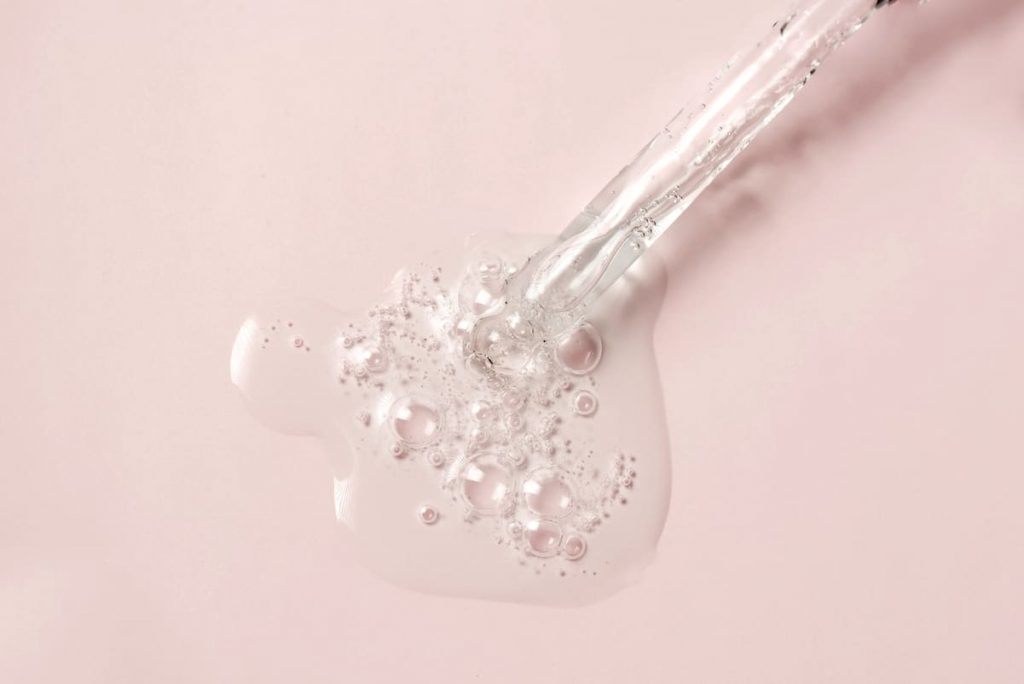 Candelilla Wax gives a beautiful glossy texture to the mascara.
Stearic acid has anti-inflammatory properties. It thickens the product and binds the ingredients together. It also softens and gives a cooling sensation to your skin.
Rosa Damascena Oil gives this mascara a fragrance. It also acts as an emollient to help your lashes hold moisture.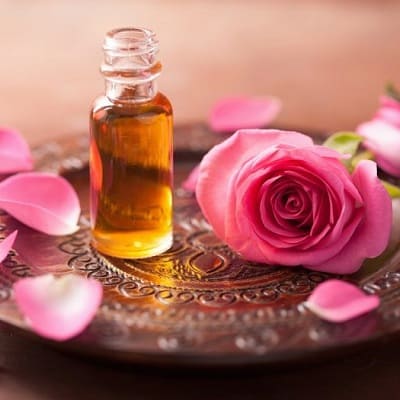 Glyceryl Stearate and some seed oils (jojoba, flower, castor) are other ingredients in Boom Bright Mascara.
Here are some likable points about this mascara and some not. You can see why this product is given thumbs up and thumbs down.
Thumbs Up For
Free of phthalate, paraben, and gluten.
100% Cruelty-free
Moisturizes the lashes and softens them.
Curated specially for older mature women.
Hypoallergenic and goes well on all skin types.
The water-based formula makes it easy to remove.
Thumbs Down For
It is not waterproof.
This mascara comes at a high price rate.
It may leave clumps after a few applications.
Wax in the formulation may make it unsuitable for dry eyes.
Some customers reported that the mascara does not deliver full coverage.
How To Use Boom Bright Mascara?
Applying mascara should be the last step of your makeup routine. Rub the tube between your palms. Dab the wand twice into the tube to pick up the correct quantity. Then run it slowly along your eyelashes, from root to the top, preferably in a zig-zag motion. Re-coat it to build your desired layer.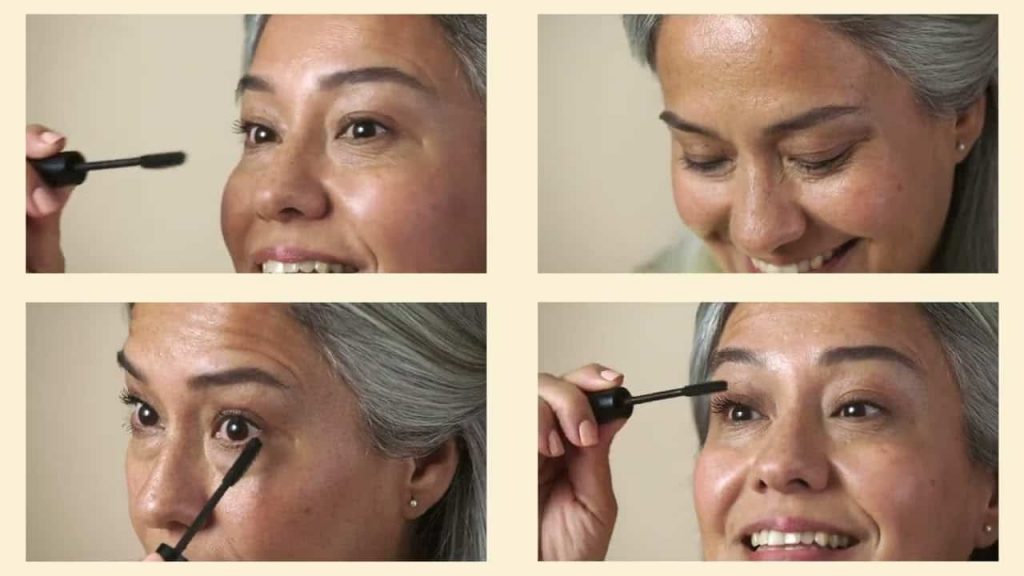 How To Remove It?
Since Boom Bright Mascara is not waterproof, removing it is easy. You may not require any makeup remover. Just soak your washcloth in warm water, and hold it over your closed eyelids. Gently wipe away the mascara on your lashes. You may also not have to rub it on your delicate skin around the eyes. Above mentioned steps make this the easiest way to remove your mascara.
If you want to remove any unwanted mascara mistakenly applied on your skin, take a tiny amount of moisturizer on a cotton swab and clean with it.
Things To Be Wary Of
The product contains these two ingredients that may call for your attention before you start using it.
Carnauba wax and Candelilla wax stiffen the product and prevent the sticky feel. It may worsen dry eye symptoms by limiting the oil secretion that helps to lubricate your eyes. These waxes can clog the oil glands located at the base of your eyelashes.
Sodium Dehydroacetate, an antimicrobial ingredient, is used in this product as a preservative. However, this ingredient is a known irritant, and you may not want to use it if you suffer from an eye infection.
Boom Bright Mascara Reviews | Buyers' Response
This product received mixed reviews. Some customers appreciated their buy, while others budged from recommending the mascara to other women. Let's hear about it from first-hand experiences.
Pristy states, "It leaves a soft black color that smells good. Add on the moisturizing part. It is just amazing for us pearly sisters."
Anna claims, "This is an amazing mascara. I would give it a 4.5/5 and not full as it does flake on my lashes sometimes."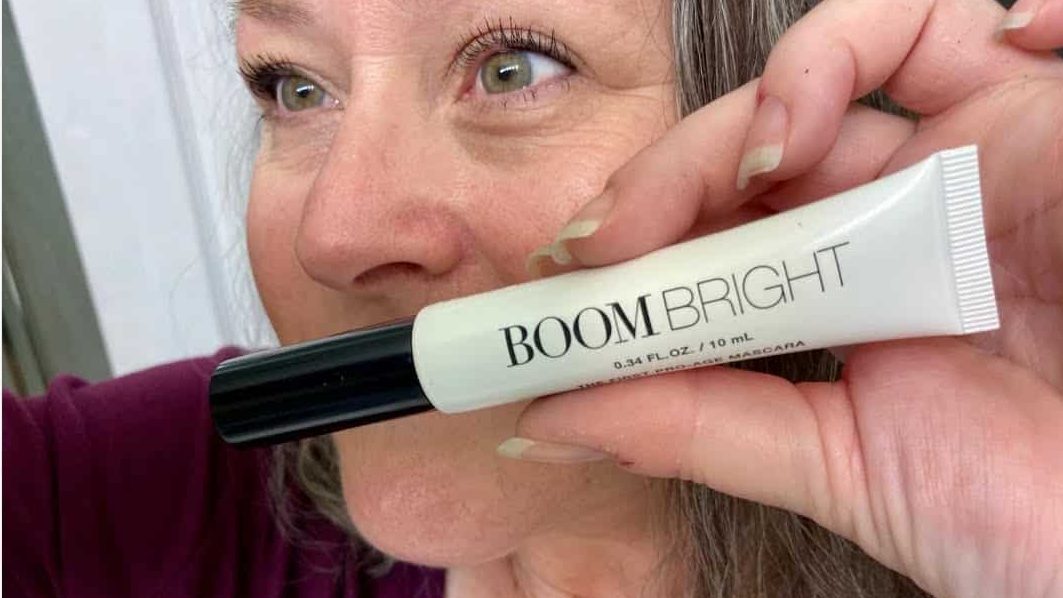 Marie reflects, "I am 74. My hands shake while using any mascara. But what's special about this mascara is its easy application and removal. I finish my application before my hands start to feel heavy."
Dory asserts, "I like the super black color that it leaves on my eyelashes. This mascara is waterproof, and I felt no irritation while using it."
Sally refutes, "I bought it after watching the commercials hoping it would do the trick for my thin eyelashes. Unlike what it claims, my eyelashes formed clumps with the third application. So, I wouldn't recommend this to anyone."
FAQs | Boom Bright Mascara Reviews
I tried answering some of the most common FAQs around this product that may help clear your remaining doubts.
Why should I use Boom Bright Mascara?
You may use Boom Bright Mascara as it goes with your sensitive eyes that become more delicate after age 50. This mascara will help separate, lengthen, and darken out your lashes to give them an enhanced outlook. It is easy to apply and remove, thus less time-consuming.
Is Boom Bright Mascara hypoallergenic?
Yes! It is hypoallergenic, which makes it go gentle on your eyes. With no harsh additives and chemicals, it is irritation-free and feels comfortable on sensitive eyes.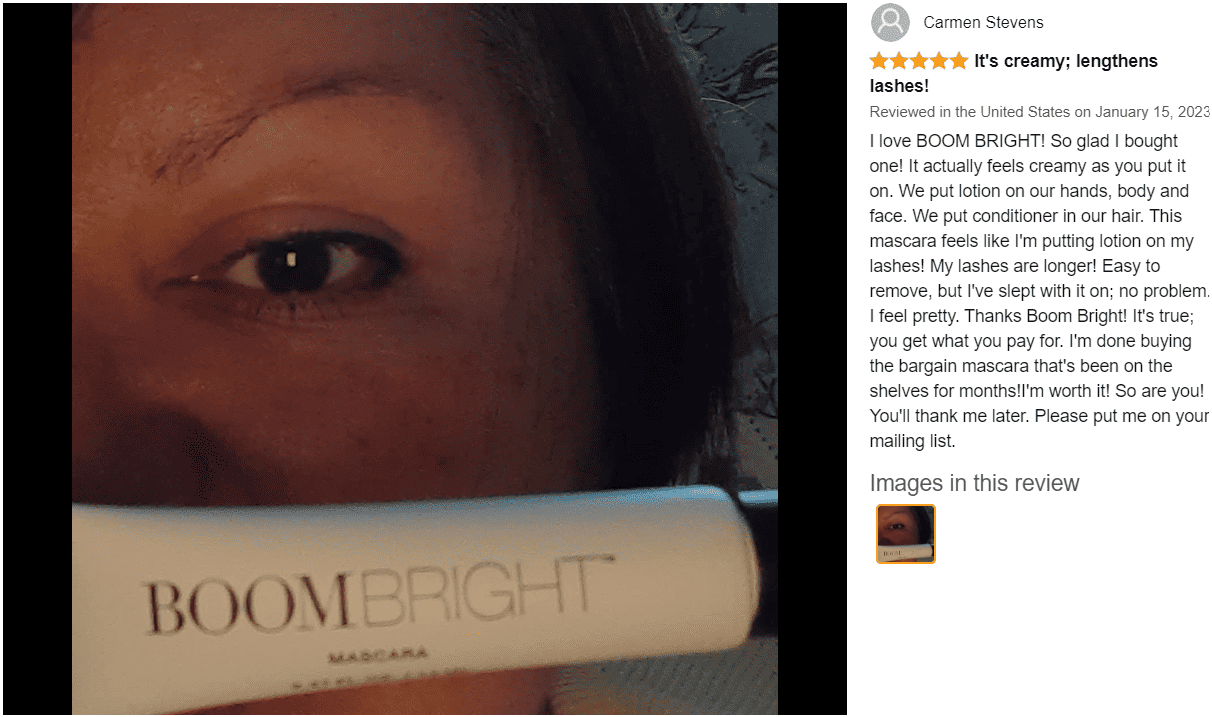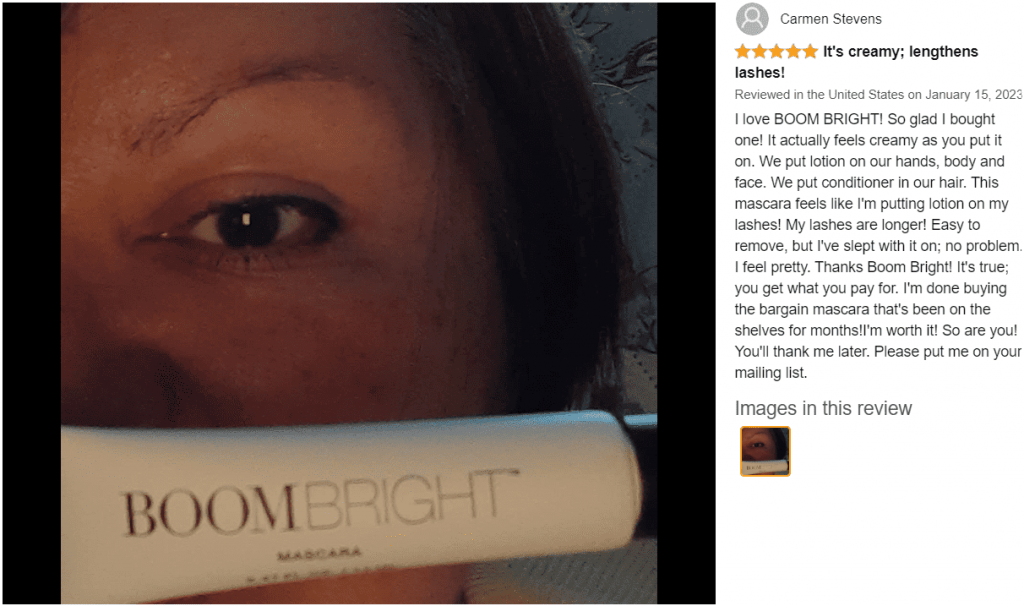 Can you get Boom Bright Mascara from Amazon?
Yes, you can get this mascara from Amazon. You can also purchase Boom Bright mascara from its official website.
What is the safest way to remove mascara?
Many beauty experts opine on using pure coconut oil on a cotton pad to wipe out the mascara gently. Coconut oil, being a natural solvent, is rich in healthy fats, acids, and nutrients. Using hypoallergenic baby shampoos is another safe way. However, avoid getting these products into your eyes.
How well does Vaseline remove mascara?
The American Association of Ophthalmology attests that Vaseline is a very effective makeup remover. As it is lubricating, removing the mascara becomes easy without unnecessary tugging or pulling. But avoid getting it into your eyes.
What is a good product to remove mascara?
In addition to the ones mentioned above, many eye makeup removers are available. You can use any eye makeup remover to remove makeup from lids, lashes, and lips. It is gentle and also helps to remove waterproof mascara.
Concluding Thoughts
This article comes to an end with its Boom Bright Mascara Reviews. You see the synopsis of a mascara that defines your eyes well in your advanced years. Even if you have sensitive skin, you may still use it. Whether to purchase it or not depends on you. I provided the all-around detail of this product as promised. You can use it once approved by your doctor. Shower extra love to your lashes next to using this mascara if that makes you happy. But believe me or not, you are still beautiful without it. I hope your time was well-spent here.
Do you have any doubts or want to add any missing pieces of information? Comment below, and we will reach out to you in no time.
I'm Sarah Abraham, the founder and co-author of Blushastic.com and a professional makeup artist. Beauty is more than just skin deep, and that's why I'm passionate about sharing my knowledge and experience to help people feel confident and beautiful on the inside and out.
Whether it's skincare, haircare, or fashion, my goal is to empower women to feel their best. With my expertise in the beauty industry, I strive to provide practical advice and tips that are accessible to everyone, regardless of their skill level or budget.