Did you know that the neck is the first part of the body to show signs of aging? – This is because the skin on your neck is thinner and more delicate than the rest of your body. Although wrinkles and lines are a natural part of the aging process, we can all agree that they cause us to view ourselves critically. While there is no miraculous cure for aging, many creams with potent ingredients can help significantly reduce and prevent the various symptoms of aging.
GoPure offers a luxurious cream that gives your neck a smooth, even appearance free of wrinkles, lines and sagging. While these claims seem appealing, this review will attempt to determine whether the formulation of this cream is genuinely potent enough to fight the adverse effects of aging. We will also share some GoPure neck cream reviews to see if people have truly benefited from this cream.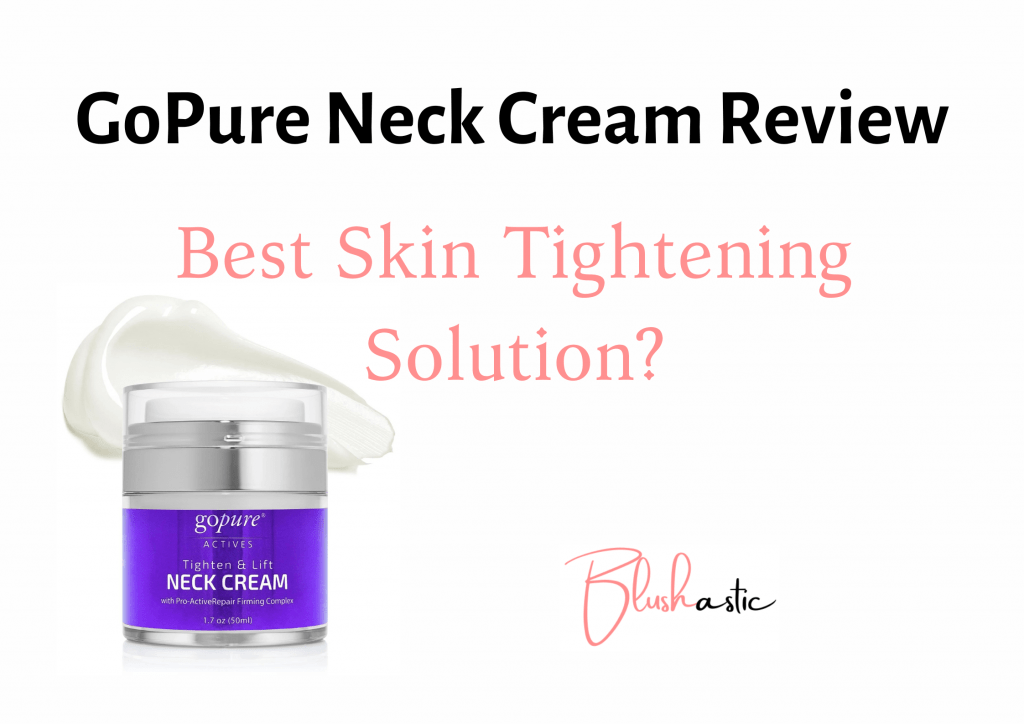 Aging is difficult for our sensitive brains to process. Although it affects us from the inside out, the visible signs of aging on our skin concern us the most. In an age when younger-looking people are deemed more attractive, the appearance of wrinkles and lines on our bodies can cause a great deal of stress and anxiety. Nonetheless, on the positive side, the anti-aging industry has advanced tremendously in recent years, introducing some powerful ingredients that help reduce the appearance of wrinkles, fine lines, sagginess, and more.
The GoPure Neck Cream contains a blend of clinically proven ingredients to fight signs of aging. Let's see if it's the best option for reducing the adverse effects of aging and visibly transforming your skin.
GoPure Neck Cream Reviews | Best Skin Tightening Solution? 
Alex Keyan and his wife Erin founded GoPure Beauty in 2017. The primary motivation for launching this brand was to eliminate the common dilemma of using 100% organic but ineffective or effective but toxic products. GoPure strikes a balance between the two extremes, offering a diverse range of skincare products infused with potent actives that are safe for humans, animals, and the environment.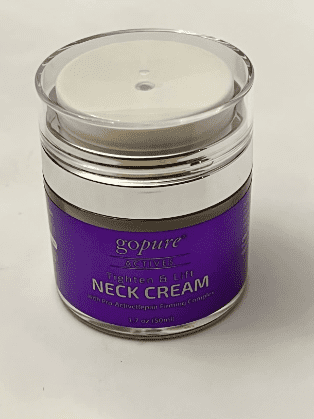 Their products are tested by independent laboratories and proven hypoallergenic, non-irritating, and effective. GoPure has beauty solutions for every skin type and concern. Their natural botanicals, pure vitamins, potent proprietary formulas, and premium-grade products transform your skin from the inside out without causing irritation or harsh effects.
The GoPure Actives Tighten & Lift Neck Cream has been specially designed to target the delicate décolleté and neck areas. It penetrates deep into the skin to repair, restore, nourish, and hydrate it for a smoother, even, and younger-looking appearance. This luxurious cream is very light and easily glides on the skin. It contains nutrient-rich, highly effective, and cutting-edge ingredients that penetrate deeply into the décolleté and neck areas to reveal even-looking skin.
Sale
goPure Beauty Neck Firming Cream - Anti-Aging Neck Cream for Tightening and Wrinkles for an Even Skin Tone and Neck Lift - With Pro-Active Repair Firming Complex, 1.7 oz
FIRM, LIFT, & TIGHTEN: Our goPure Neck Firming Cream is specially formulated to target and combat sagging skin on the neck and chest, providing a visibly firmer and more lifted appearance; giving the impression of wrinkle filler, even for deep wrinkles.
ACHIEVE THE LOOK OF EVEN SKIN TONE: Experience the power of our neck tightening cream as it works to promote a more even skin tone, reducing the appearance of discoloration, "turkey neck" and visually lifting sagging skin.
NECK AND CHEST FIRMING: Extend the benefits beyond your neck with our versatile formula. Our neck and chest firming cream helps improve the appearance of sagging skin in both areas, enhancing your overall youthful look.
SAY GOODBYE TO NECK LINES: With goPure Neck Firming Cream, you can bid farewell to unsightly neck lines. Our potent ingredients work together to reduce the appearance of wrinkles and improve dark neck skin.
ANTI-AGING NECK LIFT: Experience the transformative power of our neck and chest firming cream. It targets multiple signs of aging, providing you with the appearance of a neck lift. Embrace a more confident, age-defying appearance.
According to GoPure, this cream visibly firms and tightens loose, saggy skin while restoring elasticity, smoothness, and plumpness. It can also help to reduce discoloration and redness for a more even skin tone. It is suitable for all skin types, including mature, blemished, and sensitive skin.
GoPure Actives Tighten & Neck Cream Ingredients 
The GoPure Neck Cream contains ingredients that have been clinically tested and proven to significantly improve and prevent various aging signs such as wrinkles, fine lines, sagging, and more. Plenty of medical evidence on the internet attests to these ingredients' potency and safety. The presence of such powerful components in the GoPure Neck Cream distinguishes it from other products and assures that it is efficacious. Let's take a quick look at these great ingredients to see how they can help our skin.
NaturePep Sacha Inchi (Plukenetia Volubilis Seed Extract)
This multi-functional and anti-aging ingredient comes from Plukenetia Volubilis, a perennial plant native to South America and Southeast Asia. It is a potent peptide that reduces sagginess, restructures the skin, and boosts dermal density. It also helps to minimize roughness, texture, and wrinkles, revealing smoother, younger-looking skin. A clinical study found that this component reduces sagging by 48% after 28 days and skin roughness by more than 20% after 21 days. NaturePep Sacha Inchi is NON-GMO and free of parabens and formaldehyde.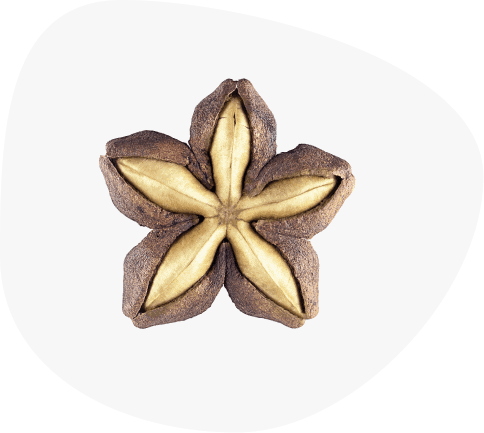 Vexel-SP (Aqua (and) Glycerin (and) Lecithin (and) Caffeine (and) Palmitoyl Carnitine)
Vexel-SP is caffeine and palmitoyl-carnitine solution. It is a firming and conditioning agent used commonly to tighten and nourish various body parts such as the arms, legs, stomach, and other delicate areas. Vexel-SP is highly beneficial in restoring skin firmness, strength, and elasticity. It also helps to improve the skin's tonicity and vitality. It is said to provide immediate soothing effects to sensitive skin areas like the décolleté, making it an ideal anti-aging ingredient for the GoPure Neck Cream.
Matribust (Simmondsia Chinensis (Jojoba) Seed Extract)
Matribust is a patented ingredient derived from jojoba co-product and classified as a neck and décolleté firming agent. It is available as an aqueous solution with a 0.5-2.5% recommended use level. It regulates the matrisome of sagging skin and is ideal for increasing skin density, vitality, and tonicity. As a result, it is excellent for firming loose or sagging skin on the neck. An emulsion containing 2.5% Matribust increased neck elasticity by +18% in a study on Caucasian volunteers.
Aside from the skin-firming agents mentioned above, GoPure Actives Tighten & Neck Cream contains skin-loving ingredients that hydrate, nourish, and soothe the skin from the inside out. It contains Hyaluronic Acid, a powerful humectant that visibly reduces the appearance of wrinkles, fine lines, and texture. Centella Asiatica Extract, a soothing agent, provides immediate relief from dryness, redness, and irritation.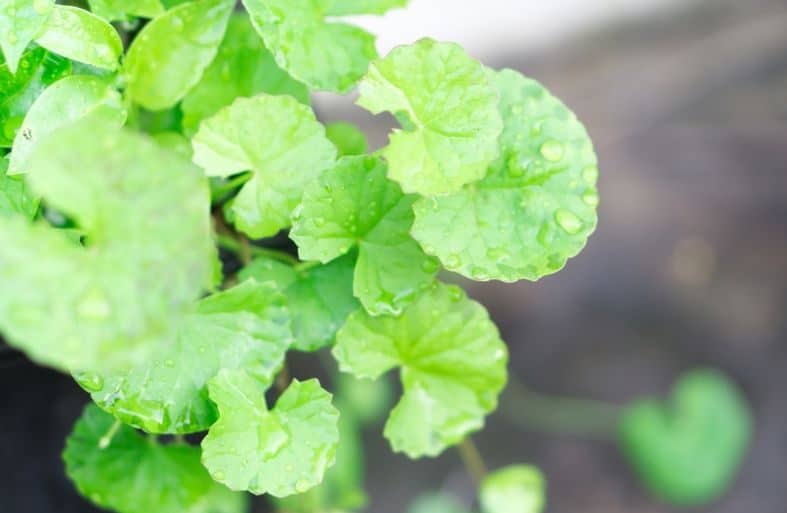 Tocopherol (Vitamin E) protects the skin from sun damage and prevents fine lines and wrinkles from forming.
Benefits Of GoPure Actives Tighten & Neck Cream 
GoPure Actives Tighten & Neck Cream is a specialized treatment that addresses common signs of aging, such as wrinkles, fine lines, sagginess, and discoloration in the neck and décolleté areas.

It has a lightweight, smooth-buttery texture that glides on your skin and immediately penetrates it to nourish it from the inside out.

This cream comes in a sturdy and compact container with a pump on top for easy and convenient application. This airless pump packaging also helps to maintain the integrity of the product until you use it entirely.

This product has a great formulation containing several anti-aging, skin-tightening, hydrating, and soothing agents. It includes ingredients independently tested for efficacy against common skin aging effects.

NaturePep Sacha Inchi, Vexel-SP, and Matribust are clinically proven to improve the appearance of the skin by visibly reducing wrinkles, fine lines, and sagginess.

This cream's potent ingredients repair your skin from the inside out, reducing the appearance of crepey, loose skin.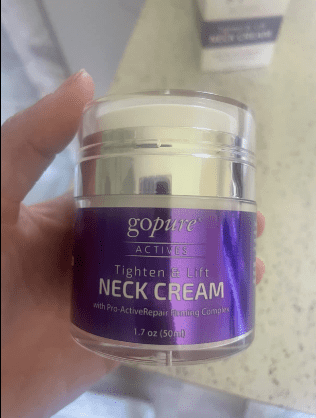 It contains hydrating and skin-soothing ingredients like Hyaluronic Acid, Camellia Sinensis Leaf Extract, and Centella Asiatica Extract, which make the skin appear plump, smooth, and youthful.

GoPure cream aids in the restoration of skin elasticity, strength, and vitality. It also makes the skin appear even-toned by reducing the appearance of discoloration and redness.

This skin-tightening treatment is appropriate for all skin types, including oily, sensitive, mature, combination, dry, and blemish-prone skin.

According to the brand, skin improvements can occur in as little as 2-4 weeks.
Drawbacks 
The GoPure Neck Cream is slightly expensive.

It contains comedogenic ingredients that can potentially clog pores and trigger breakouts.

This formulation is unsuitable for people suffering from fungal acne (Malassezia).
How To Use GoPure Actives Tighten & Neck Cream? 
Using a gentle face wash, thoroughly clean your skin to remove dirt, grime, and remnants of makeup. Pat your skin dry with a clean towel or tissues.

Apply your toner, essence, or serums.

Then, apply 2 pumps of cream up the center of the neck, sides, around the back, and onto the décolleté.

Gently massage the cream in an upward motion until it gets fully absorbed.

If used during the day, follow with a broad-spectrum sunscreen.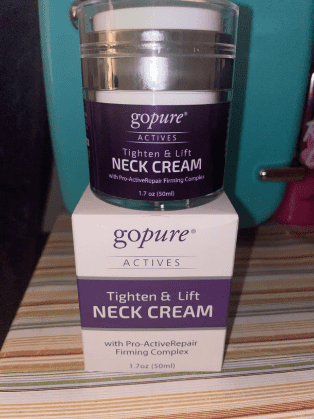 Customer Reviews | GoPure Neck Cream Before And After 
Many satisfied customers have expressed appreciation for the GoPure Neck Cream on various social media platforms. Most GoPure reviews indicate that the cream worked well for many people. However, keep in mind that everyone's results will differ. We chose a few comments to share with you.
Isabella stated, "I have been using this cream for over two weeks. I know it's too soon to say anything but trust me when I say that I am already seeing small changes in my skin. I love the texture of this cream; it does not feel heavy or cakey. As soon as I apply it, my skin instantly looks plump and smooth. I love it! I have also noticed that the lines on my neck have blurred the tiniest bit, but it's noticeable. I've never used a product that worked so quickly. My only complaint is that this product is a little pricey."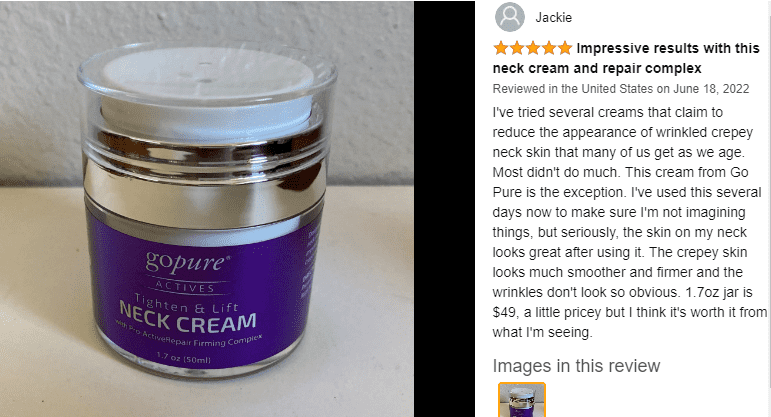 Kendra mentioned, "I celebrated my 35th birthday a few months ago. Seeing changes in my skin often worries me, but I have decided to take care of it instead of sitting and complaining about aging. My daughter gave me this cream as part of an anti-aging skincare routine she devised for me. I've been using it for almost two months, and it works! I am pleasantly surprised by the results, as the skin on my neck appears tighter and smoother than before. Although I can still see lines and wrinkles, they are more subtle and blurred. Not to mention how hydrating this cream is. I will most certainly repurchase this product."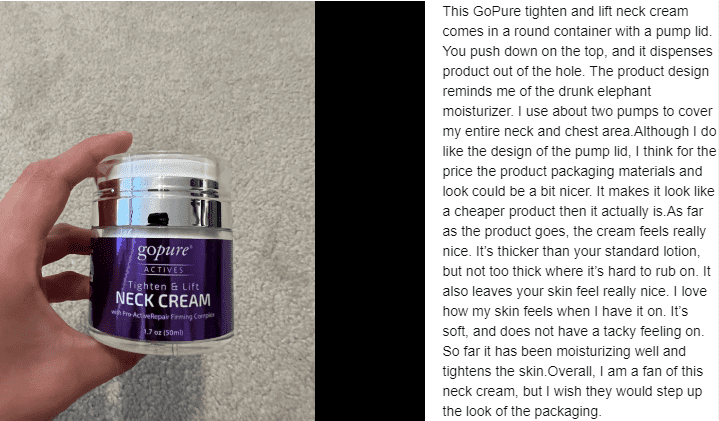 Monica noted, "I have been religiously using this cream for the past 4 weeks. It comes in a tub with a pump, which I like because I don't have to dip my fingers in the containers to scoop out the product. The cream itself feels very creamy and buttery to the touch. It hydrates my skin so well. However, I haven't seen any remarkable changes in my skin yet. The brand suggests using this cream for 60 days to see full results, so I'm still hoping to see some visible changes in my skin."
Frequently Asked Questions | GoPure Neck Cream Reviews 
Where to buy GoPure skincare? 
You can purchase products from GoPure Beauty on the brand's official website and other popular e-commerce platforms like Amazon. We recommend buying products from a reputable website to avoid being scammed or receiving counterfeit or damaged goods.
Why should you use a neck cream? 
The skin on our neck and décolleté is thinner and more sensitive than the rest of our body. It is prone to sun damage, irritation, sagging, crepey texture, and other problems. As a result, it is critical to include a potent neck cream of a suitable skincare brand in your regimen to hydrate, moisturize, and nourish your skin from the inside out and protect it from various aggressive factors.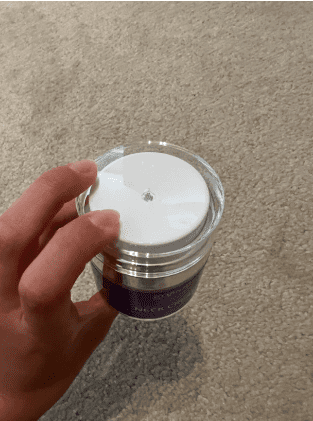 Is GoPure Beauty cruelty-free? 
GoPure Beauty guarantees that all of its products are cruelty-free. Its mission is to develop potent skincare and beauty solutions for everyone while causing no harm or cruelty to animals. They have never tested on animals, nor will they ever use animal-derived ingredients.
Final Words
The causes of neck aging include a variety of factors, such as collagen and elastin loss, sun damage, dryness, and smoking, among others. While the first signs of aging are understandably concerning, taking proactive steps to protect and repair your skin can be highly beneficial in the long run. Using a specialized neck cream can greatly help nourish and moisturize your skin while also reversing the signs of aging. GoPure Actives Tighten & Neck Cream is a one-of-a-kind cream designed to address common skin issues on the neck and décolleté.
This cream, which contains clinically proven ingredients such as Vexel-SP, Matribust, and Hyaluronic Acid, can significantly improve the appearance of your skin, revealing smooth, even, and younger-looking skin. Several positive GoPure Neck Cream reviews confirm that this cream is highly effective and does what it claims.
Because skin issues differ significantly from person to person, it is essential to remember that the results obtained from this product will also vary greatly. According to GoPure, many customers reported seeing initial results in as little as 2-4 weeks; however, you must use the cream daily for at least 3-6 months to see the full results. Some customers have also expressed dissatisfaction with the product's high price.
While we recognize that skincare should be affordable and accessible to all, it is essential to note that GoPure provides high-performing and high-quality ingredients, making them well worth your money. Nonetheless, they offer the option to pay in installments, which we are confident you will appreciate.
Marilyn's deep interest in fashion, beauty, and lifestyle has led her to pursue a fulfilling career as a freelance writer and blogger. With her bachelor's degree in fashion design from the Fashion Institute of Technology, she has developed a keen eye for style and trends, making her well-equipped to offer valuable insights into the latest fashion and beauty trends.